Gabrielle Bonheur "Coco" Chanel is perhaps the most well-known fashion designer of all time. Nearly 50 years after her death, her namesake fashion house is still one of the world's most popular luxury brands, boasting legions of devoted fans worldwide, and continues to grow.
And here at CF, it's safe to say we're big, big fans of this woman. (We've even done an article on fashion inspired by Coco Chanel's famous quotes!) We certainly count her among our top favorite designers, and we're sure many of you agree.
So in the spirit of keeping her amazing legacy going, here are 10 facts to know about Ms. Chanel, as well as an outfit inspired by her iconic, world-famous style.
10 Fun Facts about Coco Chanel
She was born in France in 1883 and was part of a big family, as one of five children.
When Coco was 12, her mother passed away from tuberculosis and her father left the family; she spent the next six years in an orphanage.
She became a licensed hat-maker and owned her first shop in 1910.
She introduced her first perfume, Chanel No. 5, in 1922, and it was one of the first perfumes ever to mix natural and artificial essences.
She invented the "Little Black Dress" in 1926, which Vogue Paris dubbed "Chanel's Ford" because of its practicality and marketability.
She is credited with popularizing the concept of "costume jewelry" in the 1920s, creating seasonal jewelry that mixed fake pearls with real stones.
She introduced the idea of using jersey fabric to create clothing, which had prior been used only for men's undergarments.
She and her brand are most well-known for costume jewelry, two-tone shoes, quilted bags, and simple suits made of tweed or jersey.
Her classic Chanel suit became famous for its flattering cut, simple fabric, and specially weighted lining that created that perfect hang.
She died in 1971 at the Ritz Hotel in Paris at the age of 88.
Outfit Inspired by Chanel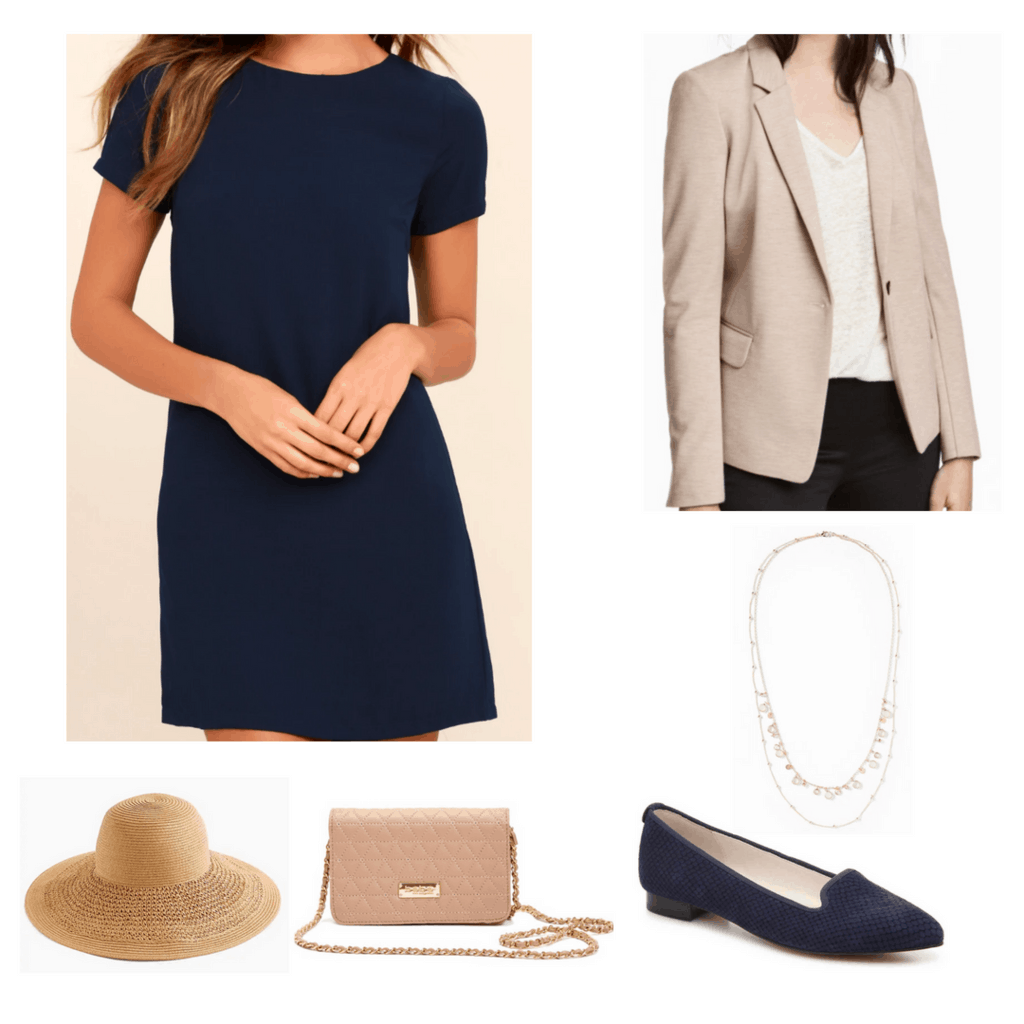 Products: Dress – LuLus, Blazer – H&M, Necklace – Old Navy, Purse – Burlington, Hat – J. Crew, Shoes – DSW
Ms. Chanel was famous for her simple, casual elegance, so pair a basic navy t-shirt dress and beige boyfriend blazer with flat shoes and layered pearls for an ensemble that gives off a very "Coco" vibe. And what Chanel girl would be caught without her quilted chain strap purse? Finally, no Chanel-inspired look would be complete without a fun hat to top it off.
One last thing – if you're wondering why there's no black in this look, here's another fun fact: While she may have brought us the Little Black Dress, Coco was also very into neutrals like navy blue and beige, basing many collections around these hues. And now you know!
Extra for Experts
For more information on Coco Chanel and her world-famous fashion house, check out these books! Just don't blame us if they're more interesting than your accounting textbook…
Thoughts on Chanel?
Do you have any other great books on Chanel you'd recommend? Or facts about Coco Chanel that you find most interesting? Please share them with a comment. Also, feel free to suggest any designers you'd like to read about next!
Editor's note: This post was originally published in 2011; it was completely updated and revamped in 2018 by Sharon with new photos, outfit sets, and information.