This post may contain affiliate links, which means we may receive a commission if you purchase through our links. Please
read our full disclosure here
.
Here at CF, we spend lots of time creating outfits that are more affordable than the pieces we see coming down the runways. I mean, how many college girls do you know that can afford a (real) Chanel purse? That's why, while I find designer clothes inspiring, I'm often more inspired by the super stylish women behind the designs!
Coco Chanel, born Gabrielle Bonheur Chanel, was and is one of the most inspiring female fashion designers of all time. She learned to sew at an early age, by 21 she had opened her own boutique in Paris, and, well… it's all history from there. Today, the name Chanel has been synonymous with classic, menswear-inspired luxury pieces. Coco has not only left her mark on the world with her company and designs, but her words of wisdom still ring true with us today!
With her spirit in mind, here are three looks inspired by three of Coco Chanel's most famous quotes.
1. "A girl should be two things: classy and fabulous."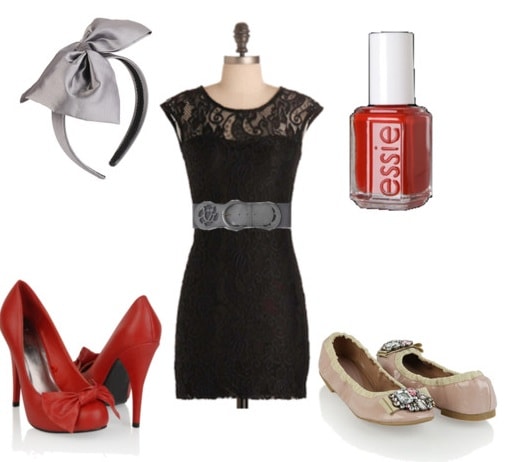 Headband – Red Pumps – Black Dress – Belt – Flats – Nailpolish
This is one of my favorite Chanel quotes, and probably one of the most well known. It perfectly explains Chanel's logic when designing pieces. Therefore, I tried to create a look that translate that idea today.
The "little black dress" is a timeless classic, something that every girl should have in her wardrobe. The one I've chosen has a little lace to give it an extra pop without showing too much skin. The headband is another classic item, and the bow adds an extra ounce of "fabulous." Overall, the idea is to find classic pieces and find subtle ways to make them pop!
2. "Fashion fades, only style remains the same."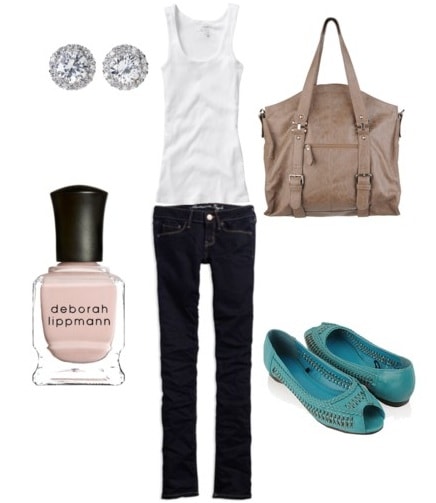 Tank– Jeans– Flats– Nailpolish– Bag–Earrings
Stylish girls are always on top of the latest trends, but this quote reminds us that those trends will always come and go. True style comes from within, and that never goes away!
A great "real style test" is to slip on some dark denim and a basic white tank – it's a blank canvas for you to use to show your personal style. In the look above, I've chosen to add in a classic bag, bright colored flats, some faux diamond studs, and a neutral nail polish. These things reflect my personal style, but you should accessorize the same basic outfit with pieces that reflect yours! That's what real style is about.
3. "Luxury must be comfortable, otherwise it's not luxury."
Ahh, luxury; it's a word that most college girls have forgotten how to use. If you're like me, you don't have the budget to splurge on high-end items on a regular basis. That said, I believe there are some pieces worth investing in – it's often better to forgo 5 tops and a pair of jeans from Forever 21 for one really amazing pair of shoes that you'll wear forever.
Like Coco said, comfort is key when spending on luxury items. If it's not comfortable and easy to wear, you probably won't get your money's worth. So below, I've listed a few "splurges" from my own closet that are "luxury" items, but are also some of the most comfortable items I own!
Seven for All Mankind Skinny Jeans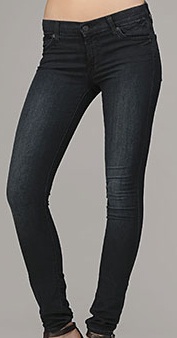 Coach Purse
Sperry Topsiders
I know these items aren't in a usual college girl's budget, but if you save up some extra dollars over time, they are reachable – I would know! Once you're ready to invest in a higher-priced "luxury" item, always remember that comfort and wearability are non-negotiable!
What do you think?
So what do you guys think about these looks? Does Coco Chanel inspire you? How would you accessorize the basic outfit above? Do you have any "comfortable luxury" items of your own?Let me know in a comment below!