'80s fashion is a little like fight club, in that the general rule is to talk about it as little as possible. While '90s and '70s looks are coming back around, it seems like the '80s doesn't have much place in our current style. Perhaps it's because we're still shunning it a little bit for gifting us with such style gems as shoulder pads and fanny packs. And that's not even bringing up the hair!
All jokes aside, though, there's a lot we can learn from '80s fashion. After all, is there any other era that was so unashamed of making a statement? While we usually associate the '80s with neons and bold patterns, jelly bracelets, and kinda ridiculous makeup (seriously, google any picture of Cindy Lauper), it also brought us athletic-inspired trends, a re-imagining of glam rock style, and fashion icons like Madonna and Molly Ringwald. The '80s challenged how big, bright, and bold we dared to be.
So if you'd like to see how you can bring back a bit of the 80's, check out these three looks of varying levels of '80s-ness. Put on your jelly bracelets and keep scrolling!
Look #1: You Better Work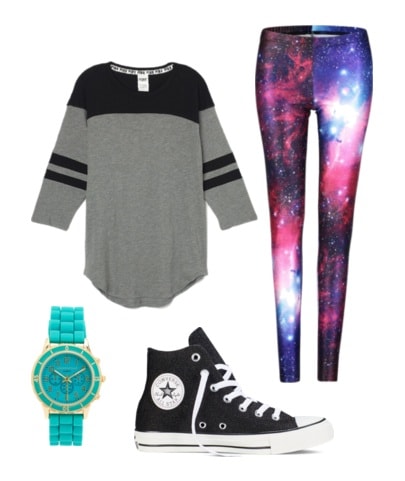 Products: Shirt, Leggings, Converse, Watch
While the full intensity of the '80s aerobics trend may be a bit much for your day-to-day look (leg warmers, anyone?) the overall idea of the style is super fun and super comfortable.
For a more 2016 take on an athletics-inspired look, start with a casual varsity tee and pair it with these amazing galaxy leggings, which harken back to the bright tights of the '80s. Some sneakers – Converse high tops in this case – keep you ready to go. This jelly watch is a little throwback to the bright bangles that could be found on any cool '80s teen.
Look #2: Material Girl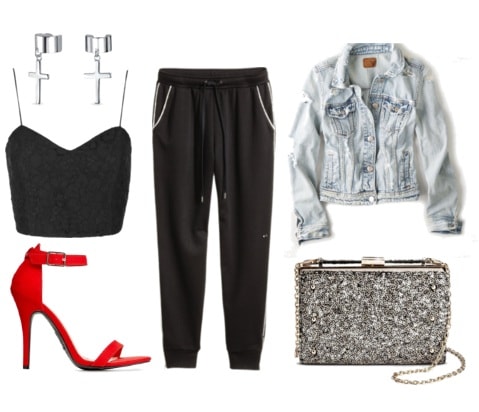 Products: Joggers, Bralet, Heels, Purse, Jacket, Earrings
This outfit is a fun night-out look that combines two '80s music trends. Unlike most things in the '80s, glam rock fashion actually became a bit more toned down during the decade. Also, Madonna, as I mentioned earlier, helped define '80s fashion with her simultaneously edgy and elegant looks. This outfit draws from both the rock and pop vibes.
Joggers are kind of a modern girl's answer to parachute pants: just as comfy, but with 50% less M.C. Hammer. Paired with a bralet, this all-black look is reminiscent of Madonna's early outfits.
Red heels and a sequined purse add a bit more glam to the look, while a distressed denim jacket keeps this look from being too dressy. Finally I added these delicate cross ear cuffs in honor of Madonna's ever-present crucifix necklaces.
Look #3: Neon Lights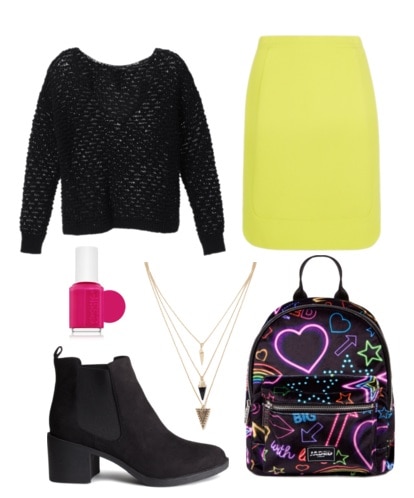 Products: Skirt, Sweater, Shoes, Necklace, Nail Polish, Backpack
Now, just in case those last two outfits gave you the impression that the '80s had any chill whatsoever, let me just remind you that they did not.
The patterned sweaters, neon crop tops, and stirrup pants you usually see associated with '80s fashion were actual things that people wore back then. This may seem like the hardest trend to work into your own style, but never fear, it's far more wearable than it seems!
The secret with neons is that you really need to limit yourself to only one or two neons per outfit. A highlighter yellow mini skirt may seem like a bold choice, but when paired with a boxy black knit sweater and black ankle boots, it just becomes a fun pop of color. If we only had one neon, though, it wouldn't be very '80s, so I recommend nail polish, sunglasses or even a short pair or socks in a lively pink as a secondary neon.
As with the neons, if we limit ourselves to only a few layered necklaces, we can make this trend a little bit more suitable for the 2010s. Finally, the bag itself isn't a necessity, but by decorating any simple backpack you have with neon designs, appliqués, or even pins, you too can have a totally '80s way to carry your stuff.
What do you think?
What's your opinion on '80s fashion? Are you planning to incorporate it into your look this year? Are there any '80s trends you think I should have included? Let us know in the comments, we'd love to hear from you!