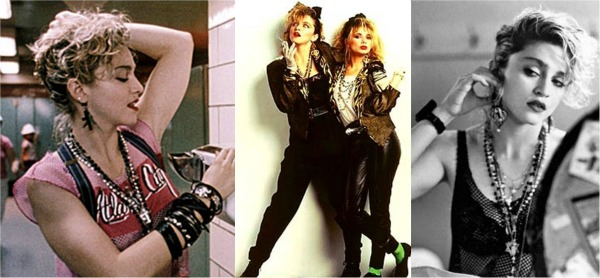 Film is my all-time favorite source of fashion inspiration. From blockbuster hits to tiny indie flicks, you can bet that a team of people spent hours creating the perfect sartorial look that helps tell their story in a cohesive way. Oftentimes, the actor or actress has some input in the style of the character they play — and that was definitely the case in the movie Desperately Seeking Susan.
Madonna was cast in this film largely because of the look and feel they wanted to bring to the movie. Her style defined the look of a decade, and Desperately Seeking Susan serves as the perfect lookbook for the era.
Desperately Seeking Susan is a comedy of errors starring Rosanna Arquette and of course, Madonna. Roberta (Arquette), a bored housewife living vicariously through a string of romantic classified ad messages between Susan (Madonna) and Jim, is plagued with amnesia and is left believing that she is Susan. The mayhem continues with stolen Egyptian earrings, a mobster out for blood, dance routines, and more.
Want to steal the look without looking like you're headed to an '80s costume party? Read on!

Desperately Seeking Susan is all about the classic pieces that come to mind when you think of '80s fashion. Capris, leggings, blazers, and bold colors were featured in almost every outfit. Daring pieces, like cropped tops, harem and parachute pants, bustiers, and mesh tops were heavily featured in the film as well.
The most important factor in recreating the film's look is to load up on accessories. Madonna's signature gloves and hairbows are present in almost every scene, as are stacks of bangles, piles of necklaces, headscarves, and studded boots. To allude to the movie, rock Egyptian-inspired jewelry and brightly colored lipstick as well.
Need a few ideas to get started? We've got you covered!
Outfit Inspiration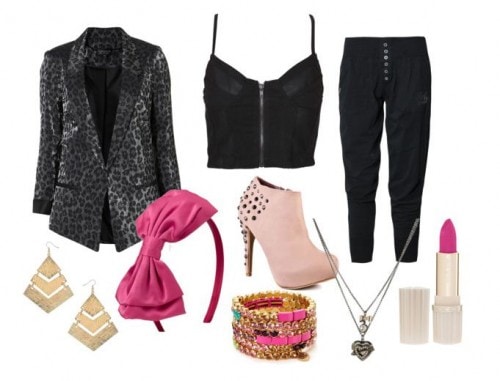 Blazer, Top, Pants, Bow, Earrings, Bangles, Shoes, Necklace, Lipstick
A bustier cropped top and capri pants combo might make you look like you're going to the gym, so dress it up with studded ankle booties and a blazer — I love this bold leopard print one, but a more simple design would look so chic as well! Glam up this look with pyramid earrings, bangle bracelets, stacked necklaces, a huge hairbow headband, and bright pink lipstick!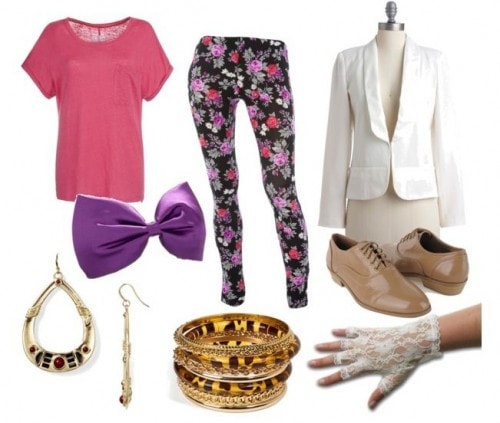 Tunic, Leggings, Blazer, Bow, Earrings, Bangles, Gloves, Shoes
Balance out crazy printed leggings with a solid-colored tunic and a simple blazer. Add a pinch of '80s style if you dare with fingerless gloves, jangling bangles, and a girly hairbow. Finish the outfit with oxford shoes and the film's MacGuffin, Egyptian earrings!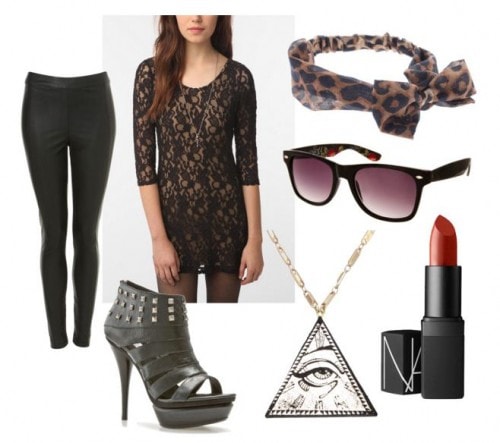 Leggings, Tunic, Headband, Shoes, Necklace, Lipstick, Sunglasses
A semi-sheer lace tunic and leggings make the perfect base for this chic outfit. Add some glamour with studded stilettos, a leopard headband, and red lipstick. Finish the look by adding an Eye of Providence necklace, alluding to the iconic jacket worn by Madonna in the film.
Thoughts?
Have you seen Desperately Seeking Susan? What did you think of it? What do you think of Madonna's real-life style, and how to do you think it translated to film? Do you like the look of the film? What other movies inspire you? Be sure to leave a comment and let us know what you think!