This post may contain affiliate links, which means we may receive a commission if you purchase through our links. Please
read our full disclosure here
.
When you think of a fashion icon from the past, who is the first person that comes to mind? Marilyn Monroe? Audrey Hepburn? Edie Sedgwick, perhaps? While all three of those women have enviable styles that we absolutely love, there are so many other fashionable women that have graced the history pages.This biweekly column focuses on just that: unexpected and out-of-the-box fashion icons from the past. We feature women who have not only made an impact, but also have distinct signature styles that we can still draw inspiration from today.
If you haven't seen them already, be sure to check out our other "A History of Style" posts on Amelia Earhart, Billie Holiday, Joan Jett, Louise Brooks, Dorothy Dandridge, Elizabeth Taylor, Edith Head, Mary Tyler Moore, Sylvia Plath, Edith Bouvier Beale, Marlene Dietrich and Frida Kahlo.
This week, we'll be taking a closer look at singer Cyndi Lauper's fearless and totally '80s sense of style. Read on to learn more about Cyndi's life and unique style, then check out some outfit ideas to help you channel her look for yourself:
5 Facts About Cyndi Lauper
Cyndi was born on June 22, 1953 in Queens, New York. She became interested in music at a young age, learning how to play the guitar and writing her own song lyrics when she was 12.
Cyndi got her start in the music industry by performing as the vocalist for several cover bands in the mid-1970s. She released her first Grammy-winning studio album She's So Unusualin 1983.
Cyndi was well-known for tweaking the lyrics of the songs her studio wanted her to record. For example, the original lyrics of what later became "Girls Just Want to Have Fun" reportedly had misogynistic undertones, which Cyndi decided to change into an empowering song for women.
Over the course of her career, Cyndi has been nominated for 14 Grammys, 2 Emmys, 2 AMAs, 7 American Video Awards and 18 MTV awards.
Cyndi has been a longtime supporter of LGBT rights and in 2008 started the True Colors Fund, a non-profit that seeks to "inspire and engage everyone, particularly the straight community, to become involved in the advancement of LGBT equality."
Cyndi's Style 101
Wild Child. Cyndi was known throughout the '80s for her daring and experimental fashion choices. She mixed, matched and clashed colors, patterns, textures and styles to create unique looks that were 100% "her." So, the next time you're getting dressed, take a page out of Cyndi's book and experiment with your clothes and try out some new looks.
Accessorize, accessorize, accessorize. Cyndi doesn't skimp on the accessories, either. Back in the day, she accessorized to the max with statement earrings, hats, studded belts and layered necklaces galore. Cyndi's signature accessory is definitely bangles, though, and she was oftentimes spotted wearing a multitude of them on each arm.
Beauty Shop. Cyndi doesn't just limit her edgy style to her clothing and accessories — she makes a statement with her hair and makeup, too! Whether she's rocking a half-shaved head, brightly colored hair, or piles of neon blue eyeshadow, Cyndi is all about bold beauty looks. Of course, this doesn't mean you have to do something so extreme. Instead, just try out a new makeup trend or experiment with a hairstyle you've been dying to test out.
Outfits for Inspiration
True Colors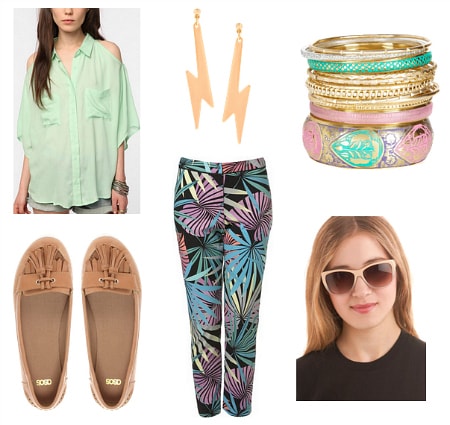 Product Info: Blouse- Urban Outfitters, Earrings- ASOS, Bangles- Oasis, Loafers- ASOS, Pants- Topshop, Sunglasses- ModCloth
Time After Time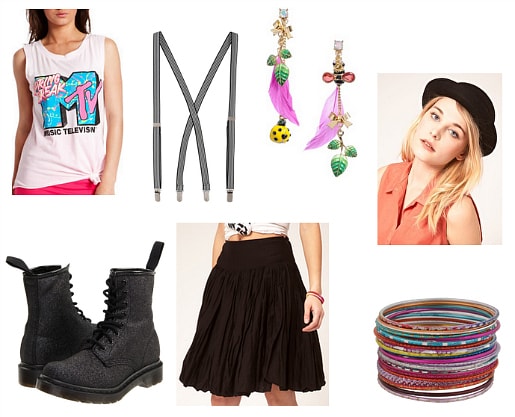 Product Info: Top- Charlotte Russe, Suspenders- American Apparel, Earrings- Betsey Johnson, Hat- ASOS, Boots- Dr. Martens, Skirt- ASOS, Bracelets- Forever 21
Girls Just Want to Have Fun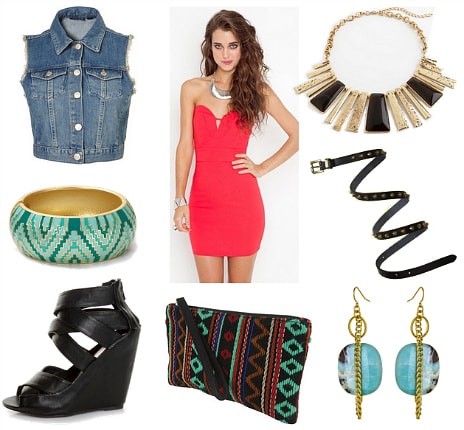 Product Info: Vest- Topshop, Dress- Nasty Gal, Necklace- Lord & Taylor, Bangle- Bloomingdale's, Belt- Gap, Sandals- Lulu's, Clutch- Forever 21, Earrings- Max & Chloe
What do you think?
Do you find Cyndi's style inspiring? What do you think of her look? Would you wear any of these outfits? Let me know what you think by leaving a comment below!