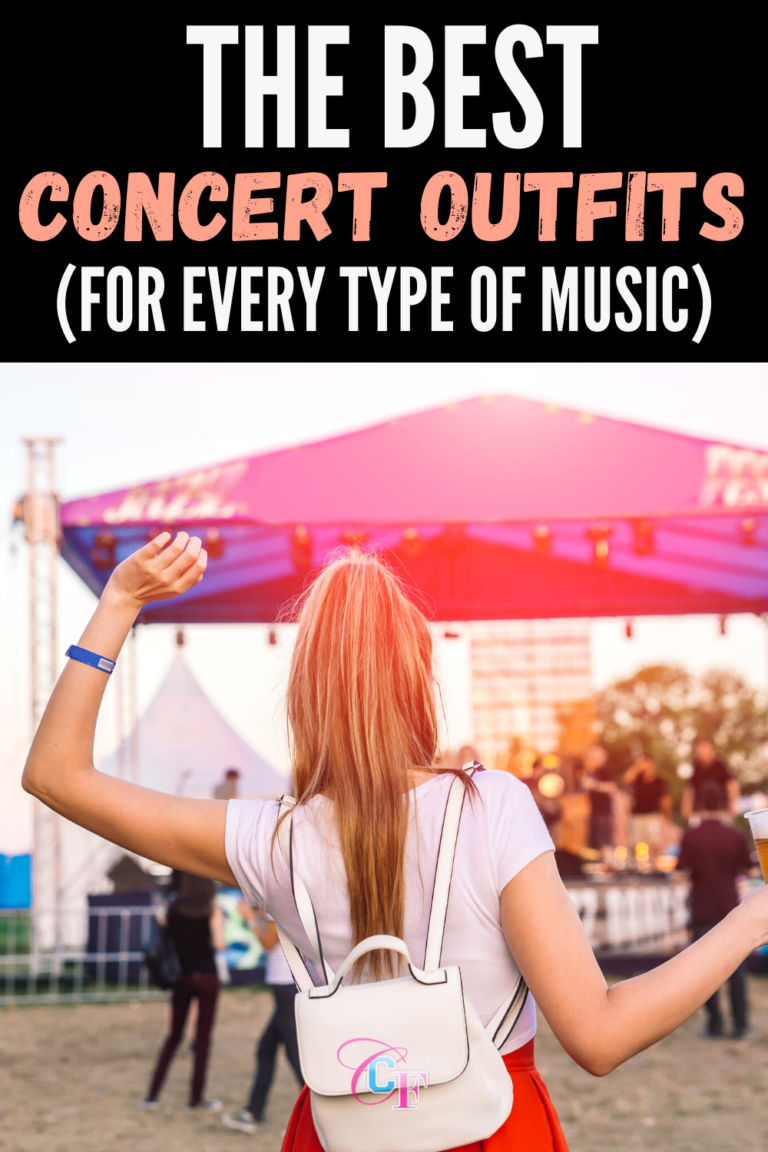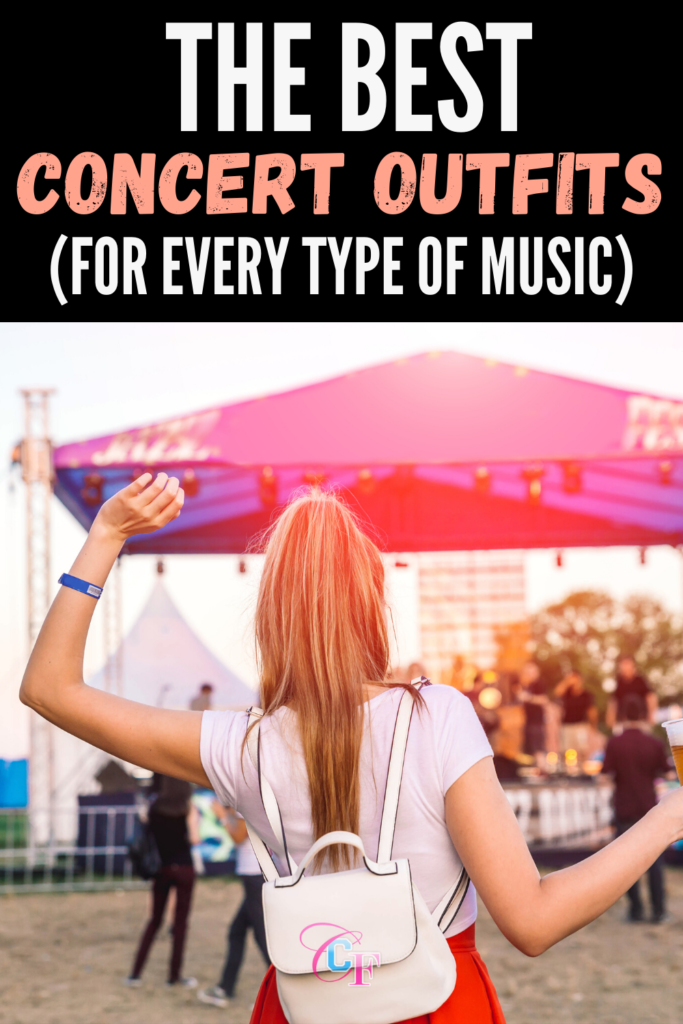 If there is one thing we all missed during quarantine, it was definitely concerts. Listening to our favorite artists, being surrounded by people, not wearing sweatpants — what's not to love?
And now, so many of us have gotten to see Harry Styles Love on Tour, and to you, I say, I am jealous. But no matter who your fave is, now is a great time to go to a concert. I mean, Big Time Rush just got back together!
There's not enough money in the world to cover all the concerts I want to go to right now. (But there's nothing I wouldn't do to go see Taylor Swift live.)
And, of course, I need clothes to attend these concerts. Picking out what to wear to a concert is almost as fun as going. I mean, you can't just show up to see Harry Styles and not look like his future wife.
What I love most about concerts is how people dare to wear what they love. With this in mind, there are some things you should always consider when choosing what to wear to a concert, no matter the type of music.
What to Wear to a Concert: General Tips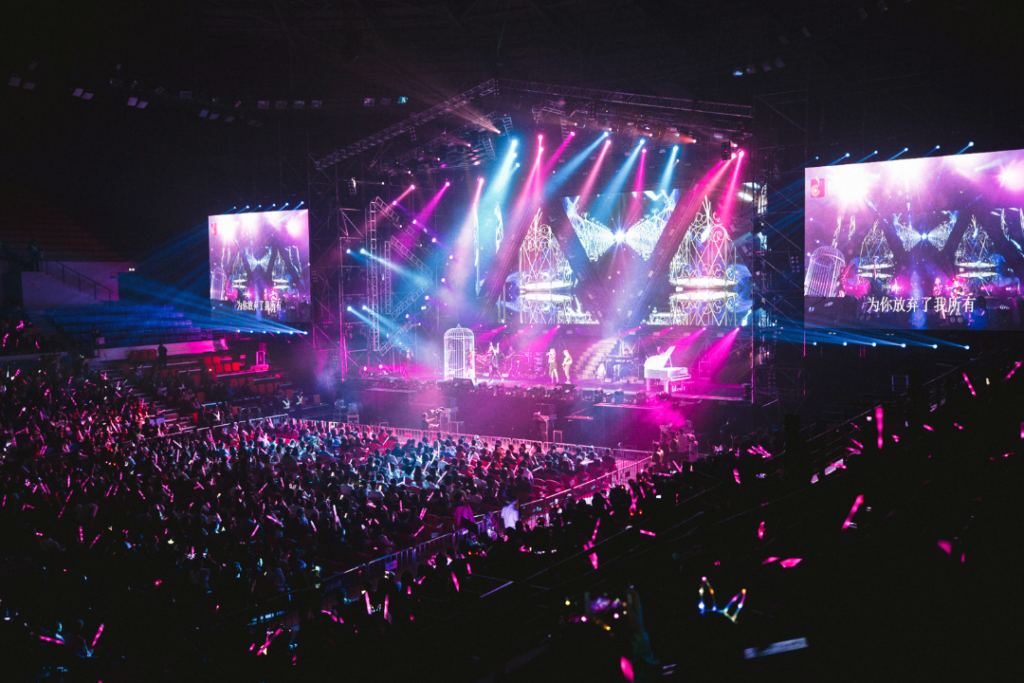 Comfort: You spend a lot of time standing at concerts, so you should never prioritize the outfit over your comfort. Because let's be honest, the odds are you're only going to get cute pics before you get to the show. You'll either forget or not like any of the pics you take at the concert. So choose clothes that are comfy, especially shoes. And don't wear anything that you have to constantly pull down or pull up — the only thing you should be focused on is having a great night.
Go all out: Having said that, it's a concert! So don't hold back and never ask the question: is this too much? Does Elton John ever think his outfit is too much? Rihanna? Harry Styles? Lizzo? I don't think so. It's never too much. Wear what you would love to dance in.
Think about the venue: Weather is key. Concerts are usually sweaty either way. But if it's an outside venue, make sure you have enough on to not be cold. That also goes for the floor. If you'll be walking around on dirt or grass all day, wear shoes that you won't fall in and that will leave you free to dance however you like.
The artist: While musical genres can tell you a lot about what to wear, you probably wouldn't go watch a jazz band in the same outfit you would go to a rock concert in. The biggest indicator is the artist. What you wear to go see Bruce Springsteen is vastly different from what you would wear to go see Queen, yet they're both rocks. The best question you can ask yourself is: would [insert artist] notice my outfit in the crowd? You never know, you could get married.
Now that we've got the basics down let's get on with all the different kinds of outfits you can wear to any concert, no matter what kind of music you're into. I've also included some song recommendations if you're looking for some new inspiration.
The Best Concert Outfit Ideas by Genre
Hip Hop/Rap Concert Outfit
If there is one person in the world I would love to meet, it's Cardi B. I just know she would be the most fun dinner date ever. And I hate going to dinner with strangers.
So I would jump at any chance to go see her live in concert. And you can be sure that I'll be wearing some Cardi merch. At a rap concert, you'll be dancing and jumping "Up" all night, so the main thing is to be comfy.
While cargo shorts have never been my idea of high fashion, I have to say these are so cute. Pair some comfy shorts with your artist t-shirts and the comfiest shoes you can find. Odds are your feet will be stepped on, so combat boots are your safest bet, trust me, you won't feel a thing, and they're extremely comfortable. Accessorize with some color and some fun, edgy jewelry. 
Rap song on repeat: "Up" by Cardi B
Rock Concert Outfit
If you have a classic dad, odds are you grew up on rock music. Think Bruce Springsteen, Dire Straits, Led Zeppelin, Queen, Bob Seger, Pink Floyd, and the list goes on and on. And while I love to tell my dad to turn off the old people's music, I have to admit I do always come back to classic rock. There's a reason it's called classic, and it's because you really never get bored of it.
So for a rock concert, why not wear a classic rock t-shirt? Just give it a fun spin with some brown leather pants and colorful sneakers. Just because you're at a dad concert doesn't mean you have to dress like your dad, or at least not like your dad dresses now. Accessorize with some fun studs and a cool pink lip. 
Rock song on repeat: "I'm on Fire" by Bruce Springsteen. (My all-time favorite song.)
Punk Rock Concert Outfit
Something about punk just feels so of the moment. Maybe it's our obsession with the '90s, or maybe it's our frustration with everything. Either way, I love punk-inspired outfits. So effortless, so cool, and punk fashion is the predecessor for model-off-duty clothes, I swear. 
If you're going to a punk concert, grab any cute graphic tank top in your dresser. I love this one because there is something quite ironic about a princess at a punk concert. Put on your comfiest jeans, and these Levi's are actually Hailey Bieber-approved, and I'd say she knows a thing or two about music fashion by association.
Punk is simple, so the accessories are what really make the look; there's nothing cooler than a choker and some black earrings. Don't forget your eyeliner and of course the comfiest shoes you can find. And they're also pretty edgy.
Punk song on repeat: I don't have any! Please give me some recommendations ASAP so I can attend a punk concert.
EDM Concert Outfit
I spent my last years of high school living in the Netherlands, so I know a thing or two about what to wear to an EDM concert. If you're unfamiliar, some of the biggest names in DJing are Dutch: Martin Garrix, Tiesto, Hardwell, Afrojack, you get the gist.
And I love EDM music; it's the best kind of music to let loose and just feel the beat with the crowd. But those concerts usually get really warm because they're enclosed spaces, so listen carefully about what to wear.
Shorts, say it with me: shorts. Pants will get too hot, and skirts and dresses are a little bit risky when you are jumping around all night. So get some fun shorts and a sparkly top. It's dark in there, so if you're going to get the DJ's attention, you're going to have to be reflecting light.
Shimmery lips and white eyeliner are my go-to's for EDM concerts. I don't know what it is about white eyeliner, but it makes you look almost alien, and I don't know why, but that's always been my inspiration for EDM. (Maybe it's because of the movie Megamind.)
EDM song on repeat: "Hypnotized" by Purple Disco Machine (I just saw him live, and wow)
Country Concert Outfit
As an international student, I was converted into loving country music by my cowgirl best friend from Fresno. And while everyone loves to hate country, even I can admit there's some great country music out there.
Country concerts usually have great energy and are more chill than most other genres on this list. Also, you can learn to line dance, and line dancing with a crowd is an American experience I couldn't pass on during my time here.
If you're going to a Country concert, there are two things you'll need, and don't you even bother showing up without these: cowboy boots and a cowboy hat. There are endless options to choose from. Currently, my new obsession is the brown straw hat. Also, country style is very in right now, so you'll have plenty of occasions to wear these pieces outside of a country music setting.
As for your clothes, you can never go wrong with a denim mini-skirt. Pair that with a fun animal print, probably a farm animal print, to be in the dress code. But if you're like me, and basic just isn't you thing, throw in a Safari animal to mix things up.
Country song on repeat: "American Girl" by Carrie Underwood (Doesn't get more American than this.)
Pop Concert Outfit
I saved the best for last. I'll admit it; I'm basic; I love mainstream music. But you know what? It's mainstream for a reason because it's good.
And while I may have missed my chance to go see Harry Styles because I didn't know he was playing and instead went to a frat formal, which I'm pretty sure is a deadly sin, this is what I would have worn. I guess I missed my chance to become Mrs. Styles. 
Rompers are a perfect outfit for a pop concert. They're fun, they're flowy, and most of all, they're extremely comfortable. When Lizzo starts dancing, you'll be dancing with her, so an outfit that won't risk flashing everyone is a must. I personally love this jumpsuit; I mean, this color is to die for.
For extras, start with some fun and comfortable boots. Don't forget a bag that you can wrap around yourself so you don't risk losing it. Accessorize with some jewelry, and of course, a little lipstick never hurts anyone.
Pop song on repeat: "abcdefu" by GAYLE (TikTok has been a blessing to the music industry.)
Final Tips for Dressing for Concerts
If your Spotify wrap looks anything like mine, you'll need many of these outfits to get through the next few months. Or you might just like one genre of music but love trying new outfits. There's nothing more rock and roll than showing up in cowboy boots to go see Miley Cyrus. And she'll definitely dig your kicks.
So at the end of the day, wear what you love and wear what you can dance in all night long.
And finally, don't overthink your outfit too much, and it doesn't matter if your friends are wearing something different. This is about having fun, listening to the artist you love, and spending time with your friends. The only time you should remember your outfit is when someone gives you a compliment. Bonus points if that someone is Harry Styles.
Also, please remember to be safe. Concerts can be very scary, so if you don't feel good or you just don't want to be in the crowd, take a step back. Trust me, Beyonce's beauty carries all the way to the back.
What's your favorite type of music?
What artist are you most excited to see in life? What's your go-to concert outfit? Tell me in the comments down below.
If you like these concert outfit ideas, you might also want to see more of our favorite outfits below —