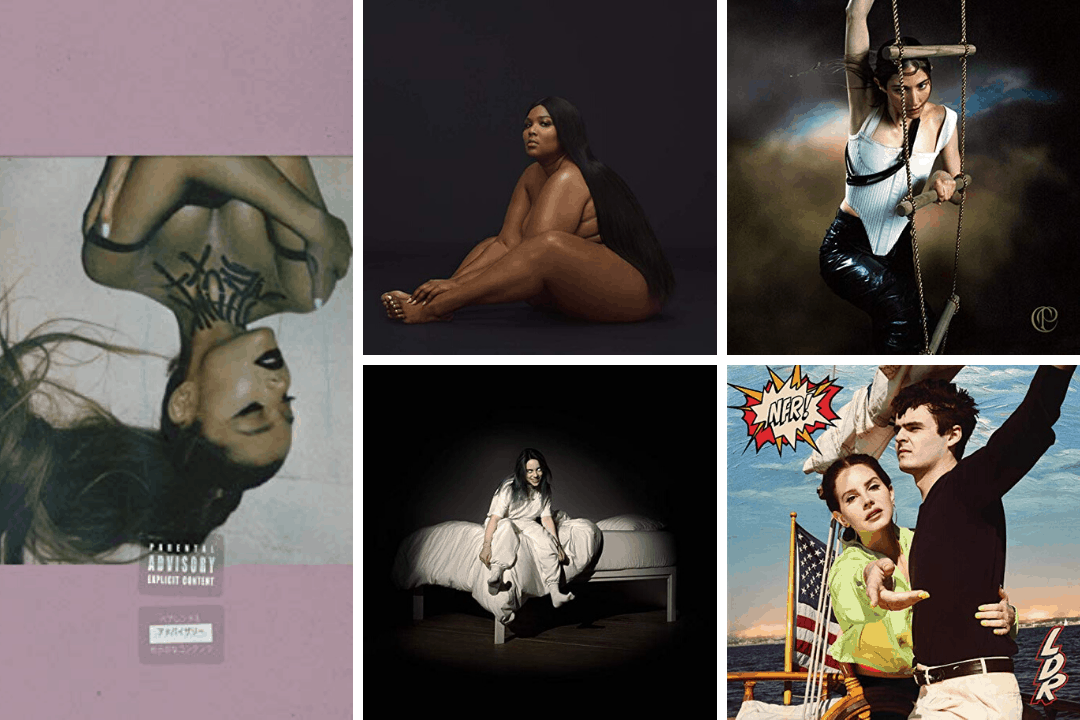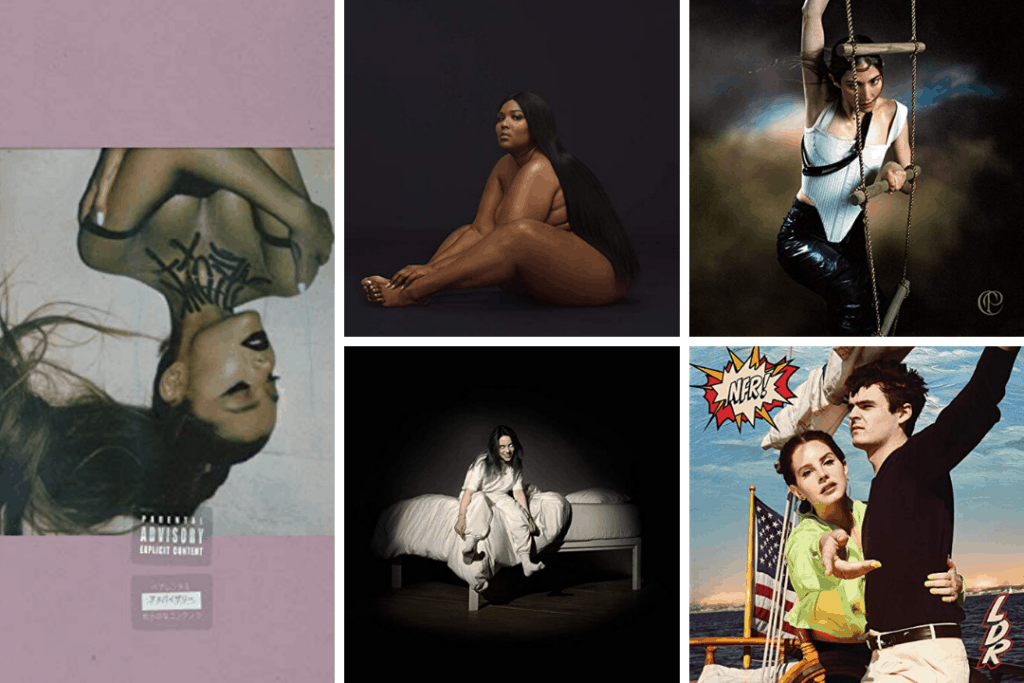 I was at a party earlier this year where, after a drink or two, perhaps, I was perusing the house record collection with an older gentleman. We were talking about the selections, what we liked, what we didn't – we agreed, on a lot. And then he hit me with this surprise gem:
"Music this year has been absolutely awful. Especially pop music."
Normally, I would have agreed with him. I am not a young twenty-something anymore, I'm an old twenty-something; the last three or four years, I've felt very disconnected with mainstream pop music. But not this year, no no no.
Boy got an earful, literally. I sat him down and (drunkenly) made him listen to Lizzo, to Ariana Grande, to Billie Eilish, to the newly released Lana Del Rey album. With the Grammy announcements this past week and Billie being the youngest artist every to be nominated for the big four, I've been reflecting.
2019 has been a powerful year for women in pop.
Our lady of self-love, Lizzo, rocked us with her empowerment anthems and her unabashed love for her own body; Billie Eilish, our sweet baby princess of darkness, stuck her fingers into our deepest wounds and twisted; Lana made an entire album about being exhausted and apathetic in the current political climate, in a way that only LDR could pull off.
As we stare down the next decade, we're traveling into uncharted territory for women in pop music, thanks in part to these women who trailblazed and let their freak flags fly, writing, performing, and producing the music that they wanted, the industry be damned.
Here are a few examples of exactly what I mean. 2019 pop music was amazing, guys:
Ariana Grande – thank u, next
Y'all know the absolute force that is Ariana Grande, so will not wax poetic about her whirlwind 2018, her breakneck engagement, the release of the weird and wonderful Sweetener, and the untimely death of her ex, Mac Miller.
What I will wax poetic on, however, is the undisputed fact that thank u, next is an album of banger after banger (except 'make up', don't @ me). Don't tell me that you didn't cry your eyes out to 'imagine' the first time you heard it; that you didn't have 'in my head' on repeat during that awful break-up; that you didn't belt out "IMMA NEED SPACE" over and over again while cooking dinner until your partner straight-up banned the song from your home. (Okay, that was just me, but….you get the idea). If you do tell me those things, you're a liar. That's how powerful this album is.
Ari isn't without her controversies – the appropriation in '7 rings', for example. But her hustle is undeniable; to be able to put out not one, but two excellent albums in six months (especially after her well-publicized statement that she wanted to release pop music like rappers, whenever she pleased), and to get in front of the narrative of her breakup (ouch @ bad idea – need some ice for that burn, Pete?).
Her music is catchy, her lyrics are confessional while being universal, and she strikes the balance of vulnerability and bad-bitch energy the way only a young millennial could.
Caroline Polachek – Pang
Perhaps a dark horse in this list, and certainly someone you might not recognize at first blush (you've definitely heard her voice, I promise you), Caroline Polachek's album Pang came, to me, out of freaking NOWHERE. In early fall, Polachek released the single So Hot You're Hurting My Feelings, which, um, is the best song title ever, and is also the only song that I think will ever have me scream-singing SHOW ME THE BANANA in any capacity.
But a fun album of sexy bangers Pang is not. Don't get me wrong – the album is HOT (see also: Ocean of Tears, Pang, Caroline Shut Up) but it's also dark and moody, tracking the dissolution of a romantic relationship and absolute emotional upheaval that comes from it in a way that's devastating and universal.
But Polachek's voice is beautiful, operatic and sprawling and wry, and her songwriting is both poetic and conversational (again, SHOW ME THE BANANA, or literally actually telling herself to shut up in a ballad, for effs sake). It's impossible not to hear the Imogen Heap, Kate Bush, and Laurie Anderson references in her songwriting, and that she's able to take her from the highest highs to the lowest lows of love in like, less than an hour? A Queen, I stan.
Lana Del Rey – NFR!
Don't get me wrong, I love Lana Del Rey, but she's existed in this weird liminal space where I basically only listened to Born to Die in 2012 and then everything that came after it was good, but meh. In the sense that it was more of the same for me.
Not the case with NFR! Lana's branching out both thematically and musically, from the psychedelic sprawl of Venice Bitch to the aching vulnerability of Love Song to the Elton John/Father John Misty vibes of Happiness is a Butterfly to the inexplicable Doin' Time cover, which is a cover in itself?
Her lyrics have evolved, too – her distance and storytelling are still tight, but her imagery becomes more vivid in that storytelling, from falling in love with the bartender, to LA and 'the culture' being lit, to her knowing references to everyone from the Eagles to Kanye West to David Bowie. With this album, LDR solidified her place both as a cultural iconoclast of our time and in the larger canon of rock, whether you like it or not.
Billie Eilish – WHEN WE ALL FALL ASLEEP, WHERE DO WE GO?
Billie, Billie, Billie. We couldn't have a 2019 pop music roundup without her.
Y'all couldn't sneeze this year without hearing Bad Guy or a cover of Bad Guy. But WHEN WE ALL FALL ASLEEP WHERE DO WE GO is so much more, and is even more astonishing when you consider Eilish's age – not even an adult, staring down the threshold at just 17.
Eilish's music and its universal appeal among both the gen Z babies and approaching-40 millennials speaks to the universal ennui, helplessness, and darkness of our times. 'when the party's over,' perhaps the most delicate and dark love song of the decade, finely balances the spiraling thoughts of mental illness (don't you know I'm no good for you, I'll only hurt you if you let me) and the desperate, universal need for connection, despite the signs that it's not working.
Eilish's songs dance these delicate lines with both a teenaged sneer and the tenderness of first love. In songs like 'bury a friend,' 'ilomilo,' and 'i love you,' the push-pull of toughness and tenderness strains at Eilish, as her soft vocals breathe out the darkest of thoughts. If she is the avatar of the coming generations, we could never accuse them of vapidness, just clear-eyed introspection and startling vulnerability.
Lizzo – Because I Love You
Lizzo is Lizzo, and she killed pop music in 2019. Don't make me talk about her, I might cry. You know how it is.
Also I know Good As Hell is from Coconut Oil, but it's SO GOOD guys, give me a break. I cannot WAIT to see what she has in store for us in 2020, because 2019 was BEYOND AMAZING.
What do you think of my 2019 pop music retrospective?
Do you agree with my picks for the best pop music of 2019? What were your favorite pop releases of this year? Let me know in the comments below!