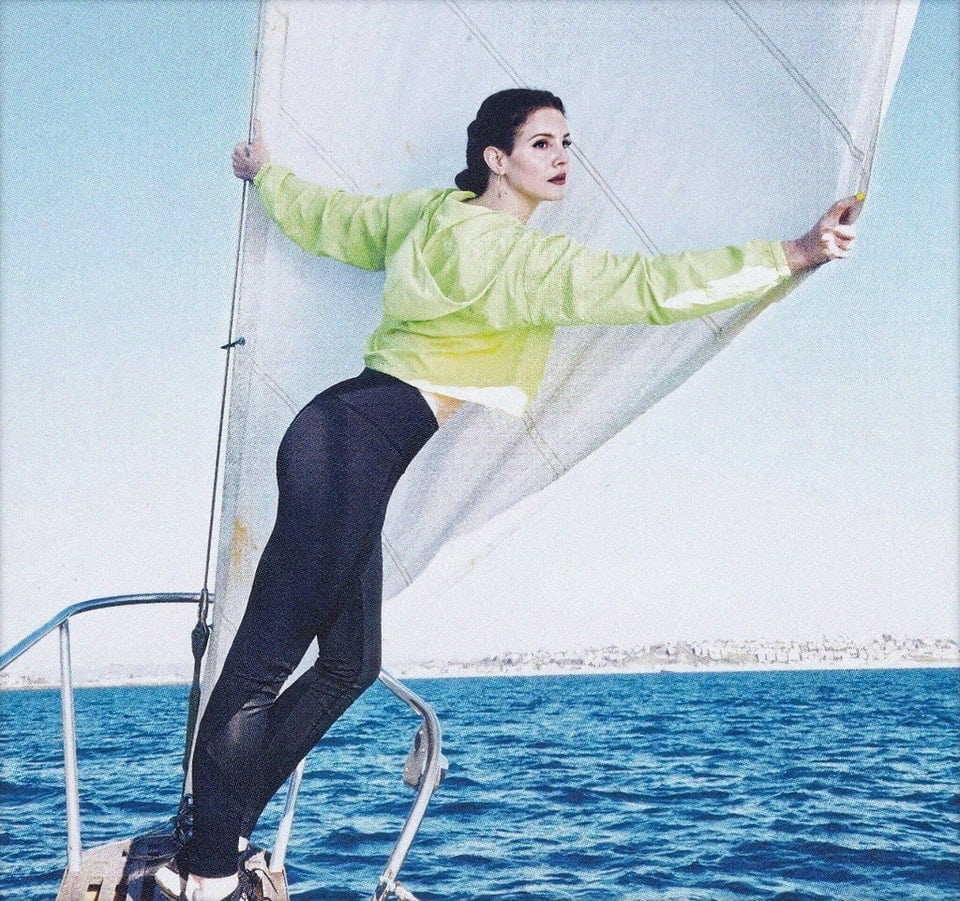 Lana del Rey has always been the queen of song, style, and sophistication, and she's come a long way since ditching her real name (Lizzy Grant) and creating her first EP. Read how iconic Lana Del Rey costumes are.
Lana was a Tumblr icon in my early teenage years, and I know I'm not the only one who has been obsessed with her for years. She's had a huge impact on today's generation of cool college girls.
This week I went back down memory lane and listened to some of her old music — and looked at some of her old outfits.
Below, I've taken a deep dive into Lana Del Rey's style and gleaned outfit inspo from each of her albums — and her aesthetic from each album era. Below are five Lana Del Rey outfits to help you get her style, with a look for every occasion!
Born to Die (2012)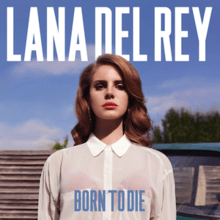 Giving us iconic tunes like Blue Jeans, Summertime Sadness, and Video Games, "Born to Die" is the ultimate nostalgic look back at early Lana. Plus, her entire look on the cover is ~very 2012~, so what's better than a modern outfit for an album that was so influential in our childhoods?
Lana Del Rey style – Born to Die inspired outfit set with cropped-tee, bell-bottom jeans, white boots, statement earrings, headband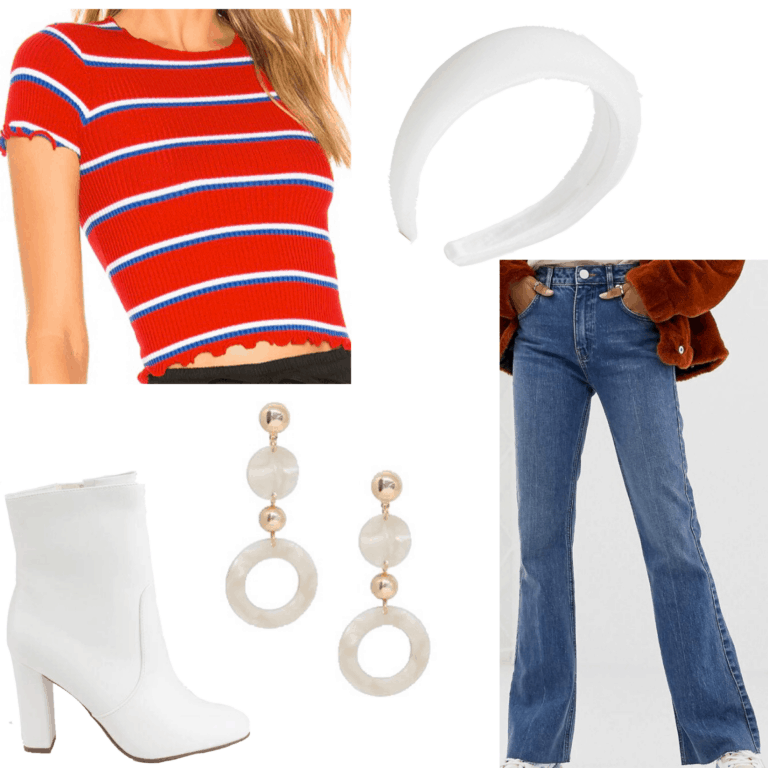 Of course, I had to start off with some blue jeans, in reference to the song of the same name on the album as one of the best Lana Del Rey costumes. Casual flare jeans are very Lana and they really get the girl-next-door look for this outfit. Pairing them with a red striped t-shirt brings out the red, white, and blue of National Anthem (and references the album cover).
Finally, some dangle circle earrings, white heeled boots, and a velvet headband give some '60s vibes to this outfit, which reflects both Lana's look and the album's feel.
Ultraviolence (2014)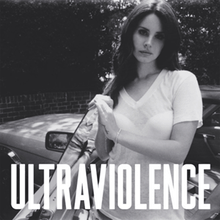 "Ultraviolence" was arguably Lana's moodiest album, one filled with slow ballads and sultry declarations.
The black-and-white album cover really conveys the mood of her whole vibe in this era — sexy and a little bit Brooklyn hipster. Some of my fave songs from this one are Old Money and Brooklyn Baby, classic Lana Del Rey!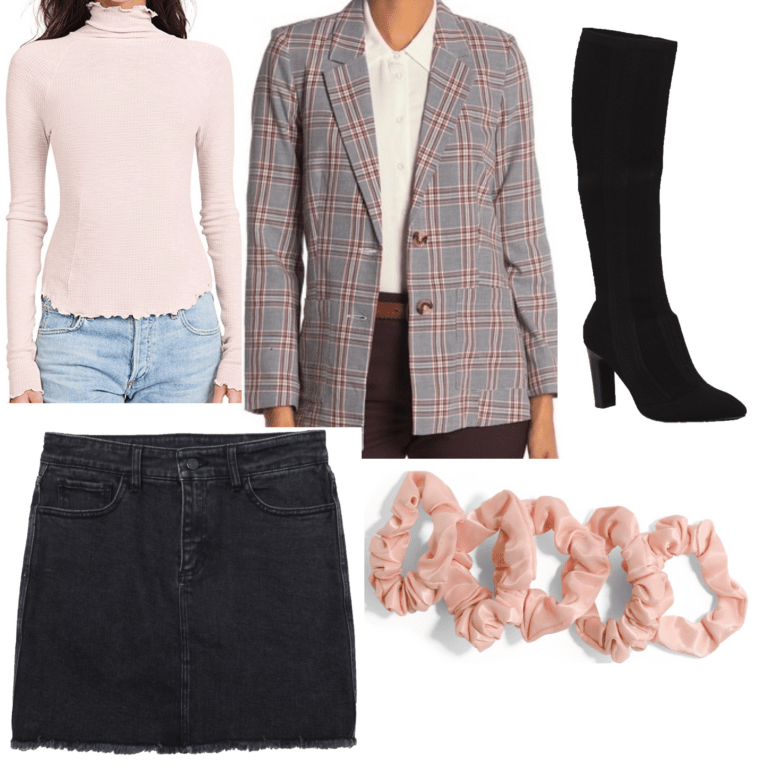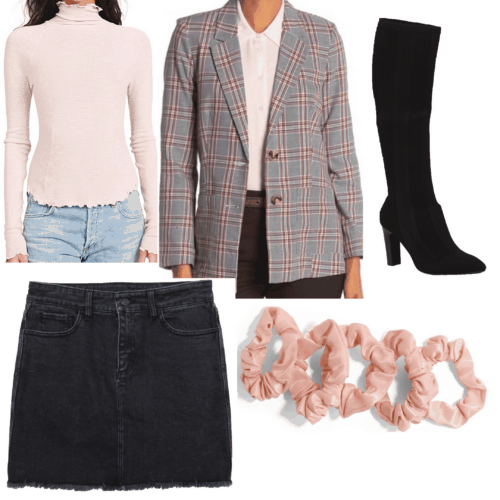 Start this look out with a Brooklyn cool-girl vibe via this oversized plaid blazer. Underneath, a light pink turtleneck gives this outfit a girly, soft touch while a black jean skirt mixes in a tough vibe as well. Classic Ultraviolence.
Black knee-high boots are an unexpected yet sexy addition to this look. Finally, light pink scrunchies kick this outfit down a notch to give it a casual relatability and 2019 feel. Lana would definitely approve!
Honeymoon (2015)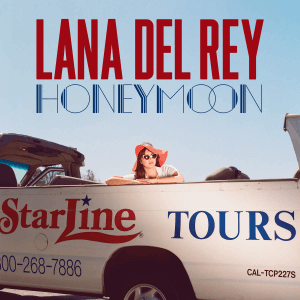 "Honeymoon" is the chillest song, really a true to title "honeymoon" album! It's slow but energetic, like a long day in the sun at the beach.
Thanks to songs like Music To Watch Boys To and High By The Beach, I could sit in a backyard hammock and listen to this album all day.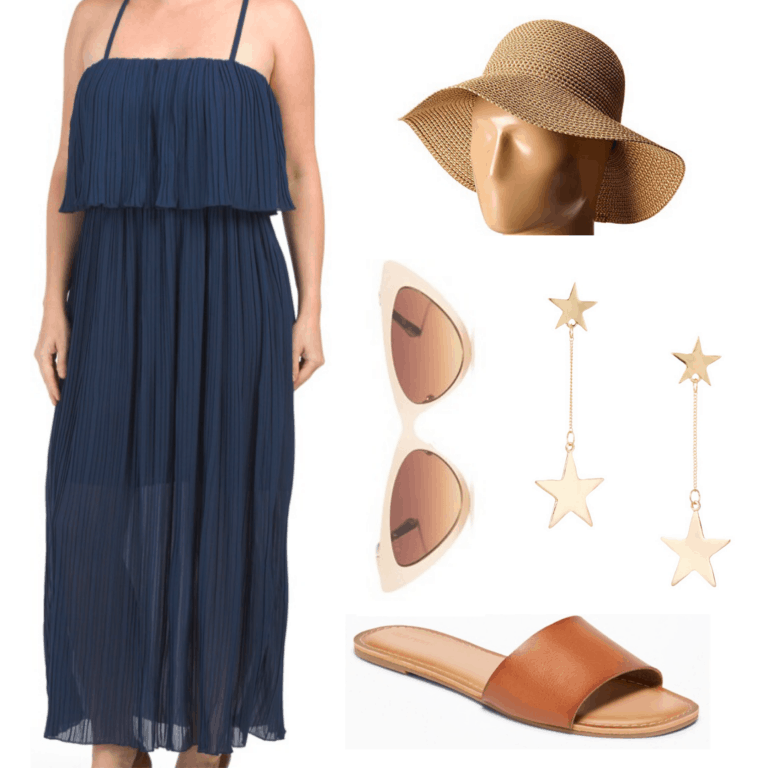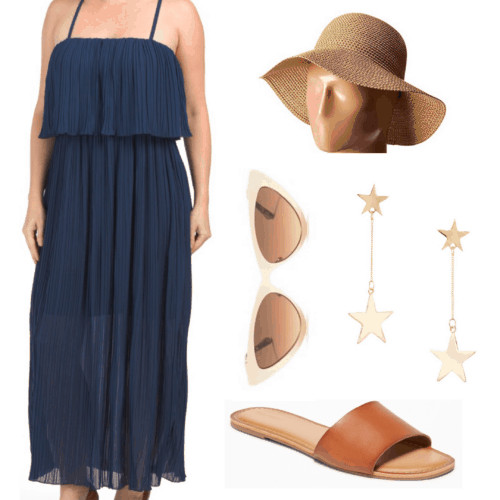 This outfit, inspired by Lana's style on the album cover, is perfect for a day by the pool turned nice dinner. A very niche occasion, but important nonetheless!
A pleated navy blue dress is comfortable and flowy, perfect for blowing in the breeze like the cool girl you are. These cute tan sandals are great to slip on and off easily, and are classy too!
But the accessories are what really make the outfit — the floppy hat and cat eye sunglasses take a cue from the album cover. Finally, some star earrings add a mystical touch to the look and will make you look super sophisticated.
Lust for Life (2017)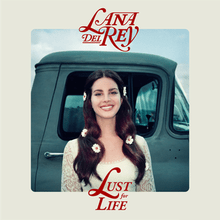 "Lust for Life" was the album where Lana really grew into the artist we know her as today. She got more into the pop scene with collabs on songs with The Weeknd and A$AP Rocky – like Summer Bummer and Lust for Life. Also, she has some solo standouts with Cherry and Get Free, showing that the old Lana Del Rey is still here and her versatility is here to stay!
In particular, I adore Lana's style in the Love music video from this era — we did a full post on it here at CF, so check it out if you haven't already.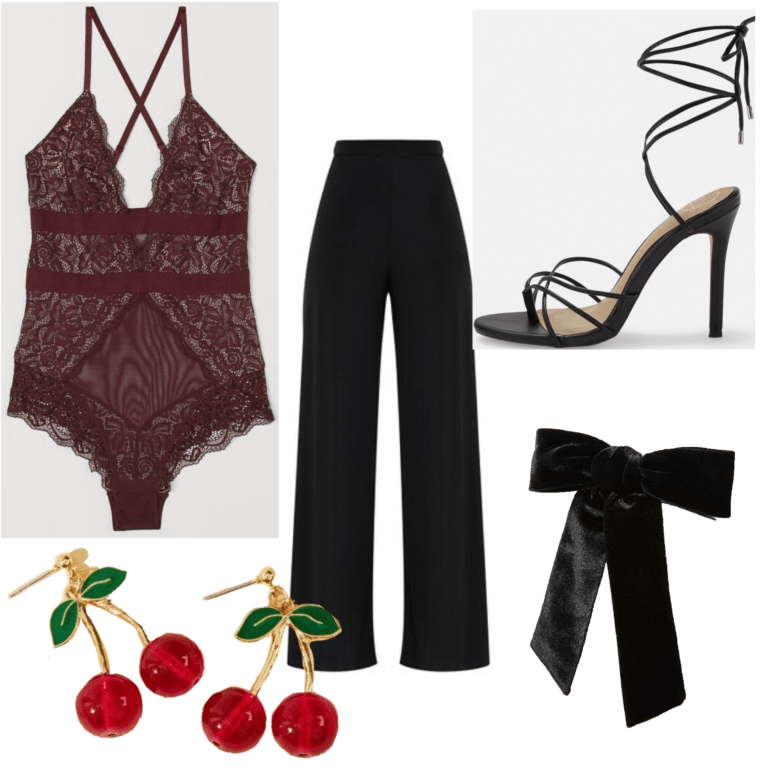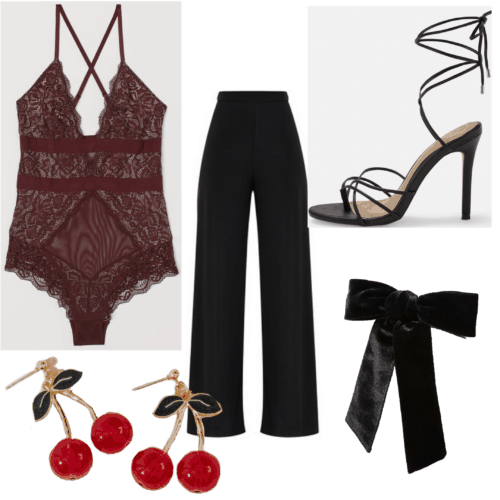 Just like a lot of the songs on this album, this outfit is perfect for Coachella! It does sultry Lana really well with a lacy burgundy bodysuit, paired with some black flowy pants to create a super cute silhouette.
Some strappy black heels and a black velvet bow add a sophisticated touch that Lana would love. Finally, super cute cherry earrings (a reference to Cherry) are the perfect bad girl addition to this outfit.
Norman F*cking Rockwell! (2019)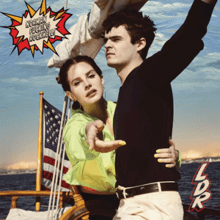 "Norman F*cking Rockwell!" is Lana Del Rey's newest creative masterpiece. This album is certainly influenced by her earlier work and carries with it a strong sense of nostalgia. It also has a lot of maturity — after all, Lana has been through it all and come out on the other side.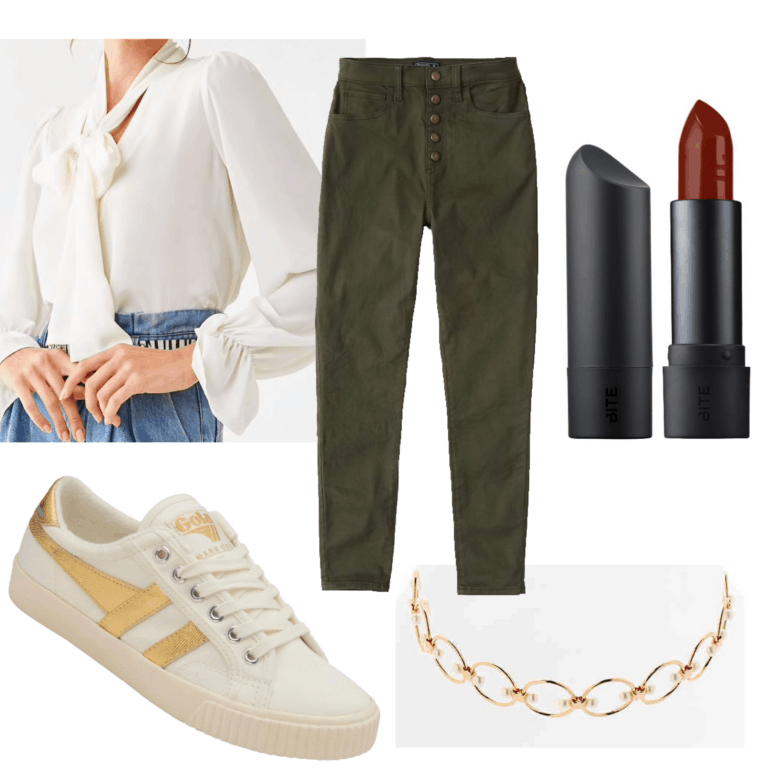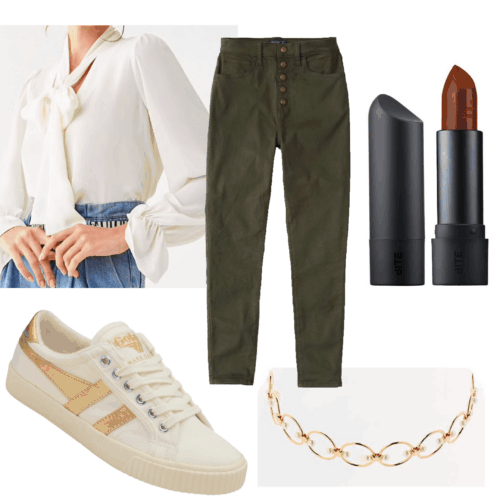 For a modern yet sophisticated look inspired by Lana Del Rey's style in 2019, a cream blouse with a bow top paired with army green pants mixes classic colors and contrasting forms.
White and gold sneakers add a shiny accessory to the outfit while bringing this outfit into the 21st century. A gold loop necklace brings the shimmer up to the top half of the look, and a gorgeous red-brown lipstick has a wonderfully earthy tone that matches the mature tone of this ensemble.
What do you think of Lana Del Rey's style and album eras?
What's your favorite Lana Del Rey song? Which look is your favorite? How do you think Lana's music influences her style?
If you liked this article about Lana Del Rey costumes, consider checking out these other articles below —