This Ginny and Georgia fashion guide will show you how to copy Georgia's style and outfits.
Another month, another Netflix series I binge watched in 8 hours instead of doing my work. If you haven't seen Ginny and Georgia, well then you simply aren't failing your classes.
The show follows a young mother and daughter, and if you're thinking Gilmore Girls, I'll stop you there, because that's pretty much the only similarity. The show goes on crazy turns of mystery, romance, crime and scandal. Though the series has its problems — it has a lot going on for such a short series, and we can't forget the tasteless joke about Taylor Swift — I think it's still worth the watch.
While Ginny definitely becomes more stylish as the show goes on, Georgia steals the show when it comes to outfits. She's got all eyes on her whenever she walks in.
And yes, she doesn't dress, as some might say, "age appropriate," but that's why I love her so much. Clothes don't have age limits. Now I'm not saying you should go shop at Gap Kids, but if we can steal from our parents' wardrobe, why shouldn't they from ours?
Georgia is a badass. She uses all the skills at her disposal to get what she wants, even a job at the mayor's office with no prior experience. All while I'm out here with 5 extracurriculars, 3 previous internships, and trying to find a cure for cancer so I can land an unpaid job. 
Ginny & Georgia Fashion: Georgia's Style Basics
Now if you can look away from Marcus for even a few seconds, you'll notice Georgia's got style for days. From Rosie the Riveter vibes to Pretty Woman throwbacks, she plays around with her style. So, to channel her carefree yet in control style here are a few things to keep in mind:
Form fitting: Georgia wears clothes that make her feel confident. If for you that's wearing skintight clothes like her, then great. If something else makes you feel confident, then do that.
Bright colors: The only thing louder than Georgia's personality is her wardrobe. If you want to be turning heads, then don't be afraid to put on some bright clothes that make a statement.
Vintage: Georgia loves to give nods to the past; it creates her allure. The big black hat, the red bandana, and the a-line dress, are just some examples of her slightly vintage aesthetic. But her style always has a twist, and that twist is always hot.
While I can't wait for Season 2 (I mean, they left us with some insane cliffhangers), until then I'll be trying to channel Georgia's level of badass through her style. How about you?
Read on for my complete Ginny and Georgia fashion guide to Georgia's style.
Georgia Outfit 1: California Summers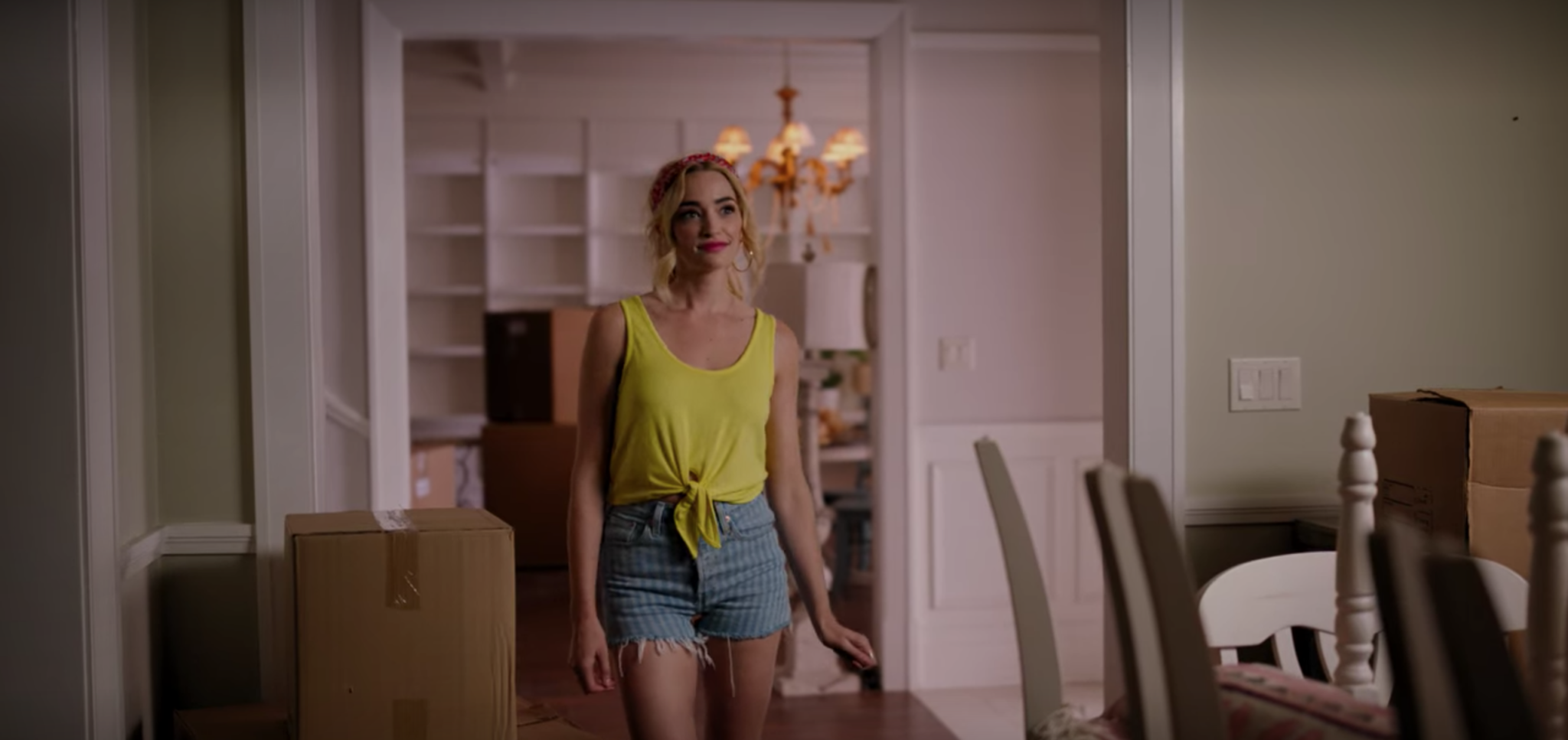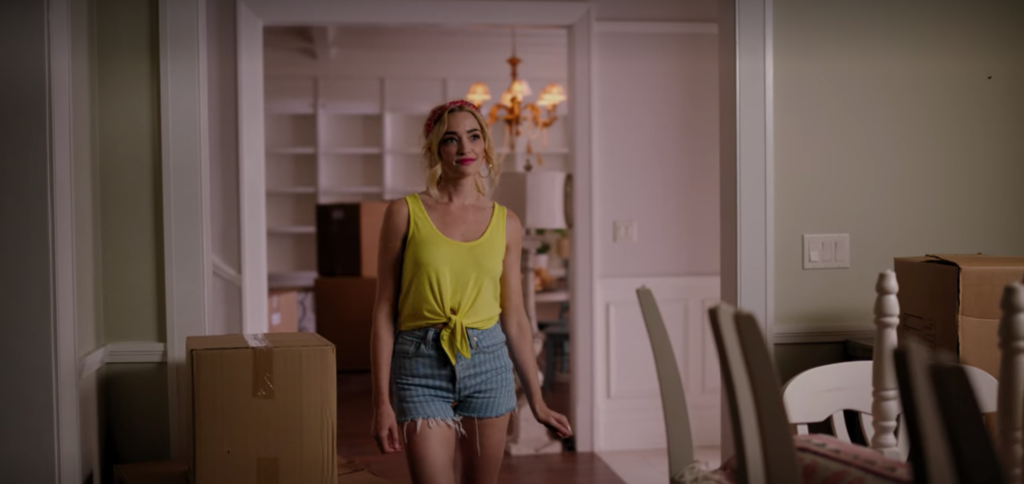 Screenshot from Netflix
Georgia had me hooked with this outfit, riding in a convertible singing to "It Wasn't Me," and that's just the first shot of the series. The outfit perfectly encapsulates who she is: carefree, young, put together, and confident. More than anything, this look is inspired by Rosie the Riveter, which Georgia encapsulates as a character.
The outfit is perfect for summer, and guess what? Summer 2021 is just around the corner. This look will keep you cool in the weather and still looking really cute.
To copy it, go for some light wash jean shorts, and pair them with a bright yellow tank top perfect for summer. Match the look with a bandana around your hair for the warm weather and some golden hoops as a simple accessory. Don't forget some high top Converse, so you're ready for any adventure.
Georgia Outfit 2: Workwear to Night Out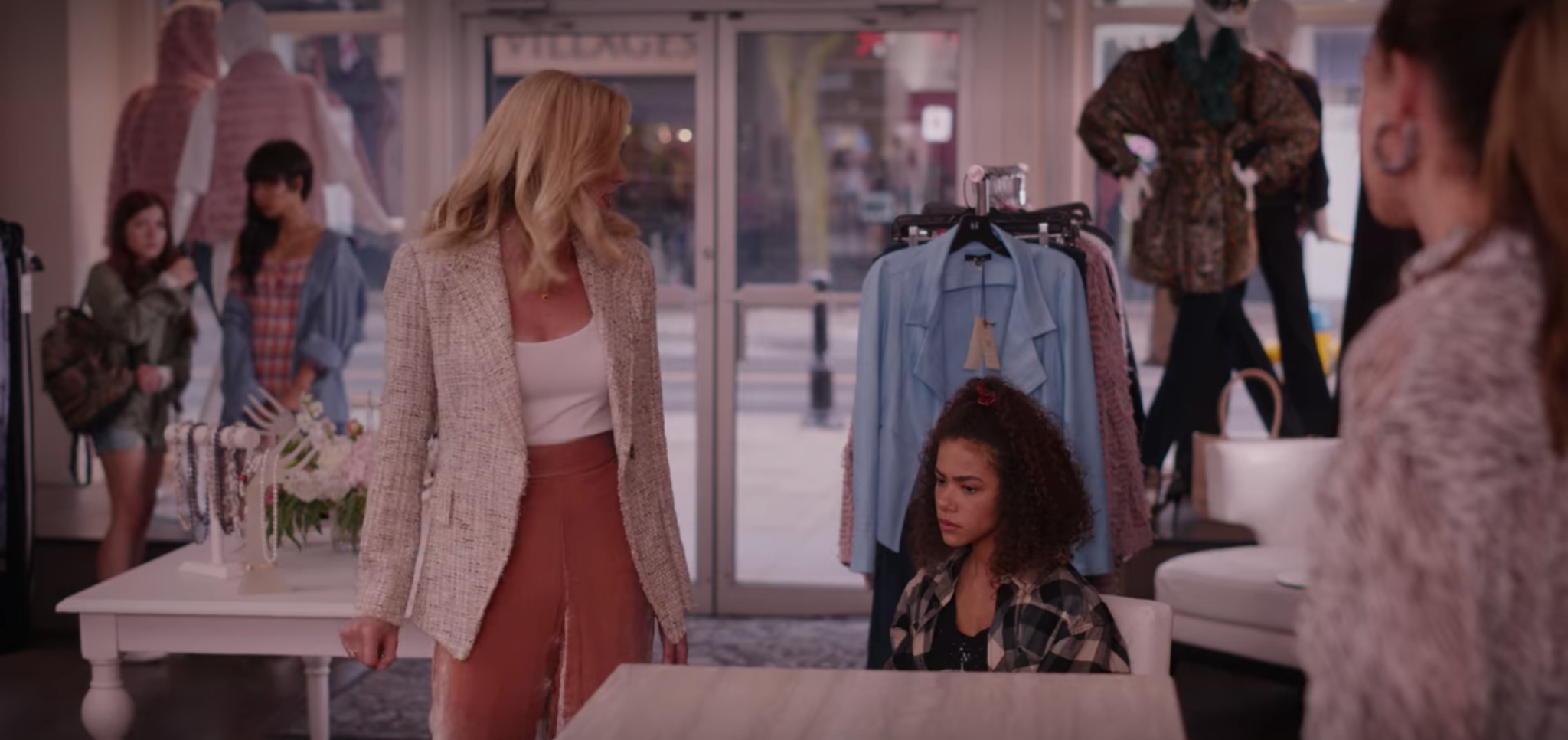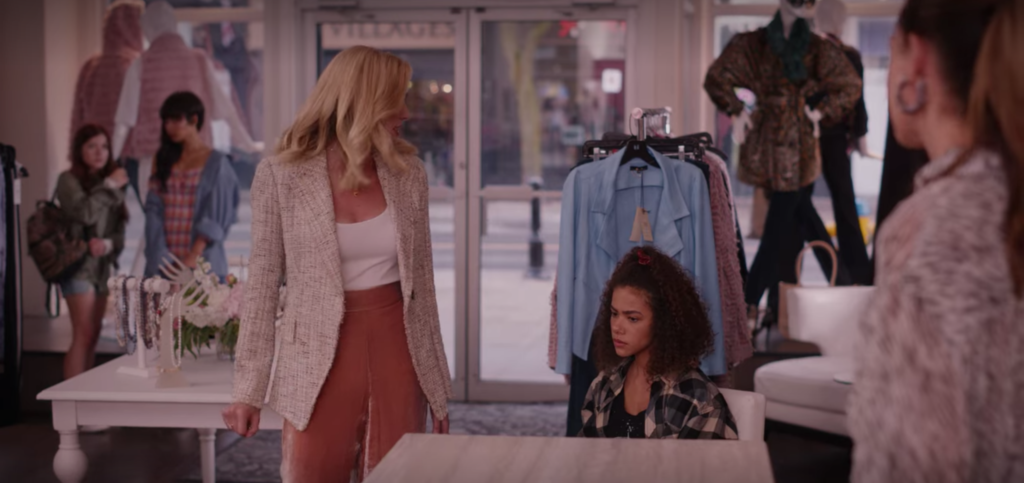 Screenshot from Netflix
Georgia dressed for the job she wanted and she got it.
Workwear doesn't have to be boring. You don't have to try to prove you belong there — you do! So dress in what makes you feel confident and will help you get the job done.
Georgia manages to make tweed young, and so can you. Pair a tweed coat with some fun metallic wide leg pants. Wear it over a simple white tank top, that is perfect for showing off at drinks after work. Finish off your look with a cute on trend bag and some heels that say you run the place.
Georgia Outfit 3: Class to Errands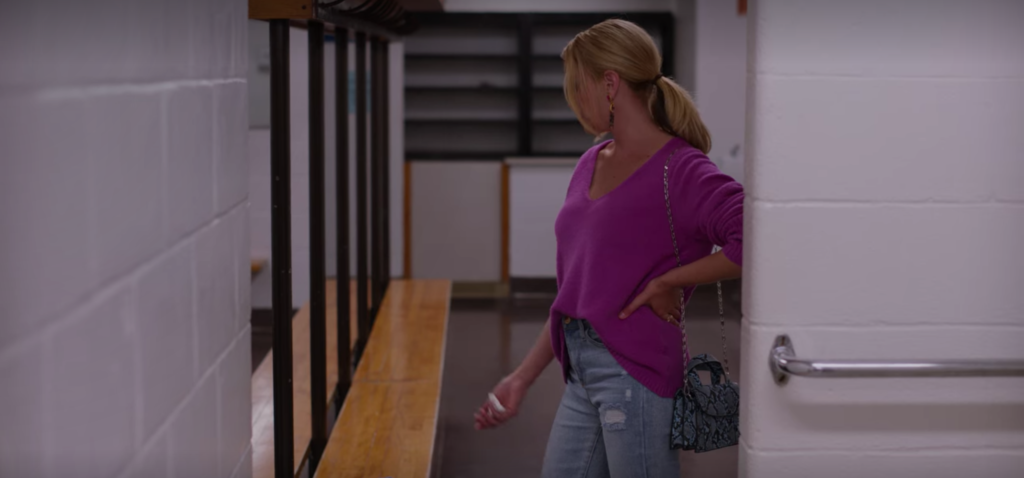 Screenshot from Netflix
Even when dressing casually, Georgia is dressed to a T, and in a fun outfit. Hopefully classes will be in person soon, and you'll be able to rock an outfit like this to class.
Throw on your favorite jeans, and style them with a bright colored sweater, like Georgia's magenta one above. Pair the look with a fun snake skin bag, some cute earrings and some wedges — stylish and super comfortable.
You're ready for any errand and any chance encounter with a potential love interest.
Georgia Outfit 4: Sunday Brunch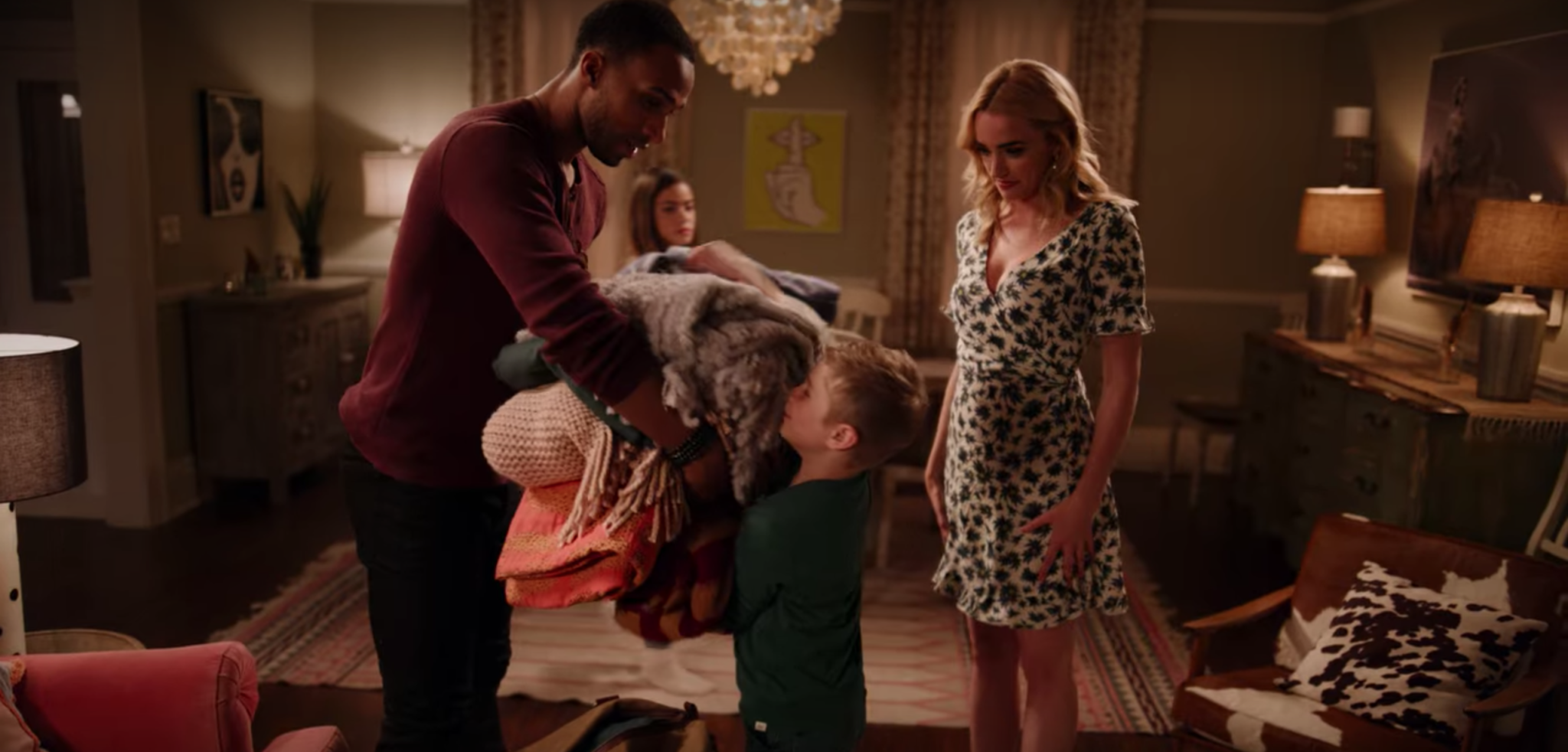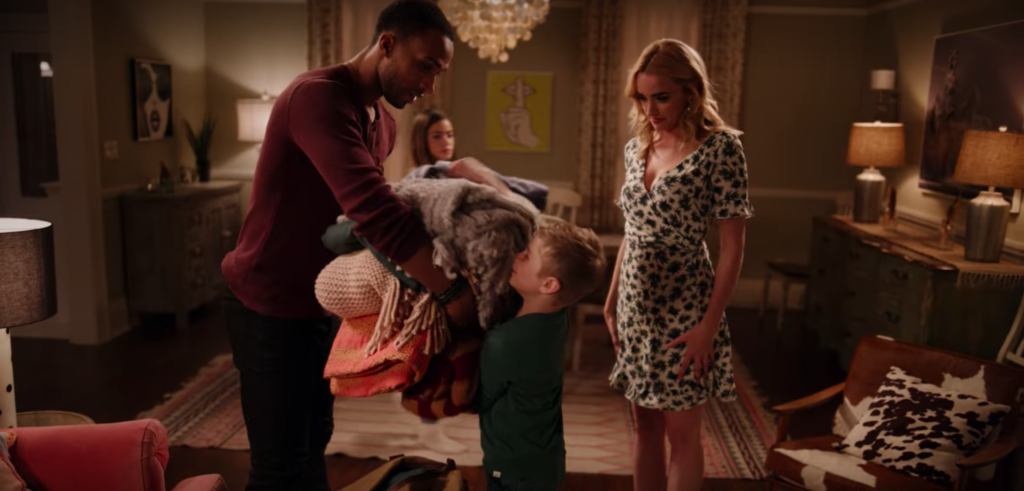 Screenshot from Netflix
Georgia knows how to be classy while still looking young and cool. She knows the occasion she's dressing for and even when keeping it simple, she's standing out with how well-styled she is.
Match a cute wrap dress with pearl earrings because it's official: pearl jewelry can be young. To make your look even more fun, throw on a pair of combat boots to add a bit of edge to your Sunday outfit.
And there you have it, my Ginny and Georgia fashion guide. I hope the looks haven't only inspired your next set of outfits but also to watch Ginny and Georgia. I mean it, I need as many people to watch it as possible so I'm sure there'll be a season 2. And trust me, you won't regret it, if not for the fashion, then for Marcus.
What is your favorite Ginny and Georgia fashion moment?
What item would you want to steal from her closet? What other Ginny and Georgia character has great style? Let us know!