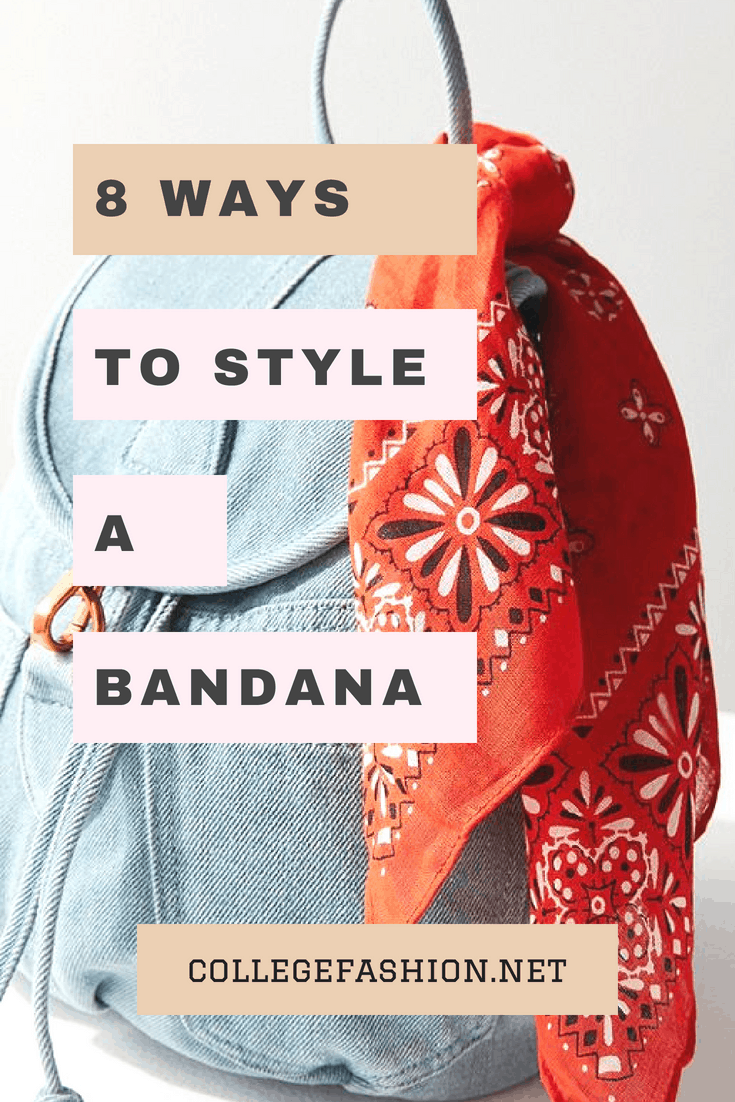 I remember the first time I wore a bandana: it was for Decades Day during Homecoming Week of high school. I was using it for a Rosie the Riveter costume that my friend and I had bought together. I twisted the headband onto my head and was ready to feel embarrassed. Up until that point I had written off bandanas as something that only cowboys wore. However, once I saw the way it looked I was amazed at how beautiful it really was. Although it was a simple way to push my hair away from my face and add to an outfit, it made me feel both cute and confident. Since that day, I have bought more bandanas and used them for a variety of occasions.
Although my go-to look is to simply wear the bandana as a headband, I have found other ways to use my once boring item.
Below are 8 ways that you can style a bandana.
1. Classic Headband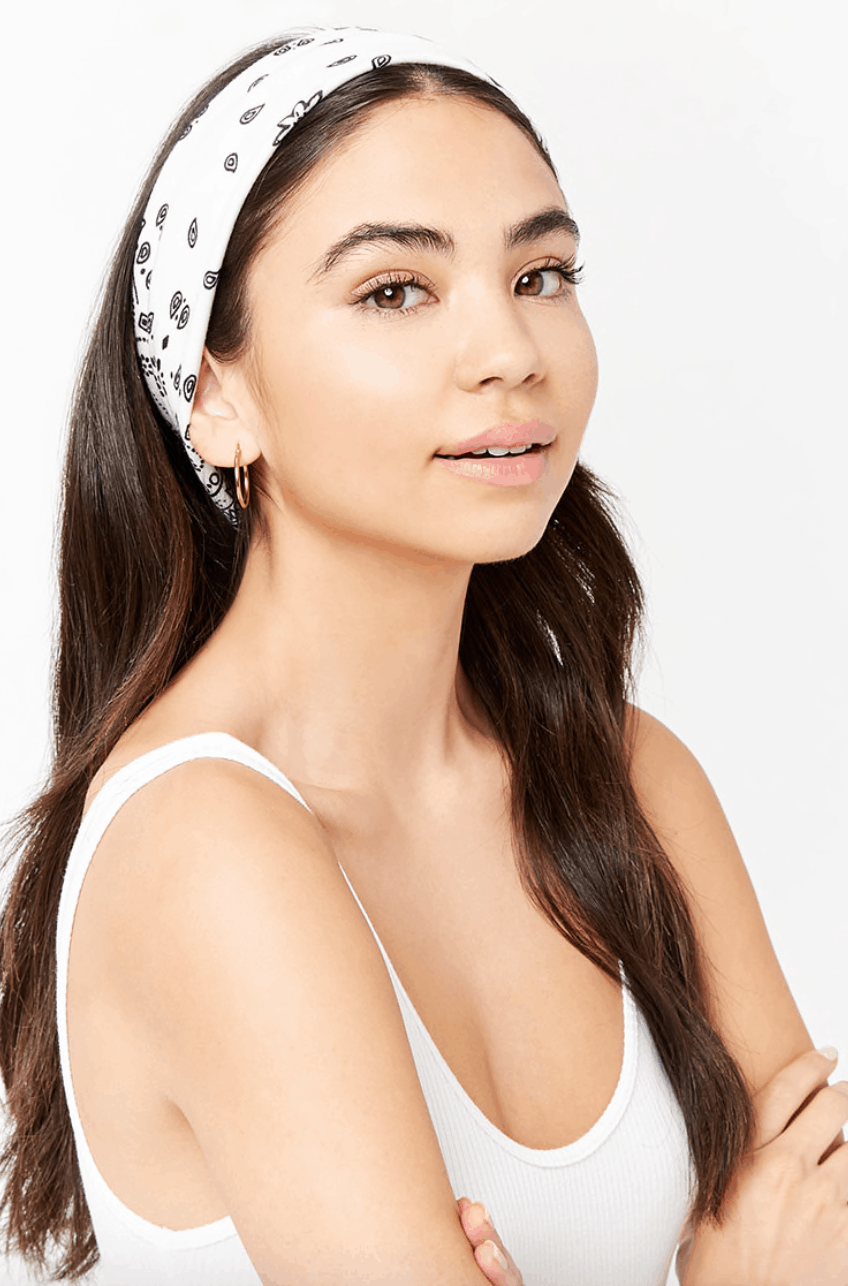 You might already know this, but a bandana can make an incredibly stylish headband. This is an easy way to sweep your hair away from your face while avoiding the gnarly headache that most normal headbands bring.
To get this look, fold your square bandana in half and fold it repeatedly until it is in a thin line. Tie the bandana at the ends and place over your head, pulling the ties to the back of your head, under your hair. You can wear this look while running errands, studying, or hanging out with friends.
2. Tied in Front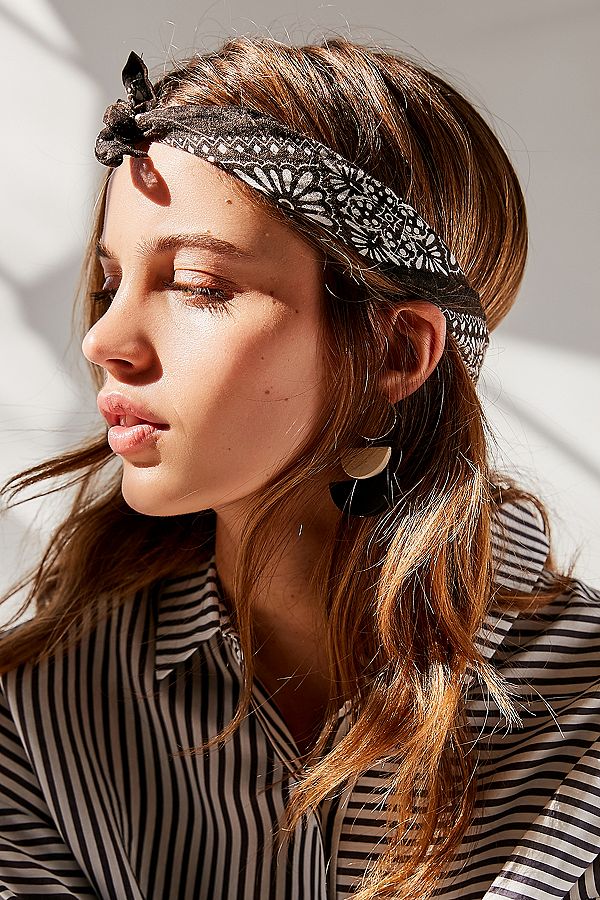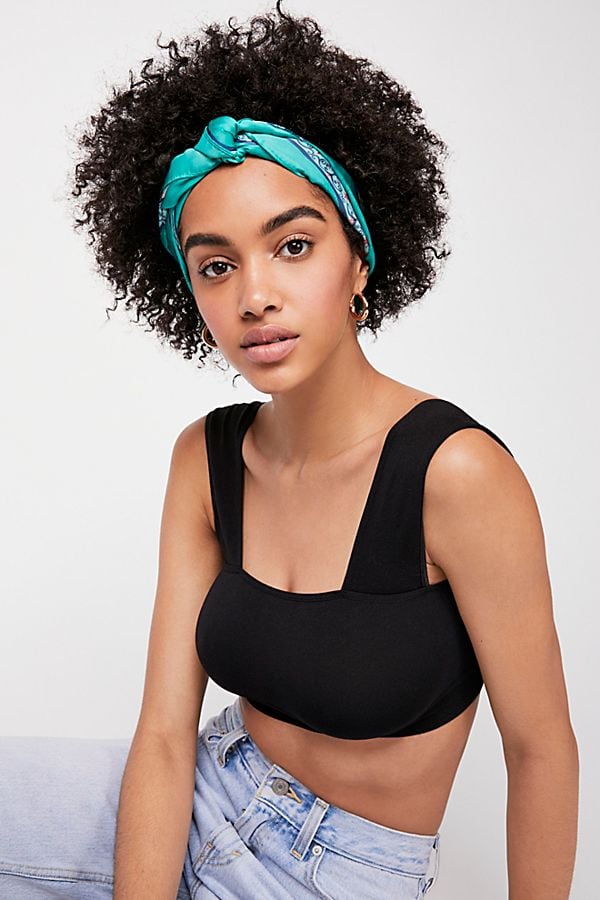 This takes the headband look from earlier but adds some extra spunk to it. Instead of twisting the ties to the back, tie your bandana in the front.
If you don't like the way that the ties are sticking up in photo 1, you can also tuck them in, similar to the teal bandana above. This creates a knot on the top of your head which is a fresh take on the bandana headband look. This would be a great accessory to wear to class, to a carnival, or to a casual dinner.
3. Modern Day Cinderella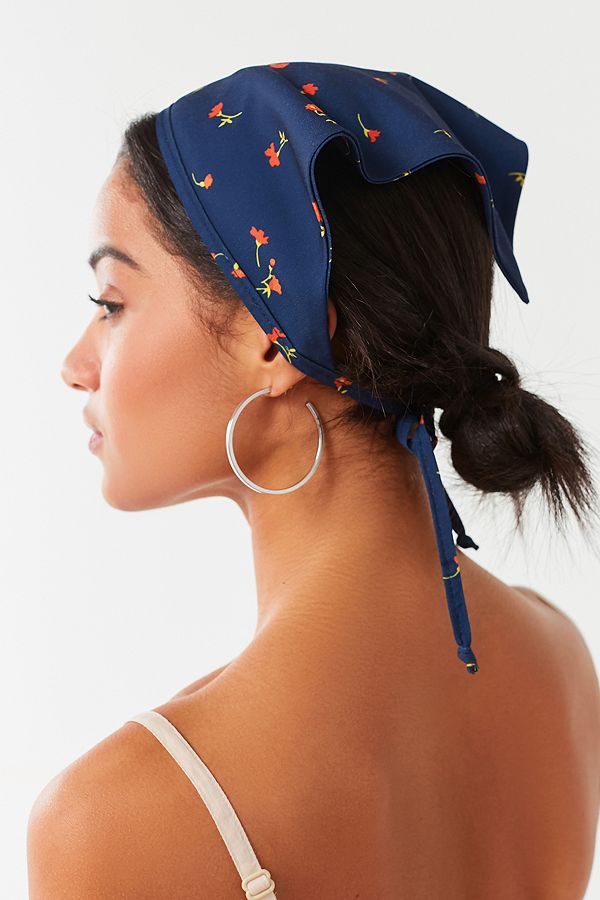 Although this bandana kerchief look gives off some Cinderella-doing-housework vibes, it is the perfect look for a lazy Sunday or a BBQ.
To achieve this look, fold the square bandana into a triangle. Fold the long end of the triangle over once or twice and tie the ends. Then simply place on your head. Although this look may be reminiscent of pre-princess Cinderella, it is the perfect way to catch the eye of your future prince.
4. Ponytail Prom Queen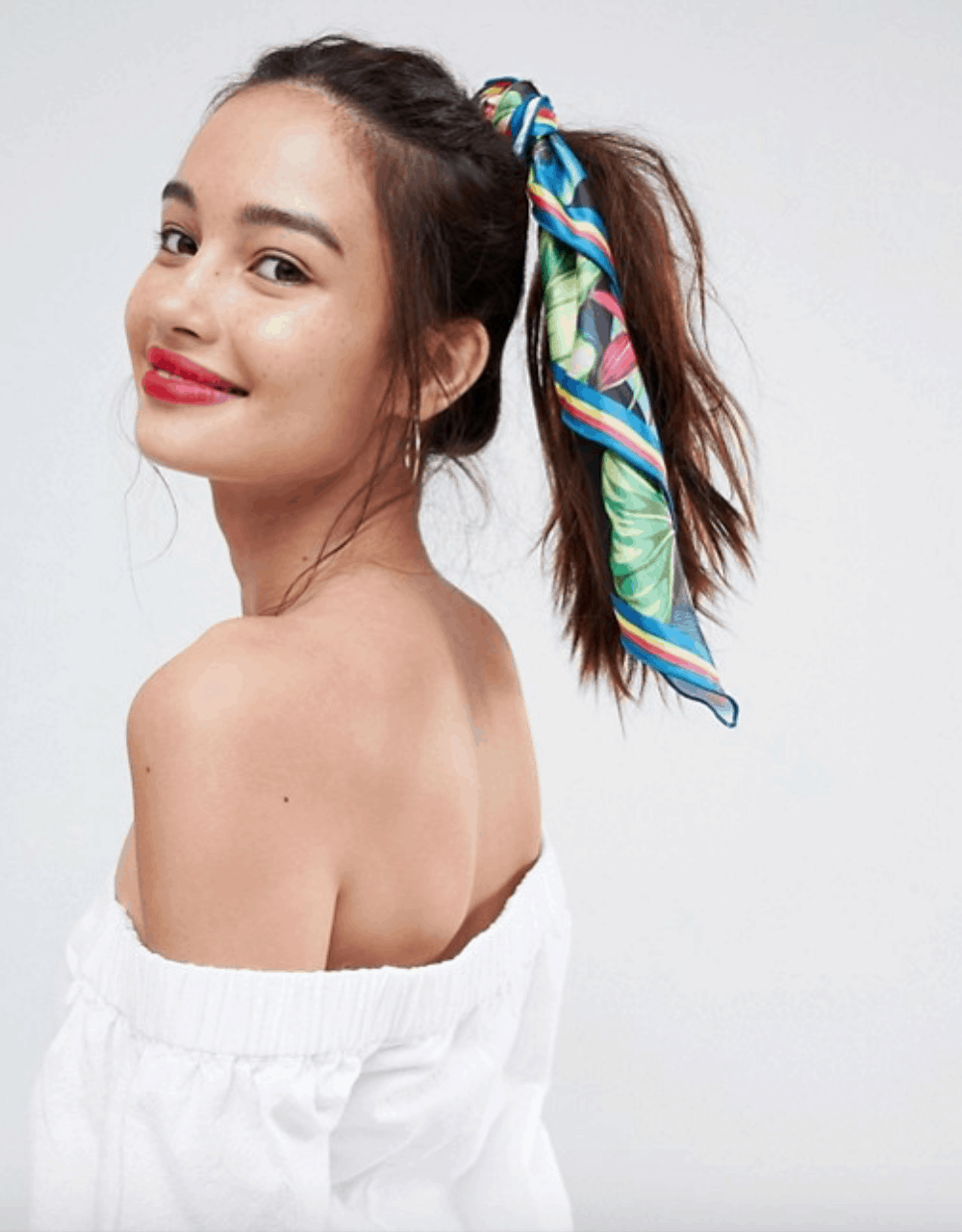 The classic ponytail is one of my favorite hair-dos but sometimes it needs a little refreshing. A simple way to do this is by adding a fun bandana to your ponytail. Simply tie your favorite bandana around your ponytail to update this classic style. This is perfect for going to a diner, class, or even date night.
5. Bandana Bun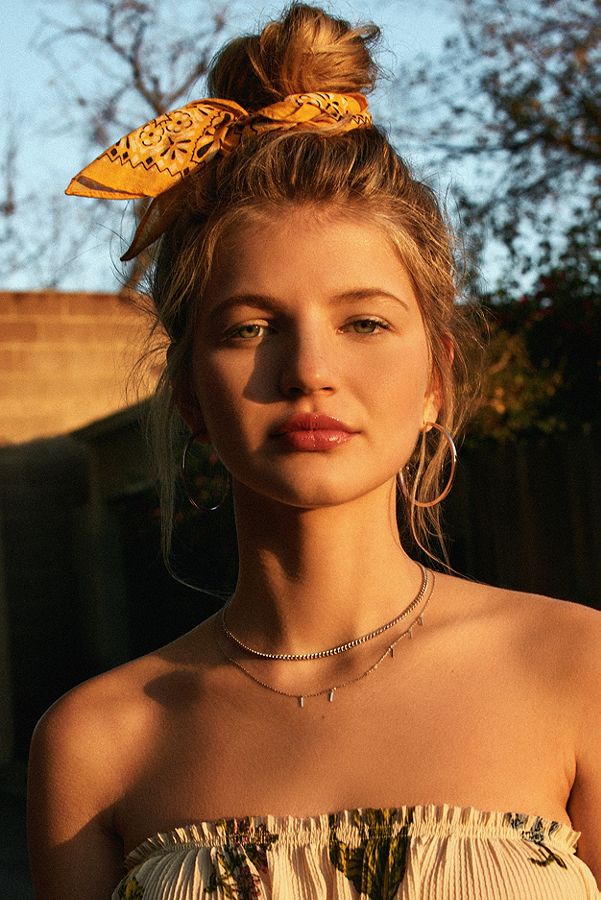 Rolling out of bed in the morning can be oh-so difficult and styling your hair after waking up can feel like a chore. The easiest option is to throw it in a messy bun but why not give the illusion that you woke up more than ten minutes before class by adding a bandana to your bun?
To get this look, simply fold your bandana in half and fold until it is in a line (as you would for the headband look, #1). Tie the bandana around your bun like a hair tie and voila, you can fool your classmates into thinking that you got your beauty sleep and still had time to look put-together.
6. Parisian Girl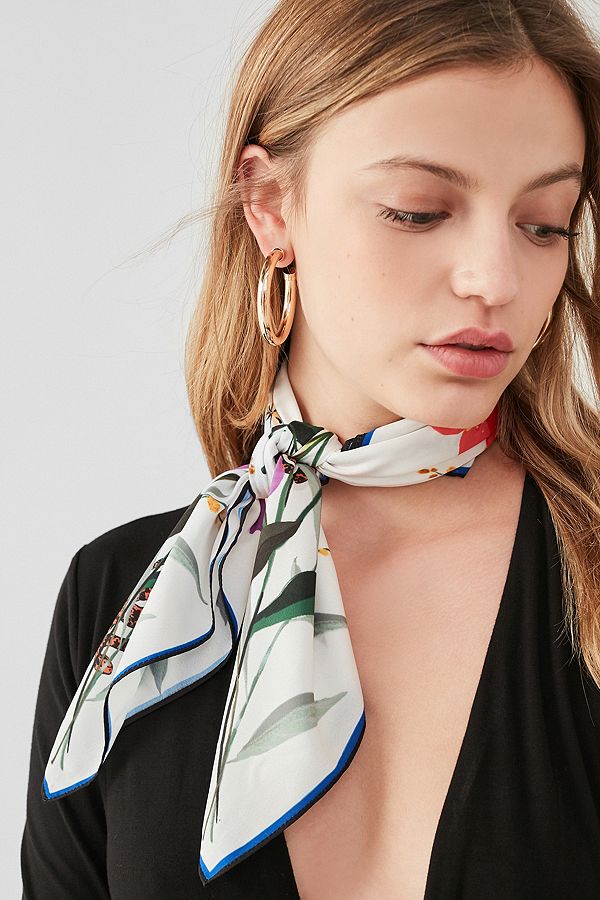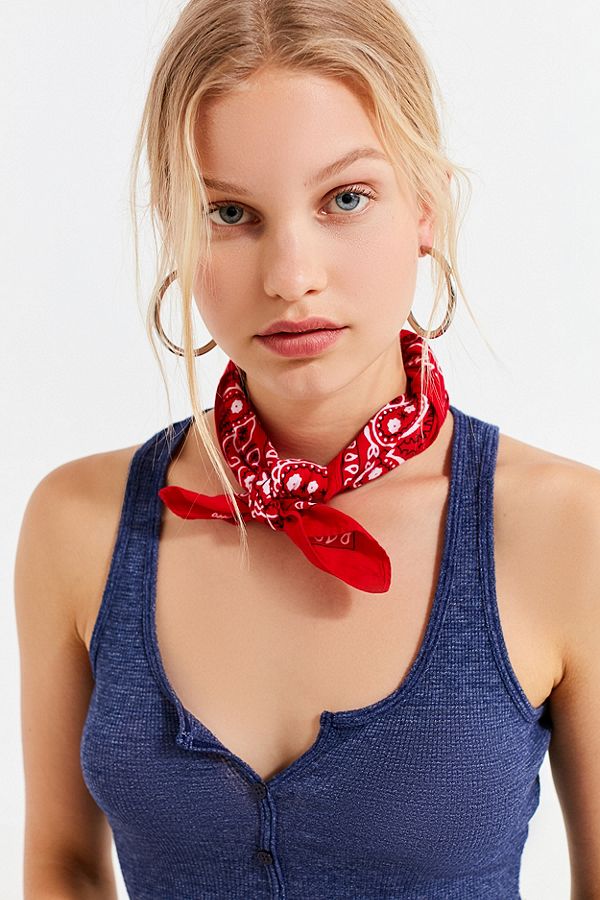 So, your outfit needs something to go with it but none of your necklaces are speaking to you? A great way to add a little flair to an outfit is by tying a bandana around your neck.
You can do this by folding the bandana similarly to the headband and bun styles but instead tying the ends around your neck. You can tighten it for a choker look or leave it long to look like a statement necklace. You can also hide the ends by moving them to the back. This look is a great idea for a fair or a day full of shopping. It also gives off Parisian vibes!
7. Cowgirl Chic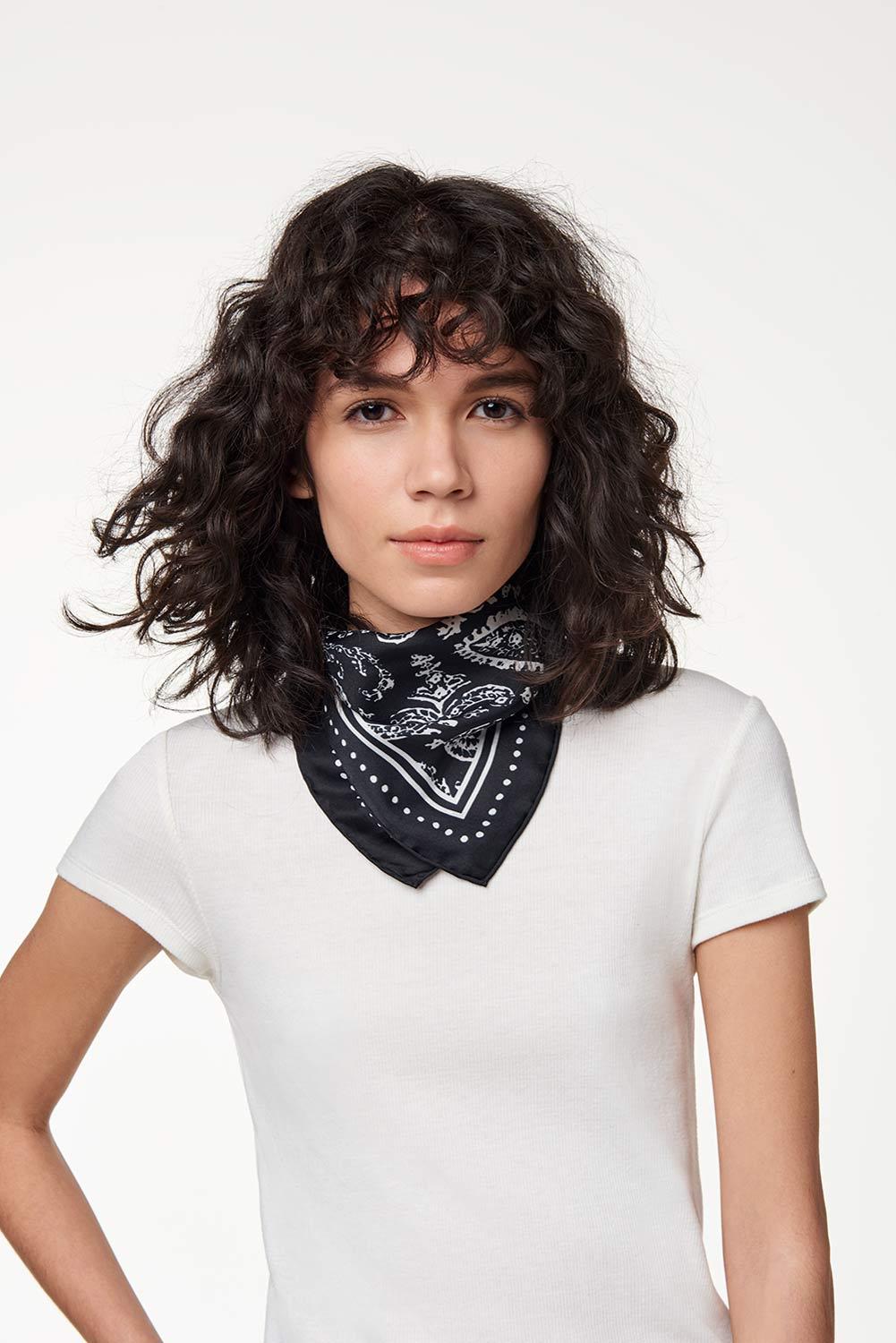 Another option for the necklace bandana look is to go classic, like a cowboy (or girl!). To achieve this look, fold the bandana into a triangle and tie the ends at the back of your neck. This is perfect for a costume or for a way to hide a low-cut shirt or dress. It also naturally guides others' eyes to your face so that you can show off your amazing self.
8. It's All About the Bag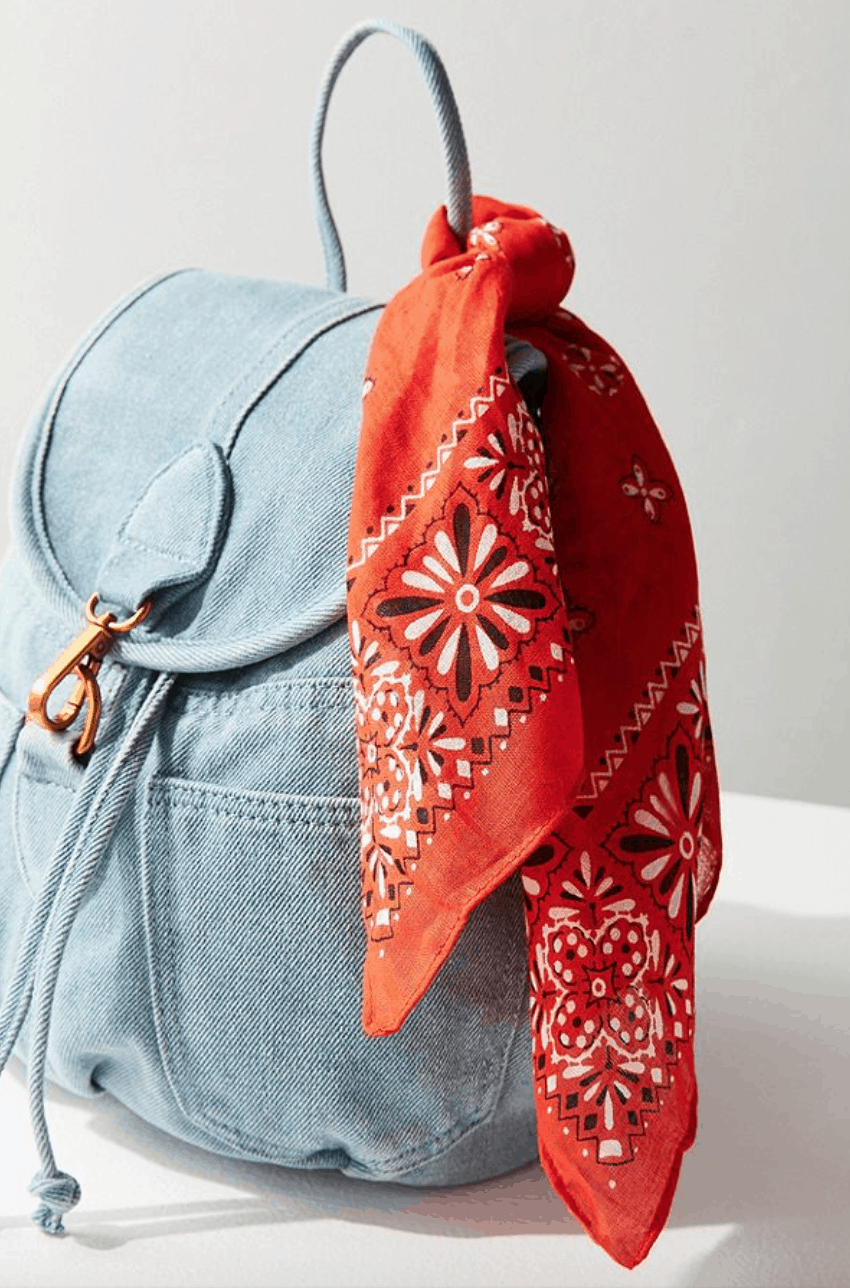 If you don't want to physically wear your bandana but still want to use it as a fashion piece, you can tie it around your bag. This sets your standard backpack or purse apart from the rest. Maybe this is a way that you can easily find your bag at the airport or feel a little bit more stylish when toting your bag to class or a party. Either way, it is a great way to wear your classic bandana.
How do you wear your bandanas?
Although a bandana is mostly seen in old Western films, it is a timeless look that can be worn anywhere, at any time. Whether you're looking for a way to spice up your hair or outfit for a night out or are looking for something that becomes an everyday piece, you can trust a bandana to accomplish the job.
What is your favorite bandana look? Do you have any other ideas of how to wear one? Let us know in the comments below!