This post will show you TEN outfit ideas to show you how to style the shoulder bag trend.
The mini shoulder bag has quickly become my favorite purse style to wear. I don't carry a lot with me, so the size is perfect. It's just big enough to hold all my essentials for a day out or a night out.
This is definitely the new 'it' bag that you have seen every fashion blogger, influencer, and celebrity wearing! So if you want to get in on the shoulder bag trend, today I'll show you how.
Below you'll find ideas on how to style the shoulder bag trend for all different types of occasions.
The outfits are perfect for going out with your friends, getting brunch the next morning, your first date, and running errands in style.
Outfit Set #1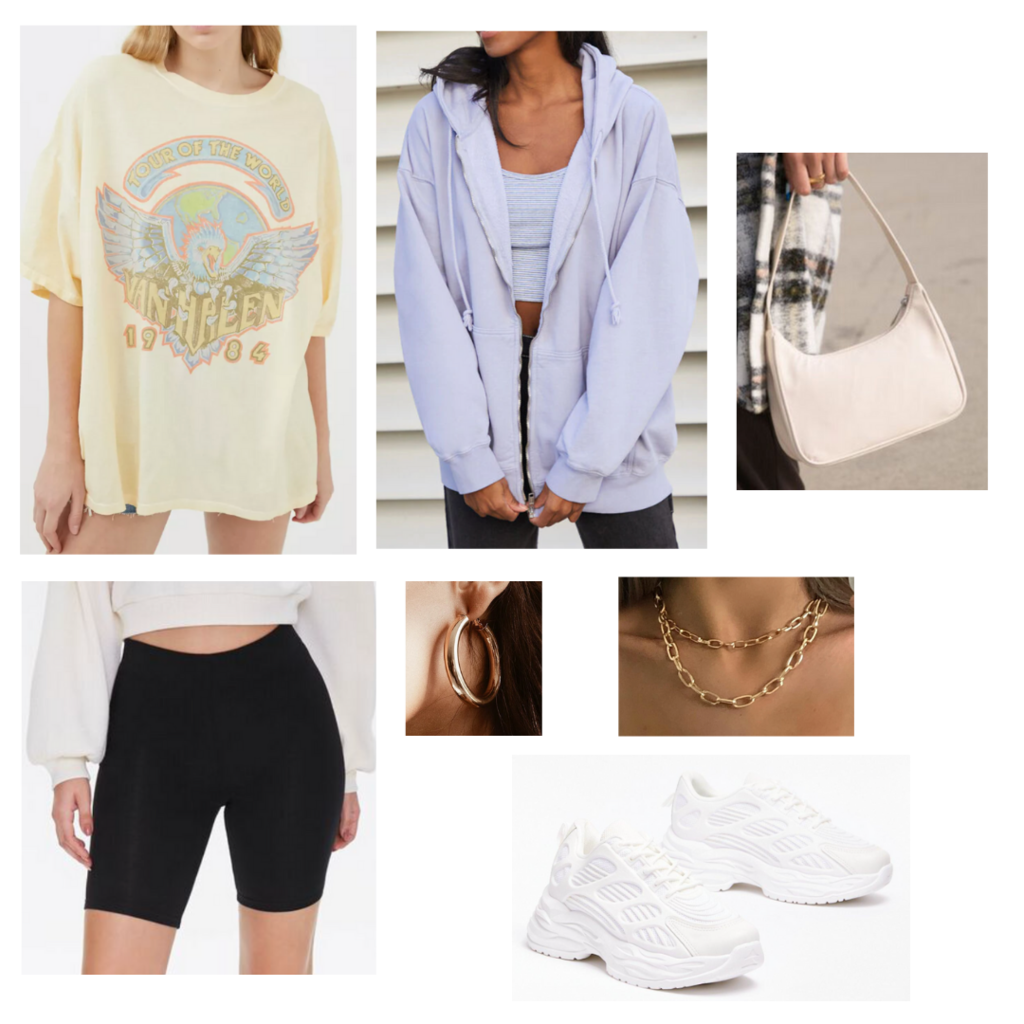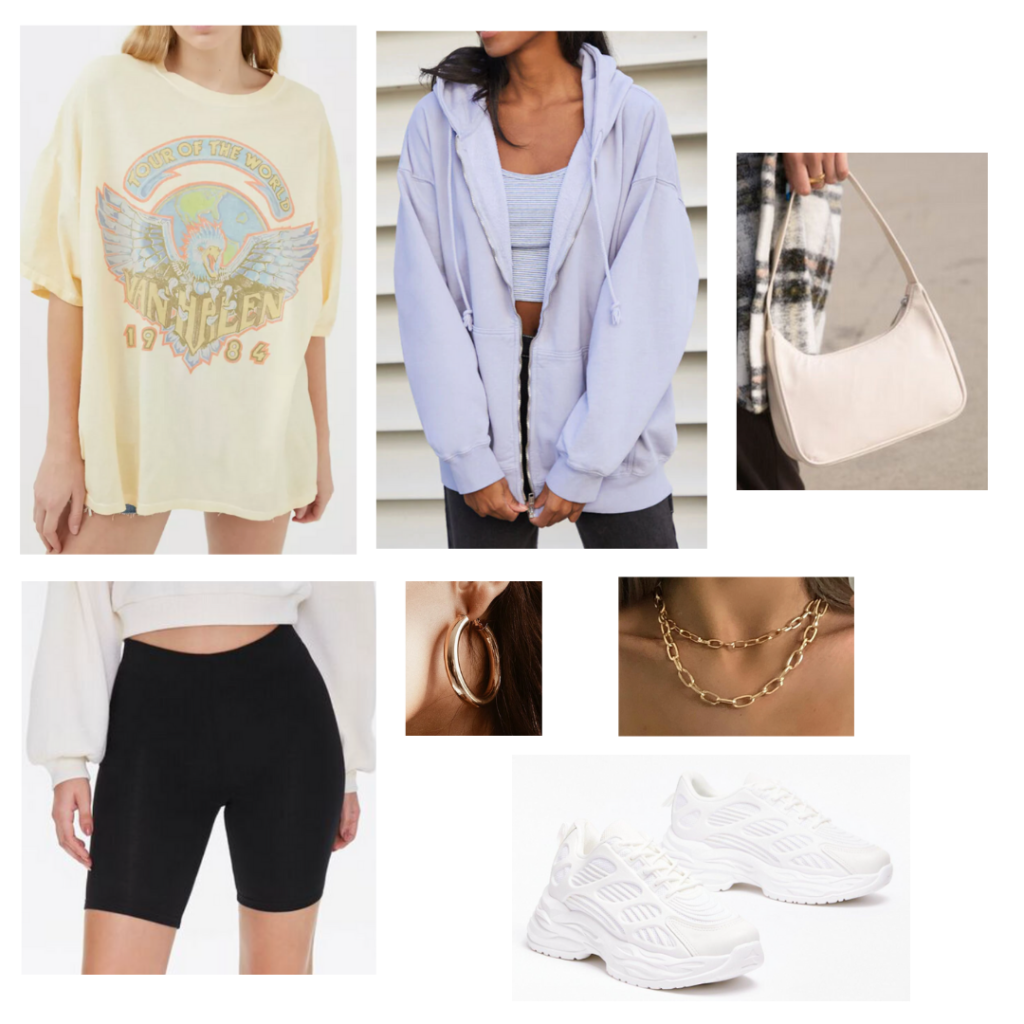 This look is perfect for running errands or grabbing coffee at your favorite coffee shop.
For this look, I paired a staple pair of black biker shorts with an oversized graphic band tee. If it's a little colder outside, throw on a big zip up hoodie and you're good to go.
This mini shoulder bag is the cutest light beige color. It's under $15 and comes in 2 other shades as well. It has that nylon-looking exterior that all the designer bags are featuring right now! (Very Prada.)
For shoes, grab a pair of white chunky sneakers and then add some scrunched-down calf socks.
For accessories, I added some chunky gold hoops and a layered gold chain necklace to dress up the tee and add some flair.
Outfit Set #2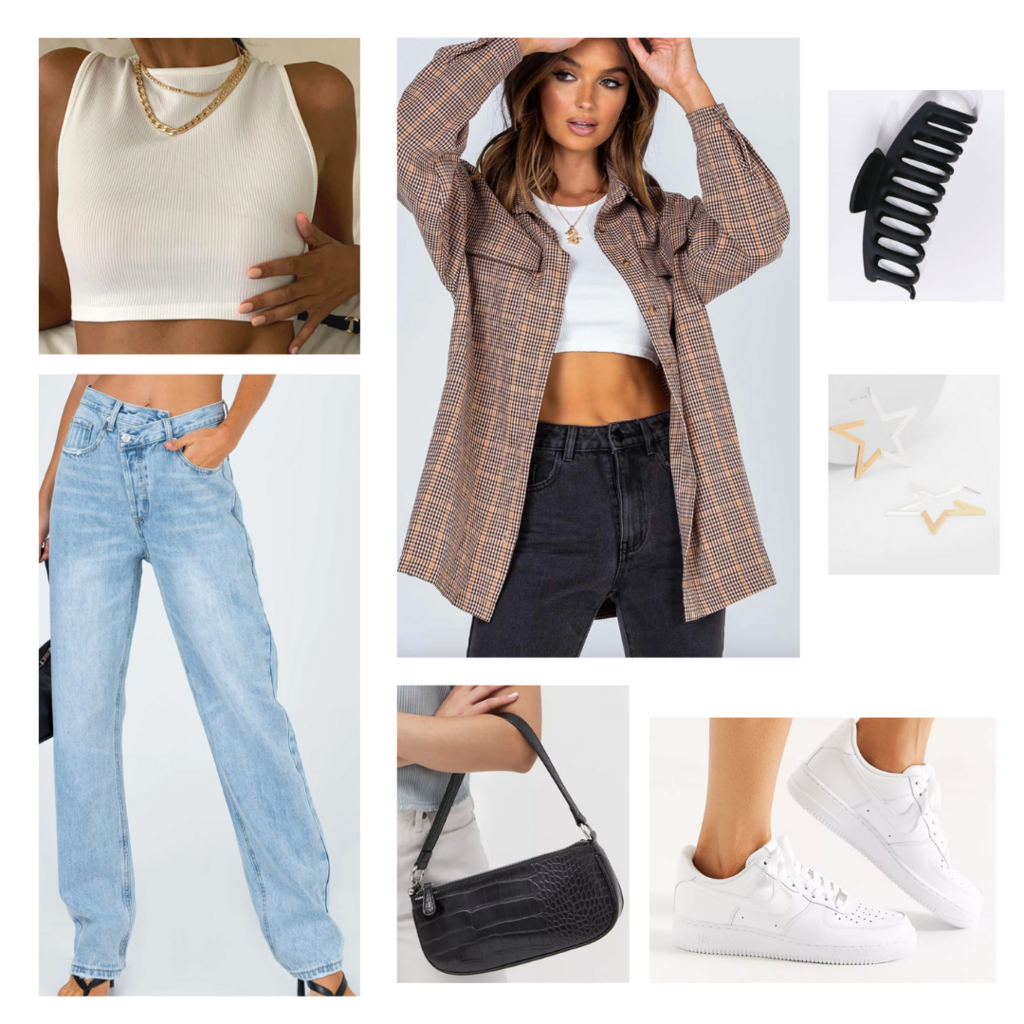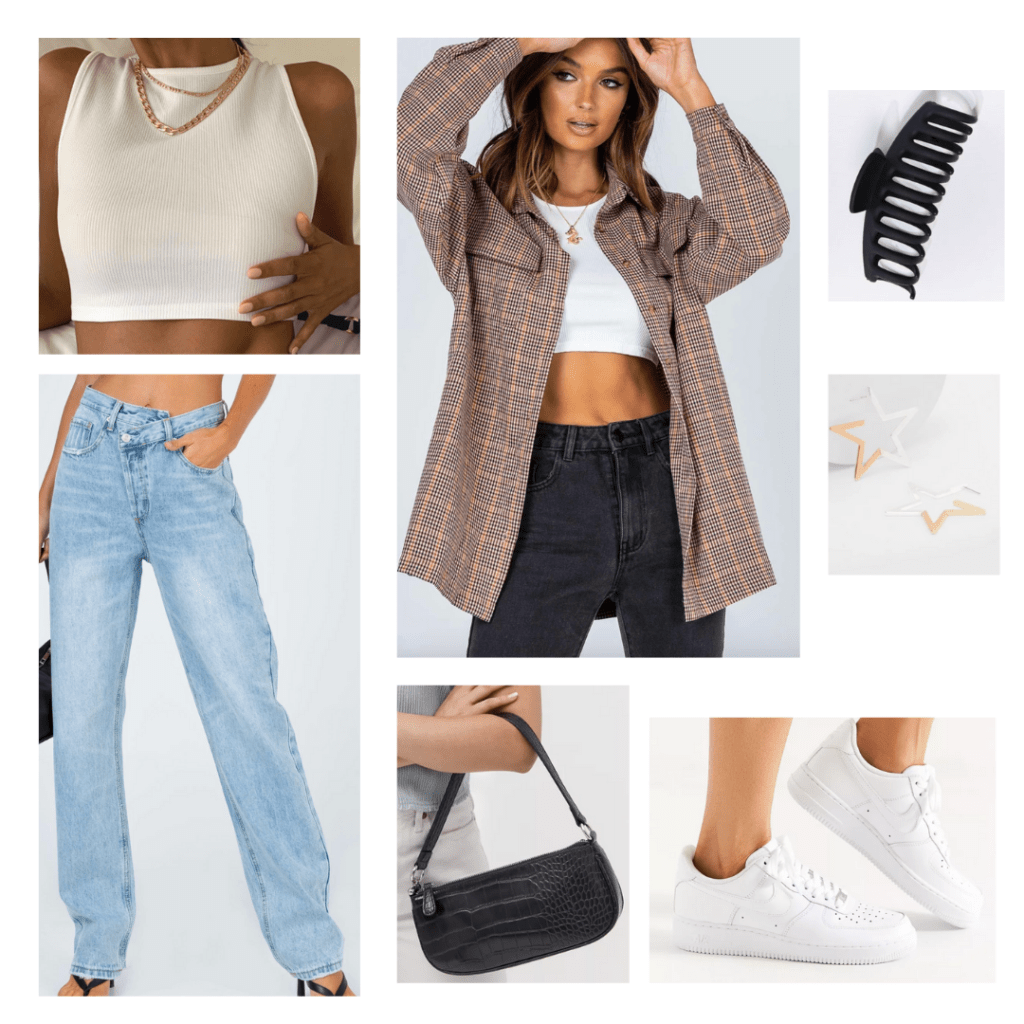 This idea for wearing the mini shoulder bag trend is one of my go-to looks for daytime. It's super casual but still chic and trendy.
These mom jeans have a fun asymmetrical waistband and are the perfect light wash color. I paired the jeans with a white, ribbed cropped tank and a neutral-colored oversized flannel.
For sneakers, I had to add my go-tos, Nike Air Force 1s.
This mini shoulder bag comes in a fun croc print in a patent black color. It will go with everything and is a great versatile bag to dress up or down.
For accessories, add these fun neutral colored star earrings and a matte black claw clip to pull your hair back. These have been super on-trend lately.
Outfit Set #3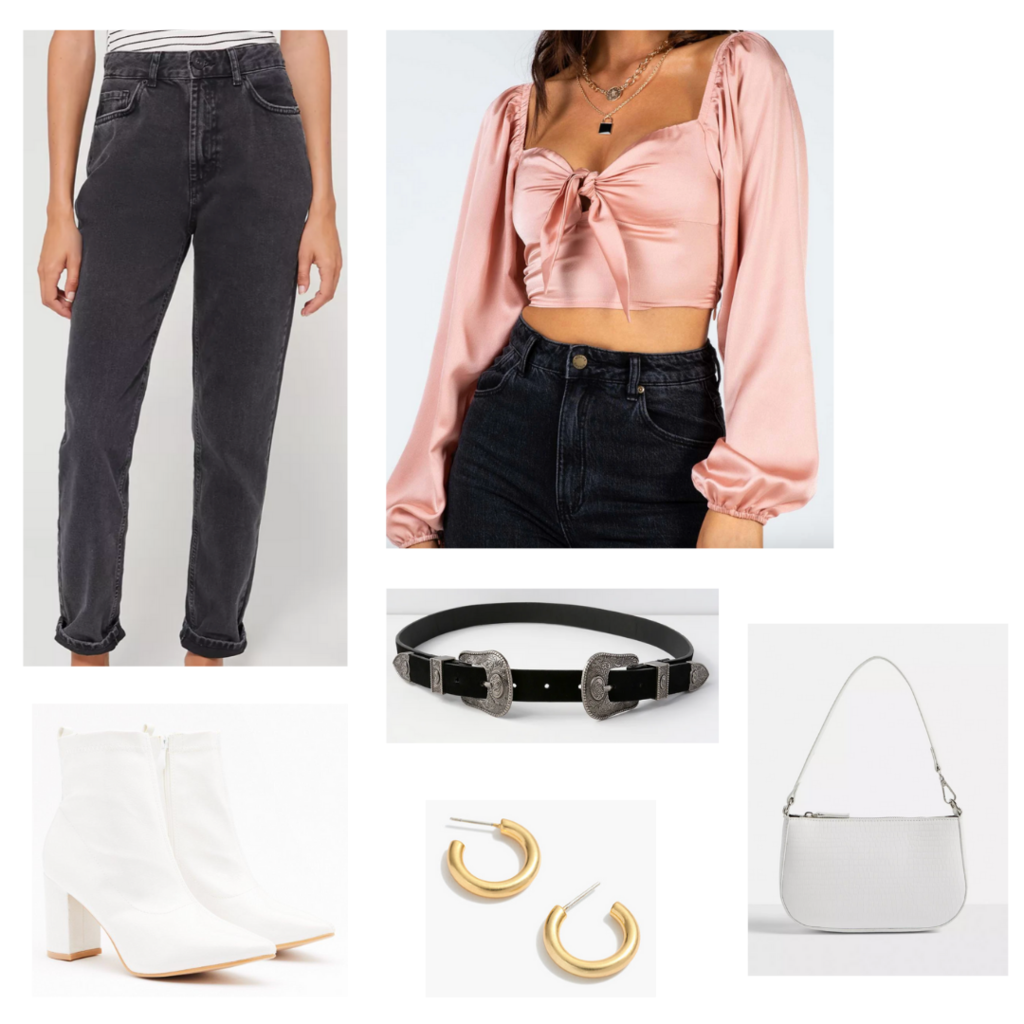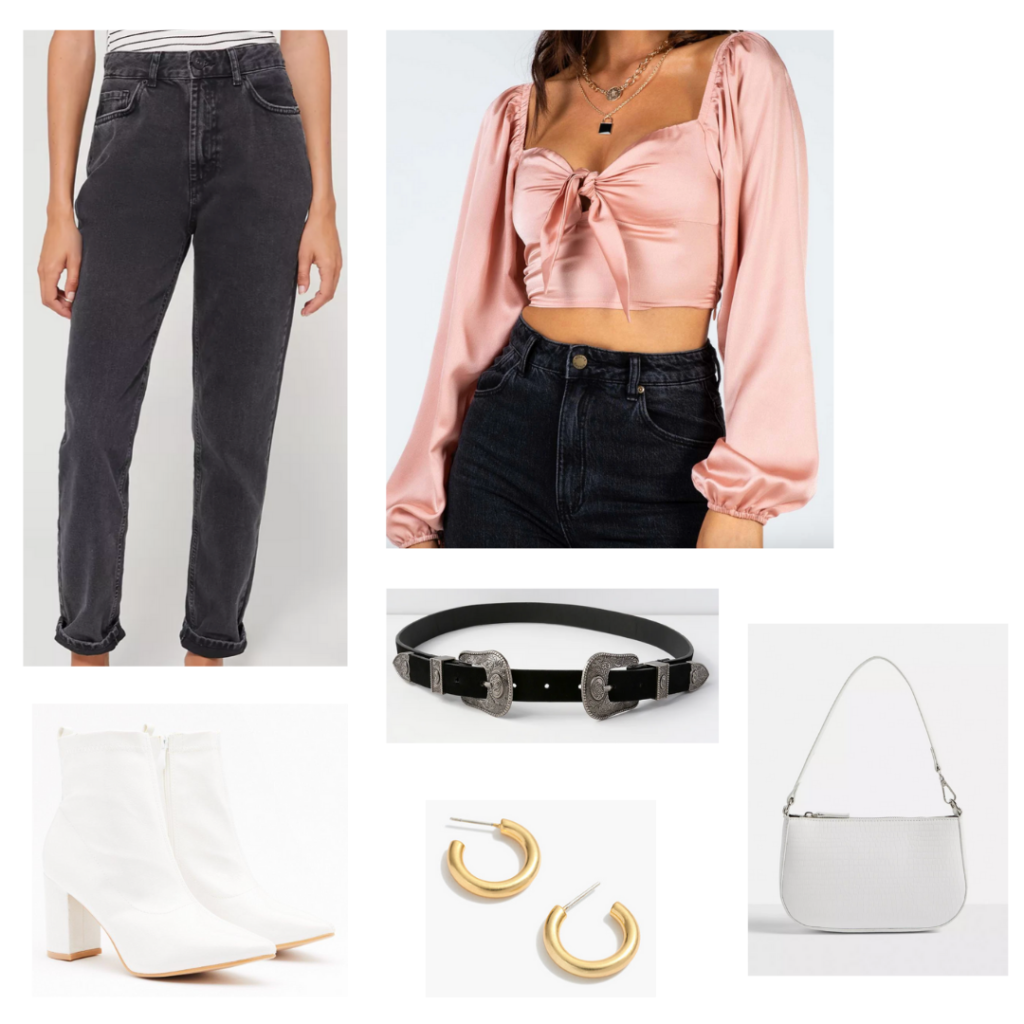 This look is great for nighttime but its still casual. The pink blouse adds that dressy element, while the mom jeans keep it casual and laid back. The black denim is especially perfect for nighttime.
This mini shoulder bag is a clean, crisp white color that matches perfectly with the white heeled booties. I really love this bag because it has that cute croc-effect print that makes it stand out. It also comes in 6 other colors and is under $20!
To accessorize, I added a fun black western double buckle belt and some smaller chunky gold hoops.
Outfit Set #4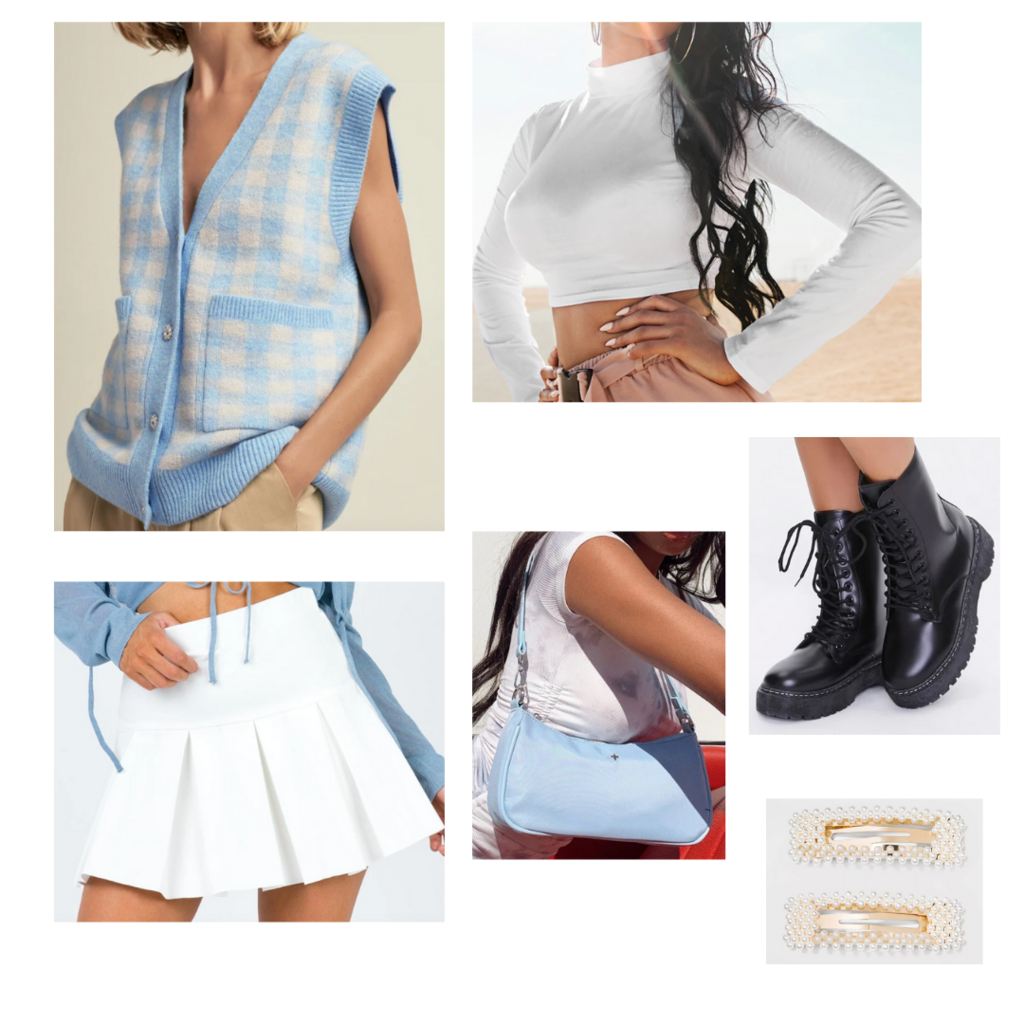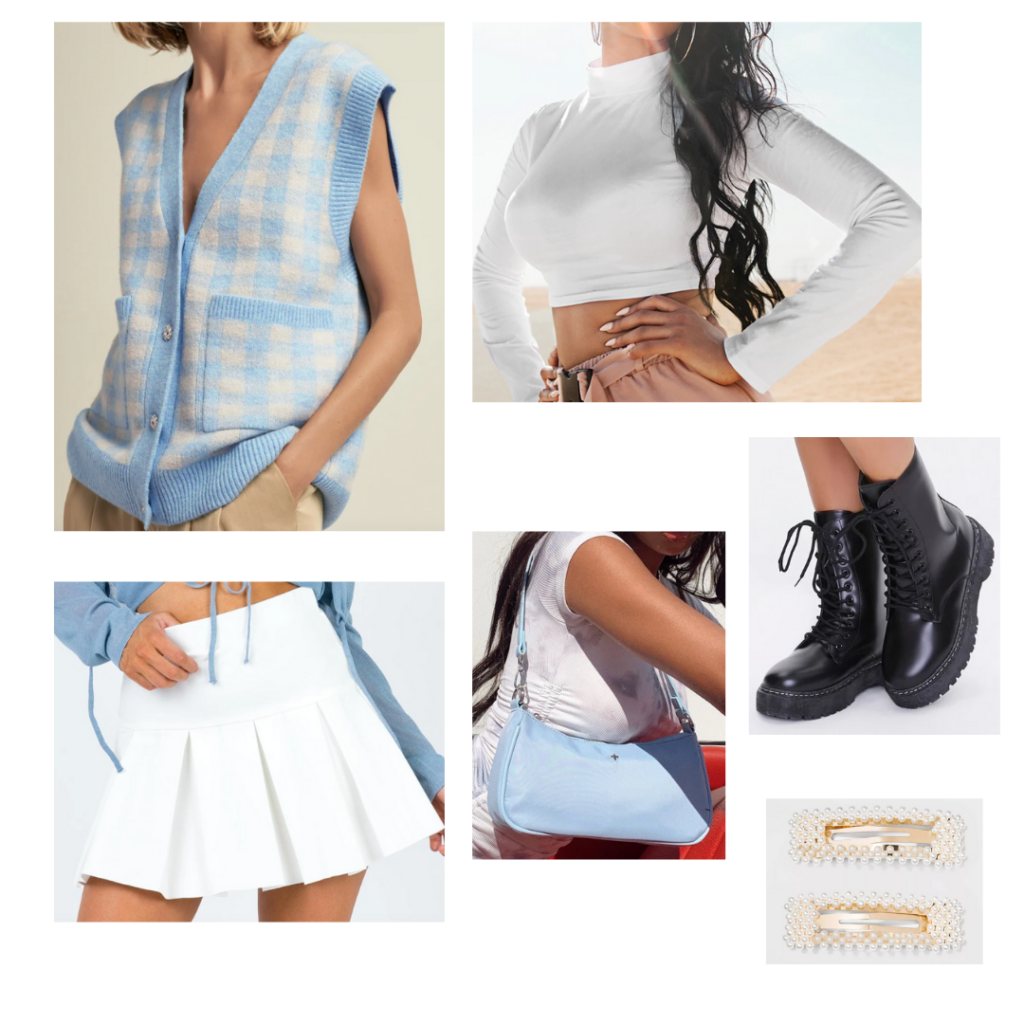 This outfit look is seriously so cute! It's edgy and girly at the same time.
To create this look, I paired a white pleated tennis inspired skit with a statement sweater vest in the cutest baby blue color. For some extra warmth and layering, I added a cropped white turtleneck to wear underneath the vest.
To match the vest, this mini shoulder bag is also baby blue and in a nice nylon material. It's the perfect example of how the shoulder bag trend can be worn in the spring.
For shoes I added some black studded combat boots for an edgy look and some pearl barrettes for that girly vibe. These barrettes are so cute and pearls have been coming back into style recently, so these are worth snapping up ASAP.
Outfit Set #5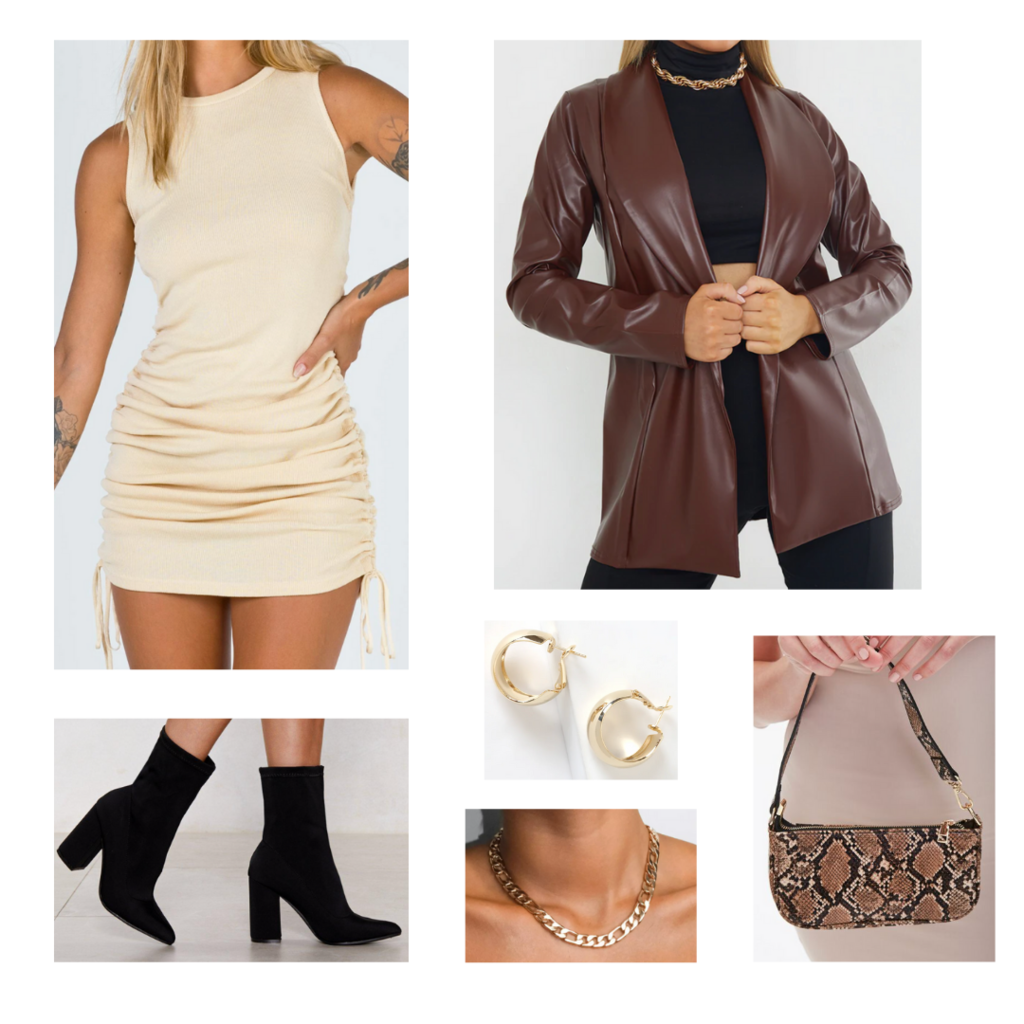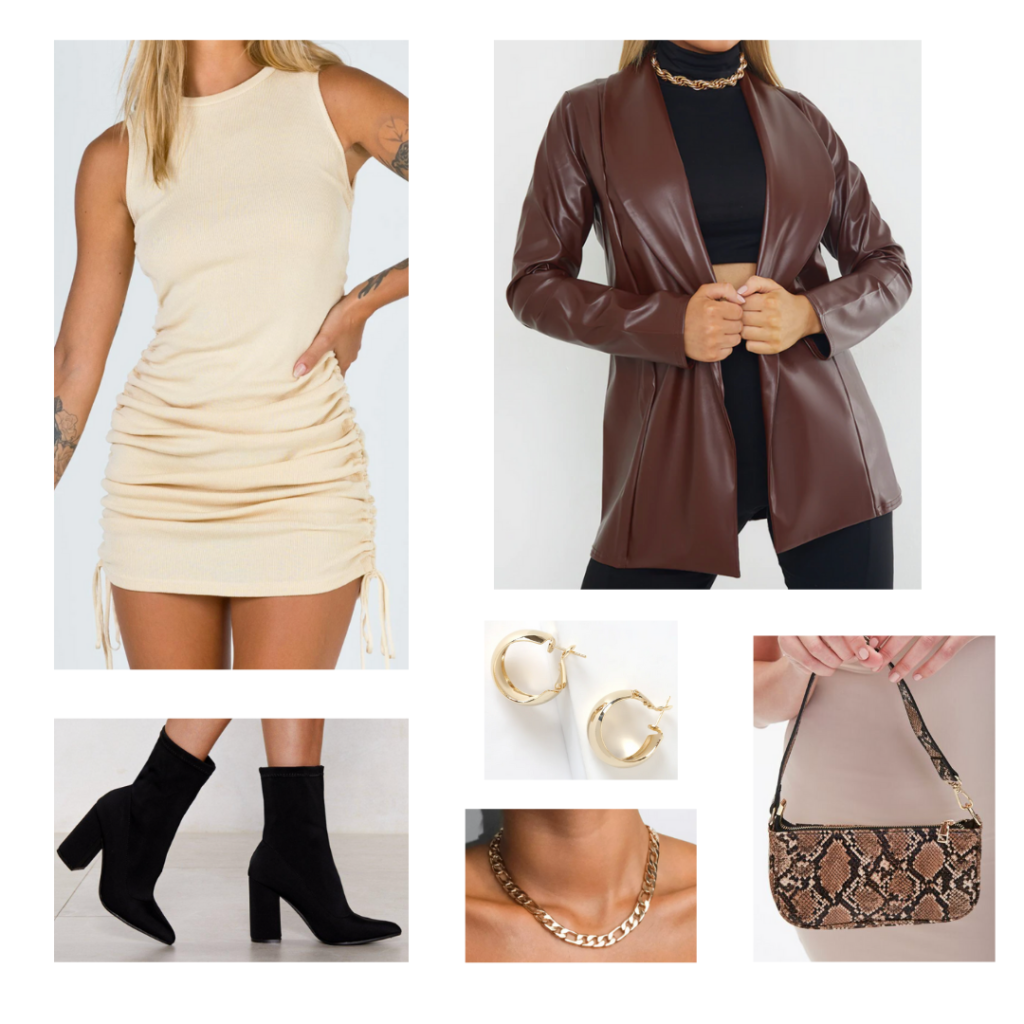 This look is perfect for a fancy dinner or first date.
These dresses have been super trendy because of how comfortable and flattering they are. This beige ruched bodycon dress is from Princess Polly and comes in 12 other super cute colors.
For extra warmth at night, I added this chocolate brown faux leather blazer. Next, for shoes, I added these suede black heeled booties.
This mini shoulder bag is the cutest brown snakeskin print and really pops against the other neutral colors. It's the perfect size for your essentials and light enough to hold all night. Another great example of the mini shoulder bag trend being insanely wearable.
I finished off the look with thick gold mini hoops and a gold chunky chain necklace.
Outfit Set #6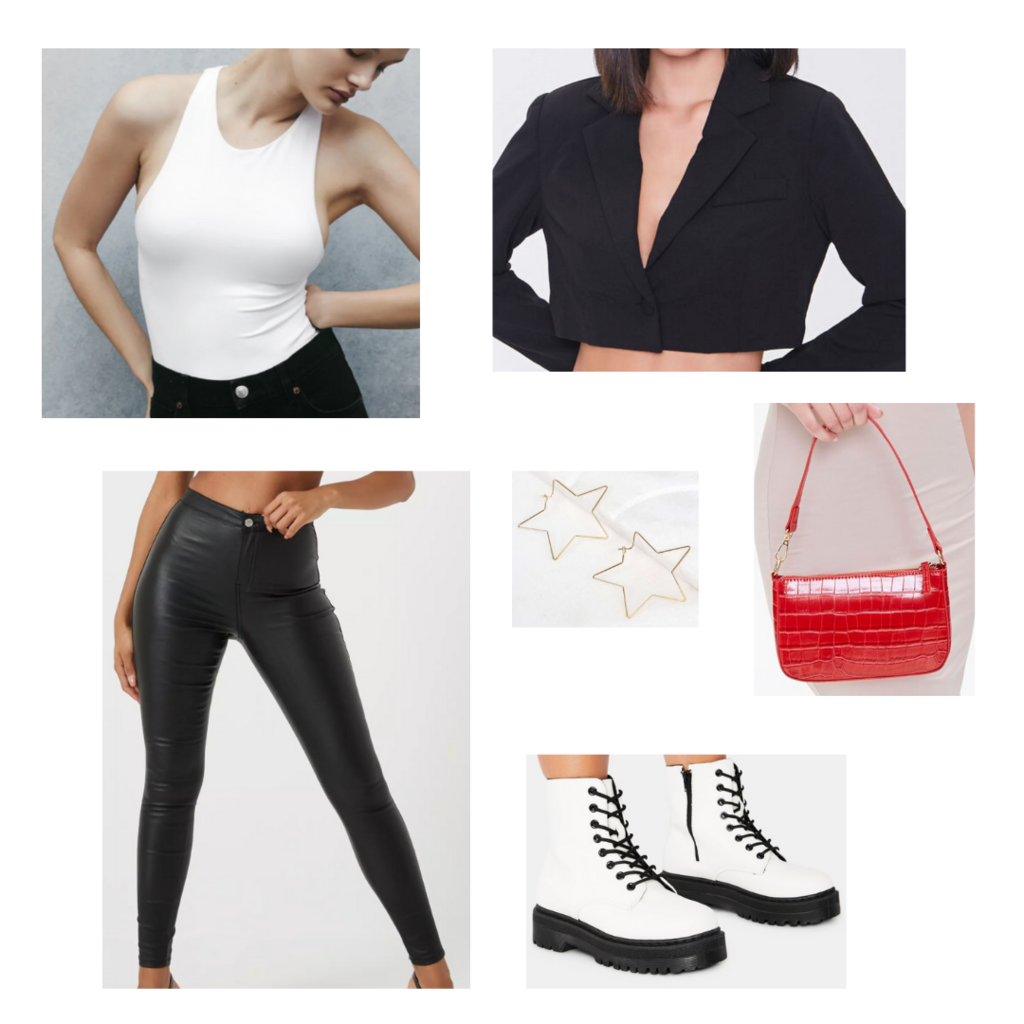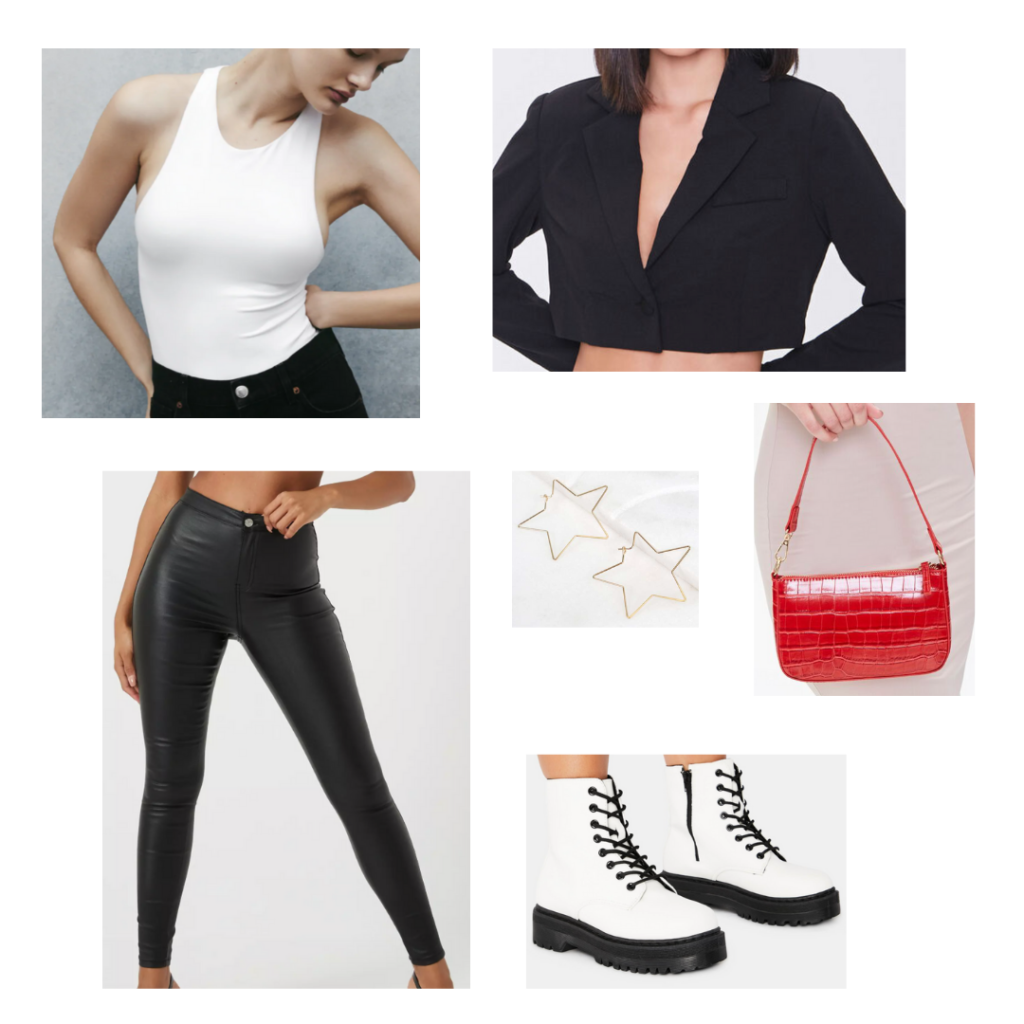 This next look is super fun and a good outfit to transition from winter to spring.
To start this outfit, I paired these faux leather black pants with a white bodysuit. The pants are high waisted and look amazing on everyone. The bodysuit is extremely trendy and so gorgeous with its high neck silhouette and low cut sides.
For layering and warmth, I added this cropped black blazer that can be worn open or closed.
Next, for shoes I added these white Doc Marten-inspired combat boots. They have a little bit of platform for some extra height and comfort.
Now, this bag is the real showstopper of the look. The bright red pairs perfectly with the white and black pieces. It features a faux croc pattern and gold hardware.
Finally, for accessories, I added some fun oversized gold star earrings to give a flirty and girly vibe to the look.
Outfit Set #7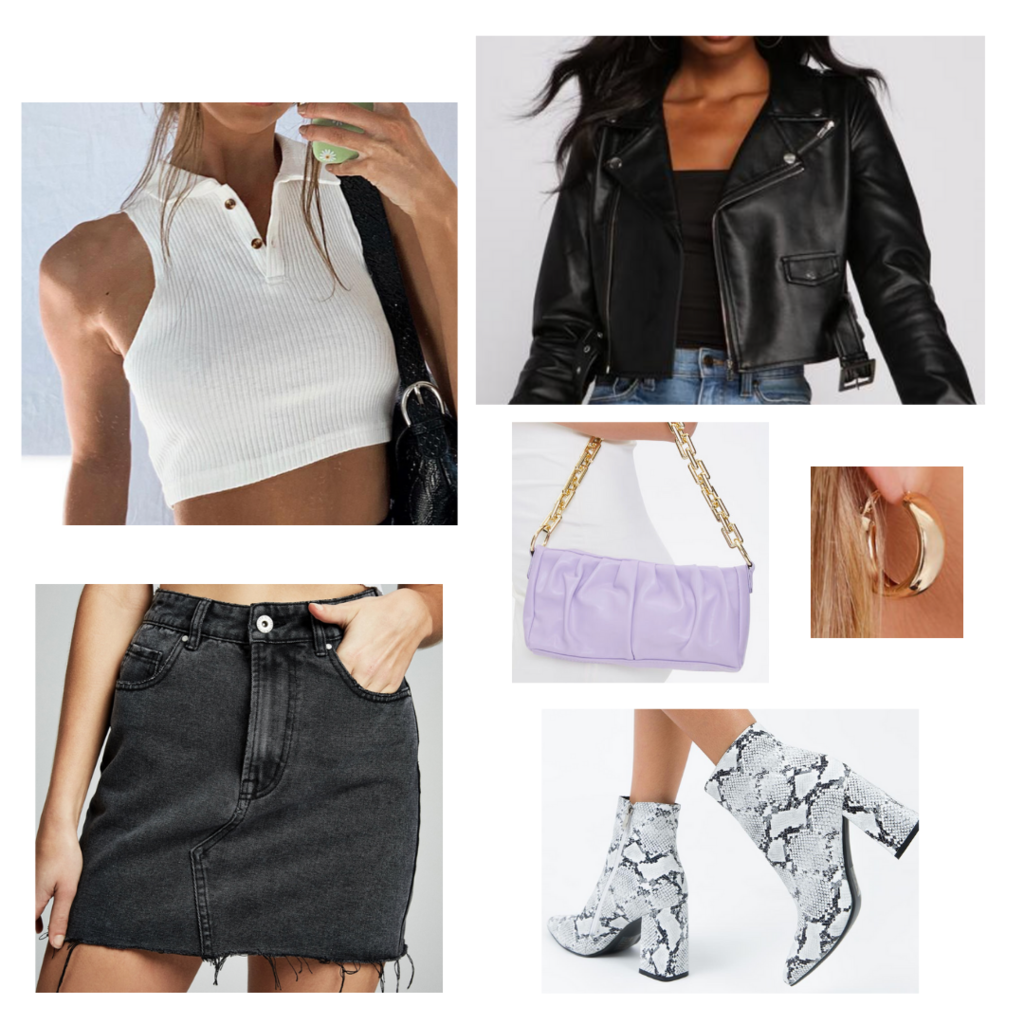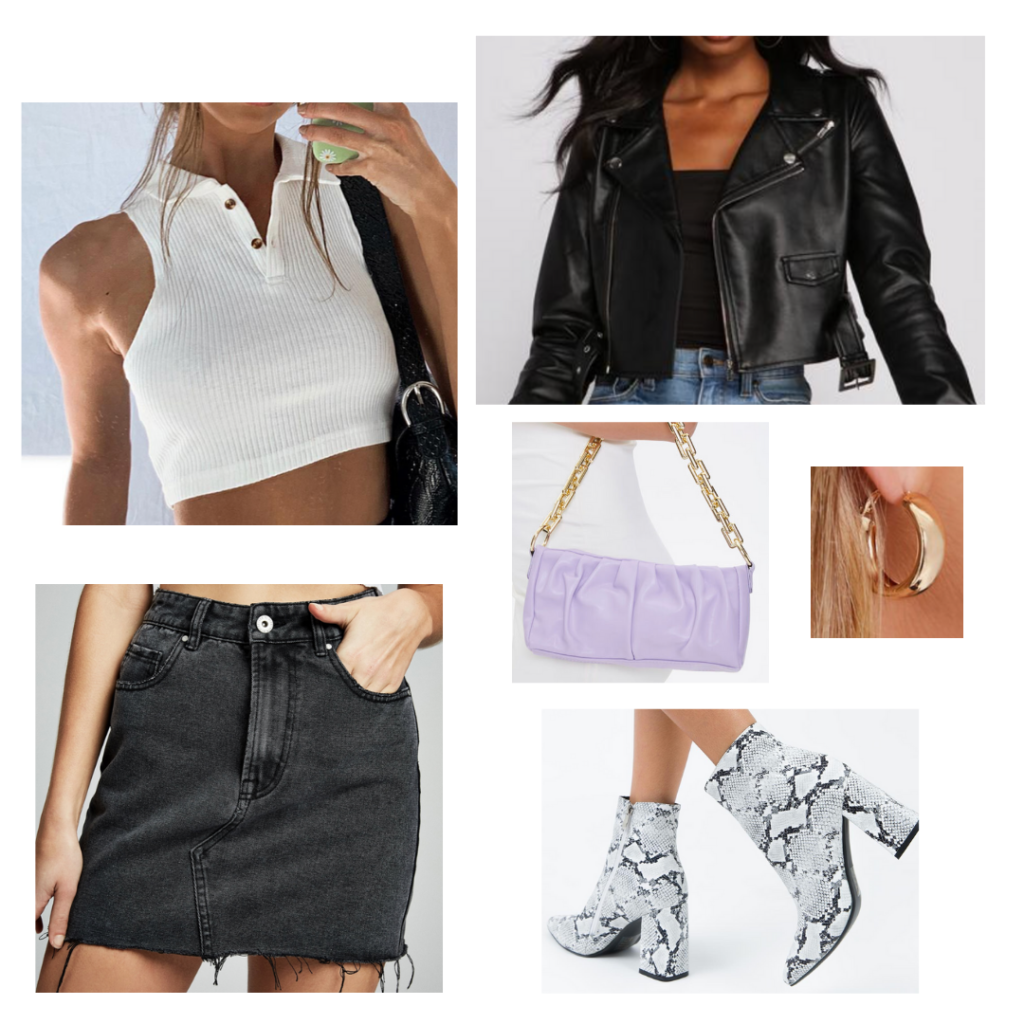 Outfit number seven is perfect for nighttime or daytime, as it can be dressed up or down.
To start, I paired this black denim mini skirt with a white ribbed collared crop top. You can keep the outfit like this, or throw on a leather jacket to take it from day to night.
This bag is adorable and looks very designer inspired, but is only $10! It's this beautiful lavender color, perfect for spring, and features a gold braided handle.
I paired the look with gold hoops and these black and white snakeskin booties, for a pop of pattern.
Outfit Set #8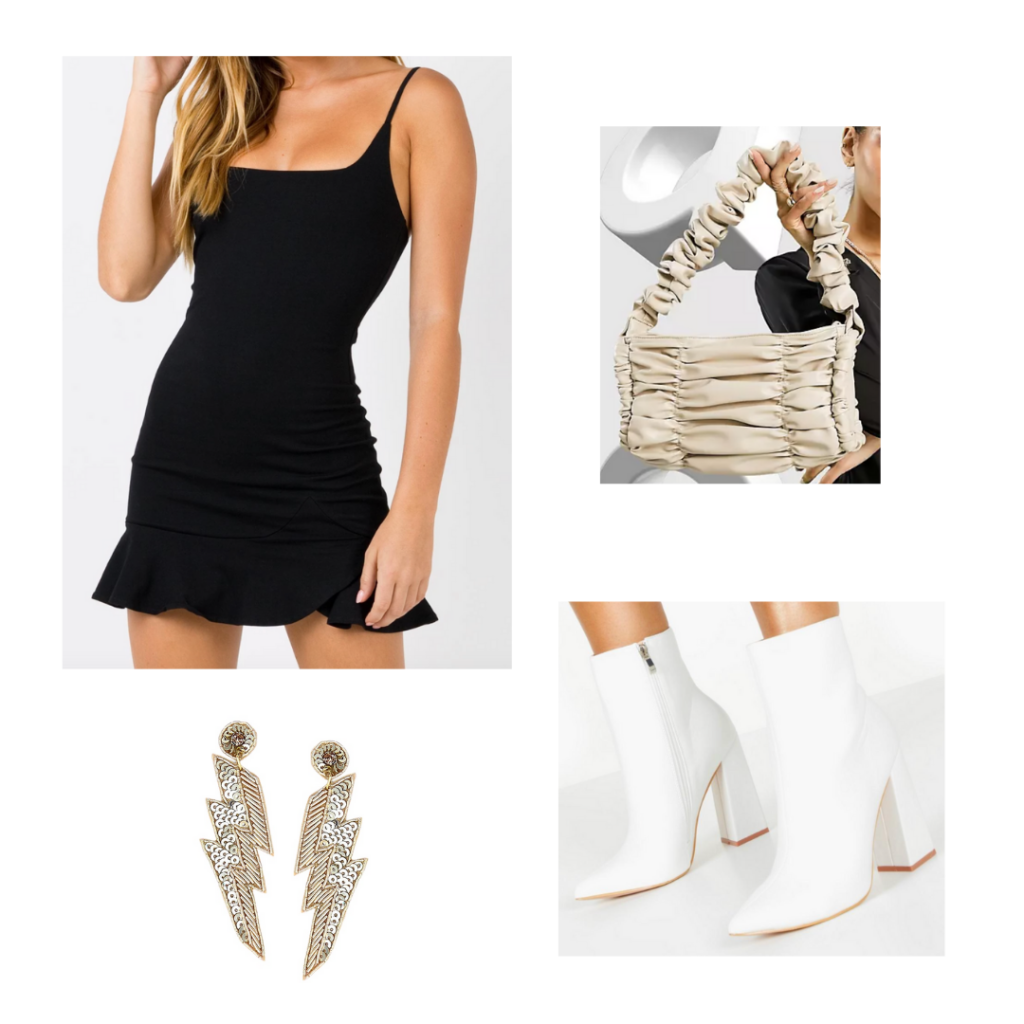 Calling all my dressy, girly girls! This look is perfect for you and seriously so simple to recreate.
Just grab your favorite little black dress — this one is from Princess Polly and features cute ruffles. Pair it with some heeled booties. These white ones are so fun!
The mini shoulder bag is the super trendy ruched design that is everywhere right now. It's also this really pretty champagne color.
I finished off the look with some fun oversized statement earrings. The beaded, felt earring trend has been super popular lately and I love the look for nights out.
Outfit Set #9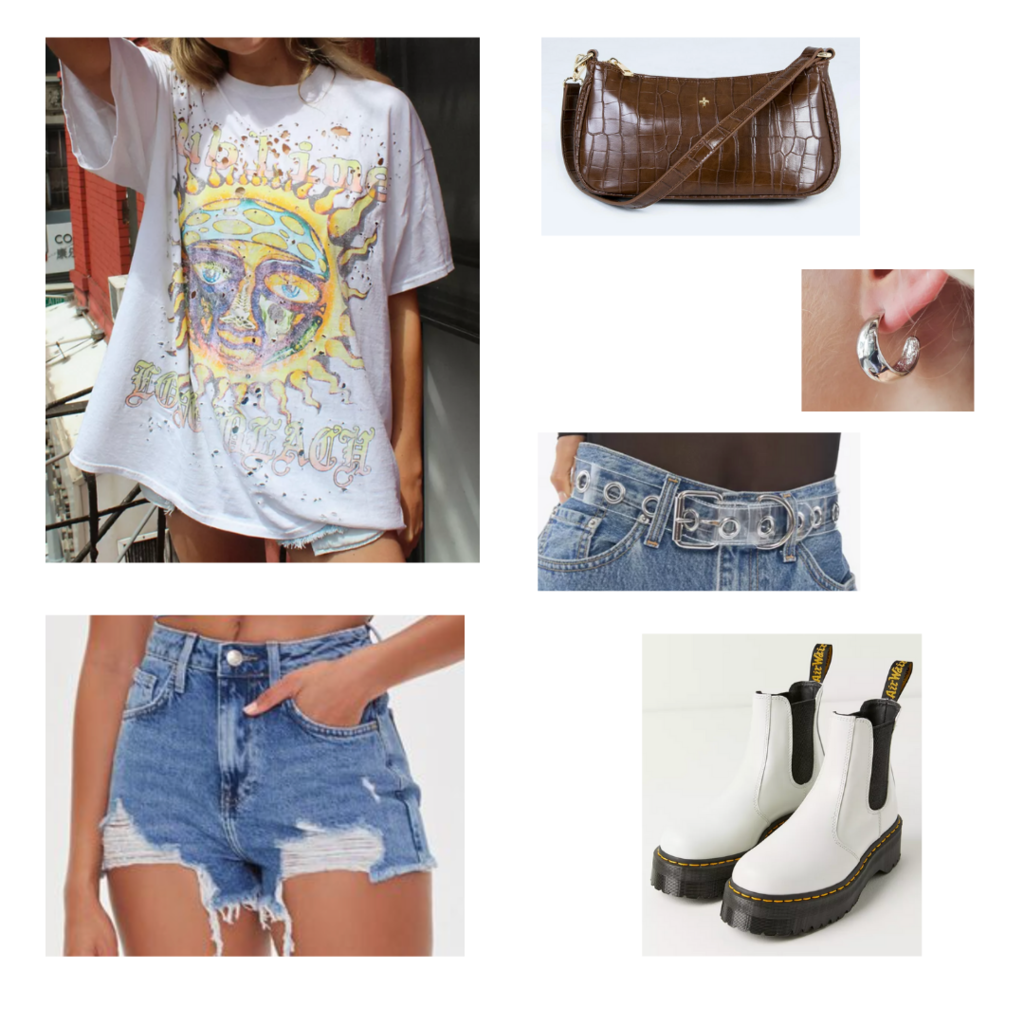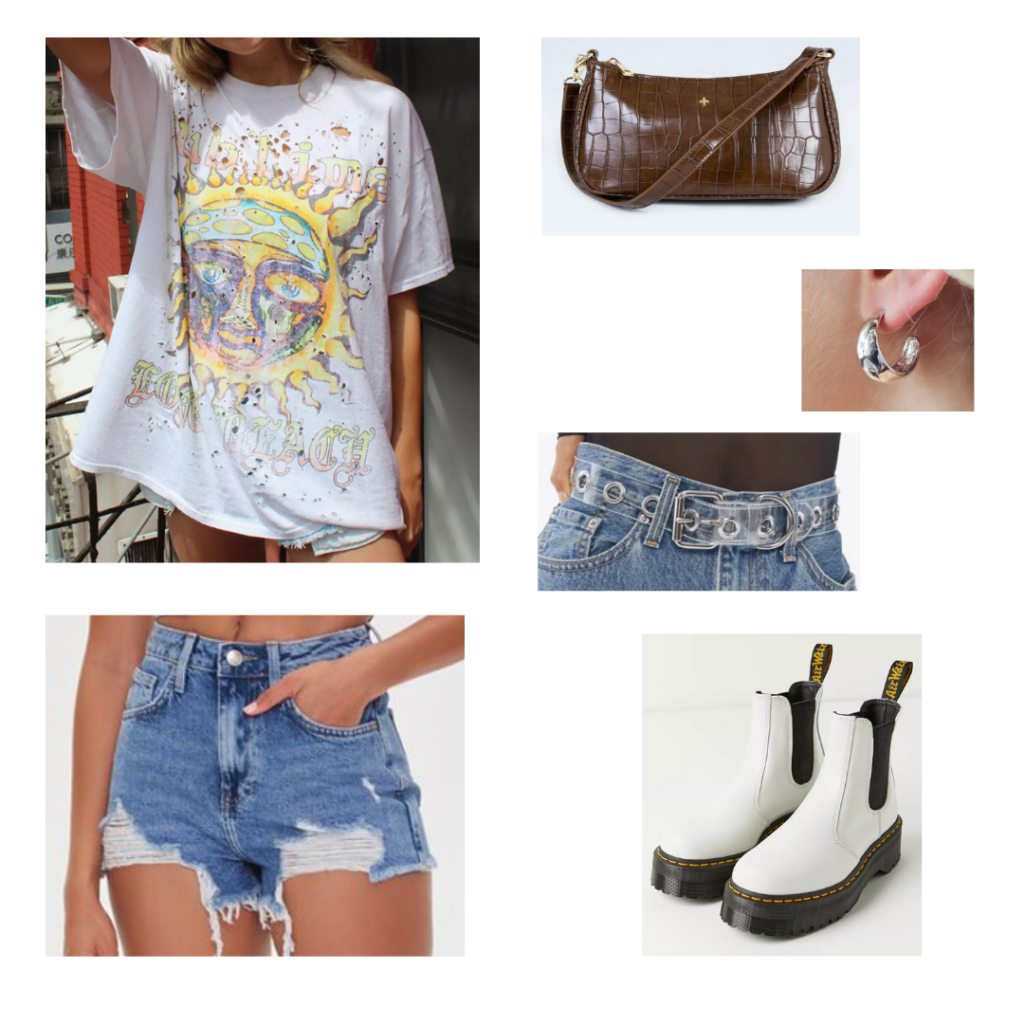 For all you daytime brunch gals, this outfit is for you. To create this outfit, I paired some high waisted denim shorts with an oversized graphic band tee. I love the happy colors in this one!
Next, I added this fun clear belt and mini chunky silver hoops to match. For boots, the Doc Martens white chelsea boots are perfect! So many stores have been putting out affordable versions inspired by these boots.
The main focus however is this bag. It's seriously one of my favorites and goes so well with this outfit. It's a dark chocolate brown croc print from the Peta & Jain brand. It is a perfect size and the perfect go-to bag.
Outfit Set #10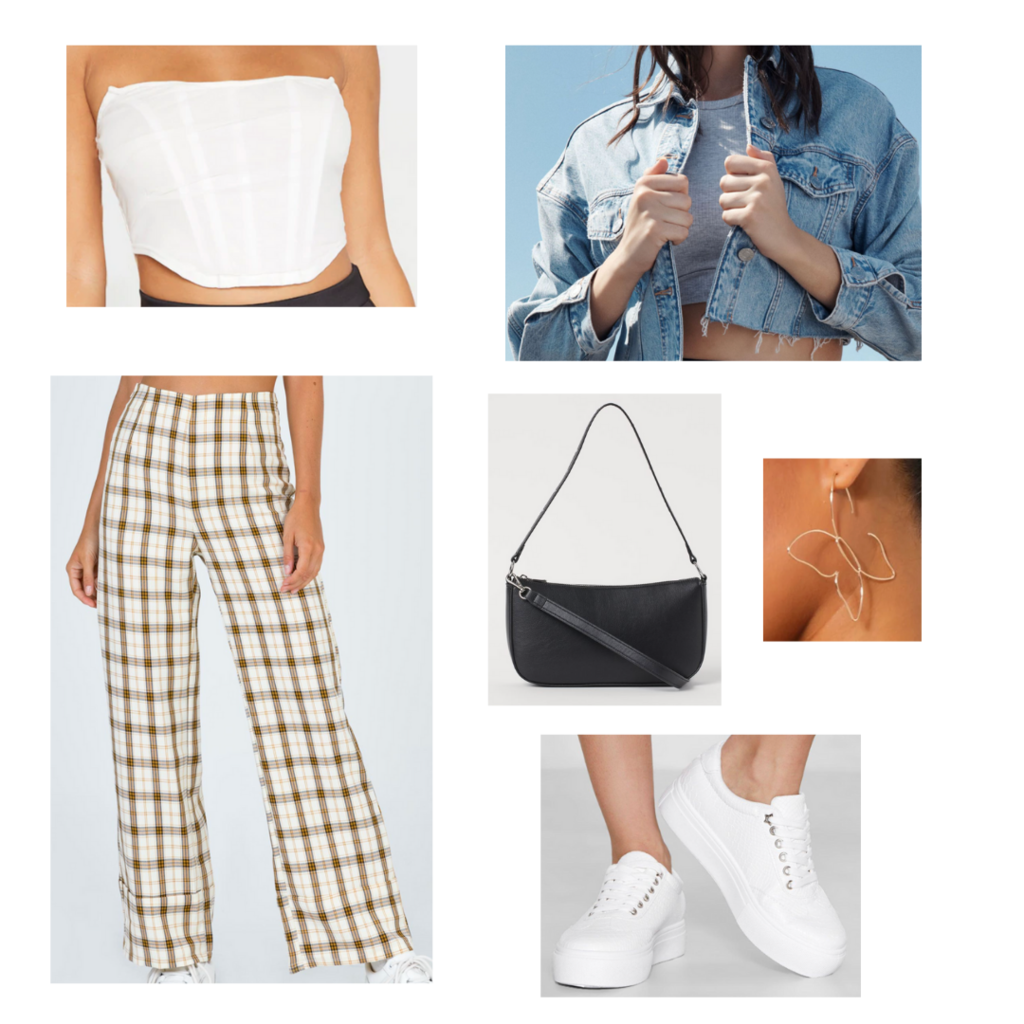 This last outfit set is fun and gives off a sporty '90s vibe. I paired these wide leg plaid pants with a strapless corset-inspired crop top. These are so trendy, and this white one goes perfectly with the neutral plaid pants.
I added some platform white faux leather sneakers and a light wash denim cropped denim jacket for layering.
Next up, this mini shoulder bag is the perfect staple. It's black nylon and actually has an extra strap if you want to wear it crossbody.
The last addition to this look is a pair of super cute and fun gold butterfly earrings.
What do you think of the shoulder bag trend?
Which shoulder bag outfit did you like the most? Let me know in the comments below!