Printed Denim Shorts: Nordstrom – Lord & Taylor – LULUC
Do you struggle with transforming your outfits from day to night? Don't worry, CF is here to help turn that daily annoyance into a fun challenge. Class to Night Out focuses on one piece per week, and aims to help you take your look from study sessions in the library to dancing the night away.
Everyone loves denim shorts– you can pair them with just about anything in your closet. After a while, though, they can get a little boring and you feel the need to switch things up, but you don't want to completely give up this comfy and easy wardrobe staple. So, what's a girl to do?
Well, my friends, the solution is printed denim shorts. They are comfortable, cute, and eye-catching. You don't even have to buy a new pair, since there are plenty of tutorials online that will show you how to transform your old denim shorts into something new and exciting (American flag, polka dot, tie dye, etc.).
If you want to see how I created outfits for both class and a night out featuring printed denim shorts, keep reading!
Printed Denim Shorts: Class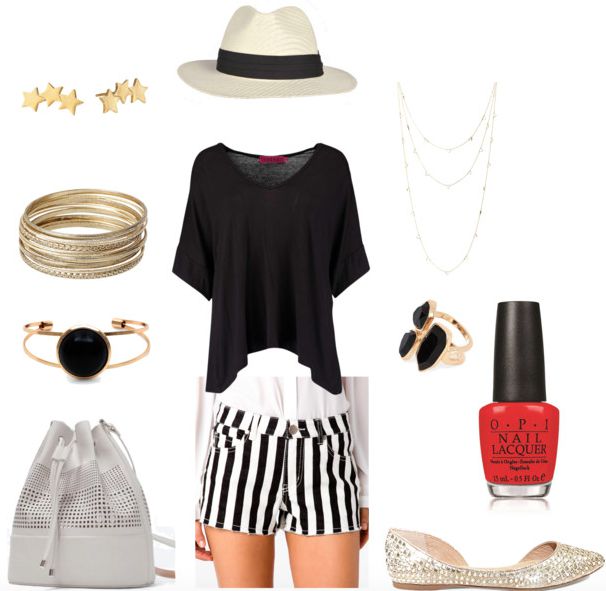 Shorts – Top – Shoes – Bag – Ring – Necklace – Bracelet – Bangles – Nail Polish – Earrings – Hat
For class, keep the outfit casual with a loose black t-shirt and gold flats. A bucket bag in a neutral tone maintains the relaxed feel; after all, the shorts are the center of attention in this look.
Black looks fabulous with pops of metallic jewelry, so accessorize with a long gold necklace, a black-and-gold bracelet and/or ring, a few bangles, and gold stud earrings. Paint your nails a fire engine red to add a bold pop of color– it will stand out against the rest of the outfit. Grab a fedora before you run out the door and you're ready for class.
Printed Denim Shorts: Night Out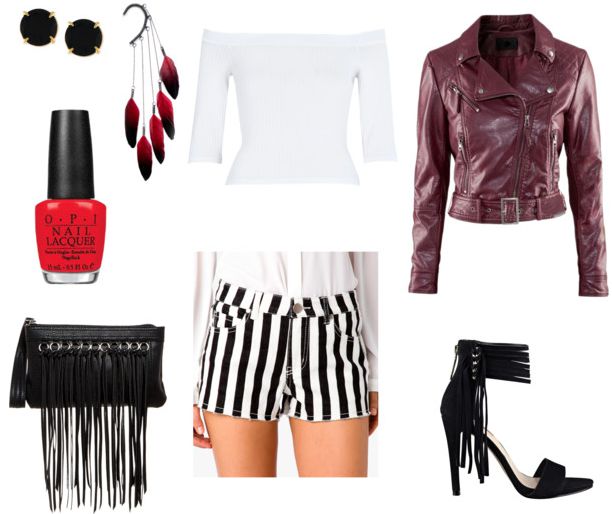 Shorts – Top – Jacket – Shoes – Wristlet – Nail Polish – Earrings – Ear Cuff
Toughen up these black-and-white striped shorts for your night out. Wear a white off-the-shoulder top under a deep ruby red motorcycle jacket. Keep your earrings simple with plain black studs.
Now, for the fun part. Get a little edgy with black fringe heels and a matching wristlet. Ear cuffs are an underrated way to have a little more fun with your accessories. This red-and-black feather ear cuff will definitely draw some attention! For even more fun, keep the red nails, but paint an accent nail on each hand a sparkly gold color.
What do you think?
Do you like the look of printed denim shorts? Which outfit is your favorite? Would you rock and edgy ear cuff? Let me know how you'd style printed denim shorts for class and a night out!