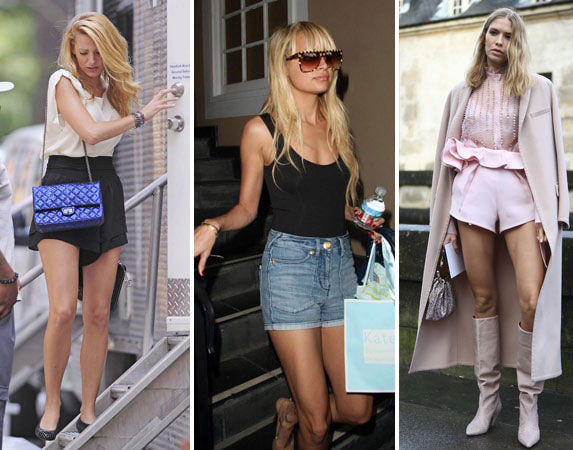 Thanks in part to retro-styled shows like Mad Men, vintage cut lingerie, swimsuits, dresses, and more have slowly been making their way into mainstream fashion. First it was high waisted skirts, then pants, and now it's hard to walk into a store without seeing a wide array of high waisted shorts.
I'm guessing that you probably feel the same way about them as I did when I first noticed them — sure they look great on waifs like Nicole Richie, but are they actually wearable for the average girl? The answer is yes — it just takes a little bit of creative styling! I've scoured the web for the absolute best tips on how to make high waisted shorts work for you, and compiled them all here for your sartorial pleasure 🙂
Not sure what to wear with high waisted shorts? Read on to learn all the tips!
Tips and Tricks for Wearing High Waist Shorts
"High Waisted" is relative. To rock this trend, you don't need to go out and find a pair of shorts that reaches above your belly button. If you have a shorter torso (or a larger bust), go for styles that are cut comfortably over your hip bones, but not all the way up to the smallest part of your waist. Because low-cut styles have been popular for so long, even a mid-rise cut will give you the look of the trend!
Tuck in your shirt. This is a no-brainer, but show off your trendsetting ways but tucking in your top and emphasizing your new shorts.
DIY a pair! A good way to test the waters on this trend is to pick up a pair of jeans from a thrift shop and cut them into shorts yourself. Cuff the hems for an extra cute look. Don't worry if you grab a pair that's a little big on you — the style will look great with a belt, and the looseness throughout the butt and thighs will look more "street chic" than "Mom Jean!"
Show some leg. To balance out the length of high waisted shorts, I love the look of Nicole Richie's (pictured above) short-shorts! This will elongated your legs and keep you from looking stumpy, if you're worried about that sort of thing.
Embrace the more mature look. Another way to wear the high waisted shorts trend is to go for a dressier look, like Blake Lively and our street style fashionista did, above. Pair your shorts with heels to feel extra elegant.
Consider the top. A tank or simple t-shirt will look chic with high waisted shorts, but pair them with a button-down dress shirt for a Katherine Hepburn aesthetic.
Wear them with a cropped top! If you're a little tummy-shy like me, high waisted shorts are perfect for pairing with cropped tops! The only skin people will see is the part between your belly button and ribcage — the tiniest place on most girls' torsos.
Try them with swimsuits. High waisted shorts, especially the nautical variety, will look fabulous paired with your favorite bikini for a fun new cover-up. These will look great and make you feel like you're straight out of a movie filmed at the French Riviera!
Be confident! It takes a bold girl to rock these babies — hold your head up high and let the world know how great you know you look!
Outfit Inspiration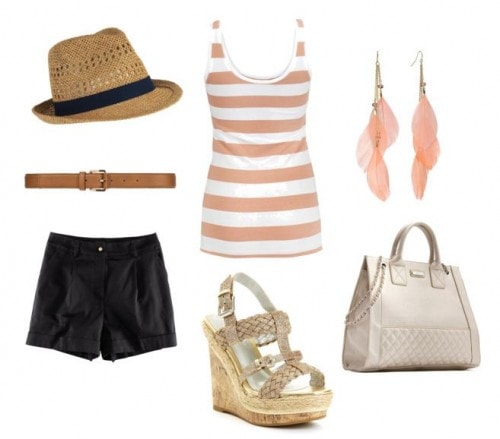 Hat, Belt, Shorts, Tank, Shoes, Purse, Earrings
This look is simple, chic, and perfect for spring or summer! Mid-rise shorts like these will give you the look and feel of high waisted shorts, but won't cut off your torso too much. Tuck in a striped tank top, and accessorize with a belt, fedora, feather earrings and wedge sandals.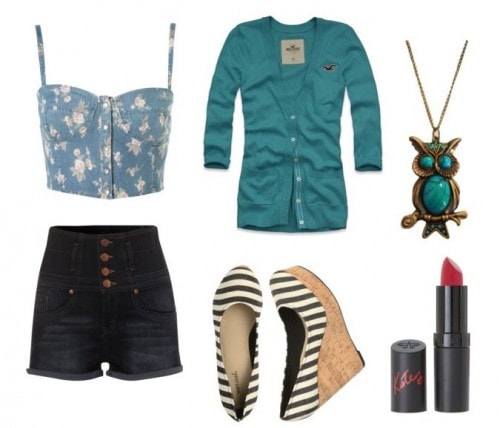 Shorts, Top, Cardigan, Shoes, Lipstick, Necklace
This look is flirty, girly, and oh-so retro fabulous! Have you picked up one of those foxy bralette tops, but are still wondering how to wear it? Pair it with high waist shorts for coverage and a taste of pin-up girl style! Tone down the look with a cardigan, but stay looking chic with some foxy wedges. Finish your outfit with an eye-catching necklace and some glamorous red lips!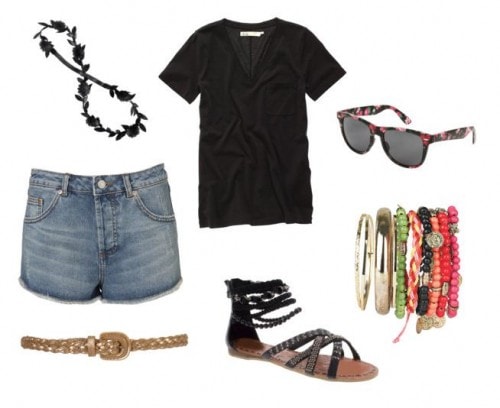 Shorts, Belt, Headband, Tee, Sunnies, Shoes, Bracelets
This outfit is casual like the first look, but a little more on the hippie/boho chic side. High waisted hot pants will look balanced paired with a relaxed black v-neck. Style your outfit with a hippie headband, gladiator sandals, a stack of bangles, and printed wayfarers.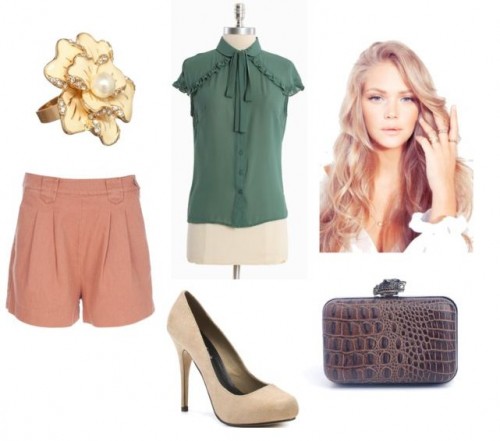 Shorts, Ring, Blouse, Shoes, Clutch
This look is romantic and a bit dressy, perfect for a date or another snappy-casual type situation. This green blouse will look stunning paired with structured, peach-colored shorts. Add a fancy cocktail ring and your go-to pair of simple heels. A soft look like this would look great with those loose, soft curls I've been seeing all over Pinterest! Finish with a clutch — I've been obsessing over the box clutches from House of Harlow, but there are plenty of cheaper look-alikes out there!
Thoughts?
Would you wear high waist shorts? How would you wear them? What do you think about other vintage-inspired fashions? Are there any other trends you're having trouble figuring out how to style? Leave a comment and tell us what you think!!