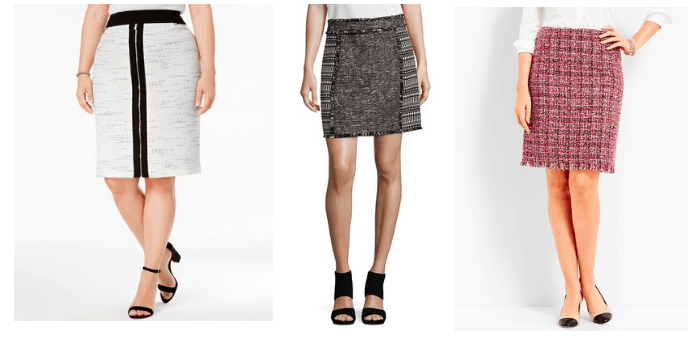 Items L-R: Macy's, Lord & Taylor, Talbots
Originally made famous by Coco Chanel, tweed fabric has become known for its prim, proper appearance… and tendency to show up in your grandmother's wardrobe. However, it's time to rethink this fabric and add it into your wardrobe… no matter how modern your style!
As we get into the colder months, a tweed skirt is a great item to have on hand. It's a great addition to your wardrobe, whether you're presenting a class project or enjoying a night out. With a few styling tricks, this piece will ensure that you're dressed to impress.
Here are two tweed skirt outfit ideas to try:
Tweed Skirt Outfit for Class: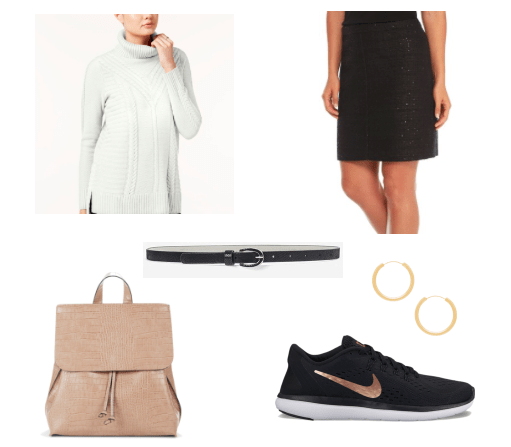 Products: Tweed Skirt – Belk, Sweater – Macy's, Backpack – Sole Society, Sneaker –Kohl's, Belt – White House Black Market, Earrings – Revolve
Adding a tweed skirt into your wardrobe will come in handy for that unexpected class presentation, networking event, or interview. Having something a little more formal is always great, but learning how to mix it with your typical wardrobe staples allows you to get the most wear out of a piece. Today, I'll show you how to do that with our tweed skirt.
For a casual day of classes, let's pair our tweed skirt with a slightly oversized cable knit sweater. Add on a skinny belt for extra style points. To dress the look down, add on a pair of running sneakers. If you're presenting a project, switch out those sneakers for a pair of heels, but make sure to keep those sneakers close by as you dash off to your next class.
Tweed Skirt Outfit for a Night Out: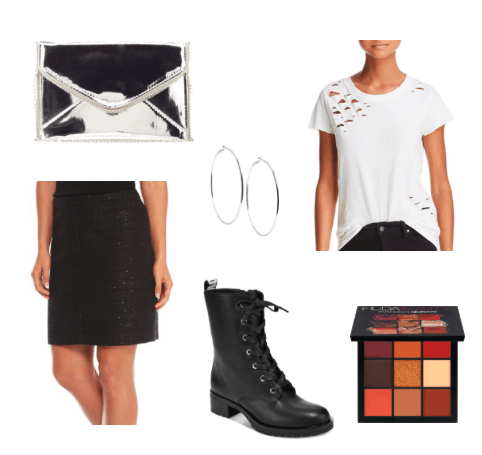 Products: Tweed Skirt – Belk, Shirt – Bloomingdales, Boots – Macy's, Clutch – Charlotte Russe, Earrings – Guess, Eye Shadow Palette – Sephora
Tweed definitely lands on the more formal side of fashion, making it a bit daunting to style for a college night out, but who doesn't love a challenge? The level of styling difficulty depends on your plans for the night. If you're going out to dinner, you're sure to have an easier time styling this piece than you would for, say, a frat party. However, since our tweed skirt is neutral toned, that makes it much easier to style for any occasion.
For this look, let's pair our tweed skirt with a distressed tee to offset the skirt's conservative vibe. Next, add on a pair of boots: These heeled combat boots from Macy's are perfect for protecting your feet as you dance through the night.
Do you own a tweed skirt?
What's your favorite tweed skirt outfit? Are you convinced to invest in this piece now? Let me know by leaving a comment.