Combat boots have long been considered a part of fringe subcultures; however, over the past number of years, they have begun making their way into mainstream fashion.
And, while the combat boot trend has been going strong for a while now (we love our Doc Martens!), it has really picked up steam this year, and is actually surprisingly easy to wear, no matter your style.
The key to pulling off combat boots without going full-on punk or goth is to make sure that whatever you're wearing contrasts with them so as to soften them up a little.
Whatever you choose to wear them with, though, make sure that it isn't too "done," as combat boots are one of those trends that looks best when worn with something that looks effortless.
So, keep scrolling to four fashionable combat boots outfits!
Combat Boots Outfit #1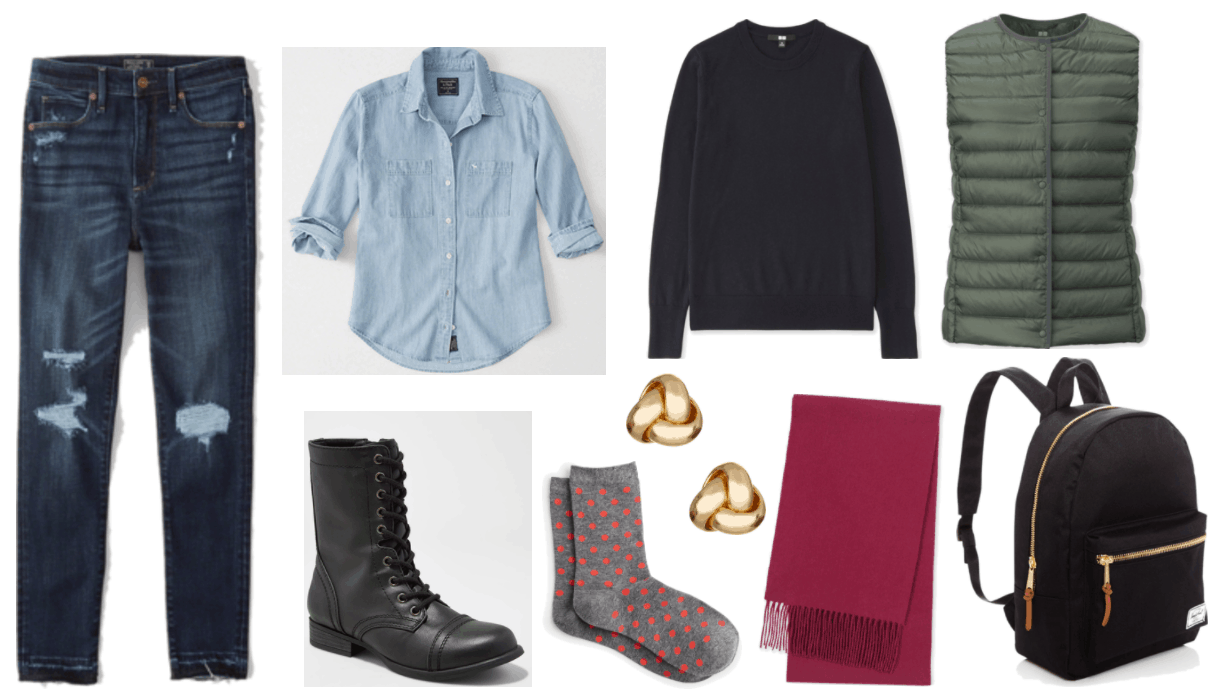 Products: Jeans – Abercrombie & Fitch, Shirt – Abercrombie & Fitch, Sweater – Uniqlo (More sizes here), Vest – Uniqlo, Combat Boots – Target, Socks – Ann Taylor, Earrings – Nordstrom Rack, Scarf – Uniqlo, Backpack – Bloomingdale's
This preppy, laid-back outfit is a great way to ease your way into the combat boot trend, as you probably own and wear many pieces similar to the ones shown here.
A pair of dark-wash ripped jeans with a stylish let hem goes perfectly with a classic light-wash denim shirt. Layer a basic crewneck sweater over the shirt, then add a lightweight down vest and a luxurious cashmere scarf for warmth on chilly fall days.
A pair of cute polka-dot socks peeking out will add some fun to your look, while this black backpack is the perfect size for storing a laptop/notebooks and pens for school.
As for the actual combat boots, here I've chosen a simple black pair that's sure to go with almost any casual ensemble, and that nicely complements the mostly neutral pieces in this outfit.
Combat Boots Outfit #2
Products: Dress – Bloomingdale's, Coat – Mango, Socks – Aéropostale, Heeled Combat Boots – Kohl's, Lip Stain – Macy's, Eyeshadow Palette – NARS, Earrings – Shopbop, Ring – Wolf & Badger, Beret – Zappos, Bag – Target
You might think that looking feminine while wearing combat boots is impossible; however, I'm here with this look to prove otherwise!
A gorgeous tie-neck dress in a dark and moody floral print goes perfectly with the heeled olive-green-and-black combat boots I've chosen here. To add a quirky touch, put on some ruffled boot socks, scrunching them down so that just the tops peek out of the boots.
An investment-worthy aqua coat brightens things up, while a dusty-pink satchel adds a ladylike and sophisticated element to the ensemble.
Put on a trendy black beret for a certain je-ne-sais-quoi, and add some unique jewelry, such as this beautiful porcelain rose ring and these pearl drop earrings with an adorable velvet bow (which I knew I had to include after seeing them in Katy's July 2017 Monthly Favorites and Wishlist post!).
Lastly, I love the idea of wearing this look with a smokey eye in subdued fall colors and a pale pink lip stain. This NARS palette and Bobbi Brown lip color should do the trick just perfectly.
Combat Boots Outfit #3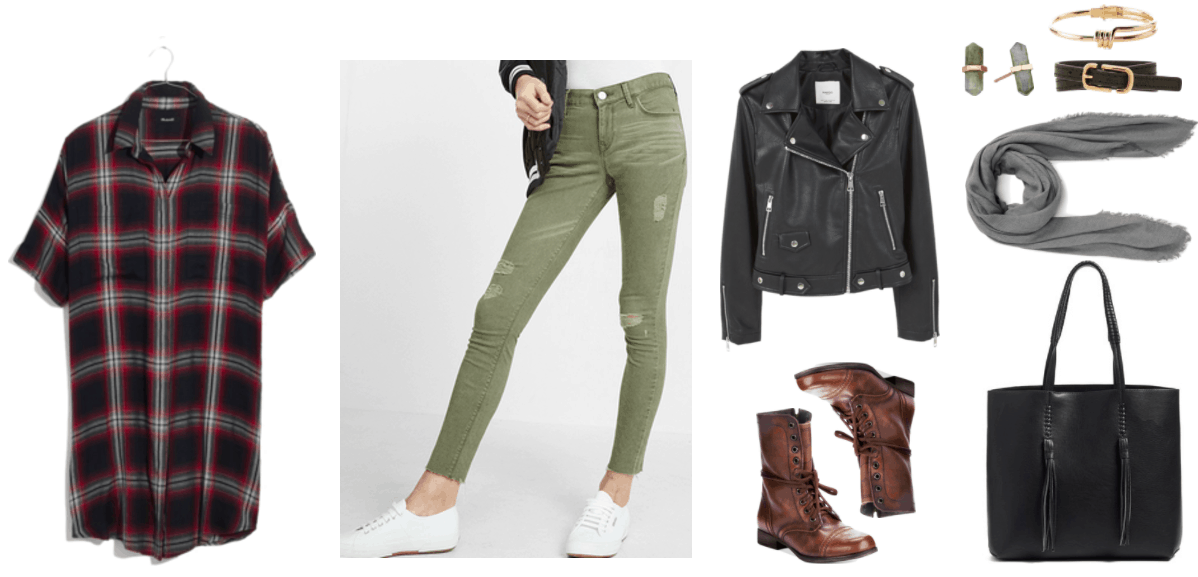 Products: Shirtdress – Madewell, Pants – Express, Jacket – Mango, Combat Boots – Macy's, Earrings – Zappos, Bangle – Express, Wrap Bracelet – Revolve, Scarf – Nordstrom, Tote – Nordstrom
Of all the looks featured in this article, this one is probably the one that comes closest to being edgy. However, it also has a laid-back element to it, which makes it very wearable for every day. This is something that I'd wear to class, and it would also be a great outfit for going shopping with friends on the weekend.
I've paired a grungy plaid shirtdress with some olive-green destroyed legging-style pants for an easy way to get in on the dress-over-pants trend without looking cutesy or cheesy. A classic motorcycle jacket is the perfect fall layer to add to this look, and you can't go wrong with a simple gray scarf to add some extra warmth.
A stylish black tote with fringe details is a great way to add some texture to the look. As for jewelry, I've chosen a cool pair of labradorite stud earrings, a sleek black wrap bracelet, and an interesting gold bangle to add some visual interest without drawing attention away from the rest of the outfit.
Finally, I chose a pair of combat boots in a rich shade of brown as a chic and equally-versatile alternative to your typical black ones.
Combat Boots Outfit #4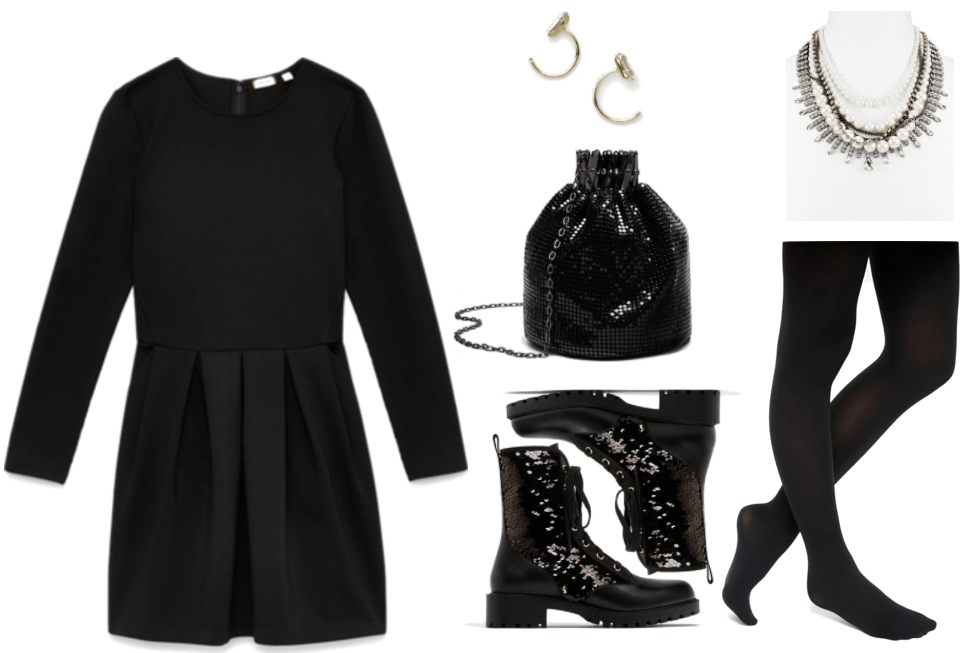 Products: Dress – Aritzia, Earrings – Club Monaco, Bag – Zara, Combat Boots – Zara, Necklace – Bloomingdale's, Tights – South Moon Under
This all-black, glamorous look is perfect for your next night out–not to mention that substituting your usual heels for combat boots will ensure that your feet remain blister-free all night!
A simple long-sleeved LBD and opaque black tights are the perfect blank canvas for these amazing sequined combat boots. (The sequins are actually reversible, with gold on the other side; click the product link above to see what they look like!)
A sleek metal mesh mini bucket bag (Try saying that ten times fast!) adds some shine without going over-the-top, as its black color allows it to blend in a little bit with the dress and tights, so that all you see is subtle sparkle.
A statement necklace and some delicate on-the-ear hoops with clear stones are a sophisticated–not gaudy–way to finish off this elegant look.
What do you think?
Do you like combat boots?  What's your preferred way to style them?  Which of the pairs shown here is your favorite?
Let me know in the comments!