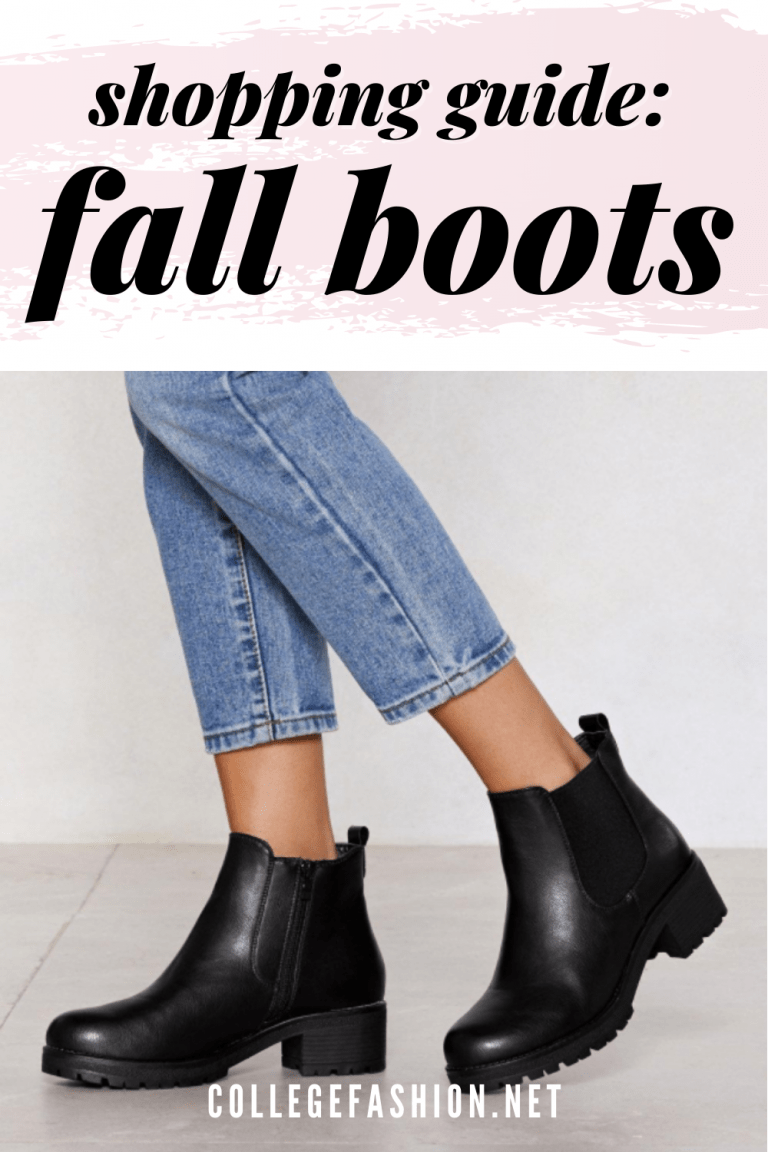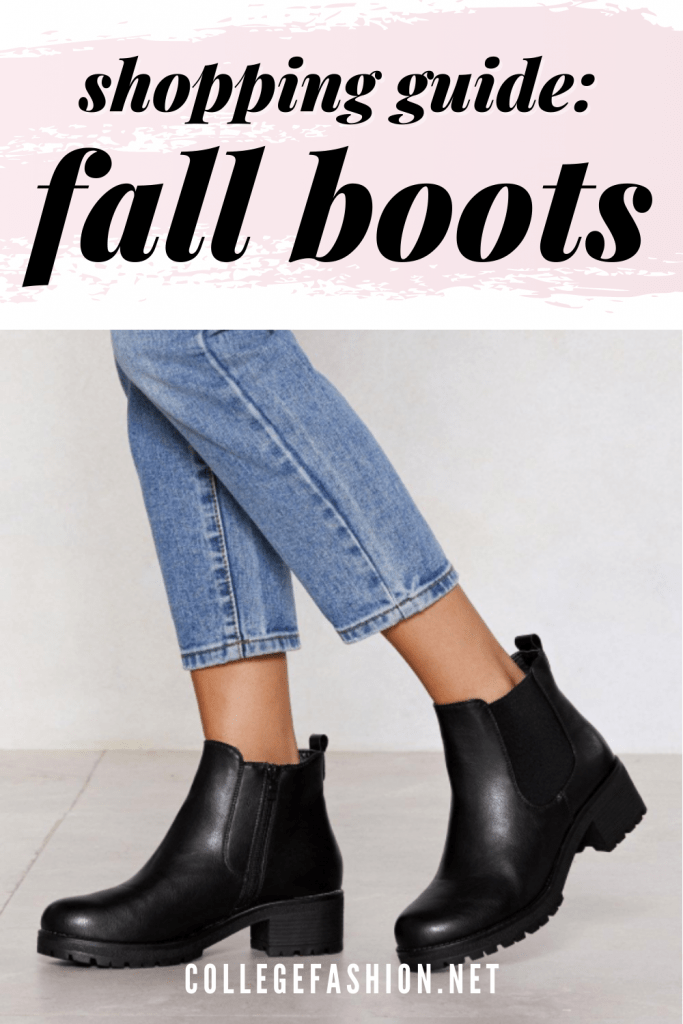 Below, our fall boots 2020 guide, with the affordable fall boots we're buying this season.
My absolute favorite part about the fall season is getting to wear stylish boots with every outfit! They accent every ensemble perfectly and can give you that bit of extra height with their heels.
Boots keep your feet warm and comfortable, and allow you to explore without worrying about the elements. What more could you ask for in a shoe?
Here at CF, we know it can be hard to stay stylish on a college girl's budget. High quality boots are hard to find at a reasonable price, so we've done the work for you.
Since every college girl's wardrobe needs some basic boot options and some stylish statement pieces, here are the best and most versatile fall boots for 2020.
Fall Boots 2020: Short Booties
White Pointed Toe Ankle Boots
I absolutely love these white, pointed-toe boots. Falling just above the ankle, they have a classic western feel and will go with any outfit.
Plus, the white finish adds an unexpected touch to some of the darker colors of fall outfits. With the intricate detail on the side and a wooden block heel, these boots are sure to be the favorite in your closet this fall.
Chunky Heel Chelsea Boots
Every college girl needs a classic Chelsea boot, and this super affordable pair will definitely be worth the $22.50 you'll spend. In a classic black, these boots are a wonderfully neutral transition from summer to fall.
With a nice, thick sole you're going to be comfortable walking around campus. These boots are the best because they pair well with a pair of pants, a skirt, and a multitude of dresses!
Leopard Print Ankle Booties
To introduce a flashy piece in your wardrobe, try out these gorgeous animal print ankle booties. The short heel will give you some extra height, but not too much that you'll want to take them off right away (we know the struggle).
These printed boots are the perfect piece to use as the center of your outfit and will elevate any night out look. I love to pair these with an all-black outfit so they're sure to stand out with a monochrome look.
Fall Boots 2020: Mid-Calf Boots
Comfy Sock Boots
A pair of neutral boots is a closet essential! They will make you look taller by visually elongating your legs, not to mention the killer heels on this pair.
A pair of sock boots like these are always super comfortable to wear, so you'll never get blisters after a long day. Boots like these are my favorite to pair with a floral skirt or dress for an elegant and feminine look.
Classic Black Combat Boots
Since the e-girl trend has become much more popular over Tiktok, every college girl needs a pair of eye-catching black combat boots this fall. (They even made our list of the hottest fall trends of all this season!)
I love how this pair isn't just a classic lace-up combat boot, but it also adds interest with the buckles at the top. Plus, the zipper on the inside makes them cozy and easy to slip on and off for us on-the-go college gals.
For styling ideas, use some of our Doc Martens outfits and you can't go wrong.
Rust Lug Sole Boots
Now for the statement piece in this category. These gorgeous rusty red lug sole boots are one of my favorite investment pieces for the fall. They're Timberlands, which means they're amazing quality and will last you for years and years.
My favorite part about these boots is the gorgeous rusty red hue that adds so much character and flair to these otherwise classic boots! This particular color is always in style for fall, and these boots will look great with all of your leggings and cozy sweaters this season.
Fall Boots 2020: Tall Boots
Over-the-Knee Suede Pointed Toe Boots
Another fall wardrobe essential is a classic grey to complete your fall neutral looks. I love these grey over-the-knee boots that tie in the back – they're the perfect cozy shade of slate grey for fall AND winter!
Over-the-knee boots are such a unique closet addition. You can channel Ariana Grande by wearing them with a oversized sweatshirt or sweater, or you can keep it simple by pairing them with jeans or a cute skirt.
Snakeskin Boots
Snakeskin is such a trendy print right now, so it's only fair that we include a pair of gorgeous snakeskin boots in this fall's roundup. A simple wooden block heel adds a nice, sophisticated touch to these boots as well.
These boots are a great option if you're not ready to experiment with over-the-knee boots but you still want some coverage in your fall looks. Plus, knee-high boots can elevate a classic pair of jeans to something a bit more sophisticated.
Statement Velour Over-the-Knee Boots
To truly get into those warm, fall colors, I'm loving this pair of velvet over-the-knee boots! Statement pieces are essential for any college wardrobe, but a more muted berry tone is perfect for a night out.
Not only do these boots pair wonderfully with your cute skirts and dresses, but they are a great alternative to tights or stockings so you can keep your legs warm this fall.
What do you think about these fall boots for 2020?
Which pair is your favorite? Do you prefer taller or shorter boots?
Let me know in the comments!