Protagonists are overrated if you ask us. The most memorable movie and TV characters around are usually the villains. And let's face it — villains get the best wardrobes. This new CF series will feature some famous "bad girls" from pop culture and show you how to get their looks for yourself.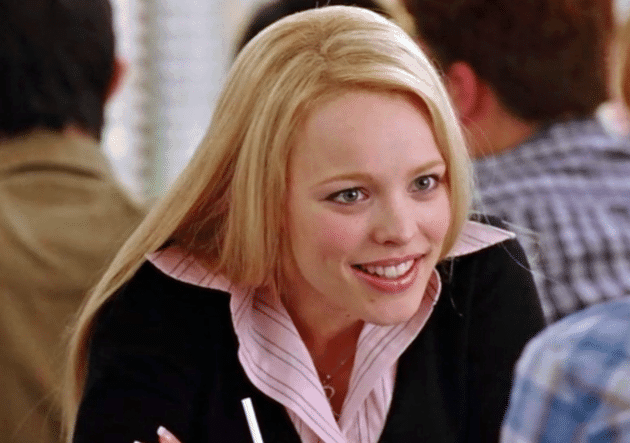 To kick off our Bad Girl Inspiration series, we are taking a look at the ultimate teen queen, Regina George, from the cult classic film, Mean Girls.
About Regina George
If you haven't seen this life-changing movie (if so, drop what you are doing and watch it, stat), Regina is the leader of the popular girl clique, The Plastics. These girls are known for running the social scene of North Shore High School, making students' lives miserable, looking fabulous, and of course, wearing pink on Wednesdays.
But none of the other Plastics are as bad — or fabulous — as Regina, whose style consists of basically every early 2000s fashion trend, such as mini skirts, off-the-shoulder sweaters, boot-cut jeans, and more.
Originally, Lindsay Lohan auditioned for the role of Regina George, but Rachel McAdams won it. Amanda Seyfried also auditioned for the part but was instead cast as Karen. Fearing that the mean girl role of Regina might harm her reputation, Lohan was cast as Cady instead.
Regina George is an icon at her school, and her style reflects this. Whether she is in a velvet tracksuit or a full-on body brace, she somehow still looks as if she runs the world, or at least North Shore High.
To achieve the bad girl style of Regina George for yourself, get inspired by these three looks from Regina's iconic wardrobe:
On Wednesdays, We Wear Pink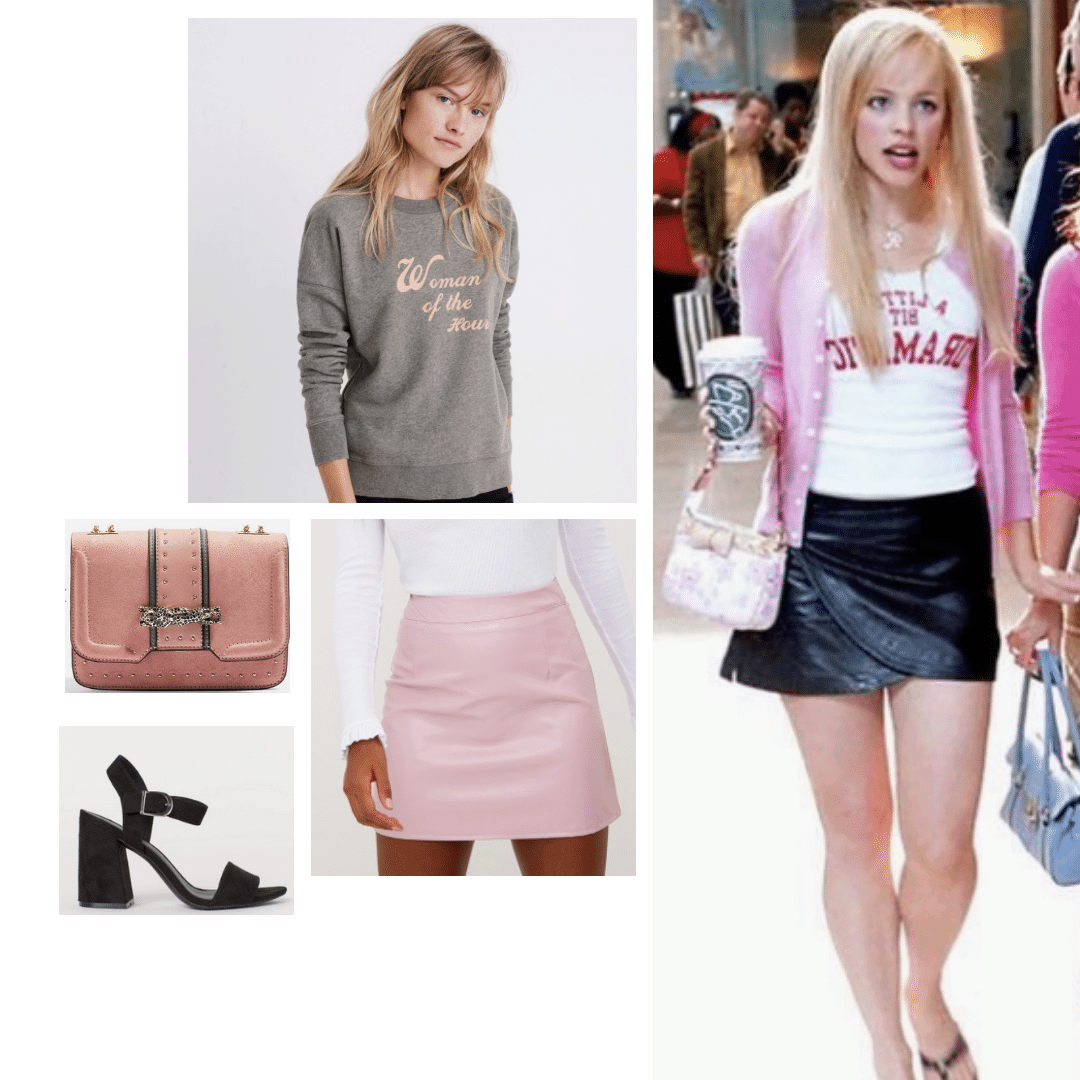 Products:
One of the most famous things the Plastics do, fashion-wise, is wearing pink on Wednesdays. This is a rule that Regina George firmly upholds — if any of the Plastics were to break this rule, they would be automatically kicked out of the group. Pink on Wednesdays is non-negotiable.
To capture Regina's iconic pink Wednesday outfit, just pair a pink mini skirt with either a sweatshirt or t-shirt and accessorize the look with a good pair of sandals and a tiny purse.
The Burn Book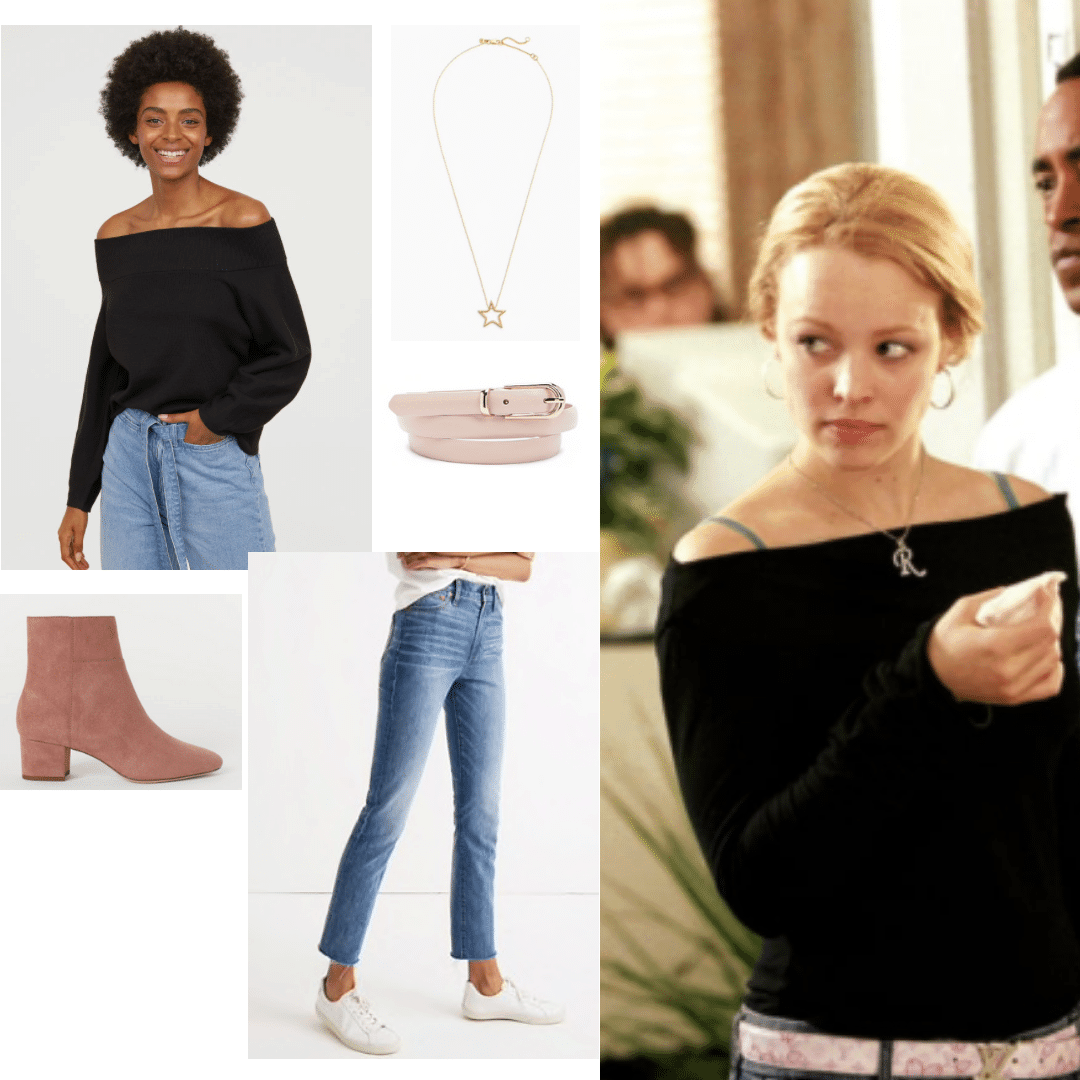 Products:
One of the evilest acts that Regina commits in the film is when she releases the contents of the Plastics' "Burn Book," a yearbook of sorts filled with insults about female students, for everyone in the school to read. And, as expected, she still looks fabulous while doing it.
To achieve this sinister Regina look with a 2019 vibe, just pair an off-the-shoulder sweater with a pair of boot-cut jeans, and let the accessories do the talking. Naturally, I added pink ones for that Plastics flair.
The Spring Fling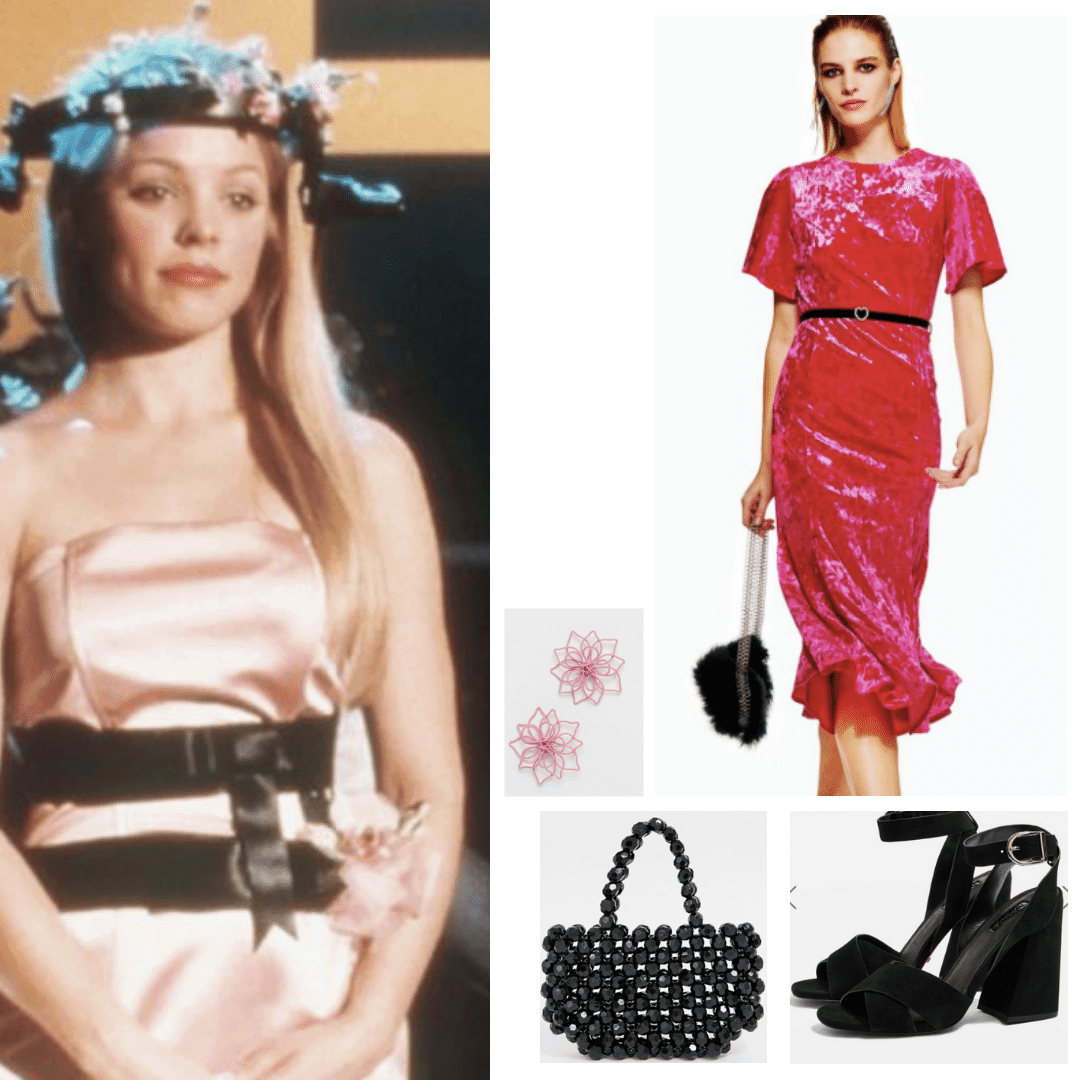 Products:
Perhaps the most underrated look of Regina's is the outfit she wears to the Spring Fling. Sure, it is a look meant for comedic effect, as she is in a full-body brace, but there is still something stylish about the outfit, and it's a great example of the fashion of the early 2000s.
The key to achieving this look is finding the perfect little pink dress and adding black accessories to highlight the pink. Here I went with platform heels and a unique woven plastic handbag.
Would you like to dress like a villain?
Hopefully, you have now gained a bit of inspiration to attempt the bad girl look inspired by the one and only Regina George. Remember, whether you're being good or bad, you will always look fabulous wearing these looks.
Would you dress like Regina? What other villains would you like to see us cover in this series? Tell us in a comment below!
If you like these Regina George outfits, you might also want to check out our favorite fashion inspiration posts below —