From Disney starlet to pop icon in just a couple of years, Olivia Rodrigo is taking over the planet. If you haven't heard of her, you must have to been living under a rock with sound proof headphones for the last year.
No matter where you go, you can't escape her music. From teenage girls blasting it from their rooms, to sports bars, to being sued as a sketch on Saturday Night Live…. her songs are everywhere.
While much of her rise to fame has been surrounded by drama surrounding Joshua Bassett and Sabrina Carpenter, Olivia has proven that her music can stand on its own. She says what she wants, period.
Her music is contagious. I've been listening to good 4 u on repeat for several days and I have never felt more productive! With the release of her album SOUR, she also debuted a whole new style.
She has also rapidly become a fashion icon. Her style can best be described as 90's grunge mixed with cute Princess Polly-like vibes. Here are a few things to keep in mind when looking to emulate her style.
Plaid: Her SOUR wardrobe is full of plaid pieces, specifically in blue, and she looks amazing in it. Plaid can be a little academic, but in a fun color it makes you look effortlessly cool.
Lots of Jewelry: Layers of necklaces and rings on every finger are a staple of Olivia's style.
Color: Olivia doesn't shy away from color! She likes wearing bold blue but also likes mixing orange, pink, and red.
Crop Tops: Olivia's 90's-inspired style wouldn't be complete without crop tops. From corsets, to small tees and halter tops, she's always rocking the cutest crop tops.
She is trendy and always stylish; the perfect amount of cute and alluring. She just gets fashion in 2021.
Without further ado, here is a guide to Olivia Rodrigo's fashion and four outfits inspired by her various looks.
Sour Album Outfit
Who is not totally obsessed with the album cover for SOUR? It is sassy, it is cute, and it is totally the vibe we want to bring to this summer.
Sour Press Outfit
Yes, I am a little obsessed with Olivia Rodrigo, but with good reason. She can really pull off any look including a retro jumpsuit.
London Outfits
No matter where Olivia is, she's looking great. Olivia used bits of her own style and pulled a lot of inspiration from London fashion in this outfit.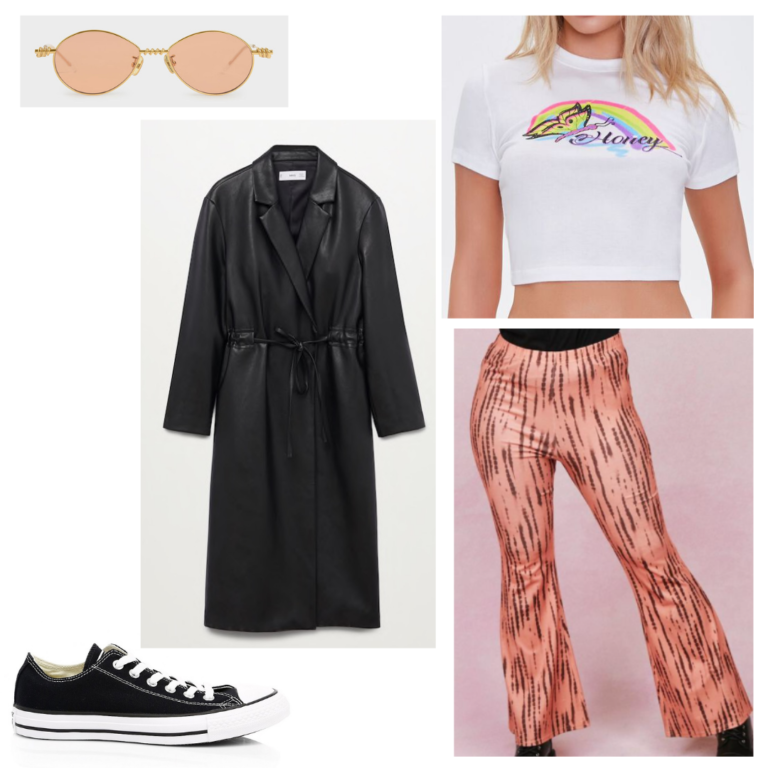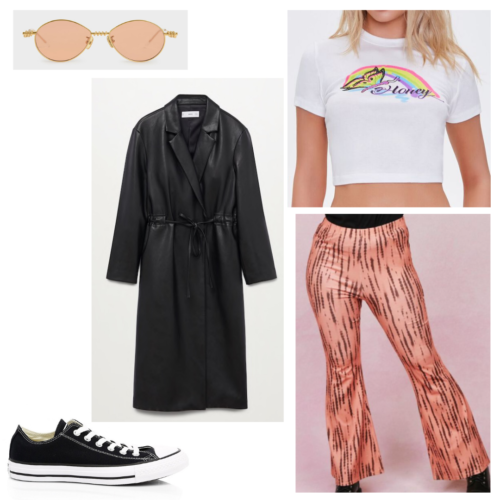 You'll need a tight graphic crop top and a pair of fun, printed pants. The crazier, the better!
Finish this style off with a dramatic, long trench coat and some cool tinted sunglasses. She might have been born in 2003, but she's clearly a 90's baby at heart.
I don't know how anyone couldn't be obsessed with Olivia Rodrigo by now, whether it's for her music, her style or her personality.
I can't wait to see the looks that come with the many albums I'm sure she'll be releasing in her long career. But for now, I'll be taking inspo from SOUR and hoping there are more music videos to come.
What's you favorite Olivia Rodrigo outfit?
What's your favorite Olivia Rodrigo song? What outfit above speaks to you most? Let us know!