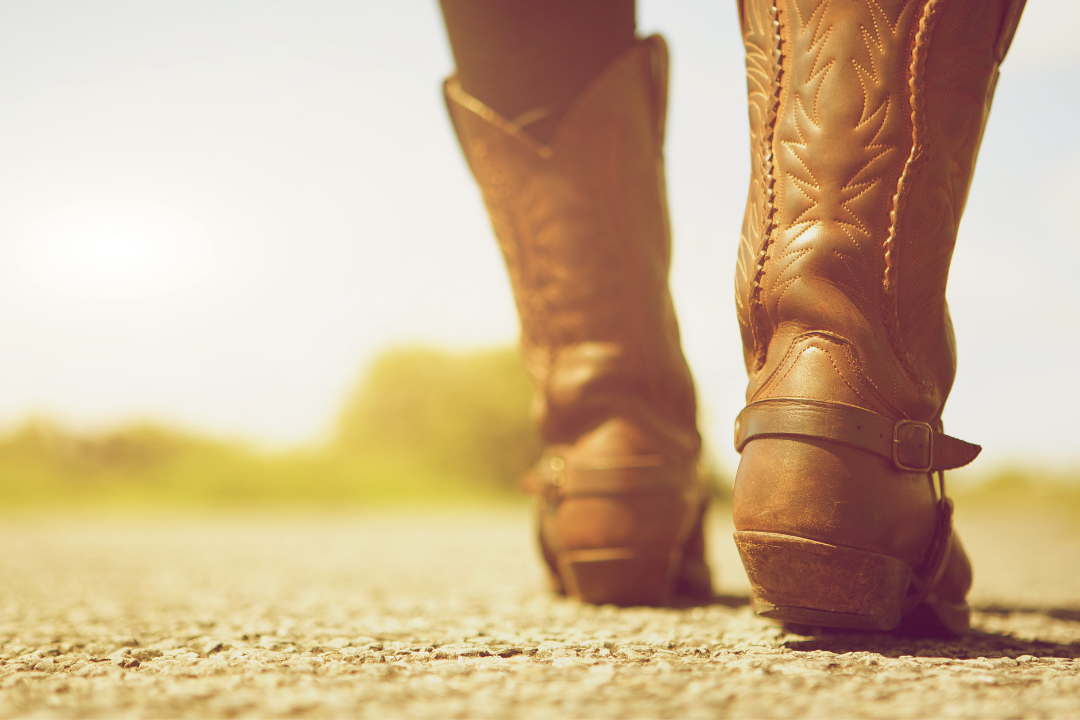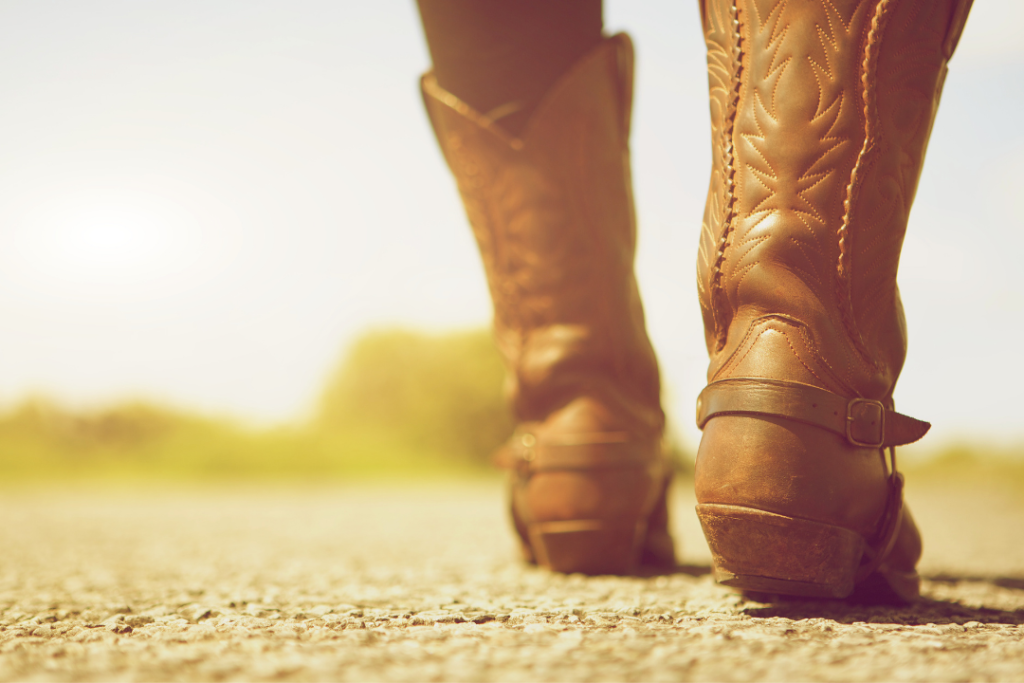 Here at the University of Oklahoma, you will find a pair of cowboy boots in nearly everyone's closet.
Wearing them to class isn't really the norm (unless you're a frat boy and are also rocking a Columbia fishing shirt and backwards Ralph Lauren Polo hat), but girls here save them for occasions like home football games and country concerts.
At OU, cowboy boots signify that you're ready to dance and have a great time. I've had the same pair all through college, and the more beat-up they get, the more comfortable they feel!
Though cowboy boots aren't unusual in parts of the midwest and the south, in many regions of the United States (and in other countries) these boots can be a neat way to make your outfit stand out. This week's challenge is to see cowboy boots as a fashion statement rather than just a part of a costume.
Need to brush up on how to rock cowboy boots without looking ridiculous? Read on!
Tips and Tricks for Pulling off Cowboy Boots
Consider the material and color. Suede boots look great, but are really difficult to maintain. Leather boots are the most classic, and they come in every color, the most popular options being black, brown, white, and red. I prefer boots that are made to be worn out, but some girls like styles that are more structured and formal.
Think about the style and shape. Pointed toes look the most authentic, but a rounded or square toe might make the boots more versatile. Calf-length cowboy boots are the most traditional, but ankle boots will give your outfit a nice boho-chic aesthetic.
Consider your budget. Forever 21 and Payless have cheap pairs that will be perfect if you only plan on wearing them every once in awhile. However, if you plan on having your cowboy boots for a long time, it's worth the splurge for a nice pair. They'll mold to your feet and become one of the most comfortable pairs of shoes in your closet!
Try them under your jeans. This is the way to go if you're hesitant about wearing them out and about. They'll give you a bit of a height boost and make your butt look tiny. Obviously this won't work with your skinnies – cowboy boots will look best under boot cut or flared jeans.
Flaunt them by wearing them over a pair of skinny jeans, jeggings, leggings, tights, or bare legs!
Keep them from looking costume-esque by refraining from wearing double denim, plaid shirts, a fringed vest, or your Daisy Dukes with them. I know I'm preaching to the choir, but the gingham dress/pigtails/cowboy boots look only works on occasions like Halloween.
Dress them up by wearing them with a dress! Cowboy boots will look great with almost any casual dress you own.
Keep the rest simple. Cowboy boots make enough of a statement on their own — let them have the spotlight by keeping the rest of your outfit relatively basic.
Outfit Inspiration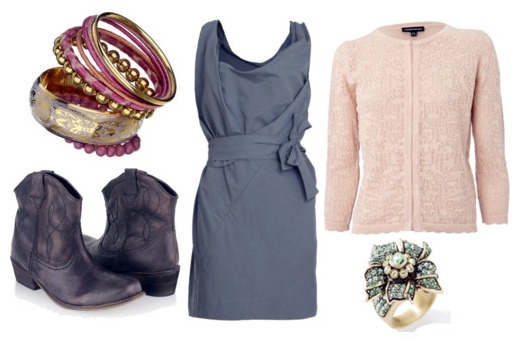 Dress, Boots, Bracelets, Ring, Cardigan
A simple dress and cardigan will look awesome with a pair of ankle-high, vintage-inspired cowboy boots. The bulk around your ankles, combined with the amount of leg revealed will make your gams look so slender! Finish with a stack of bracelets and a cocktail ring.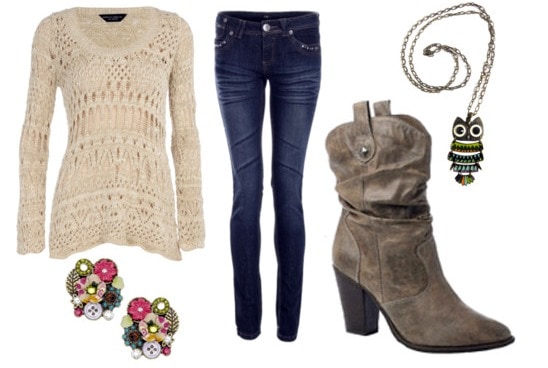 Sweater, Jeans, Earrings, Boots, Necklace
A lacy knit jumper and skinny jean combo will look casual and chic with a pair of worn-out cowboy boots. Add extra interest with cute earrings and an owl pendant necklace.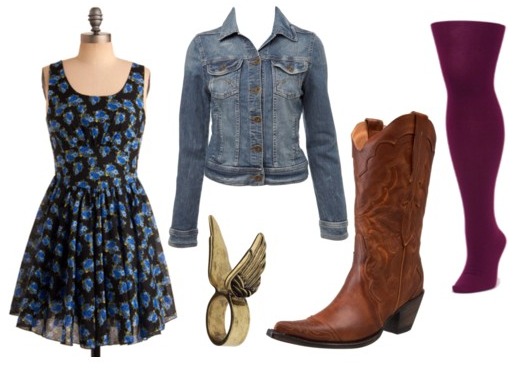 Dress, Ring, Jacket, Boots, Tights
In fickle spring weather, tights will keep you warm and make a pair of cowboy boots pop! Pair them with a dress and denim jacket, and finish with some cute jewelry.
CF Reader Looks
Emily Duckworth- Indianapolis, IN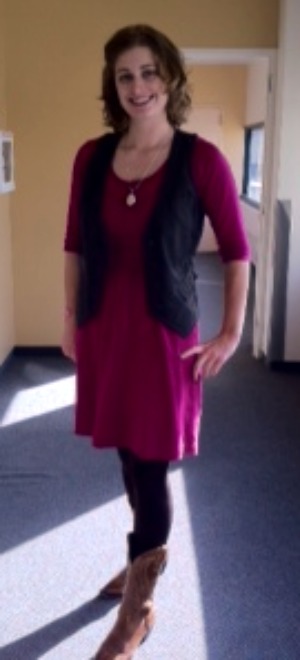 I love my Lucchese cowboy boots! I've had them for about 3 years and really like them paired with skirts and dresses. For class, I put together my favorite pink cotton dress, brown tights, and a open front brown dressed up vest. I kept the accessories simple with the locket.
Rocked the Challenge? Send in Photos!
Did you wear cowboy boots this week? Before taking them off and stashing them, take a couple snapshots and send them to fashionchallenge AT collegefashion.net along with your name, school, a description of what you're wearing, and the URL of your blog if you have one. We'll feature your photos here to inspire other CF readers.
We can make you a celebrity overnight. 🙂
What Do You Think?
Do you have a pair of cowboy boots? What are your favorite things to wear with? What fashion challenges would you like to see in the future? Let us know your thoughts by leaving a comment!