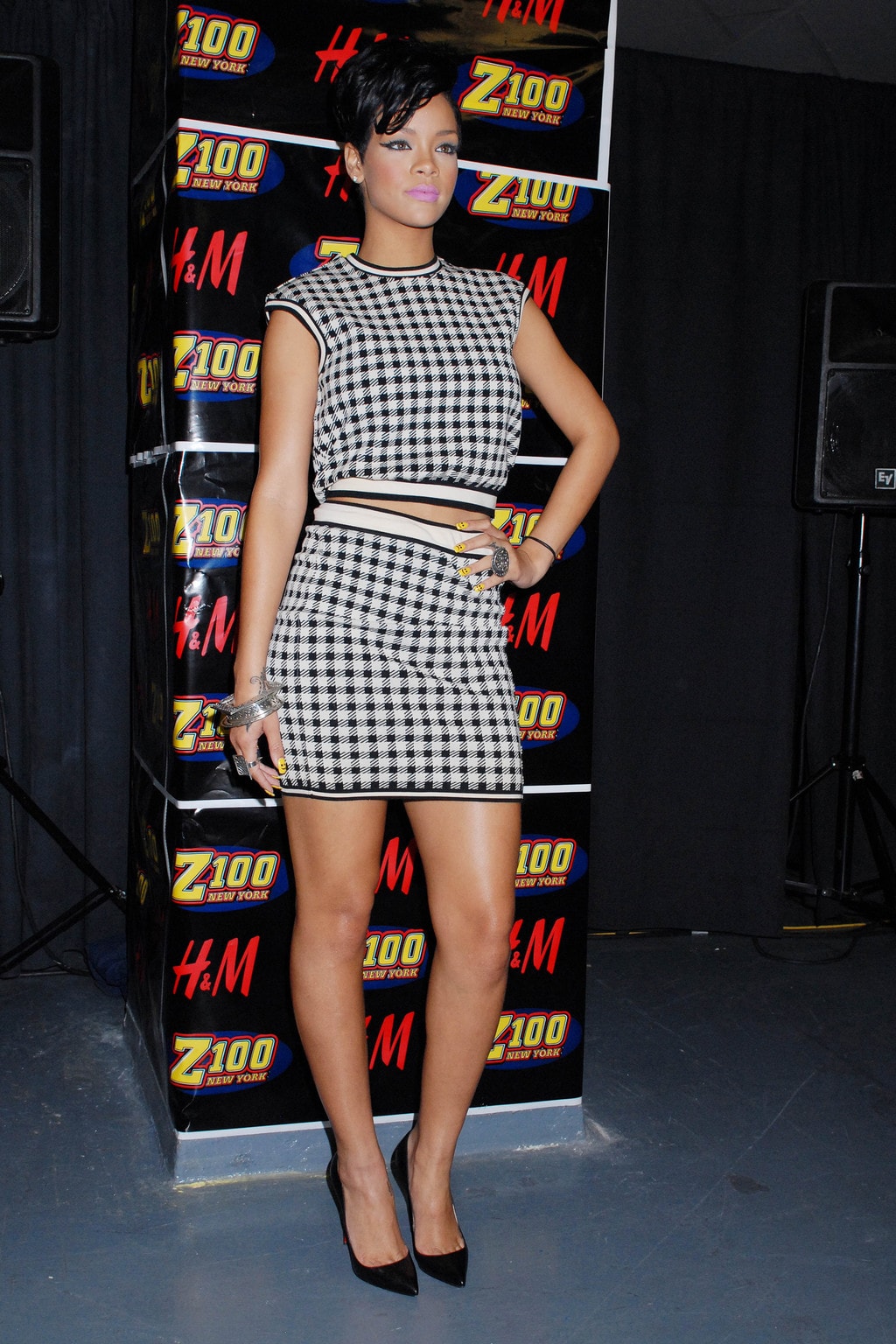 It's time for the next post in our 2000s Fashion Icons series!
ICYMI, last time around we talked about Miley Cyrus' 2000s style. This week we are looking at another musician with a completely different "bad gal" vibe. It's time to discuss the fashion impact that Rihanna made in the 2000s.
Keep reading for some background information on the star, an overview of Rihanna's 2000s style, and some inspired looks.
Rihanna Biography:
Robyn Rihanna Fenty was born on February 20, 1988 in Saint Michael, Barbados. She was raised by her mother, an accountant, and her father, a warehouse supervisor. The pair divorced when Rihanna was 14 years old.
In high school, Rihanna formed a girl group with two classmates and through that, was eventually discovered and picked up by American producer, Evan Rogers. Her demo tape was sent to Def Jam Recordings where Jay-Z first heard "Pon de Replay" and invited Rihanna out to NYC to audition for the label.
In 2005 she signed with Def Jam and moved to America. She released her second studio album, A Girl Like Me, in 2006. The album hit the top 10 in 13 countries, and number 5 in America, hitting platinum status after 1 million sales.
Rihanna rose straight to the top with her 2007 Good Girl Gone Bad album and popular hits like "Umbrella," "Shut Up and Drive," and "Hate That I Love You."
Throughout the 2000s, she made countless collaborations and toured with other big names like Jay-Z, Kanye West, N.E.R.D., Lupe Fiasco, Maroon 5, and T.I.
2010s
As you probably know, the early to mid 2010s held even more success for RiRi as she continued to release hits and successful albums like Loud, Talk That Talk, Unapologetic, and Anti.
She's also become an actress, starring in films like Battleship (2012), This Is the End (2013), Home (2015), Valerian and the City of a Thousand Planets (2017), Ocean's 8 (2018), and Guava Island (TBD).
She's been heavily into the fashion scene, as well. She partnered with Armani in 2011, presented four collections with River Island in 2013, and was named the face of Dior in 2015. (Fun fact, she was the first black woman to be the face of Dior.) She's also collaborated with Stance and Manolo Blahnik.
In 2014, Rihanna started her role as creative director of Puma and released her first Fenty Puma line in 2016 at New York Fashion Week and her second later that year at Paris Fashion Week. With Puma, Rihanna was the first woman to win the Footwear's New's Shoe of the Year Award.
In June 2014, Rihanna won the Fashion Icon Award at the Council of Fashion Designers of America Fashion Awards. And in 2018, Net-A-Porter ranked Rihanna as one of the Best Dressed Women of the year.
Rihanna is also owner of mega-successful brand Fenty Beauty, owner of lingerie brand Savage X Fenty, and a co-owner of Tidal.
In 2018, Rihanna was also appointed by the Barbados government as an official Ambassador, with duties of promoting education, tourism and investment for the island.
Rihanna's 2000s Style:
Rihanna's style in the 2000s was a lovely kind of mixed bag. She could not be pin-pointed to one vibe, which made her looks fun and exciting.
True to the pop star uniform back then, Rihanna loved to bare her tummy and especially loved to pair tomboy pants with cute crop-tops. She accessories with hoop earrings and a colorful bracelet.
Rihanna also liked to sport LBDs that were anything but plain. Here, she rocks a sexy LBD with a ruffled scalloped neckline with gold detailing, a cinched waist, and a tulle skirt.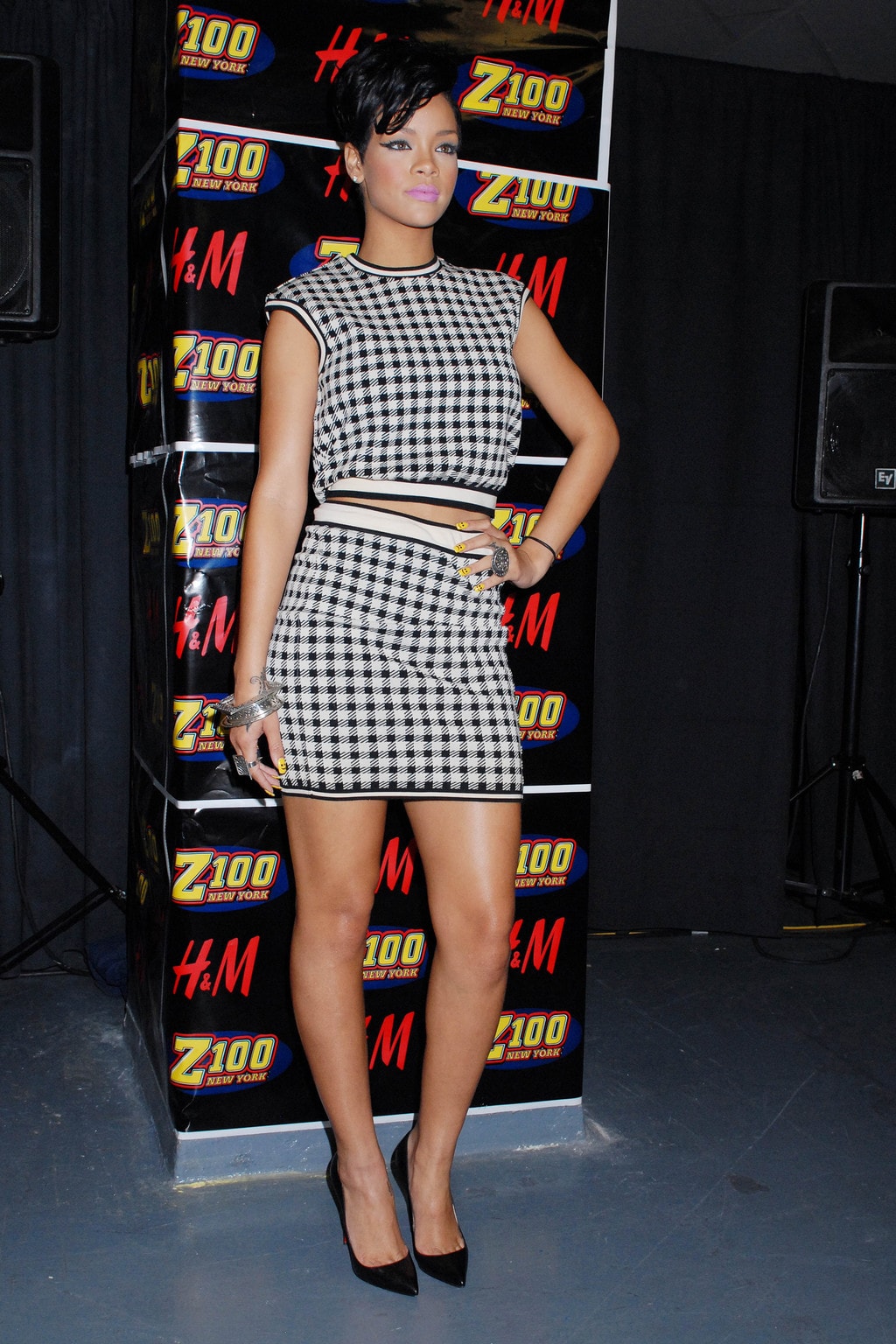 She could also be seen wearing matching sets. Here, she rocks one with classic details like a black and white checkered pattern. The mini skirt cut and crop top makes it fun and modern rather than buttoned-up.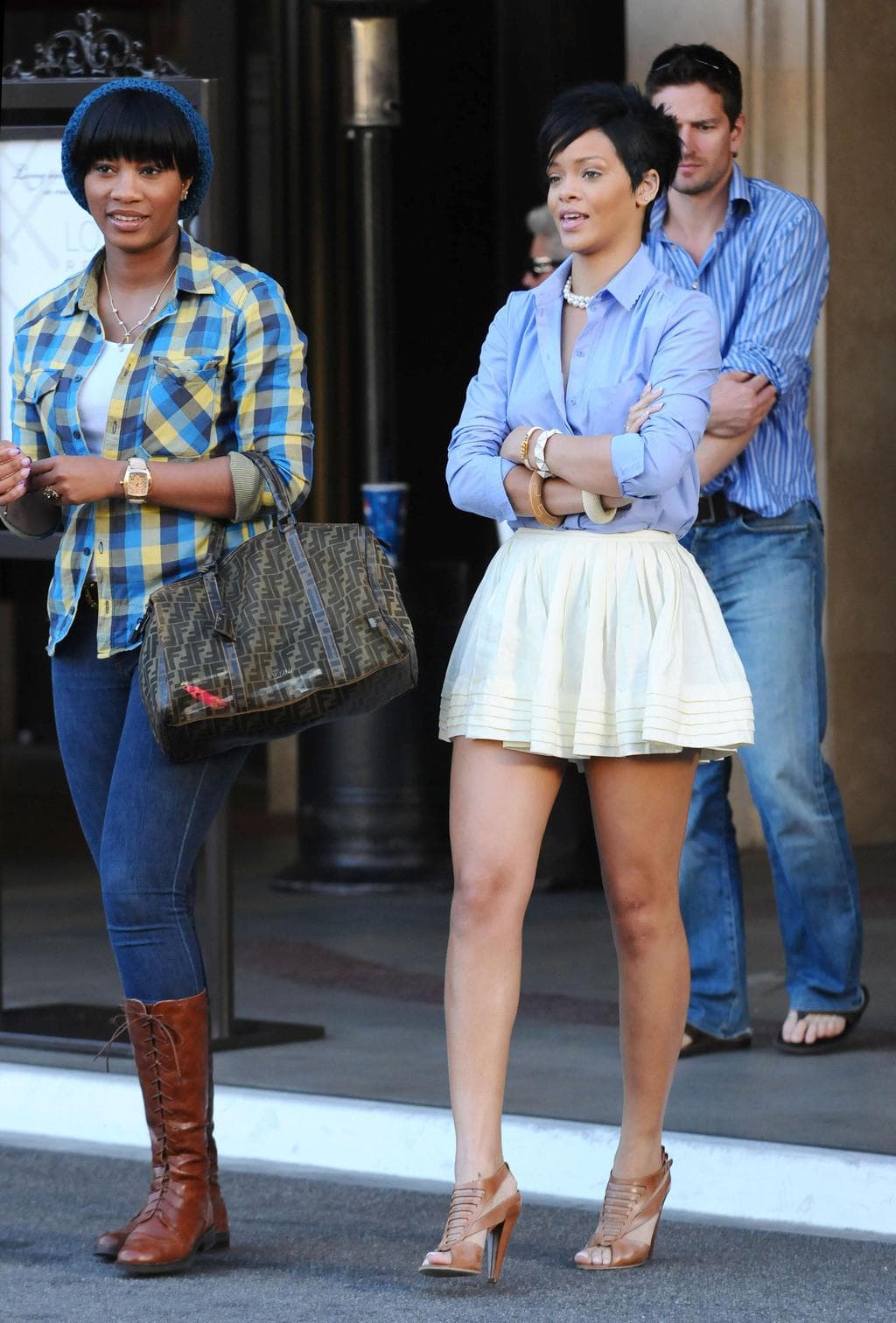 Here, Rihanna pairs a classic button up with a cute mini skirt, chunky accessories, and brown heels – once again: classic-inspired, but never boring.
Rihanna 2000s-Inspired Looks:
Rihanna 2000s Style – Outfit 1: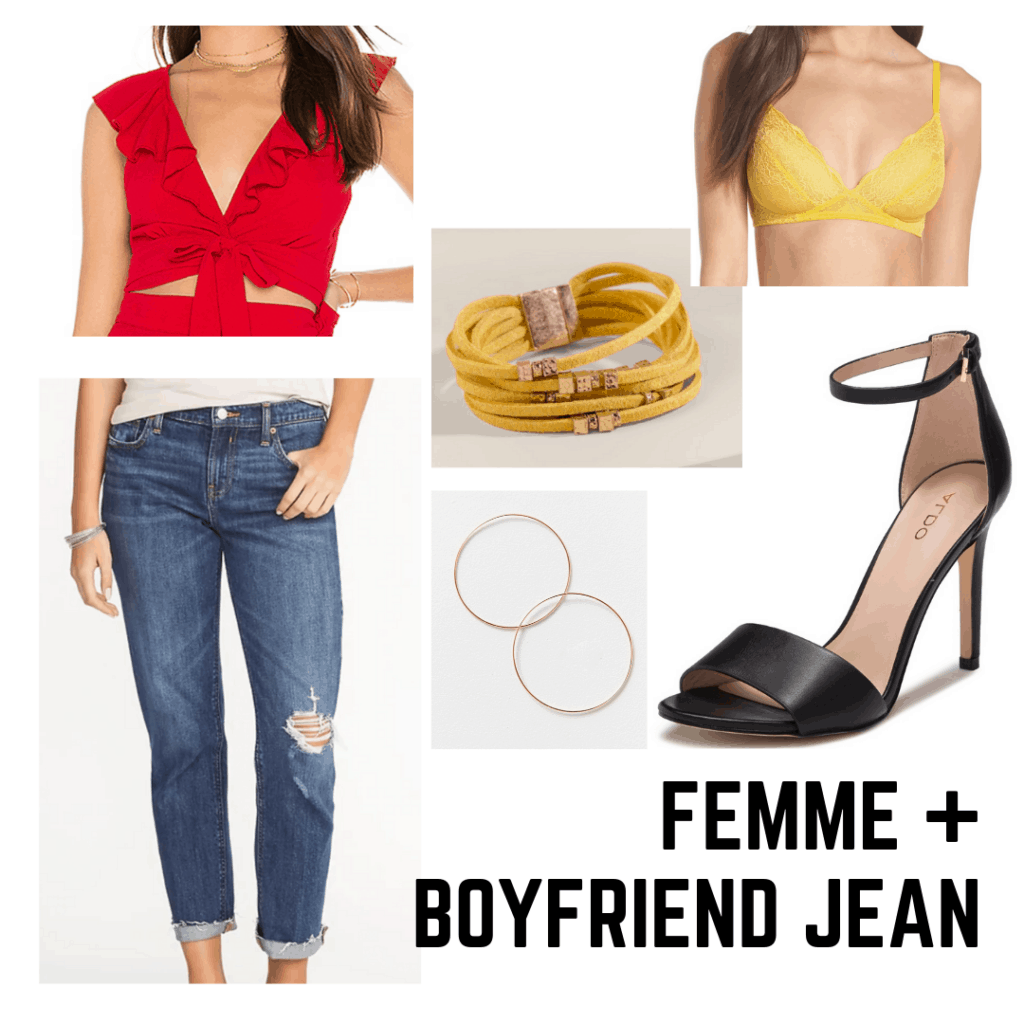 Products: Top – Revolve, Bralette – Nordstrom, Boyfriend Jeans – Old Navy, Bracelet – Francesca's, Hoop Earrings – Urban Outfitters, Heels – Aldo
To get Rihanna's early 2000s look, simply pair some casual and loose-fitting jeans or bottoms with a cute and girly crop top. Accessorize with more feminine details like bralettes, bracelets, large earrings, and heels.
Rihanna 2000s Style – Outfit 2: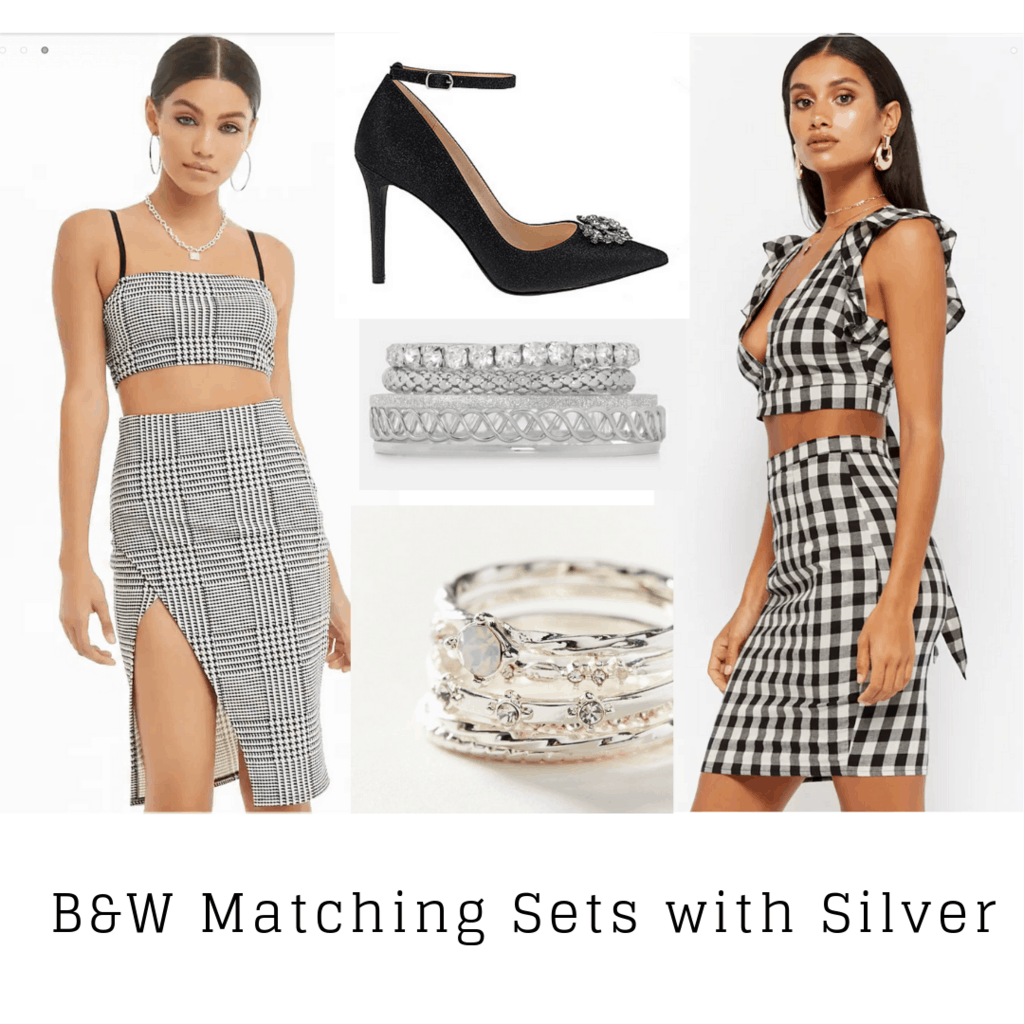 Products: Matching Set Left – Forever 21, Matching Set Right – Forever 21, Heels – J.C. Penney, Bangles – Ardene, Rings – Urban Outfitters
For this second Rihanna-inspired look, we have two checkered matching set options. Both would look great with your black pointed-toe heels and some stacked bracelets and rings.
Rihanna 2000s Style – Outfit 3: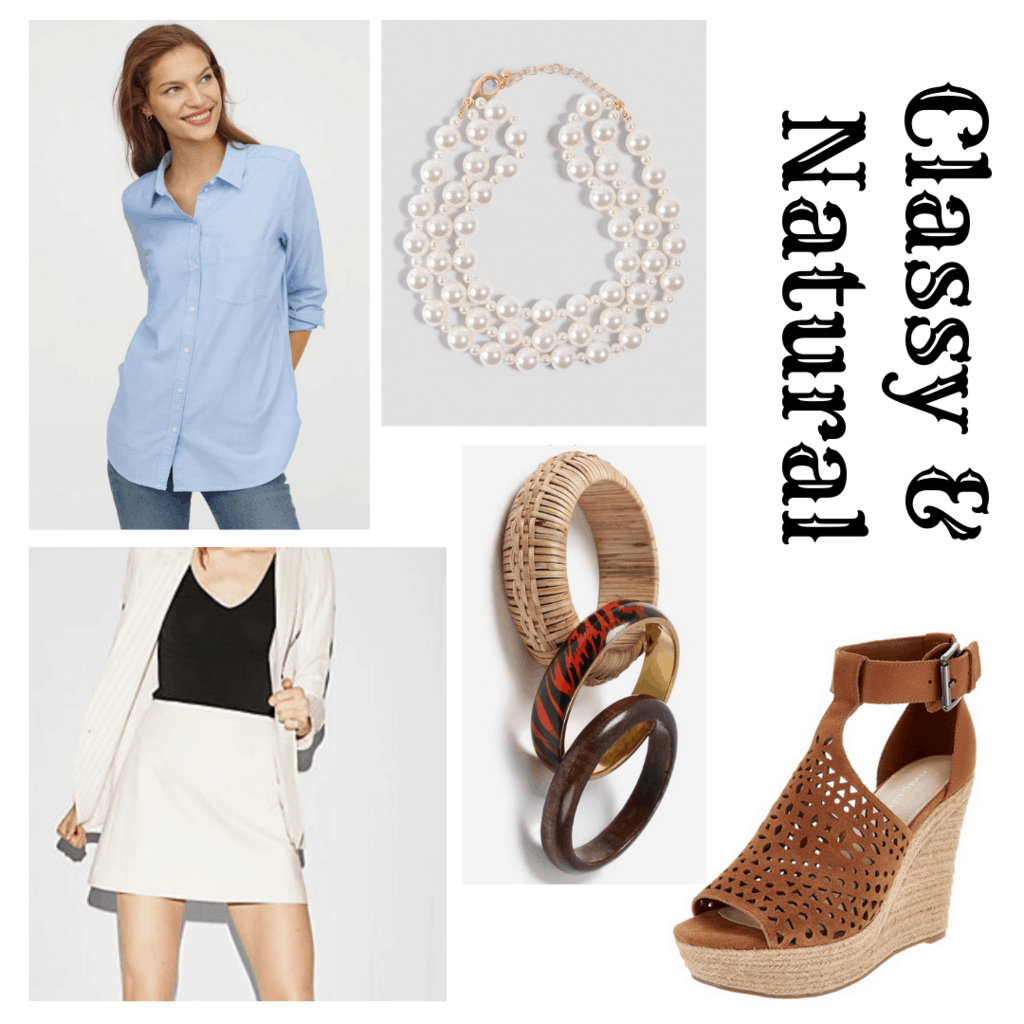 Products: Blue Button Up – H&M, Skirt – Express, Heels – QVC, Bangles – Top Shop, Pearls – NA-KD
This classic-meets-cute look from Rihanna's latter 2000s style is still wearable today. You can match a professional button up top with a cute mini skirt and accessorize for multiple occasions. If you want to really copy Rihanna's look, you can never go wrong with a strand or two of faux pearls.
What's Your Favorite Rihanna 2000s Style Moment?
Do you love Rihanna's style from the 2000s? Let us know in the comments!