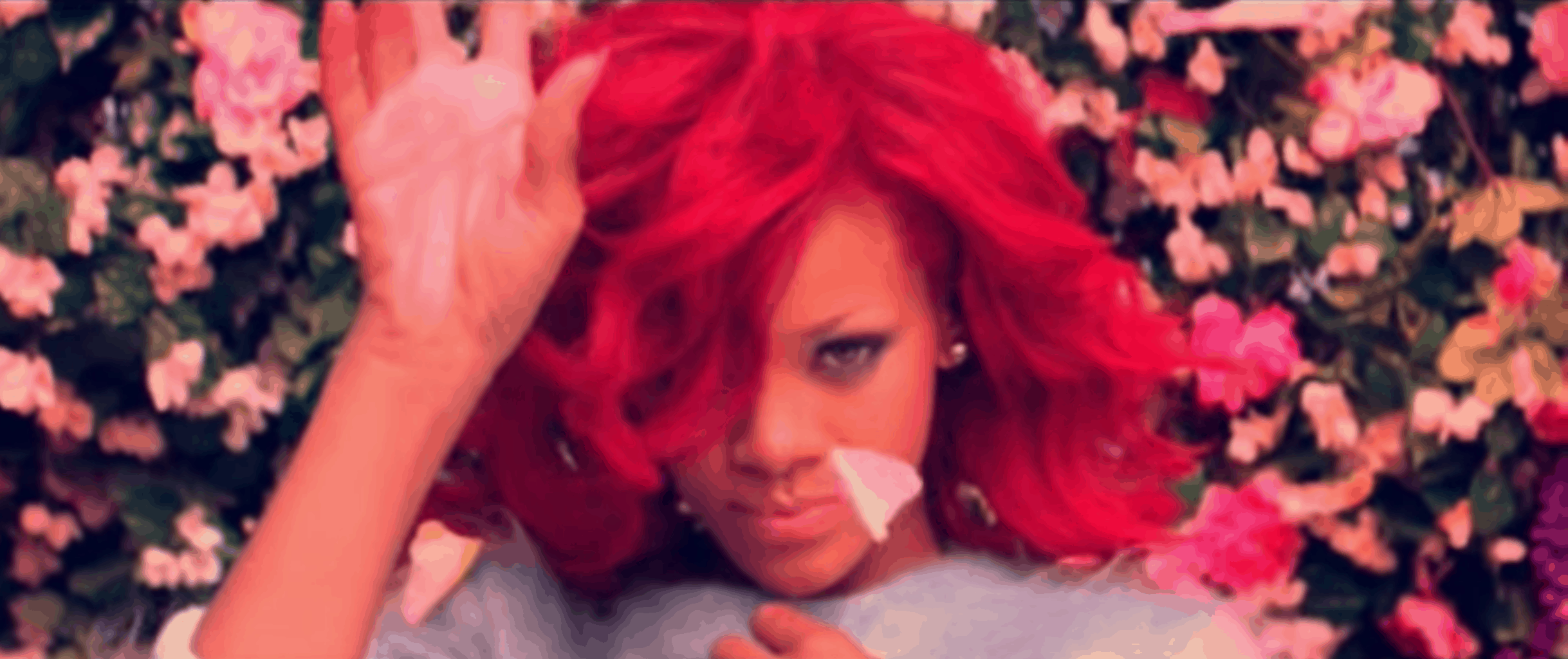 Rihanna is a true fashion chameleon: Regardless of whether she's dressed up or dressed down, Rihanna always knows how to make sure that all eyes are on her–and her music videos are no exception!
However, of all of the videos she has released, the video "Only Girl (In the World)" is the one that stands out to me as the most inspirational, fashion-wise: Between its beautiful colors, all of the gorgeous flowers and natural scenery that serve as a backdrop, and, of course, Rihanna's edgy-but-feminine looks, I can't get enough of the free-spirited and romantic vibe that this video has going for it!
If you haven't already, take a look at the video below, and then keep scrolling to see the "Only Girl (In The World)"-inspired looks that I've put together.
Rihanna - Only Girl (In The World)
Outfit #1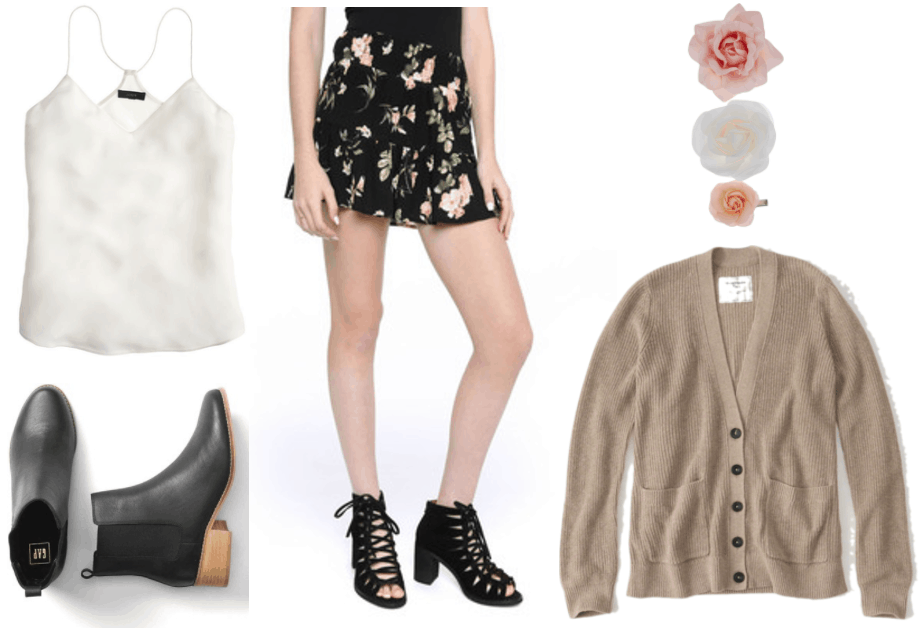 Products: Camisole – J.Crew, Chelsea Boots – Gap, Shorts – South Moon Under, Hair Clips – Accessorize, Cardigan – Abercrombie & Fitch
This outfit is inspired by Rihanna's corset, printed shorts, and cardigan ensemble from the video. To get a similar look, layer a light-colored cardigan, like this beige one, over a silky camisole, for an interesting mix of textures. (I chose a camisole over a corset because, let's face it, corsets are neither practical nor appropriate for everyday situations!)
Next, add a pair of flowy, floral-printed shorts with a flattering high-waisted silhouette. I love the ones above because they are surprisingly versatile: They can be paired with neutrals, brighter colors, or even another printed piece (as long as the other print is significantly bigger or smaller).
Finish off the look with a pair of ankle boots and some floral hair clips that are reminiscent of the video's beautiful flowers, and you've got yourself a look that is the perfect mix of femininity and edginess for the upcoming Spring season!
Outfit #2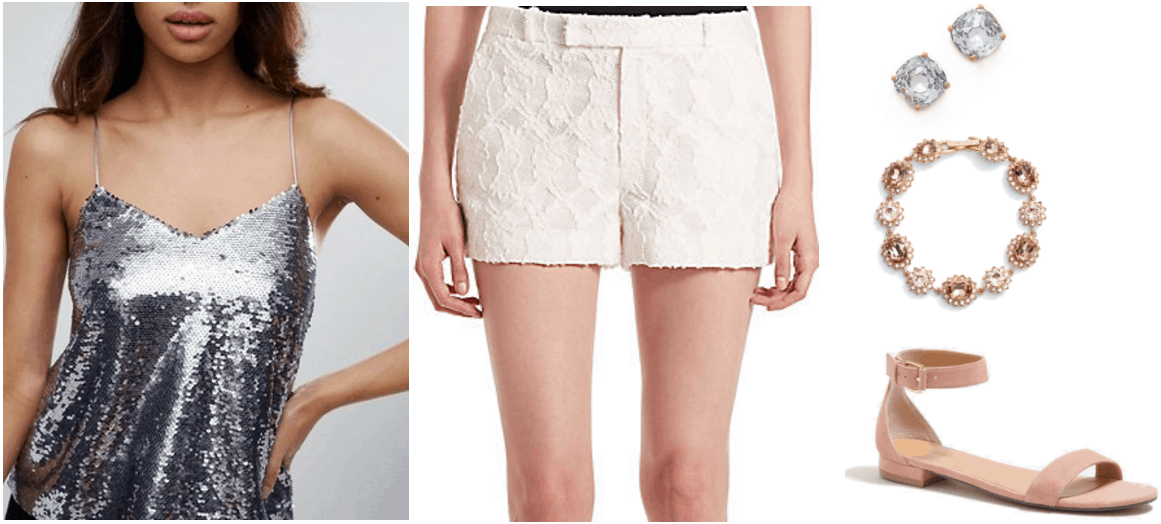 Products: Camisole – ASOS, Shorts – Saks Off Fifth, Earrings – Shopbop, Bracelet – Nordstrom, Sandals – J.Crew Factory
If you want a going-out look that will have all eyes on you, then this is your outfit! Inspired by Rihanna's beaded-fringe two-piece outfit, as well as the lace from the aforementioned corset, this outfit provides a cool alternative to the dresses and skirts you probably reach for when it comes time to dress up a little.
Put on a super-sparkly sequined camisole or top that flows away from the body just enough to give it some interesting movement. Then, add a pair of pretty white lace shorts; I like the structure that this particular pair has, which adds some subtle sophistication to the look.
Now, on to accessories: Rihanna wears a lot of gorgeous jewelry and crystal-encrusted headbands in this video. So, to get her look, accessorize with some white crystal stud earrings that are reminiscent of the ones she wears throughout the video, along with a beautiful pink crystal bracelet.
This outfit has a lot going on already, so I'd recommend skipping heels in favor of some flat sandals in a soft neutral hue (like these beige ones), so as to balance out the boldness of the rest of the look.
Outfit #3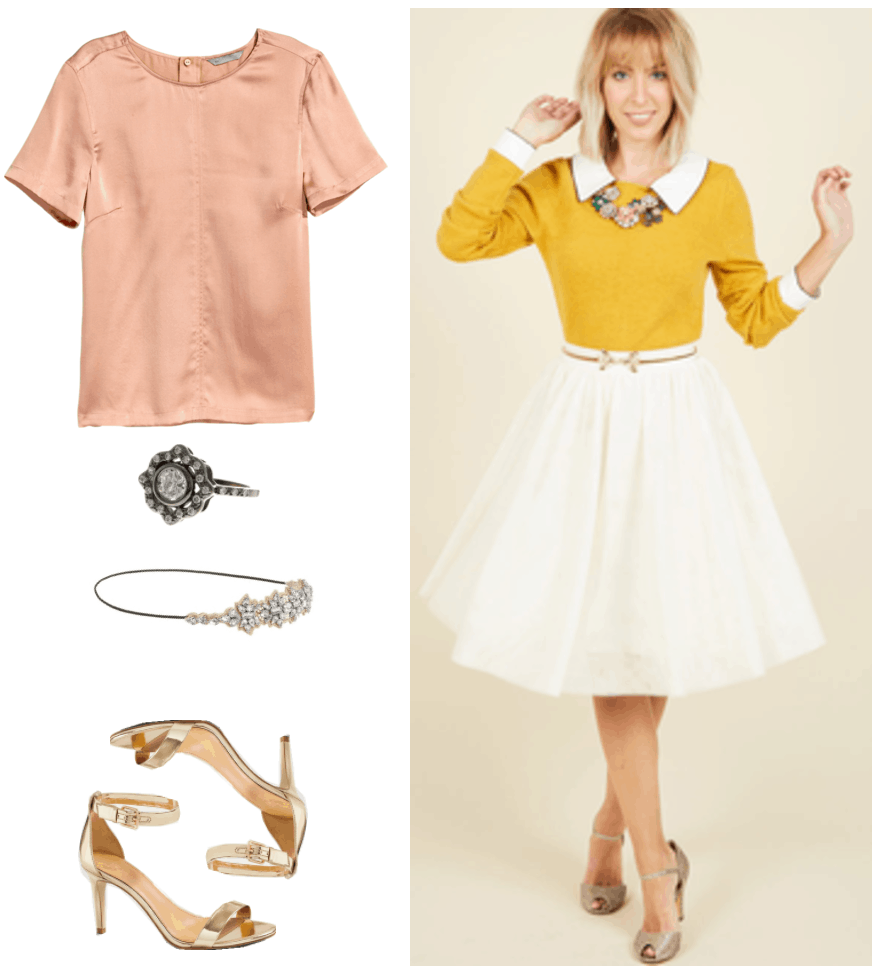 Products: Top – H&M, Ring – Bluefly, Headband – Nordstrom, Heeled Sandals – J.Crew Factory, Skirt – ModCloth
Events with cocktail dress codes can be hard to dress for, so if you're looking for something that's classy but also trendy, try a tulle skirt! Here, I've chosen a pretty midi-length one that's guaranteed to bring out your inner princess. I've decided to pair the skirt with a peachy-pink silk top for an understatedly elegant color combo that matches the colors in the video.
As I mentioned before, Rihanna rocks lots of sparkly things in the video, so pay tribute to that by accessorizing with a vintage-inspired ring and a beautiful jewel-encrusted headband.
Lastly, put on a pair of gold metallic heels in a classic ankle-strap style, and there you have it: a look that's as elegant as it is fashion-forward!
Outfit #4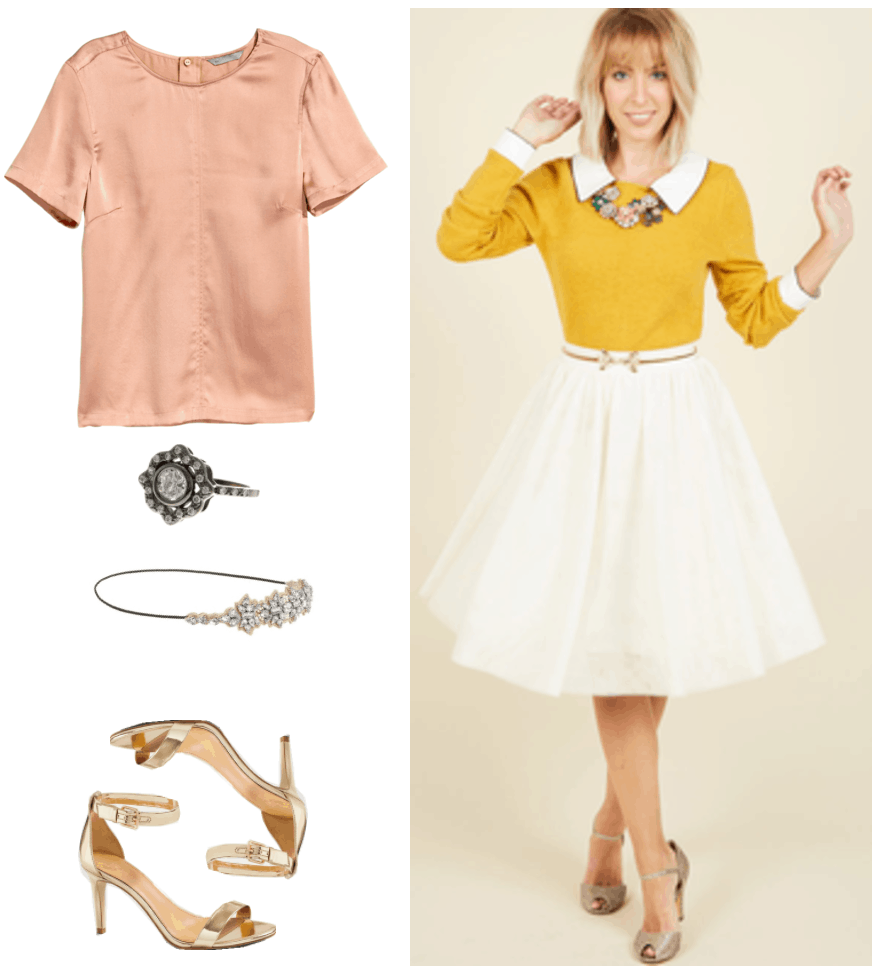 Products: Top – Forever 21, Necklace – J.Crew Factory, Skirt – Madewell, Bracelet – J.Crew Factory, Flats – Topshop
The final look that I've put together is perfect for those days when you want to dress up your everyday look, and is inspired by various elements of the video for "Only Girl (In The World)."
A dark-colored floral top like the one shown here, has an edgy, romantic vibe that perfectly mirrors Rihanna's style in the video. Next, add a cute rusty red eyelet mini skirt. I chose this piece for two reasons: First of all, its color is similar to the shades of red seen in the video. Secondly, it brings out the darker shades of pink in the top quite nicely, creating a cohesive look.
To add some shine to the outfit, accessorize with crystal jewelry; I like these particular pieces because they are sparkly enough to add something special to the look, without being too flashy for everyday wear. Lastly, slip on a pair of rose-colored flats — I love how delicate these tie-up ones are (they're also very trendy for Spring!) — and you're ready to go!
Whichever of the looks from the "Only Girl (In The World)" video that you choose to emulate, you're sure to exude an air of confidence, femininity, and fashion-forwardness that Rihanna herself would surely approve of!
What do you think?
What music video should I cover next? Do you like dressing in a feminine way, or in a more daring way–or do you like both styles? Which of Rihanna's "Only Girl (In The World)" looks inspires you most? And finally, don't you wish you could own ALL of the accessories that Rihanna wears in the video? Let me know in the comments!