This post will show you how to wear zebra print outfits.
Step aside cheetah and snakeskin, because there's a new queen in the animal kingdom… and it's zebra. From full dresses to hats and accessories, zebra is 2021's animal print of the year.
While zebras are far from the most menacing animals on the planet, somehow the print strikes a bold and edgy tone.
It's not for the risk averse, but it's totally on-trend. Need proof? The likes of Bella Hadid and Kendall Jenner have been wearing head-to-toe zebra print outfits since last year. It's a model favorite and it should be yours too.
I was really nervous to try it for myself because I've never found zebras to be rather sexy animals. I get cheetah. Snakes? Okay. But zebras aren't exactly known for their allure (I don't even know what zebras do, besides run away from cheetahs).
But as someone who owns far too many cheetah print items, I did need to try something new. When I saw my friend wearing zebra print pants, I was instantly obsessed.
Tips & Tricks
If you aren't convinced you want to buy zebra print clothing yet, look into some smaller accessories. Try out a bag, hat, scrunchies, or boots.
For those of you who are ready to go all in, there are some things to keep in mind. Zebra print is a big statement, so steer clear from too many other prints when wearing it. It's so bold that you can make your whole outfit black and white and it will still be a standout look.
But that doesn't mean you shouldn't experiment with color; zebra print really gets edgy when matched with a bold color, like hot pink or purple.
If you're ready to embrace 2021's animal print, here are a few outfit ideas for different zebra print clothing items to try out.
Zebra Print Top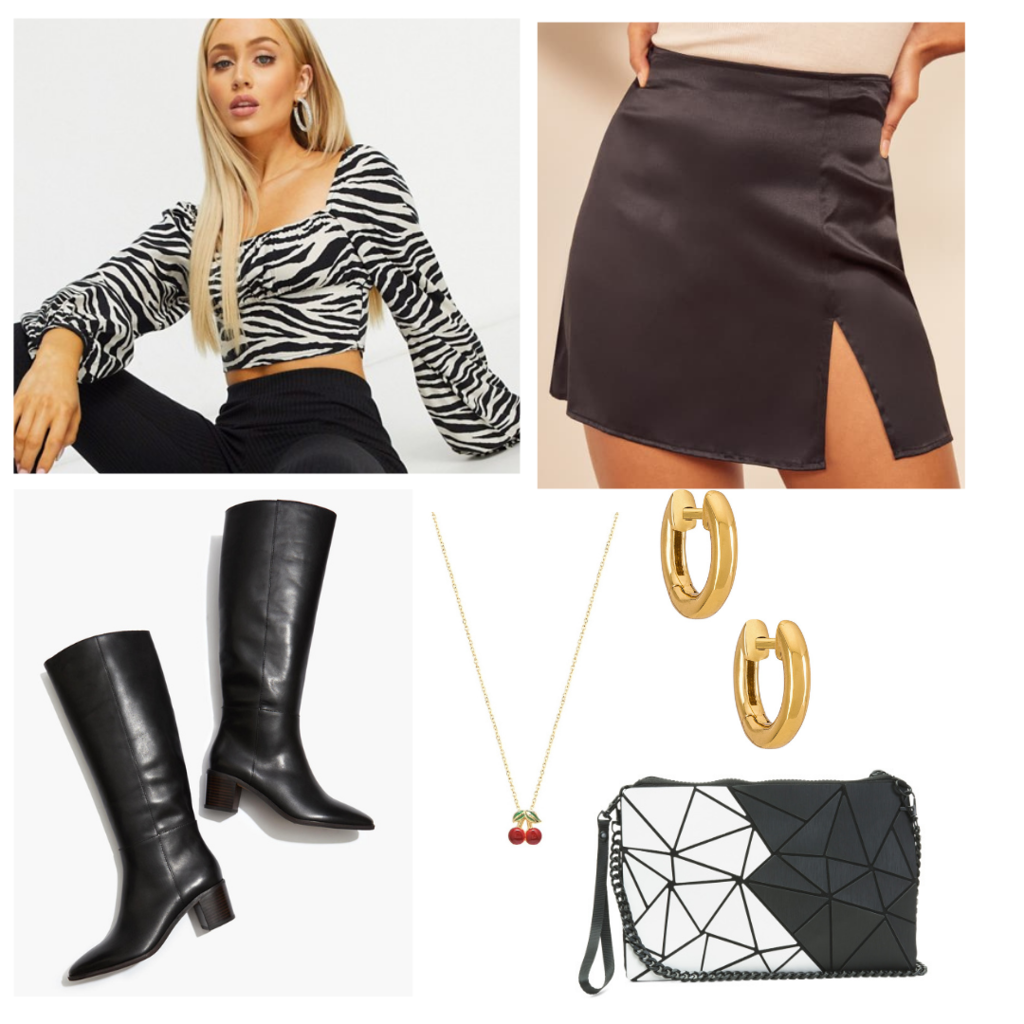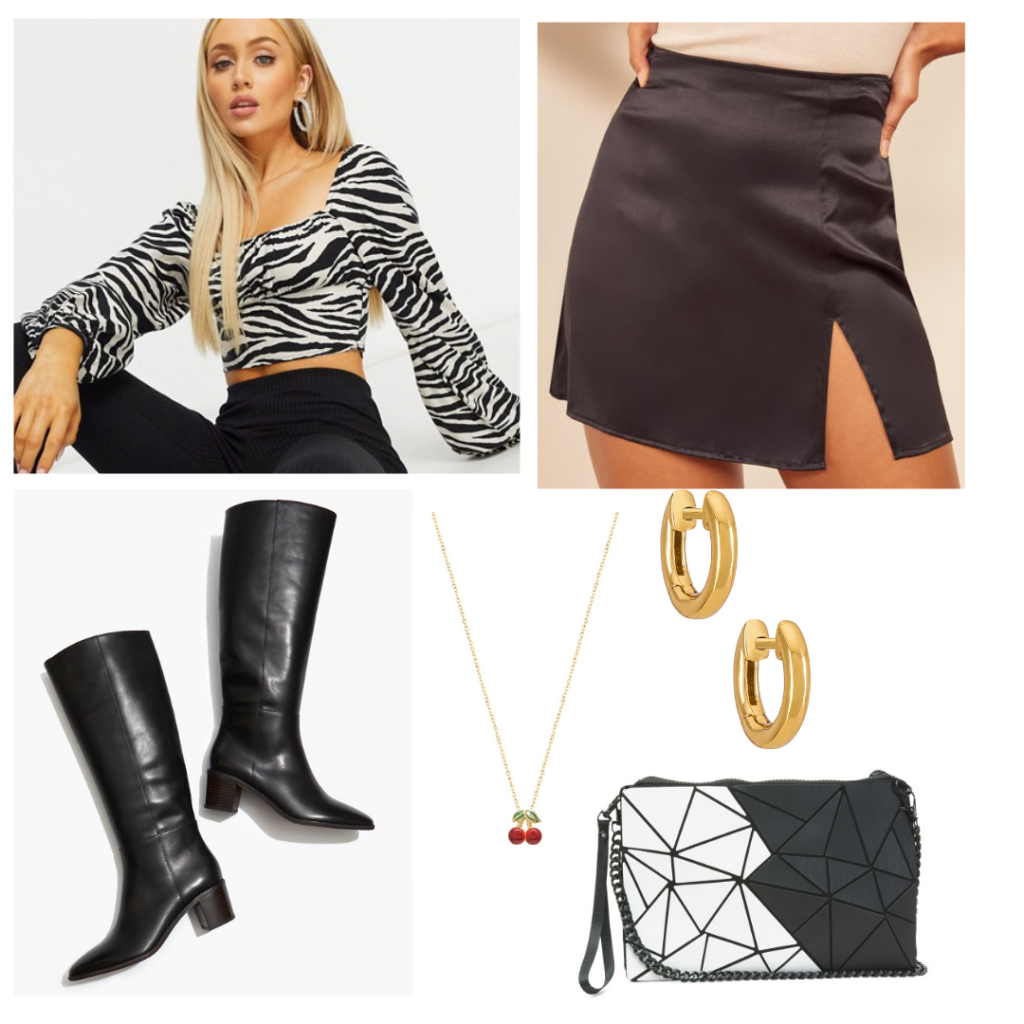 Products: Top, Skirt, Boots, Necklace, Earrings, Bag
While zebra print wasn't particularly big during the time, this would be a Rachel Green approved outfit. I mean, just look at the boots!
The mix of feminine, flowy sleeves with a bustier top perfectly compliments the edginess of the print.
Match the top with a simple, yet fashionable silk skirt. High boots will give your look just the touch it needs for an outfit that can be worn during the day or at night.
Finish off your look with this Bao Bao Issey Miyake inspired bag that I'm obsessed with and don't be afraid to add a pop of fun color with enamel jewelry.
Zebra Pants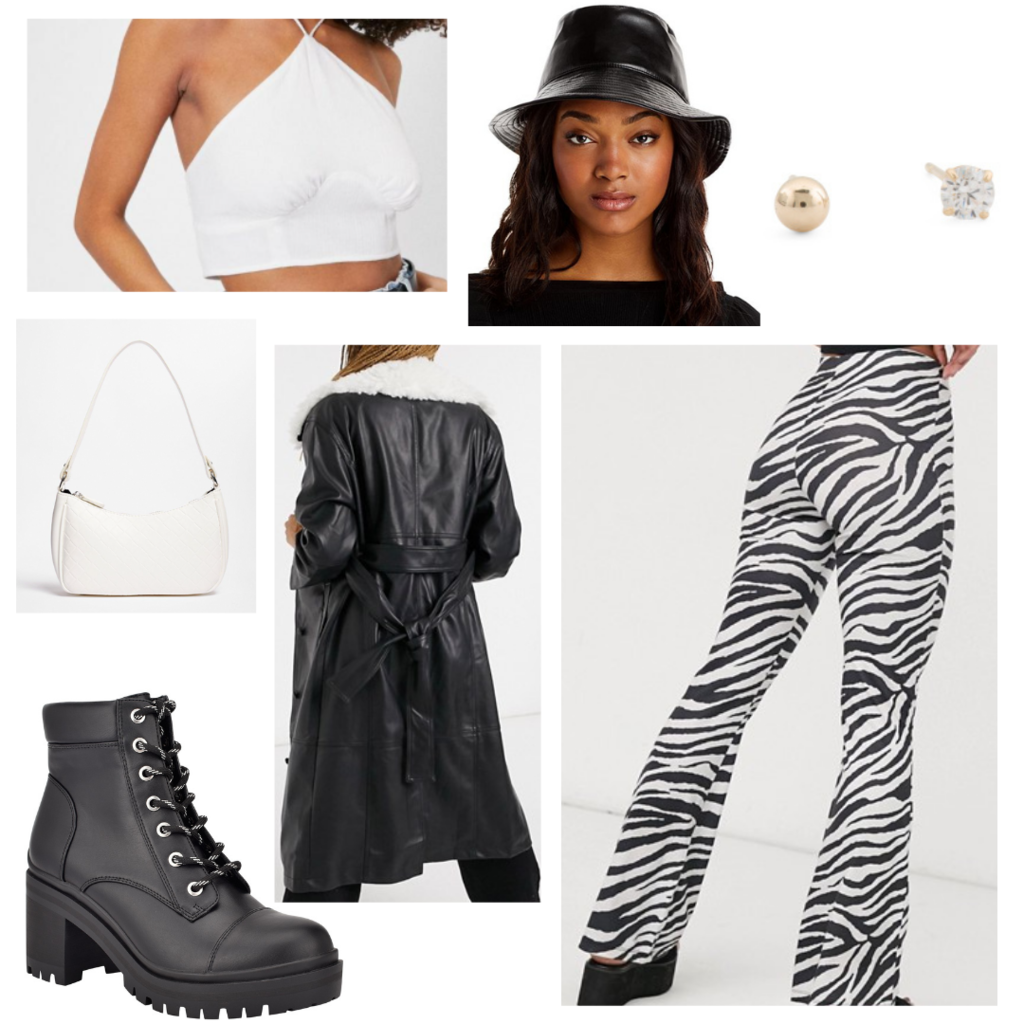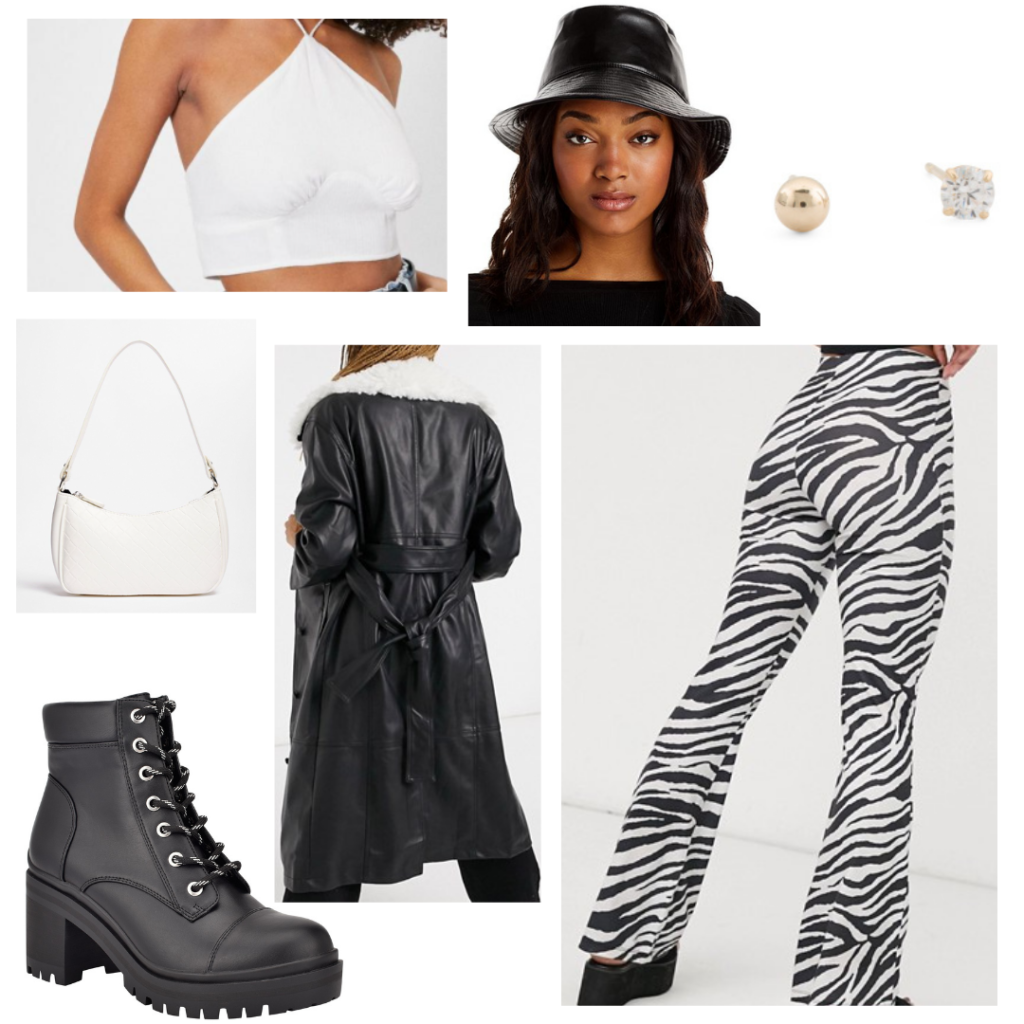 Products: Top, Hat, Earrings, Bag, Coat, Pants, Boots
The time that I realized I was in love with zebra print, was when I saw it worn on pants. While it can be scary to wear such a loud print as pants, they are extremely flattering for your booty.
Channel the 90's with a white halter top, a black leather bucket hat, white 90's shoulder bag, and a Matrix-inspired long, black coat. Keep the black and white vibe going with some chunky boots.
See? A full black and white outfit with many standout pieces allows the zebra print to take center stage.
Zebra Print Jacket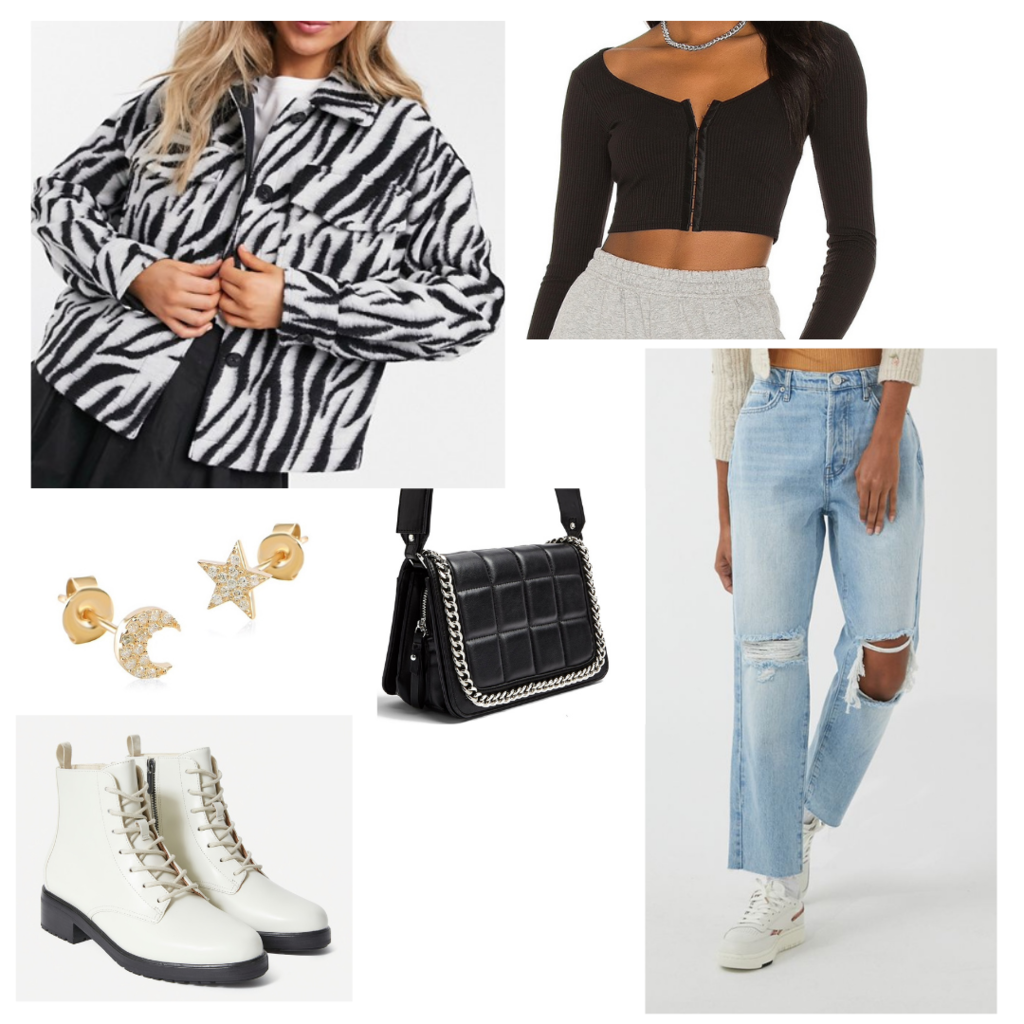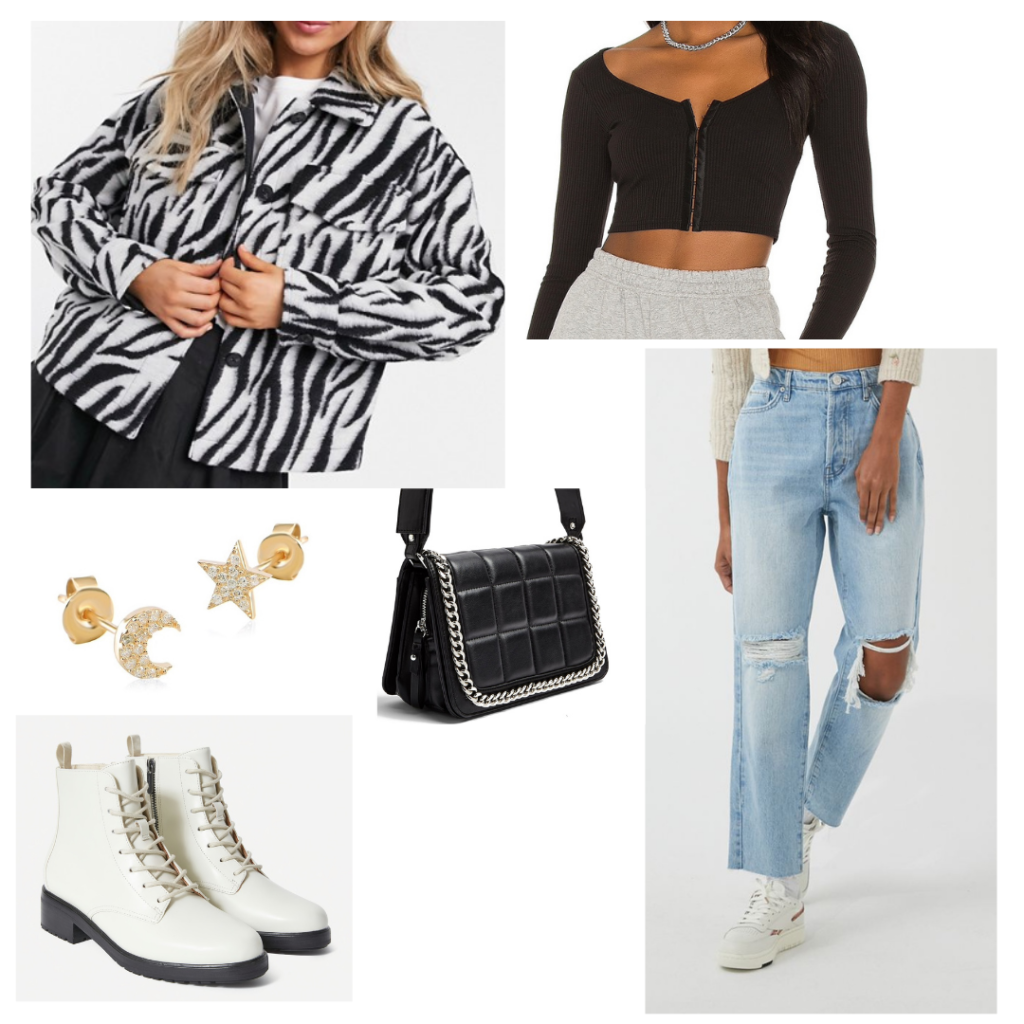 Products: Coat, Top, Earrings, Bag, Jeans, Boots
Shackets, like zebra print, are taking over in 2021. What could be better than a zebra print shacket? Ummm, nothing.
Zebra print looks great with light blue, so pair your shacket with some light blue boyfriend jeans. All you need is a simple black top, some must-have white boots, and an adorable bag.
This is a perfect outfit for school, as it's simple and comfortable, yet highly fashionable. Too bad we still can't go to class, but people can still see your shacket through Zoom.
Don't forget to wear your mask! The more people do, the more people that will hopefully soon be able to see your zebra print shacket outfits in person.
Zebra Skirt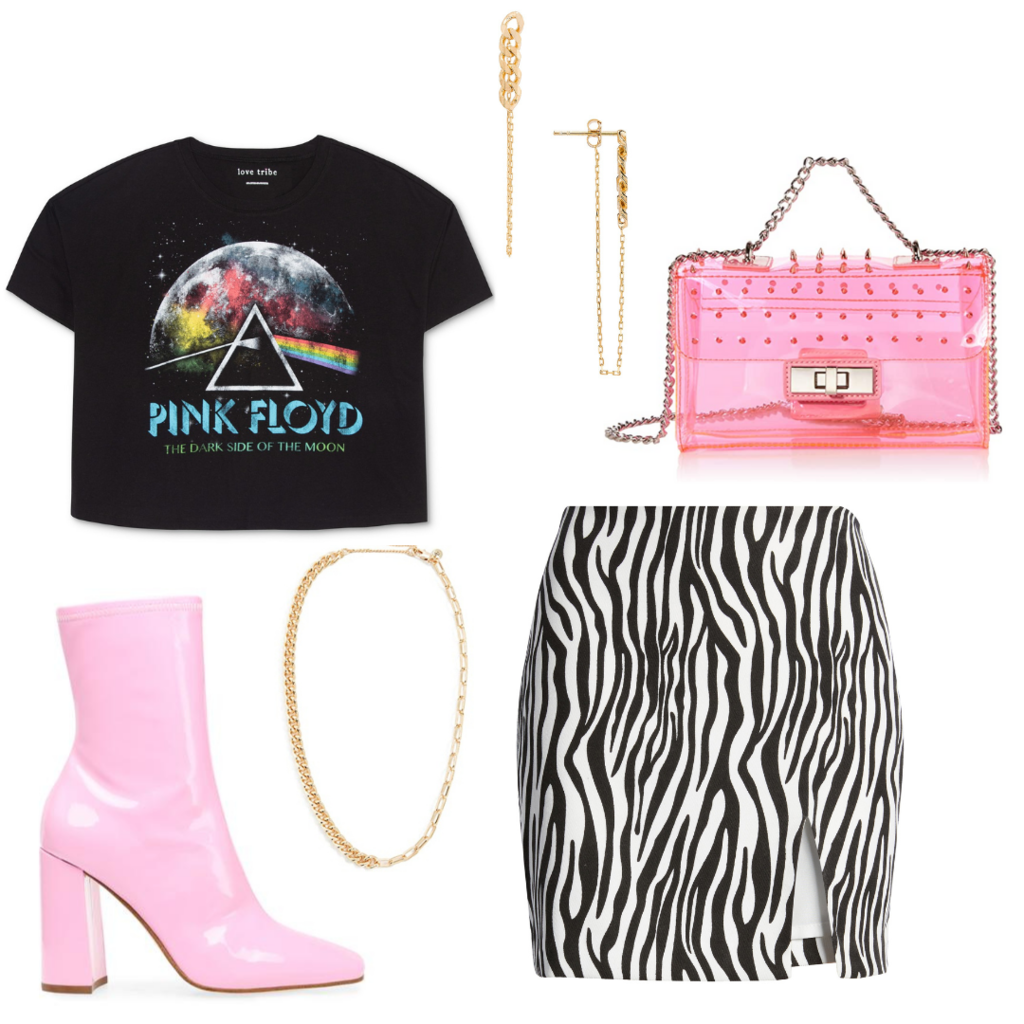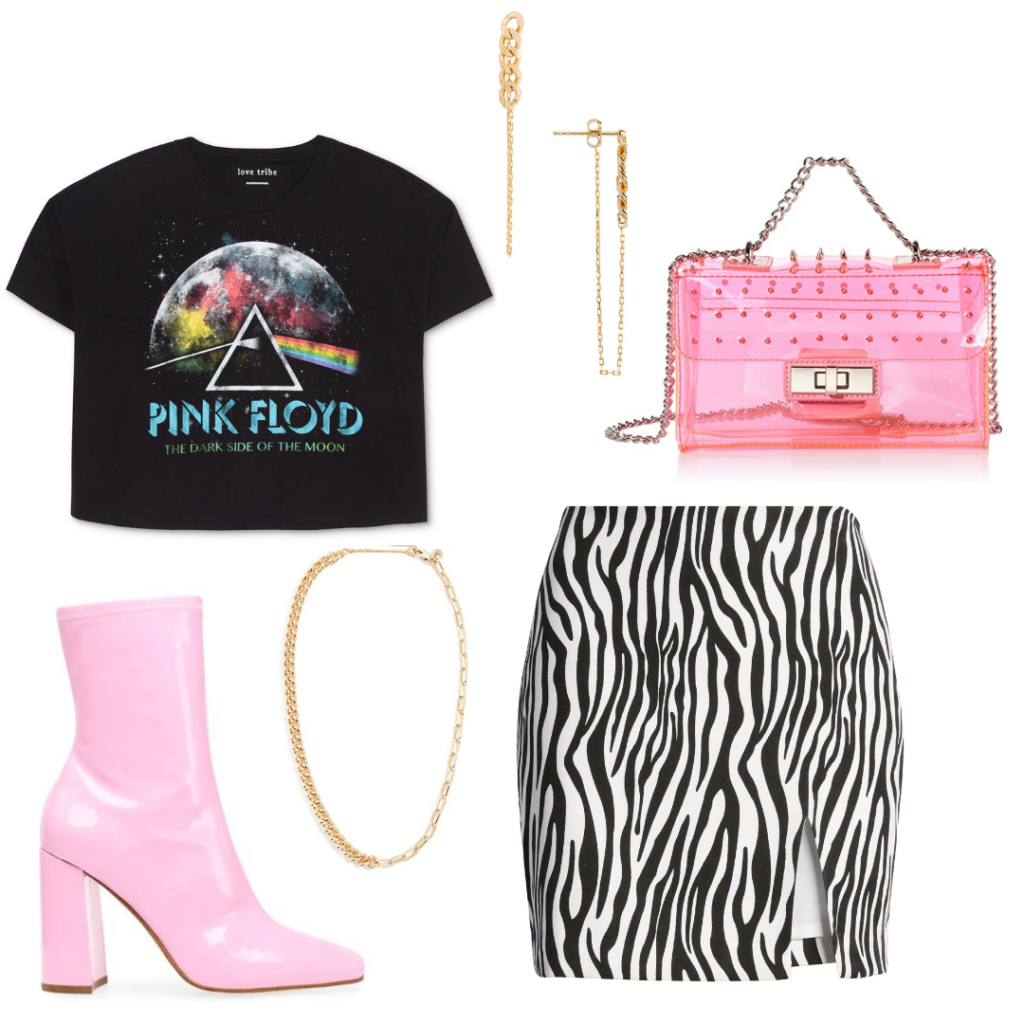 Products: Top, Earrings, Bag, Boots, Necklace, Skirt
There's something very rock and roll about zebra print. It might be the combo of black and white in a way that almost looks like fire. Whatever it is, I'm obsessed.
Pair a zebra print skirt with a cropped rock tee. Reach for some chain jewelry, which is all the rage right now, and finish it off with some hot pink accessories.
These pink go-go boots are the meaning of rock. Plus, this bag is proof there is no more rock and roll color than pink.
Zebra print is funny and there are still so many directions we can take it, so hop on the trend and have some fun with your clothes.
Mix and match pieces. Wear things outside of your comfort zone. We're all stuck at home anyways, so there really isn't a better time to experiment.
What's your favorite zebra print outfit?
What zebra print outfit are you most excited to wear? How do you style zebra print? Let us know!