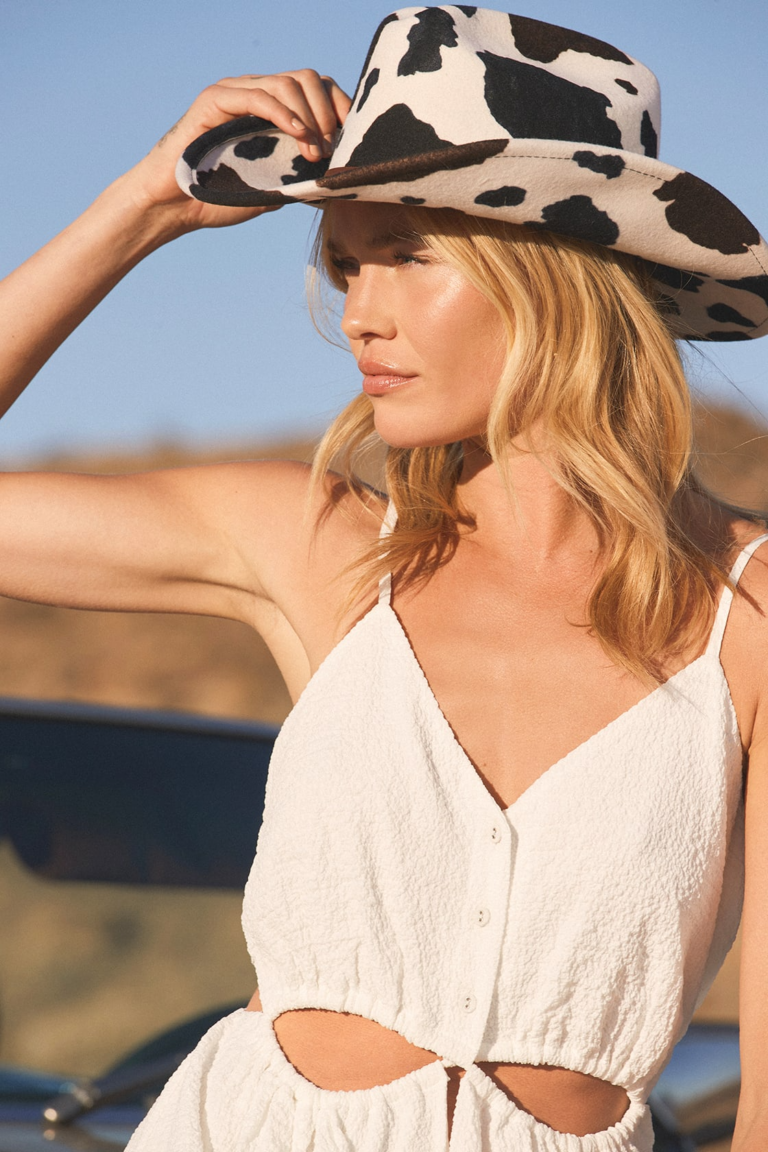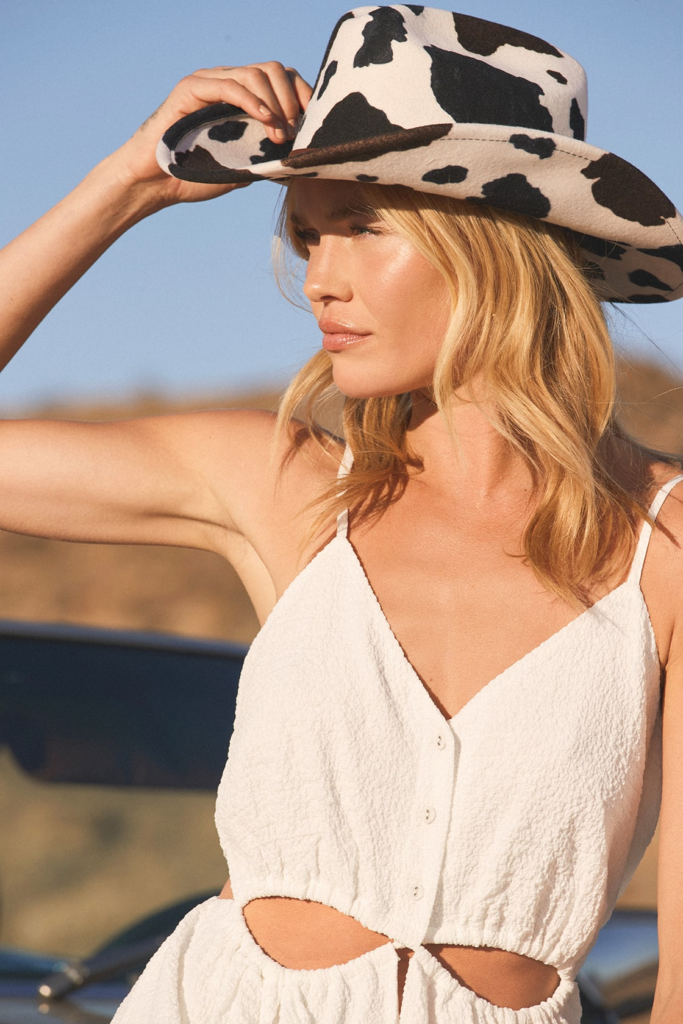 Want to learn about country fashion? You've come to the right place.
In this article, you will find a variety of country styles, from country-theme events to country styles of different countries – whether you love French country chic or are going to a country concert in the US, you are bound to find a look that works for you.
My college is known for its country night at the #1 bar in the Midwest. Pretty quickly, I had to trade in platforms for cowboy boots and buy my first cowboy hat, belting out the words to "Picture to Burn." Suffice it to say that I know a little something about country fashion.
This aesthetic has become an obsession for me these days, and with these outfits, you can emulate it too! Here's everything you need to know to create a cute country outfit for any occasion.
American Style Country Outfit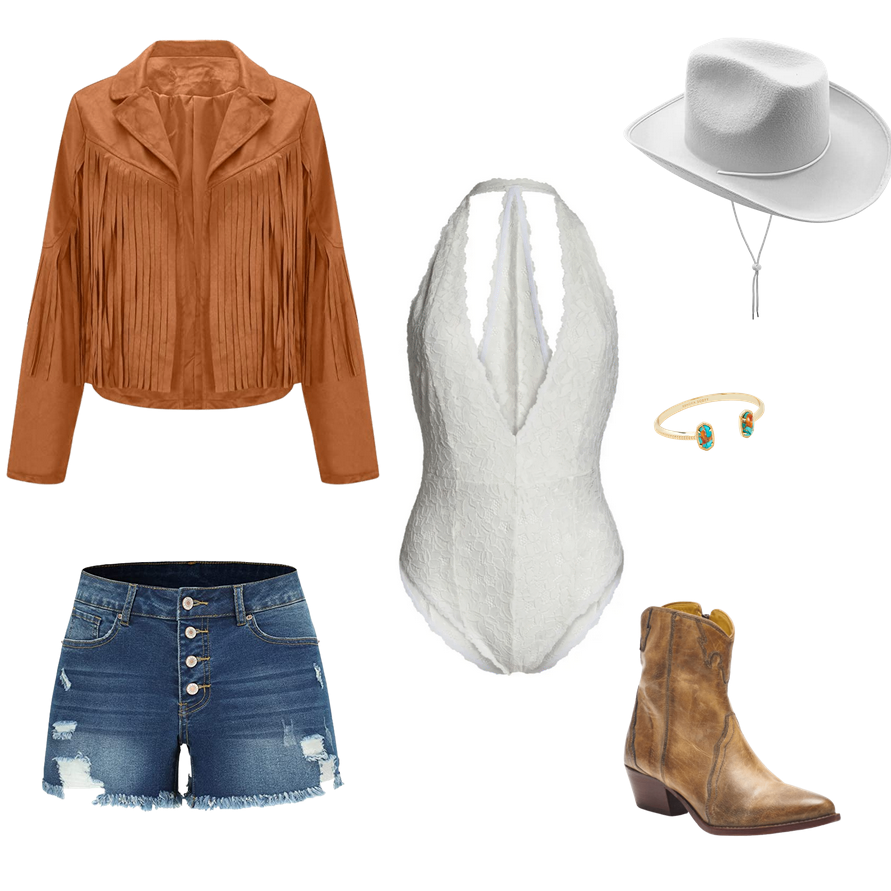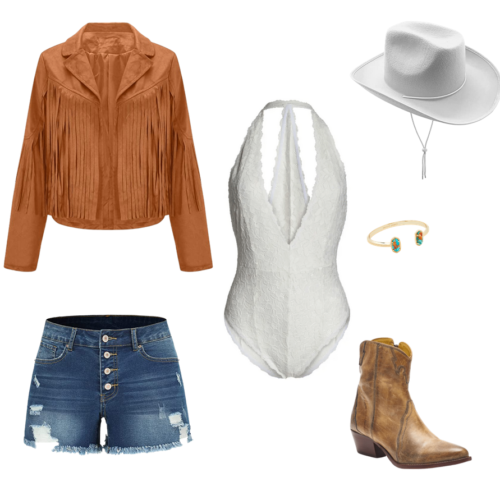 American Country outfits are often associated with cowboys and cowgirls, the wild west, the southern US, country music, and the boho aesthetic.
Hallmarks of American country outfits include cowboy boots and hats, denim cutoffs and bootcut denim, bohemian-style jewelry and accessories, fringe, leather, suede, and materials that can move.
Many of these styles are a big part of the Americana aesthetic and unique to style in the US.
Other staples of American Country include buttons, patches, lace, and embroidery.
American Country Wardrobe Staples
Denim Jacket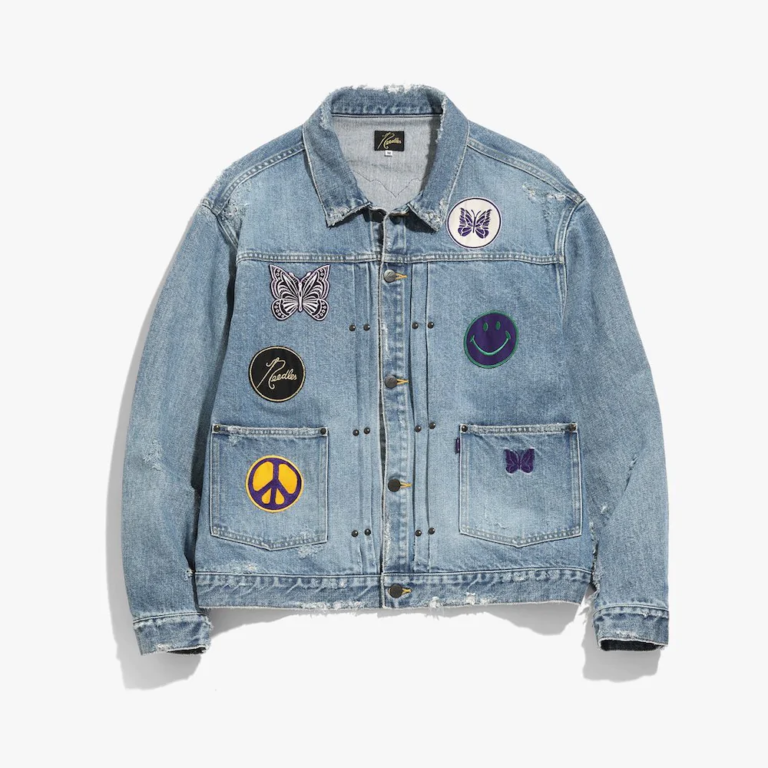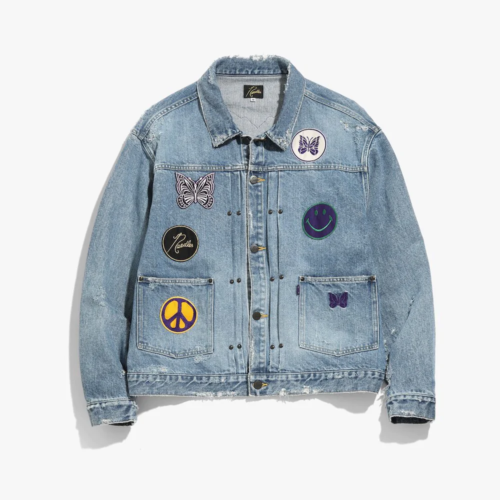 A great staple for an American country look is a patch denim jacket with metal buttons. You can purchase one pre-made or get your own and sew on the patches yourself. (Or have a seamstress do it.) These express personal style and can fit multiple aesthetics.
Cowboy Boots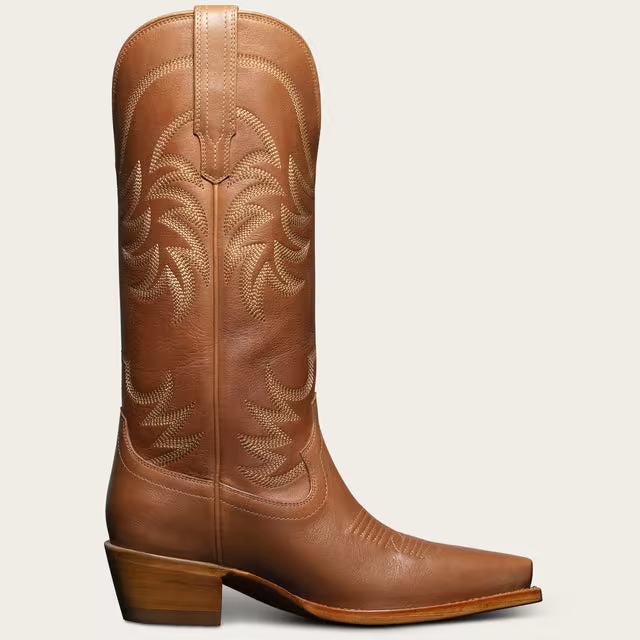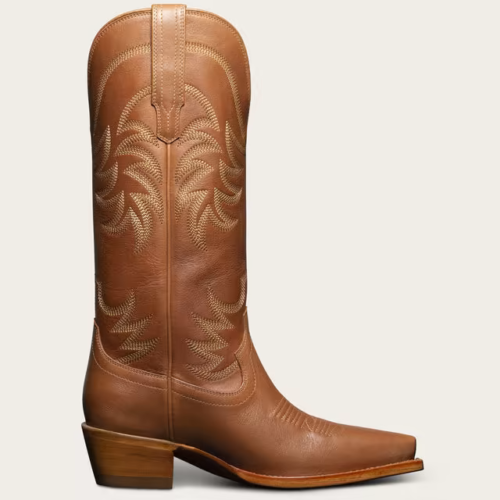 Next is, of course, the cowboy boot. The cowboy boot is probably the first thought that comes into your head when you think of American Country style.
These boots are timeless classics that go far beyond just being paired with bootcut jeans and flannel. Whether you're looking to dress country or be in on the trends, cowboy boots are one of the most worthy and chic fashion investments you can make right now.
Fringe Denim
Lastly, American country loves its denim and fringe, so what better staple than a pair of country-inspired jeans that combines both?
These jeans pair perfectly with cowboy boots and match any other country staples in your wardrobe!
English Style Country Outfits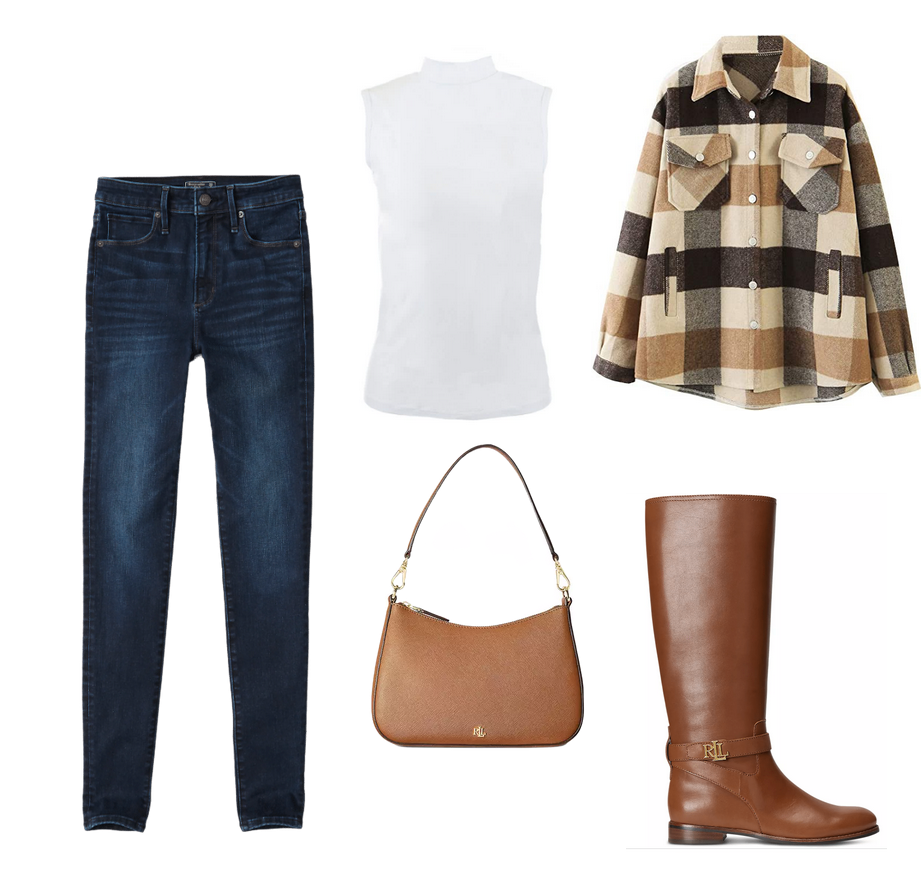 English country style is less distinctive than that of the Americans. It centers around knee-high boots with low or no-heel, straight-leg or tight pants, leather bags with minimal hardware, and pocketed jackets.
It is meant to be functional for both work and leisure and is a bit more polished than other country styles.
English country outfits also may feature pocketed vests, plain, felt-brimmed hats, plain shoulder bags, and tight-fitting shoes.
English Country Wardrobe Staples
Pocketed Vest with Buttons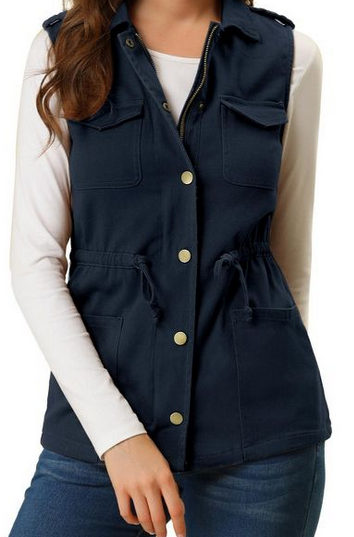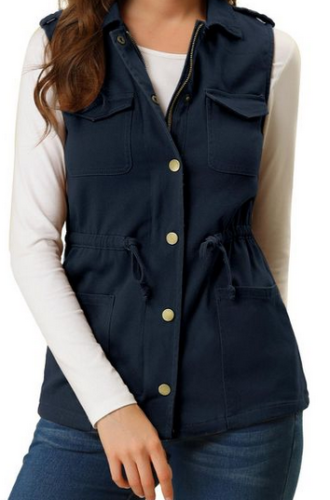 The pocketed vest with metal buttons is really popular in English country style. This is perfect for the weather there, and it is a wonderful layering piece as the weather gets colder.
Oxford Shoes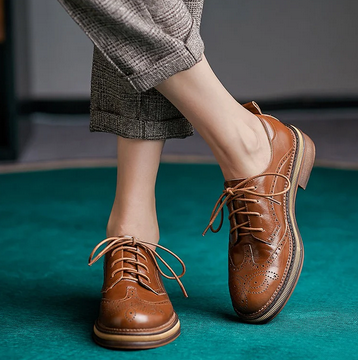 Oxfords are classics in English fashion, and they work for the English Country style thanks to their practicality and durability. These shoes have a multitude of wearing purposes and can be dressed up or down.
This particular pair even has Western/Country inspired motifs on them to ace the English Country look.
Minimal Shoulder Bag
Shoulder bags made out of leather (or faux leather!) with minimal hardware are really popular in the English Country look. They are simple but sophisticated and also happen to look like many of the 'it girl' bags that are super trendy right now.
You can't go wrong owning this piece, no matter what look you are going for.
French Style Country Outfit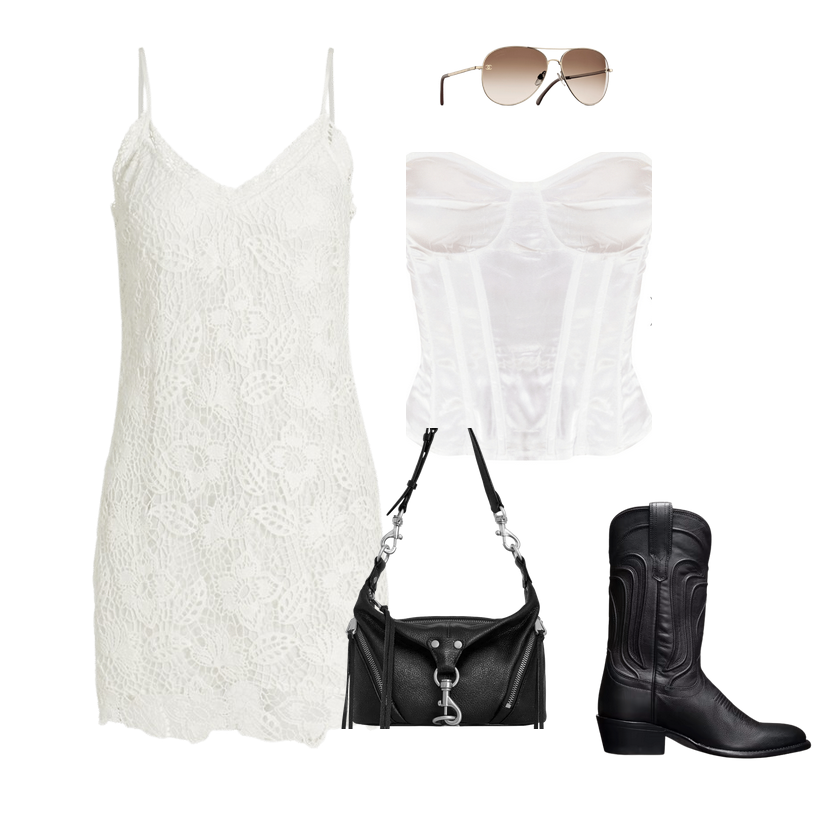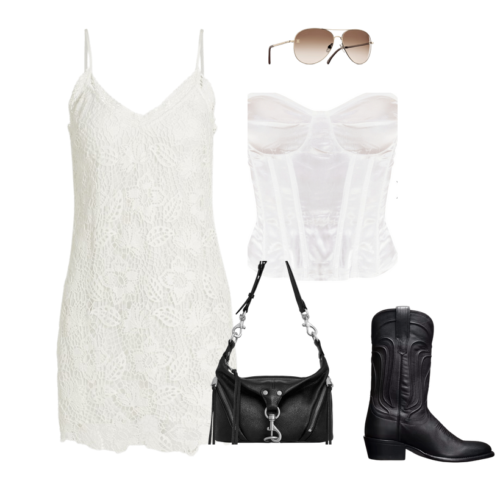 French country style is the most runway-inspired of the aesthetics discussed in this article. It inspired trends set by brands like Dolce and Gabbana, Saint Laurent, and Ralph Lauren.
French country fashion focuses on the natural and the chic and is meant to be worn far beyond the farm. It is meant to be girly with lace, ruffles, flowing sleeves, and embroidery on cotton pieces and can become tougher with a corset which is a key part of the style.
Cowboy boots are also still popular in this iteration of country chic, though you can sub in other boots as well.
French Country Wardrobe Staples
Flowy Blouse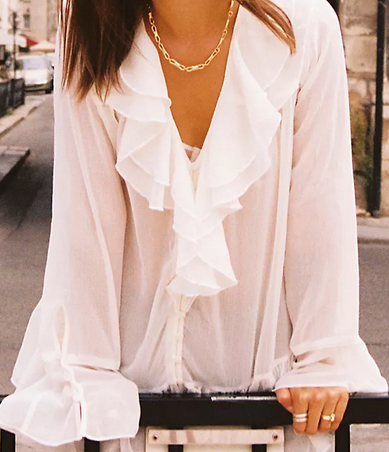 Flowy and girly pieces are a huge piece of French Country. A plain, soft white blouse that flows and features ruffles is a perfect start for a French Country look.
This item can be worn on its own with a skirt and cowboy boots, layered with a corset, or worn with jeans and a jacket in the cold. This is an excellent starter piece for this aesthetic.
Corset Top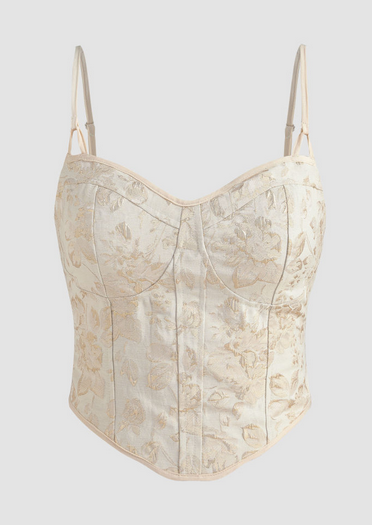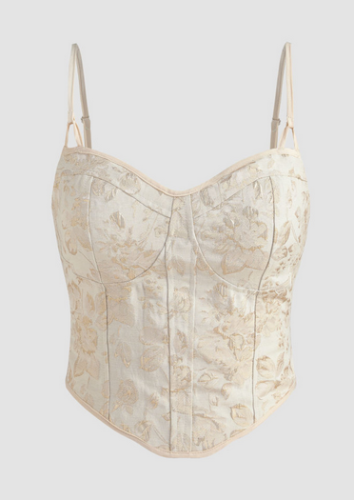 Corsets are a major piece of the French Country look, whether they are peeking out from under an item or worn over top.
Layering is really big in this aesthetic, and having a corset to do that is essential. Corsets are sure to add both elegance and structure to any French Country inspired look.
Off-White Boots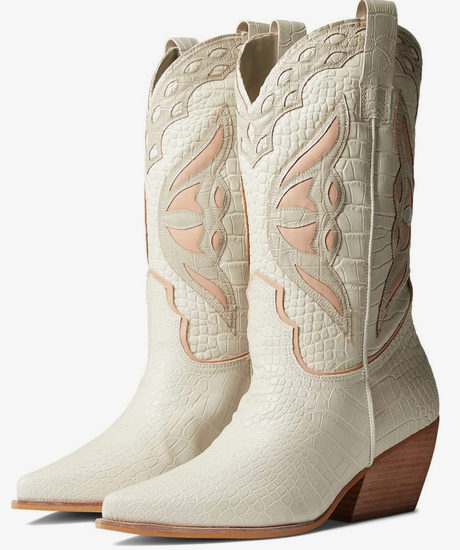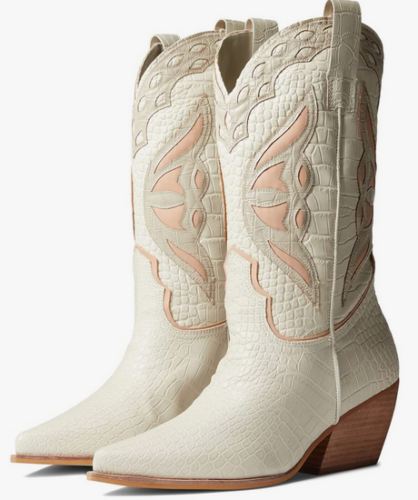 Lastly, some cowboy boots that are equal parts girly and equal parts cool will help you ace this style.
These boots are off-white colored and have an abstract butterfly motif matching the light colors and girly themes, but look tough with their block heel and faux imprinted leather.
What To Wear To A Country-Themed Party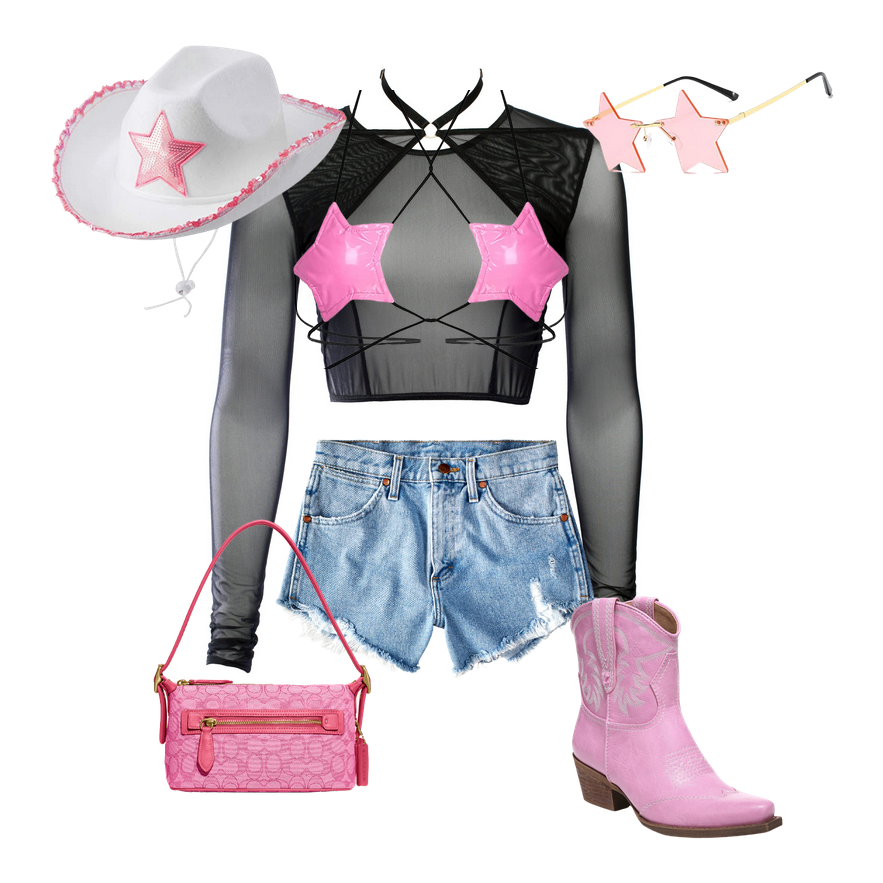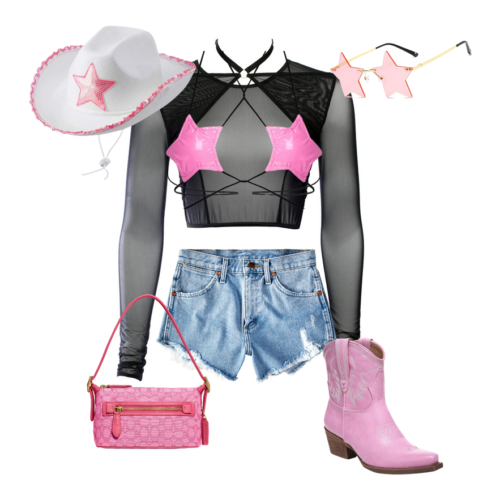 Country is a popular party theme for house parties, mixers for Greek life and student organizations, and at bars. So here's how to dress for a country-themed party.
Stand out from the crowd by taking the pink cowgirl look to a whole new level by scattering the outfit with stars, spicing up a typical sheer crop top with a star bra, and wearing a bright pink bag.
The bag is small enough it is comfortable to carry out, and the hat has a strap, so you don't have to worry about losing it. The outfit remains comfortable by layering the bralette over the shirt instead of under. Lastly, the fit of the jean shorts should make this comfortable and fit the aesthetic. One could also trade the shorts for a pair of jeans – bootcut or not – for colder weather.
This will certainly make you the star of the party!
Country Party Outfit Essentials
Fun Cowboy Hat
For any country party, a fun cowboy hat is an absolute necessity. This purple one with feathers is just one example of many easily found on Amazon. These make any look more fun, on-theme, and great for pictures.
Crop Top
As goes for any party in college, a crop top is essential for a country party. This could be worn with a flannel over it, by itself, with a corset or bralette, or with cutoffs and cowboy boots and still be on-theme. What's so great about this piece is that it is a basic that will get many wears beyond just one theme party.
Black Cowboy Boots
I must sound like a broken record at this point, but cowboy boots are, of course, essential! This pair is from Amazon, so if they're a one-time wear piece for a theme party, they're not going to hurt your wallet.
What To Wear To A Country Concert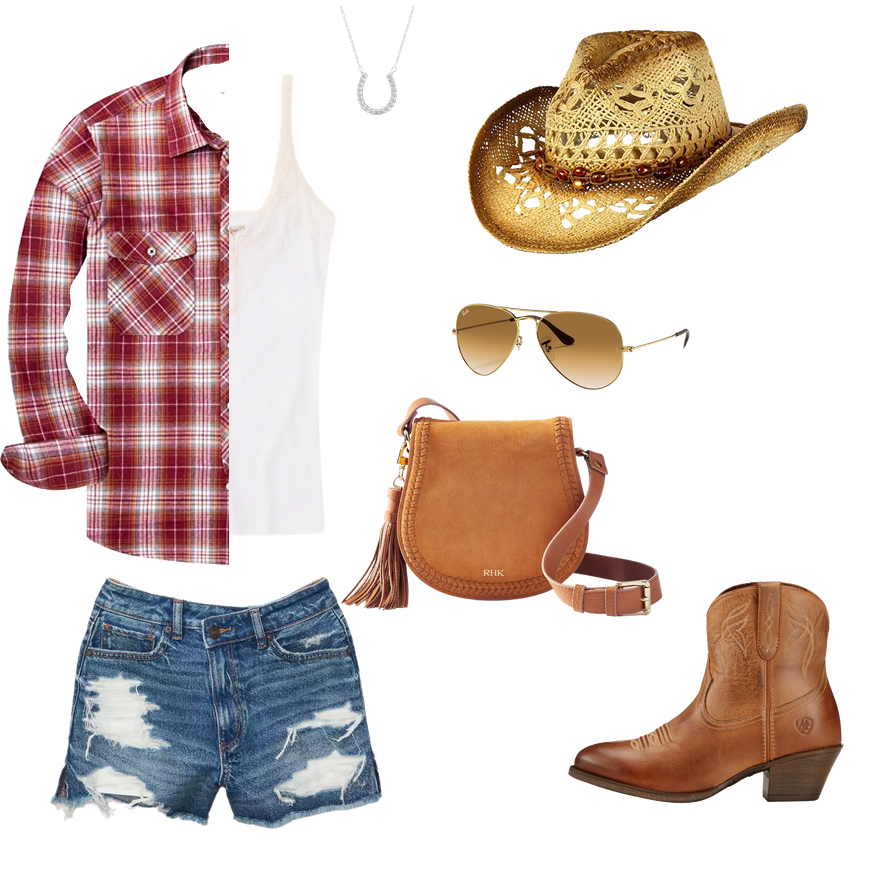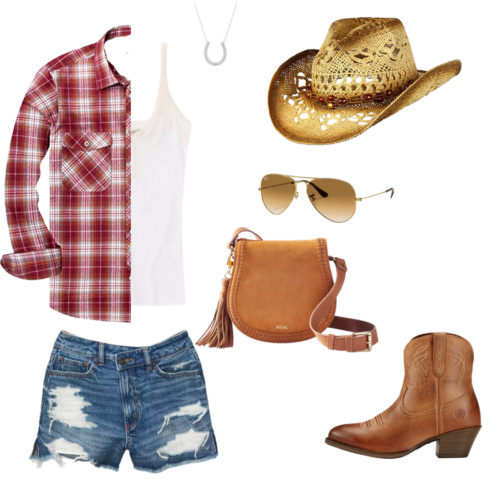 Going to a country concert can be so much fun, from the tailgate to the electric atmosphere, but deciding what to wear can not be!
Whether you want to recreate Taylor Swift's debut era or are going to a huge country festival, this outfit is a perfect go-to for any summer country show.
It features a white tank top and lightweight flannel. If it gets cool at night, you can put the flannel on over the tank, or if it's a festival during the day, you can tie it around your waist. These are paired with looser-fit short jean shorts to stay cool and comfy.
I picked a shorter cowboy ankle boot with support, so if you're on you're feet all night, you can stay comfortable and on-theme. A crossbody is also always a concert essential so you don't have to worry about putting a bag down, and this one even has fringe. Lastly, sunglasses and a cowboy hat are an absolute must!
Related reading: The Best Concert Outfits for Every Music Lover
Country Concert Outfit Essentials
Cutoff Denim Shorts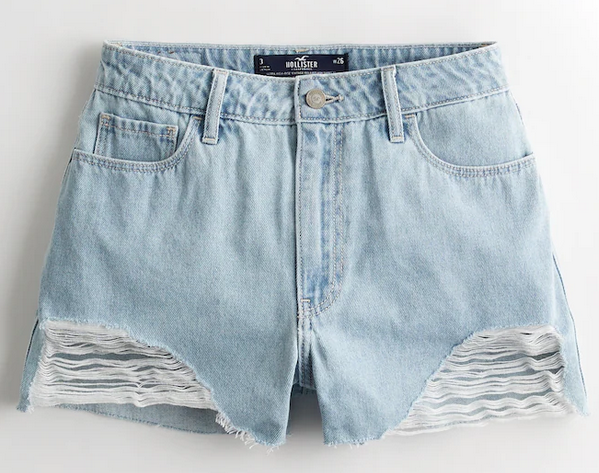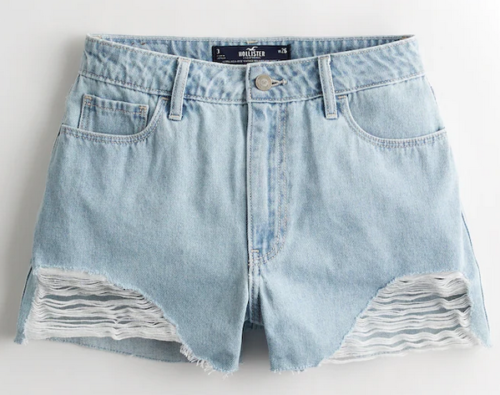 Since most country concerts take place during the summer, cut-offs are an absolute essential. They fit the vibe, are comfortable, and look so cute paired with a variety of pieces.
Plaid Flannel Shirt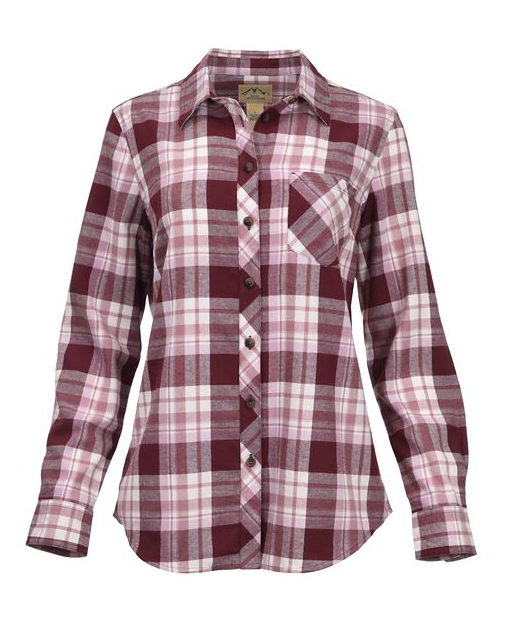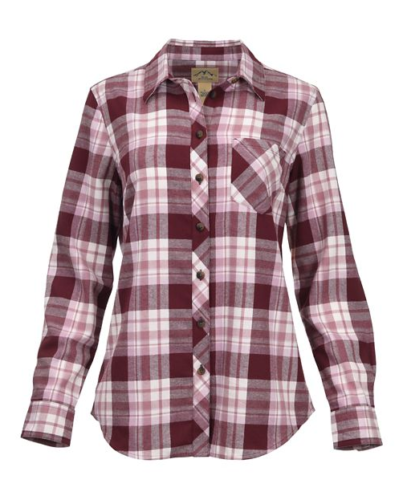 Flannels are a big deal in American Country style and are the perfect add-on to a concert outfit. They add extra flair tied around the waist or can be worn over a shirt or alone and tucked into a pair of cutoffs.
Country Shades
Lastly, a pair of sunglasses with a country vibe is the perfect final piece for your country concert outfit. These ones have a star on them that could match a motif on cowboy boots or jewelry, or you could go with a more classic pair of pilot/aviator sunglasses.
What Do You Think of our Country Outfits for Women?
Which one of these is your favorite? Do you like that cowboy boots are becoming a huge trend? Let us know in the comments below!