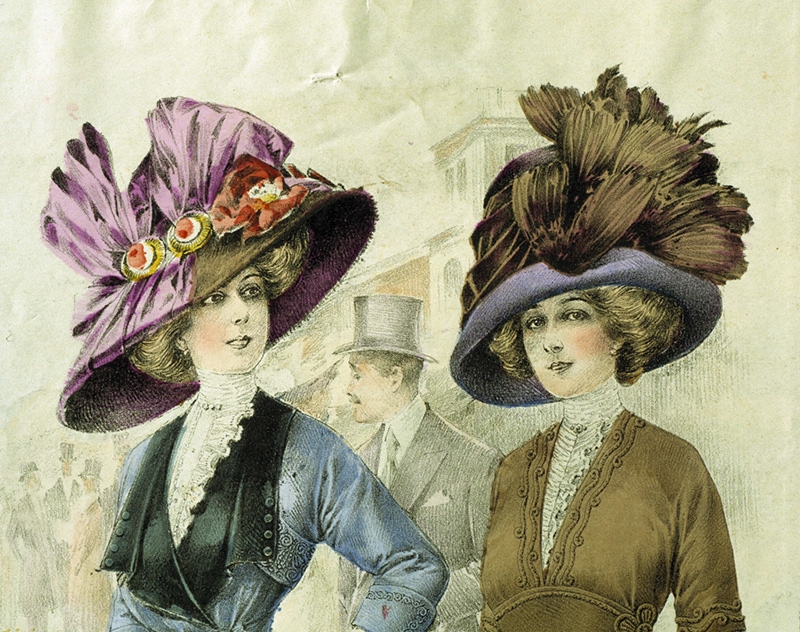 "What does 1910s fashion look like?" I found myself typing into Google last weekend, searching for inspiration. 1980s I knew, 1960s I was all over. I even had an idea what to look for for the 1930s… but 1910s? I was pretty sure I had no clue. But then Google images came up and I had to slap myself, because of course I know what 1910s clothing looks like, I've seen Downton Abbey. I've seen Titanic.
Epiphany complete, I looked up images from these, and hit another roadblock. There are actually so many different styles from the 1910s, as the decade prior and the decade that was soon to come battled it out on sartorial grounds. Not to mention the literal war that also had a huge impact on the styles of the era.
The 1910s were definitely a transition period between the 1900s, with its strict Edwardian styles and the footloose and fancy-free dresses of the '20s. "You say that about every decade, Marissa," some of you may be thinking, and you're right, you've caught me. Pretty much every decade, when examined individually, shows traces of the era that came before and the era soon to come. The 1910s are no exception, as I'm sure you'll see as we discuss the decade's sartorial history.
1910s Fashion Overview
Early 1910s fashion still retained many of the Edwardian styles of the 1900s, but as the years progressed, the fashion industry saw styles become increasingly relaxed. This was partially thanks to designers like Paul Poiret, and later, Coco Chanel, who redesigned women's fashions to be more fluid than they had been previously.
The uncomfortable bustle and corset combo of the 1900s was abandoned within the first few years of the 1910s, though the hobble skirt, which proved to be near impossible to move in, briefly came into fashion. As if to make up for it, the empire waist dress was introduced soon after, and became very popular, especially for evening wear. Throughout the decade, women's skirts became more and more relaxed, and even inched up to (scandalous!) ankle height during the war period. Dance corsets, which were softer and easier to move in, were introduced, followed by the first modern styled bra in 1914.
During World War I, as I mentioned in my '20s fashion article, women's fashion became much more militarily styled, with sharp jackets, and shorter flared skirts, often dubbed 'war crinolines'. For women not in the work force, Chanel's jersey suits and loose, belted dresses were all the rage. And, of course, a desire for comfort and freedom in clothing continued after the war, leading to the new drop waist silhouettes which would later evolve into the flapper dresses of the 1920s.
Outfits Inspired by 1910s Fashion
While I don't want to make assumptions about any of you, I think I'd be safe to assume that most of us have never considered wearing a 1910s-inspired look. Progressive though they may have been to the more Edwardian or Victorian sensibilities of the decade, the styles appear very stuffy from a modern perspective.
That being said, the 1910s were also a very beautiful era for fashion, and if you're interested in seeing how you can work some aspects of it into your own style, look below for three outfits inspired by the '10s.
Outfit #1: The New Empire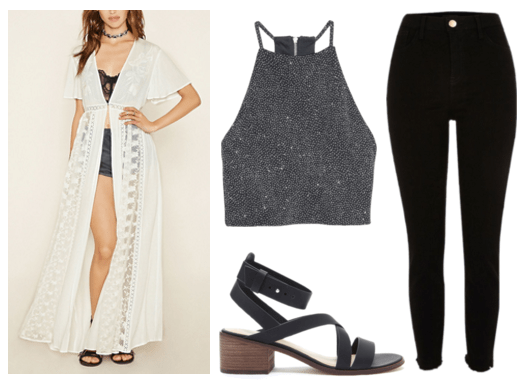 Products: Top, Jeans, Shoes, Cardigan
Wondering how to wear an empire waist and still have a modern looking outfit? I think I've figured it out: This cardigan is the key. With its low v-neck, fluttery sleeves, and lacy lengths, this piece is the perfect way to add a little bit of 1910s elegance to a simple look. I paired it with a high-neck crop top to create the kind of neckline often seen in '10s dresses, and added black jeans to make the look more modern.
I admit I struggled a bit with the shoes, as louis heels and button-up day boots were the two most popular styles. In the end, I decided that a short chunky heel was an acceptable alternative to the more delicate heels of the era, and that strappy sandals went perfectly with the summery look. While the outfit would be fine on its own, a long necklace, particularly a string of pearls, would add a little more 1910s flair.
Outfit #2: Skirting the Issue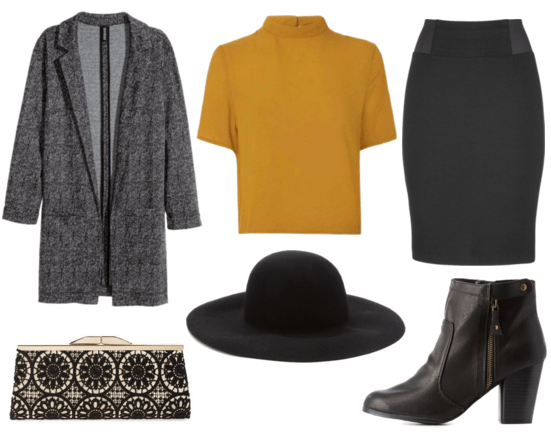 Products: Top, Skirt, Jacket, Shoes, Hat, Purse
Although hobble skirts were practically designed to be constricting nuisances, its hard to deny that the look they inspired was very sleek. In the early 1910s, the almost tubular silhouette of a hobble skirt, paired with a long jacket, was very popular – so popular, in fact, that the style of a long tailored jacket over a longer skirt stayed even when skirts became more flared.
I like the look of a slimmer skirt, but, as we want to be able to move, a much shorter pencil skirt takes the place of the hobble. A long, straight suit jacket emulates the decade's polished silhouette, especially when paired with a high collared blouse. I picked one in a bold color to brighten up the look.
Hats were still pretty much a requirement for any lady of class, and during this decade they became very wide and flat, so a wide felt hat felt like a good alternative. Black ankle boots are similar to the delicate buttoned day boots worn by most fashionable ladies. Finally, I wanted to add back a little art nouveau sensibility to this look, so I chose a clutch with lace detailing.
Outfit #3: Sister Suffragette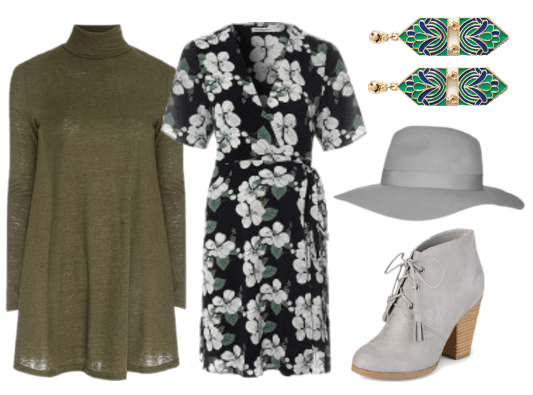 Products: Dress 1, Dress 2, Shoes, Hat, Earrings
Now what is this? Two dresses? Two different looks? Nope, I'm afraid this really is just one look. You might be thinking I've gone crazy (and it is almost finals week; that's not that far-fetched a possibility), but just hear me out.
As you might know, a large portion of the suffrage movement took place during this decade, with women finally being granted the right to vote in 1919. Therefore, I really wanted to do a look inspired by that portion of the decade. While high collared blouses with structured skirts were more popular later in the 1910s, wrap style dresses with high collars were also common, and mixing the two seemed like a cute way of paying homage to that look.
To accessorize, a hat is definitely a necessity, and this soft grey one goes well with the style, as do a pair of art nouveau earrings. Finally I added a pair of heeled ankle boots to match the hat and tie the outfit together.
More Styles by the Decade:
Want to travel to a different decade with your style? See my other posts on'90s fashion, '80s fashion, '70s fashion, '60s fashion, '50s fashion, '40s fashion, '30s fashion, and '20s fashion for more!
What's your opinion on 1910s fashion?
Are you planning to incorporate 1910s style into your look this year? Are there any 1910s fashion trends you think I should have included? What's your favorite '10s look? Let us know in the comments, we'd love to hear from you!