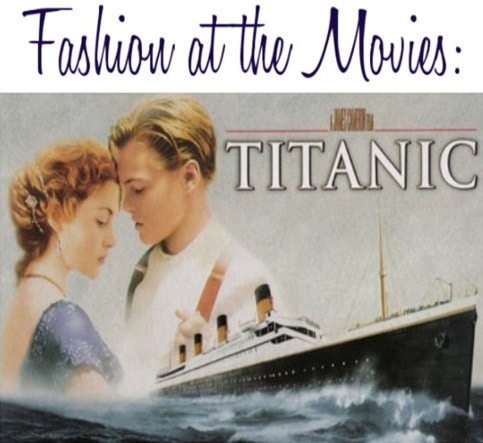 One of the most adored love stories of all time, James Cameron's epic film Titanic first graced the silver screen in 1997. Set during the RMS Titanic's ill-fated maiden voyage in 1912, the movie follows the romance of fictional passengers Jack Dawson and Rose DeWitt Bukater. The two connect despite belonging to different social classes and the fact that Rose is already engaged to the arrogant Cal Hockley.
While Titanic is perhaps best known for its box office records and heartbreaking-ly romantic plot (it's impossible not to bawl your eyes out when Celine starts singing, no matter how many times you've seen it), its elegant Edwardian costumes are just as noteworthy. Today, I'll break down some real-life-wearable looks inspired by the film's glamorous wardrobe.
Outfit 1: Rose Dawson

Since Rose is a member of the upper class, she is always dressed in high-end looks and swathed in expensive fabrics and jewelry.  However, she quickly realizes social status does not matter when she falls in love with drifter Jack Dawson. At the end of the film, Rose even identifies herself as Rose Dawson to her rescuers from the RMS Carpathia.
To achieve Rose's sophisticated style, pair a ladylike hat with an ornate dress, classic pumps, and post earrings. Black tights and a wool coat help keep you warm in the winter while still looking stylish!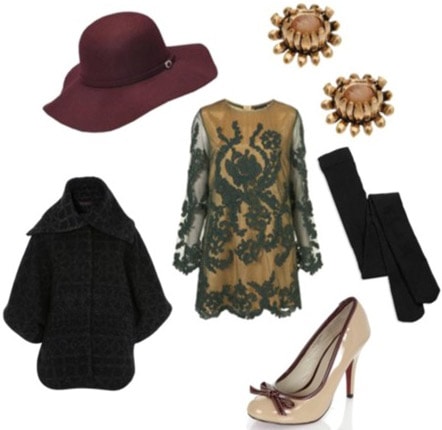 Product Information: Hat- Yes Style, Coat- Miss Selfridge, Dress- Topshop, Earrings- ModCloth, Tights- American Eagle, Heels- Miss Selfridge.
Outfit 2: Heart of the Ocean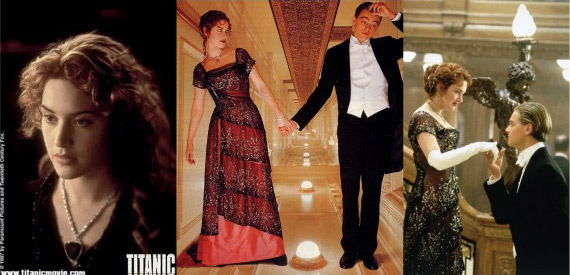 This outfit is inspired by the intricately beaded dress Rose wears to dinner on board the Titanic. Get a similar look with the lace dress below, which also has a silk lining, and add a beaded shawl cardigan for glitz and warmth. This necklace is a reproduction of Rose's Heart of the Ocean necklace, and is the perfect finishing touch on a formal outfit.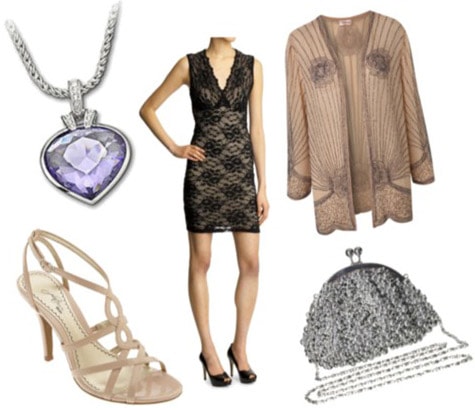 Product Information: Necklace- Swarovski, Heels- Nordstrom, Dress- Piperlime, Cardigan- Miss Selfridge, Purse- Miss Selfridge.
Outfit 3: "I'll Never Let Go"

We all know how the movie ends, but I wanted to make this last outfit a happy and romantic one. The bright yellow dress Rose is wearing in the photo above inspired the sweet sorbet colors used in this outfit, like the top and cardigan. A Victorian-inspired skirt and white lace booties add elegance, while knee socks keep the look fun.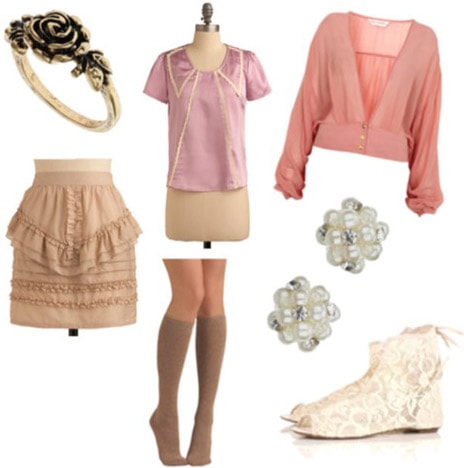 Product Information: Ring- Topshop, Skirt- ModCloth, Top- ModCloth, Socks- ModCloth, Cardigan- Miss Selfridge, Earrings- Topshop, Boots- Topshop.
An Elegant Premiere
Even though Titanic premiered in the '90s, some style elements from that time are still in fashion, like lace pieces and a glamorous red lip. A little over ten years later, Kate and Leo were reunited on the red carpet for the premiere of Revolutionary Road. The two still kept their looks classic and sleek.
To make Kate's red carpet look work for daytime, pair a dressy lace top with jeans and a casual cardigan. Embellished sandals and bow earrings add some cuteness, while a classic dark red lip creates drama.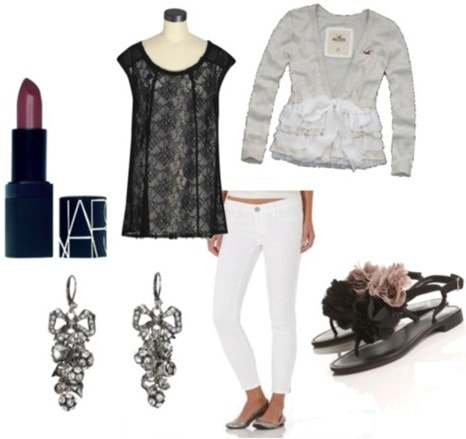 Product Information: Lipstick- Amazon, Earrings- Piperlime, Top- Piperlime, Jeans- American Eagle, Sandals- Topshop, Cardigan- Hollister.
Need More Titanic?
Get ready to see Titanic as you've never seen it before: a 3D theatrical re-release is due out in 2012, commemorating the 100th anniversary of the ship's sinking.
This website features an in-depth look at the costumes used in the film, especially all of Rose's gowns.
You can view costume sketches by designer Deborah L. Scott here. She obviously knows her stuff – after all, the film won an Academy Award for Best Costume Design.
What do you think?
Are you a fan of Titanic? What did you think of the costumes used in the film? What other movies inspire your sense of fashion? Let me know with a comment!