I adore the quote "April showers bring May flowers" but actually stepping out into the rain isn't quite my favorite. Damp, soggy, and wet is not my idea of fashionable. That's why I'm sharing a guide to how to wear a raincoat — a spring fashion staple you absolutely need in your closet.
Although most of us don't associate rainy day outfits with our chicest looks, rainwear does not have to be drab. Nowadays, you can find cute raincoats in pastels, florals, and stripes. No need to worry about looking like a fisherman when you find a cute coat and know how to properly style it!
3 Cute Ideas on How to Wear Raincoats
Raincoat Outfit #1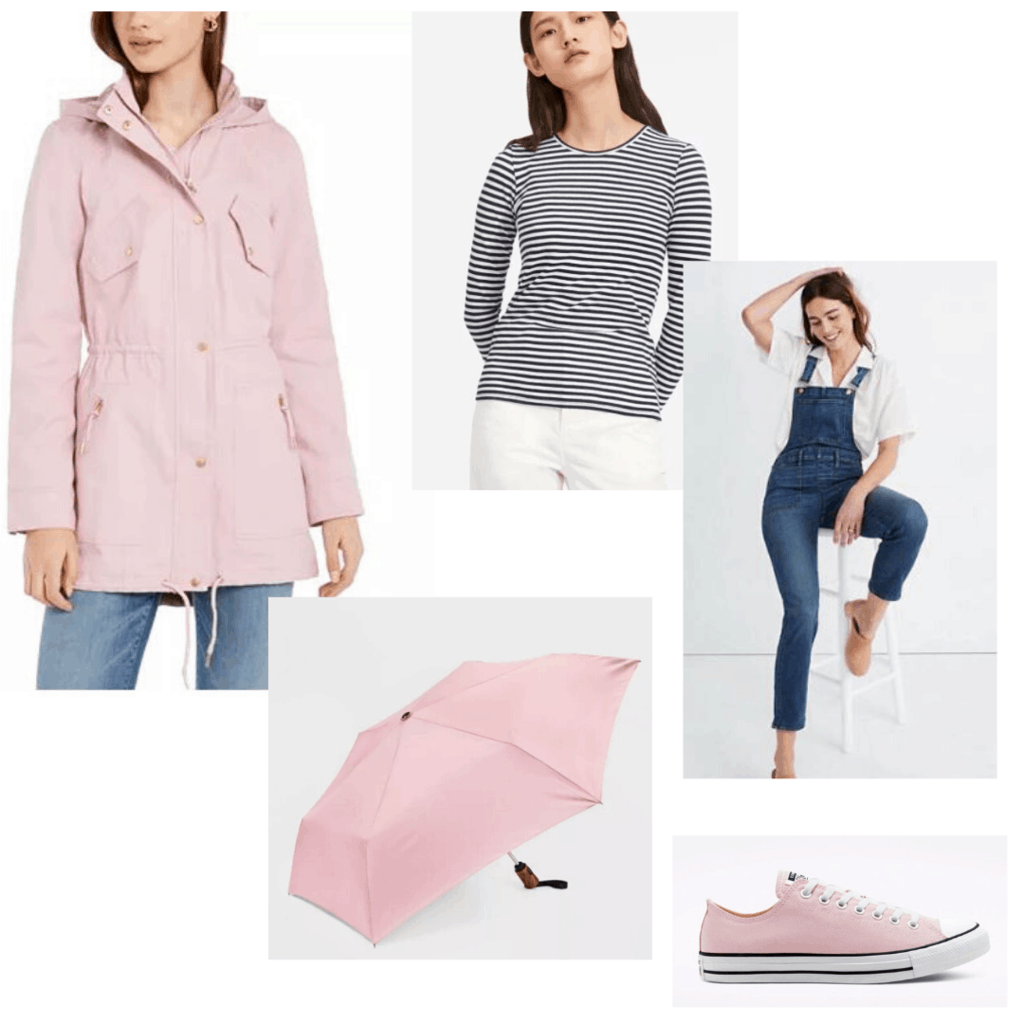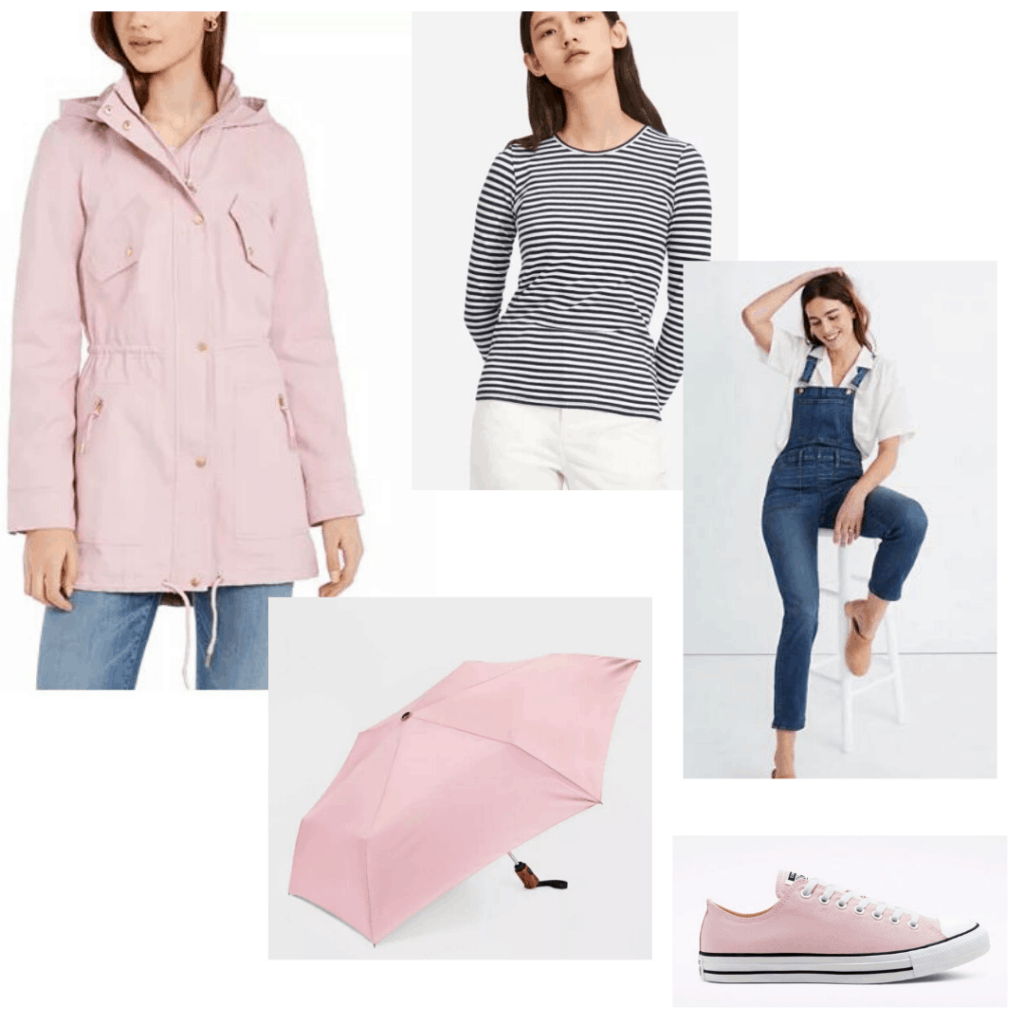 Products: Coat – Macys, Tee – Everlane, Overalls – Madewell, Shoes – Converse, Umbrella – Target
When it comes to rainy day styles, I adore Blair Eadie's style from Atlantic Pacific. She proves a pop of color is always a good idea, especially with rainy day attire. One of my favorite pieces she styles is a pastel pink raincoat. It's feminine, chic and brings light to a grey day. Even if all you're doing in taking a quick walk, this bright coat is a must.
Since you'll most likely be coming back home after being in the rain, this casual way to wear a raincoat is great for working from home as well. A cozy striped top and stretchy denim overalls are perfect for a productive day. And when the indoors are becoming too much, slip on these converse, your raincoat, and grab your matching umbrella for some fresh air!
Raincoat Outfit #2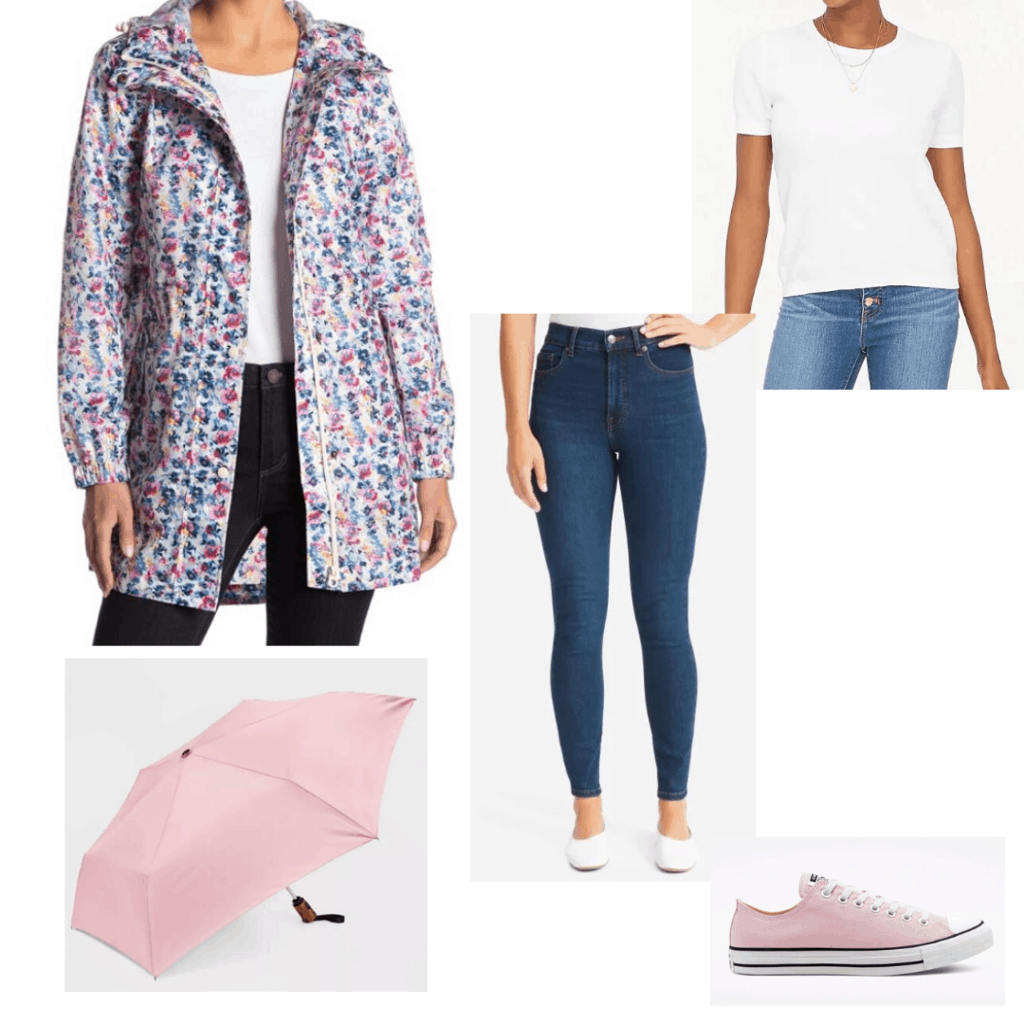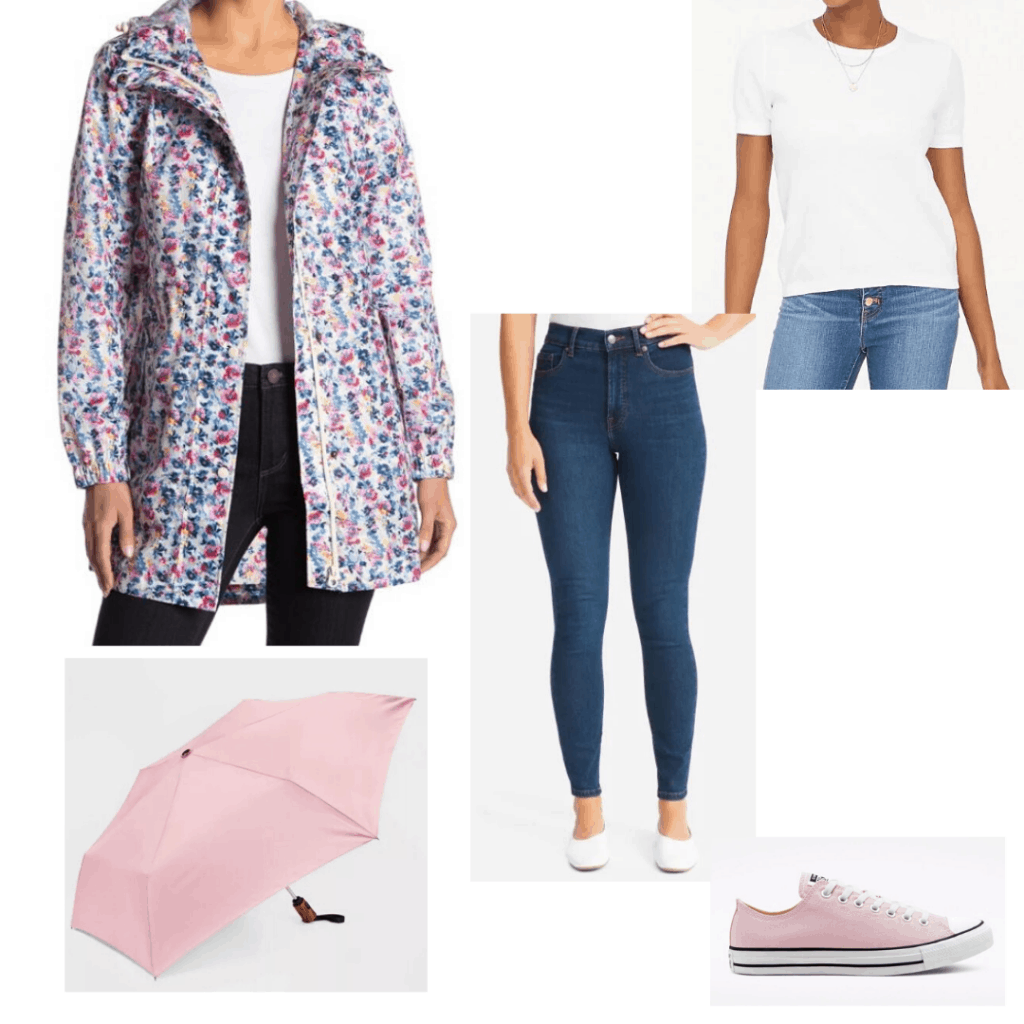 Products: Coat – Hautelook, Sweater – J.Crew Factory, Jeans – Everlane, Shoes – Converse, Umbrella – Target
Though we're in April and the flowers don't come till May, I say bring them yourself. This floral raincoat by Joules is utterly adorable and will surely make a rainy day fun. Not only is it functional with waterproof material, but it allows you to stay fashionable during less than desirable weather.
Classic, comfortable jeans with a good stretch, a short sleeve sweater, and little sneakers work great with this coat. This allows you to fully enjoy a walk between rain showers and ensures that you keep dry when you don't make it home in time.
Raincoat Outfit #3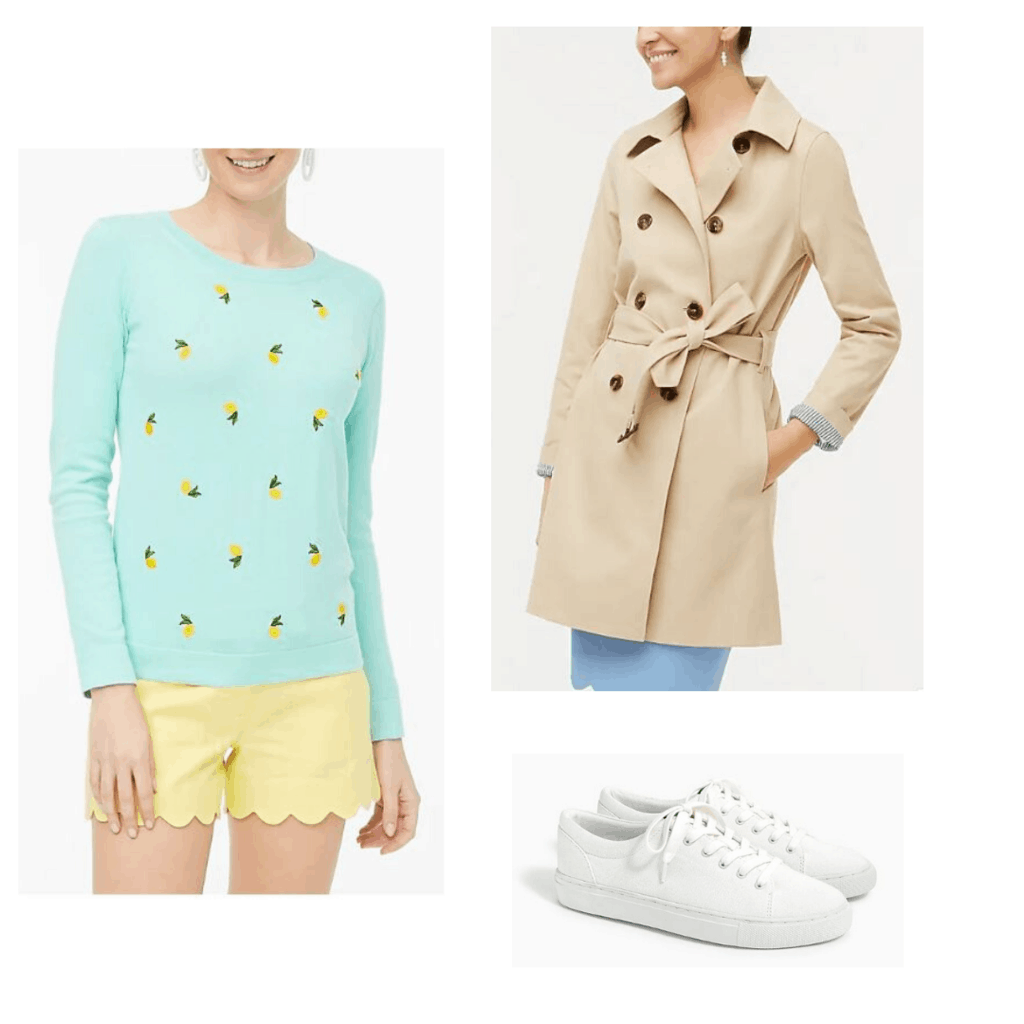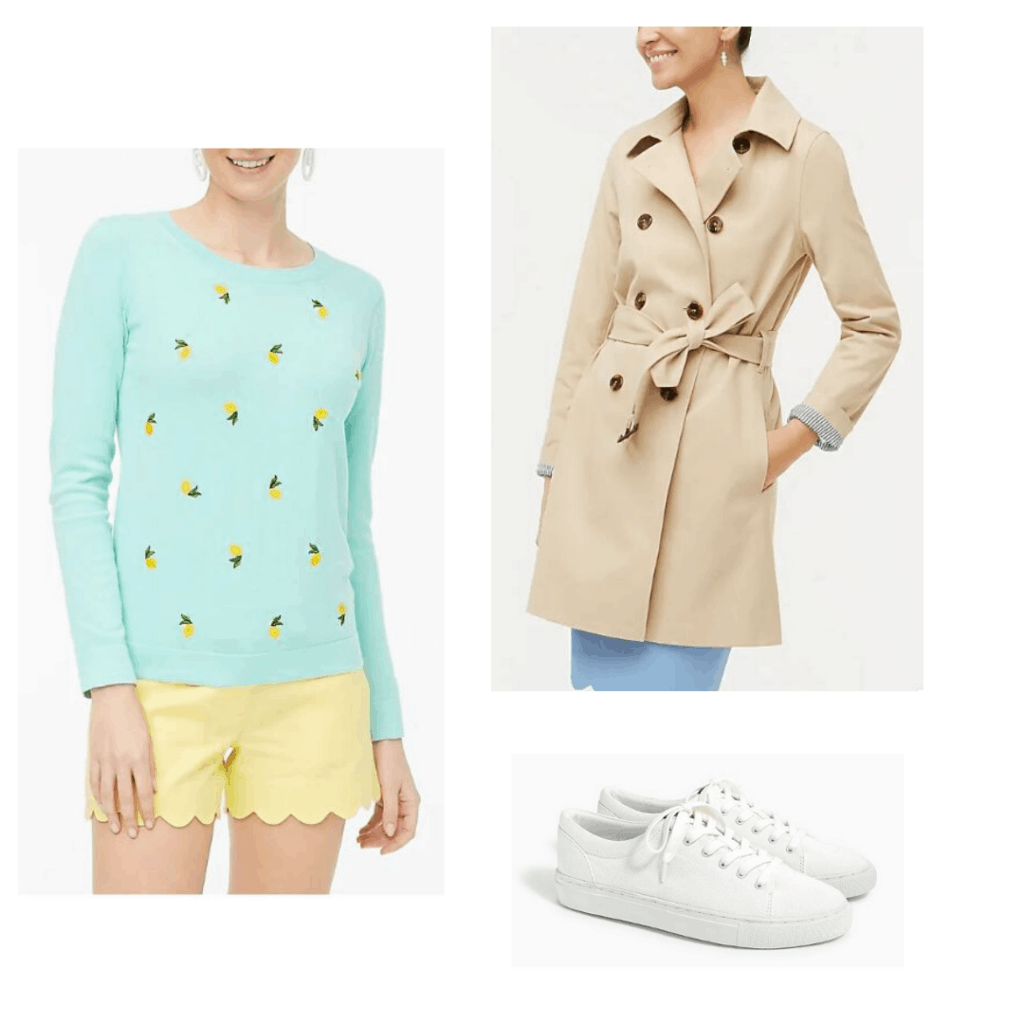 Products: Sweater – J.Crew Factory, Shorts – J.Crew Factory, Trench – J.Crew Factory, Shoes – J.Crew Factory
Taking time to get outside is my favorite way to take a break from work. When I've taken my millionth walk of the week, I change it up with a bike ride. Something a little more poetic than aimlessly wandering around the neighborhood.
This little activity allows me to wear something a bit cuter, like a lemon printed sweater with pastel shorts. This outfit is super comfy but also quite adorable, perfect for a Spring day riding around on a bike.
When the weather calls for rain, opting for a trench is best. It's a little more chic than the traditional raincoat but just as functional. This one from J.Crew Factory is classic and looks amazing over this little outfit. Grab a pair of white sneakers and you're all set!
What do you think of my guide to how to wear a raincoat?
Don't let the rain clouds get you down anymore. Instead, grab a cute raincoat, step outside, and enjoy the rain. Which of these outfits will you be wearing on the next rainy day?