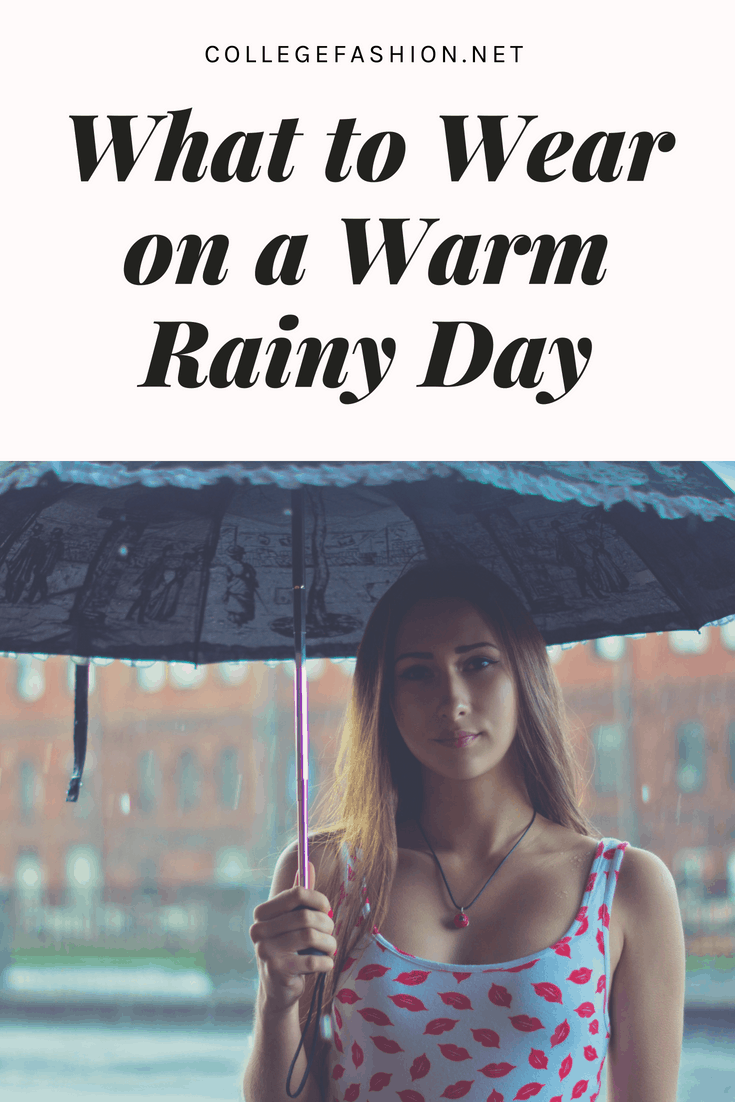 Dressing for a warm rainy day isn't quite as simple as bundling up during chilly rainstorms — so I thought it definitely warranted its own article. (See our guide to what to wear on cold rainy days for tips for those chillier storms!)
After all, when it's hot and sticky out, the last thing you want to wear is a pair of heavy winter rain boots. I've learned this the hard way.
When I moved to Boston from Southern California five years ago, I was super excited to take on the East Coast elements: wind, snow, sleet, all that good stuff. My wardrobe and I adapted quickly to the cold weather, but what really wound up throwing me for a loop was the first summer I spent in Boston. California summers are dry as a bone, so I wasn't prepared for the humidity and torrential downpours.
I've got it down now, though. Read on for tips on how to stay comfortable and dry throughout the spring showers season!
Related reading: 6 Incredibly Cute Spring Outfits to Wear on Repeat
Warm Rainy Day Essentials
Footwear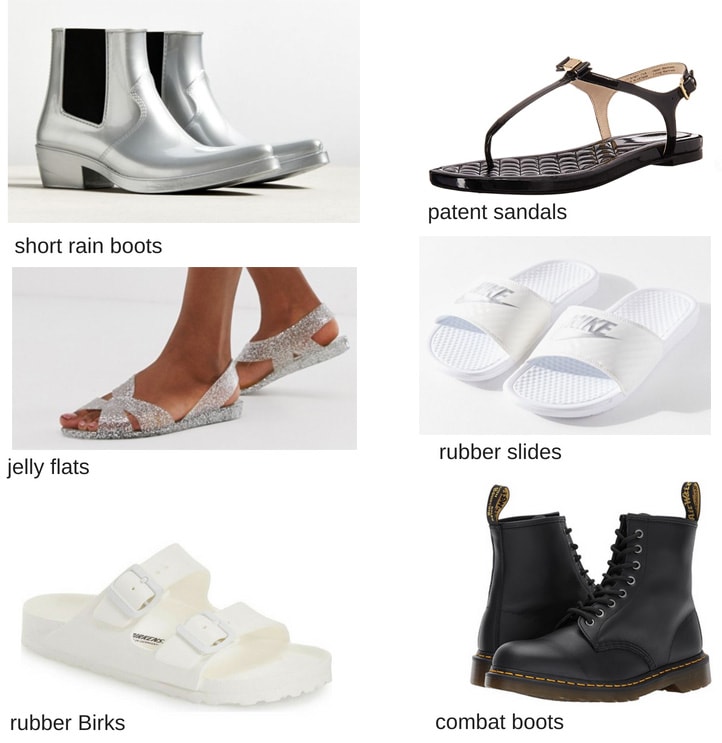 Products: Glitter Boots – Urban Outfitters, Patent Sandals – Amazon, Jelly Flats – ASOS Design, Nike Slides – Urban Outfitters, Birkenstocks – Nordstrom, Dr. Martens – Amazon
Think beyond traditional wellies when it comes to keeping your feet dry during spring and summer rainstorms.
Short rain boots in a Chelsea or lace-up style are just as functional but won't overheat your legs. (How cute are these silver ones?)
Jelly shoes have come a long way since the ones you wore in elementary school. These days, they come in trendy shapes and colors, like these pretty glitter flats.
Rubber slides and rubber Birkenstocks are cute options that are on-trend right now and come in tons of colors.
Lastly, patent leather and synthetic leather are good materials for rainy days.
Just make sure that your feet can breathe in whatever shoes you choose — the combination of heat and moisture can lead to a not-so-pleasant smell!
Outerwear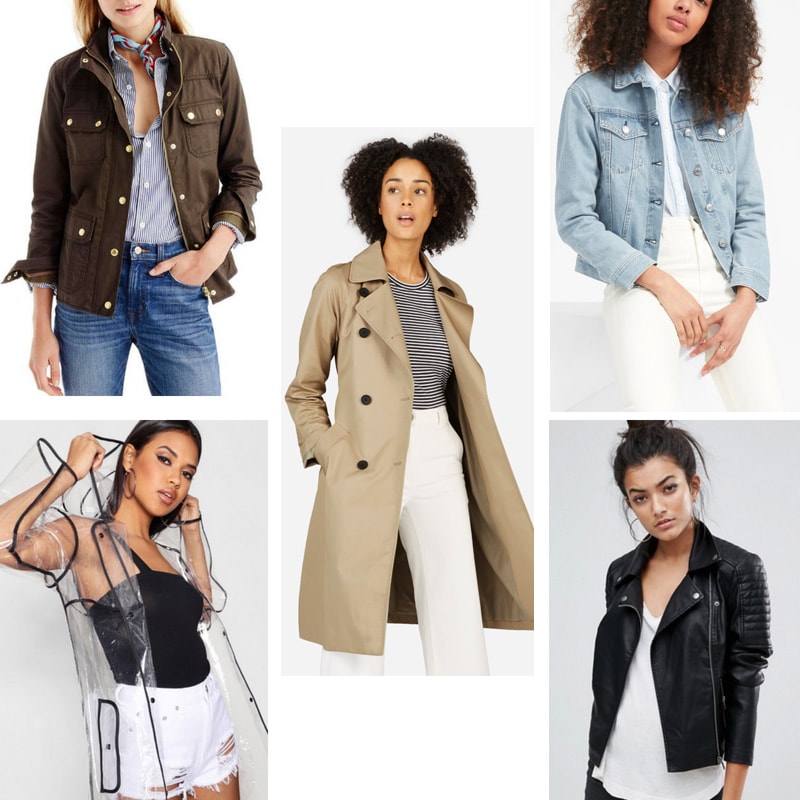 Products: Army Jacket – J.Crew, Trench Coat – Everlane, Denim Jacket – Everlane, Clear Raincoat – Boohoo, Moto Jacket – ASOS
A lightweight jacket is the ideal companion for a warm rainy day.
It doesn't have to be waterproof (see our guide to how to wear a raincoat if you want to go that route), but it should be made from a fabric that dries relatively quickly.
Cotton and synthetics, like rayon and polyester, all fit the bill. (Just make sure to avoid wool, as it gets heavy when wet and takes forever to dry!)
Accessories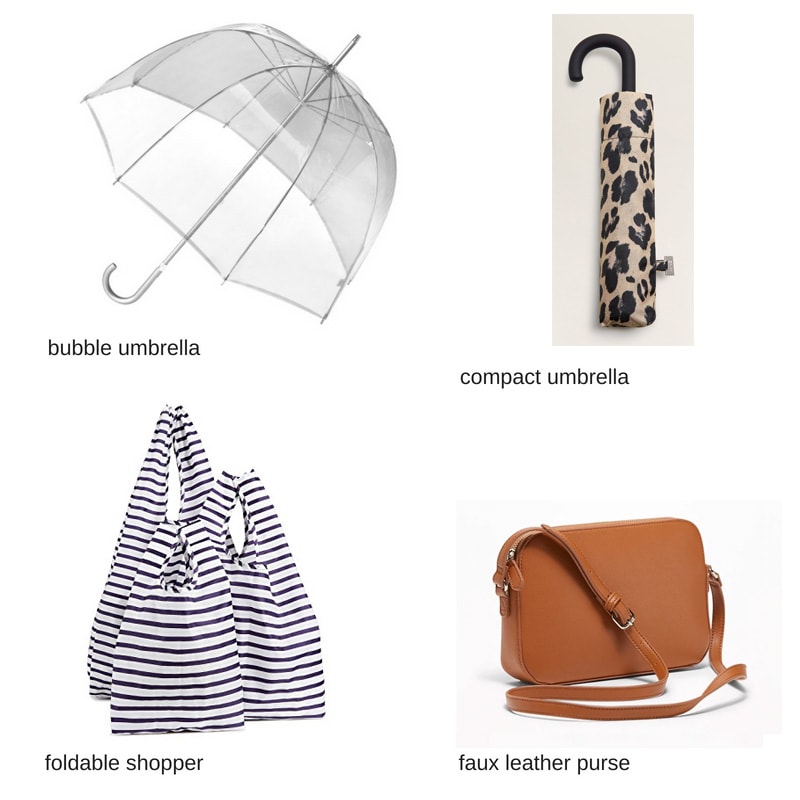 Products: Bubble Umbrella – Lord & Taylor, Compact Umbrella – Mango, Shopping Tote – Shopbop, Crossbody Bag – Old Navy
If the forecast is predicting heavy rain and winds, a bubble umbrella is a sensible option. In addition to my heavy-duty bubble umbrella, I have a compact umbrella that I stash in my bag every day – just in case. (Can you tell I had some bad experiences with getting caught in surprise storms? These days I over-prepare for precipitation… constant vigilance!)
A waterproof purse or backpack (pretty much anything faux leather should be fine) will keep your belongings dry. Another option is to keep a cute foldable tote bag – I'm obsessed with the ones from Baggu – in your purse: if it starts to rain, you can just put your handbag inside of the nylon tote.
Putting It All Together: Outfit Ideas for Warm Rainy Days
Classic Rainy Day Outfit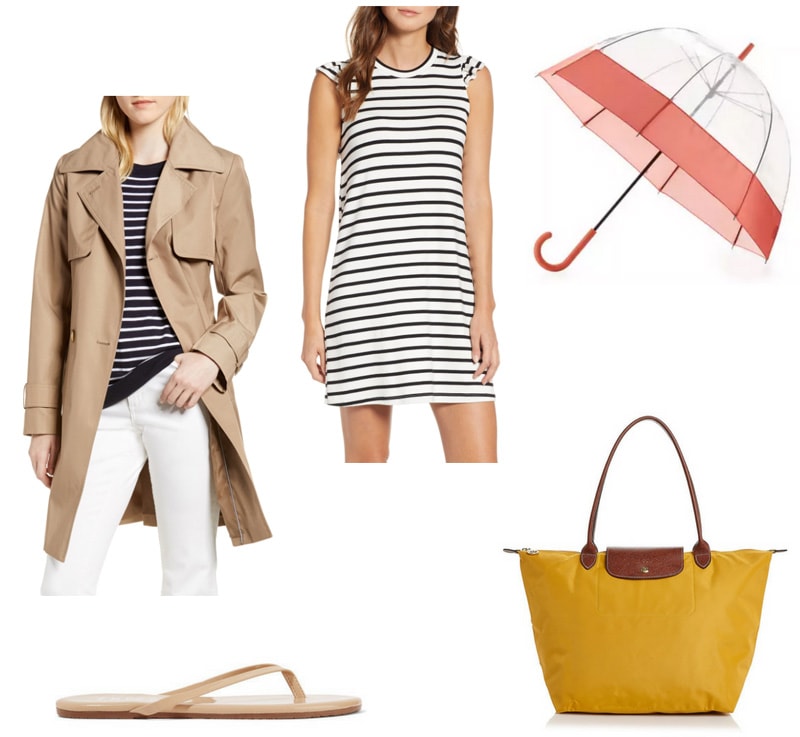 Products: Trench – Nordstrom, Dress – Nordstrom, Umbrella – Hunter, Sandals – Tkees, Bag – Longchamp
You can't go wrong with a classic trench! Rainy days also tend to be windy, so if you're opting for a skirt, make sure it's one that won't easily fly up.
I find that I always want to wear pretty colors to perk up a rainy day. In this look, pops of coral and mustard, in the form of a unique umbrella and a sturdy tote, fit the bill! Finally, these nude sandals are patent leather so they should hold up well in a downpour.
Casual Rainy Day Outfit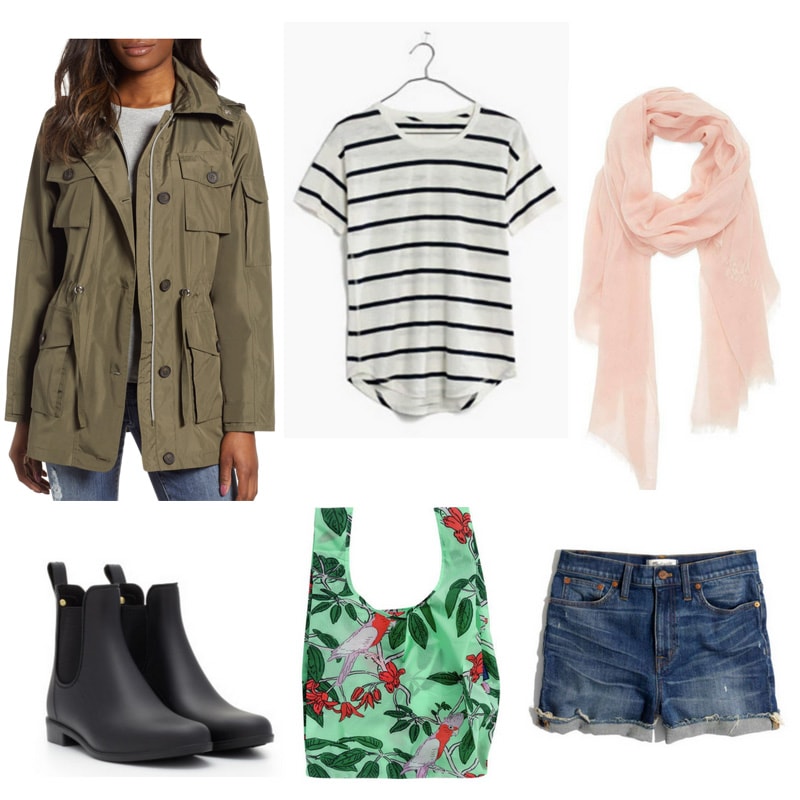 Products: Anorak – Nordstrom, Tee – Madewell, Scarf – Nordstrom, Boots – Sam Edelman, Bag – Baggu, Shorts – Madewell
Short rain boots are a cinch to style – just wear them the way you would wear normal ankle boots! Cargo jackets always look great with casual outfits. Denim cutoffs are a summer staple, and since your legs dry faster than jeans do, they're a great choice for a rainy day. (One caveat: it's better to wear slightly longer shorts that won't chafe your inner thighs when the fabric gets wet!)
A lightweight scarf is always a good accessory to have. In a pinch, it can double as a head covering if you find yourself without a hood or an umbrella.
Unexpected Rainy Day Outfit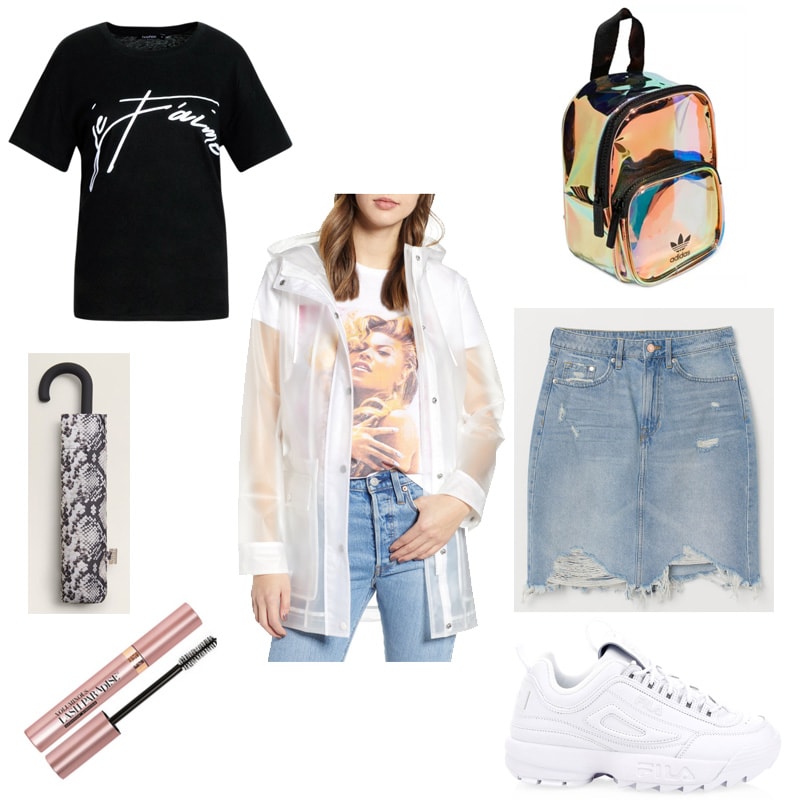 Products: Umbrella – Mango, Tee – Boohoo, Backpack – Macy's, Anorak – Nordstrom, Skirt – H&M, Mascara – Ulta, Shoes – FILA
While army green, navy, tan, and black are trusty choices for rainy-day outerwear, an anorak in an unexpected clear white is a stylish way to stand out from the crowd! Pair it with chunky sneakers and a graphic tee for a totally spring-to-summer-appropriate look.
There's no need to sacrifice style for function: this mini backpack isn't real leather, so it's pretty water-resistant. Finally, don't forget to swap out your normal mascara for a waterproof version! We're obsessed with Lash Paradise by Maybelline right now.
Trendy Rainy Day Outfit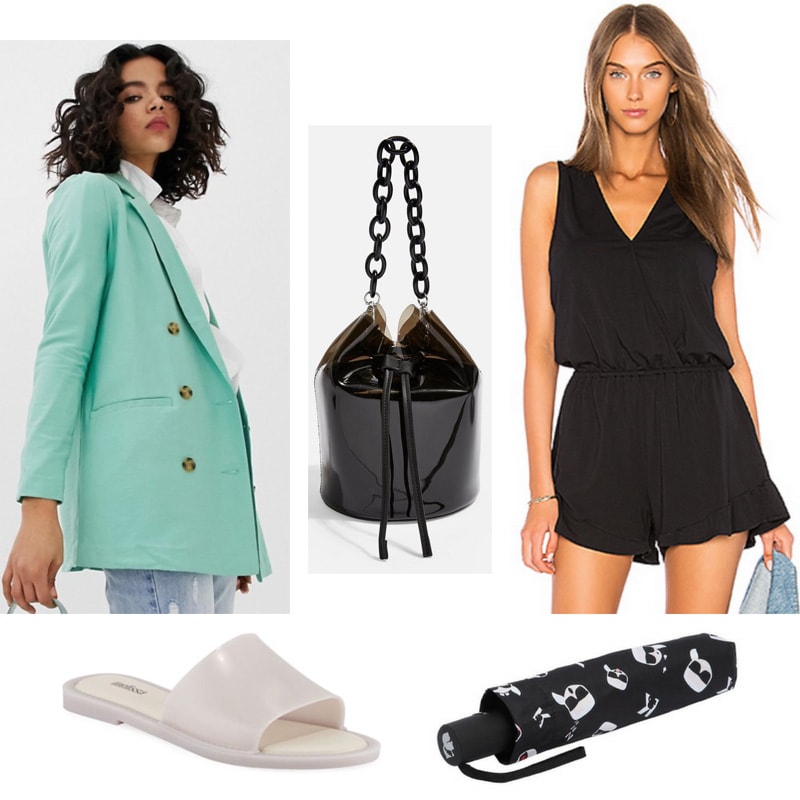 Products: Blazer – ASOS, Bag – Topshop, Romper – Revolve, Slides – Neiman Marcus Last Call, Umbrella – Luisaviaroma
This would be an adorable outfit for a really warm or humid day when you're not 100% sure if it's going to rain or not. Layer an oversized blazer in trendy pale green over a fun romper or dress, then slip on a pair of waterproof slides. A PU bucket bag won't get water damaged, and it's such a cute detail to add to the look!
What did you think?
Would you wear these outfits? Which look is your favorite? What are your go-to outfits for days that are wet and muggy? Tell me your thoughts by leaving a comment!
Editor's note: This post was originally published in 2014; it was completely updated and revamped in 2019 with new photos, outfit sets, and information.