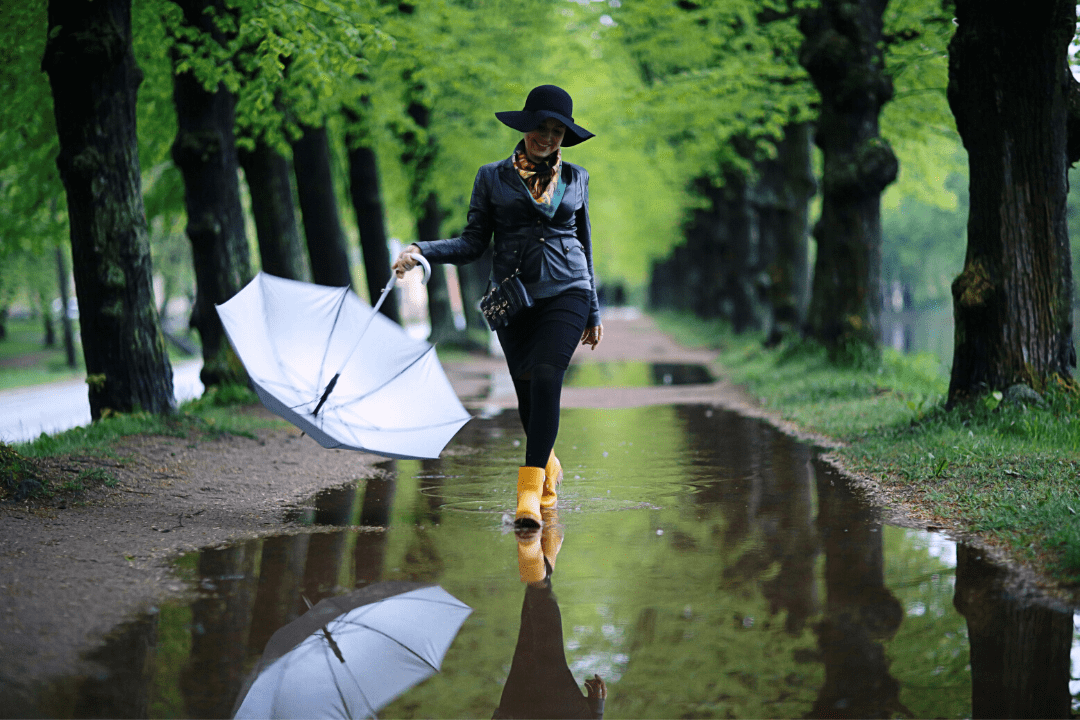 Welcome to the latest edition of Ask CF! Every two weeks, we select a reader fashion question and answer it here on the site. Do you have a specific fashion question for us? Scroll to the bottom of this post to learn how to send it our way!
Ask CF Question
Hi CF!
Where I'm living the weather is cold and rainy all fall and winter.
The only rain apparel I have is a super baggy raincoat that looks like I'm wearing a Niagara Falls Maid-of-the-Mist inspired plastic poncho!!! I'm concerned about coming across as childish, as I associate rain-gear with cutesy, matching brightly coloured rubber outfits for kids.
How can I keep warm, dry AND stylish?
Thank You CF!
U da best
ilusm <3
Xoxoxo
-Deluge-ional
Our Response
Dear Deluge-ional,
While rain gear can certainly look unfashionable, there are still plenty of chic rain-proof options that won't make you feel like a kid! The key is to think of rain gear the same way you think about other clothing.
We've already covered some school outfits that are cute and functional, so you can check those out for simple ideas. Then, when finding outfits for rainy days, keep in mind the same guidelines for fit and style that you use when shopping for non-rain clothes.
Also, be sure to choose rain gear that fits your personal style and that can be worn on a variety of different occasions. Most importantly, you should choose items that you feel good in; after all, when the weather is dreary, you'll appreciate the extra pick-me-up that a stylish raincoat or sleek rain boots can give!
Keep scrolling to see my picks for what to wear on cold, rainy days. Below, I've created four rainy day outfits for school.
Rainy Day Outfits for School: Outfit #1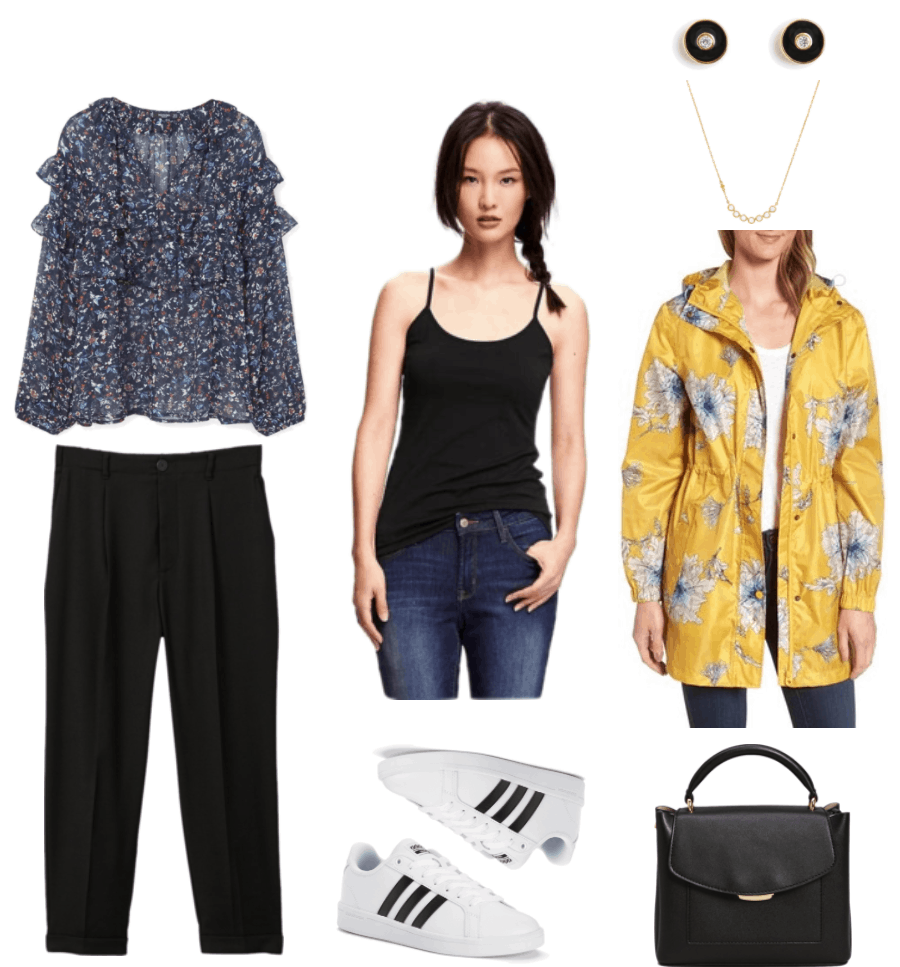 Products:
This look effortlessly combines casual and dressier pieces for a modern and trendy aesthetic and is a perfect outfit for cold, rainy days. It is also solid proof that you can pull off fun and colorful rain gear without looking like a kid!
To get it, begin by putting on a pretty navy blue floral blouse. Since the blouse is quite sheer, it's a good idea to layer a black or navy camisole or tank top underneath, like the one shown here. Next, put on a pair of cool, relaxed-fit ankle-length pants, and add some chic Adidas sneakers.
Accessorize with deco-style stud earrings and a simple necklace for some subdued sparkle, and pick up a versatile black pebbled tote.
Lastly, mix things up with a bright and cheerful yellow floral print rain jacket that cinches at the waist; this detail is not only stylish but will help to create a more defined shape, so as to avoid a baggy, shapeless look. (For more on styling a piece like this, be sure to see our post on how to wear a raincoat.)
Rainy Day Outfits for School: Outfit #2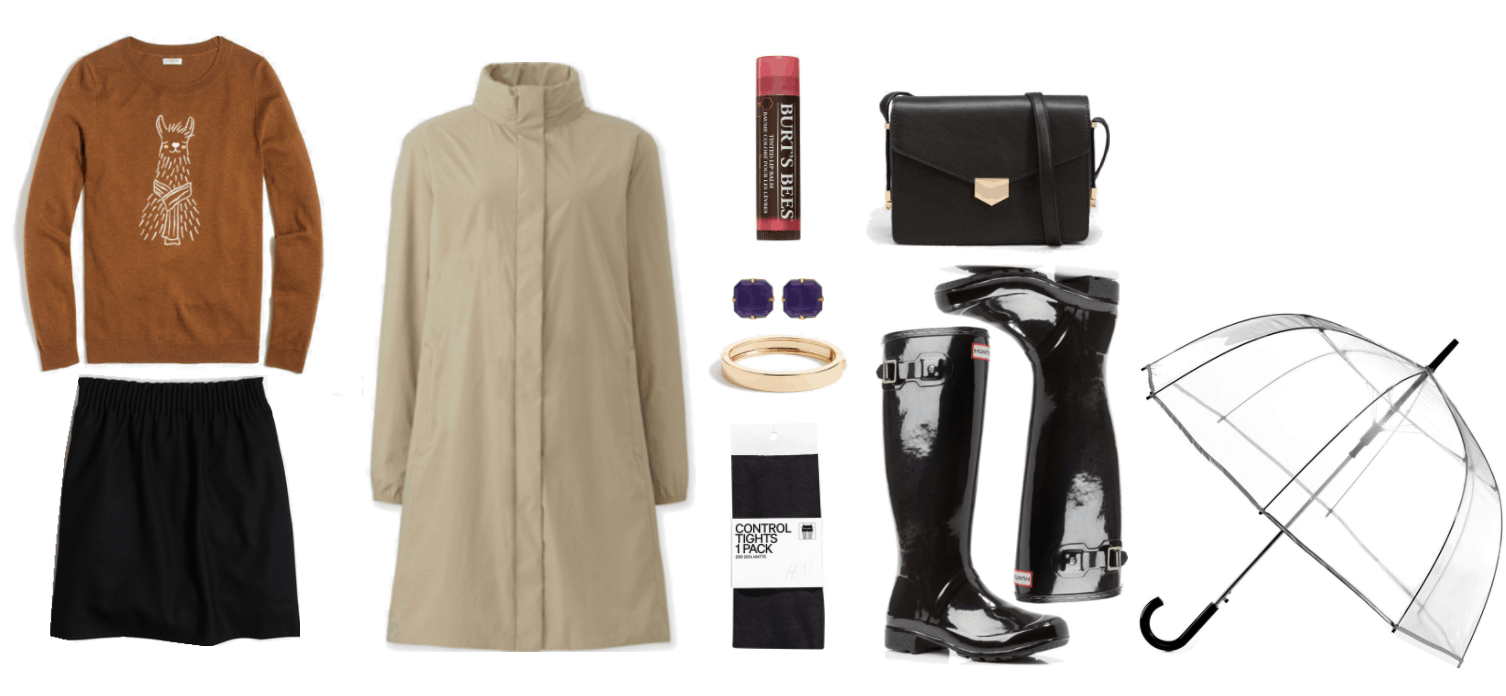 Products:
Since you say that you live in a place where it is cold and rainy all Fall and Winter long, it may be a good idea to invest in some slightly more expensive rain gear, including a timeless raincoat, like this one from Uniqlo (which, according to their website, is both rain- and wind-proof!), and a pair of high-quality and stylish rain boots. (Hunters are always a good bet.)
These pieces will keep you comfortable in the lousy weather and help you look stylish while doing so! They will also go with a wide variety of outfits, including dressier, more business-casual looks, like the one shown here.
To re-create the look for yourself, begin by putting on a neutral-colored sweater — I'm partial to this one, which features an adorable scarf-wearing llama! Next, put on a classy black wool skirt.
Add a pair of black opaque tights for warmth, and accessorize with some elegant purple stud earrings, a sophisticated gold bangle, and a black cross-body bag. Finally, grab a chic clear umbrella and swipe on some tinted lip balm, and you're good to go!
Rainy Day Outfits for School: Outfit #3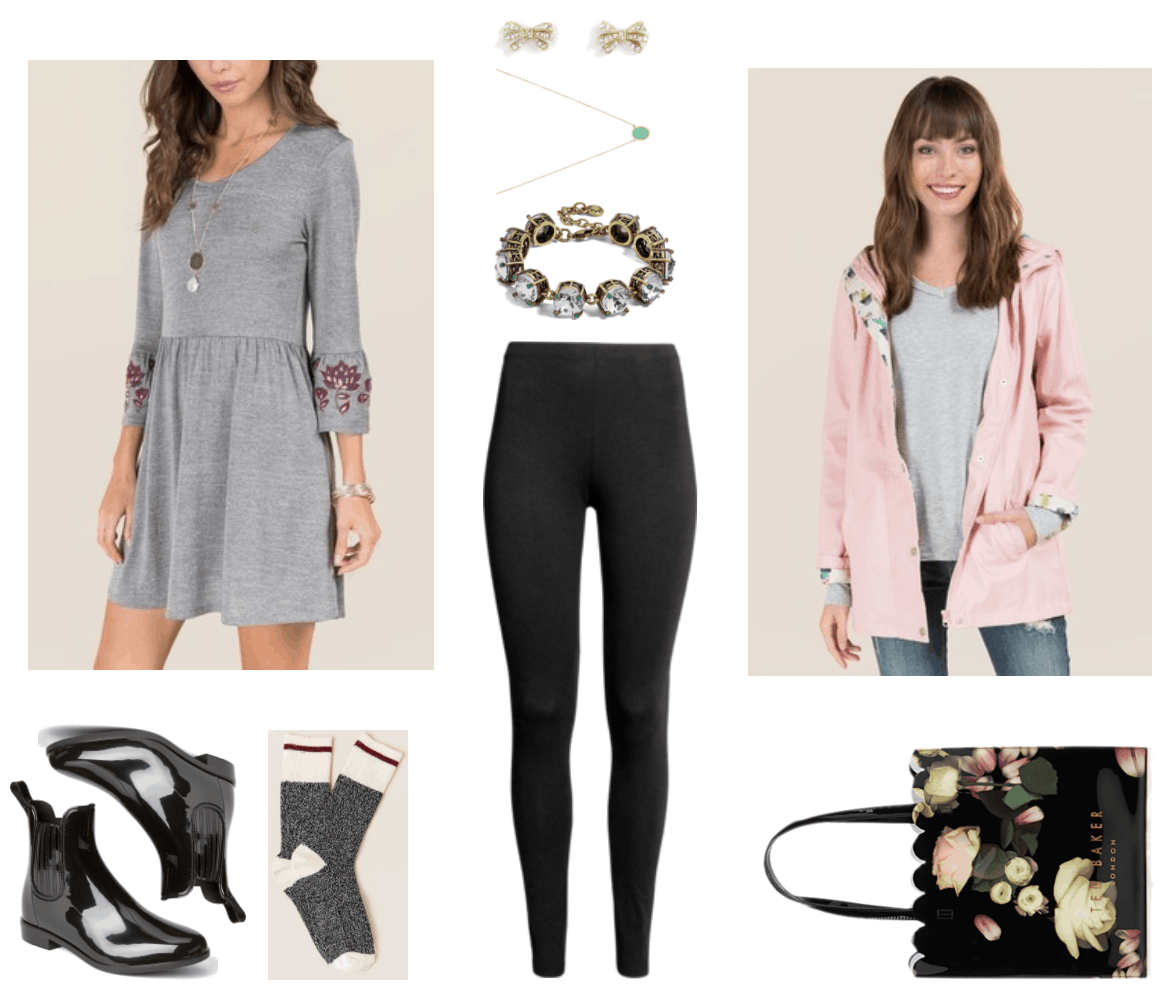 Products:
This easy-to-wear rainy day outfit is perfect for days when you feel like wearing something more feminine, but don't feel like putting in a lot of time and effort.
To start, put on a sweet fit-and-flare dress with embroidered sleeves. Next, add some simple black leggings, as well as a pair of cozy marled socks and Chelsea-style rain boots. Scrunch down the socks so that they're just peeking out over the tops of the boots for a stylish touch.
Accessorize with a pair of sparkly bow stud earrings, a green faceted pendant necklace, and a statement bracelet. Add a gorgeous patent floral-print scalloped tote, and put on a pale pink raincoat with a super-cute cactus-print lining to complete the look.
Rainy Day Outfits for School: Outfit #4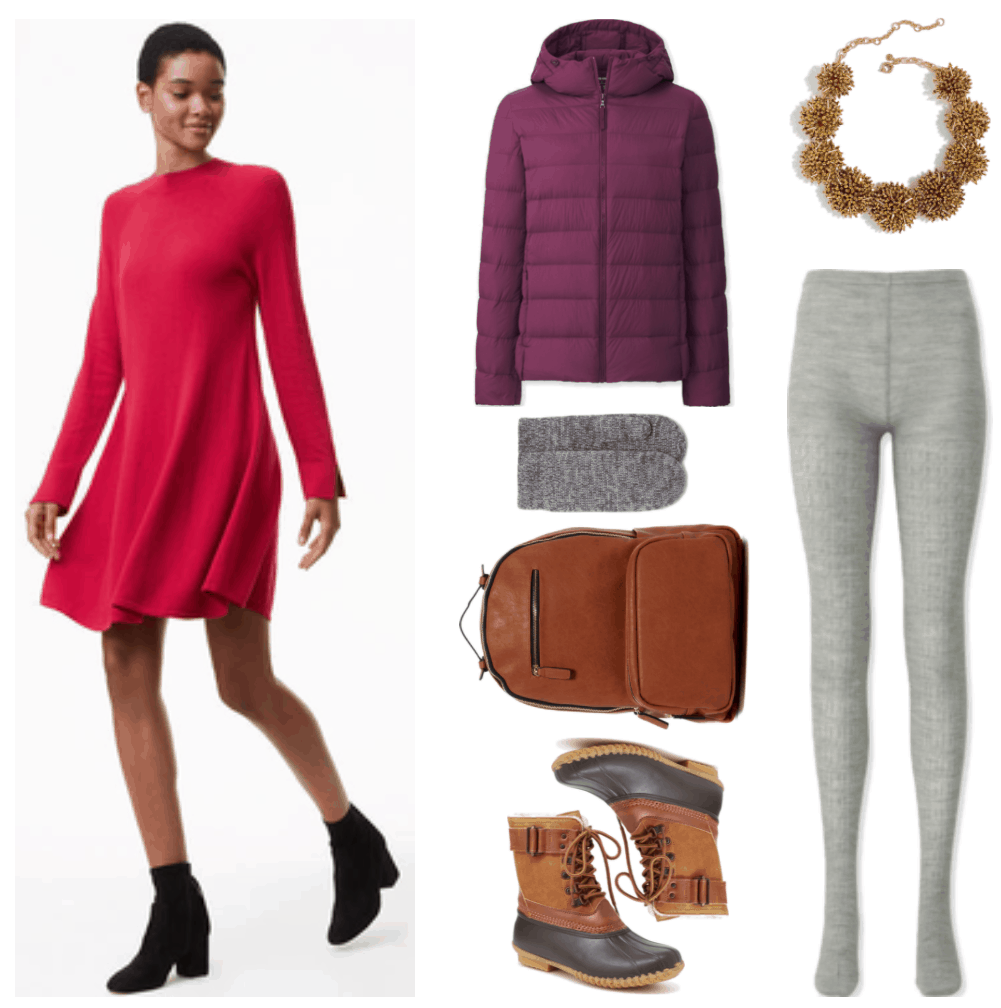 Products:
For days when the weather is really miserable, you're going to need all of the warmth you can get, and this rainy day outfit for school delivers it in a way that is cheerful and colorful, and not at all dreary.
Put on a mock-neck sweater-dress in an uplifting shade of red, as well as a pair of light gray cable-knit tights. (These ones, from Uniqlo, feature their Heattech technology to keep you super warm.) Next, put on a fun gold "pom-pom" statement necklace for a little something unexpected.
Now for the functional pieces. Preppy duck boots will not only keep your feet nice and warm, but will also look great with a variety of different looks. A purple down parka will keep the bad weather at bay, while making for a nice change from the usual dark outerwear colors.
Finally, slip on a pair of cozy heather-gray mittens, and grab a stylish cognac-brown faux-leather backpack to finish off the ensemble.
Rainy Day Outfits for School: Outfit #5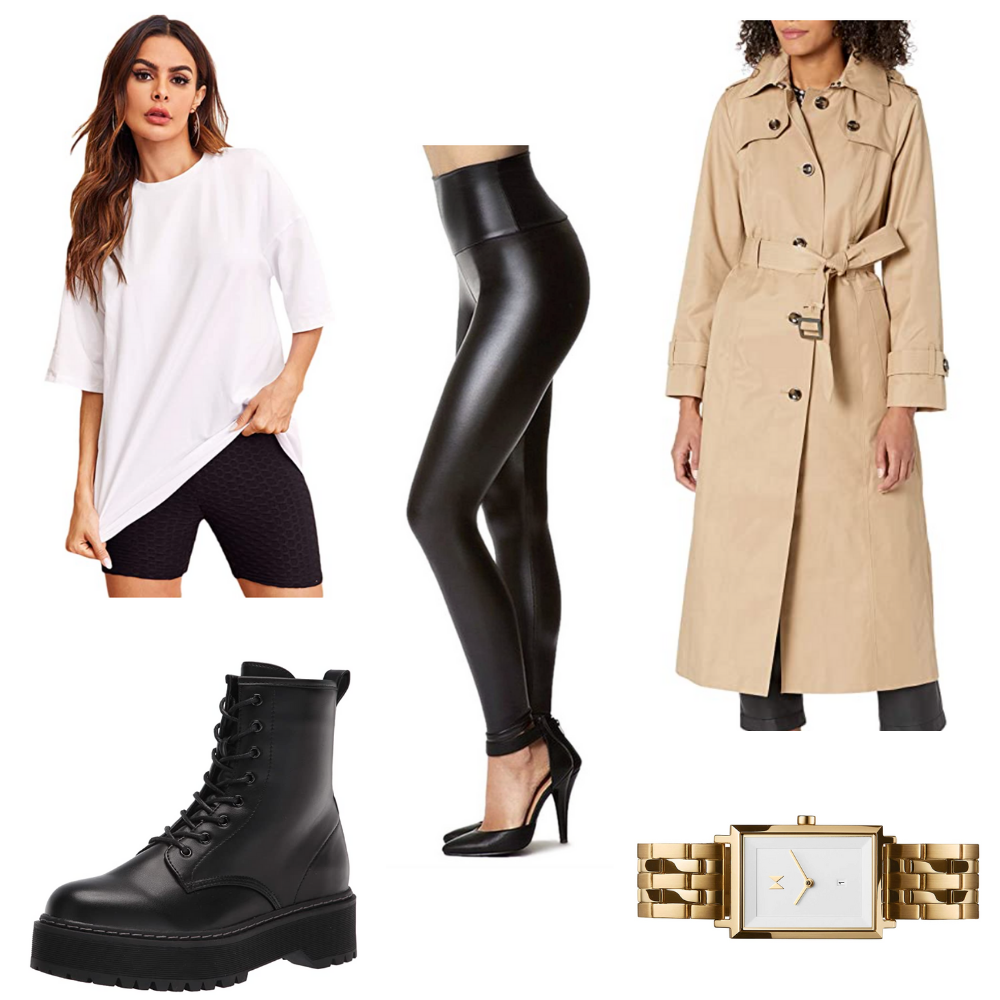 Products:
A classic trench coat is a wardrobe staple and is perfect for keeping you dry — and stylish — on rainy days. For this cute outfit, we paired the trench with faux leather leggings, an oversized t-shirt, combat boots, and a glam gold watch. This outfit would look great on campus but could also be worn out to lunch with friends or even transition into the night.
I hope that these rainy day outfits for school have shown you how to dress for cold, rainy weather in a sleek and stylish way. Stay warm out there! Thanks for your question!
Do you have a fashion question? Send it to us!
Is there something in your closet that you want to wear but have no idea how to style? Do you need advice on what to wear to an upcoming event? Do you have a specific fashion conundrum?
If you have a fashion-related question that you would like to see answered in this column, simply email it to askcf @ collegefashion.net, and one day you might see your question answered right here on the site!
What do you think?
Do you live in a place with a cold and rainy fall and/or winter season? If so, what do you wear to stay warm and dry, yet stylish? What are some of your go-to pieces for cold and rainy weather?
Let me know in the comments!
If this article gives value to you, consider the related posts below;