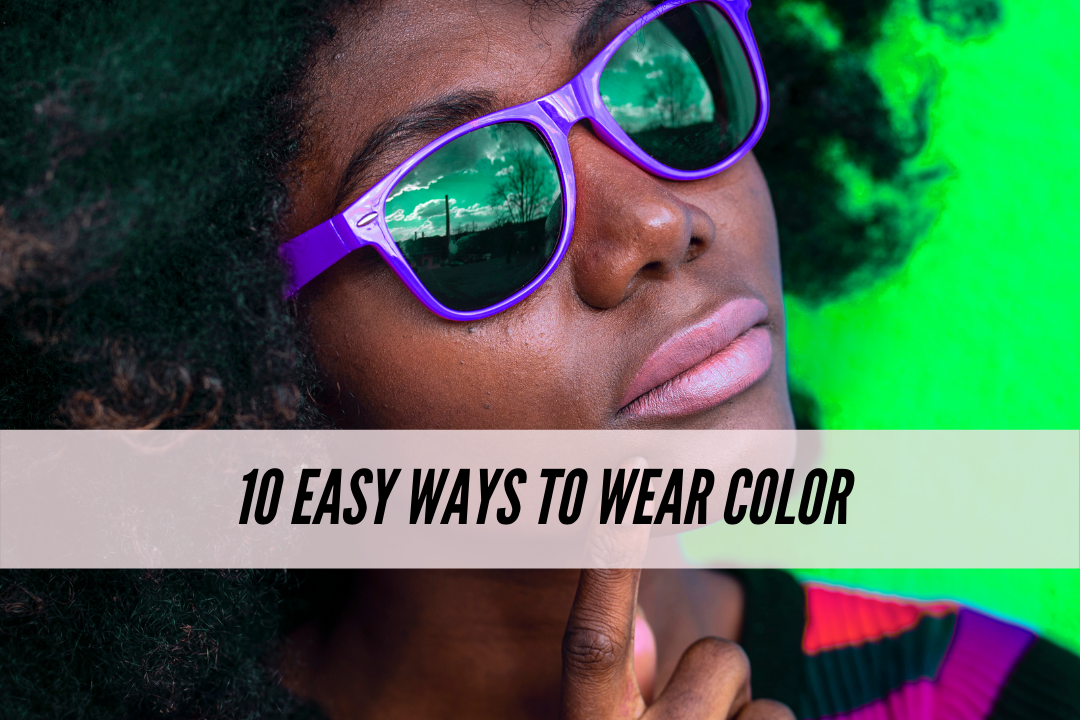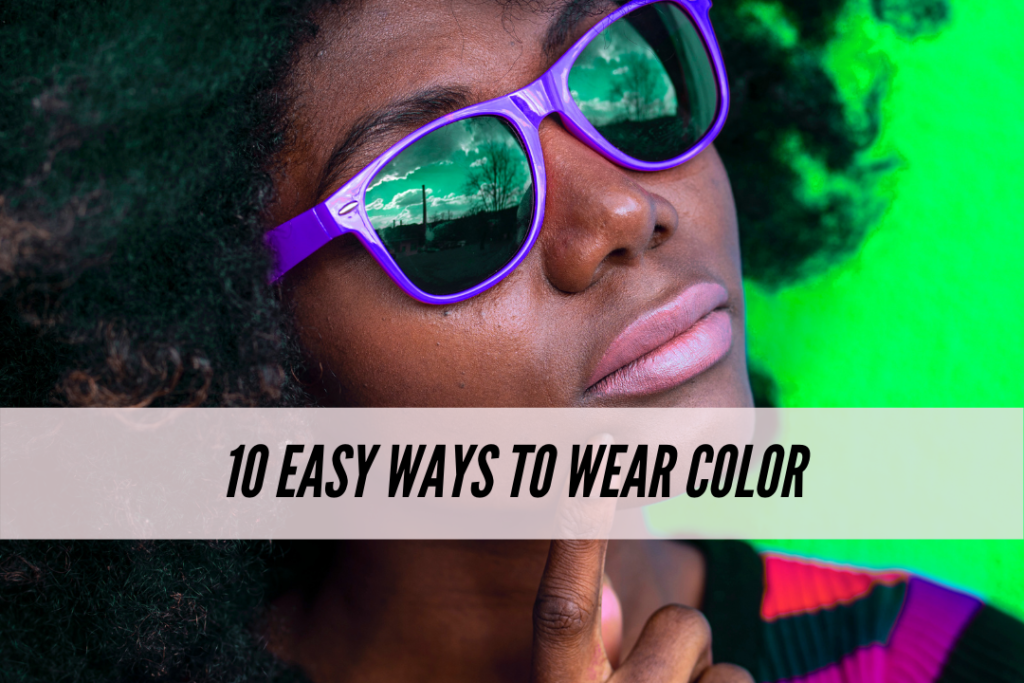 I recently received an email from a reader wanting to know how to add color to an outfit without channeling the psychedelic 1960s or Bozo the clown.
In truth, color is severely lacking in many wardrobes, and it's such a shame. Wearing color can do amazing things for your skin tone, hair color, and overall appearance. While basic black will forever be a wardrobe staple, adding in a few more shades can spice up your wardrobe and add interest to your look.
Colorful clothes are also a hot spring trend, so wearing color is something worth learning how to do. Even if you think you can't wear bright clothing, it's much easier than it seems.
Here are ten easy ways to add some color to your outfits.
Start small and work your way up.
If you don't normally wear lots of color, don't dive in head first by throwing on the first five bright pieces you see. If you go this route, you'll likely hate your look and swear of colors all together. It's better to start small with one colorful piece and build from there.
Trade in basic black for a different neutral.
I'm not knocking the color black – it's one of my favorites and makes a chic base to any outfit. That said, I don't believe in using any color as a wardrobe crutch. If you wear black because you can't think of anything else to wear, then you need to find a new neutral. I'm a fan of navy blue and nude lately, but gray and brown are perfect options too.
Choose colors that work with your skin and hair.
If you haven't already, use my guide and find out what colors are most flattering on you. Once you know what looks good on you, it's 1000 times easier to wear color without fear. Remember: start small. Incorporate one or two of those colors into your wardrobe, get used to them, and build from there.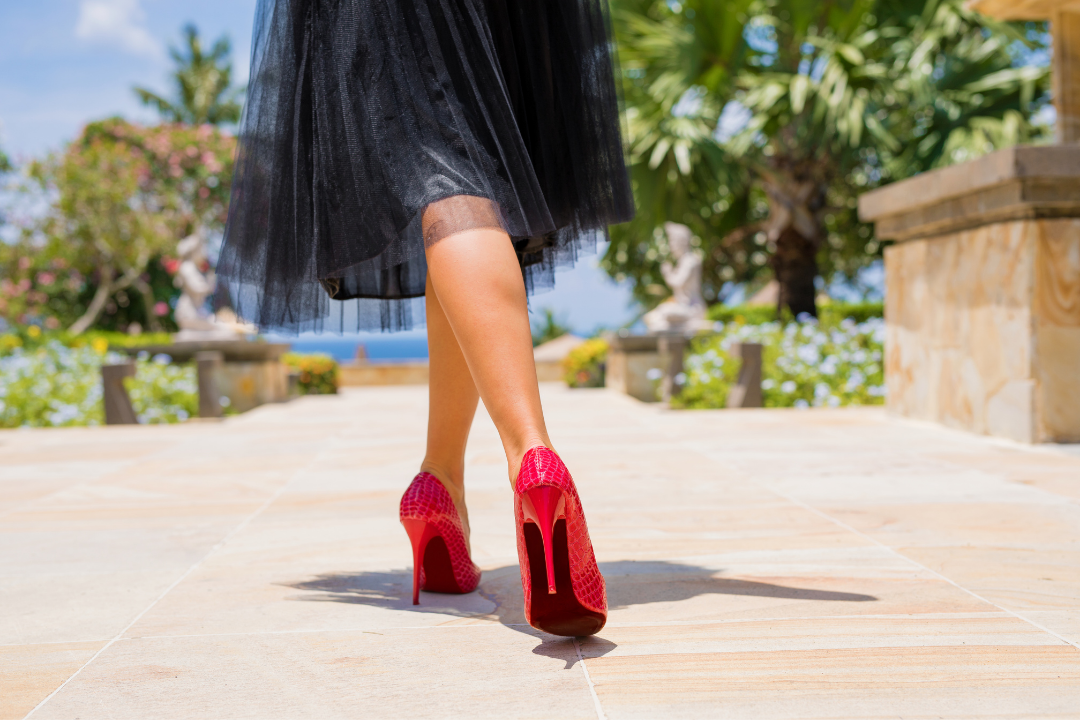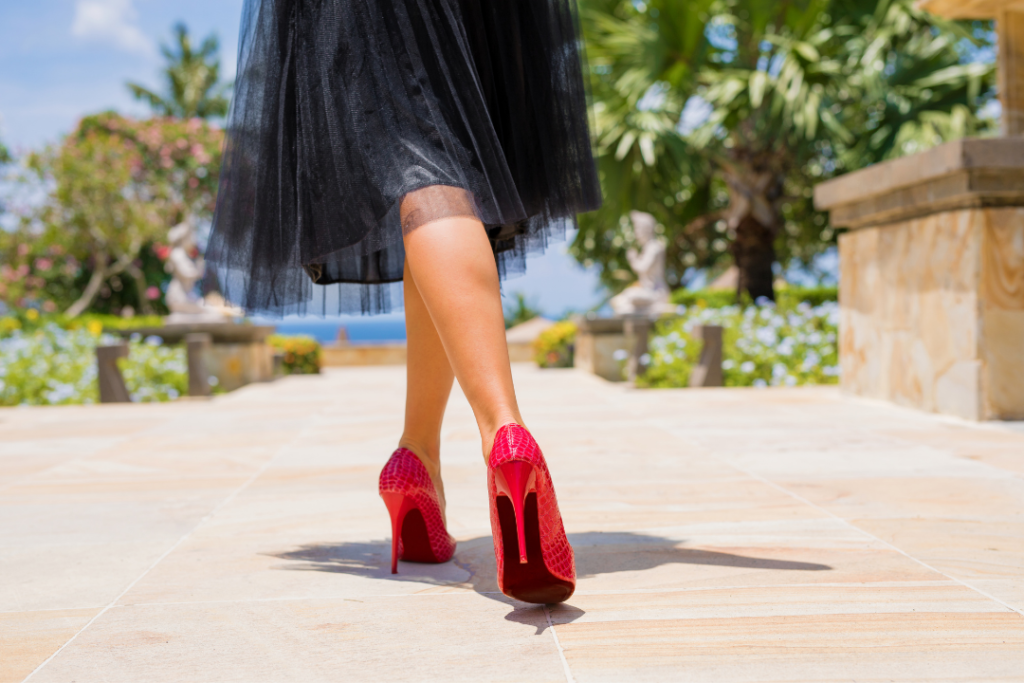 Wear a bold shoe.
This is one of my favorite ways to wear color lately. I just bought a pair of neon pink ballet flats from Forever 21, and have been wearing them every chance I get. The great thing about bright shoes is that they jazz up even the most boring outfit, and they always stand out in a crowd. Red shoes with a little black dress or hot pink heels paired with jeans and a top – either way, you can't go wrong.
Add a bright handbag.
Bright bags also a hot trend and another simple way to make your outfit more colorful. While black and brown handbags are super popular because they "go with everything", bright ones are just as versatile! The trick to picking the right colorful bag? Make sure the shade meshes well with the rest of your wardrobe. A cobalt blue purse would be perfect if you wear lots of cool colors like gray and lavender, while a marigold bag would be a great choice if you normally rock shades of brown and other warm tones.
Wear a multi colored dress.
If you're totally clueless when it comes to putting colors together, find a colorful dress and let it choose your color palette for you. Just pair your frock with neutral shoes and a coordinating bag. The dress will be the focus of your outfit, and you won't have to worry about mismatching.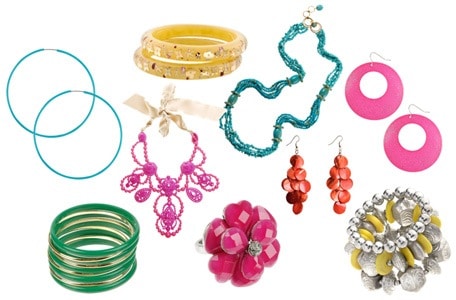 Sport colorful jewelry.
If you watched the Oscars, you must have seen Angelina Jolie's emerald green earrings. They were strikingly beautiful against her all-black ensemble. This is an example of expert styling at work. Paired with a neutral outfit, a bright piece of jewelry can really stand out and be seen. Try this yourself by choosing one colorful piece – perhaps a chunky turquoise bracelet or bright cocktail ring, and wearing it with a simple top/jeans combo or a little black dress.
A bright top + denim = love.
I love colorful tops. They are one of the easiest ways to experiment with color, and they're fairly inexpensive as far as clothes go. When paired with denim, a colorful top has met it's perfect match. This spring, try a hot pink tank worn with white skinny jeans and heels, or a drapey yellow top with denim shorts.
Two words: colorful accessories.
Bright accessories rock because they're cheap and easy to experiment with. A bright red belt over a black dress would look adorable. What about a cerulean scarf paired with your favorite neutral spring jacket? Bright tights are also a fun way to enliven your look, and they're very on-trend as well.
Just have fun!
My final tip is to use color to express your personality and add some fun to your look. While it's nice to try and dress well, when you wear color, experiment and enjoy yourself! Even if you don't match perfectly, at the end of the day, it's just fashion. We're not saving lives here. 😉
Well, you've seen my tips for wearing more color – now I want to know what you think! Does your love for everything technicolor rival Rainbow Bright's, or are you a basic black kind of girl? What colors do you wear the most?