Wondering what to wear to Taylor Swift's The Eras tour? This post shares tons of Eras tour outfits.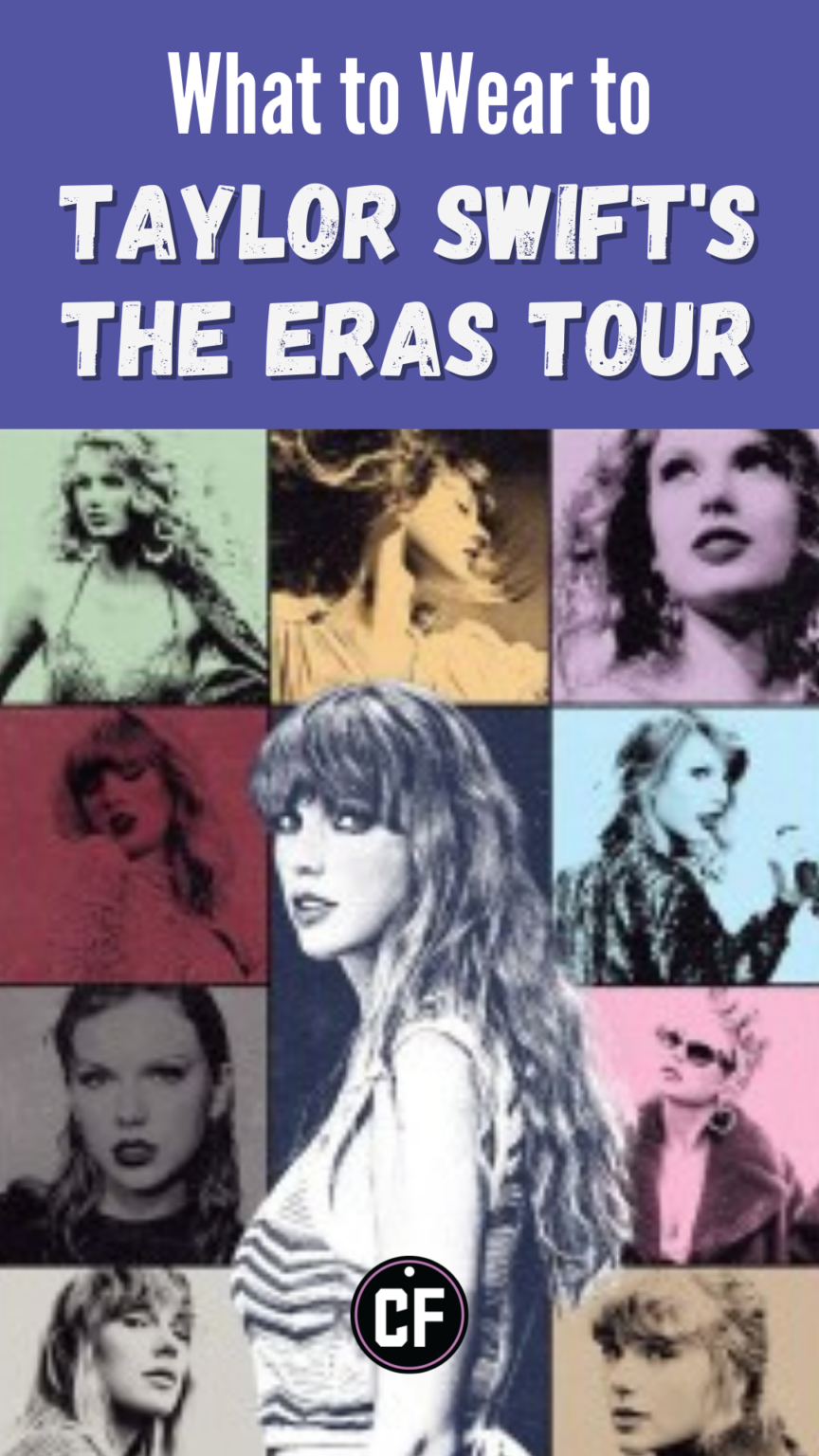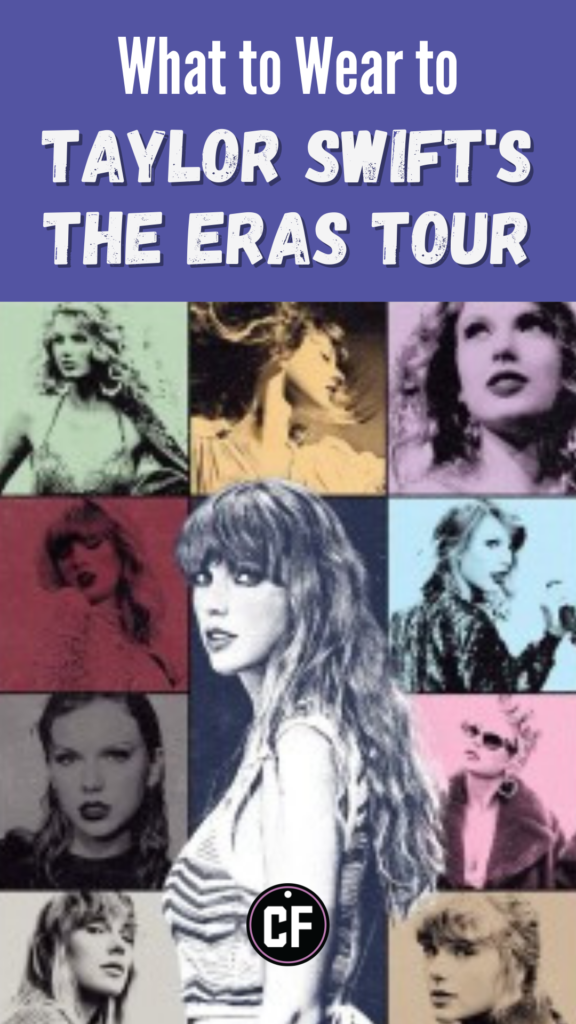 Swifties, the time has come! Finally, after the theft of her masters, a pandemic, and the great war on Ticketmaster, Taylor Swift is back on tour.
Taylor has not been on tour since her Reputation Stadium Tour in 2018. Since then, she has released four (yes, FOUR!) brand new albums and two re-recordings (as of this writing).
So, to celebrate The start of The Eras Tour, I'm giving you ideas on what to wear to The Eras Tour. Read on for tons of Eras tour outfit inspo!
Related reading: How to Copy Taylor Swift's 2023 Street Style Outfits
About Taylor Swift's The Eras Tour
Taylor's new tour is called The Eras Tour, in which she plans to celebrate her entire career with her fans. She has described it as a "journey through all of her musical eras". Not only will we get the chance to relive previous eras and live through the ones that never got the opportunity to have a tour due to the pandemic (Lover, folklore, and evermore), but we will also get to celebrate Midnights and her re-recordings.
And what about the incredible guests? For the US leg of the tour, she has lined up Paramore, HAIM, Phoebe Bridgers, Beabadooobee, Girl in Red, Muna, Gayle, Gracie Abrams, and Owenn.
Tomorrow will be the first day of the US leg of The Eras Tour and Swifties everywhere are getting ready for it. From exact replicas of her marching band costume from the Red tour to romantic Juliet dresses inspired by Love Story, to mirror balls and bejeweled corsets, Swifties are letting their creativity flow excitedly.
Related reading: 9 Taylor Swift Outfits Inspired by All Her Album Eras
Disclaimer
Concerts are awesome, but they're not the most comfortable. They involve a lot of people, a lot of walking, and a lot of movement. Most of us just want to be able to move around and be as comfortable as possible. And costumes are fun, but they might not be the most practical. So, don't expect this to be a list of costumes and how to create replicas. I'm taking inspiration from all the eras and creating Eras tour outfits based on them.
I'm also basing this on the location of my concert date: L.A. during the summer. I'm creating looks with this in mind. Take the weather into account when creating your own looks and make tweaks accordingly!
General Tips for What to Wear to a Concert:
Before we get to the actual looks, here are some general tips to take into account when you create your Eras tour outfits:
Be mindful of others. If you are wearing hats or headpieces of any kind or bringing posters, remember there will be people behind you. Don't wear or bring anything that could potentially be too big to obstruct someone else's view.
In most venues, ONLY clear bags are allowed, and there's a size limit. Check if the venue you are going to is one and abide by their specifications.
Maybe this makes me old, but I think concert earplugs are essential. For your ear health and/or if you have sensory overstimulation concerns. Please, take care of yourself and get some.
Most venues are cashless. Again, check the website of your venue first and prepare accordingly.
As much as I love fashion, comfortable shoes should be a priority, no matter the costume. You want to be able to walk in case of an emergency.
Again, maybe my inner old person is showing here, but take a jacket with you. Even an overshirt is fine, but you need something to put on when you leave the venue. You'll thank me later!
Have as much fun as you can but be mindful of others. We are all there for the same purpose: to see Taylor and celebrate her music, so be kind to everyone around you.
Now with that out of the way, let's get to the outfits!
The Eras Tour: A Fashion Guide
Eras Tour Outfit Inspired by Taylor Swift (Debut)
Oh, Debut Taylor. I still remember the very first time I heard her. I was on my family's computer and found the Our Song music video. And I loved it. Taylor's first album is less sweet than Fearless and Speak Now. She had a more aggressive sound under the country production.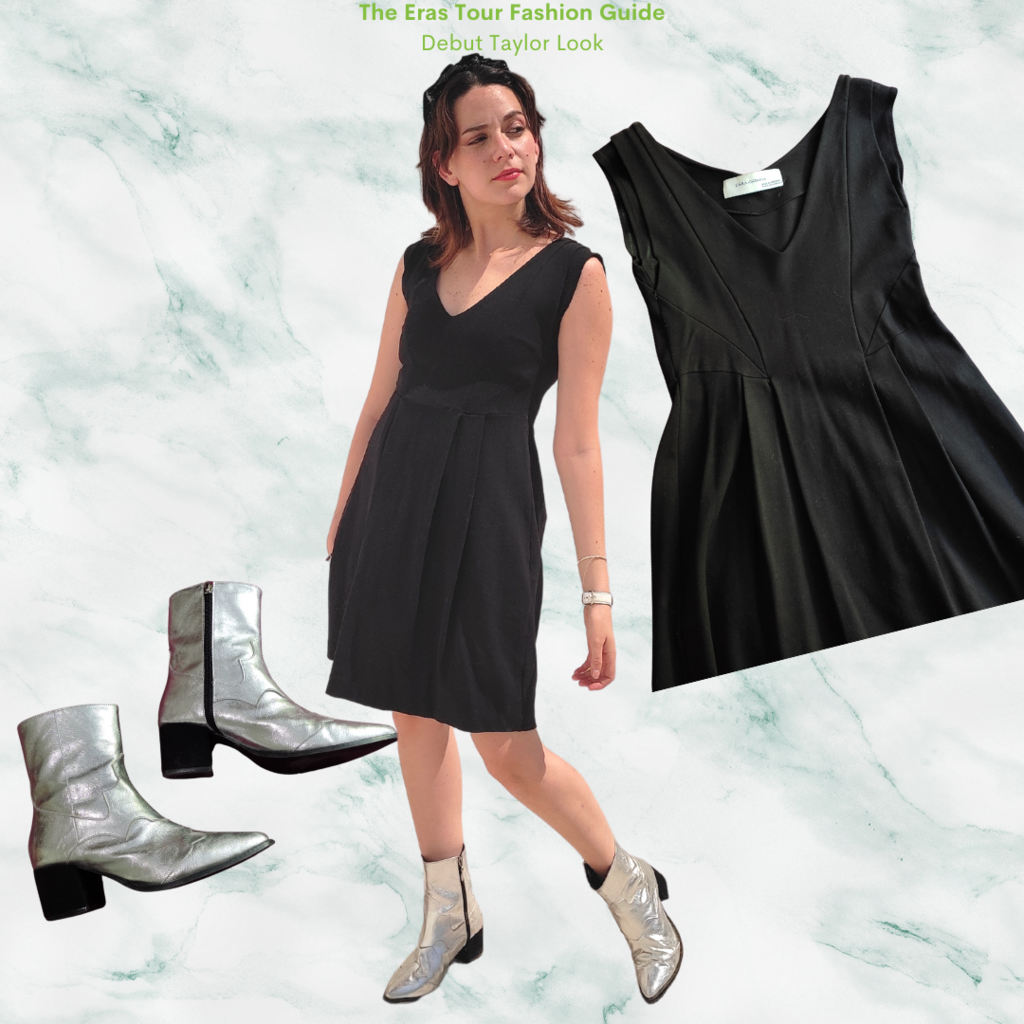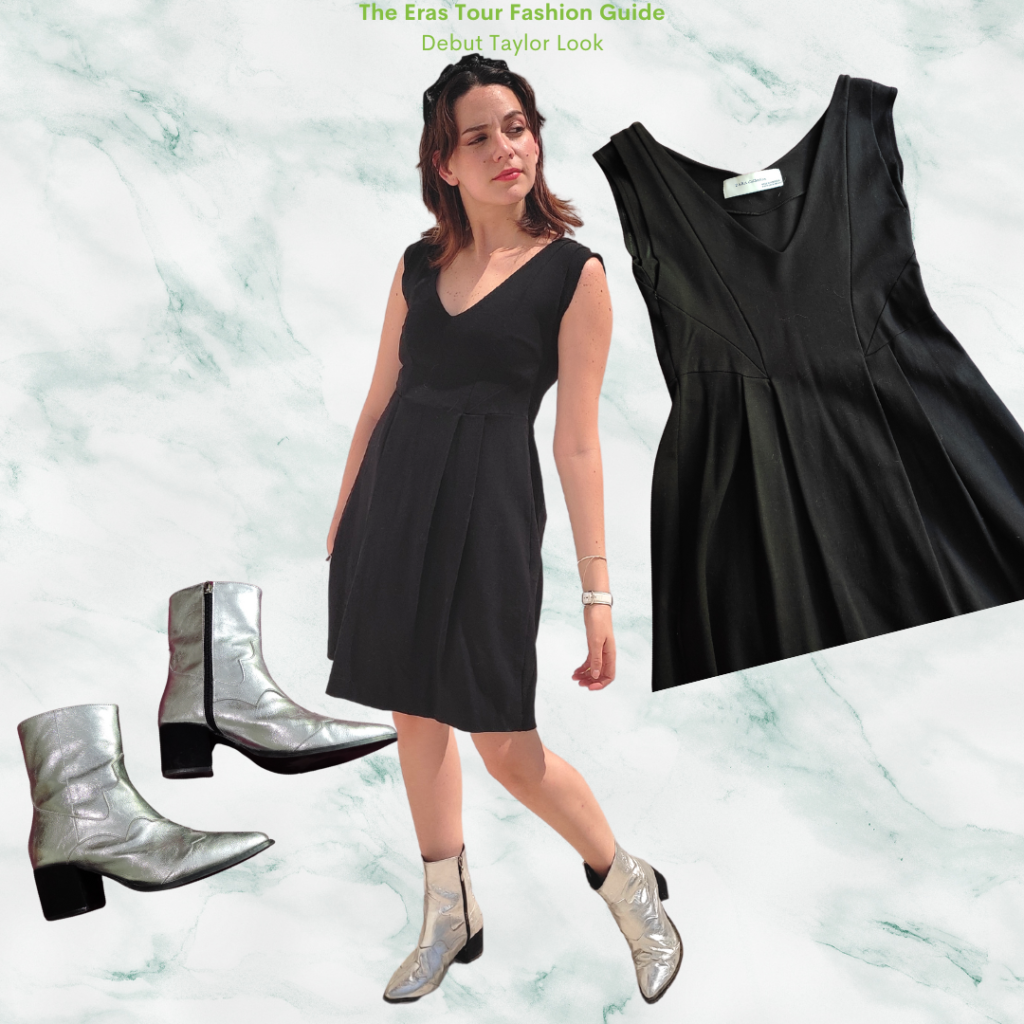 For my Debut Taylor look, I wore a black A-line dress. If you have been reading my posts for a while, you might remember this dress from my very first Taylor Swift post. The dress has a V-neck, like most of Taylor's dresses during that era, and it kind of resembles the one she wears in the Our Song music video.
Debut Taylor was still Taylor, so she had a lot of glittery, shiny things all through that era. I wanted to emulate that with my shoes. That's why I decided on my silver cowboy boots to accessorize.
Taylor Swift Debut Album Mood Board: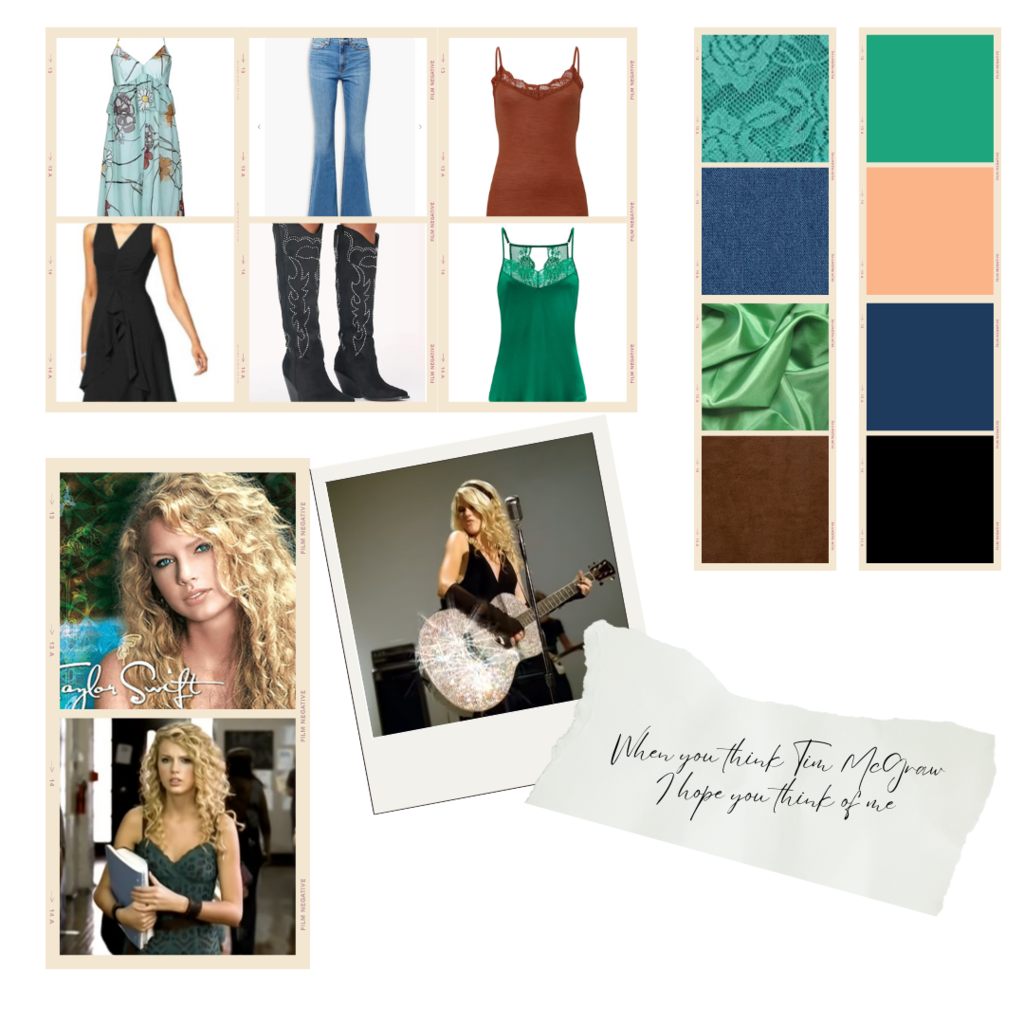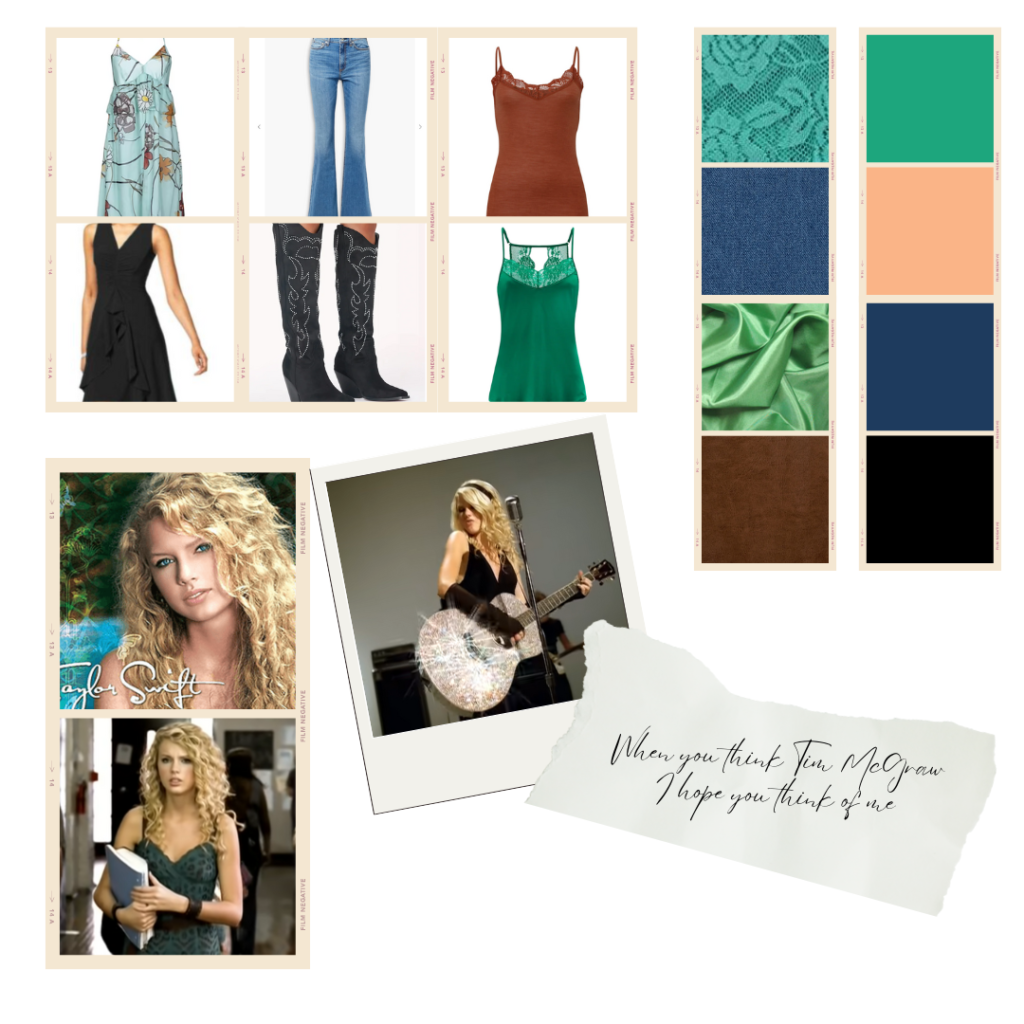 To create a look inspired by Debut Taylor, you will need two things: flowy dresses in dark colors and cowboy boots. If you decide this is the look for you, go for the color scheme above and make sure your cowboy boots won't hurt your feet.
Eras Tour Outfit Inspired by Fearless (Taylor's Version)
Fearless (Taylor's Version) is when Taylor really hit it big. Love Story, You Belong With Me, and Fifteen all came from this album and it is the album that cemented her in the cultural zeitgeist forever.
When someone that is not a Taylor fan thinks of her, chances are this is the era they have in mind. Even more than 1989.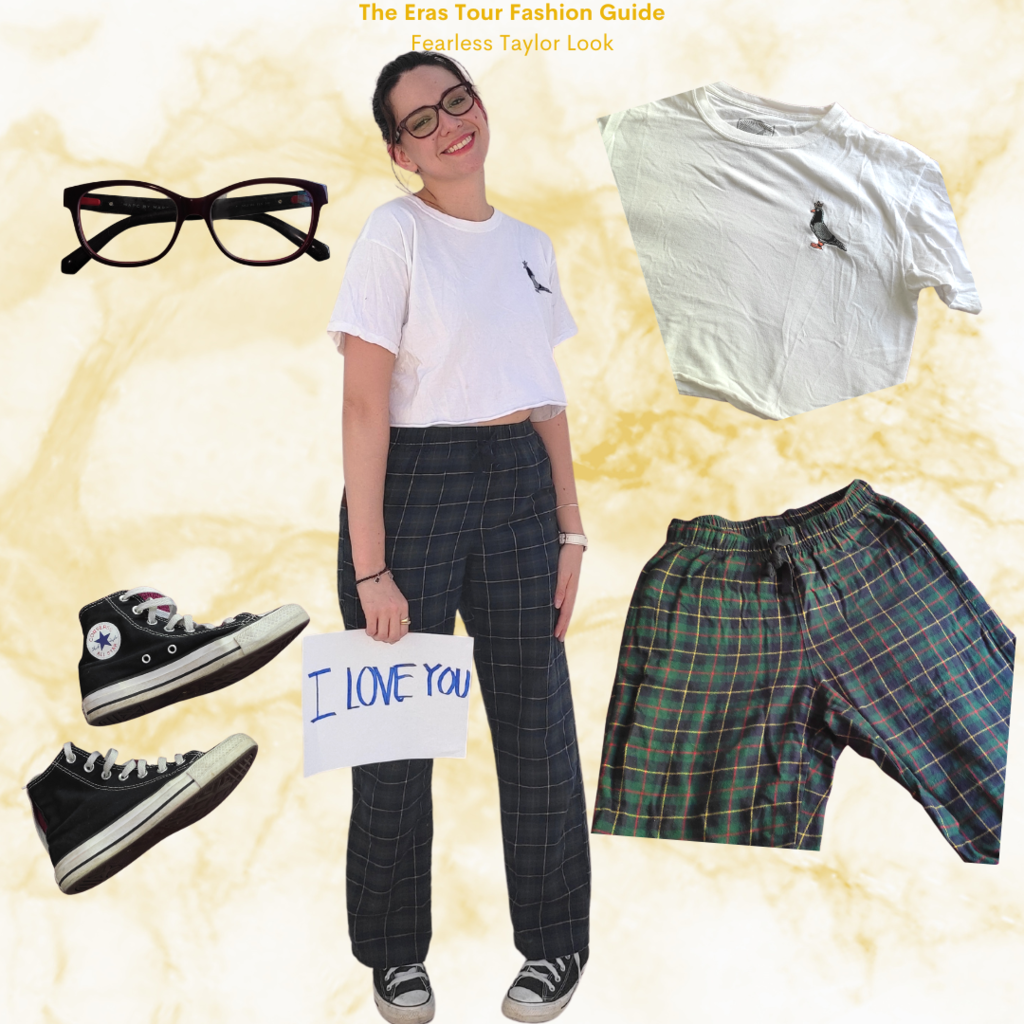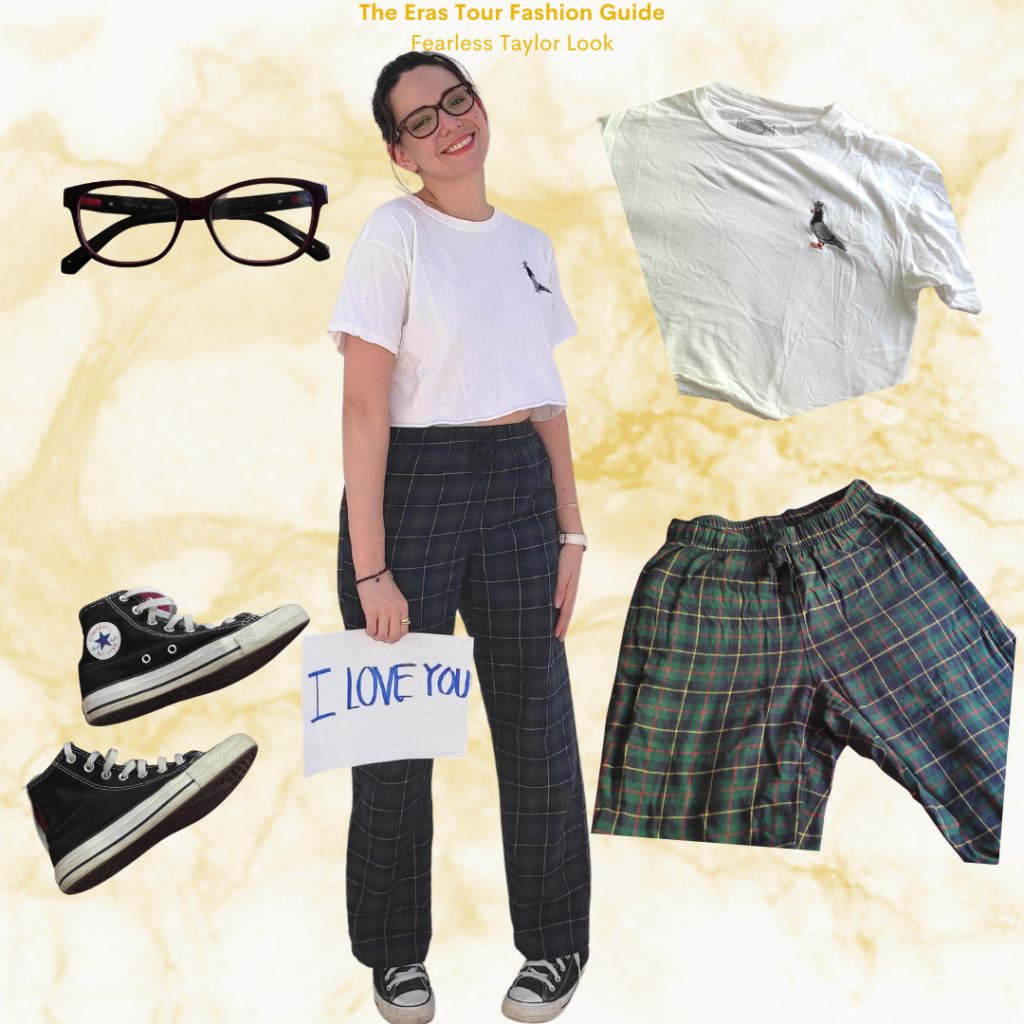 My Fearless Taylor outfit is the only one that is costume-y, and that's only because it's probably the comfiest costume, as it's literally PJs. My inspiration for this look comes from the You Belong With Me music video.
For this look, I wore a pair of plaid pants and a white t-shirt with a small pigeon patch. Accessorizing was easy for this one since I already wear glasses and they have a thick frame. Finally, sneakers for this one are a must, in honor of the lyrics "she wears high heels/ I wear sneakers", so I went with a pair of black high-top Converse. I made an "I Love You" note as a final detail.
Taylor Swift Fearless Mood Board: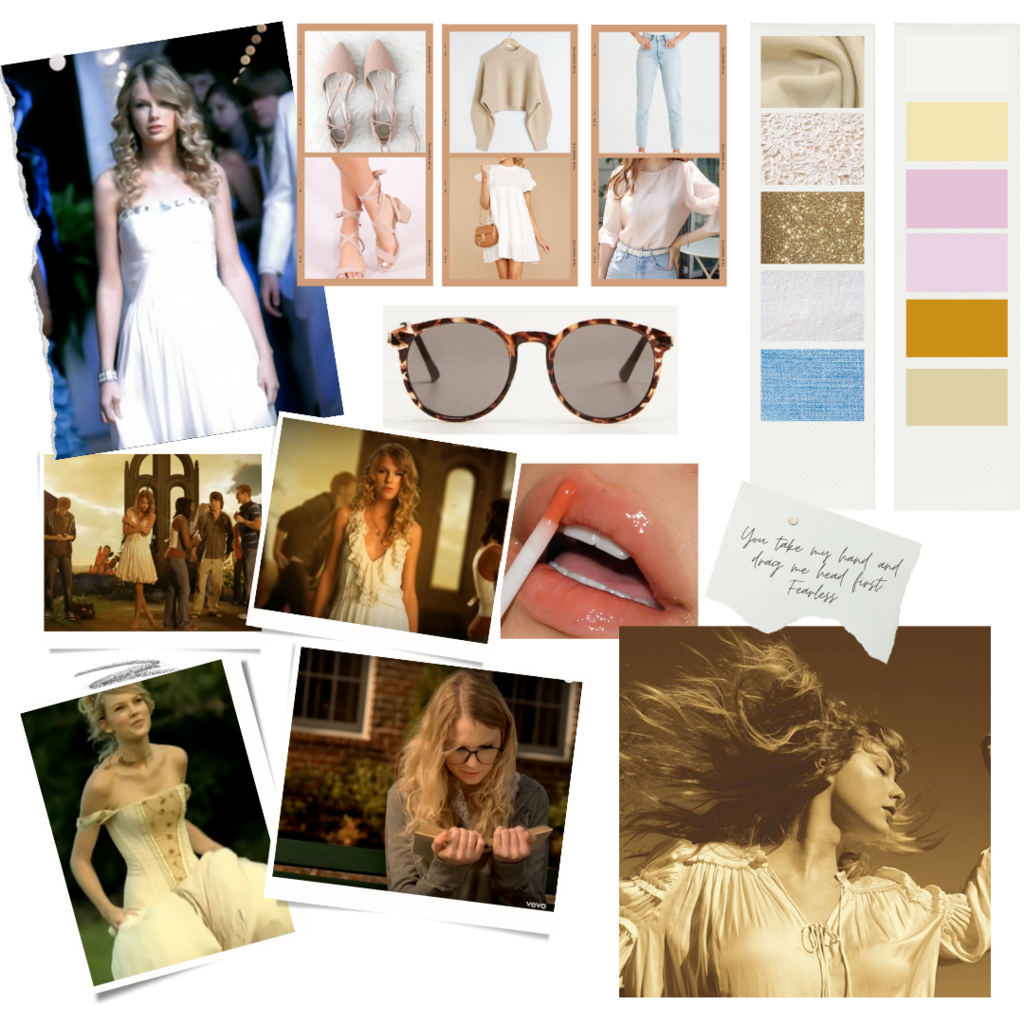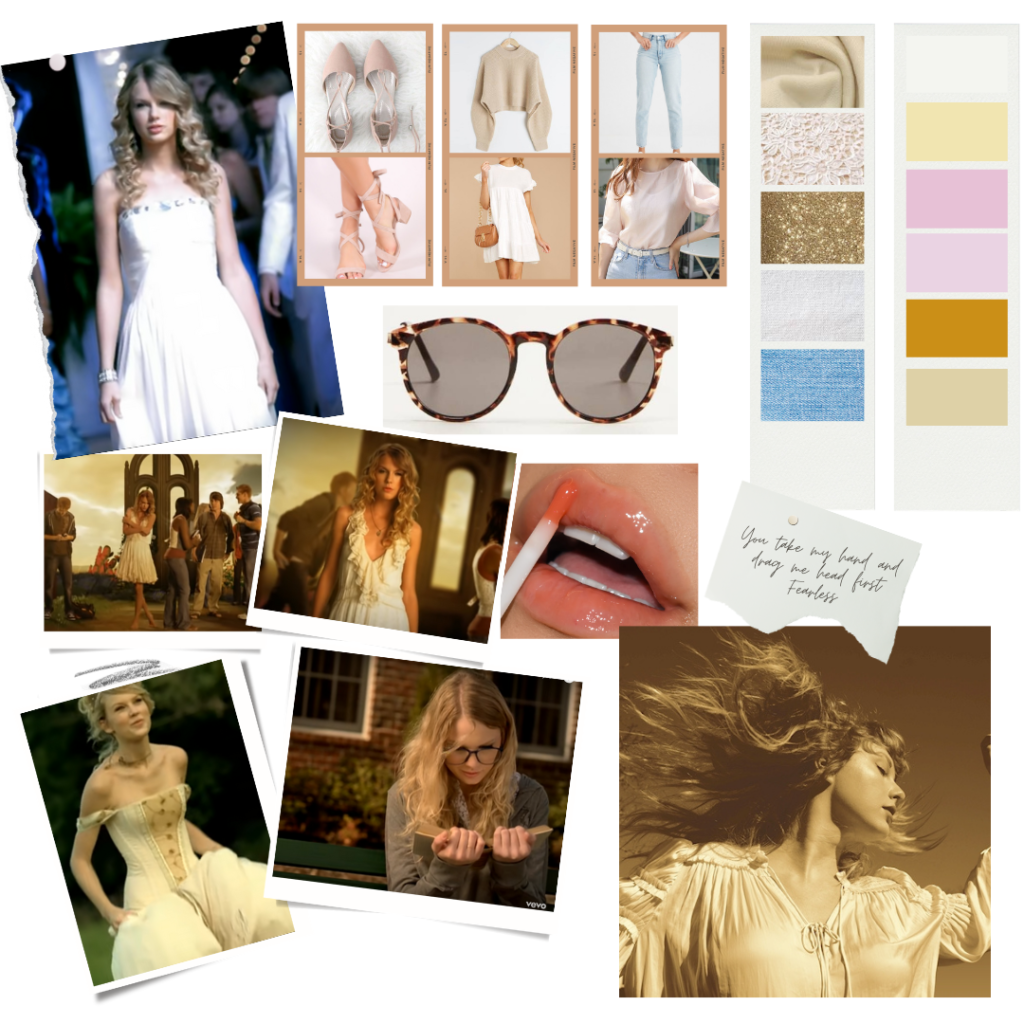 If you want to do a Fearless-inspired look, I highly recommend this one, as it is easy to recreate. You can even DIY your own Junior Jewels t-shirt.
But if you want a more fairytale look, wear flowy midi skirts or dresses in off-white or white. Maybe add some ballet flats, to emulate her being barefoot a lot through this era, or you could always go with cowboy boots.
Eras Tour Outfit Inspired by Speak Now
Speak Now is a beautiful album infused with literary elements and tropes. Speak Now is the first Taylor album I physically owned, and it has some of my favorite songs ever, like Mine and The Story of Us.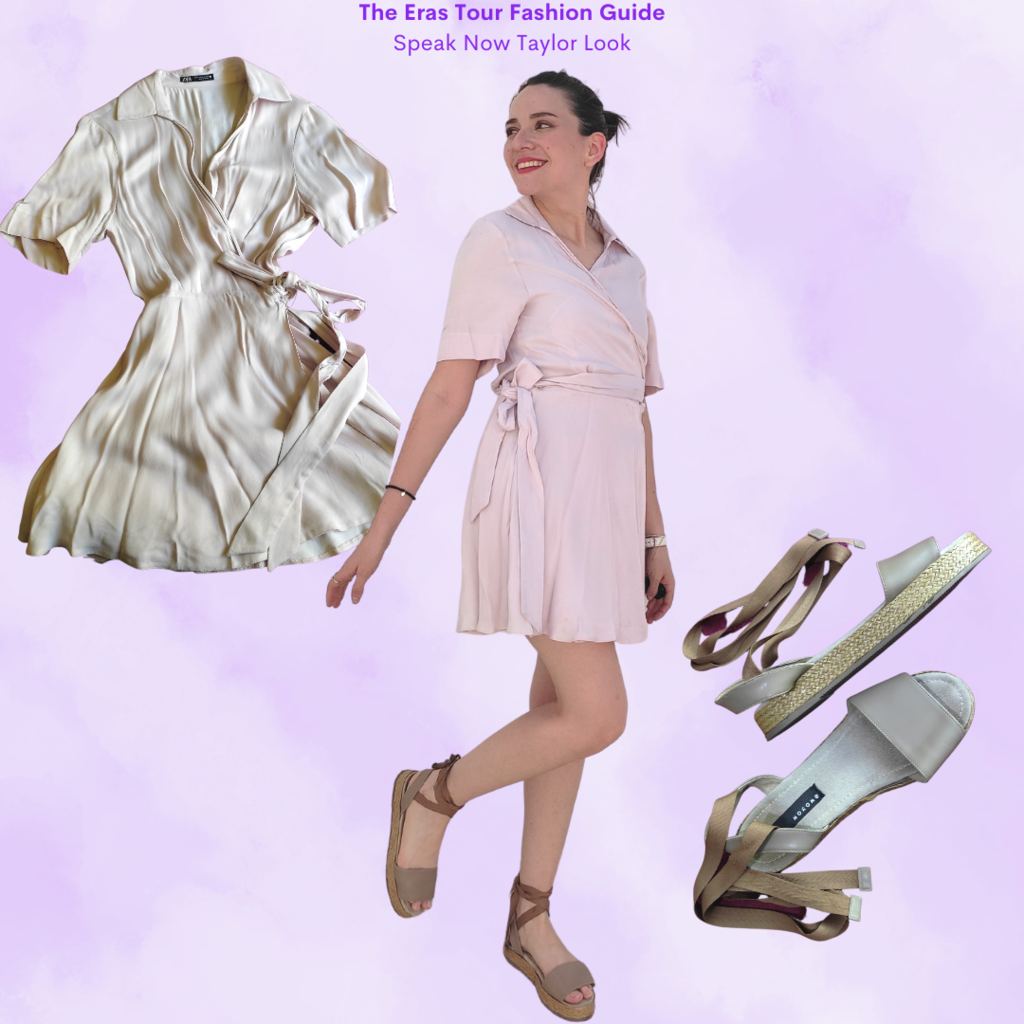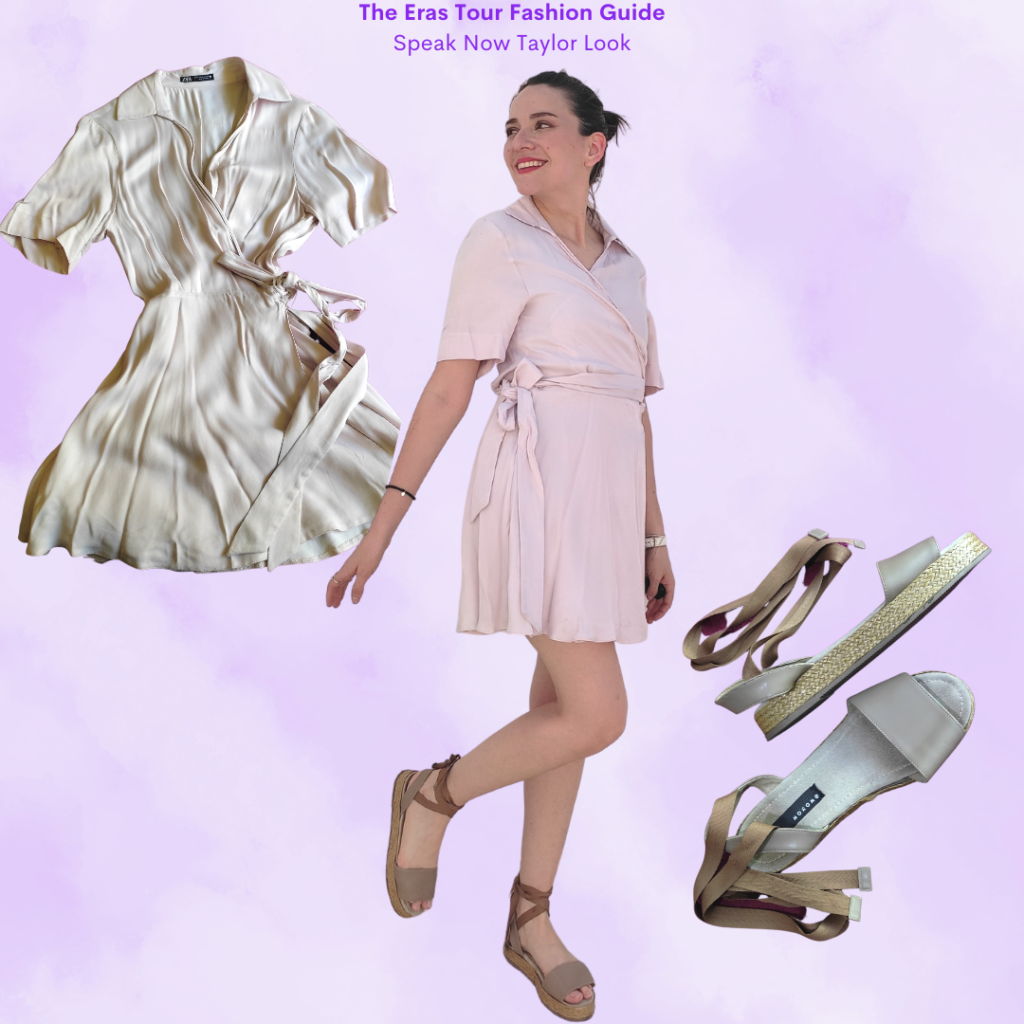 For my Speak Now Taylor outfit, I decided to emulate the purple associated with the album. I wore a light purple silk wrap dress. This dress is very flowy and feminine. Again, Taylor spent a lot of time barefoot during this era, so I went with a pair of beige espadrilles to pay homage to this.
Taylor Swift Speak Now Mood Board: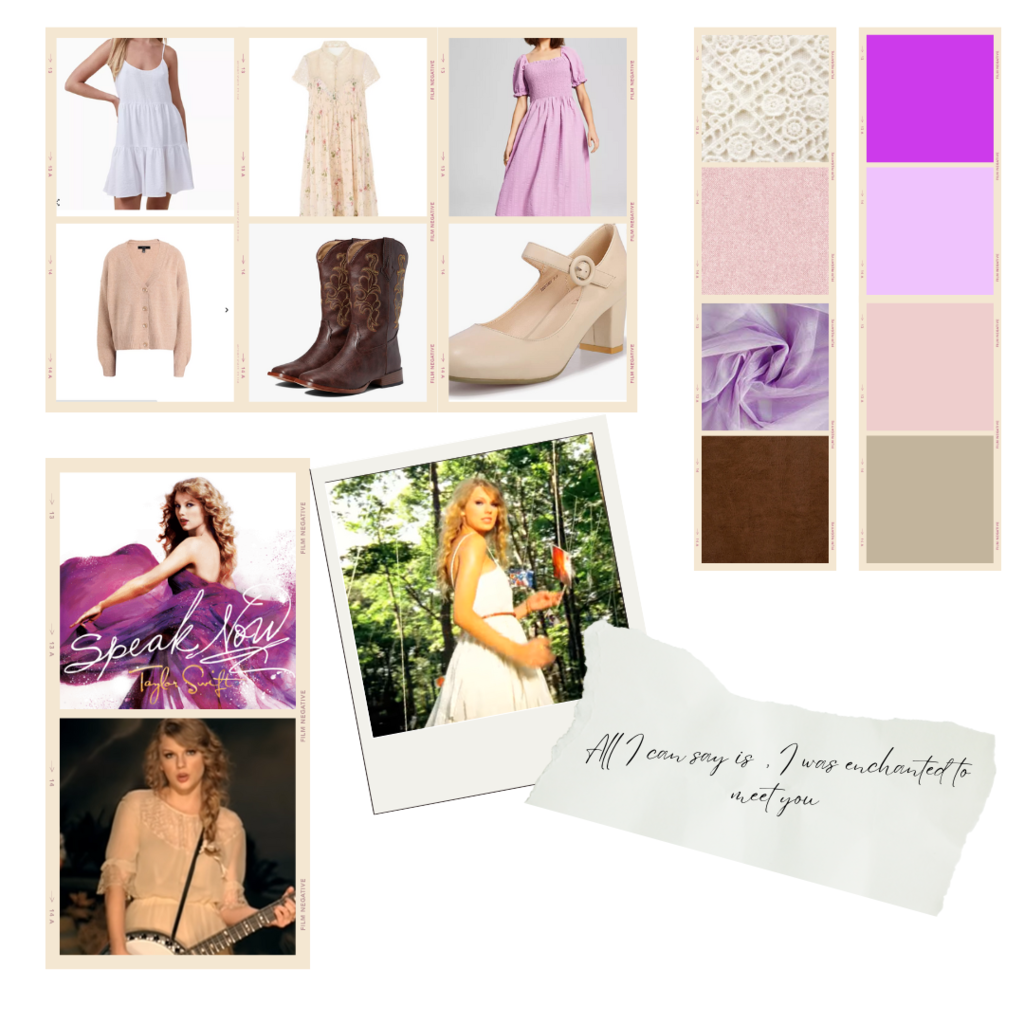 Speak Now Taylor is full-on feminine country magic. I went with this type of outfit as it is comfortable, but you can try a midi tulle dress or skirt in nude, pinky colors, or in shades of purple. Floral shirts, crochet detailing, and long sweaters are all perfect for this era.
Again, cowboy boots are still an option.
Eras Tour Outfit Inspired by Red (Taylor's Version)
When I say that Red (Taylor's Version) is a fan-favorite, I mean it. It was considered Taylor's best album for years, that is until folklore came along.
But Red is not only loved by fans, it is cherished. The song All Too Well (10 Minute Version) (Taylor's Version) is emblematic of Swifties and the power that music and fans can have.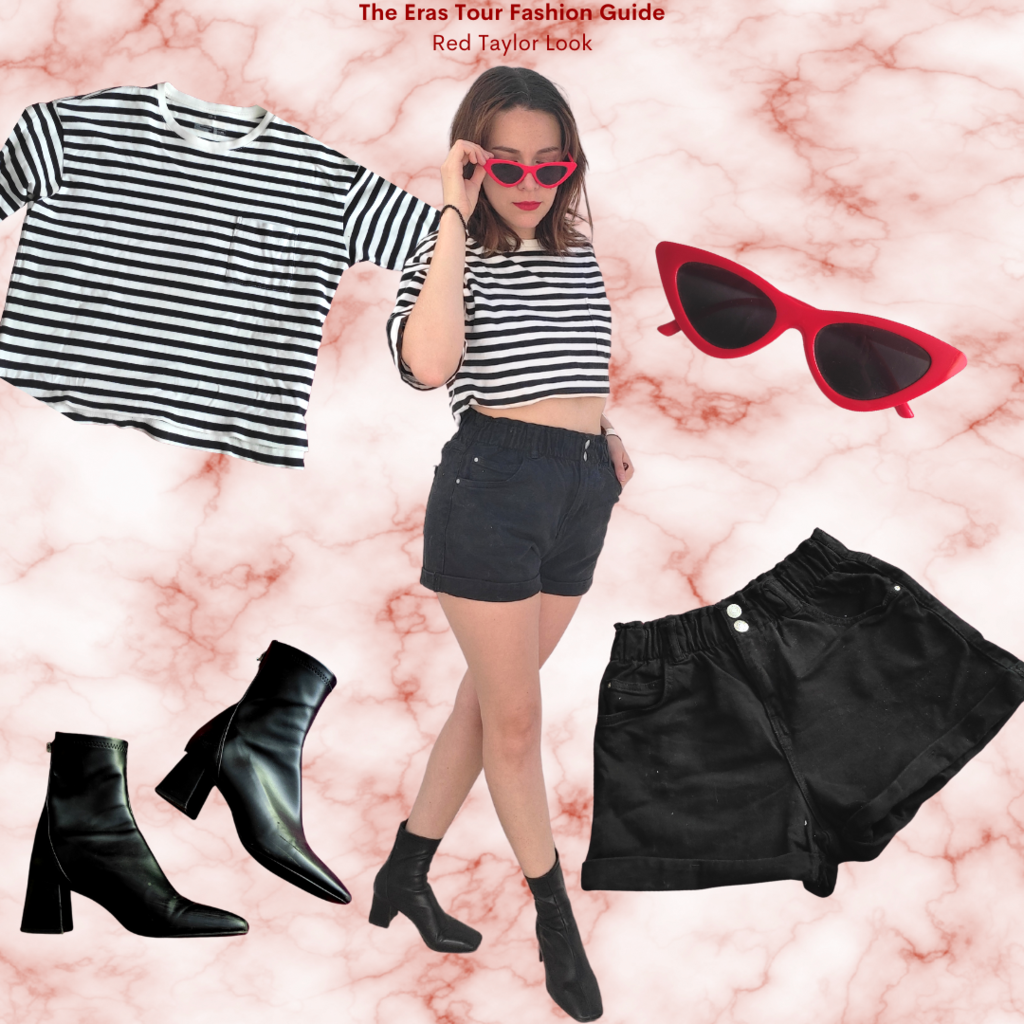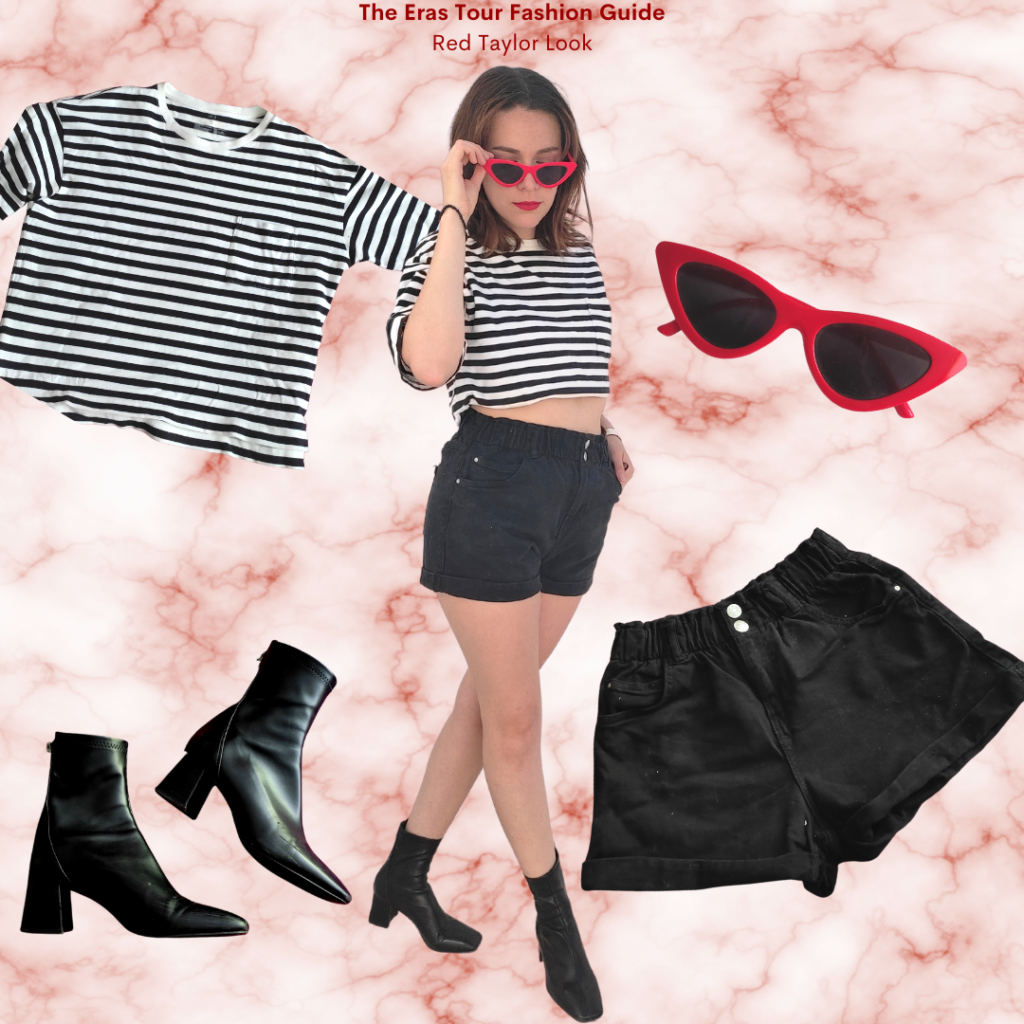 For my Red Taylor-inspired look, I wore a black and white striped t-shirt with a pair of black high-waisted shorts. For shoes, I went with a pair of black sock booties. Finally, I had a pair of red sunglasses to accessorize and used red lipstick.
Taylor Swift Red Mood Board: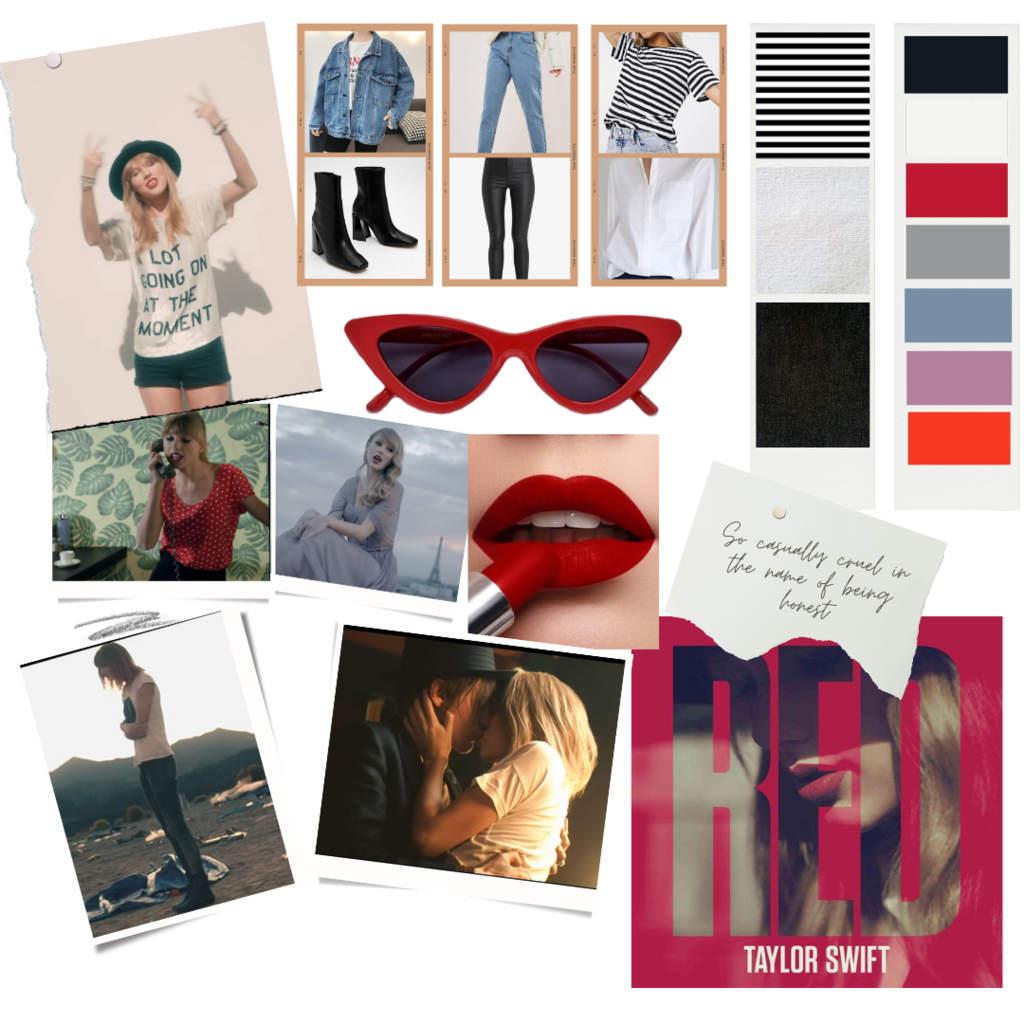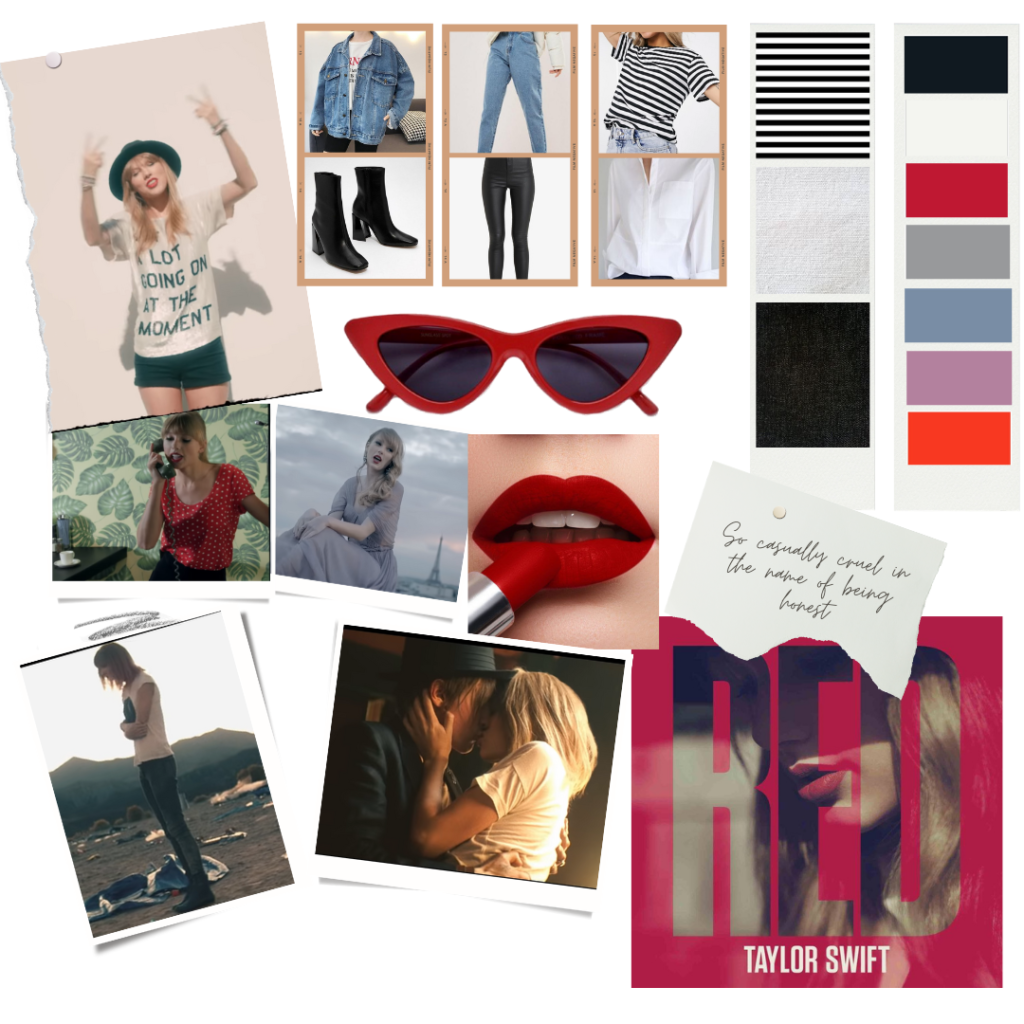 If you want to create a Red Taylor outfit for the Eras tour, I recommend it! I think it is the easiest album to do.
Red has three colors: black, white, and red. Clothing-wise, you have a lot of options with this one: think high-waisted items, striped shirts, white or dark grey t-shirts, Oxford shoes, black booties, retro-looking sunglasses, and, obviously, red lipstick.
You can even add a black hat; just make sure it won't obstruct someone's view of the concert.
Eras Tour Outfit Inspired by 1989
1989 was the first pop album Taylor did, and she smashed it. In this album, she's a lot more playful and sarcastic with her lyrics and her public persona (Blank Space, Shake It Off, We Are Never Getting Back Together), but she also includes beautiful, honest songs like Clean.
During this era, there were a lot of retro visuals and styles, and Taylor wore a lot of '50s and '60s-inspired items.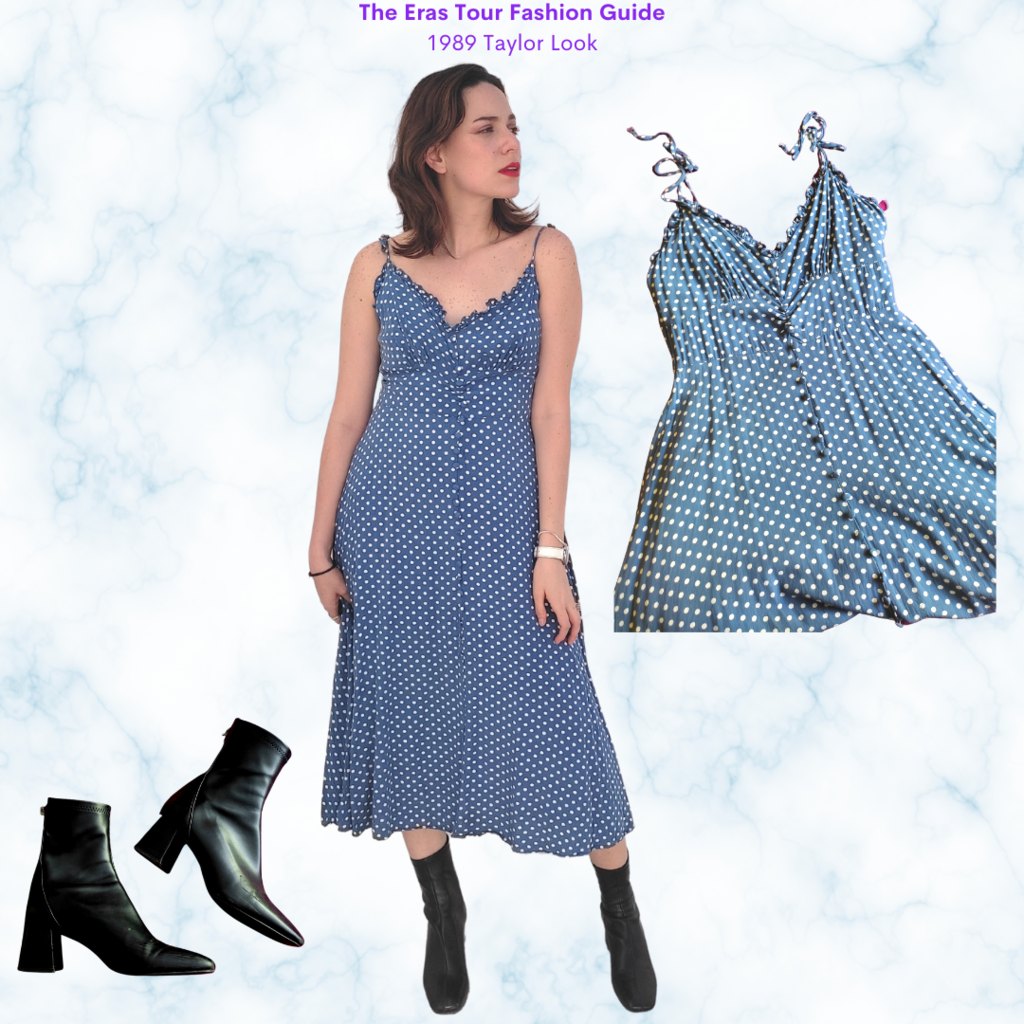 To create my 1989 Taylor look, I kept coming back to the blue dress she wears in the Out of the Woods video. It's so iconic, it got a shout-out in the next era.
I started with a blue, polka dot dress. I figured that with this dress, I could channel the blue, flowy vibe from the video, and the polka dots would bring in the retro style of the era. Again, I used the same black booties from the last outfit and wore a red lip.
Taylor Swift 1989 Mood Board: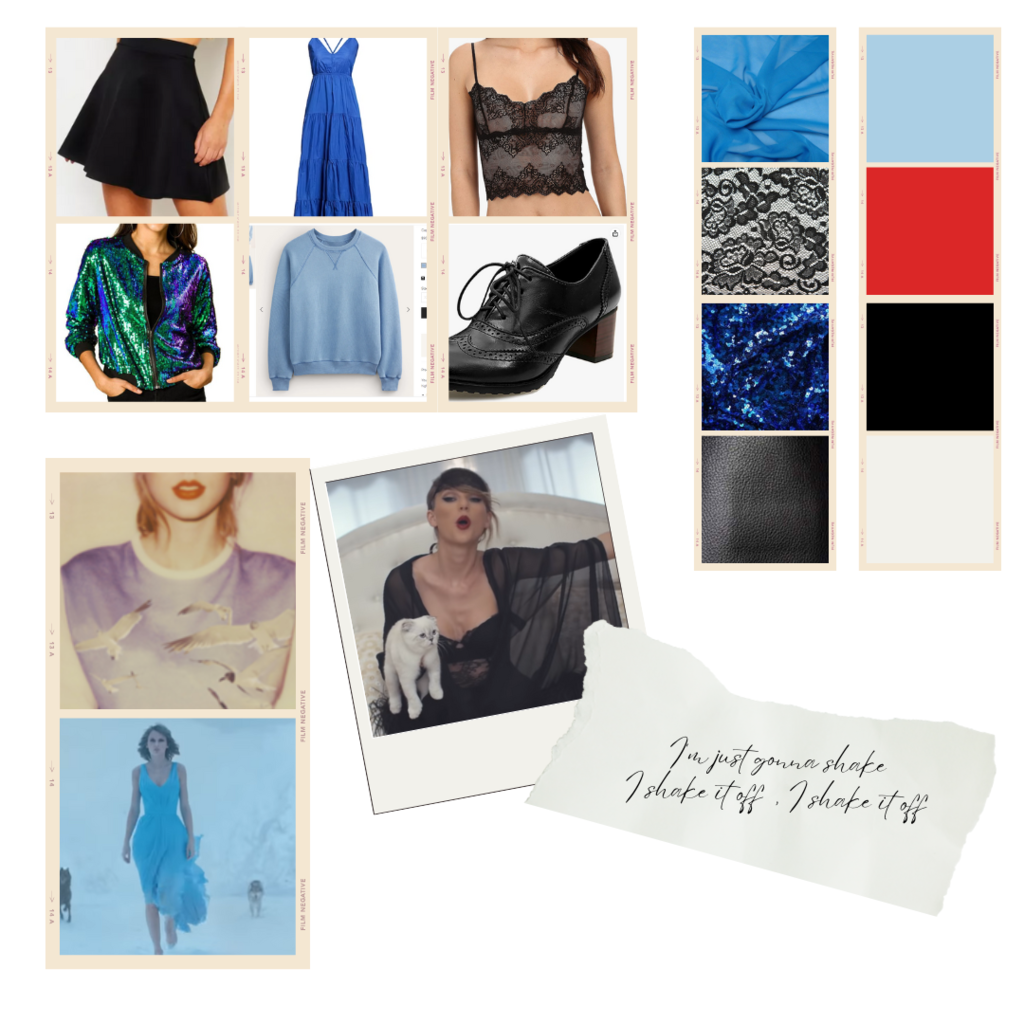 If you're going for a 1989-era outfit, I recommend the midi/long blue dress because it is so iconic and very comfortable to wear. But, if you want something more inspired by Taylor's overall style, remember: 1989 is retro.
In the 1989 era, there were a lot of skater skirts, crop tops, glittery bomber jackets, and funky sunglasses. Fit and flare is the cut you're looking for. You can also wear a black lace top or dress, to emulate her Blank Space video, or a funky pajama set to pay homage to We Are Never Getting Back Together. And, again, red lipstick is a must.
Eras Tour Outfit Inspired by reputation
And then, there was reputation. This album has a special place in my heart, as it was the first time I admitted to myself that I was a full-on Swiftie, and it was also a massive help because it came out during a very dark time in my life.
Taylor's angrier songs were the ones I loved the most at that time, but now I've realized that reputation is actually an album about love, not anger.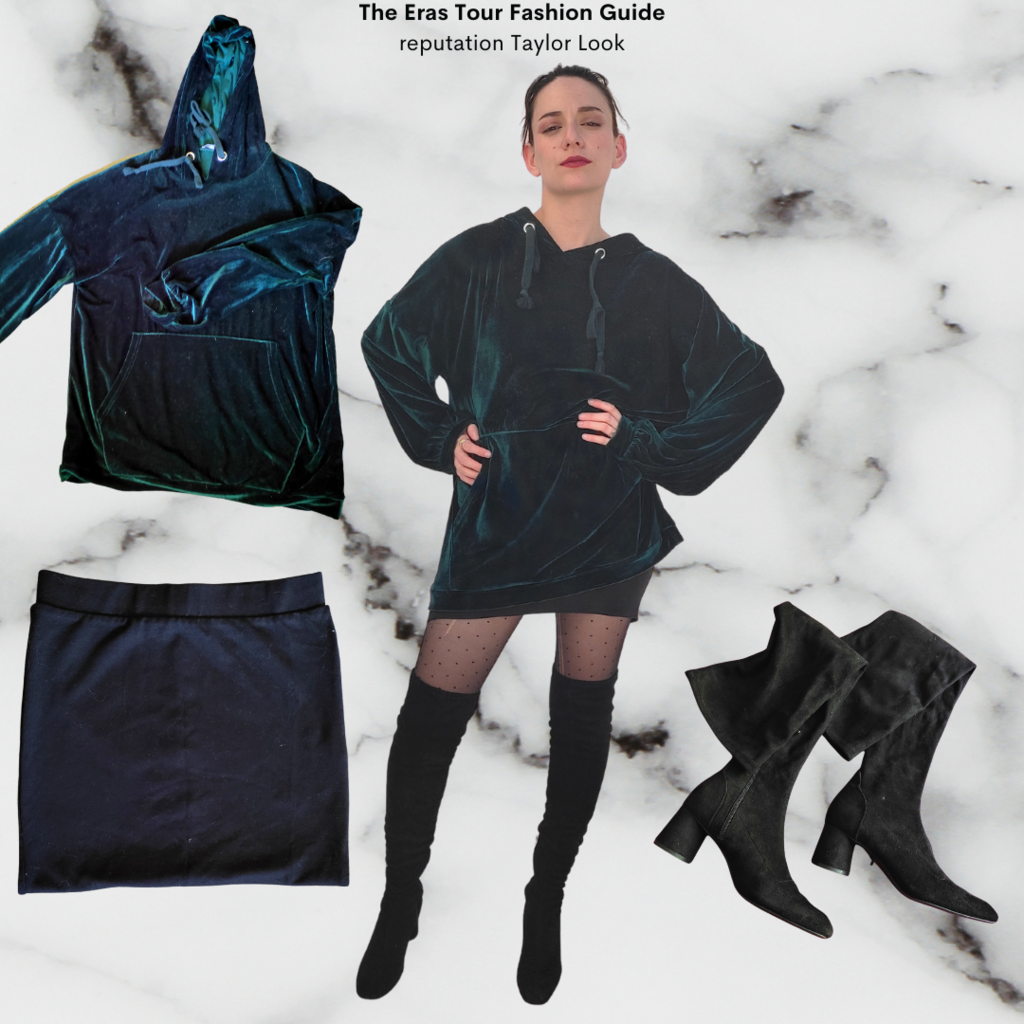 For my reputation Taylor look, I wore a black mini skirt with an oversized green velvet hoodie. I added the skirt because the hoodie was a bit shorter than I expected, and I didn't want to flash anyone.
Then, I put on sheer black tights and over-the-knee black boots. Finally, I added glittery silver eyeshadow and burgundy lipstick to darken my makeup.
Taylor Swift reputation Mood Board: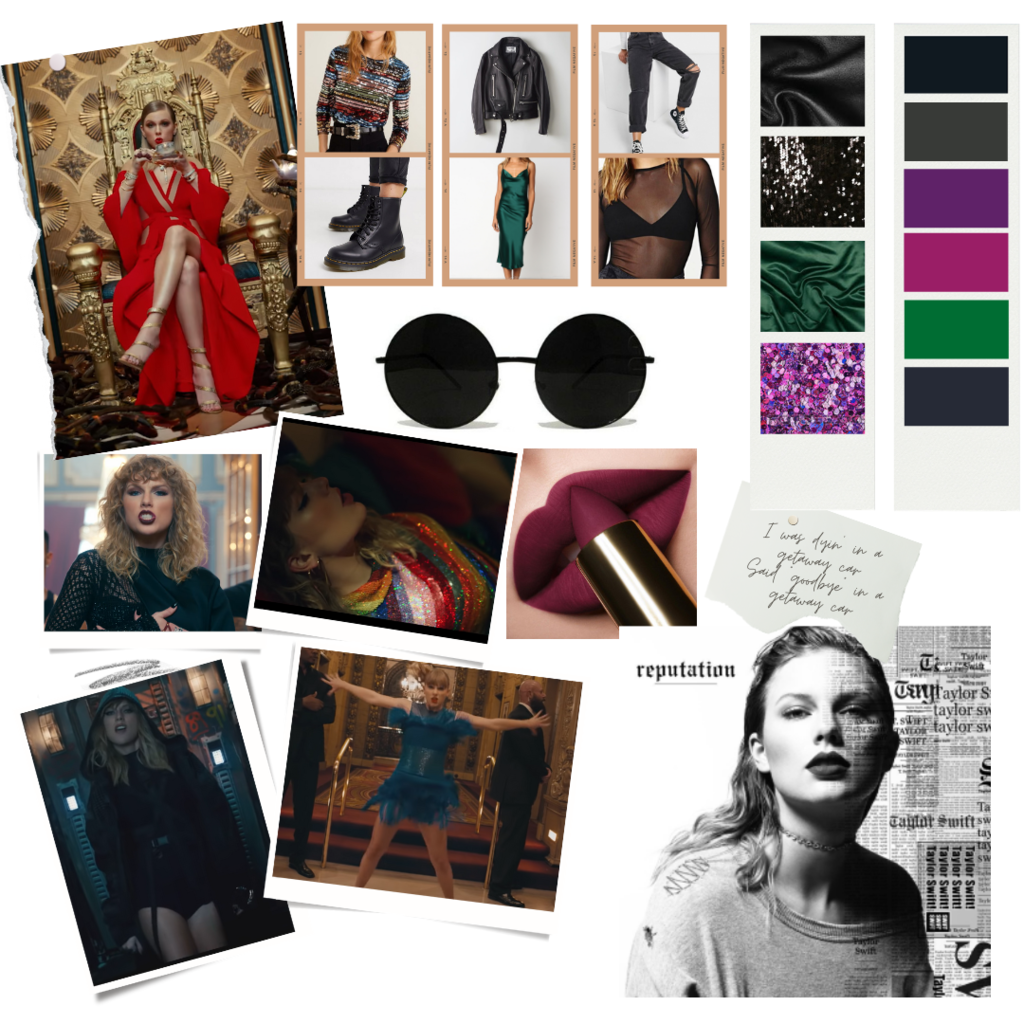 To create a reputation Taylor outfit, your mind might go to black first. It's a good instinct, especially if you opt for interesting fabrics like velvet, sequins, leather, and latex. But you can also add or wear jewel tones and a TON of rainbow sequins.
Reputation is about street-style, distressed items (think sweatshirts and tees), fishnet tights, over-the-knee boots and ankle booties, and oversized tees and sweatshirts as dresses. I will say that reputation is probably the most comfortable album to emulate for a concert.
Eras Tour Outfit Inspired by Lover
Oh, Lover. We've had a journey.
When Lover first came out, and my own posts won't let me lie, I was not a fan of the pastel, colorful aesthetic. That's just not where my own style was at that moment. I was very guarded, and my darker style reflected that.
But now, four years later, Lover is easily my favorite Taylor album by far.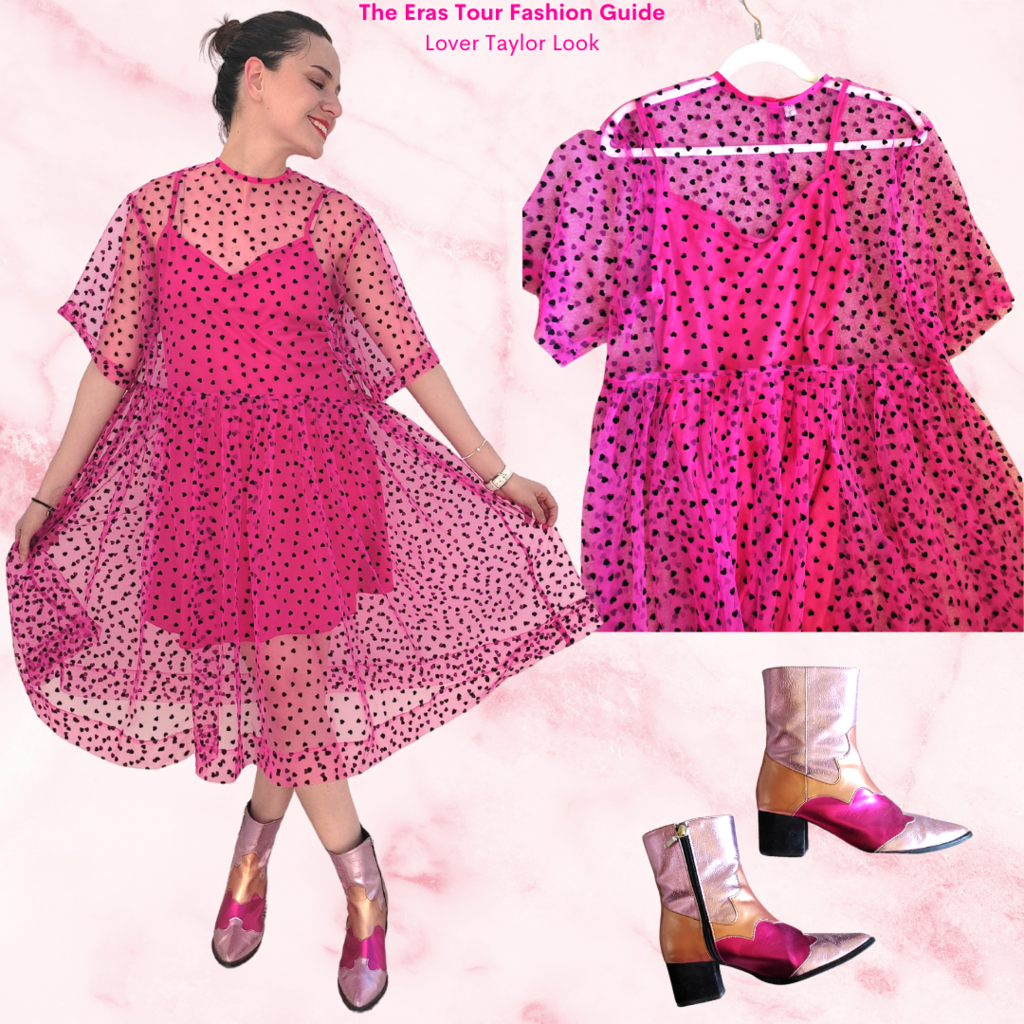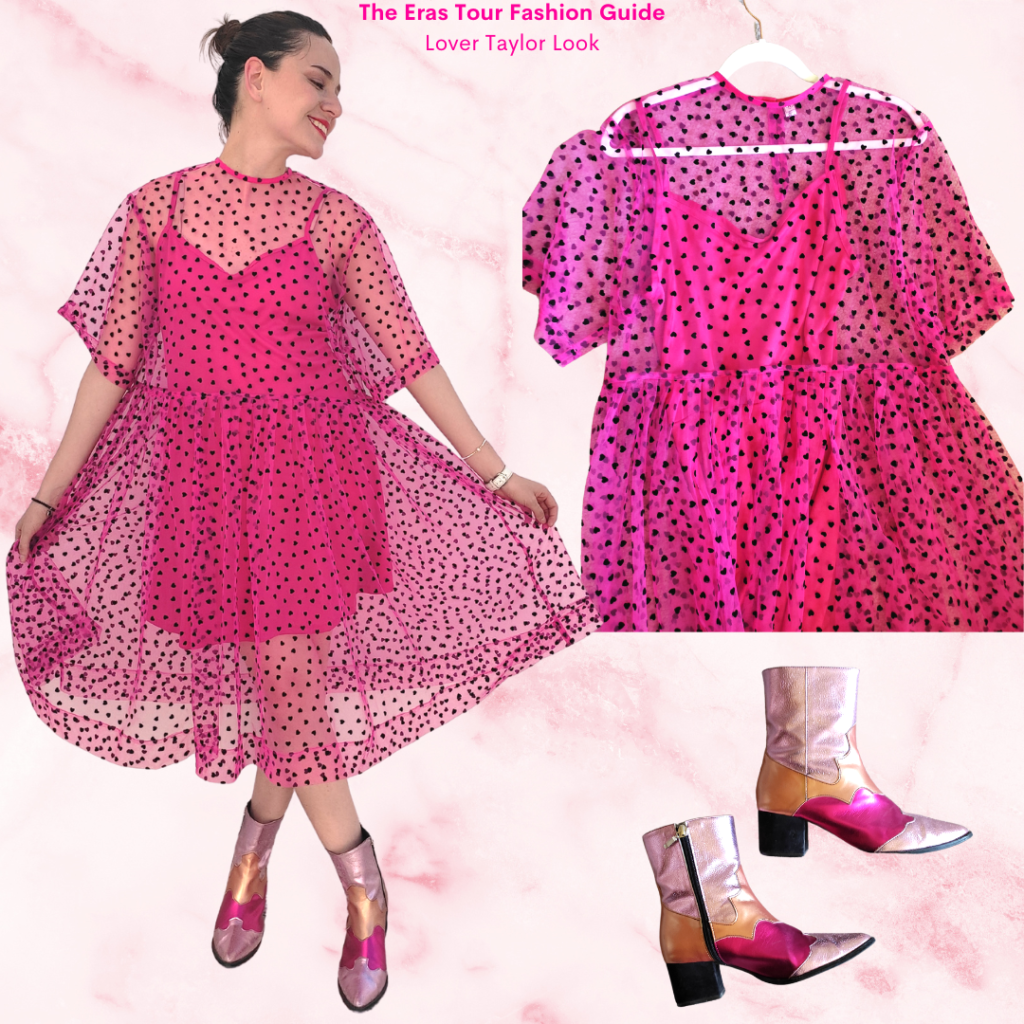 For my Lover Taylor look, I wanted to dive into the pink love side of things. For it, I wore a pink slip dress and, over it, a pink mesh midi dress. The mesh dress has a little black hearts print on it.
In the Me! music video, you can see the cowboy boots making a comeback, so I wore my pink metallic cowboy boots. This is the look I will be wearing when I go to the concert in L.A.
Taylor Swift Lover Mood Board: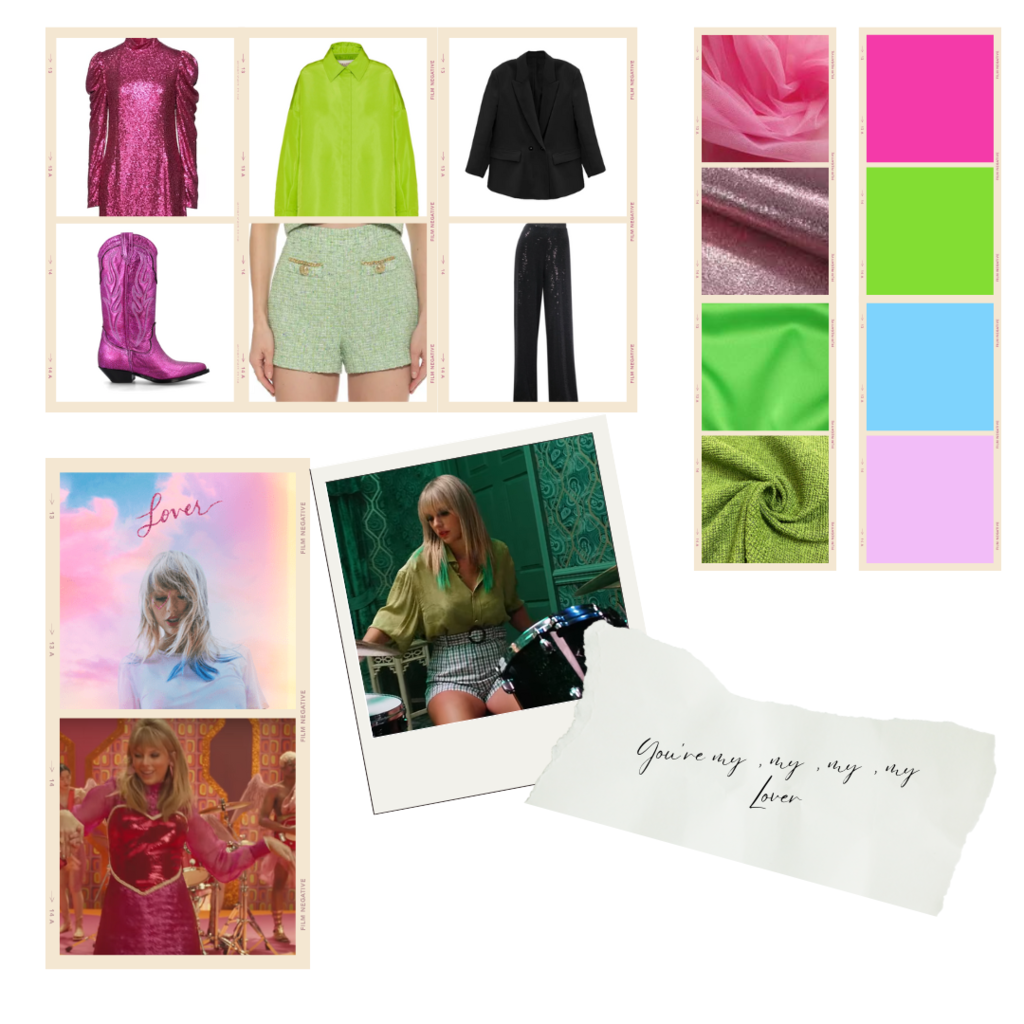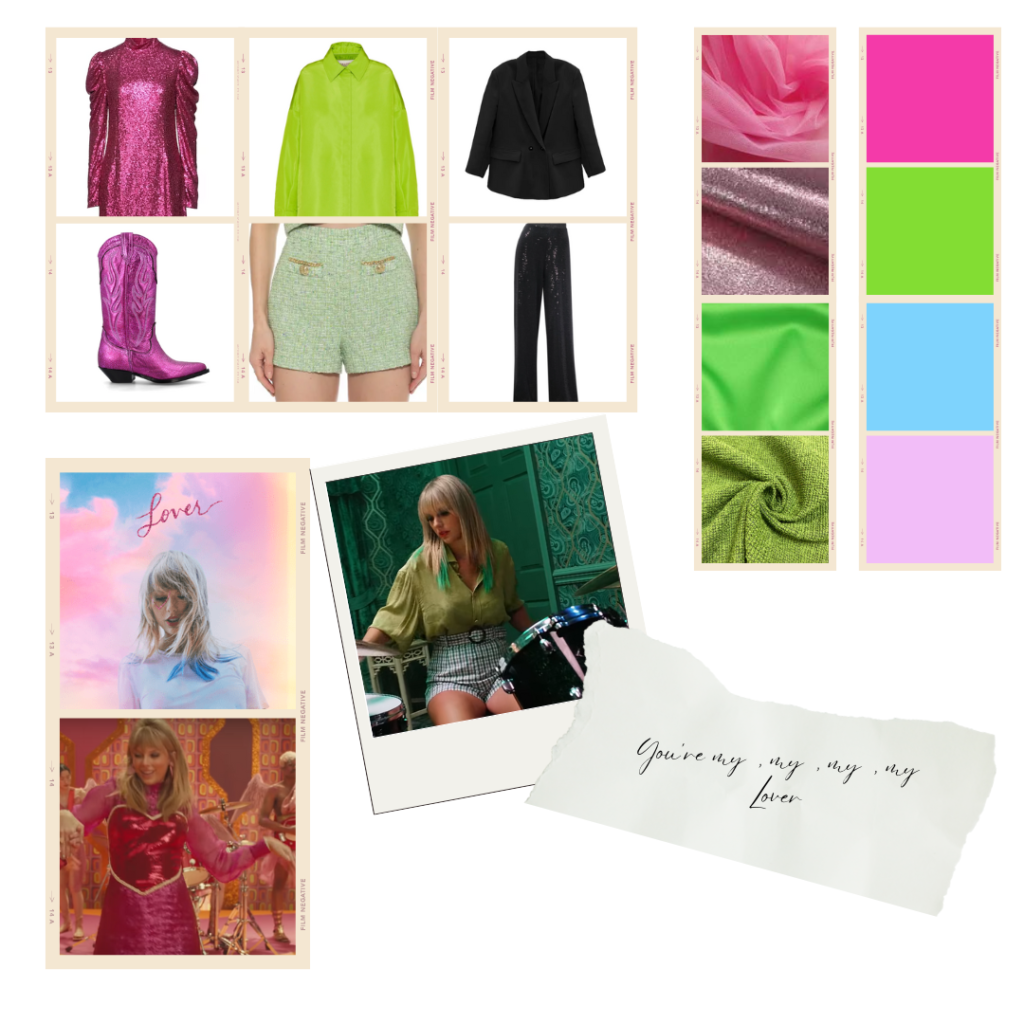 Lover truly has its roots in previous albums. From reputation, Lover borrowed a lot of street-style items and interesting fabrics, like velvet and mesh. But it has a lot of '60s-inspired items in it, too (like 1989), and it gave a modern twist to the fairytales of her earlier albums.
All of this is done in bright colors and pastels, especially pink, blue, and lilac. Anything golden and sunshine related is a great Daylight homage.
Eras Tour Outfit Inspired by folklore/evermore
Now, we have reached Taylor's alternative albums: folklore and evermore. While they are separate albums, they're considered by Taylor as sister albums. For this, folklore and evermore are seen as one single era, fan-named as folkmore.
Related reading: I Copied Taylor Swift's Evermore Outfits for a Week & Here's What Happened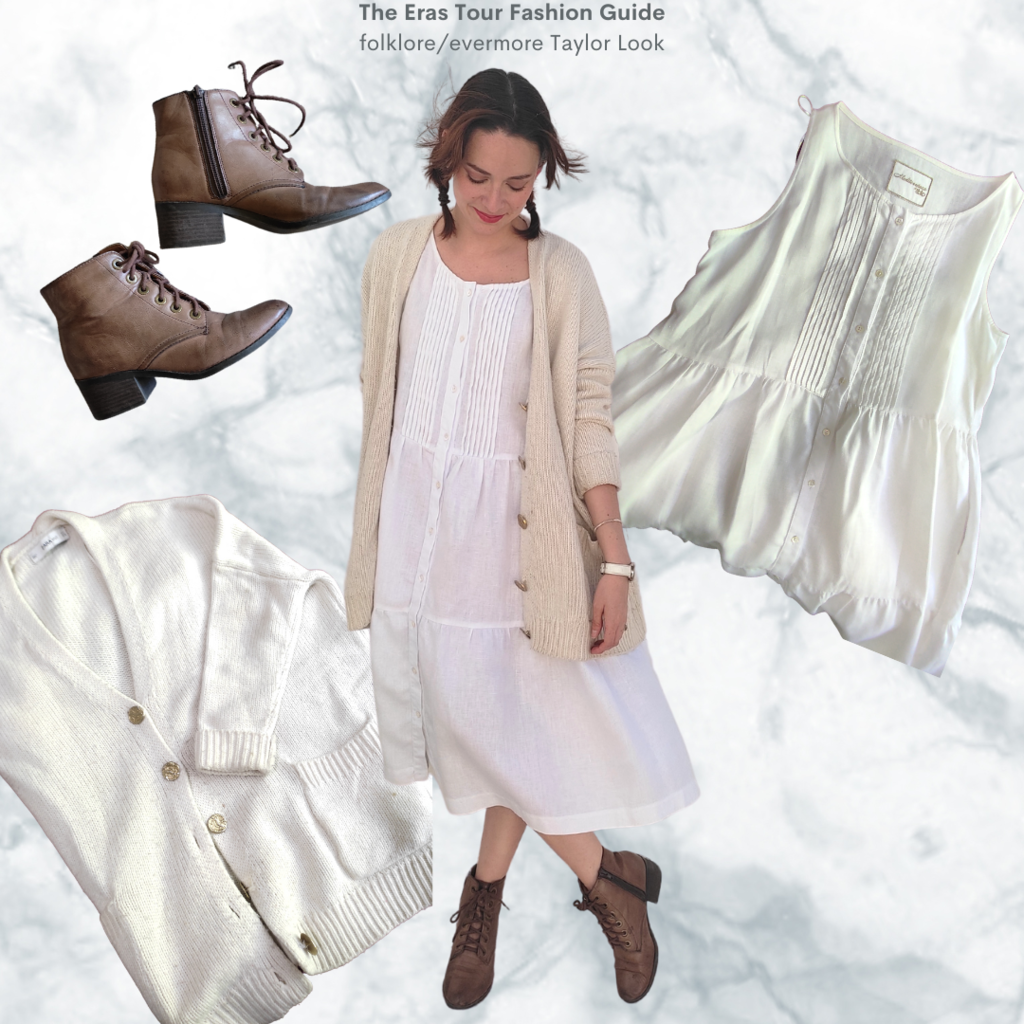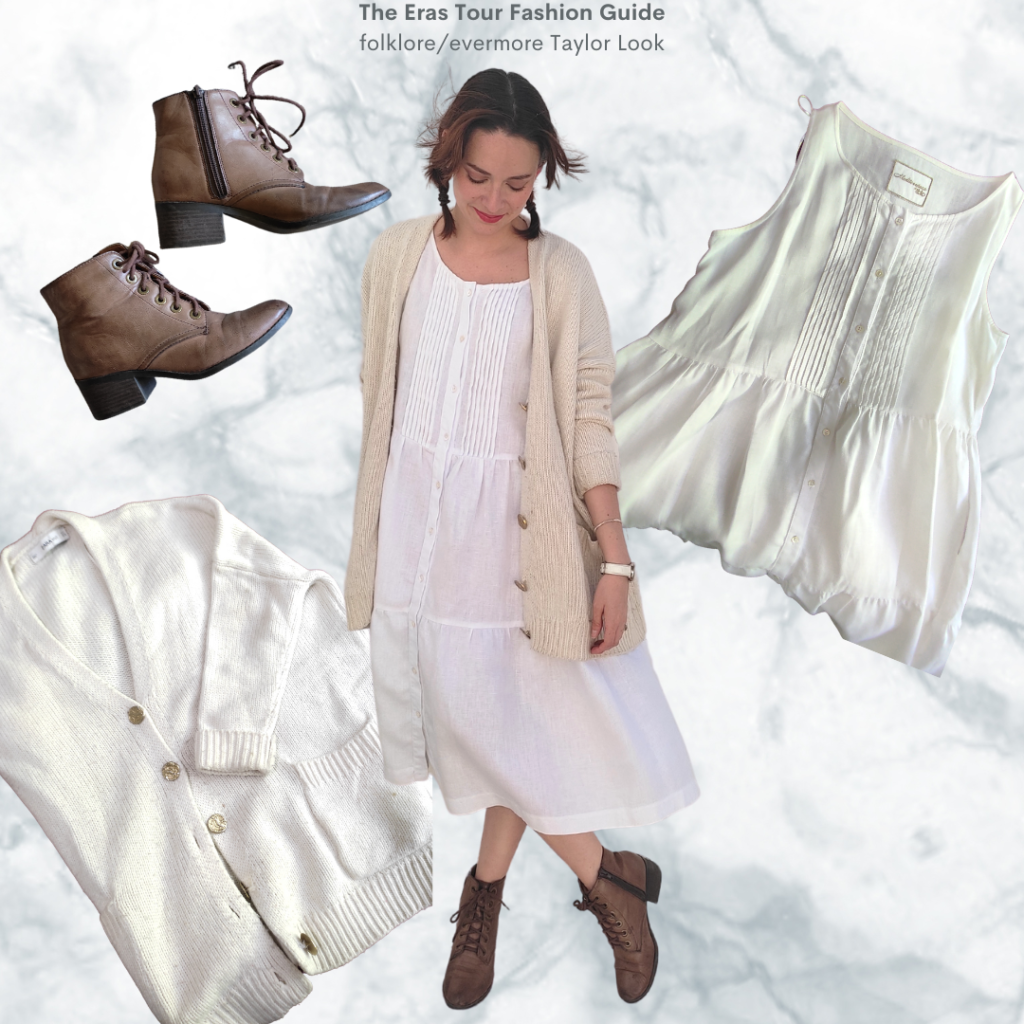 For my folkmore Taylor look, I wanted to follow the last look she wears in cardigan's music video and the first one she wears in the willow music video. I believe this is the best look to represent the era since it clearly connects both singles and albums together.
As a base, I wore a white cotton dress. I borrowed it from my mom. Then, I threw on a — you guessed it — long off-white cardigan. For shoes, I opted for a pair of brown lace-up booties, similar to the ones she wears in the album art for both folklore and evermore. Finally, I tried to tie up my hair in braids as best as I possibly could.
Taylor Swift folkmore Mood Board: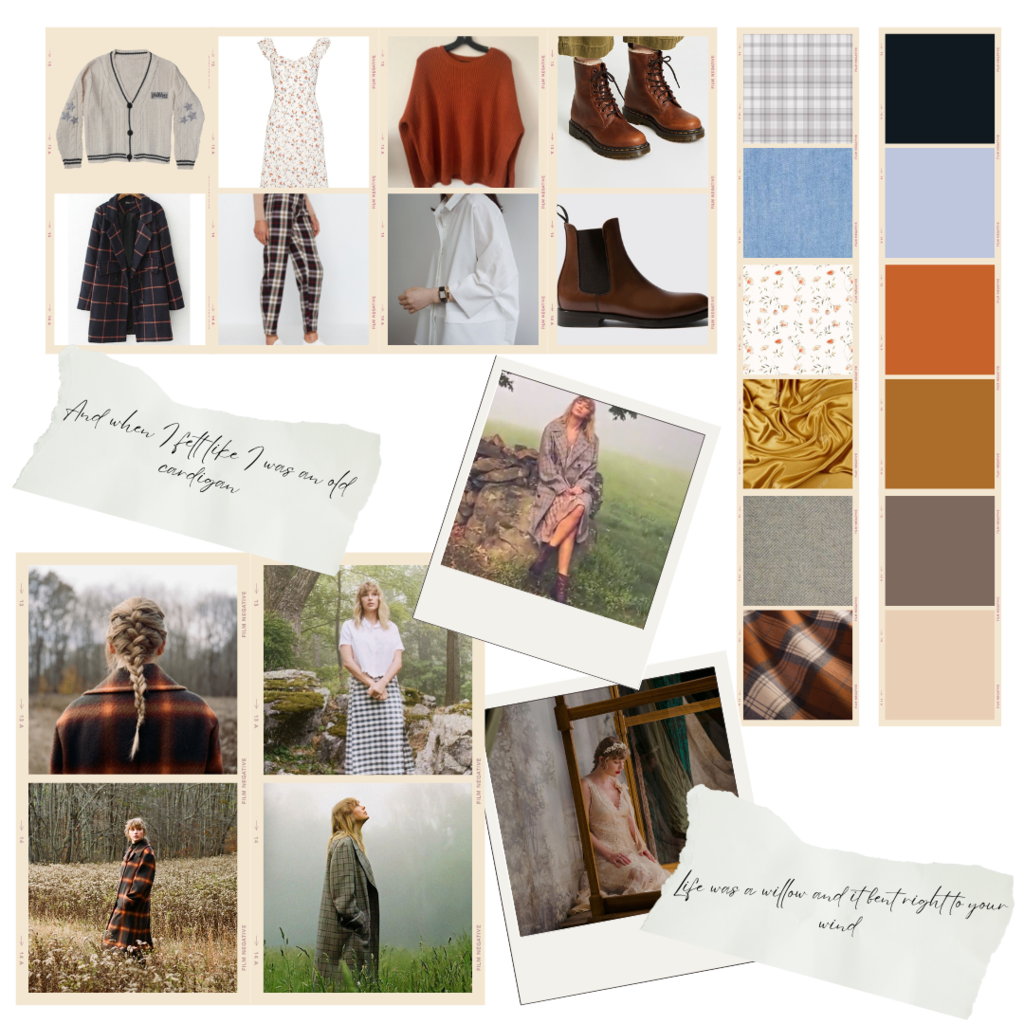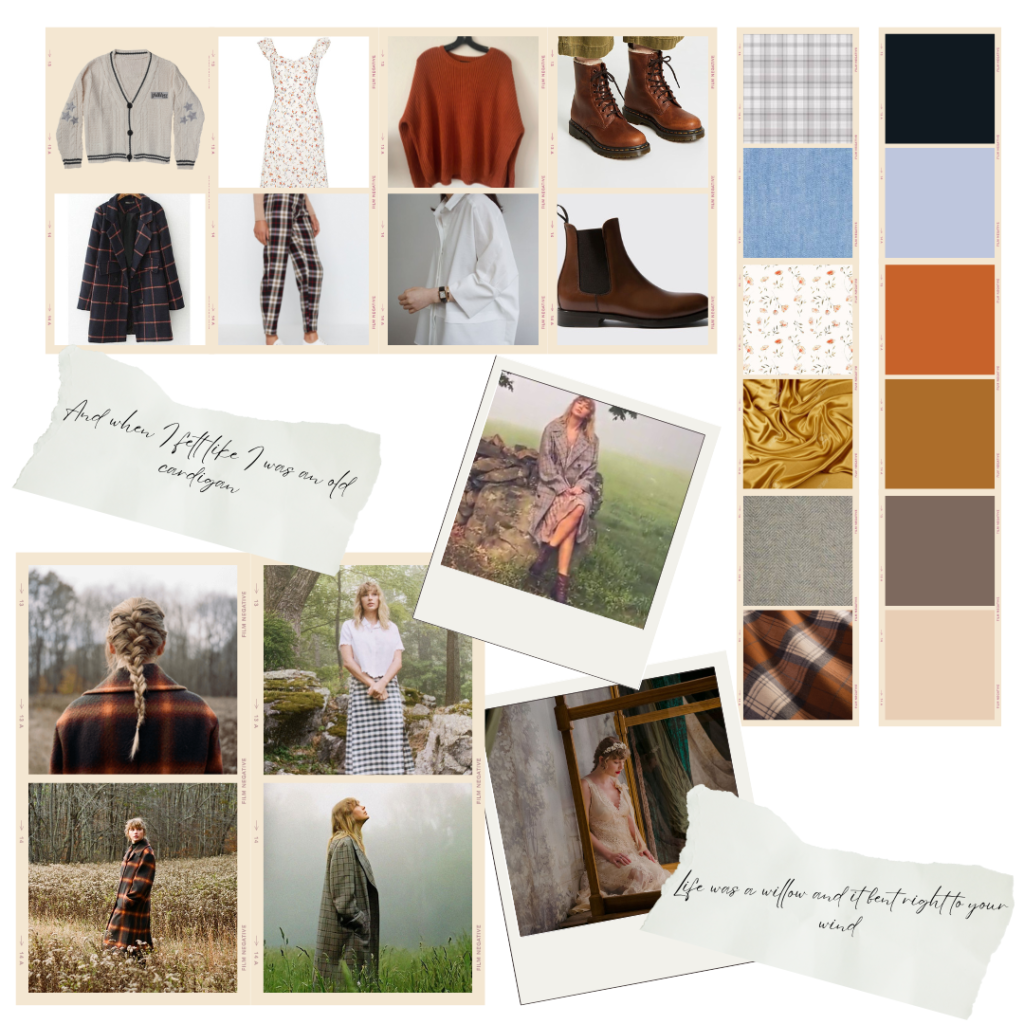 If you want to create a look based around either or both of these albums, the easiest way would be to throw on an off-white or white cardigan and braid your hair.
These albums are all about simplicity in style. During this era, Taylor wore a lot of natural fabrics, like cotton, in neutral and warm tones. Fall-related items, like coats, booties, cardigans, and flannels are great for a folkmore look.
On the other hand, you can also go ultra-glam, like something silver and shiny (mirrorball), or with an old-money, fancy type of look with a green accent (the last great American dynasty).
Eras Tour Outfit Inspired by Midnights
And we have finally arrived at the last album. Midnights is Taylor's latest, brand-new album. (There were two re-recordings in between evermore and Midnights.)
Here, she is playing even more with her sound. This album makes a lot of callbacks to previous albums, relationships, and parts of her history.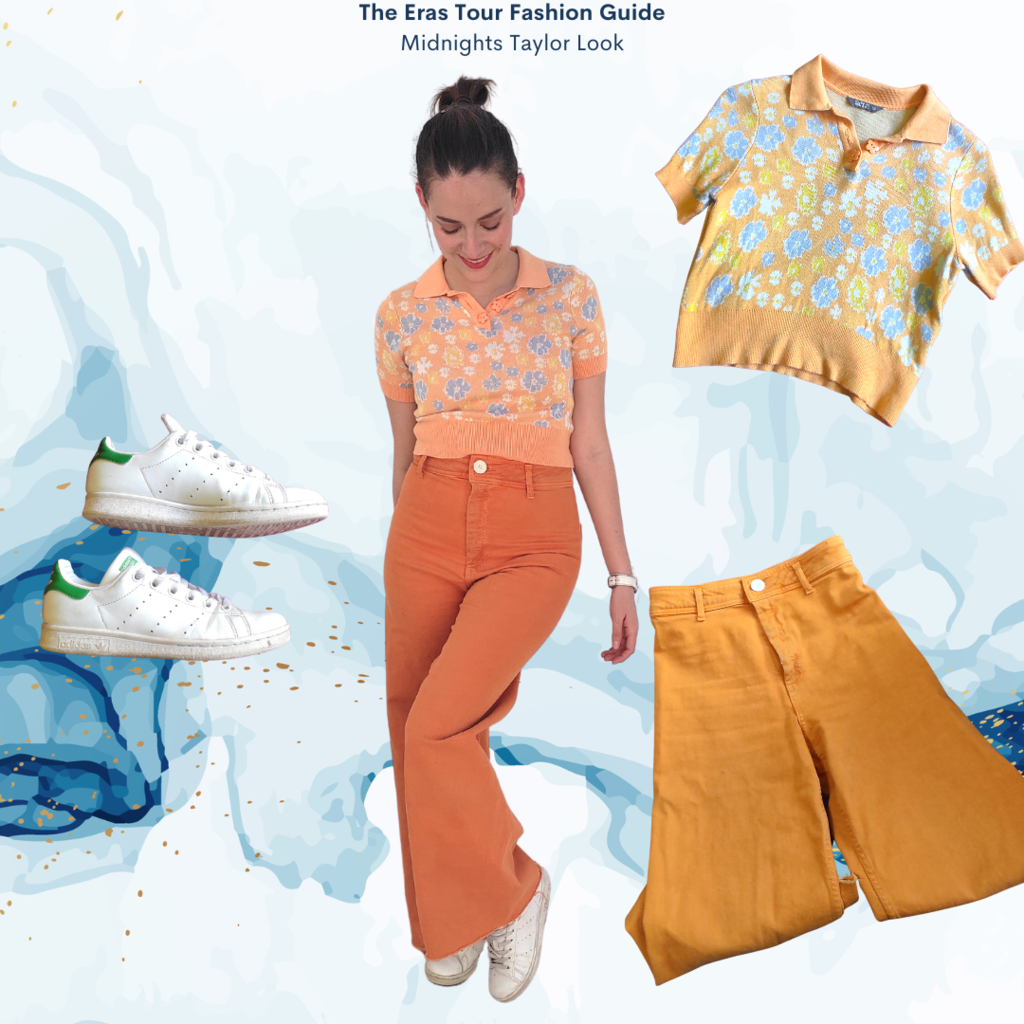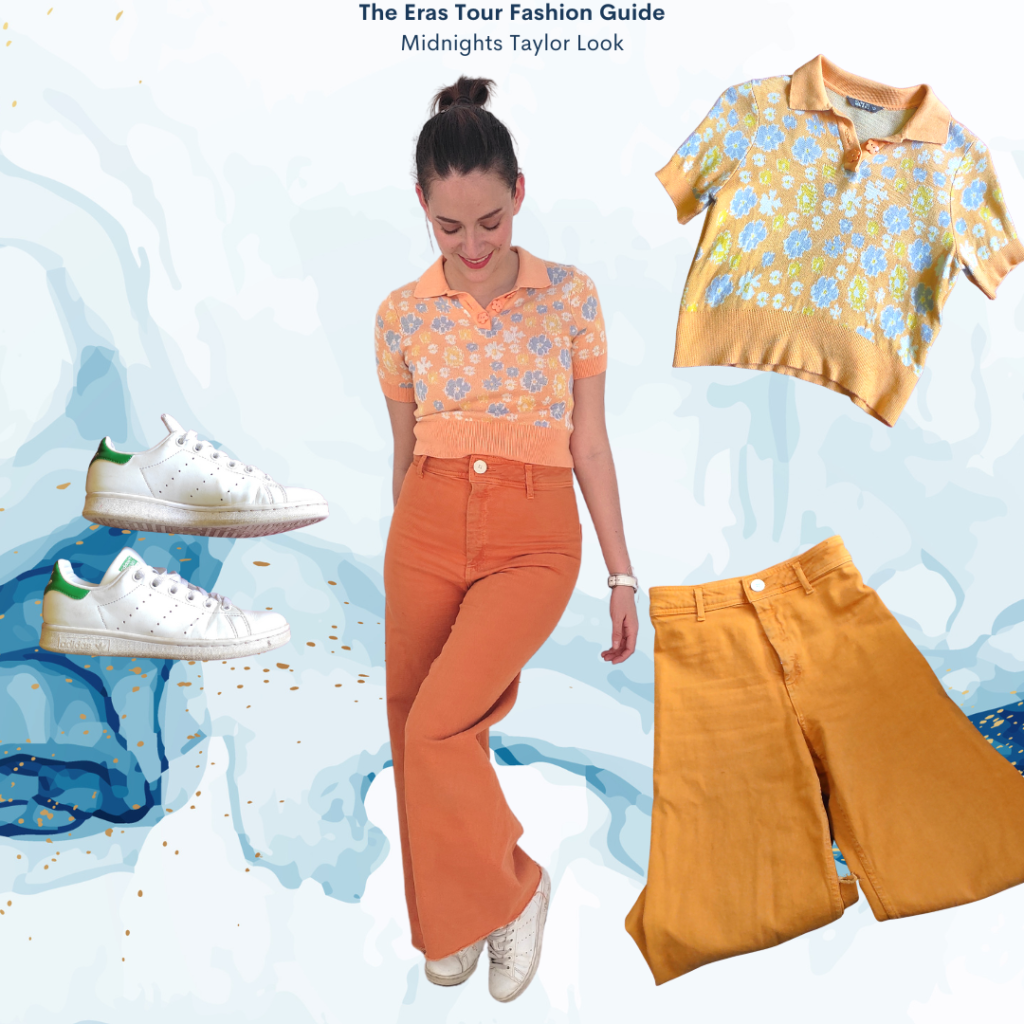 For my Midnights Taylor look, I debated a lot about what to do. But I landed on this look, inspired by two of the three music videos she has released for the album: Anti-Hero and Lavender Haze.
For my look, I wore an orange knit polo top with blue flowers as a pattern. Then, for bottoms, I chose a pair of high-waisted, wide-leg, orange jeans. Finally, for shoes, I just threw on a pair of white sneakers.
Taylor Swift Midnights Mood Board: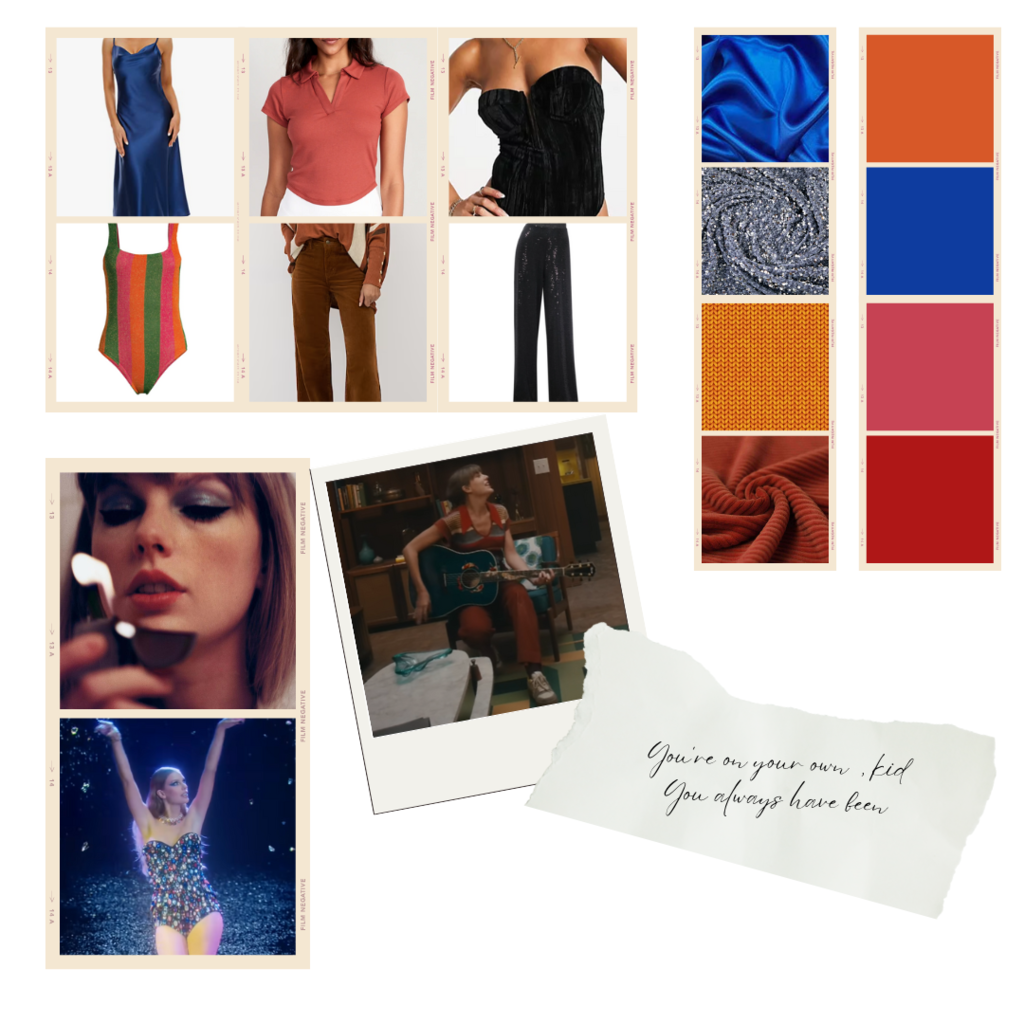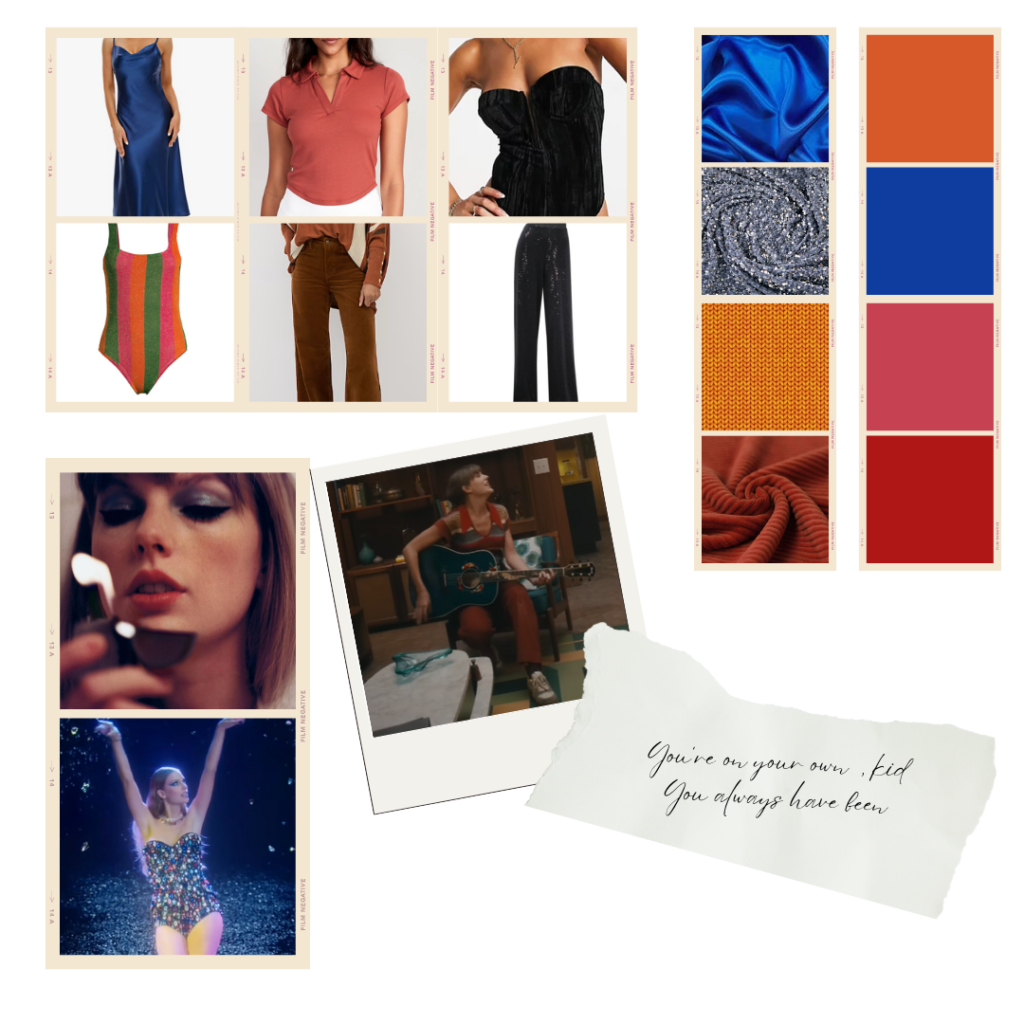 With Midnights, you have a ton of outfit inspiration from either the videos or the songs. Either way, the album has very '70s aesthetic style choices, both casual and glam.
For the casual side of the album, there are a lot of knit and crochet tops, especially polo and halter tops, wide-leg jeans, corduroy pants, and oversized t-shirts.
On the glam side, black and navy blue corsets, bejeweled items, star patterns, extreme cat-eye eyeliner, faux fur, and platforms.
Eras Tour Outfit Using Taylor Swift Official Merch
This one is just a bonus for those who want to style merch they already own. With merch, I always try to be as comfortable as possible, wearing just my mom jeans, a light layer, and a pair of sneakers with it.
If you have any of Taylor's t-shirts or tank tops, that would be ideal since they're the most comfortable option to wear during a concert. Try wearing them with your favorite and most comfortable bottoms, they could be jeans, a skirt, or even leggings. For shoes, boots or sneakers would probably be the best idea.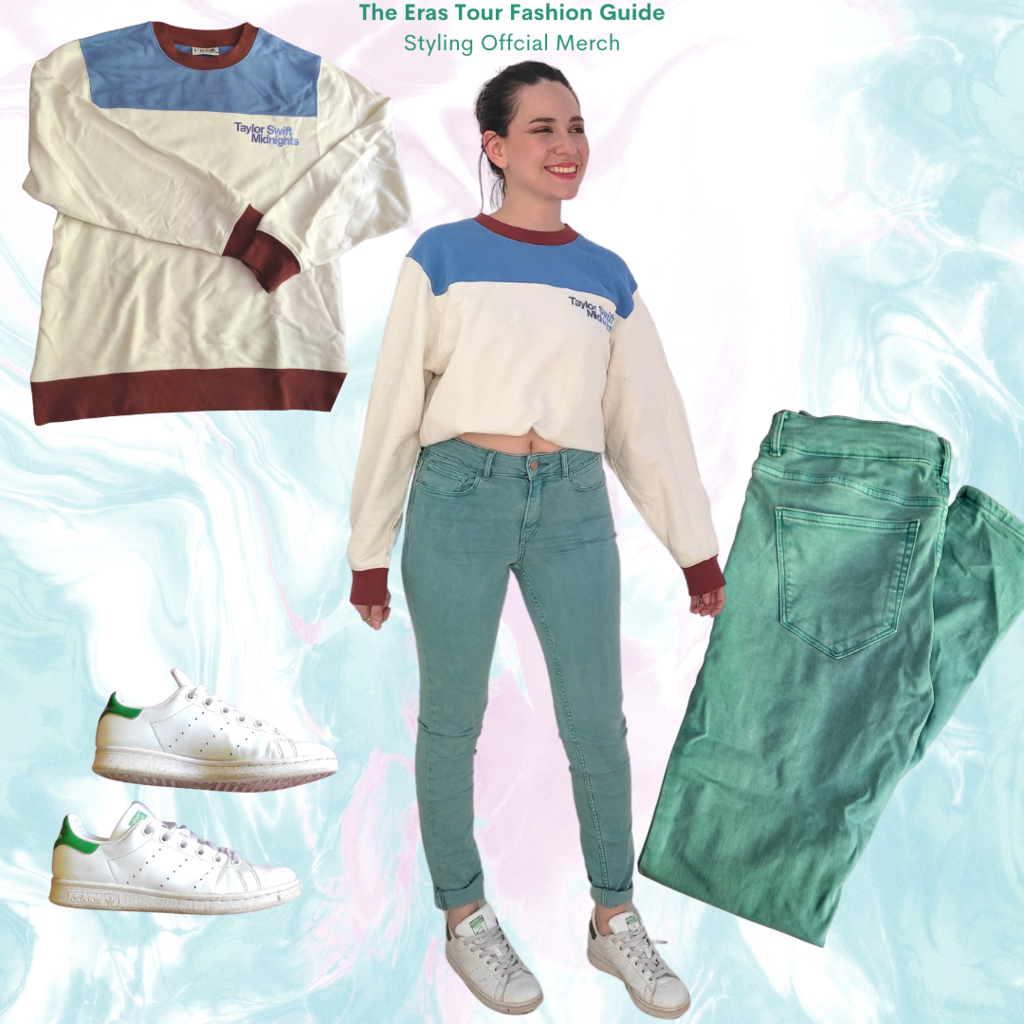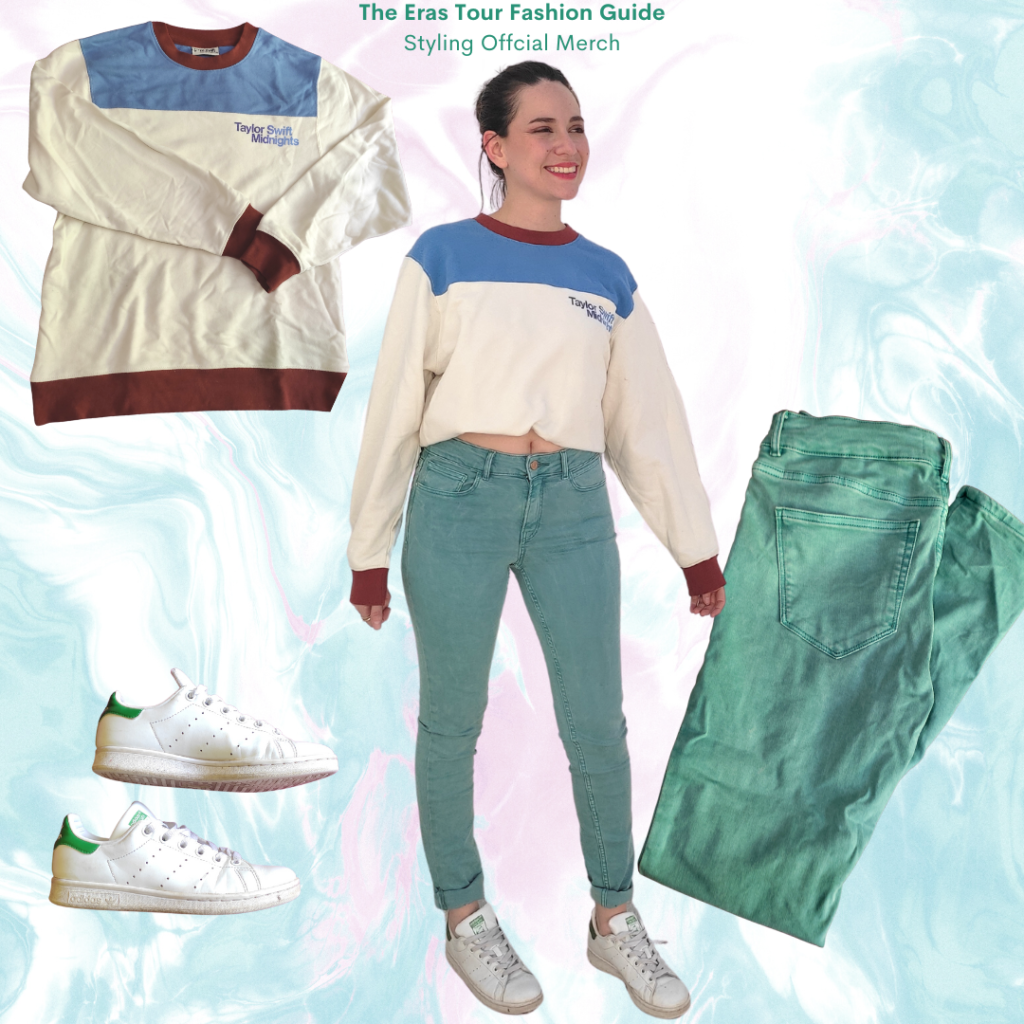 I only have sweaters and sweatshirts from Taylor's merch since those are the items I gravitate to the most, so I wore my Midnights color-block sweatshirt with a pair of skinny jeans that are a beautiful jade color.
I wanted to wear these jeans because they have the same color as one of the alternative covers she released. For shoes, I just wore a pair of sneakers since they're my go-to option for concerts.
What do you think of these Eras tour outfits?
What do you think about the outfits? Are you excited for the tour? Are you going to the Eras Tour? Do you have the outfit planned out? Let us know in the comments below!