This post may contain affiliate links, which means we may receive a commission if you purchase through our links. Please
read our full disclosure here
.
Update 2020: We have a new Taylor Swift era to get inspired by! See our folklore fashion guide here.
Has anyone else been consistently listening to Taylor Swift's new album Lover since it came out on August 23rd? Because I have, and I think it *might* be my favorite TS album ever. (Red, sweetie, I'm so sorry!)
Given that I've been a certified Swiftie since 2008, Taylor's seventh studio album was definitely my most anticipated release of 2019. Therefore, I've studiously covered her Lover content, recreating looks from her videos for singles ME! feat. Brendon Urie of Panic! At The Disco and You Need To Calm Down.
However, as much as I enjoyed these singles, they pale in comparison to the rest of the tracks on Lover. The album is a win for pop music, both lyrically and sonically. For me, Lover works because it combines the storytelling of 2012's critically-acclaimed Red with the sound of 2014's smash hit 1989, making it the perfect amalgamation of Taylor's music catalog.
Therefore, for this week's post I've decided to take inspiration from the album itself – that is, I've selected some of my favorite tracks and created outfit sets based on their lyrics and overall message.
So buckle up, fellow Swift enthusiasts, because Lover has given us more fashion inspiration than I could have imagined in my wildest dreams! *wink wink*
Here's our Taylor Swift Lover fashion guide.
Taylor Swift Lover Fashion Inspiration
Cruel Summer
The first track on Lover that spoke to me in fashion terms is actually my favorite track of all, Cruel Summer. Produced by St. Vincent, this song is theorized by Swifties as being a sequel to Getaway Car, a standout track from Taylor's 2016 album, reputation.
In Cruel Summer, Taylor and her beau (most likely the same man she rebounded with in Getaway Car) navigate the troubled waters of a new relationship. This song conjures up imagery of a summer date-night gone wrong.
I'm drunk in the back of the car, and I cried like a baby coming home from the bar
Therefore, I dreamt up an appropriately Swift-esque date-night look by combining a light floral dress with a dark blazer.
Devils roll the dice, angels roll their eyes
To honor the above Cruel Summer quote, which features on a mural visited by Taylor herself, I've included two accessories. The first is a pair of 'angel' wing hair clips, whilst the 'devil' is represented by the stud detail on the stiletto heels. To tie the look together, I've added a mustard wristlet and some deep red lipstick, a la classic Taylor.
Taylor Swift "Cruel Summer" Outfit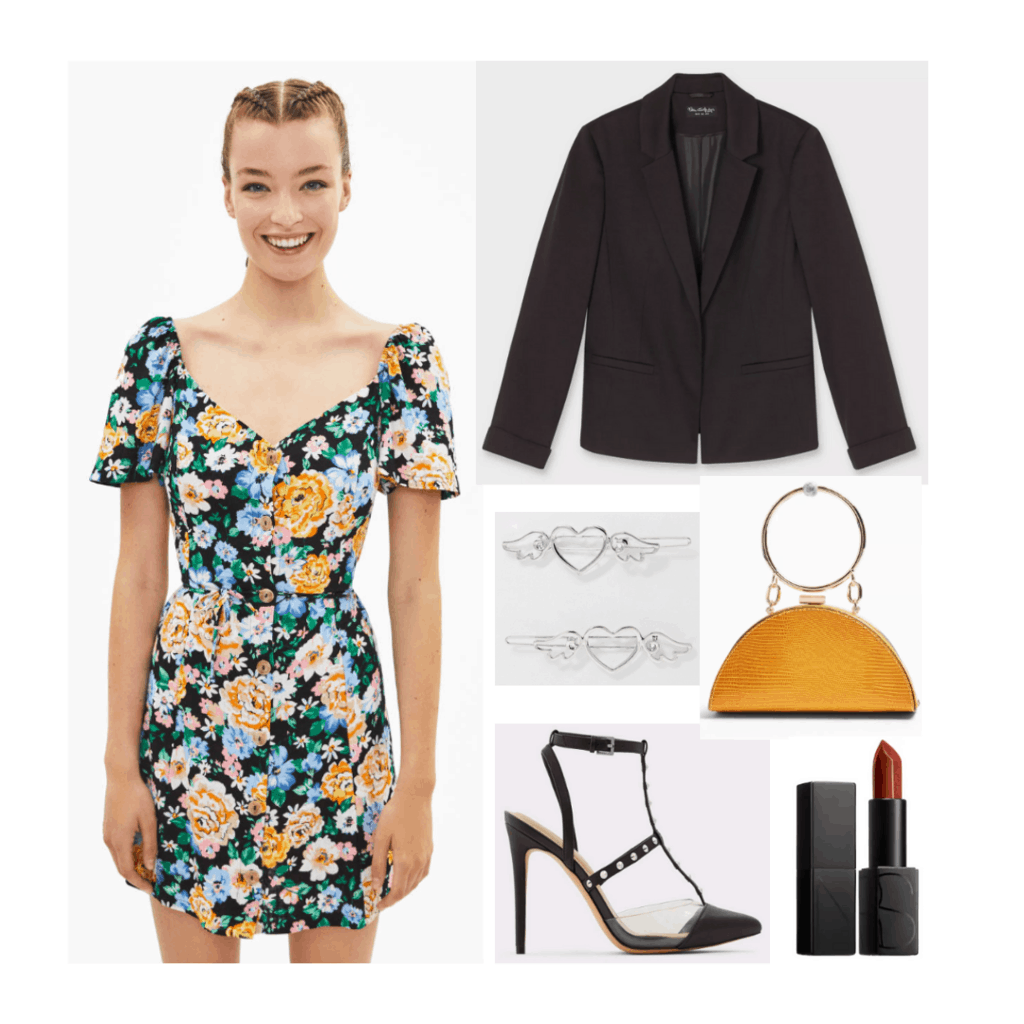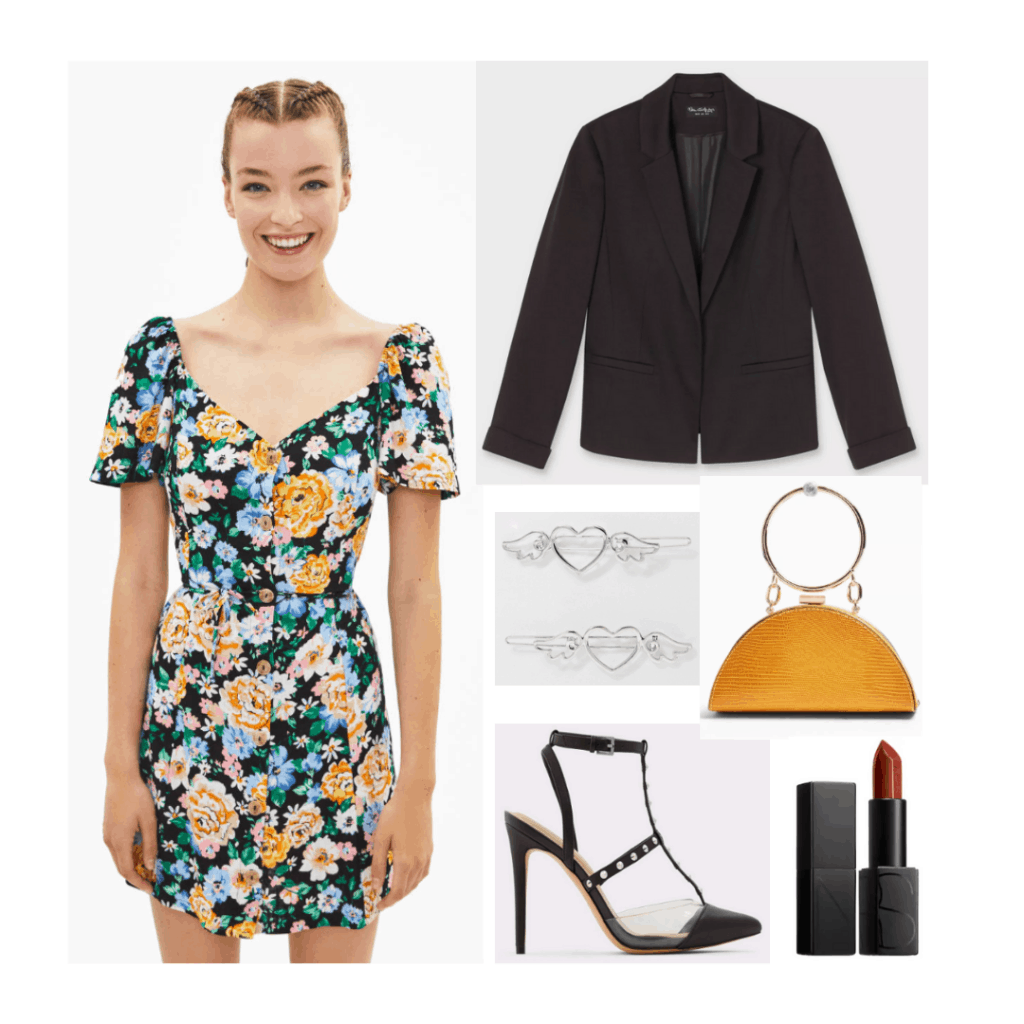 Products: Floral Dress – Bershka, Nars Lipstick – Sephora, Angel Hairslides – ASOS Design, Black Blazer – Miss Selfridge, Mustard Bag – Topshop, Black Stilettos – ALDO.
Lover
Our Taylor Swift Lover fashion guide wouldn't be complete without this one. For my next look, I decided to go with an outfit inspired by the music video for Taylor's title track, Lover.
This touching, romantic video depicts a young couple in various stages of their relationship, with each room in the house they share color-coded to correspond to a different Taylor Swift era.
My heart's been borrowed and yours has been blue

All's well that ends well to end up with you
My favorite look from Lover was most definitely this little yellow number. Strumming her guitar, Taylor wears a pretty sunshine-shade dress with matching earrings and a contrasting orange headband.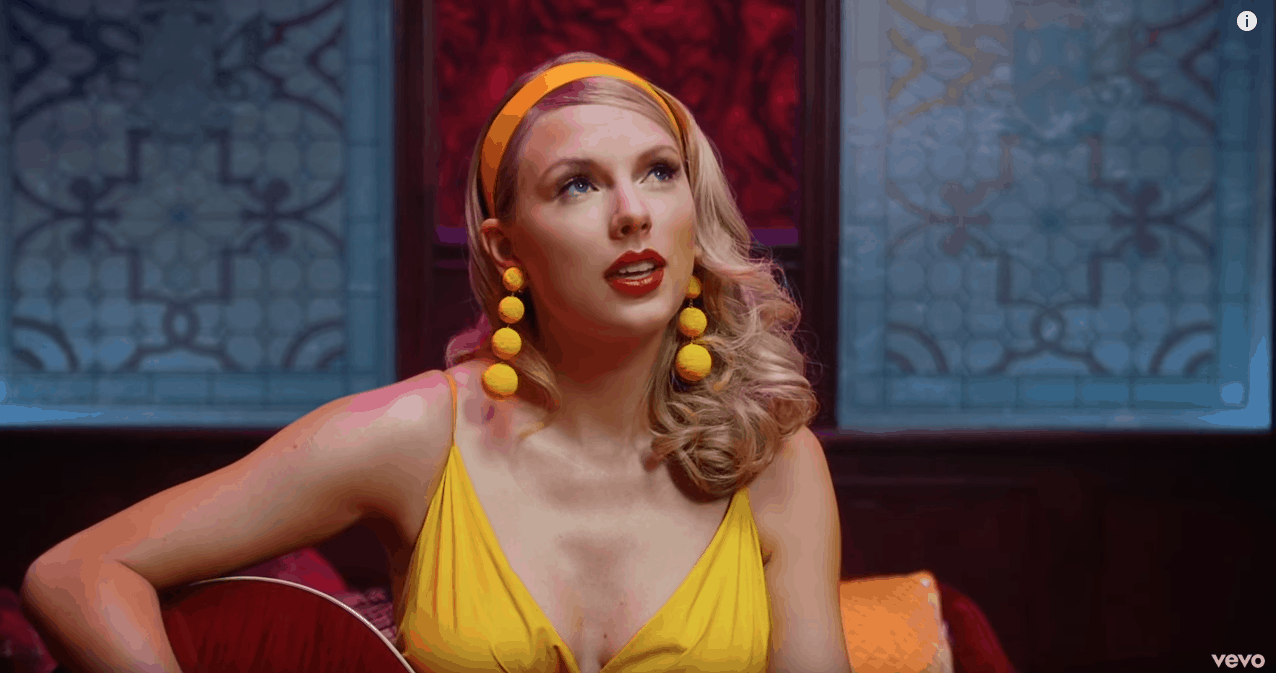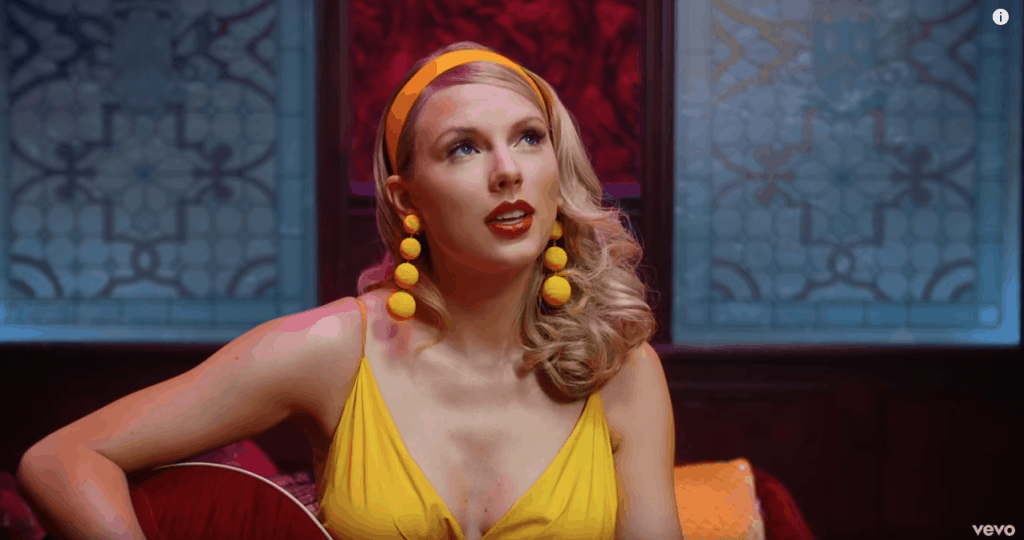 Taylor also accessorizes with some deep purple heels, which I have paid homage to in the look below using a pair of lilac sandals.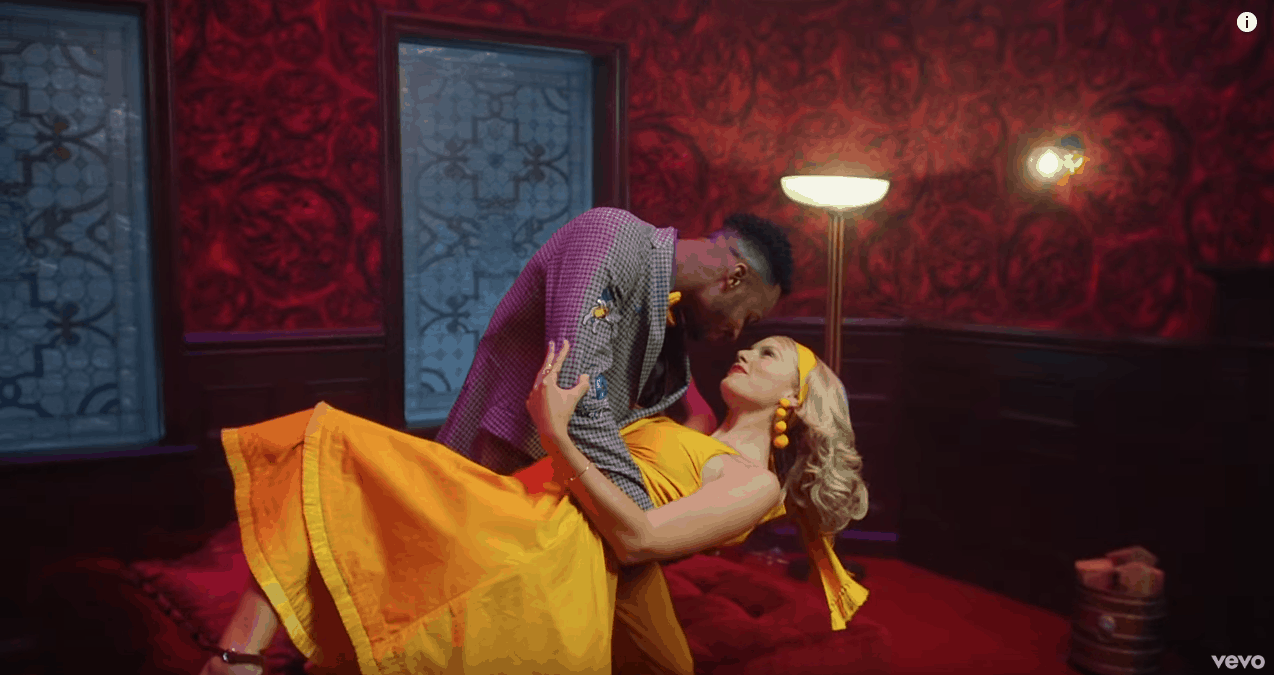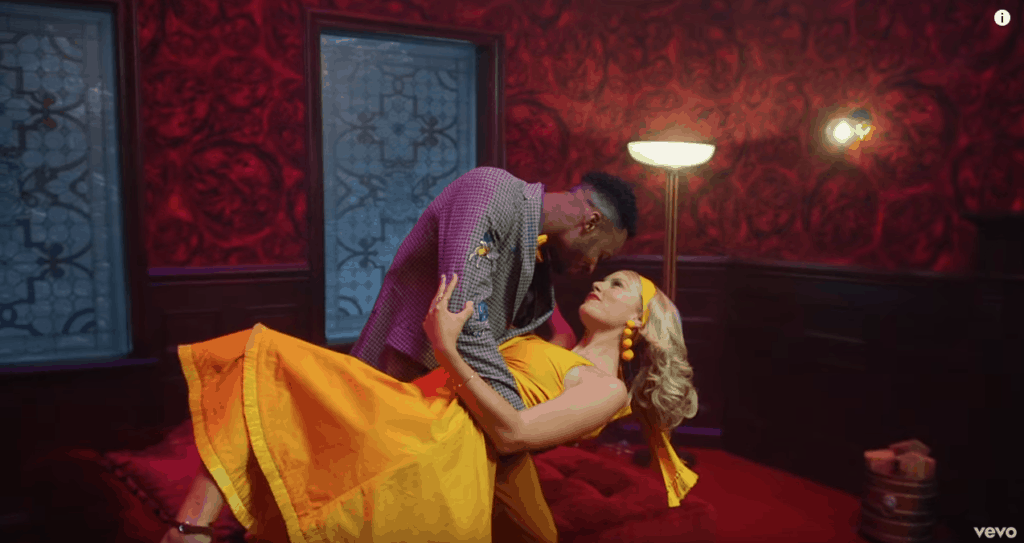 Taylor Swift "Lover" Outfit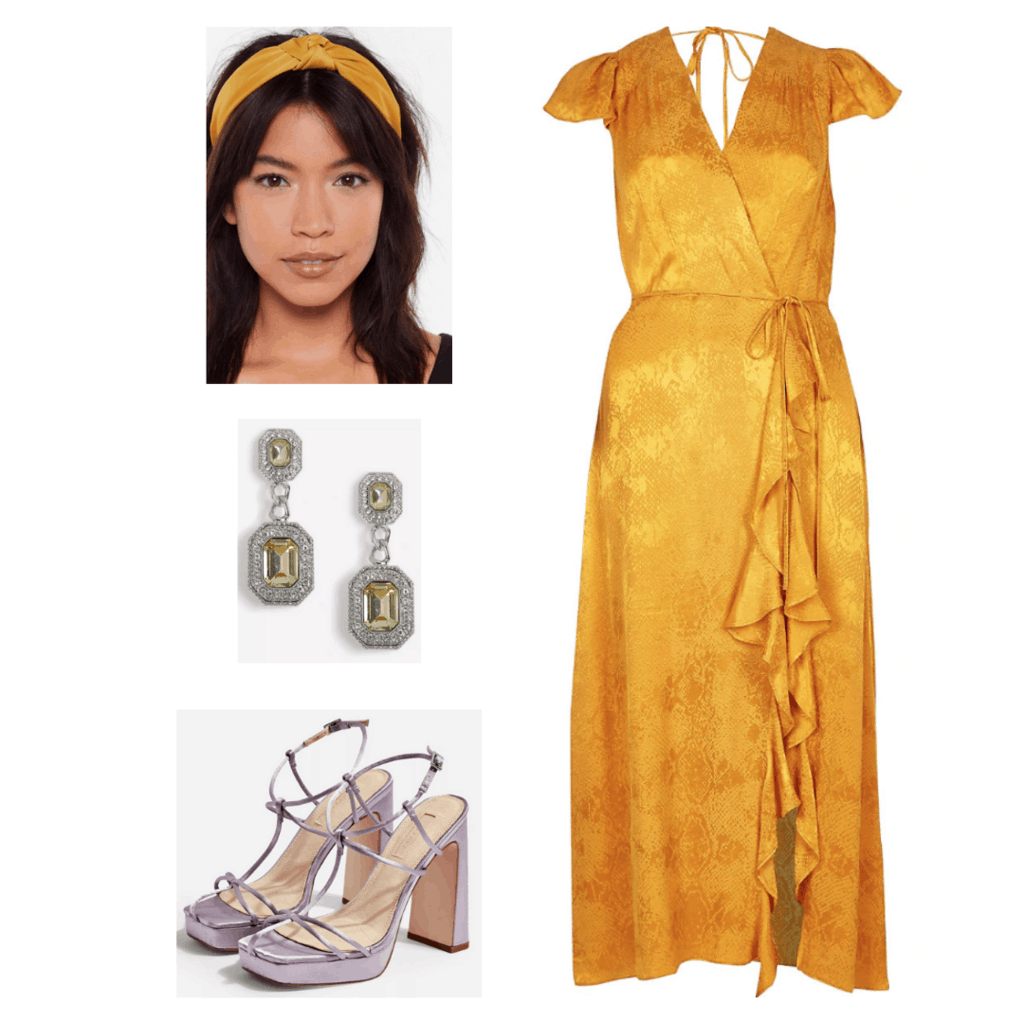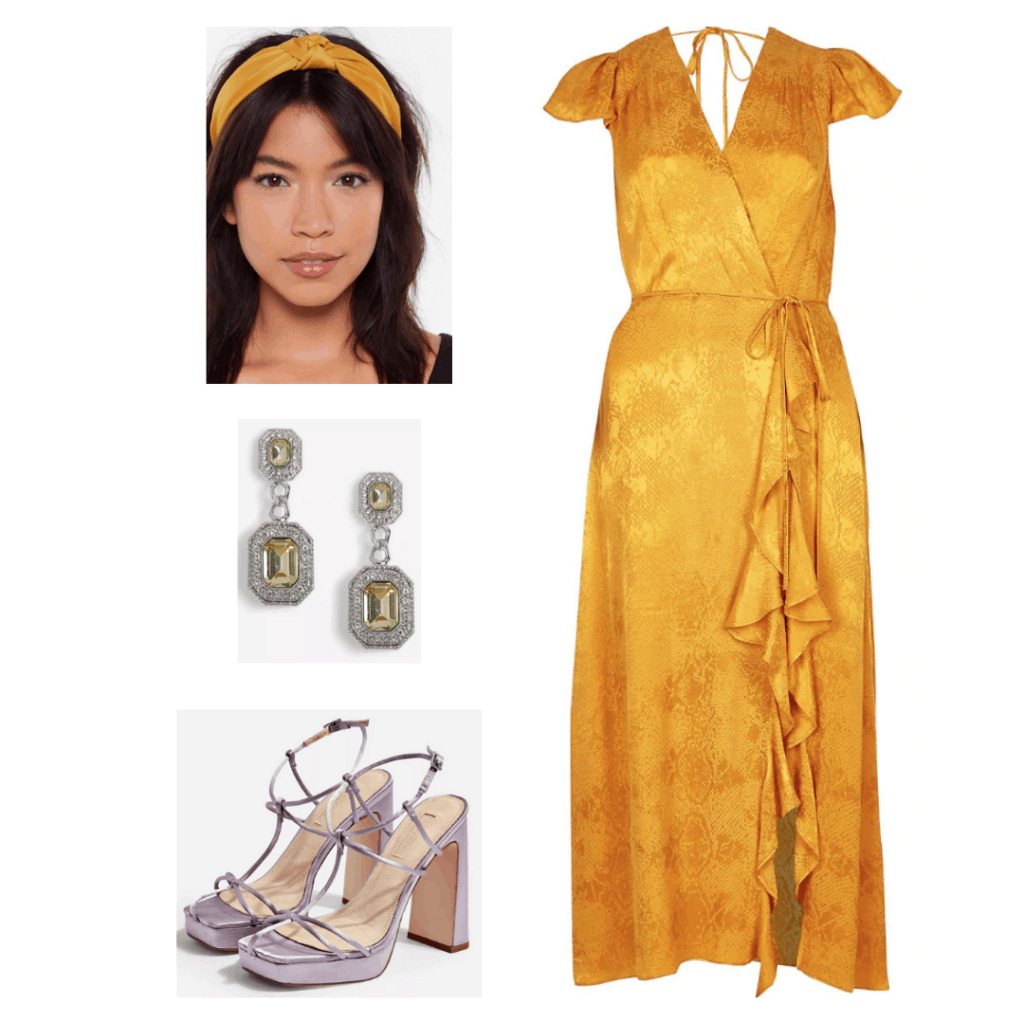 Products: Yellow Dress – River Island, Satin Headband – Nasty Gal, Drop Earrings – Topshop, Block Heels – Topshop.
The Man
The Man is one of the most popular tracks on Lover, and with good reason. It sees Taylor examine a hypothetical scenario: if she had been born a man, would her career (and her personal life) have been perceived differently? Would she have faced the same criticisms?
The Man is a commentary on how we treat the masculine and the feminine in our society, so naturally the song left me sartorially inspired by the suit trends that have been dominating the catwalks in 2019.
They would toast to me 'oh, let the players play'

I'd be just like Leo, in St. Tropez
This sage green suit is a trendy and wearable piece suitable for many occasions. The color corresponds with the light and airy aesthetic of Lover, and the lace bodysuit adds a sexy yet feminine touch.
The suits' versatility means that it can styled up for work with a crisp blouse, or down for date night with some cute mules, like this pair from ALDO. To accessorize, I chose a simple snake pendant, paying tribute to Taylor's reputation era.
Taylor Swift "The Man" Outfit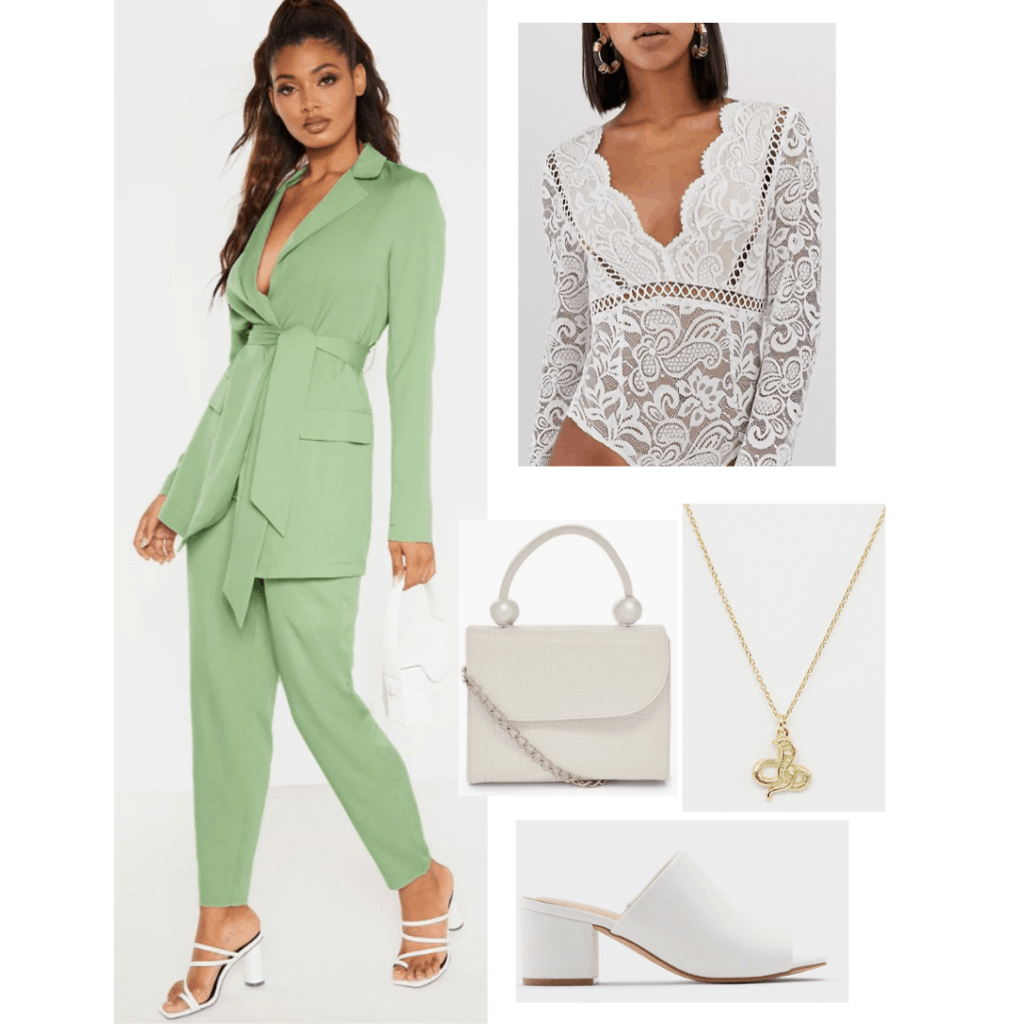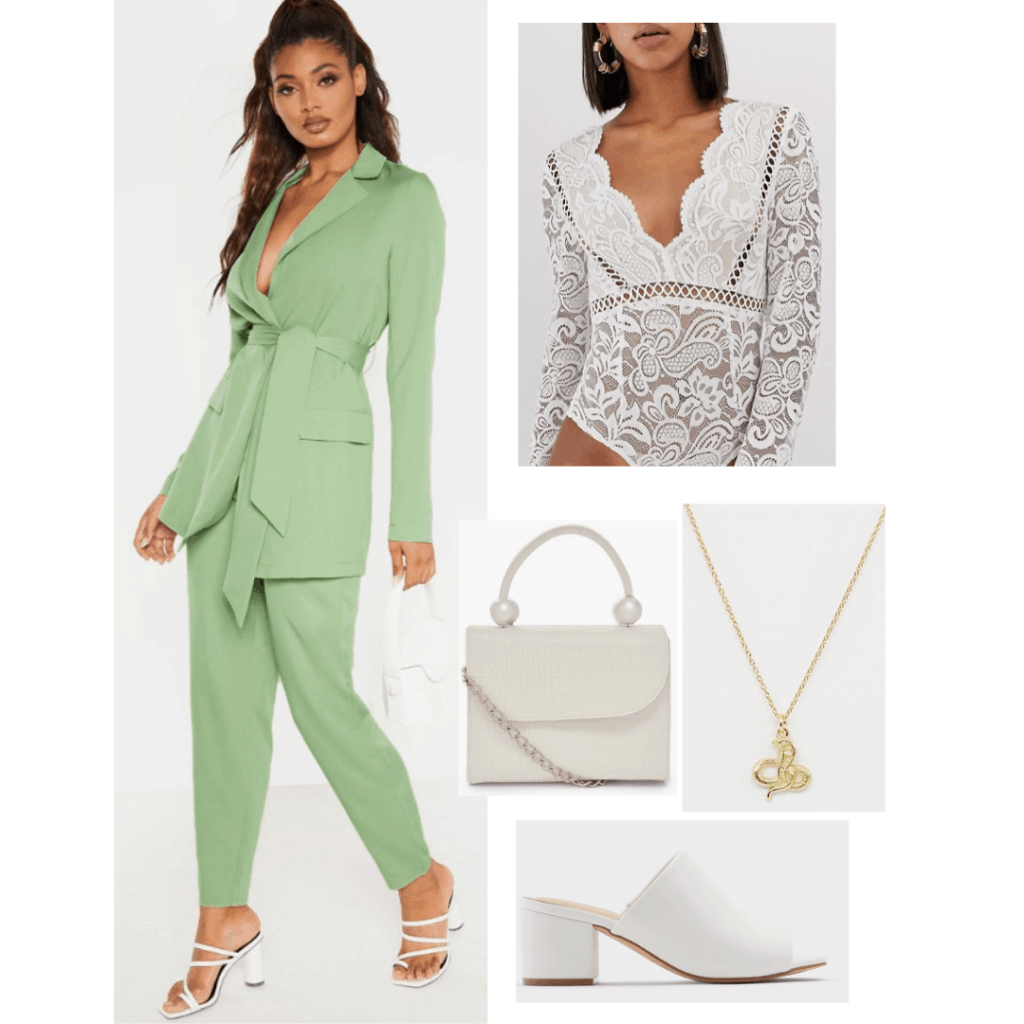 Products: Green Blazer – Pretty Little Thing, Lace Bodysuit – Love Triangle at ASOS, Green Trousers – Pretty Little Thing, Snake Pendant – ASOS Design, White Mules – ALDO, Mini Bag – Boohoo.
Cornelia Street
This next track is perhaps the most typically 'Taylor' track of all, and is very reminiscent of her RED album. Cornelia Street tells the story of a couple (presumably Taylor and Joe Alwyn) whose new relationship found its bearings on the New York City street.
"I rent a place on Cornelia Street" I say casually in the car
The narrator's continued use of the word 'I', plus the song's intimate details, tell us that the track is autobiographical for Taylor. She speaks of a love so strong that if she and Joe her man were ever to break up, she'd 'never walk Cornelia Street again.'
Windows swung wide open

Autumn air

Jacket round my shoulders is yours
In terms of fashion, the above quote states plainly that the song is set in the Fall, so with Cornelia Street I went for an Autumn/Winter style vibe.
During her 1989 days, Taylor was often spotted out and about New York City in cute and cozy Fall looks (such as the one below). Therefore, I've combined Tay's colors of choice into an equally wearable and functional Autumn/Winter outfit.
The deep purples and greens give her look an Autumnal vibe fit for a song full of powerful Fall imagery. I've also included a pair of arrow-detail earrings to tie into the following lyric:
We were a fresh page on the desk, filling in the blanks as we go. As if the streetlights pointed in an arrowhead leading us home
Taylor Swift "Cornelia Street" Outfit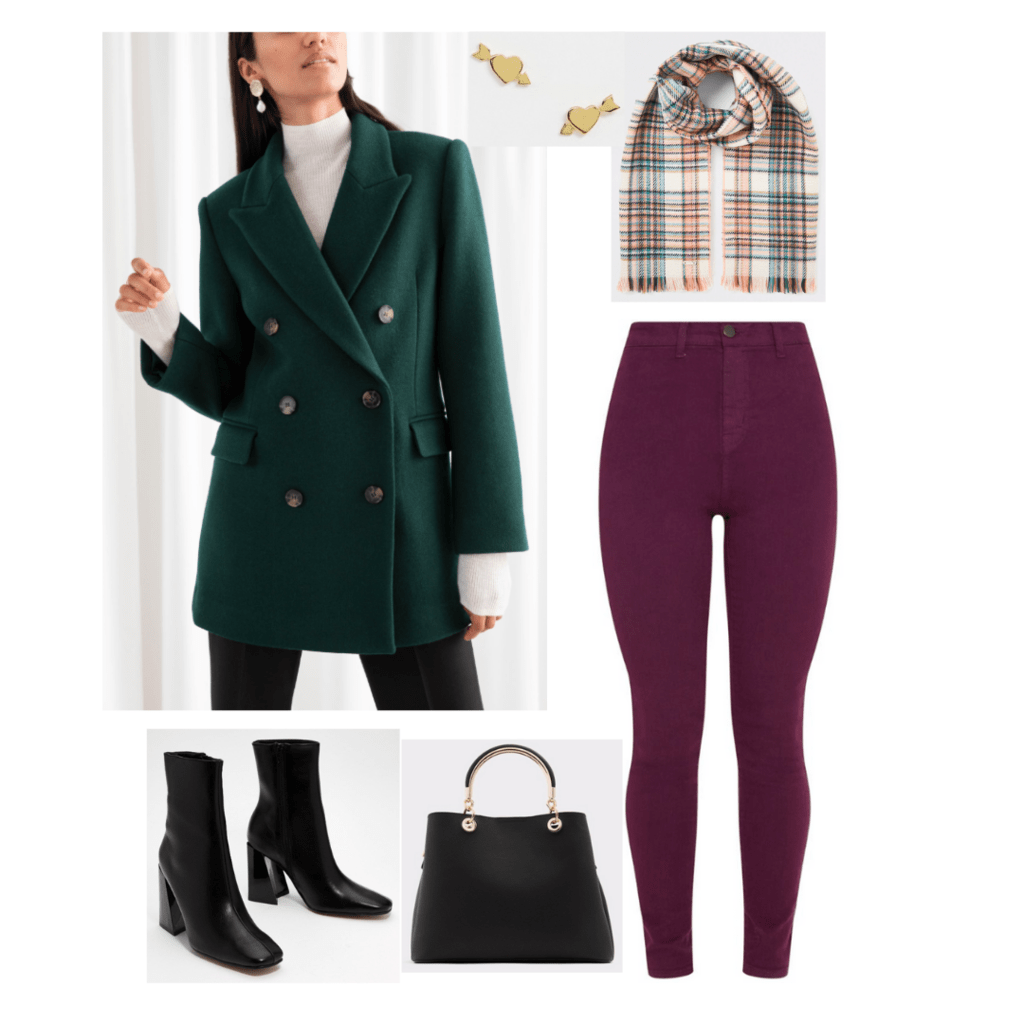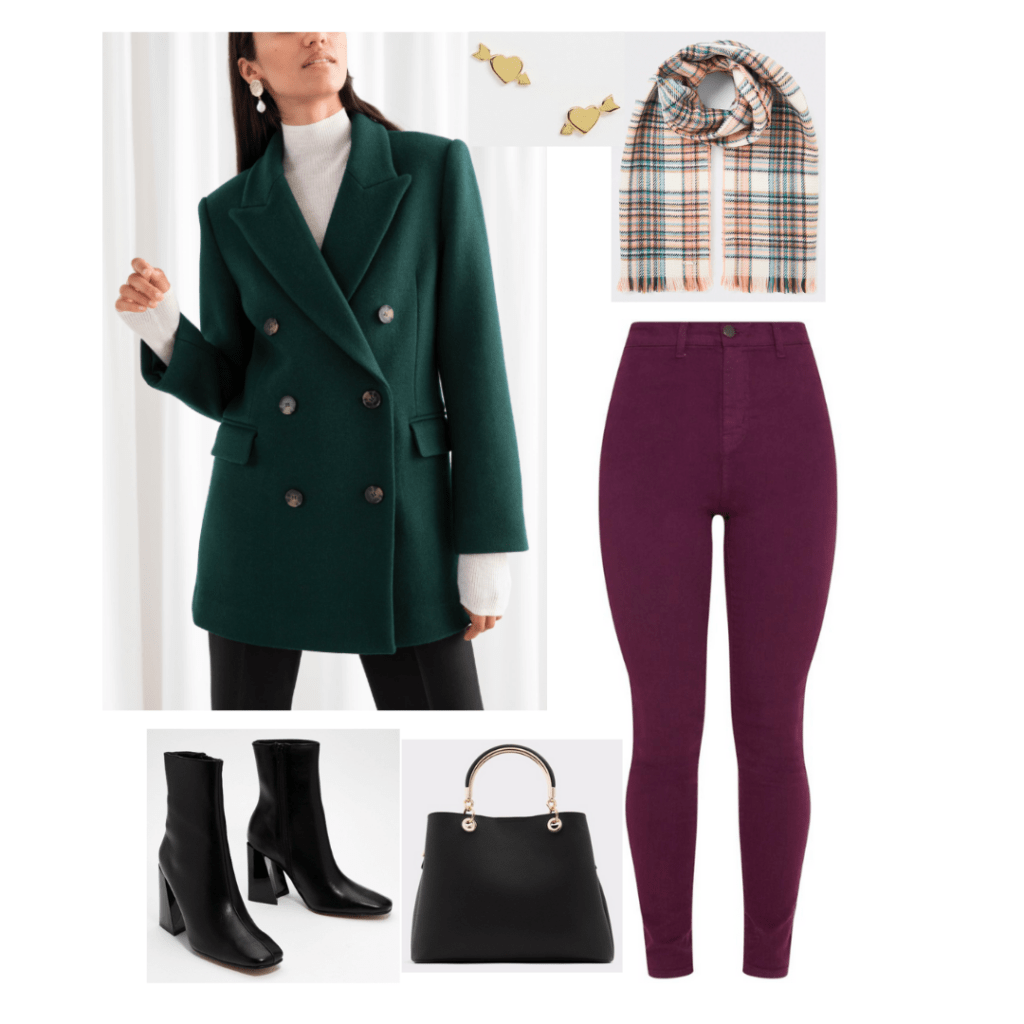 Products: Wool-Blend Coat – & Other Stories, Check Scarf – River Island, Purple Jeans – Pretty Little Thing, Tote Bag – ALDO, Arrow Earrings – ASOS Design, Heeled Boots – Nasty Gal.
Daylight
Finally, we have the Lover's closing track, Daylight. Taylor said recently that she actually almost named the album Daylight, so the track is obviously important to her overall vision for Lover.
This song speaks of a woman who has grown up. A woman who is rewriting her own story and questioning everything she ever thought she knew about love and relationships. This is telling in one of Daylight's most impactful lines:
I used to think love would be burning red, but it's golden
Naturally, to finish our Taylor Swift Lover fashion guide, this outfit had to be as simple, delicate and golden as Daylight itself. For this song, my outfit consists only of a pretty nude dress with gold accessories. No more dark leotards, fishnets and snake-print t-shirts necessary. The old Taylor is back, and she's golden.
Taylor Swift "Daylight" Outfit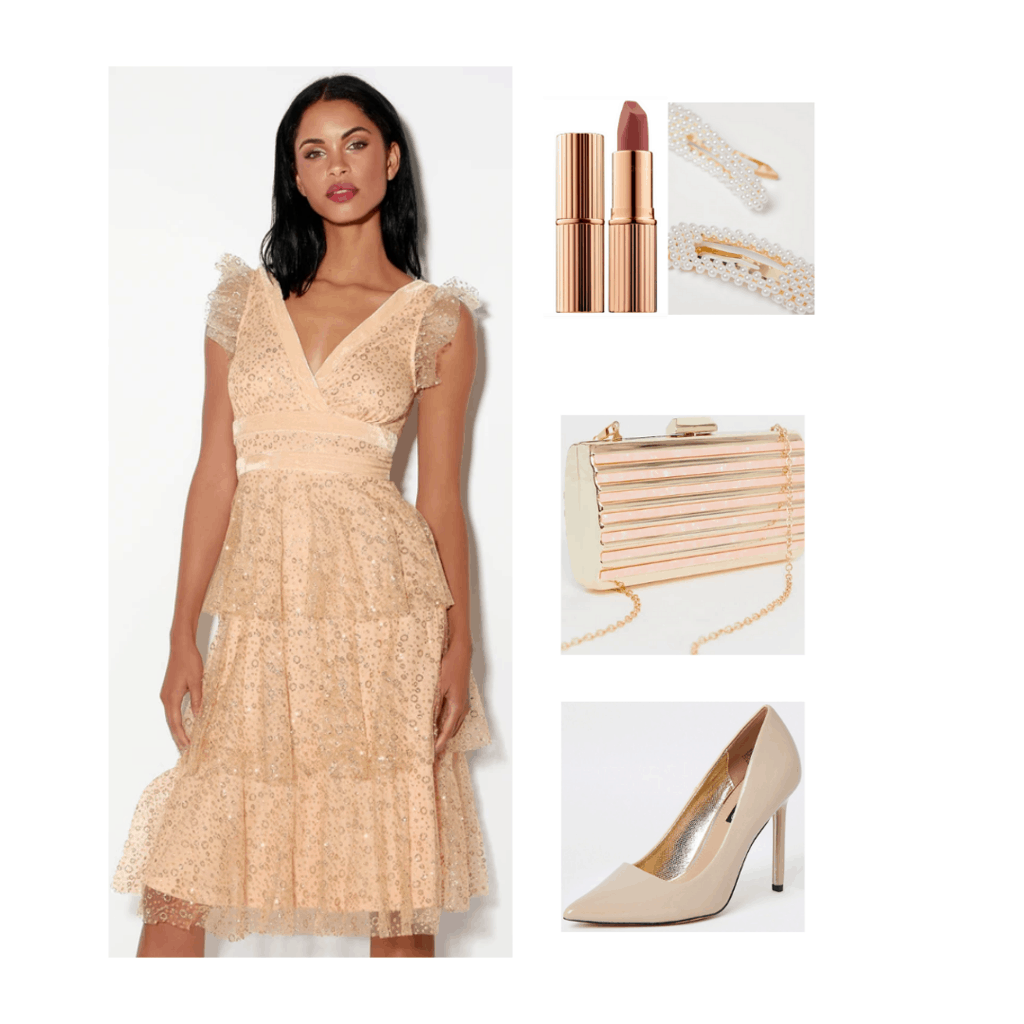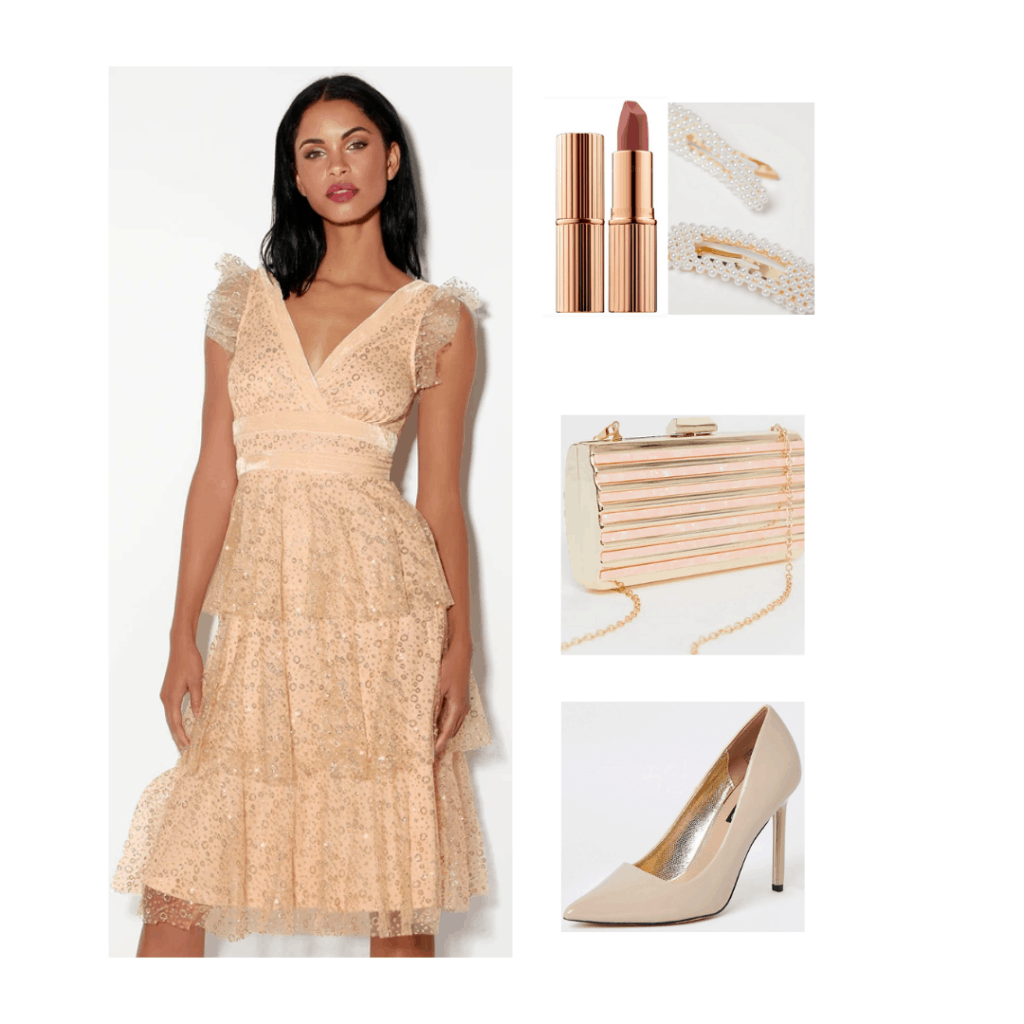 Products: Midi Dress – Lulu's, Hair Clips – H&M, Matte Lipstick – Charlotte Tilbury at Sephora, Gold Clutch – True Decadence at ASOS, Nude Heels – River Island.
Listen to Lover!
What was your favorite track from Lover? Do you think I covered the album well? Which of these Lover inspired outfits was your favorite? Do you have any post requests? Let me know in the comments below, I can't wait to hear from you!