For this Taylor Swift fashion guide inspired by her re-recordings, I'm redoing my own work and dressing like Taylor Swift eras every day for a week.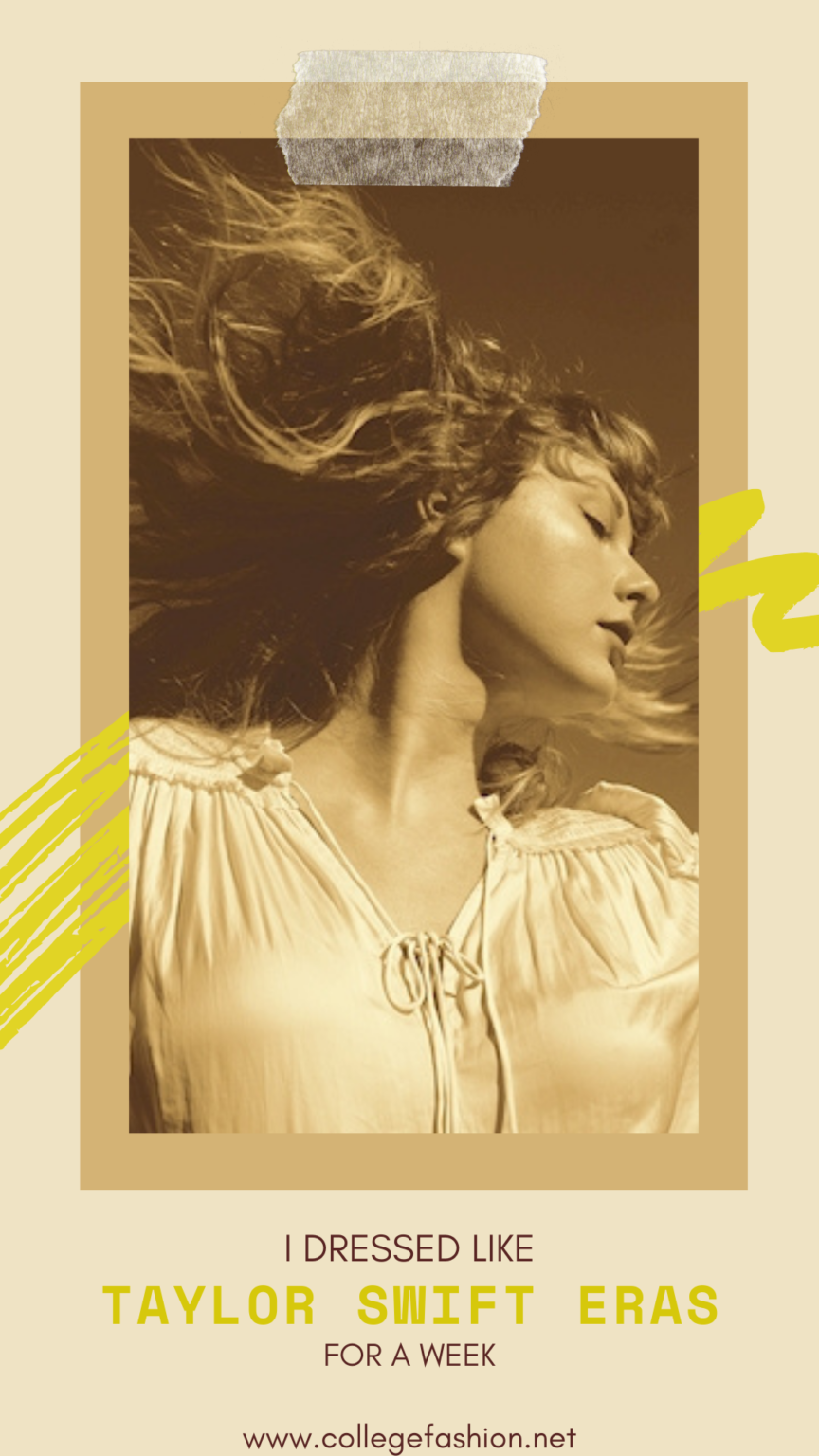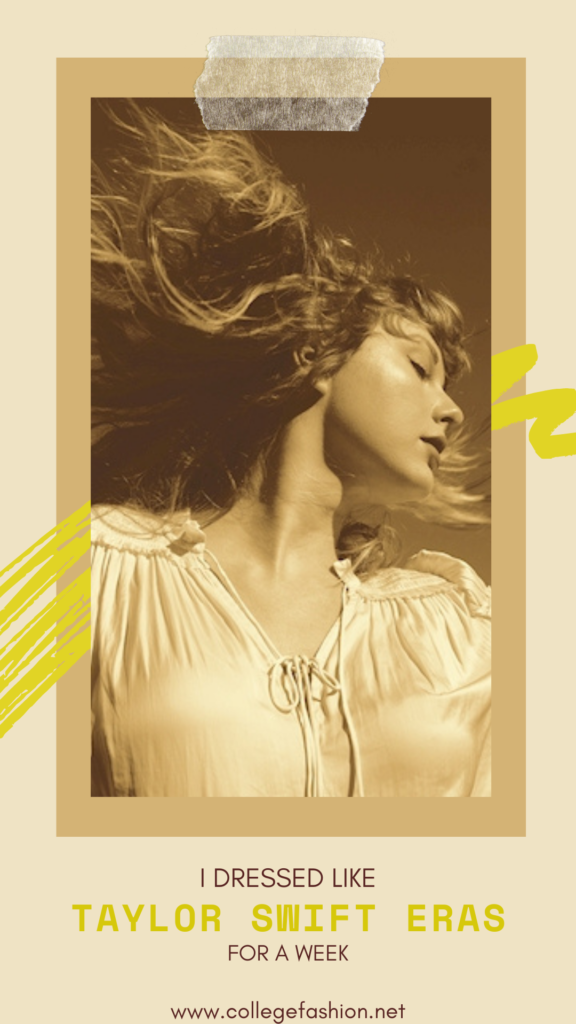 We've all looked to celebrity style for fashion inspiration at some point in our lives. But it's one thing to say "I love her outfit," and it's another to actually copy it in real life.
For this series, I'm going the extra mile and making it happen. Each week, I'm getting inspiration from a celebrity and copying five of her looks as closely as possible. Then, I'm reporting back to you: Did the outfits work in real life? Did I feel comfortable? Did people treat me differently? I'm sharing it all.
In past posts I've covered the style of these celebrities: Zendaya, Gigi Hadid, Grace Kelly, Kendall Jenner, Vanessa Hudgens, Sophie Turner, Priyanka Chopra, Millie Bobby Brown, Hilary Duff, Lily Collins, Taylor Swift, Selena Gomez, Alexa Chung, Queer Eye's Fab 5, Lucy Hale, Dakota Johnson, Hailey Bieber and Kaia Gerber.
I've also covered the style of certain iconic TV and movie characters: Iconic Halloween Characters Part 1 & 2, Iconic Christmas Characters Part 1 and 2, Rachel Green Part 1 and 2, Monica Geller, Little Women's Characters, Gilmore Girls' Characters Part 1 and 2, Iconic Olsen Twins' Movies, Winx Club Characters, Bridgerton Characters and W.I.T.C.H Characters.
This week, I'm celebrating Taylor Swift's re-recordings. In honor of the release of Fearless (Taylor's Version), I'm re-doing my own work and doing a fresh 2021 version of my original Taylor Swift eras fashion post.
About Taylor Swift's Re-Recordings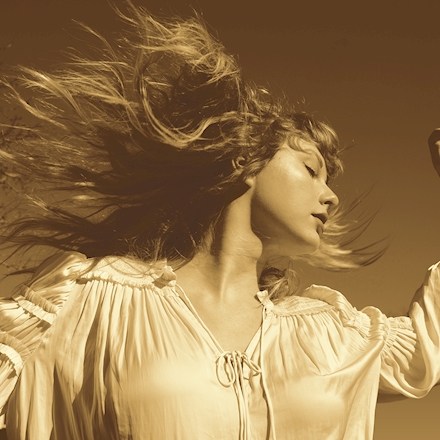 By now, you've probably heard that Taylor Swift is re-recording eleven years of her work. Here's a bit on the how and why of this:
According to a statement Taylor published on her Tumblr, when Taylor left Big Machine Records in late 2018, she wanted to either buy her master recordings or the record label itself. Taylor stated that Big Machine wanted her to sign another six album contract that would only transfer the album masters to her slowly over time and never offered Taylor the chance to buy them outright.
Knowing that CEO Scott Borchetta was looking to sell the label and that Republic Records (her current label) would at least give her ownership of her future work, Taylor chose to move on:
I walked away because I knew once I signed that contract, Scott Borchetta would sell the label, thereby selling me and my future. I had to make the excruciating choice to leave behind my past. Music I wrote on my bedroom floor and videos I dreamed up and paid for from the money I earned playing in bars, then clubs, then arenas, then stadiums.
Borchetta subsequently sold the label to Scooter Braun's company, Ithaca Holdings. Braun is a former manager and friend of Kanye West, resulting in a man Taylor wants nothing to do with, owning eleven years of her work.
In the aftermath of this deal, Taylor decided to re-record all of her songs in order to get them back.
In late 2020, Taylor began re-recording her back catalogue. The first of her previous albums to be completely re-recorded is Fearless. Now, it's called Fearless (Taylor's Version) and it will be out on April 9th (next week!).
Next Thursday, not only will we have the re-recorded songs, but we'll have six extra songs that were left out the first time around.
Re-Doing My Taylor Swift Eras Fashion Post
In celebration of Taylor's re-recordings, I wanted to re-do my own work as well.
Looking back on my previous post on outfits inspired by Taylor Swift eras, I'm not 100% happy with the results. I feel like the looks were too literal and aimed more towards capturing the color scheme of the albums, rather than the overall vibe and feel of each era. Also, I don't like some of the final outfits now.
This time, I took my time doing my research and I even consulted the biggest Swiftie I know to get this one right. (Thanks, Sofi!)
And, who knew we would have SO much new material to work with so soon? Now, Taylor has 9 albums, so I had to compromise.
I decided I'd cover folklore and evermore, since they didn't exist when I did my first post. The third album I went with is Fearless (Taylor's Version), because it's the whole reason I'm doing this post again. For the two remaining days, I wanted to use my two favorite albums from the previous eras.
Taylor Swift Fashion Guide 2021
Fearless (Taylor's Version) – Outfit #1, Monday
Fearless was the second album of Taylor's career. A country-pop album, Fearless incorporates a lot of fairytale-inspired elements. This is the album that got Taylor noticed by the mainstream, with songs like Love Story and You Belong With Me.
Love Story (Taylor's Version) was released in February 2021 as a lead single for the re-recorded album. Two weeks ago, the second single, You All Over Me, was released and it is one of the six newly added songs to the album.
You guys have no idea how excited I am for this album to come out next Thursday! I already pre-ordered the record and have been blasting Love Story (Taylor's Version) non-stop since February (apologies to my sweet, patient family).
Fearless (Taylor's Version) Style Recreation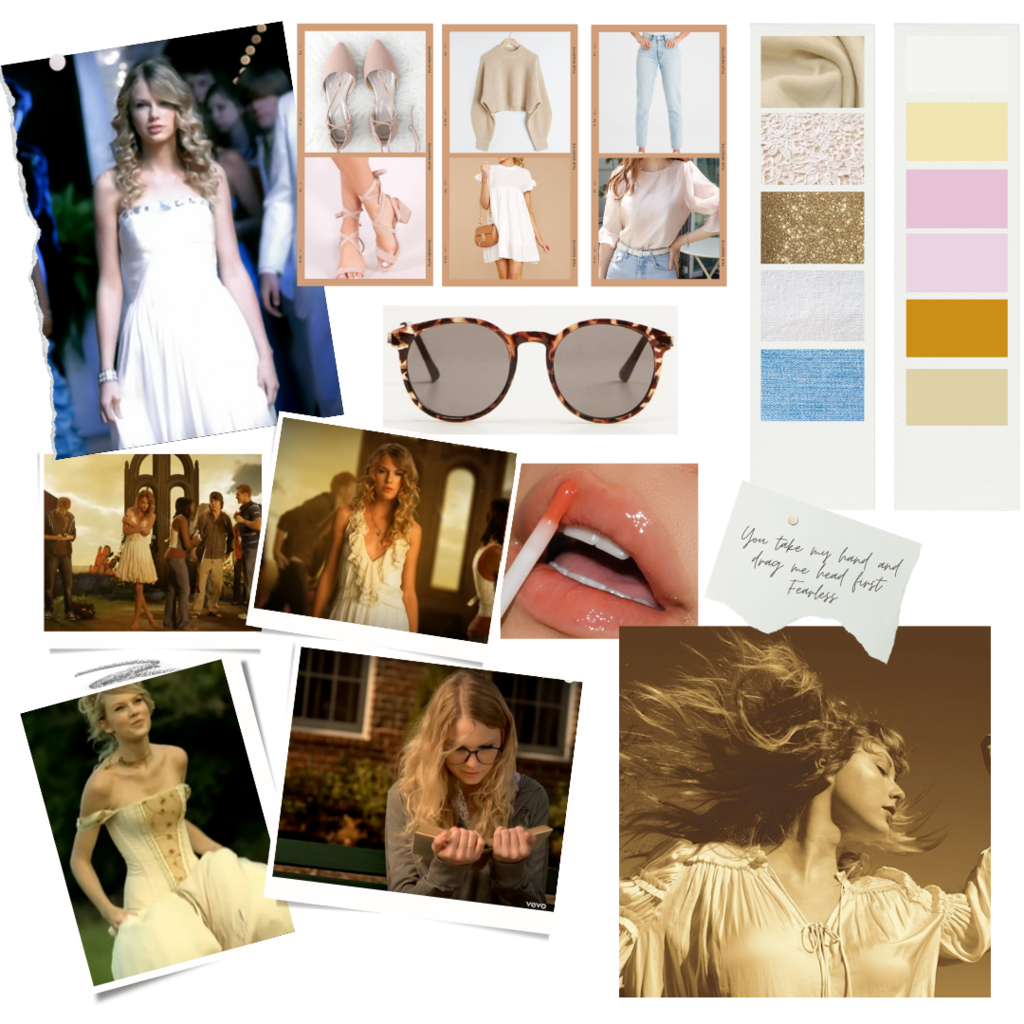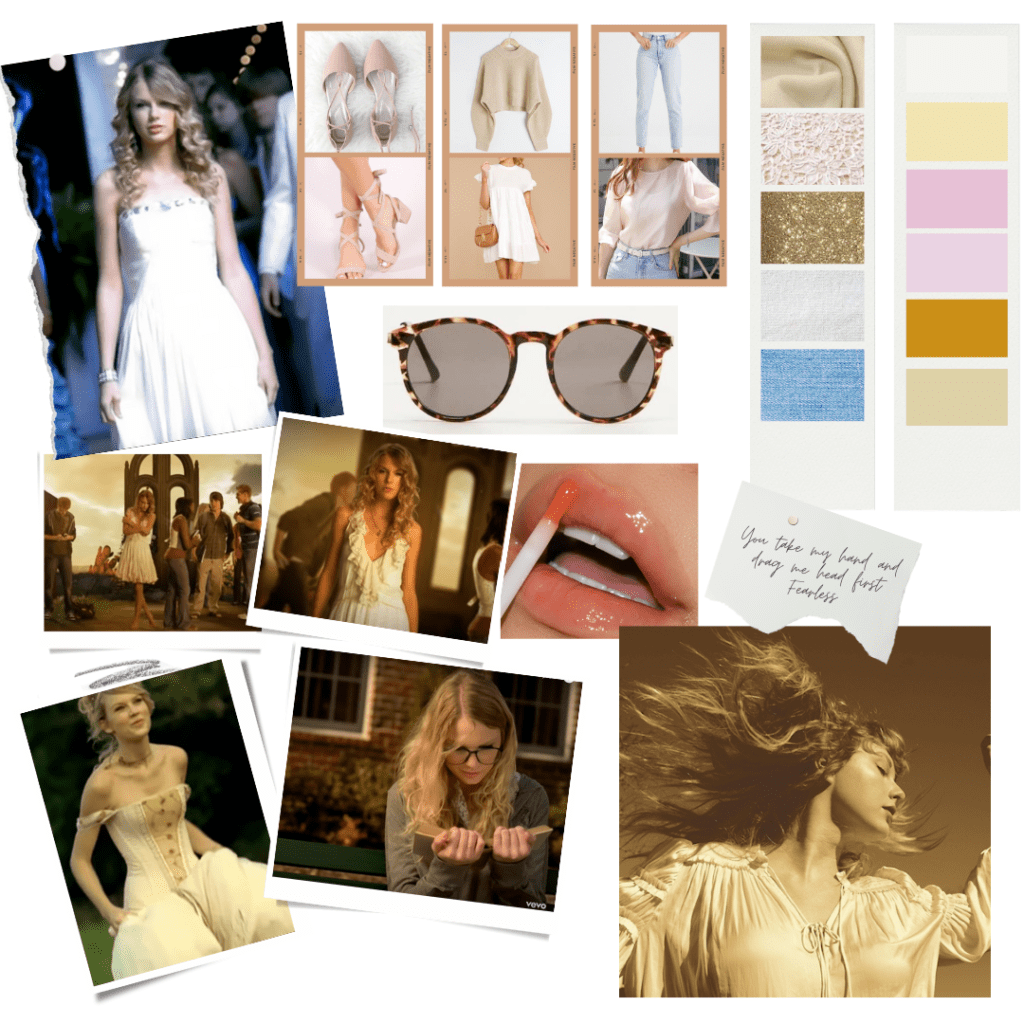 How would this version of Fearless dress if it were a person?
I'm imagining a very feminine, sweet sort of style, with a lot of romantic silhouettes and flowy or soft fabrics. Kind of like girly-girl meets soft-girl.
For the color scheme, I think of golden, off-white, light and muted tones of pink, beige, and white.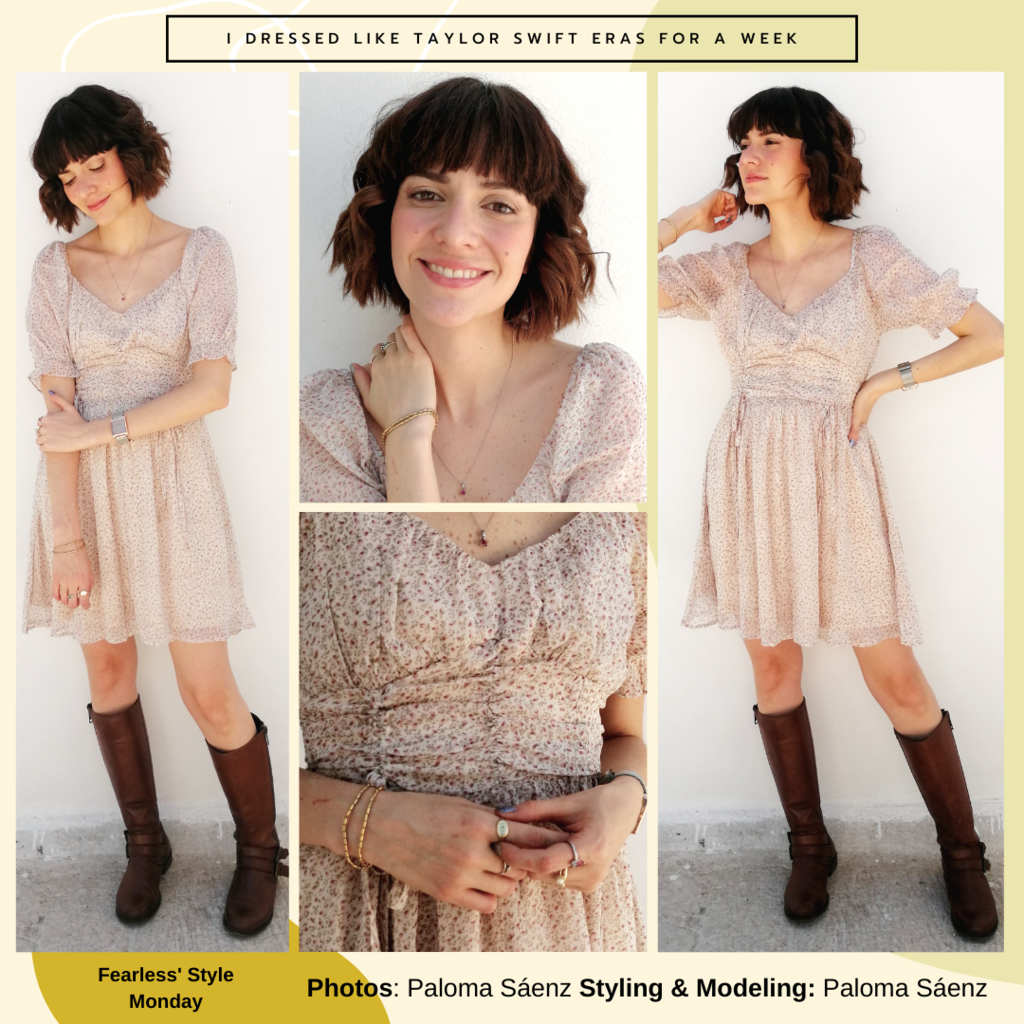 For my Fearless (Taylor's Version) look, I decided on this sundress. It has a flowy fabric in a light beige color. It also has a beautiful floral print in muted tones of green and pink.
For my shoes, I opted for a pair of cognac riding boots. Ideally, I would've worn a pair of cowboy boots, but I didn't want to buy the boots knowing I wouldn't wear them again.
I didn't use many accessories, just my everyday jewelry and some golden bracelets. Finally, I did my makeup as natural as possible, while still using a pink lip gloss and glittery eyeshadow.
I really liked this one! It was so simple and adorable. It kind of reminded me of the original Love Story music video. The color scheme was more in line with the branding for the new version. I added a beige face mask while running some errands and a denim jacket later in the day.
Red – Outfit #2, Tuesday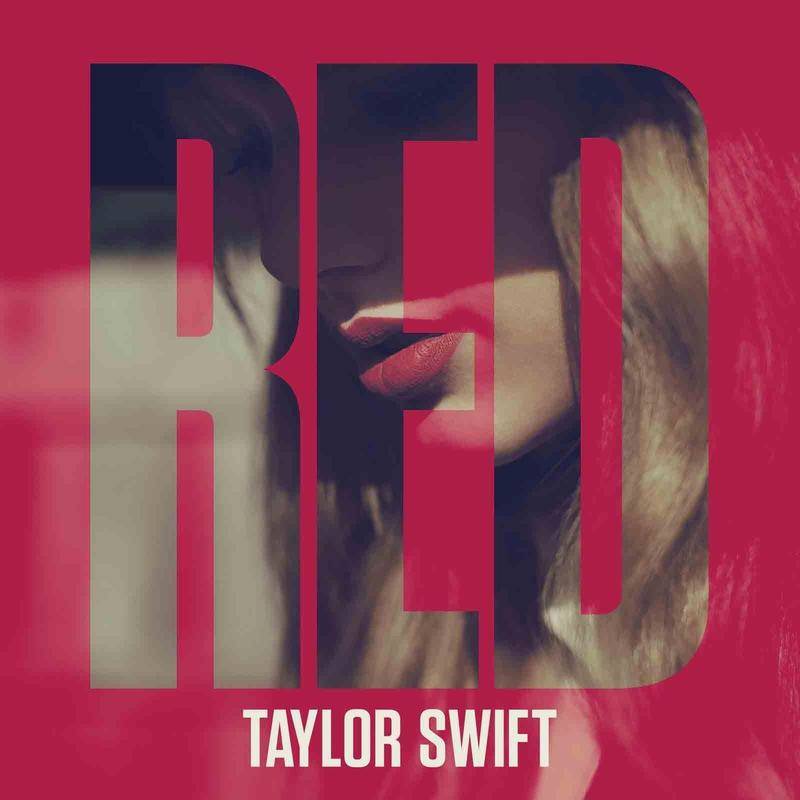 A fan-favorite, Red is Taylor's fourth album. The album marks the beginning of Taylor's shift away from country toward more mainstream pop. Before folklore and evermore came to play, Red was considered by most fans and critics to be the best album of Taylor's career. All Too Well is, by far, one of the most beloved songs by Swifties, myself included.
When I was deciding which of the previous albums to include, there was no doubt in my mind that Red was going to be one of them. I just love it so much, both lyrically and stylistically.
When the re-recorded version of Red comes out, Swifties are going to lose their minds! I will cry for a long time with it, that's for sure.
Red Style Recreation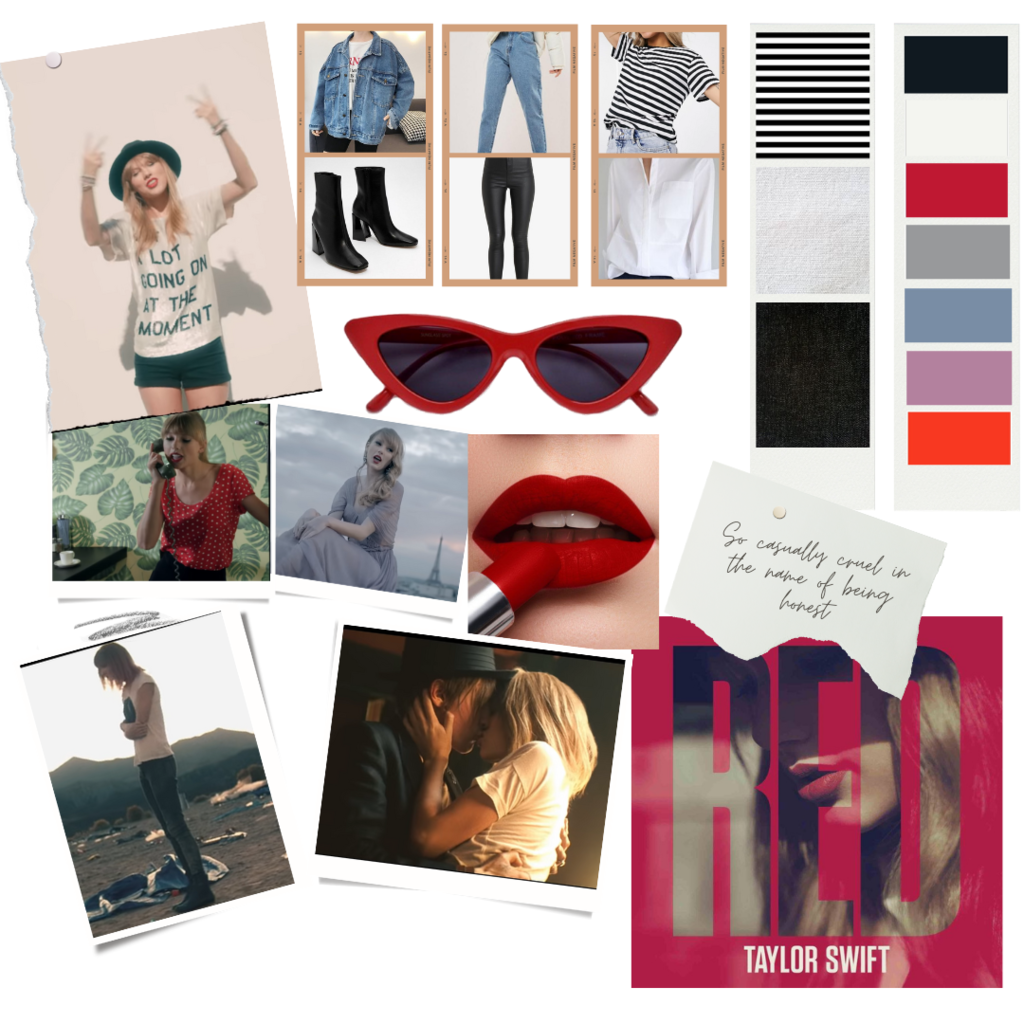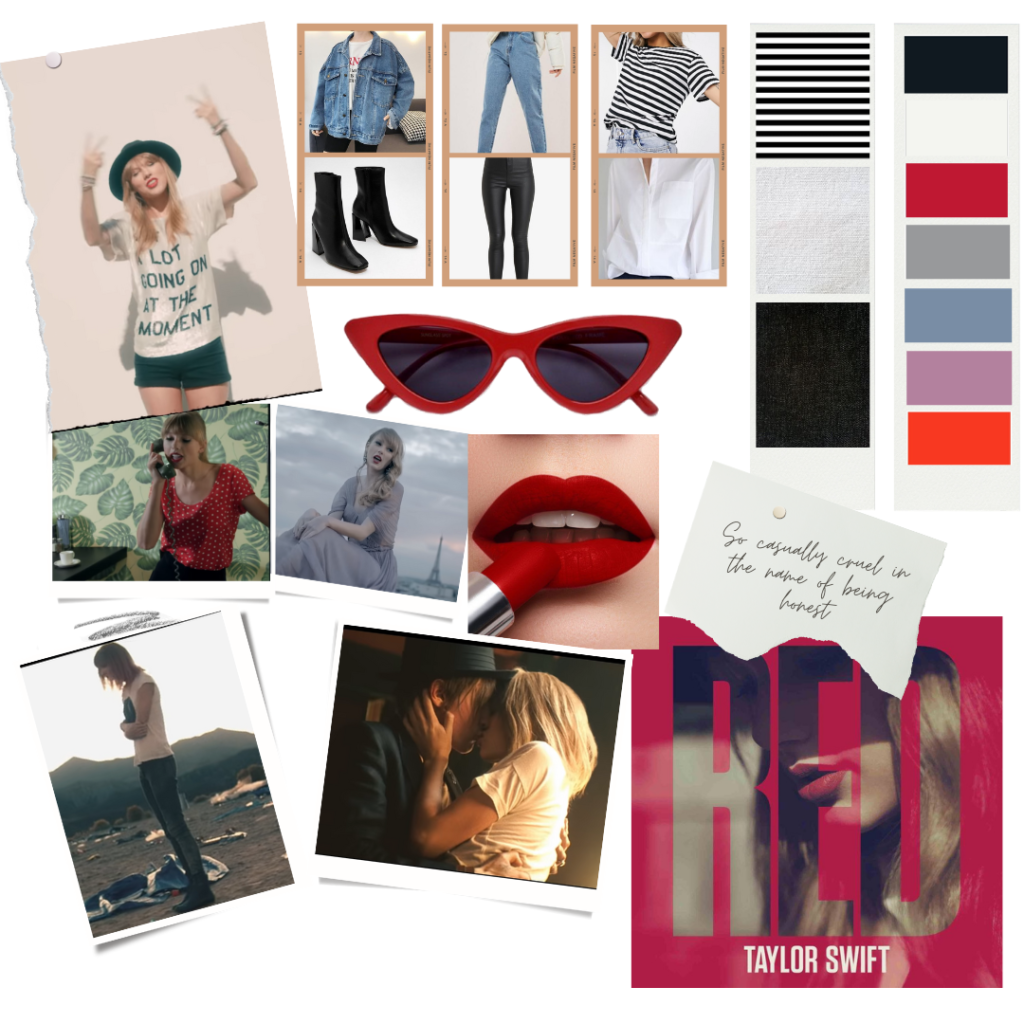 If Red were a friend of mine, I would admire her effortless coolness. I think Red would wear a lot of comfy but stylish clothes. The pieces would have a vintage vibe, but with some modern items mixed in.
Mostly, her color scheme would be comprised of black, white, and the rest of the neutrals in fabrics like denim, cotton and leather. And the accent color: red.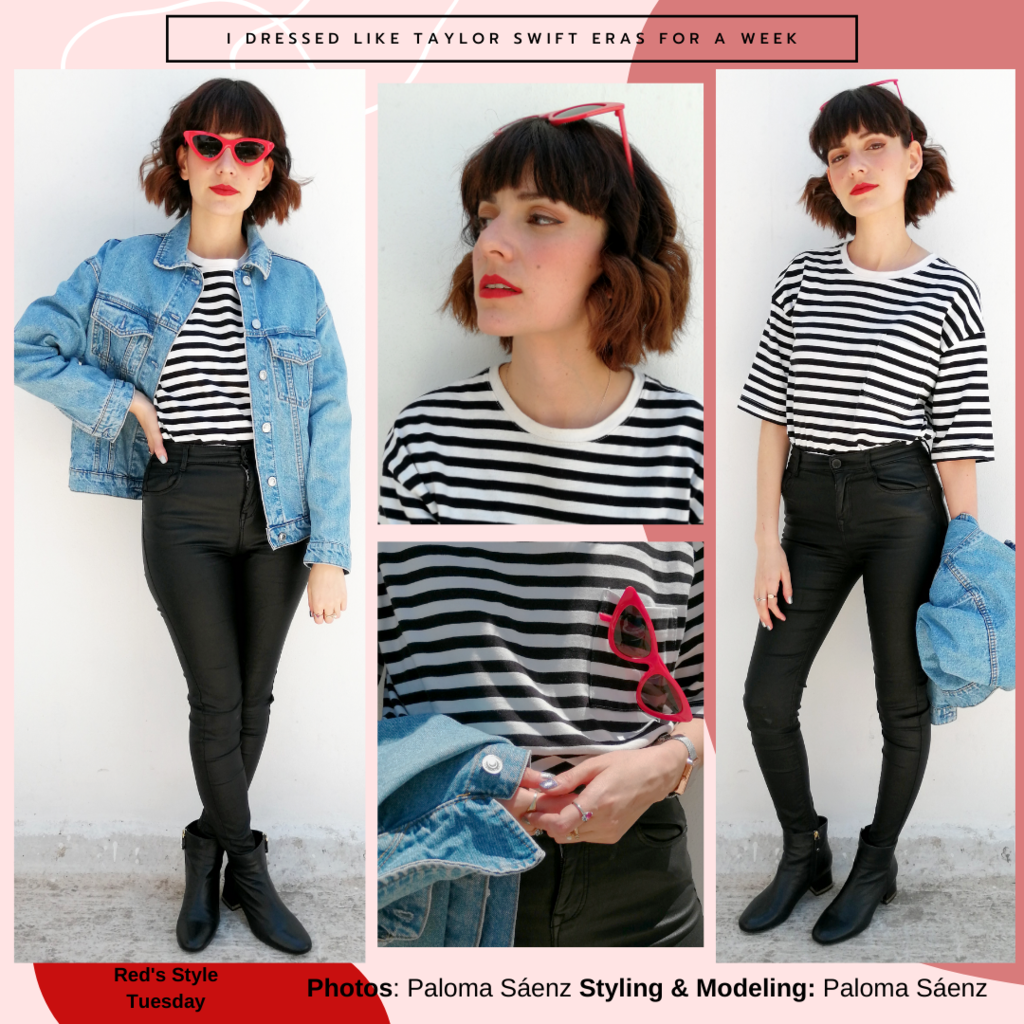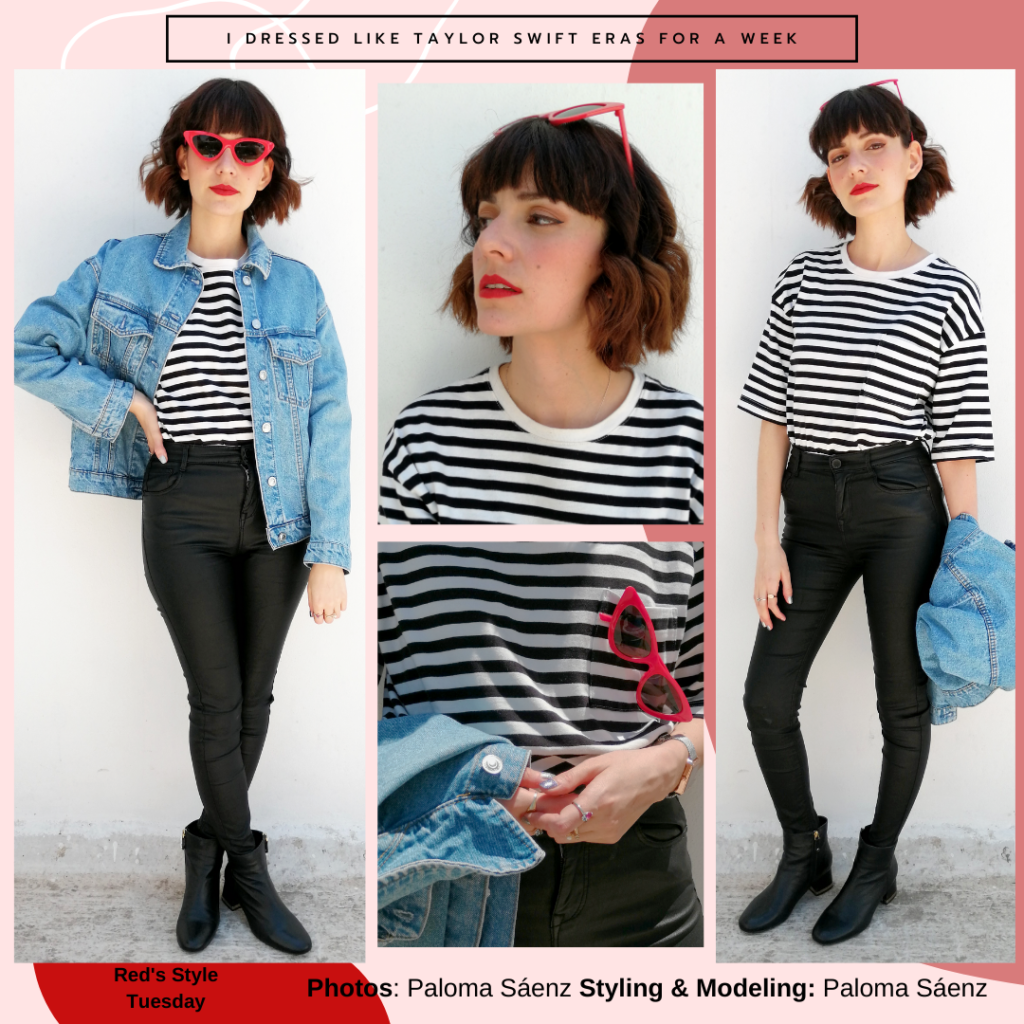 For my "Red" look, I wore a boxy black and white t-shirt and a pair of coated black pants. I tucked in the t-shirt to give the outfit more structure.
For the shoes I was torn between booties, Oxford shoes, and a pair of classic Converse. I ended up going for a pair of black ankle booties for edge.
To add some cool layering, I put on an oversized blue denim jacket.
For my accessories, I kept the same jewelry as always and added a pair of red frame sunglasses. I didn't actually wear them, but I put them on top of my head kind of like a hair band. Finally, my makeup was very classic with a black cat eyeliner and red matte lipstick.
As simple as it was, this outfit made me feel really cool. It was also perfect for this sort of transitional weather. I was comfortable, since it is an outfit combo that I do wear often, but elevated because of the added accessories and makeup.
reputation – Outfit #3, Wednesday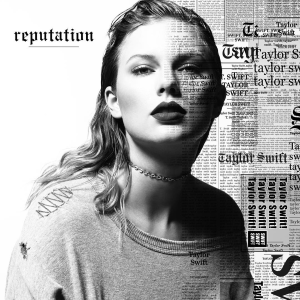 Reputation (stylized reputation) is the 6th Taylor Swift album and the one that has brought the most contentious debate. Reputation features heavier electropop with more prominent hip-hop influences and darker lyrical themes. It mostly centers around fame and celebrity, public image, and the dangers of mistaking reputation for reality.
I had a hard time deciding on the last album I would recreate. While I love 1989, Lover, and Speak Now, too, reputation means so much more to me than all the other three. Taylor's self-titled album, while good, doesn't resonate with me much. There are so many songs and lyrics in reputation that just speak to my soul.
reputation Style Recreation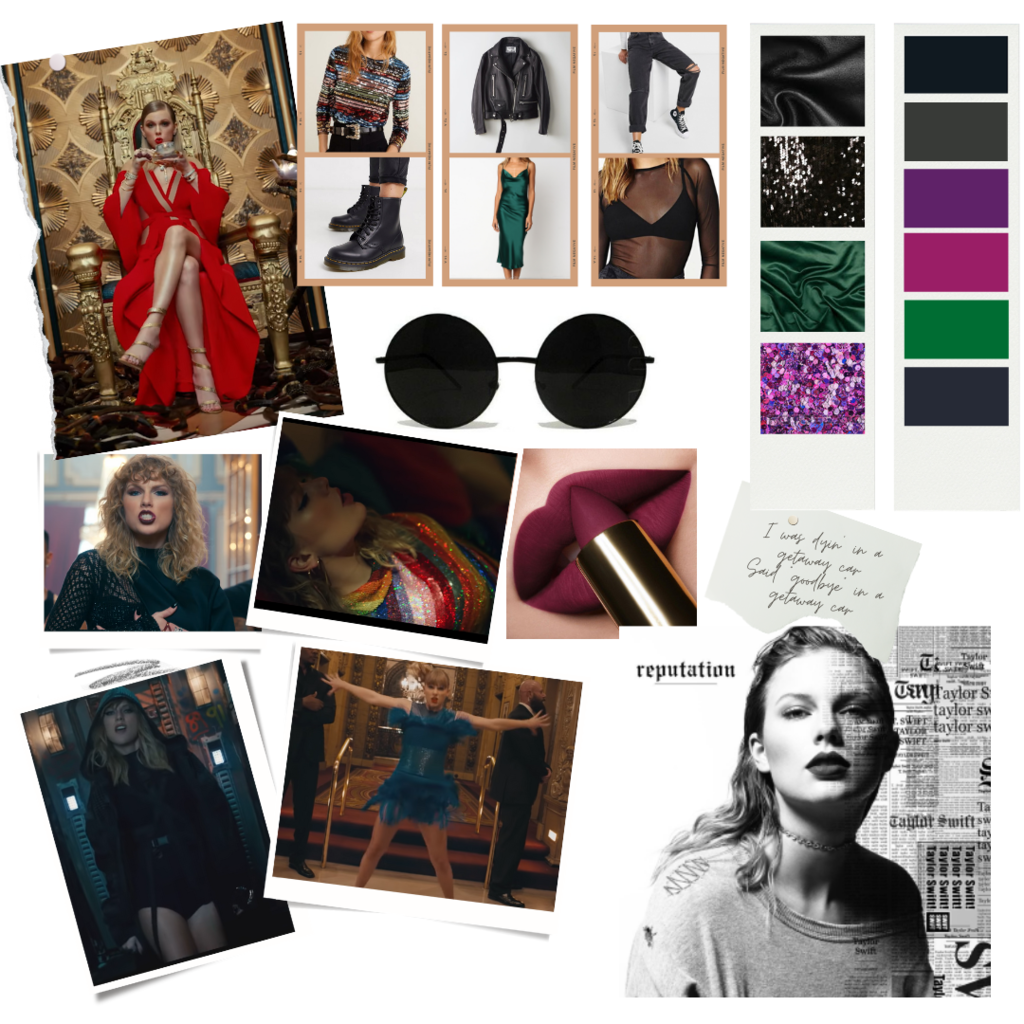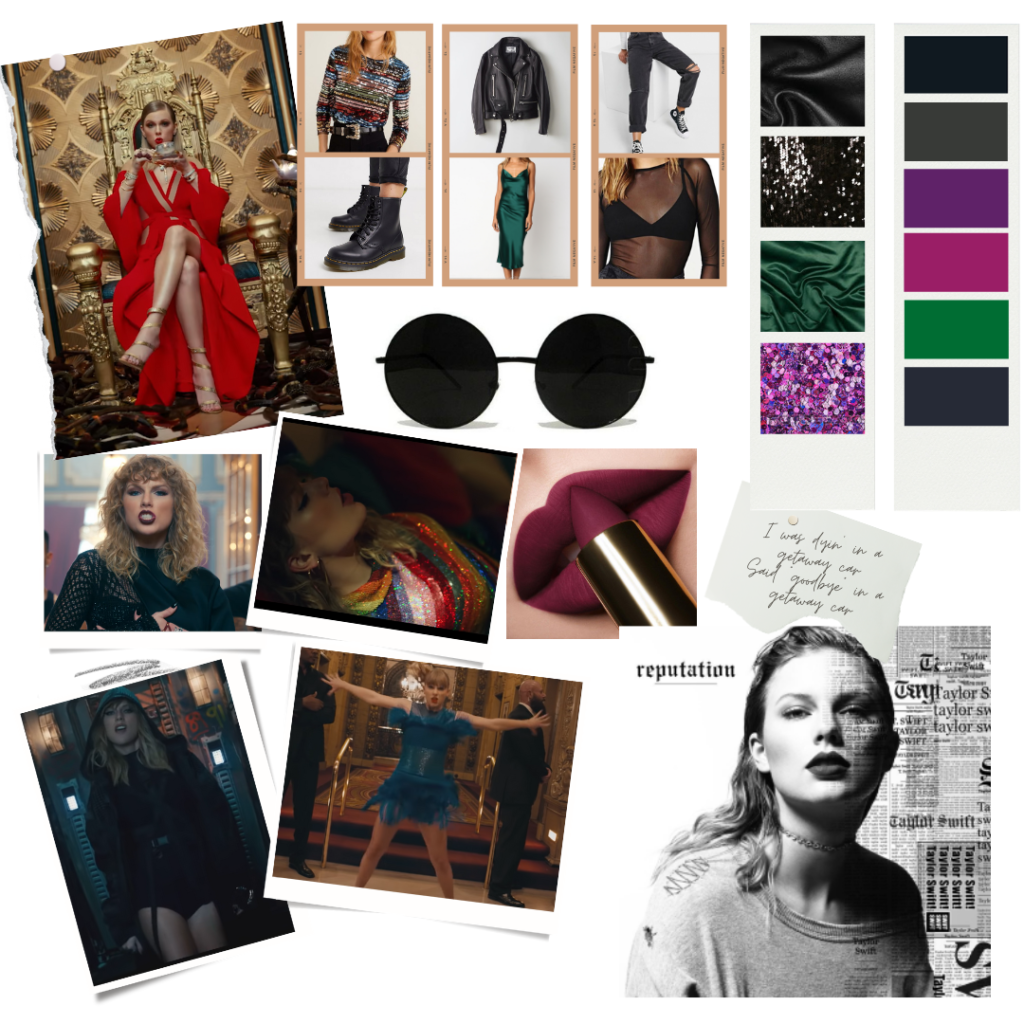 If there's an album that would, 100%, be an edgy, street-style type of person it'd be reputation.
For this aesthetic, I pictured a lot of black and dark grey, but I also think there would be more colors involved, like purple, mustard yellow and emerald. I also pictured lots of interesting fabrics and textures, like sequins, mesh, satin and glitter.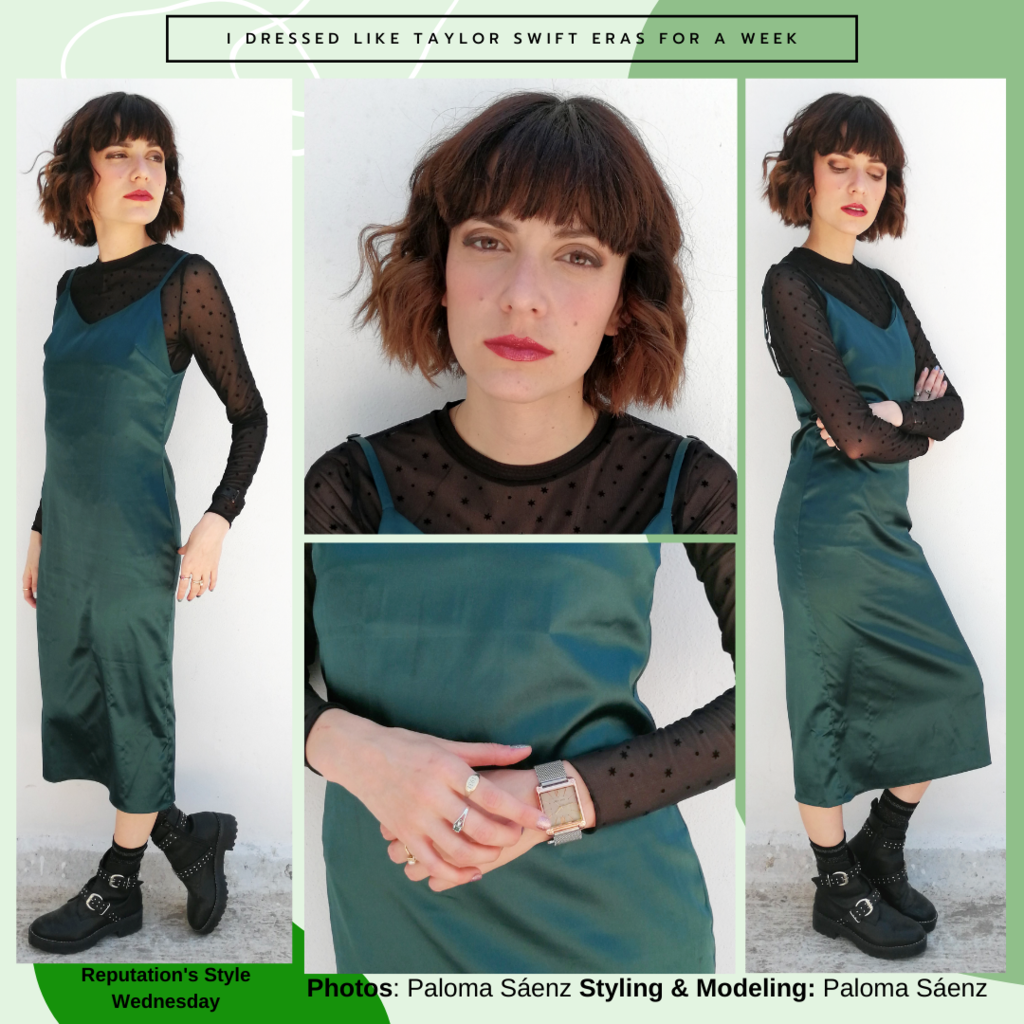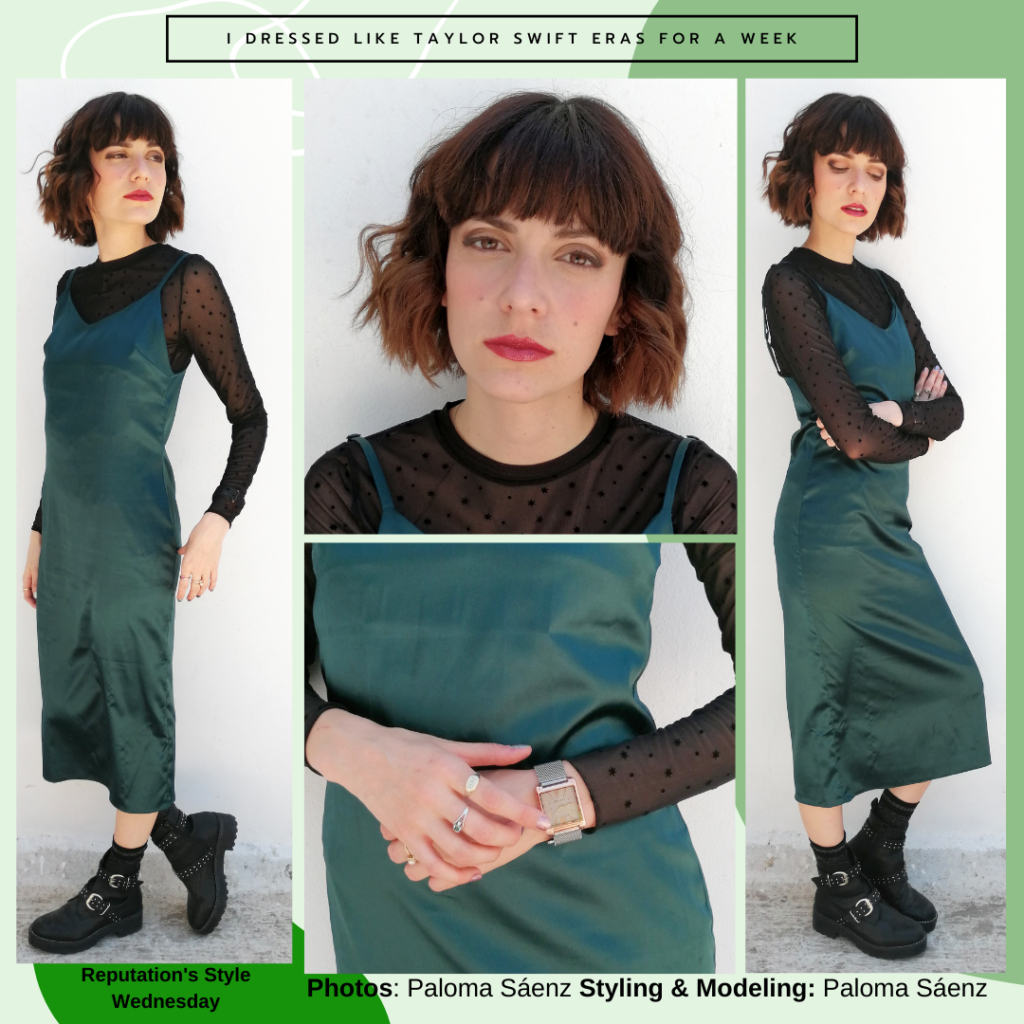 Reputation's look was the easiest one for me to create. I took a black mesh top and paired it with a satin dress in emerald green. I put the shirt to tone down the dress and make it a more "everyday" type of look.
My shoes are a pair of black combat boots with silver detailing. I also added a pair of black glitter socks.
Then, I applied my makeup more heavily, with darker eyeshadow, burgundy matte lipstick and a more dramatic eyeliner. For my hair, I let it air-dry to have it as naturally curly as possible.
I loved this outfit! I really did. It was dramatic, edgy and so, so cool. That being said, it wasn't the most comfortable look for staying at home and working at my desk for the better part of the day. In hindsight, I should've worn this on Friday instead of Wednesday and I could've worn it on date night to show it off. I would 100% rock this one again, just maybe not to work or to stay at home.
folklore – Outfit #4, Thursday
Folklore (stylized folklore) is Taylor Swift's 8th album and the first one to be released by surprise during quarantine. Unlike anything Swift had ever put out before, folklore has an alternative sound and almost none of the songs were inspired by her private life.
This album is one of my favorites, easy. I love the sound, the storytelling, the return to her country roots in 'betty', the more poetic lyricism. It's just so cool. I love it.
folklore Style Recreation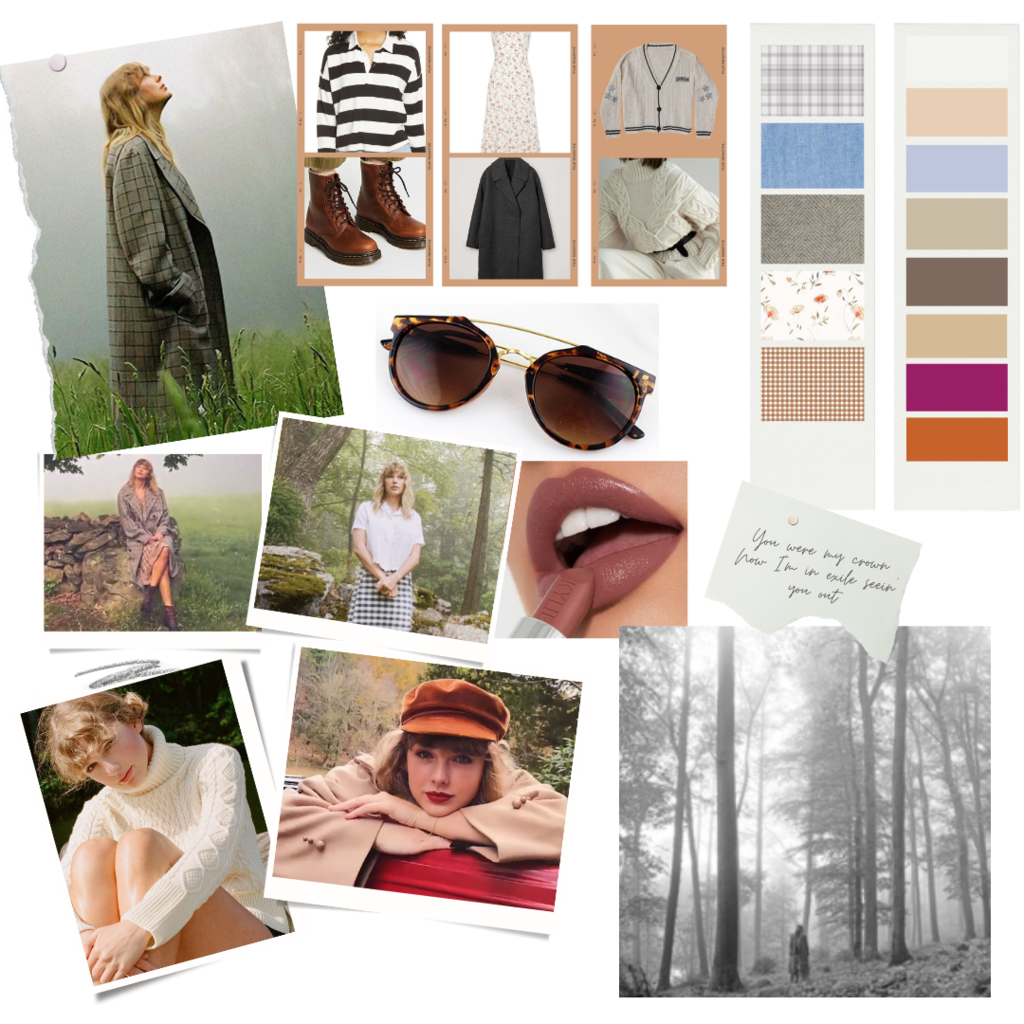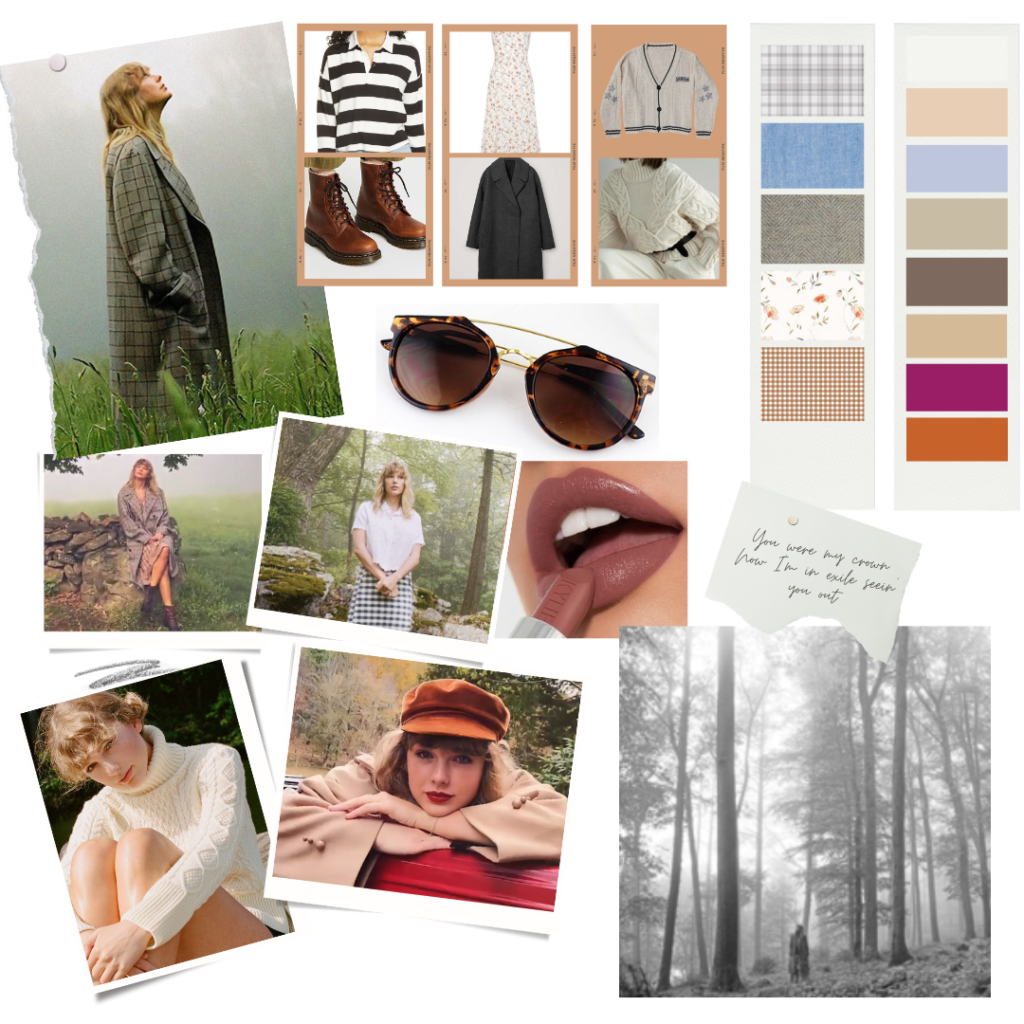 Would folklore use anything else than cottagecore inspired items? I mean, look at the 'cardigan' video.
I think there would be a lot of light neutrals involved and jewel-toned hues as accent colors. Plaid, denim, gingham, and wool are definitely textbook folklore.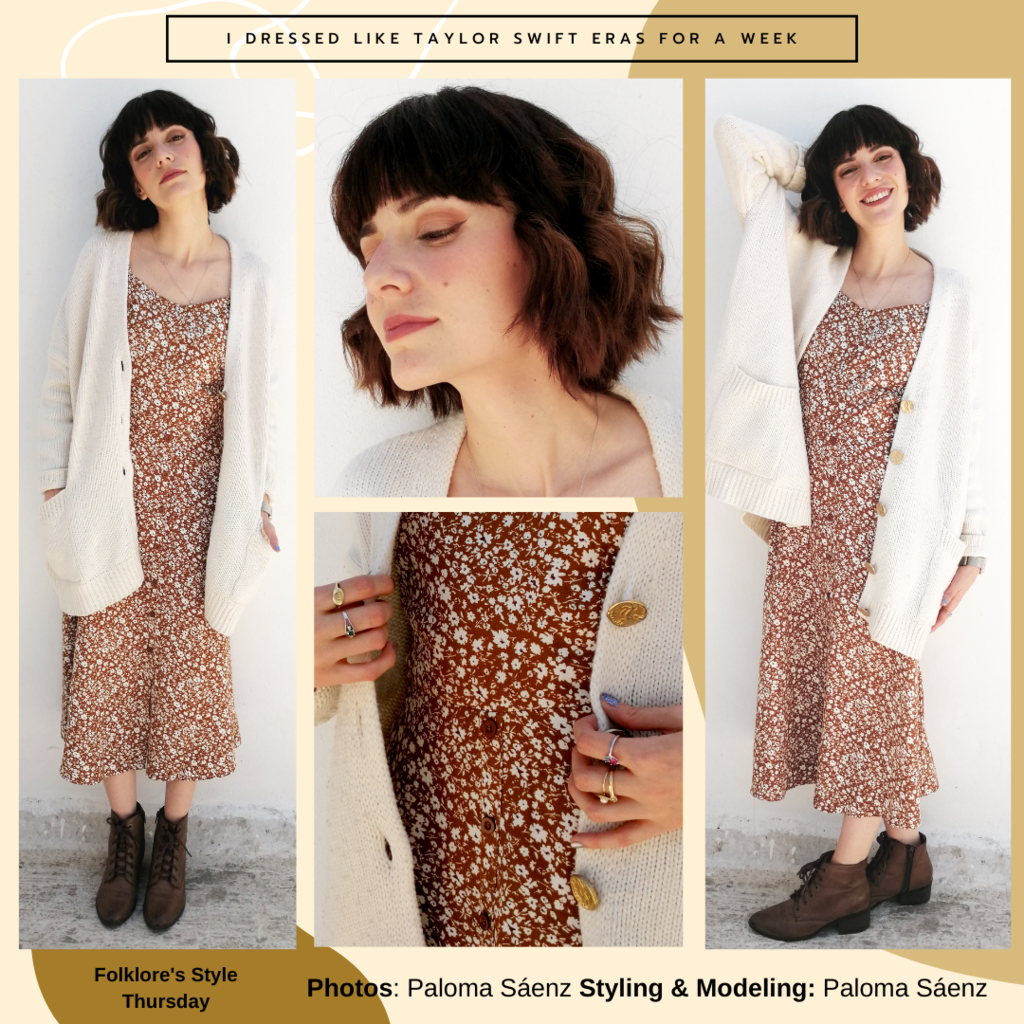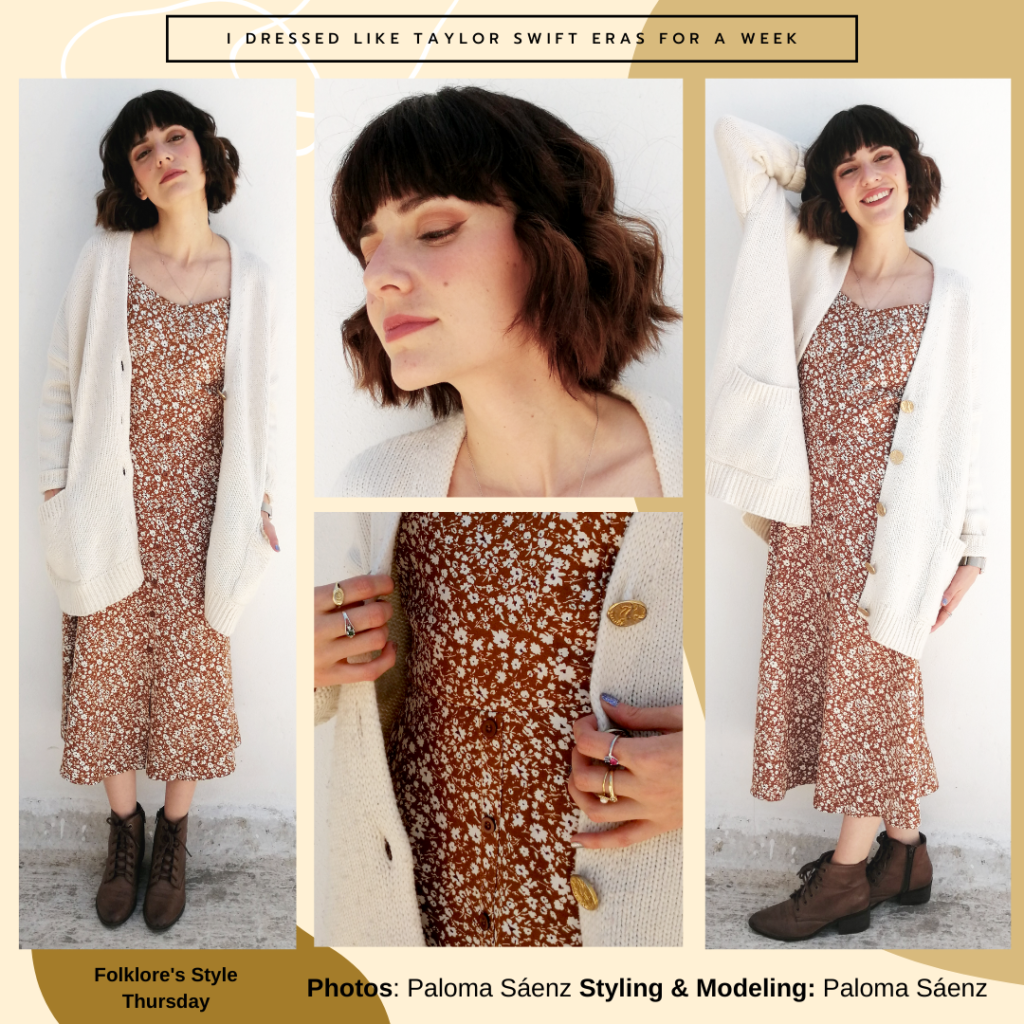 To create my 'folklore' outfit, I wore a floral midi dress as a base for the look. It is a muted mustard yellow with white and purple flowers on it. Since it isn't summer just yet, I threw on an oversized off-white cardigan in the morning to keep myself warm.
For shoes, I went with a pair of brown lace up booties.
For my makeup, I did something similar to the 'Fearless' makeup look. Instead of glittery eyeshadow, I used taupe eyeshadow and brown eyeliner with a pink matte lipstick.
As out of my usual style as I consider this look to be, I really, really like it. I was super comfortable all day, I felt super cute, and I think I will wear it again very soon. It is very much a transitional weather type of outfit. The sweater is too warm to keep on all day, but it's perfect for chilly mornings and nights with this type of dress. Also, I obviously had to wear a cardigan for this one.
evermore – Outfit #5, Friday
Evermore (stylized evermore) is Taylor's ninth album and the last one to be released before the re-recordings. It has been described as "folklore's cooler little sister" and I agree. Evermore features intricate lyrics, emotional storytelling, and alt-indie production elements.
Like the previous album, evermore quickly became one of my favorites. I like it even more than folklore. I just can't decide on a favorite song for this one, almost every single one gets to me at different times.
evermore Style Recreation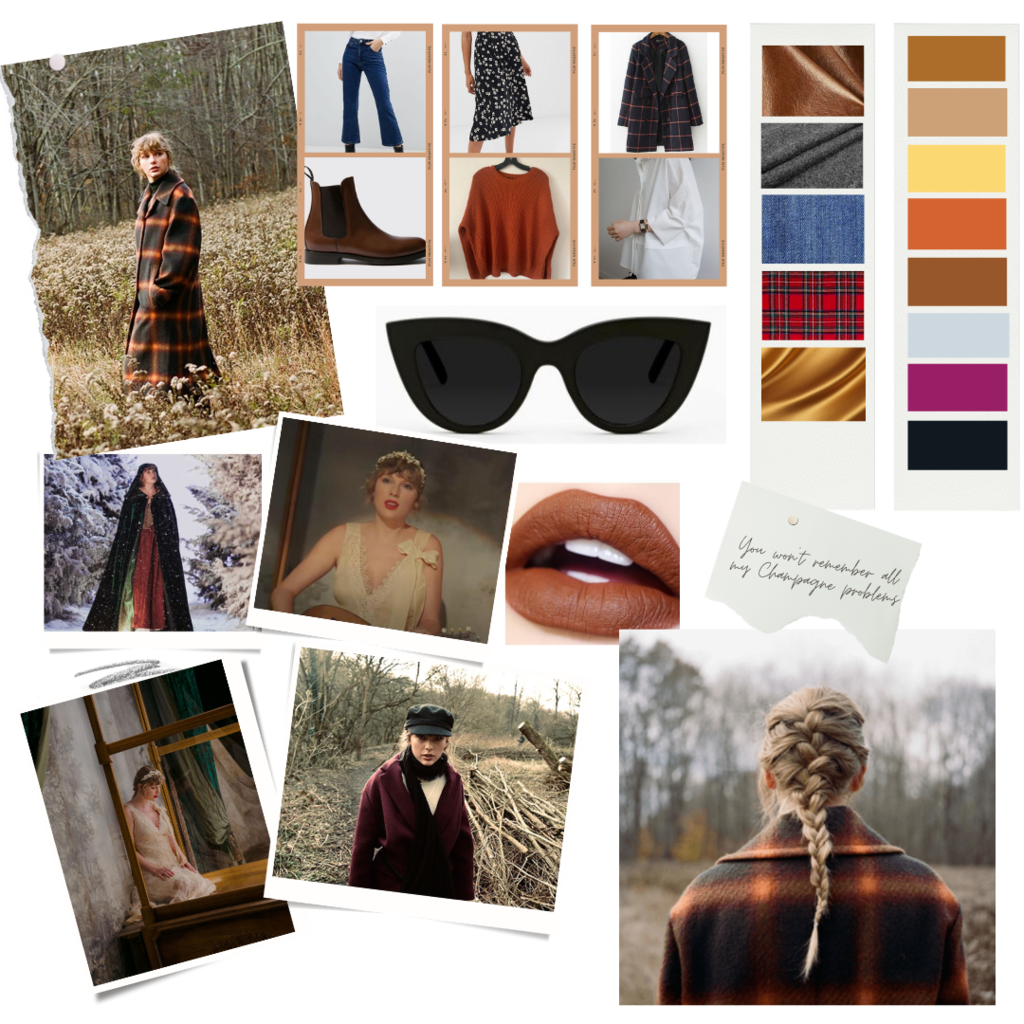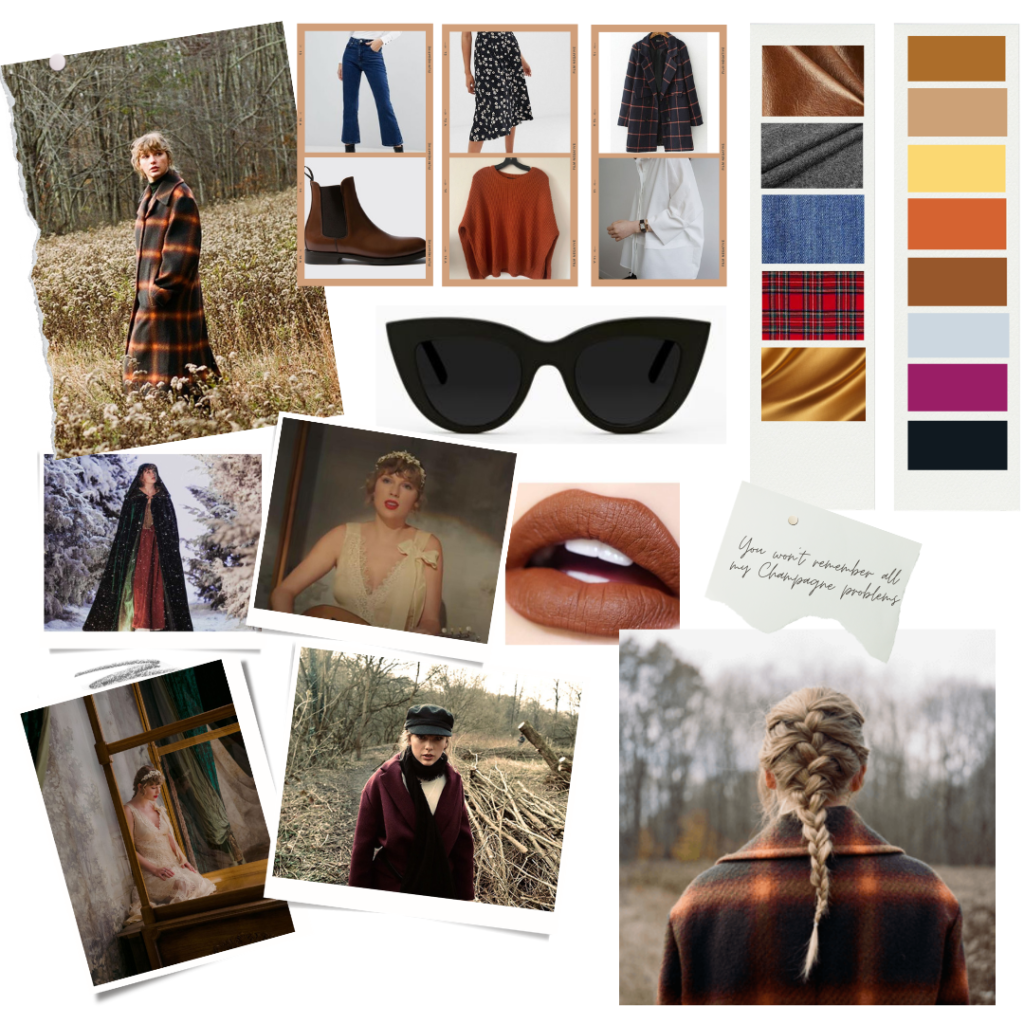 I think evermore would be similar to folklore, but with a bit more of an edge. Less cottagecore, more '70s lumberjack. I think sequins and satin would be added. While still using a lot of neutrals, evermore would lean heavily into darker neutrals, earthy-tones, and colors in deeper, richer hues.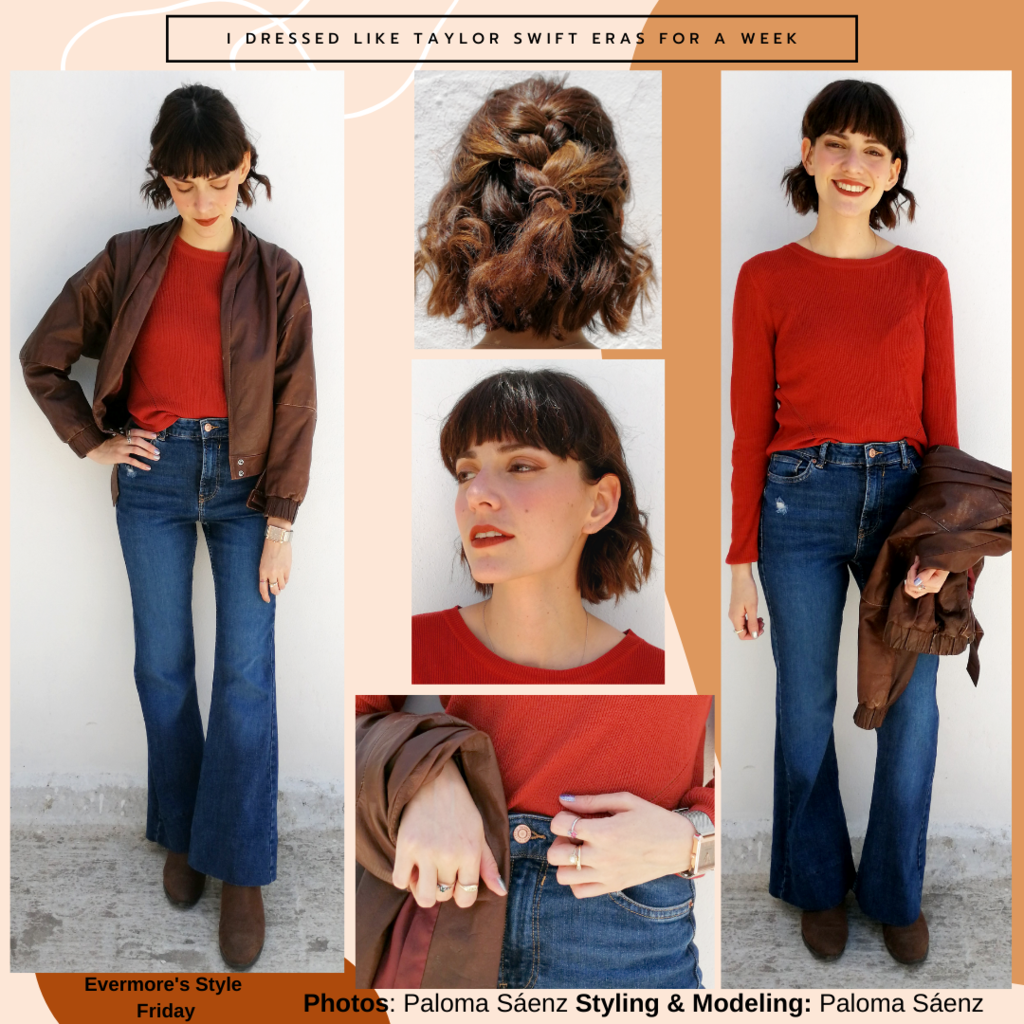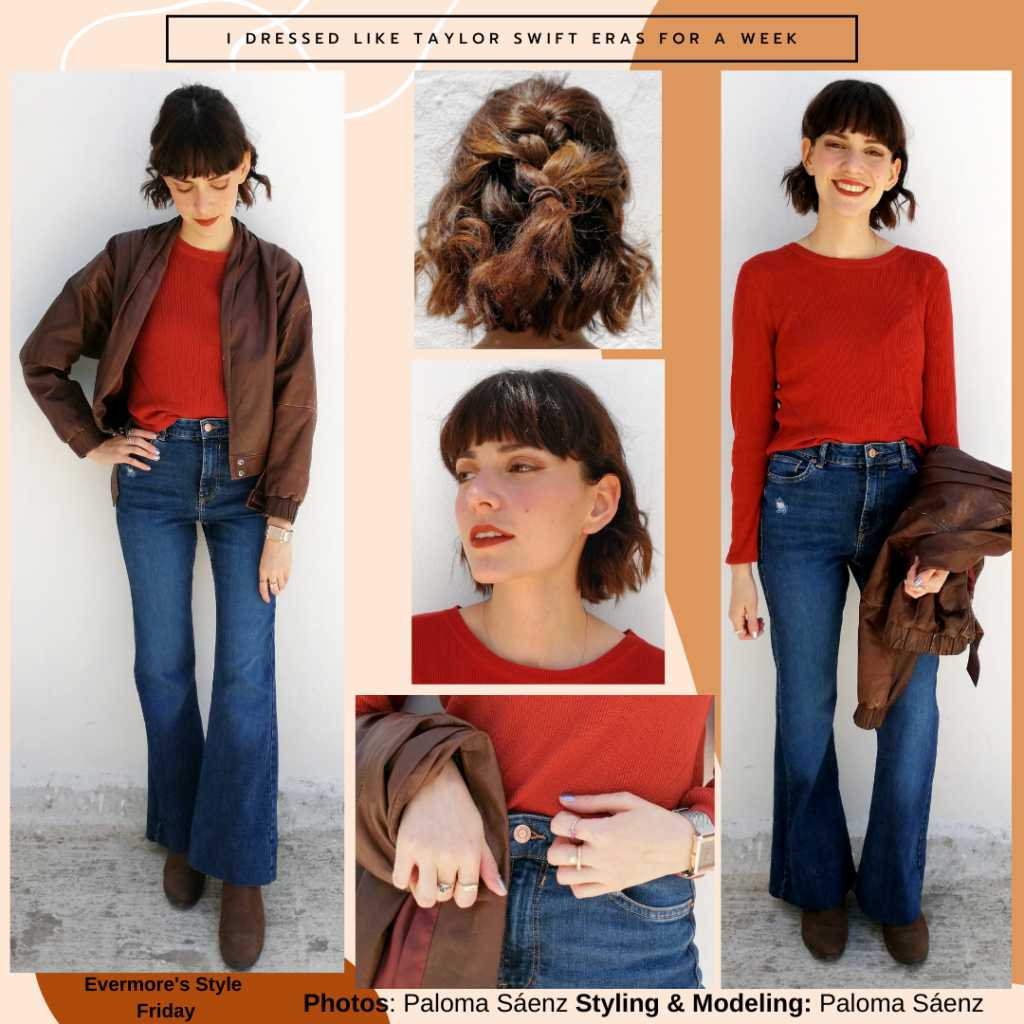 For evermore's outfit, I wanted something with a similar vibe to the previous day without being a straight-out copy of it. I wore a burnt orange sweater with a pair of medium-wash flared jeans. To layer (and only in the morning), I put on a brown leather jacket. For shoes, I used a pair of brown Chelsea boots.
As much as it is possible with my current haircut, I braided my hair. My makeup was almost the same as it was on Thursday, but my lipstick is a matte lip in a burnt orange shade.
I freaking loved this outfit! It was just the perfect balance of cool and comfy, kind of effortless. After reputation, this one was the easiest look to put together. I ended up going out for a bit, so I also added the same beige face mask that I used on Monday and a brown leather purse. I felt so good in this one and I looked very cute, or at least in my mind I did.
Final Thoughts
This post was a fun one! I had so much fun (and cringed a bit, to be honest) looking back on my last Taylor Swift post. Research for this post was even more fun than the first time: I watched the Miss Americana documentary again, the reputation stadium tour and, obviously, listened to her on repeat (which is something I do all the time anyways).
Not only that, but I had to reread my own work and analyze what I had done that worked and what didn't. Since I asked someone else to help me out, it gave me reassurance of where I was going with each look. Thanks again to the biggest Swiftie, Sofi, for helping me out for weeks to create these looks.
Thanks to this post, I realized how much my own work has improved and how much more creative I've become in order to create each entry in this series. It was great to go back in time and see my progress. It even helped me write my next post.
Taylor's music means so much to me. Somehow, there's always a song that puts into words what I'm thinking or feeling at any given moment. For example, marjorie was a big help while grieving my grandfather. That song, more than anything else, helped me come to terms with certain aspects of my grief and it truly has been a life-saver.
Watching her grow as an artist has been really exciting, because we never really know what she'll do next. I do have my favorite songs and albums, but honestly I find myself going back to different ones depending of where I am in life.
My favorite looks of the week were fearless' and evermore's looks. reputation is really close to them, but it lacked practicality for my day-to-day. If I get the chance to wear it on date night, it will probably get higher on the list.
If there's one artist with enough inspiration for almost every single style and aesthetic, it's Taylor Swift. Honestly, you will find an album, song or look that also aligns with your fashion preferences. If inspiration is what you need, look no further than Taylor Swift.
What do you think?
For more Taylor fashion, be sure to see my post on copying Taylor Swift's street style for a week, and my post on the outfits from All Too Well: The Short Film.
Did you like this post? Do you like Taylor Swift's music? Which era is you favorite? Which of these looks would you wear? Let us know in the comments below!