For this Winx Club fashion guide, I dressed like Winx Club characters every day for a week, with outfits inspired by all five main characters.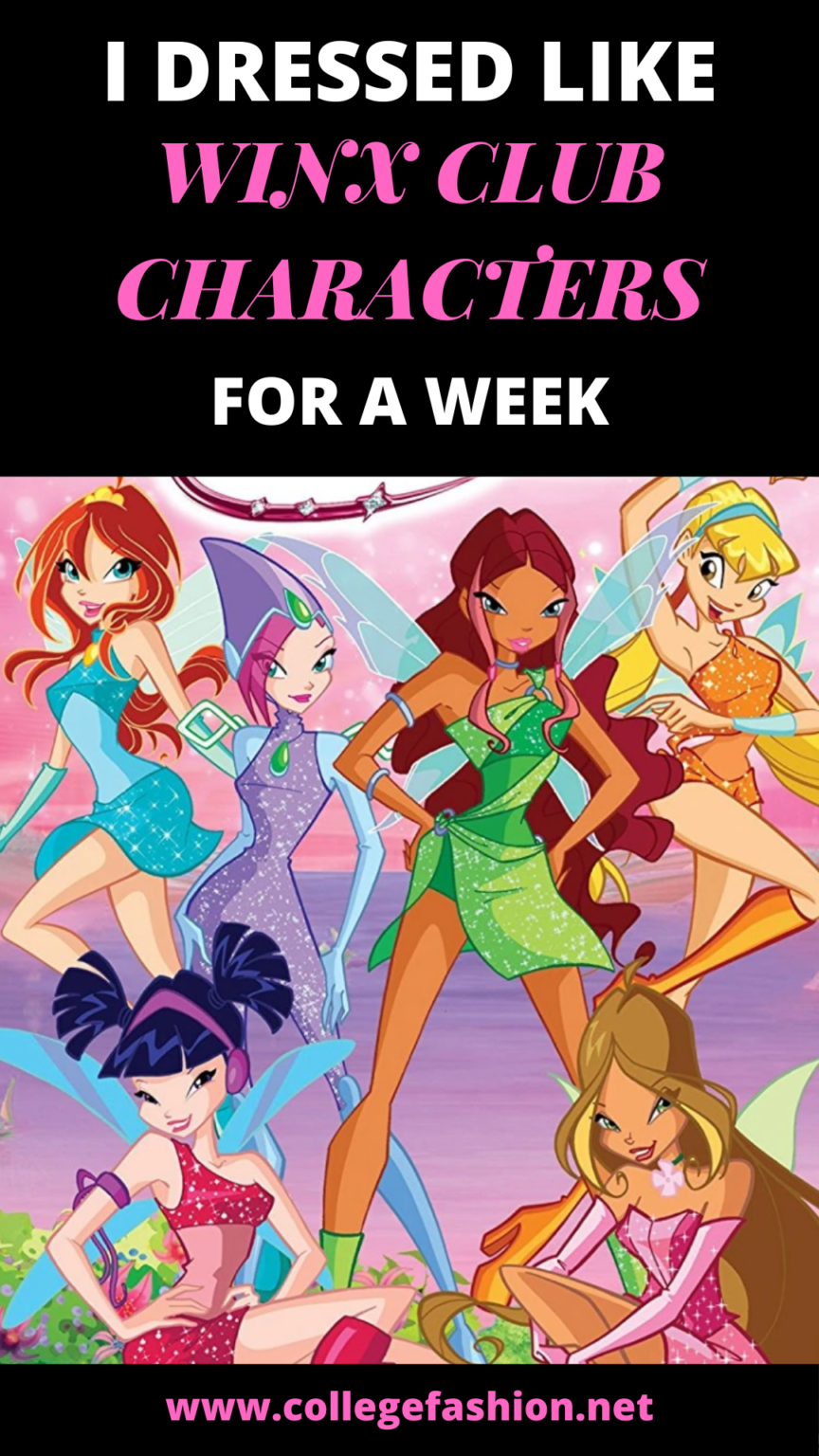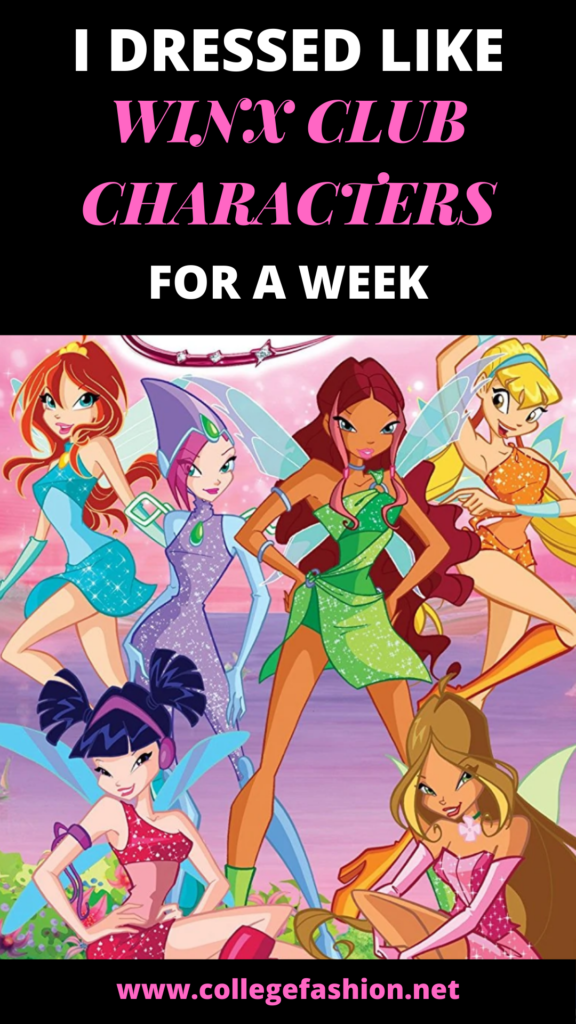 We've all looked to celebrity style for fashion inspiration at some point in our lives. But it's one thing to say "I love her outfit," and it's another to actually copy it in real life.
For this series, I'm going the extra mile and making it happen. Each week, I'm getting inspiration from a celebrity and copy five of her looks as close as possible. Then, I'm reporting back to you: Did the outfits work in real life? Did I feel comfortable? Did people treat me differently? I'm sharing it all.
In past posts, I've covered the style of these celebrities: Zendaya, Gigi Hadid, Grace Kelly, Kendall Jenner, Vanessa Hudgens, Sophie Turner, Priyanka Chopra, Millie Bobby Brown, Hilary Duff, Lily Collins, Taylor Swift, Selena Gomez, Alexa Chung, Queer Eye's Fab 5, Lucy Hale, Dakota Johnson, and Hailey Bieber.
I've also covered the styles of iconic TV and movie characters: Iconic Halloween Characters Part 1 & 2, Iconic Christmas Characters Part 1 and 2, Rachel Green Part 1 and 2, Monica Geller, Little Women's Characters, Gilmore Girls' Characters Part 1 and 2, and Iconic Olsen Twins' Movies.
This week, in honor of the Netflix show premiering, I'm dressing like Winx Club characters. Read on for my Winx Club fashion guide!
About Winx Club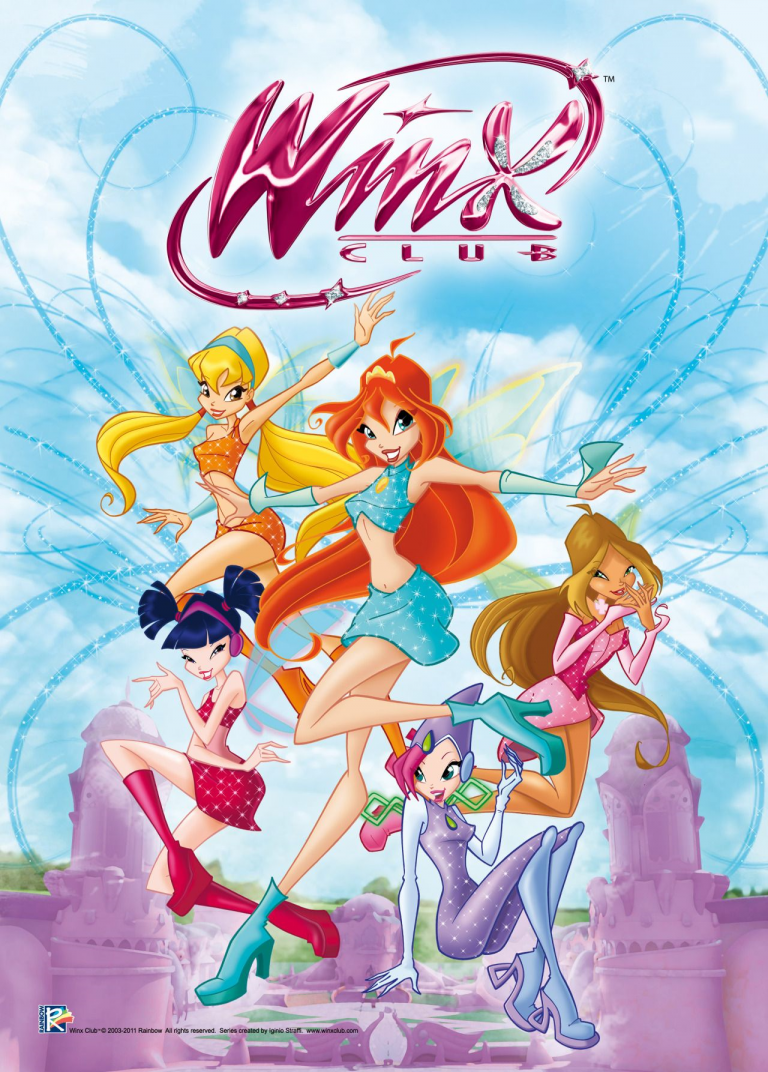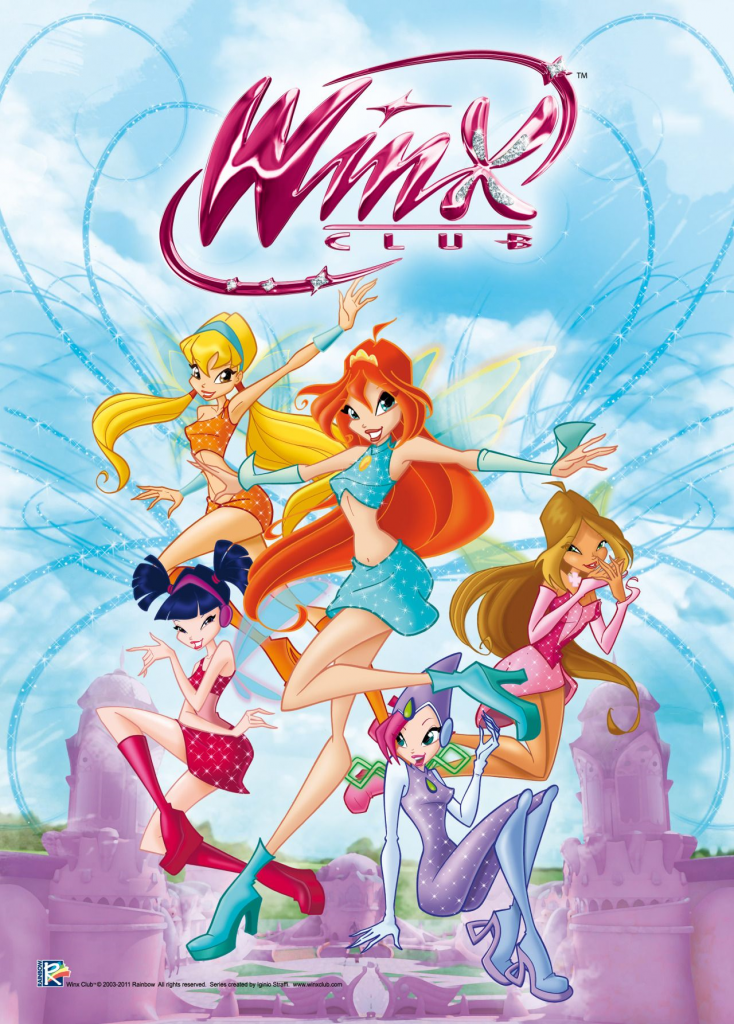 Winx Club is an animated series created by Iginio Straffi. The show was co-produced by Rainbow Spa and Nickelodeon to great success.
In the series, Bloom, from planet Earth, discovers she has magical powers. After this discovery, she is sent to Alfea College, a place where fairy warriors from all over the universe study to improve their supernatural powers.
There she meets and befriends four other students: Stella, Musa, Flora, and Tecna. In later seasons, Aisha and Roxy join the show as part of the group.
It is a bright and thrilling show that captured the hearts of young viewers back in 2004.
Originally intended to last three seasons, Winx Club has now 8 seasons, four specials, and three movies. The show spawned multiple spin-offs.
Now, there is a live-action show for Netflix, a reimagined version of the original.
Critical Response
The first few seasons were praised for their characters. The diverse cast of heroines was described as bold, with well-defined personalities. The show achieved this without compromising the girliness, the adventurous and interesting plot, or its target audience of young girls (middle school and older).
Note: The same cannot be said for the 8th season, which is not a direct continuation of the 7th. This final season was retooled to appeal to a preschool audience, so it is widely excluded when discussing the series.
The series overall has drawn academic attention for its representation of gender roles. For instance, studies showed that the fairies tend to take an active role, while their male counterparts tended to be more passive.
Likewise, the way the show conveys both positive and negative stereotypes associated with female characters has been studied.
For example, the show doesn't pass judgment on tomboys or girly girls. The friendship and feminist undertones are strong as well. Also, the main characters take on traditionally male roles, like fighting to save their male love interests, more often than the other way around.
Fate: A Winx Saga
The Netflix series, which just premiered, has had its fair share of backlash for multiple questionable choices.
The most common complaints include the dark tone, dull visuals, uninspired costumes, white-washing of Musa and Flora, replacement of Flora with a new character, and the overall absence of Tecna, the Trix, Timmy, and Brandon. All of these characters are fan favorites.
All of these are in contrast to the brighter and unapologetically girly animated show. Clearly, Netflix drew more inspiration from the CW's Riverdale than the beloved animated Nickelodeon show, at least tonally.
I've seen the Netflix show. It is very YA and you can see the influence of both Riverdale and Chilling Adventures of Sabrina.
Overall, Fate was jarring to see as a fan of the animated show. To me, it feels like they only borrowed the name in order to boost the popularity of another story. While it has potential and I enjoyed some of it, I didn't like it as a Winx-inspired story.
Disclaimer
For this Winx Club fashion guide, I decided to cover only the style of the six members of the Winx Club from earlier seasons.
One of the reasons is because they're the ones I remember the most from when I was younger. I don't really remember Roxy's character. Additionally, I really wanted to give Flora and Tecna their deserved place in this post, since both characters were inexplicably eliminated from the live-action show.
Also, these outfits are solely based on the animated show. None of my looks are based or took inspiration from the Netflix show. If you want me to do a separate post on the Netflix series, comment below and let me know.
Now, get ready cause this is a long post, but a fun one!
Bloom's Style: Outfit #1, Monday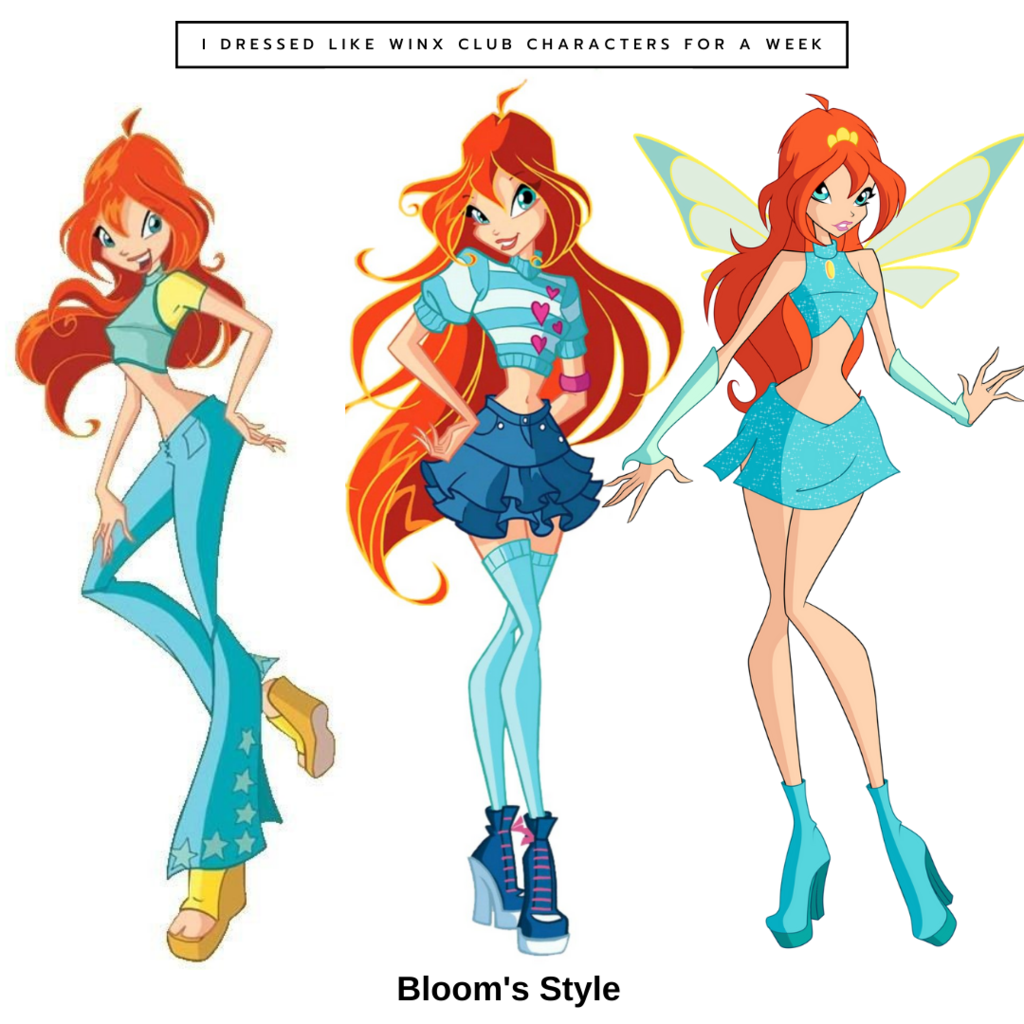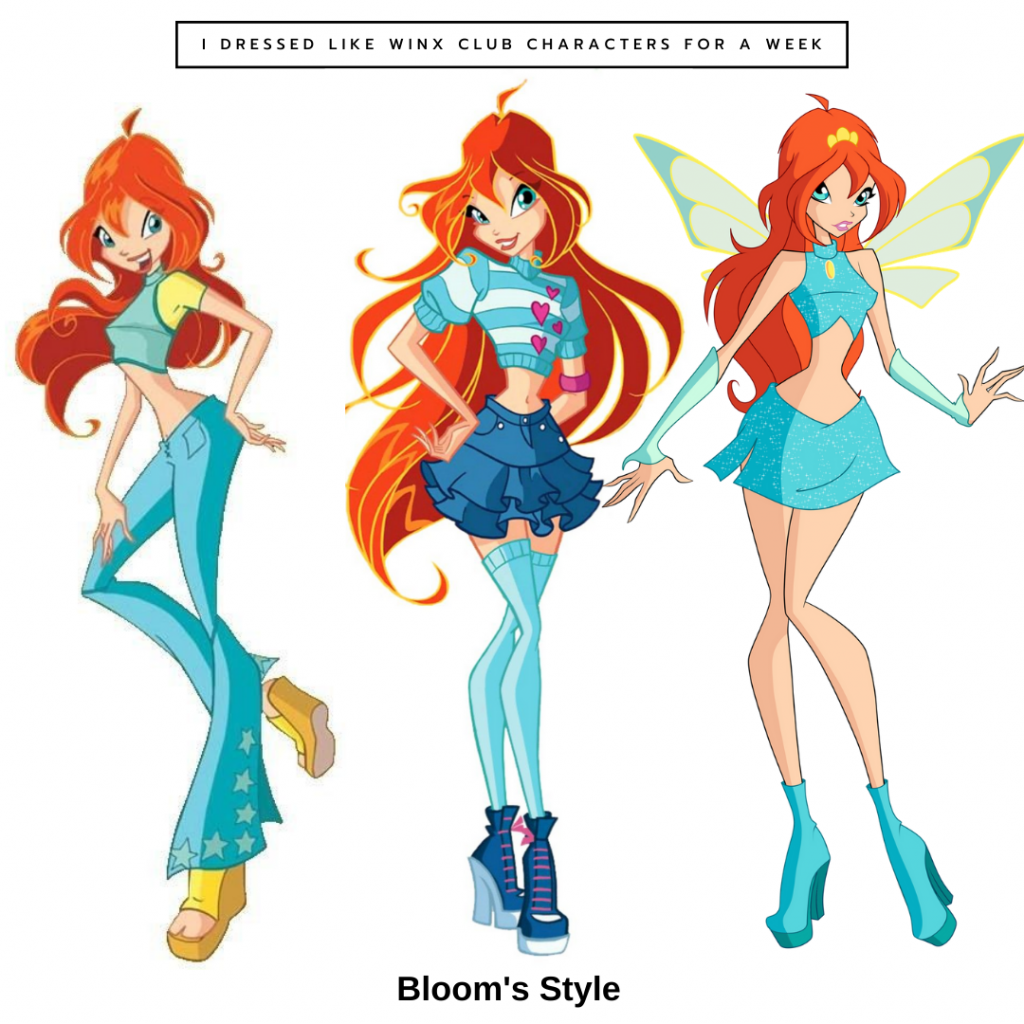 Bloom is the leader of the group. She has fire-based powers, represented perfectly by her red hair.
Bloom was raised on Earth by human parents, without knowledge of magic. This is why she is the one that needs to learn the most in Alfea out of all the main characters.
Her love interest is Prince Skye, one of the Specialists from Red Fountain.
Straffi, the creator, stated that Britney Spears served as the basis for Bloom, this codes Bloom as white.
Contrasting with the fiery nature of her powers, her color palette is mostly sky blue and turquoise with accents of bright yellow. From the second season and beyond, fuchsia is part of her color scheme.
Bloom's Style Recreation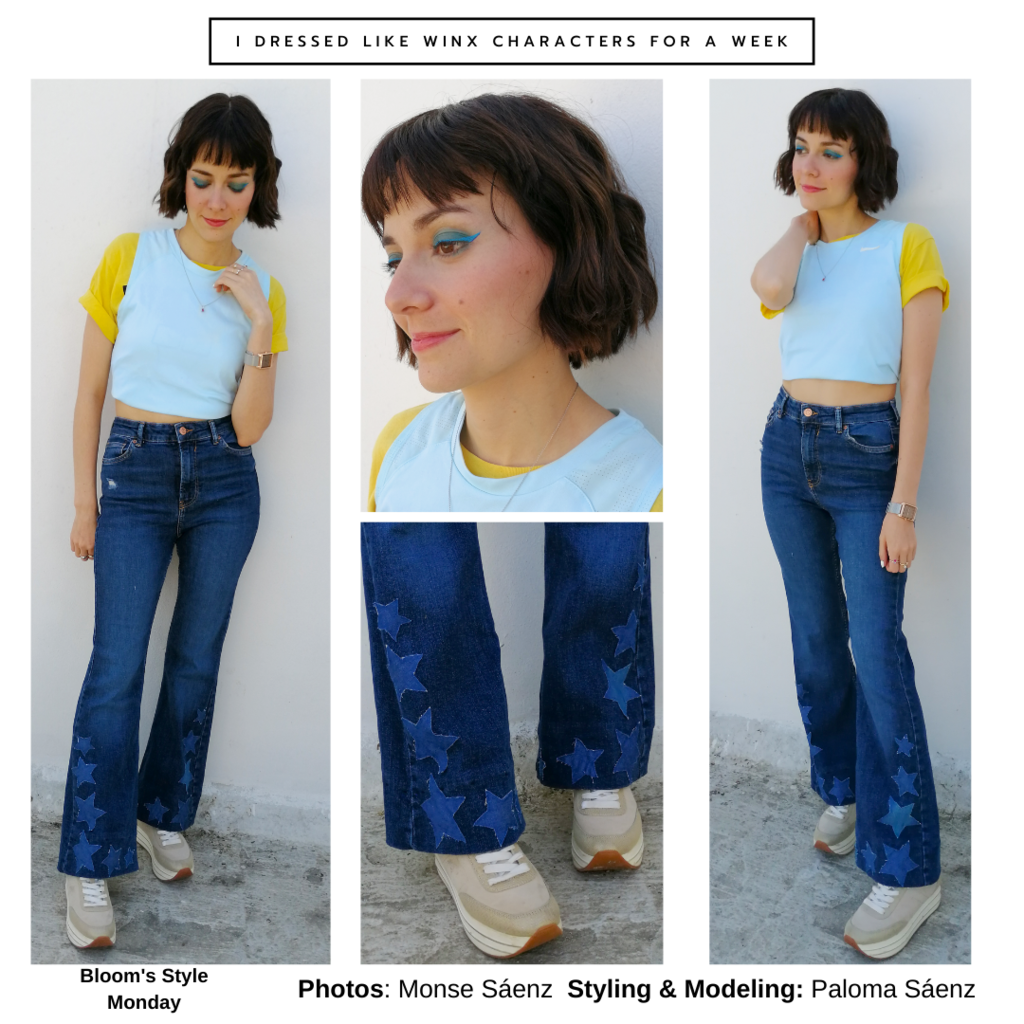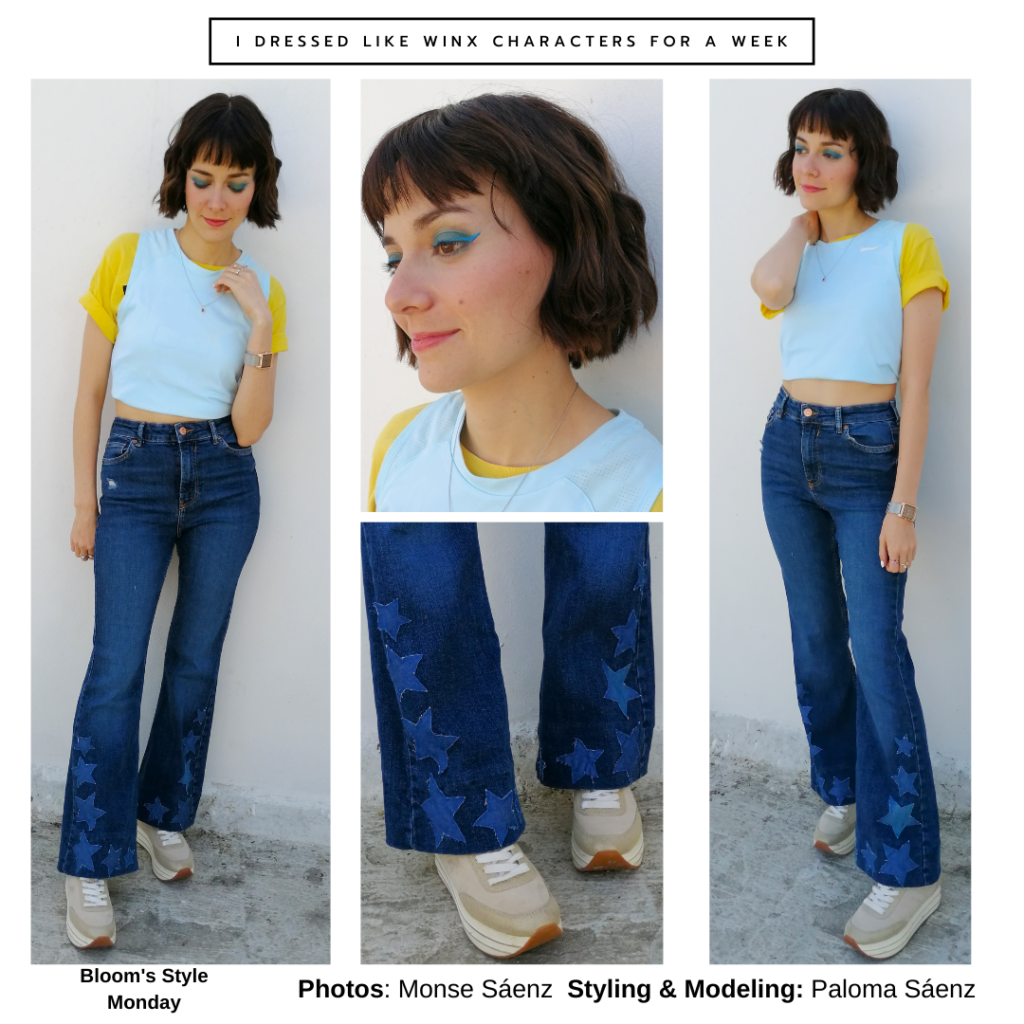 For my Bloom-style recreation, I had to dive into DIY territory a bit.
I wore a yellow crop top under a blue sleeveless tee. Then, for the bottoms, I used my beloved pair of flare jeans and added some stars at the bottom.
Also Read: 3 Reasons You Should Be Wearing Flare Jeans
If anyone's wondering, I hand-sewed the stars on, so it will be easy to remove them later if I feel like it.
For shoes, I decided to use my platform sneakers that have gold details. I think they sort of replace Bloom's platform sandals in cold weather.
I really liked this look! Especially since it took me so long to figure out how to add the stars and then sew them on (I suck at sewing, by the way).
I ended up adding a shearling denim jacket later on the day (not pictured) because I got super cold. It was perfectly comfortable and I felt very cute, which is always a plus.
Stella's Style: Outfit #2, Tuesday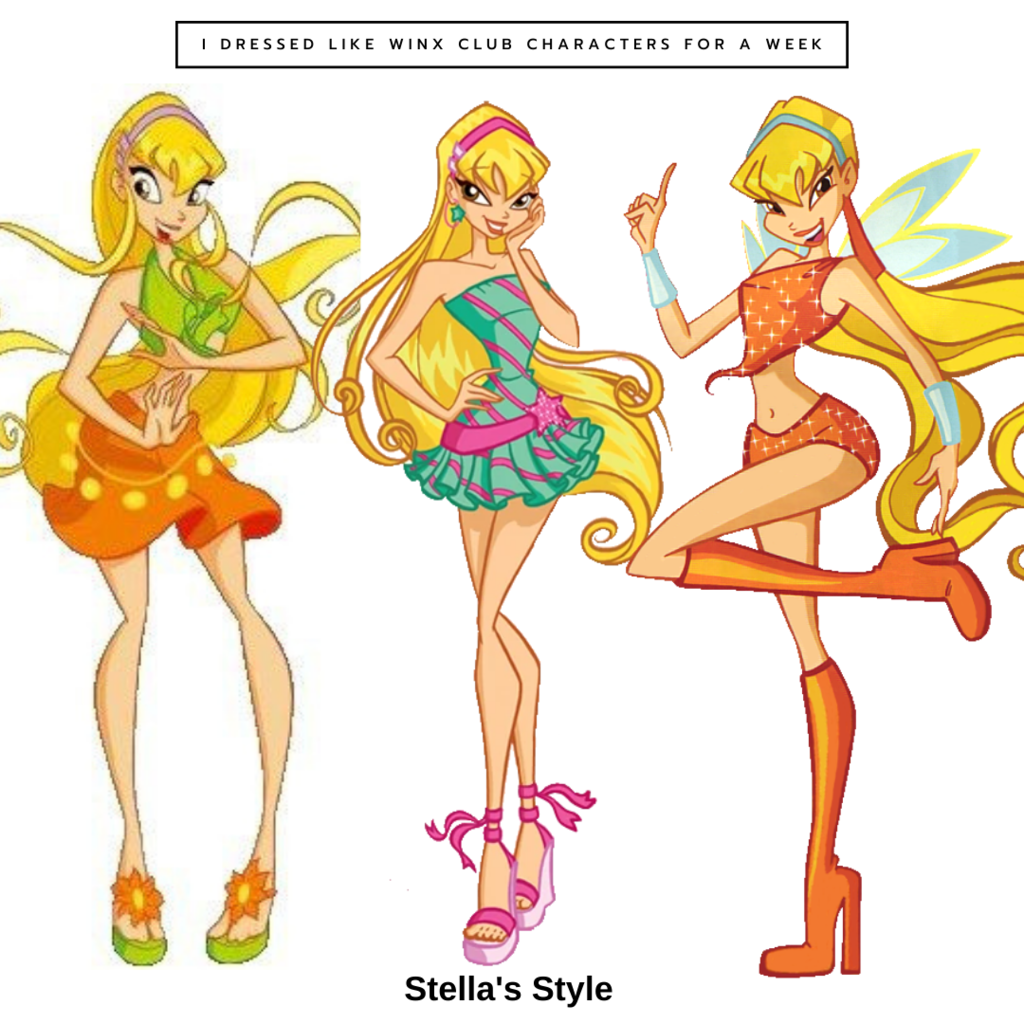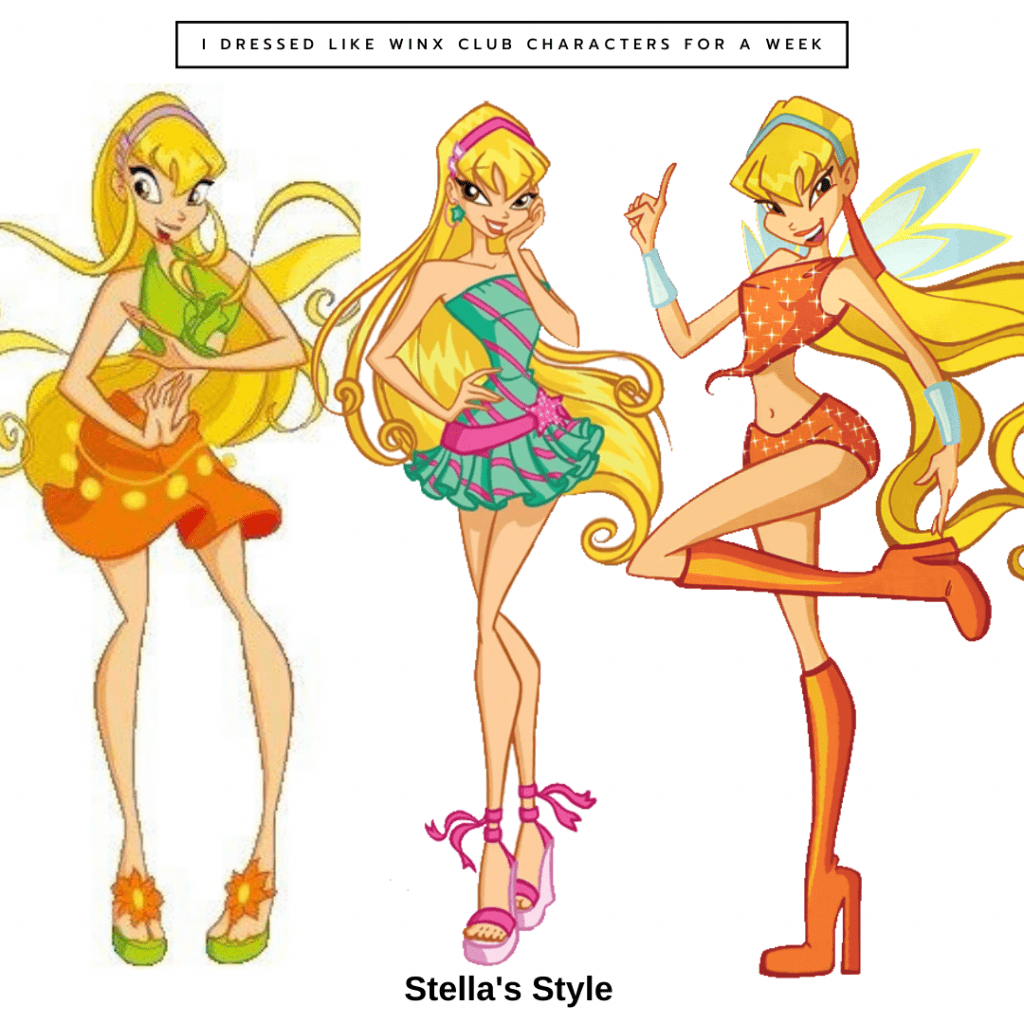 Stella is the first fairy that Bloom and the audience meet.
She is the princess of Solaria and fairy of the Sun. This means her powers come from the sun and the moon.
We definitely can't talk Winx Club fashion without her: She is the most fashion-forward and outwardly girly character of the bunch.
Although her princess background makes her a bit bratty sometimes, she always has her heart in the right place. Her love interest is Brandon, the heartthrob of the Specialists and Skye's squire.
She was based on Cameron Diaz, according to the creator. This makes Stella a light-skinned Hispanic character, like Diaz. This can also be seen with her princess outfit from season 1.
Also, she is my favorite character, by far.
The color scheme for Stella includes colors associated with her powers. The palette includes bright orange and yellow with accents of lime green and pale blue. I assume that the yellow and pale blue are the animated version of gold and silver (Sun and Moon).
Stella's Style Recreation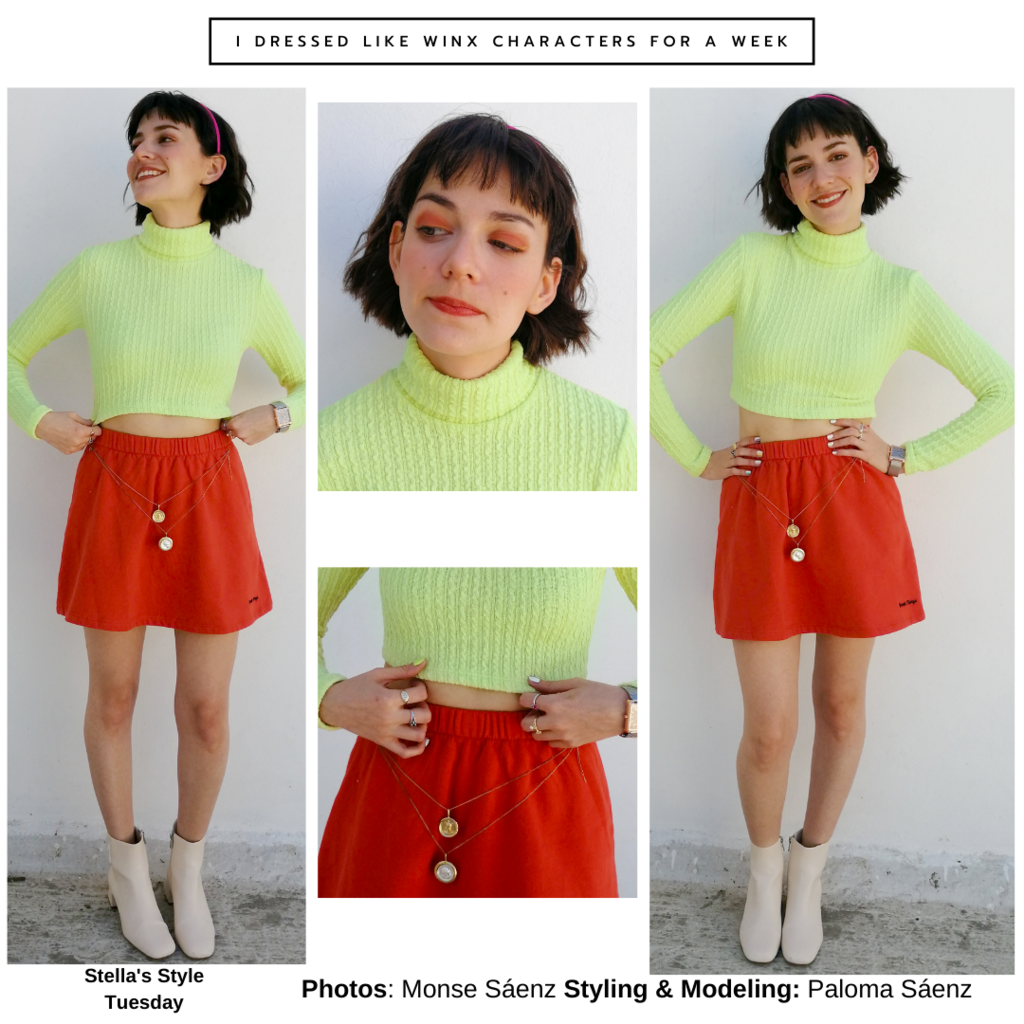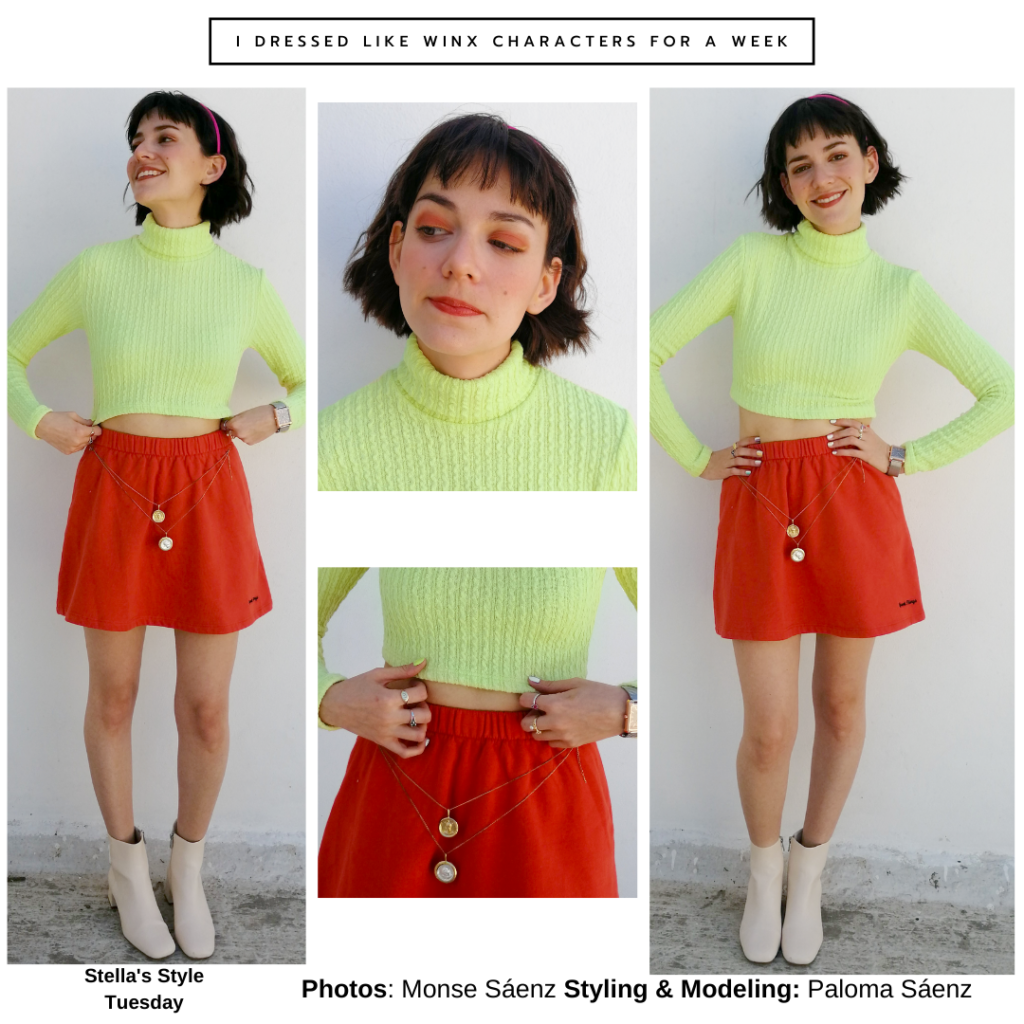 I knew I had to give it my all for Stella. She's not only the most fashionable girl of the bunch but also my personal favorite.
I wore a green mock-neck top and a bright orange mini-skirt as a base for the look. Since Stella is wearing sandals, I decided a pair of off-white booties would transition her look to colder weather.
Then, to emulate the gold chain around her skirt, I used a gold coin-necklace and secured it on one side of my skirt.
Finally, as an accessory, I also added a bright pink headband and used a lot of highlighter in my makeup.
I adored this look! Usually, green and orange are very hard colors to put together, but I think they worked with these looks. I did use a yellow coat when it got colder, but the day was mostly over by then.
I loved every single item I wore and I will probably try to use this specific look again but in warmer weather.
Flora's Style: Outfit #3, Wednesday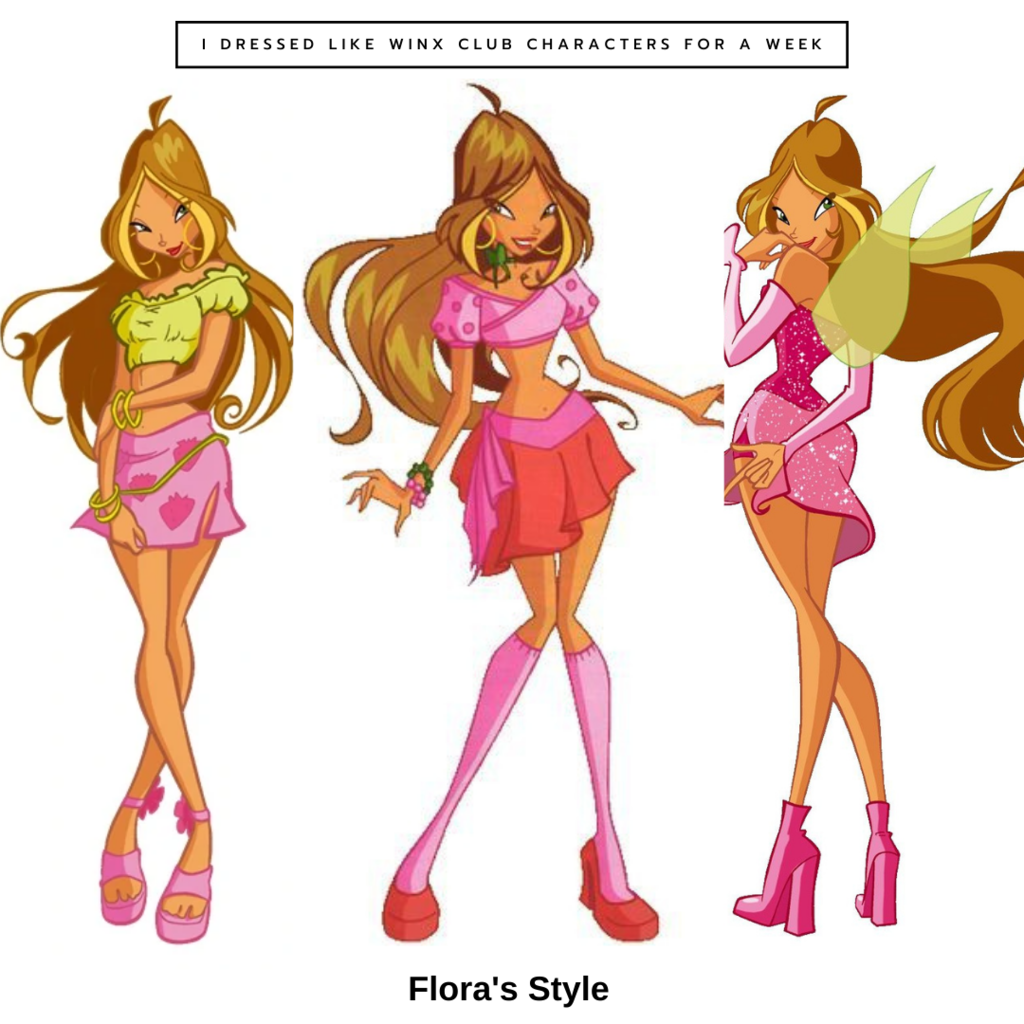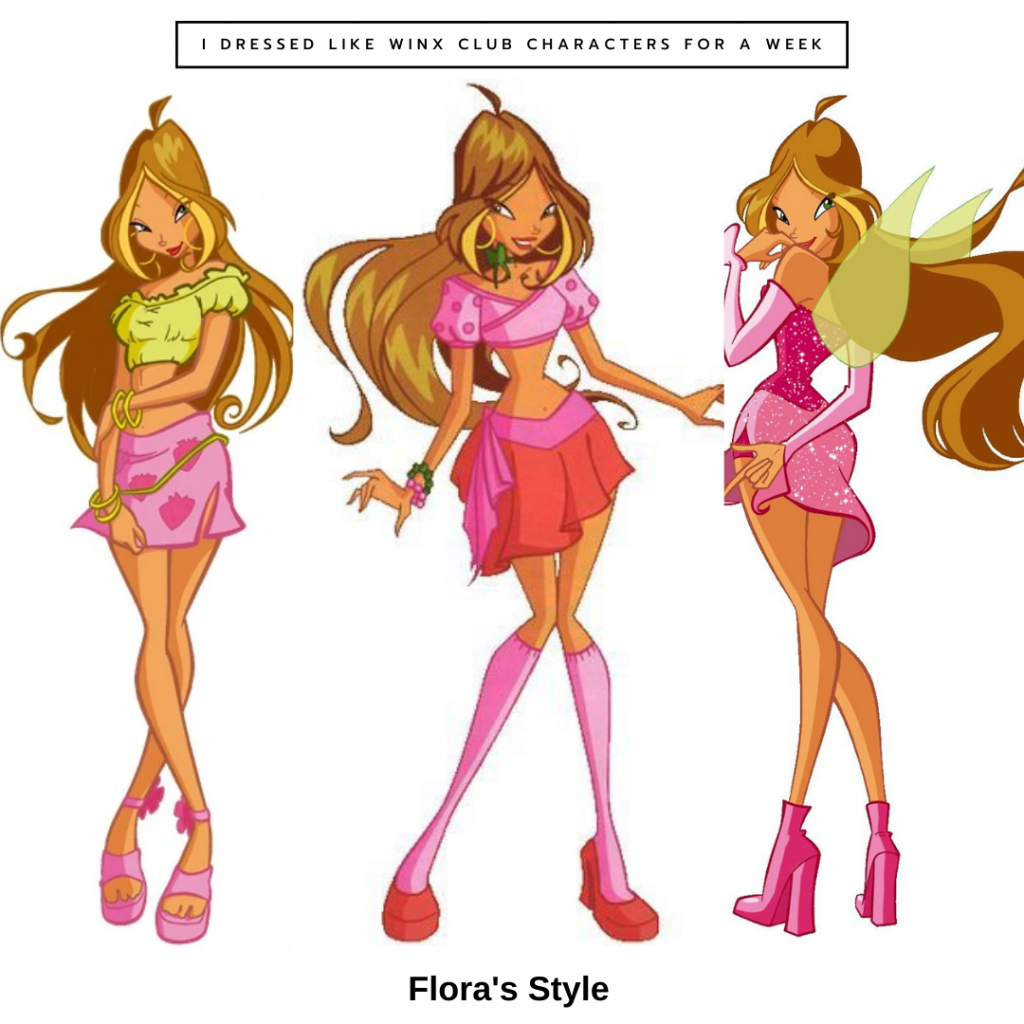 Flora is the fairy of nature, which makes her powers come from plants and nature in general. She is a kind-hearted and sweet person.
Flora is the goody-two-shoes of the group. According to the creator, she is the second most powerful fairy of the group, second only to Bloom.
Her love interest is Helia, a pacifist student of Red Fountain.
Jennifer Lopez was the inspiration behind Flora's overall look and origin, which means her character is coded as Latin. She is my sister's favorite fairy and she sort of reminds me of her.
Flora's color scheme includes both pink and green. Her main colors are fuchsia and pastel pink, as seen in her fairy form. The complementary color is light green.
Flora's Style Recreation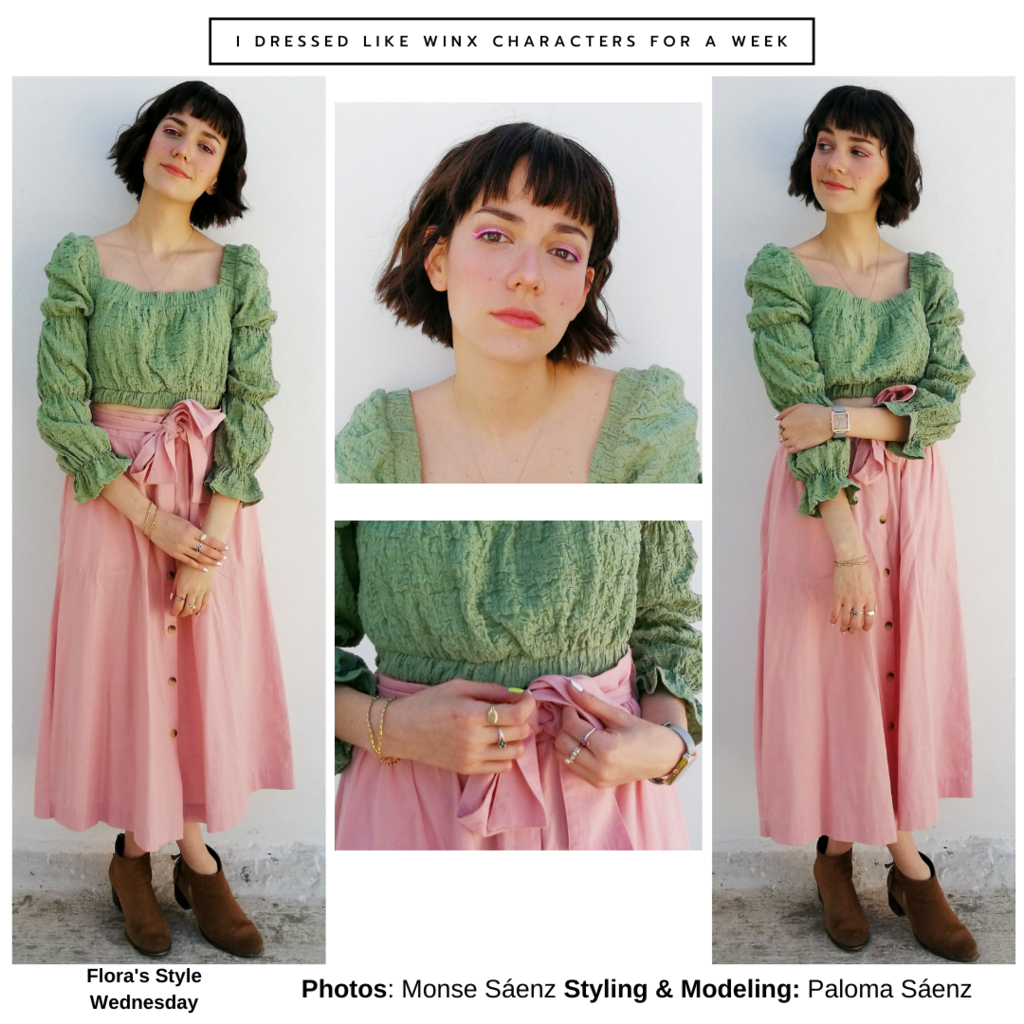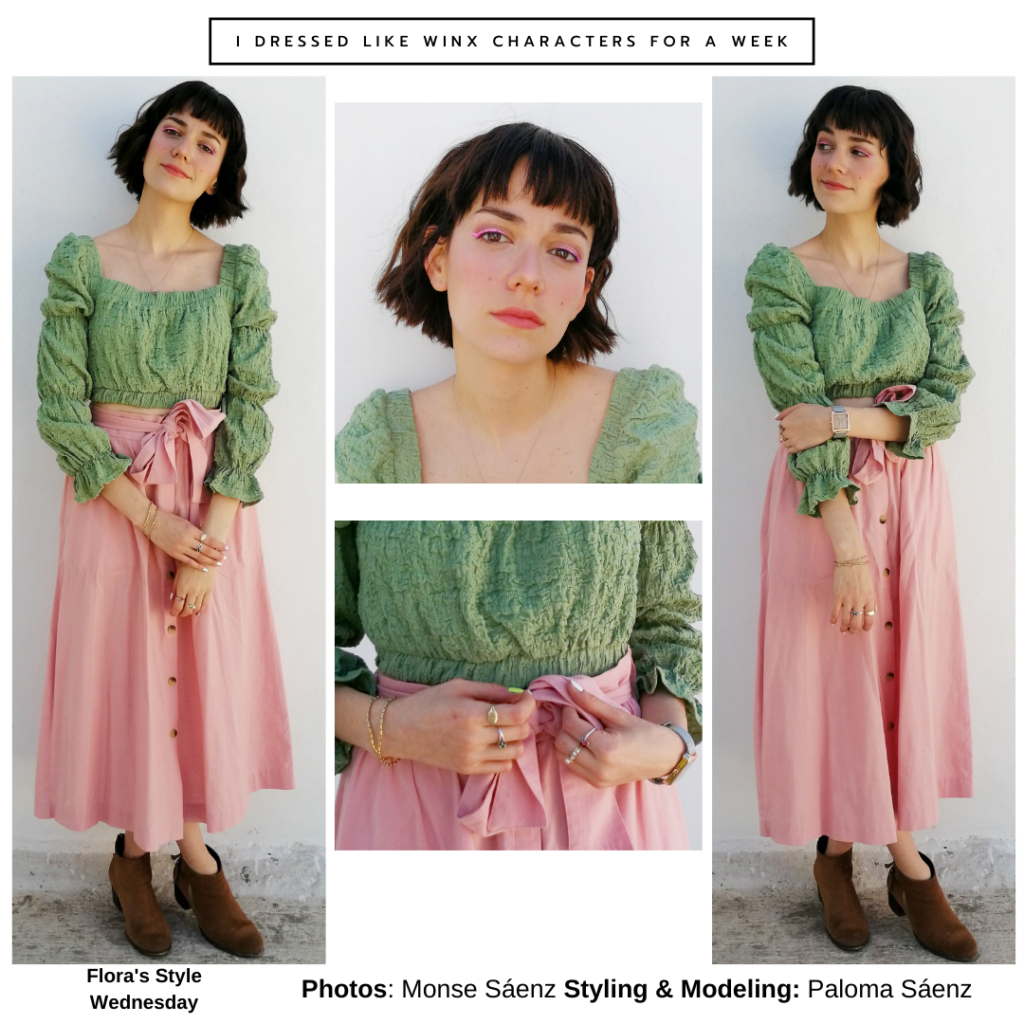 From the get-go, I knew Flora's look would be the girliest of the bunch.
To get her style, I wore a green ruffled top with a square neckline and puff sleeves. For the bottoms, I put on a pink midi skirt. I went for this skirt instead of a mini-skirt because of the weather.
Also Read: Midi Skirt Outfits: 2 Looks to Try
The shoes were a bit tricky. I don't have green or pink shoes that fit the vibe of the look, but I figured a pair of brown heeled booties would work great for this one.
Now, for accessories, I put on a couple of bracelets.
At the end of the day, I ended up adding a light pink coat to the outfit (not pictured), to make it appropriate for the season.
I really, really loved this look! It's so cute and has a romantic vibe to it! Again, most of these outfits are not winter-friendly, but I found a way to make it work for me.
In general, I think this look is super cool, but I feel it's not really my style overall. I would wear these items again, just not together.
Musa's Style: Outfit #4, Thursday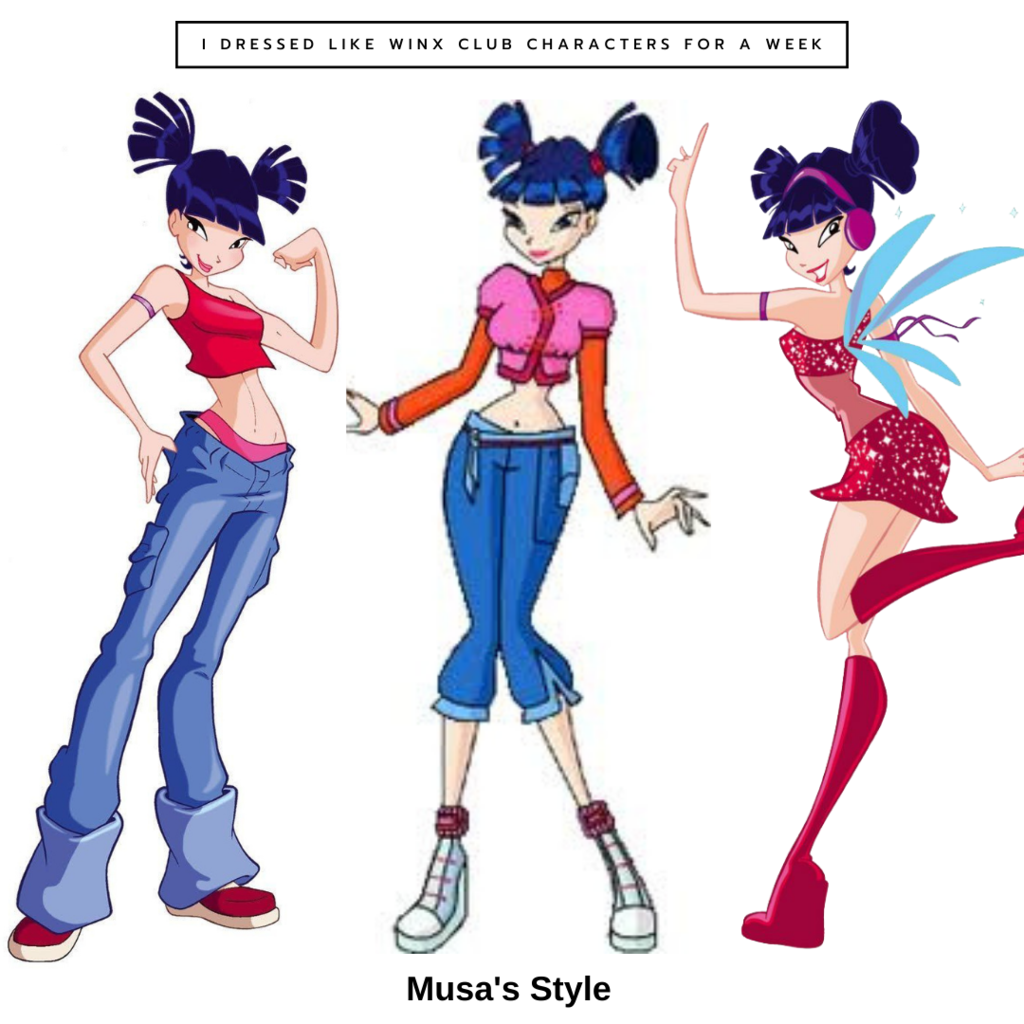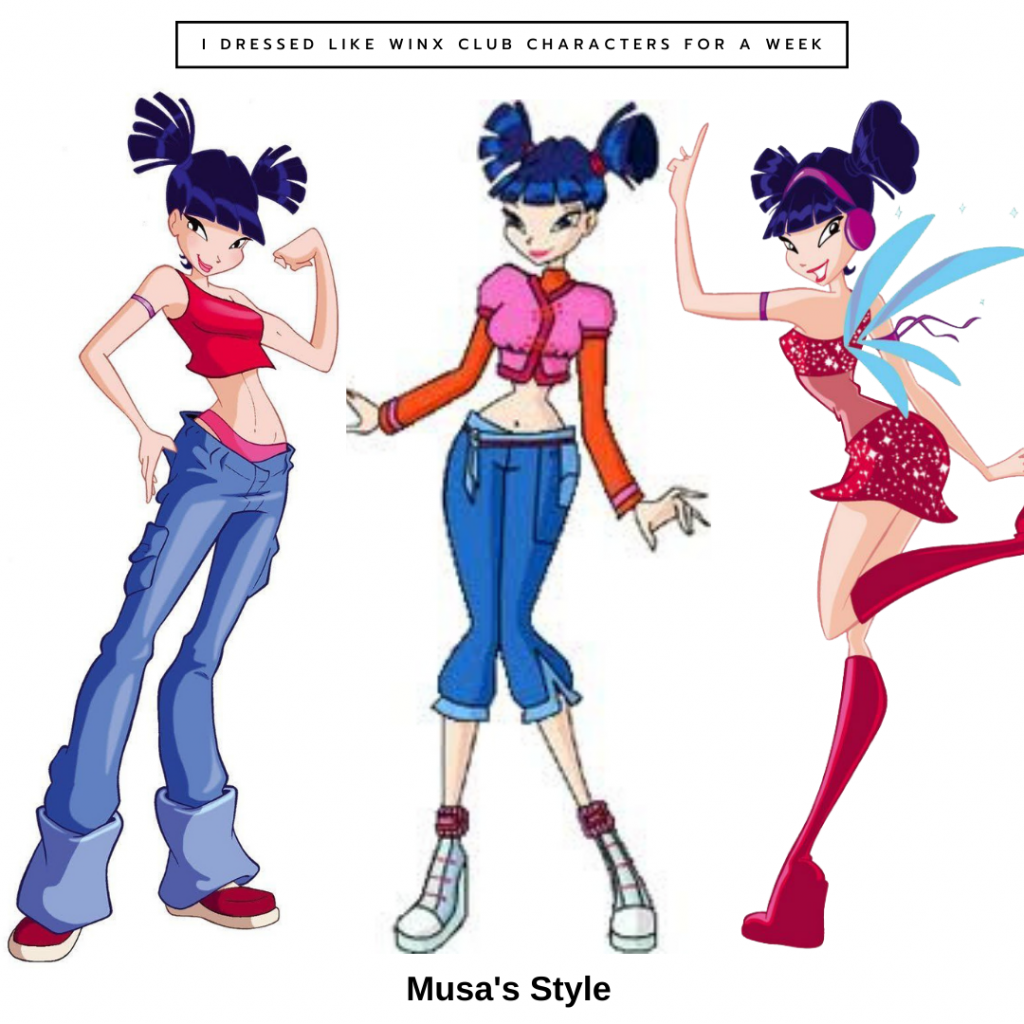 Musa is the fairy of music. Her powers include music, the power of sound waves, and sonic pressure.
Musa puts up a tough exterior, as seen by her more tomboy-ish look, but she's actually the most sensitive of the group.
Her love interest is Riven, the bad boy of Red Fountain. Their relationship is highly contentious within the fandom, to say the least.
Iginio Straffi stated that Musa was based on Lucy Liu. This codes Musa as an East-Asian character, along with some of the items she wears throughout the show.
Musa's color palette is pretty straightforward: red, red, and red. Her casual look has little glimpses of pink and navy blue. Red is associated with Musa the most. You can see this with her fairy form.
Musa's Style Recreation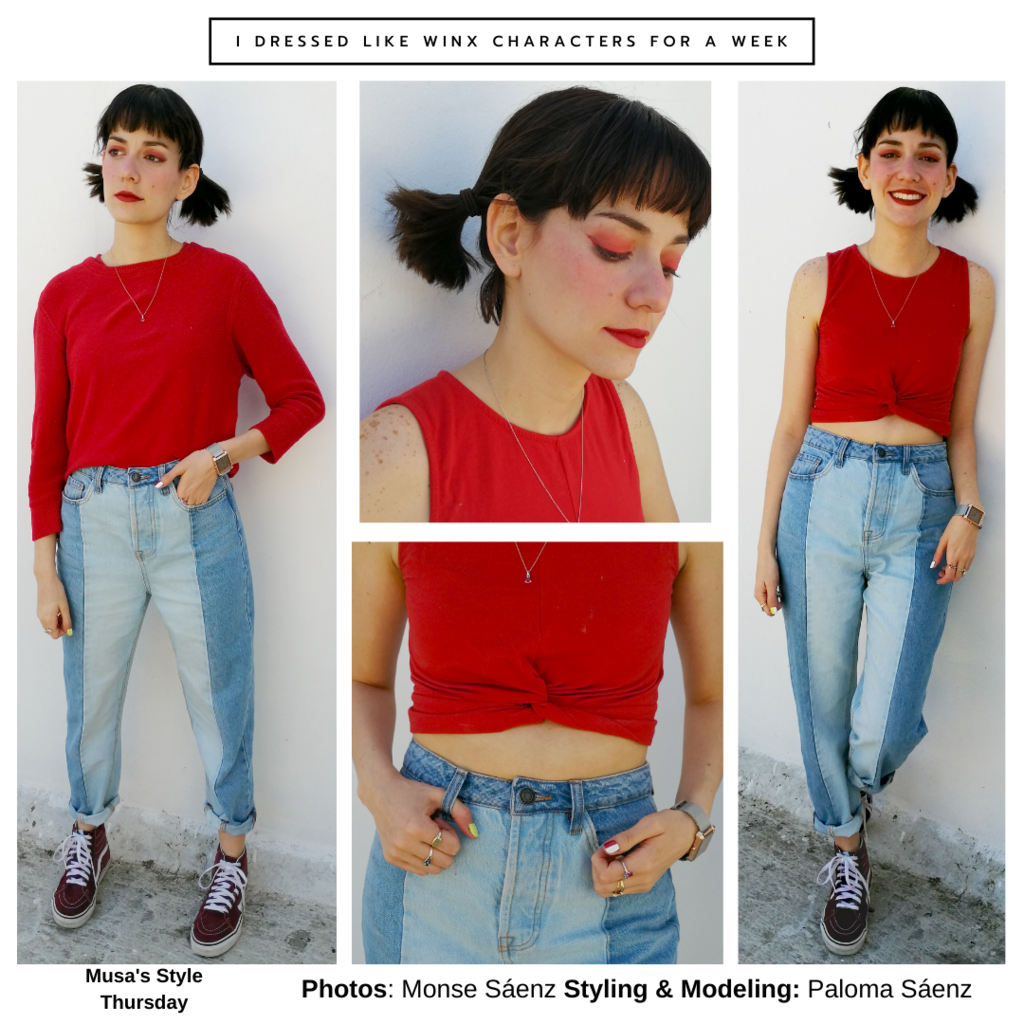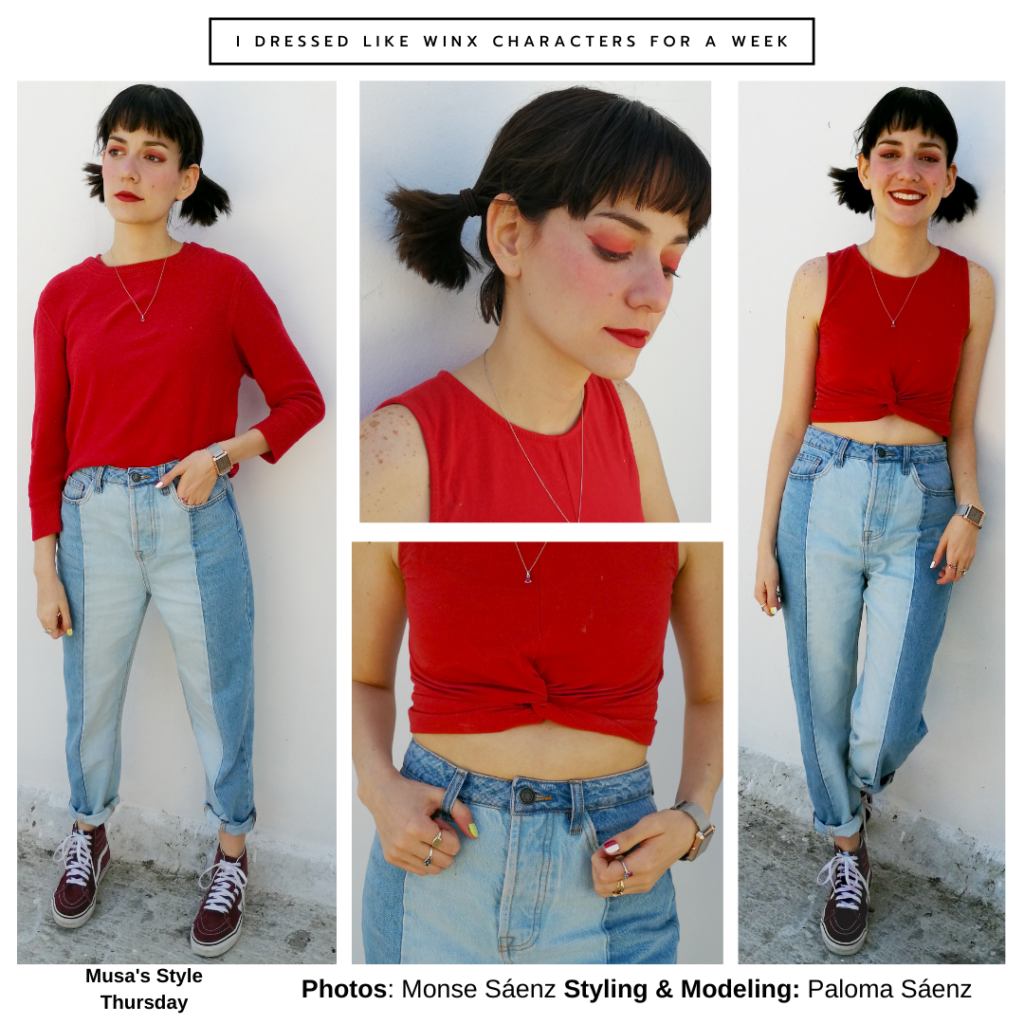 For my Musa recreation, I wanted to go for a subdued street-style outfit.
I wore a bright red crop top and a pair of color-block jeans as a base. For shoes, I used a pair of high-top red Vans. Since it's winter, I also wore a red sweater when the weather demanded it.
For the final touches, I wore my hair in pigtails (as much as my new haircut allowed it). I also added a red denim jacket later in the day.
I adored this outfit! It was the easiest one to recreate and also one of the most comfortable and versatile.
I really like the color red, so this one was right up my alley. The look was perfect for home office, but I think it is put-together enough if I needed to go run some errands.
Tecna's Style: Outfit #5, Friday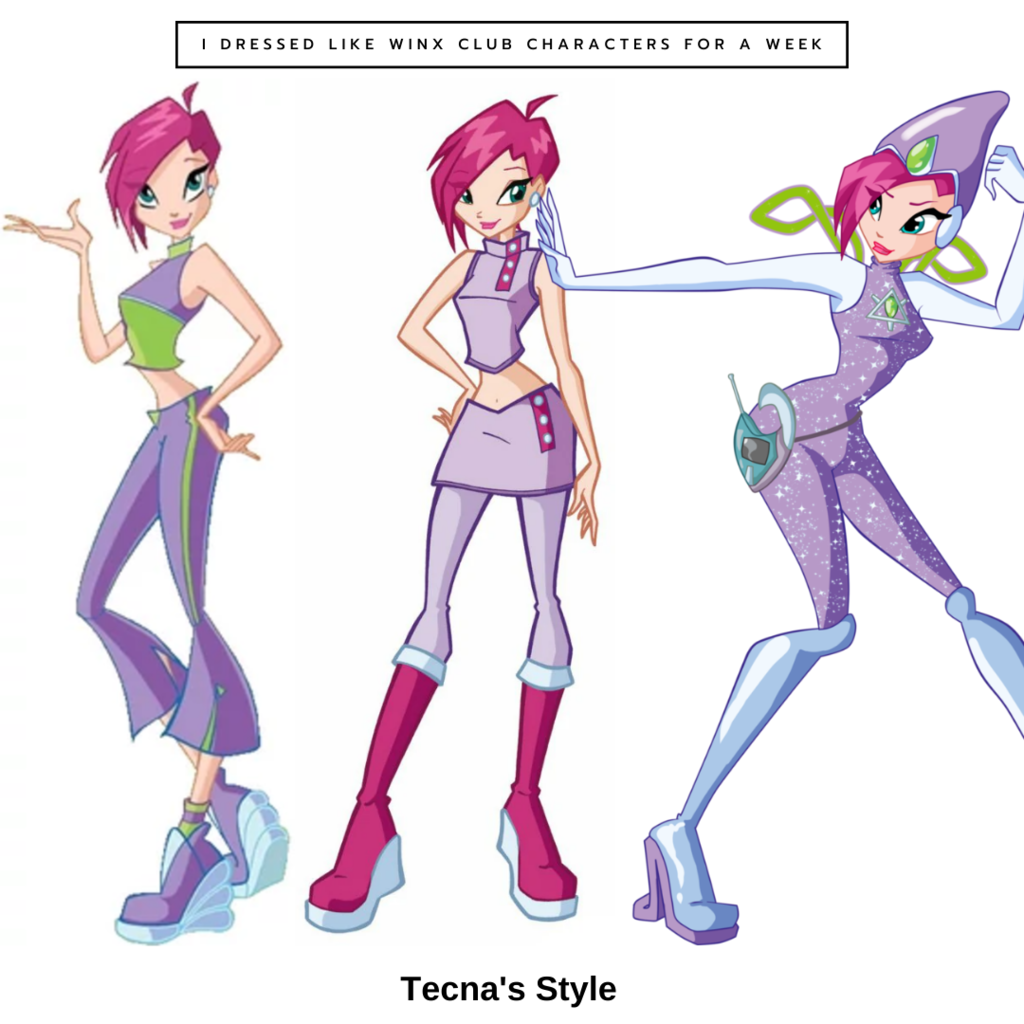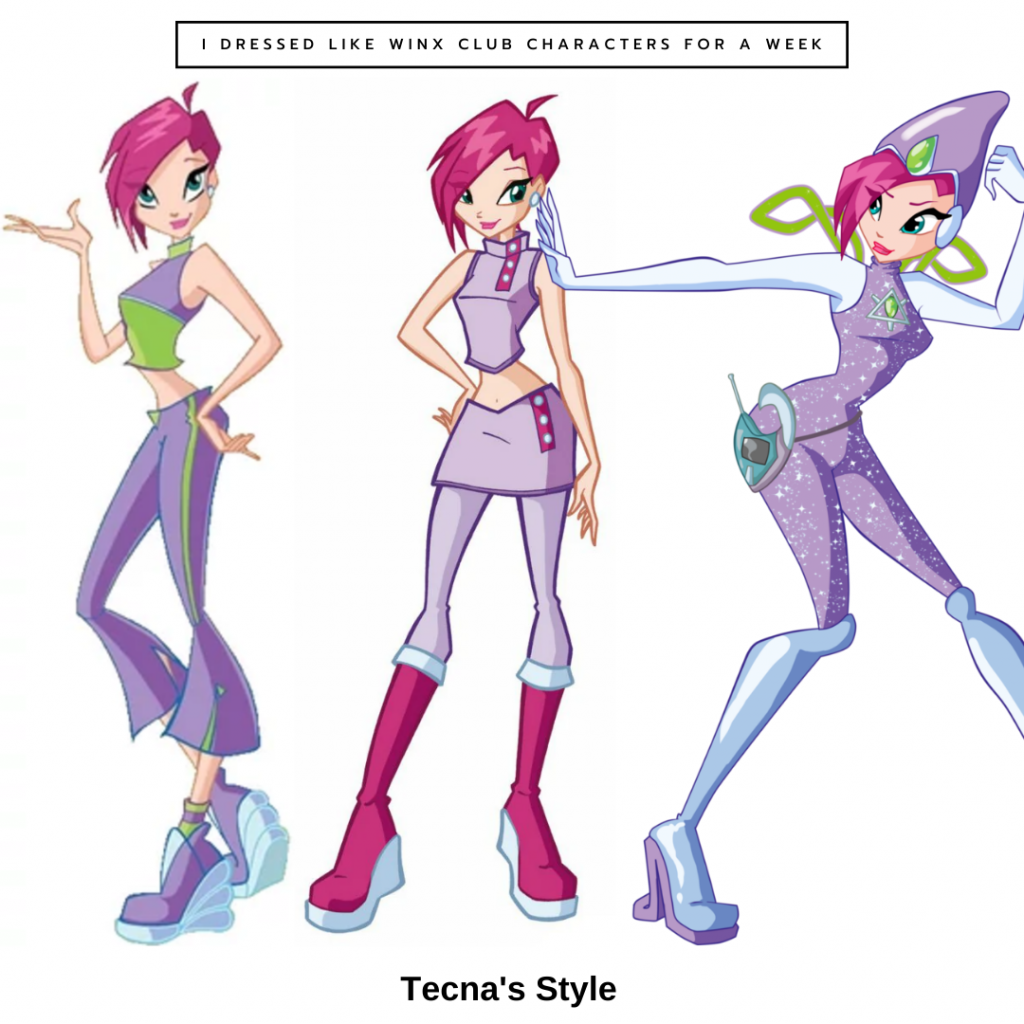 Tecna is the fairy of technology, with powers that come from computers and technology in general.
Incredibly smart, Tecna is highly logical and has trouble expressing her emotions. In spite of this, she cares deeply for her friends.
Her love interest is Timmy, her smart-guy counterpart within the Specialists of Red Fountain.
The singer P!nk was the basis for her design. This explains Tecna's magenta pixie cut and codes the character as white.
The color scheme for Tecna includes various shades of purple, like magenta and lilac. Her complementary color is neon green. These two colors are closely associated with technology-based powers in animation.
Tecna's Style Recreation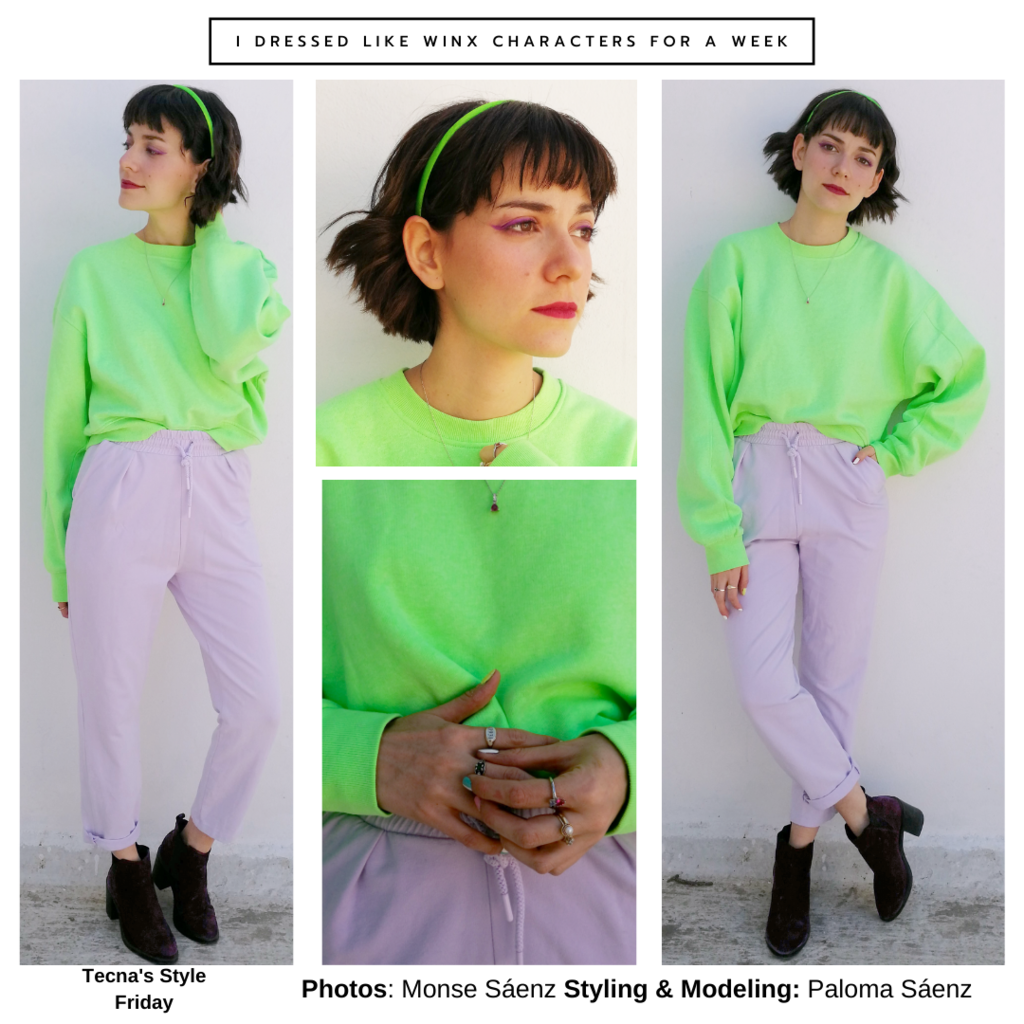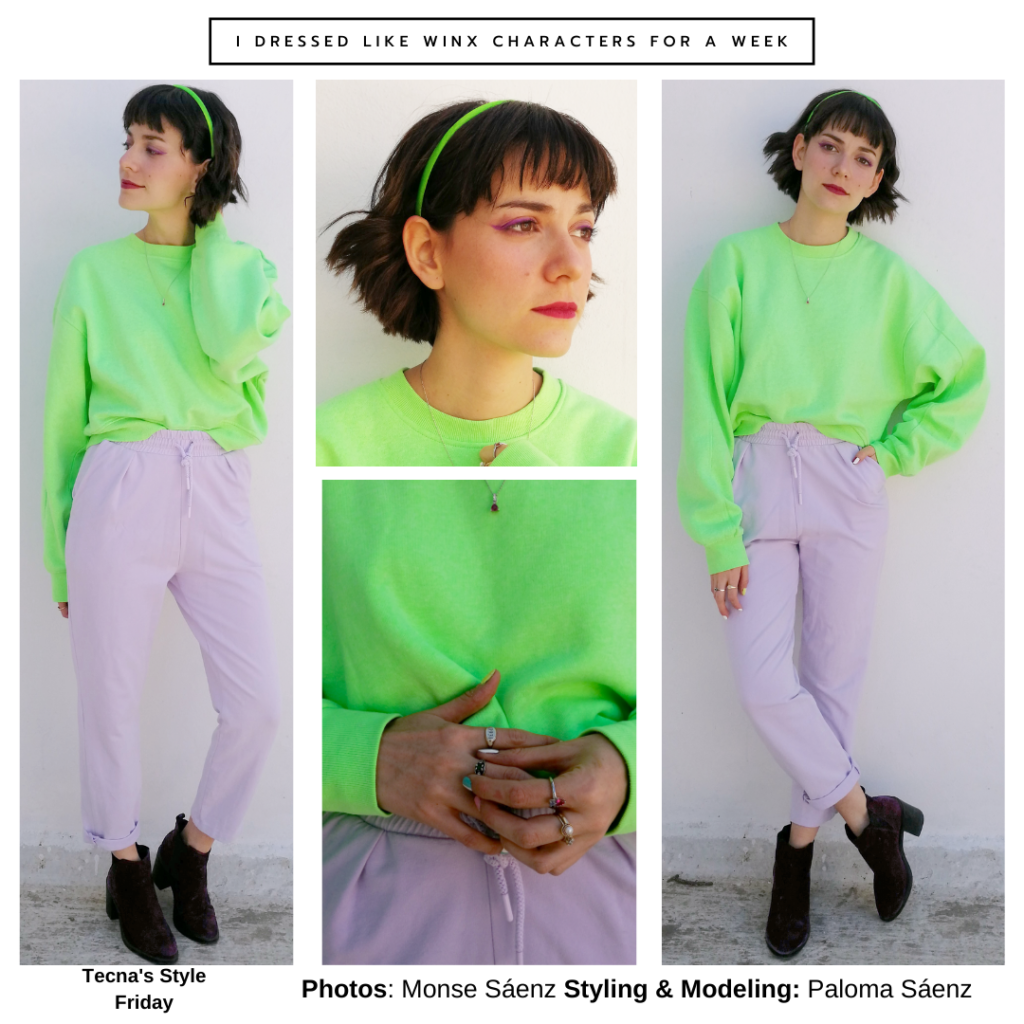 For Tecna's recreation, I felt like going with an athleisure look would be the best.
To create the base of the look, I paired a neon green sweatshirt with lilac joggers. For shoes, I chose a pair of ankle booties in a deep purple shade to complement her color scheme.
Also, I wore a green headband to accessorize my hair.
I adored this look! It was everything I could've asked and more. Comfortable? Check! Cute? Check! Warm? Check!
This color combination was a surprise, because I don't usually pair purple and green, and I ended up loving them together.
I would probably wear other shoes when I wear this outfit again, because I feel a pair of white booties or Doc Martens would look great with this.
Aisha's Style: Outfit #6, Saturday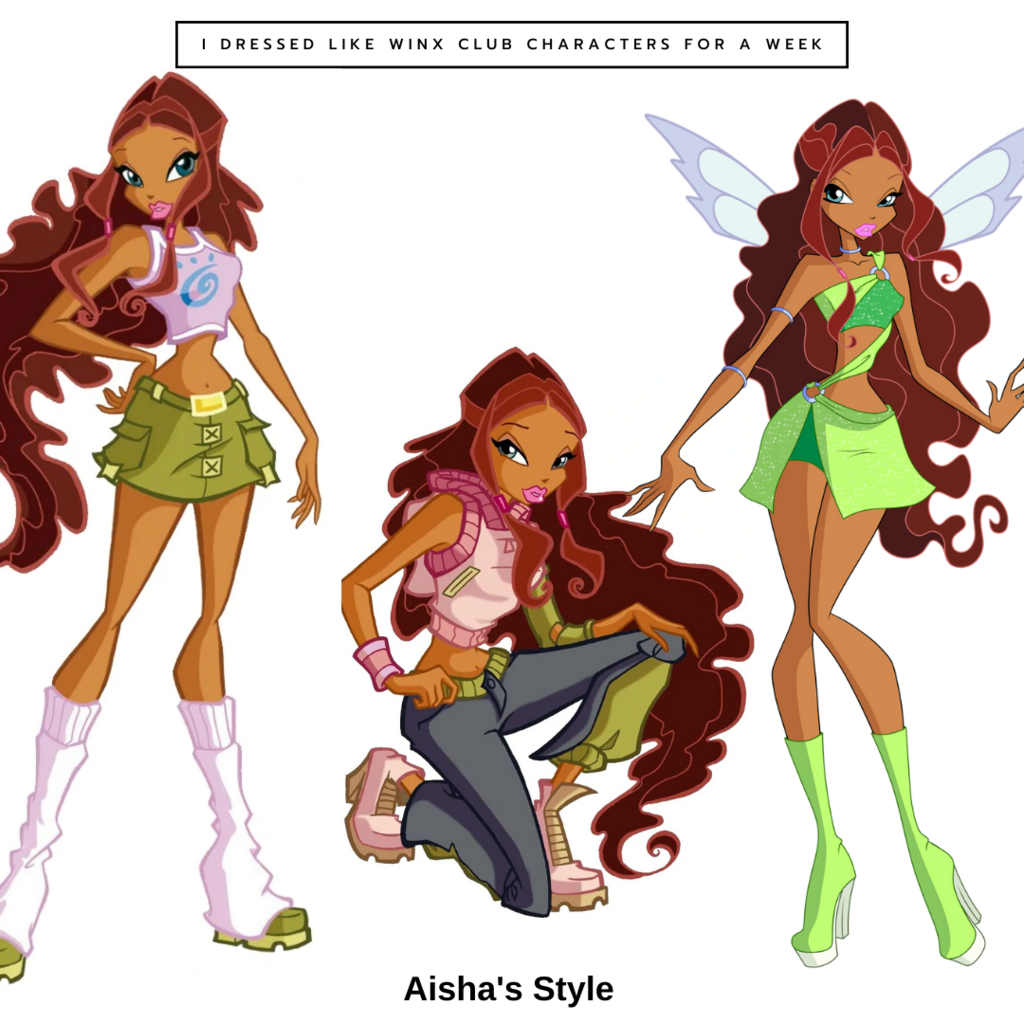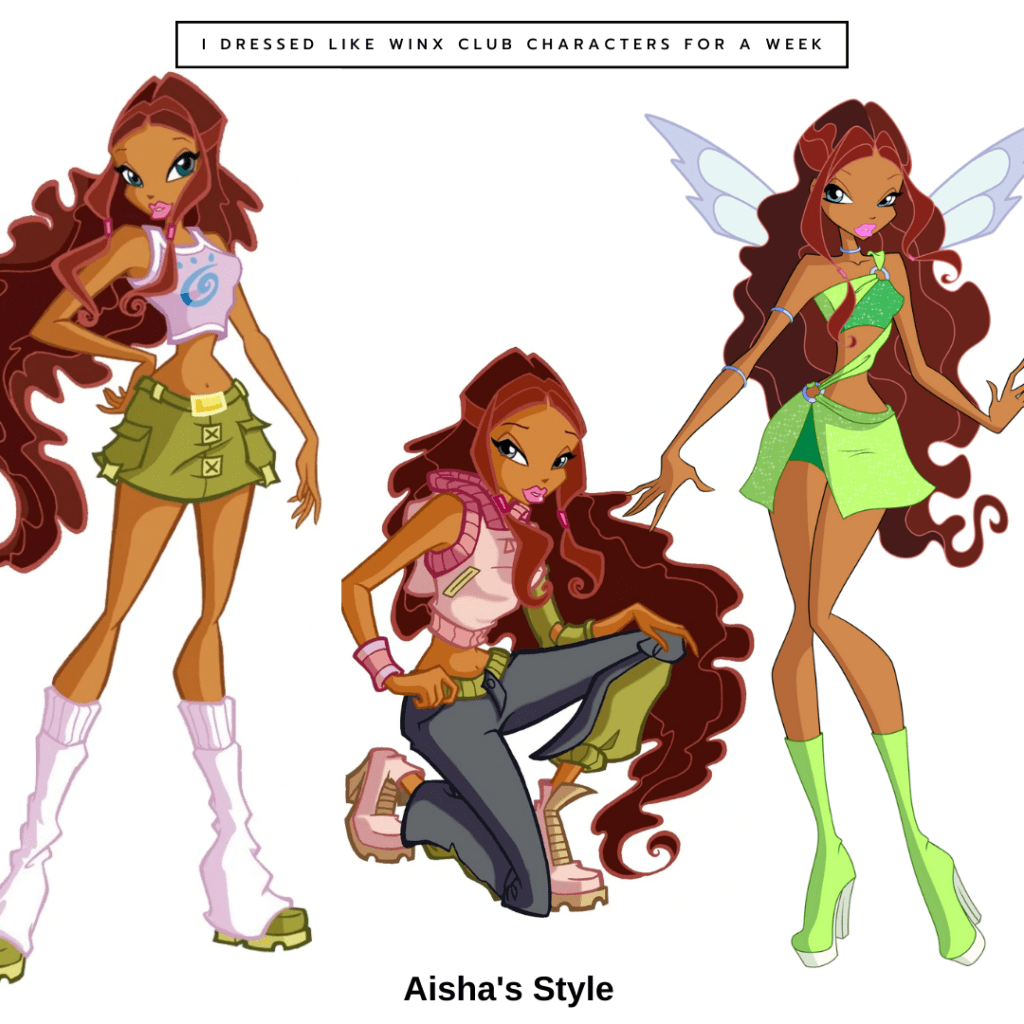 Aisha is the fairy of Morphix. Morphix is a plasma-like substance that allows to Aisha create any object or weapon she requires.
She is the princess of Andors, an ocean-based realm, which is why she is so strongly associated with water.
Aisha is opinionated, open-minded, and the most independent in the group. She is also a skilled fighter, proving to be just as good as the Specialists in the area.
Her love interest is Nabu, a wizard from her home planet. While their engagement is initially arranged, they genuinely fall in love with each other. She might have had other love interests after him, but Nabu is by far the fan favorite.
Aisha's look is based on singer Beyoncé, coding her character as black. Her addition to the cast in season 2, balances the scale, making the group comprised of three white (or white-looking) characters and three POC characters.
Strangely, her character was called Layla in every third-party dub, which is how I knew her when I was young. She was Aisha in the original Italian and English dub.
The color associated with Aisha is either teal or turquoise. Teal was used mainly for the first seasons, mostly in her transformation look or formal-wear outfits. In later seasons, her main color was turquoise instead.
Complementary colors, and the ones used in her civilian outfits, were army green and light pink.
Aisha's Style Recreation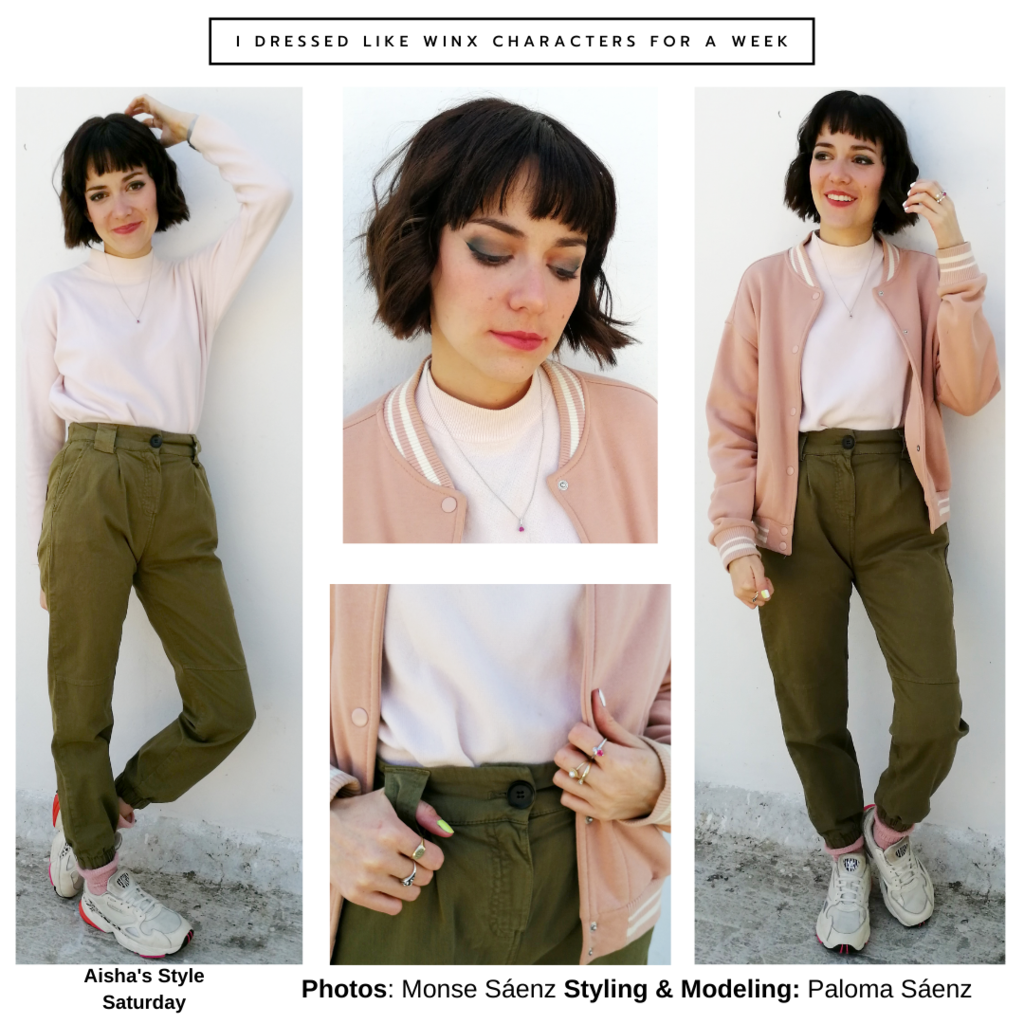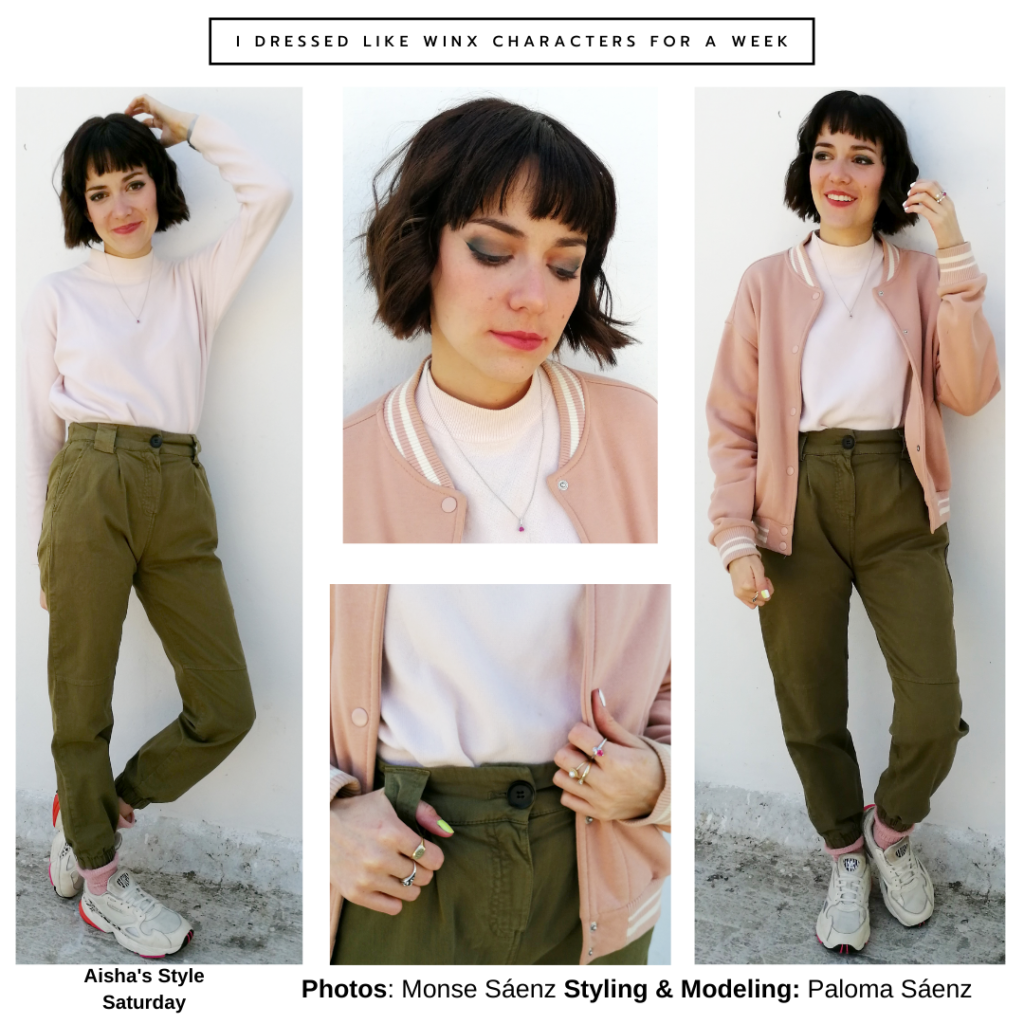 To create Aisha's outfit, I decided I needed a cool, comfortable look with a girly streak.
I wore a pair of army green pants with a light pink mock sweater as a base for my look. I decided to wear pants and a sweater because it would be both weather-appropriate and very much Aisha's style.
For shoes, I decided to wear a pair of chunky sneakers. I also wore pink fuzzy socks as an homage to her pink leg warmers. Later in the day, as it got colder, I threw on a pink letterman jacket.
I loved this outfit! While it was a bit out of my comfort zone, color-wise, I ended up loving it.
I think everything fell into place with this one. The look was warm and comfortable for a Saturday at home, but also very cute, to keep my spirits up.
Final Thoughts on My Week of Winx Club Fashion
Overall, this was a fun, colorful, bright week!
I loved the Winx Club growing up. I watched it after school and my middle school friends and I used to pretend we were the Winx. My parents even bought me a Stella doll!
Doing this Winx Club fashion challenge was literally a childhood dream come true. It pushed my creativity to places I haven't gone before, which is always great to do.
I felt so inspired by the outfits through the week that I even tried to match my eyeshadow and eyeliner with the character every day. It was awesome to be more playful with my look and style.
I also tried to emulate the Y2K aesthetic as much as possible, I hope it did translate to the final looks. I even did my nails so each would represent one of the girls: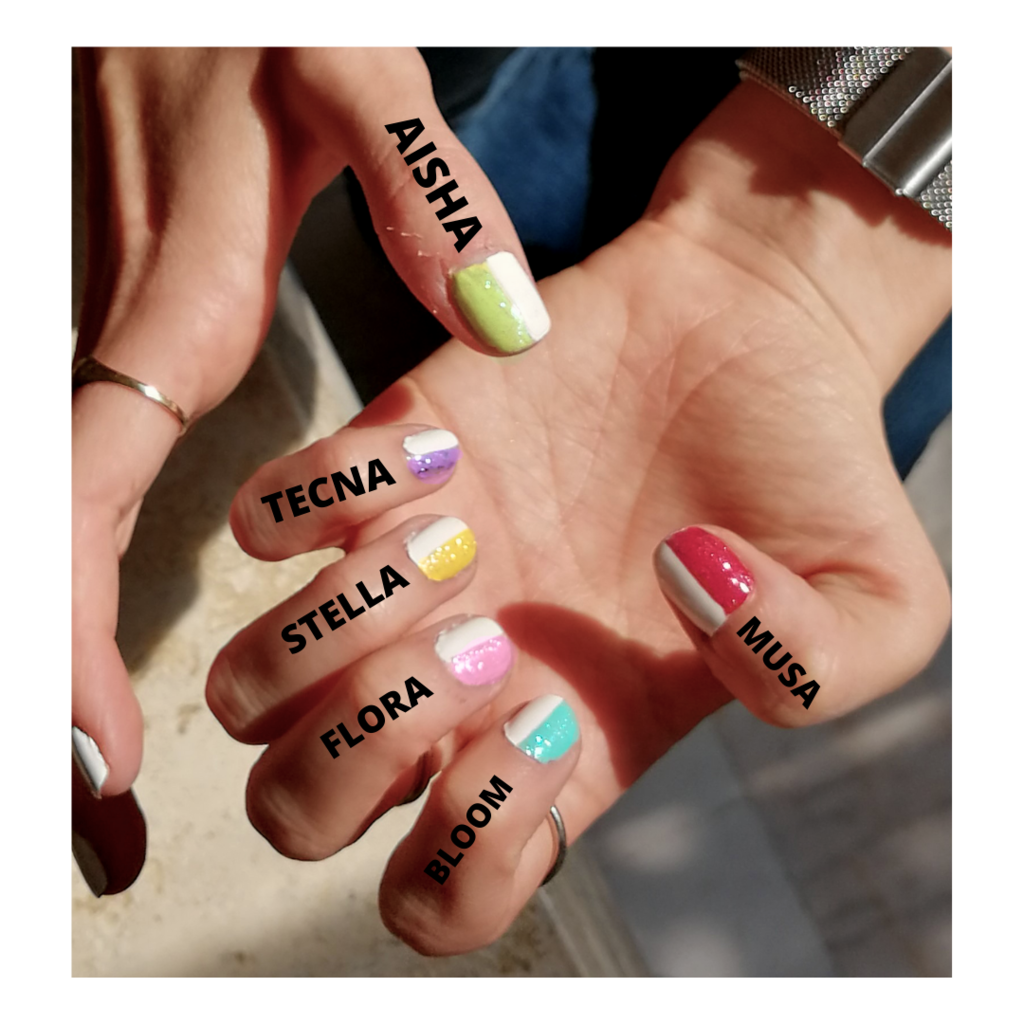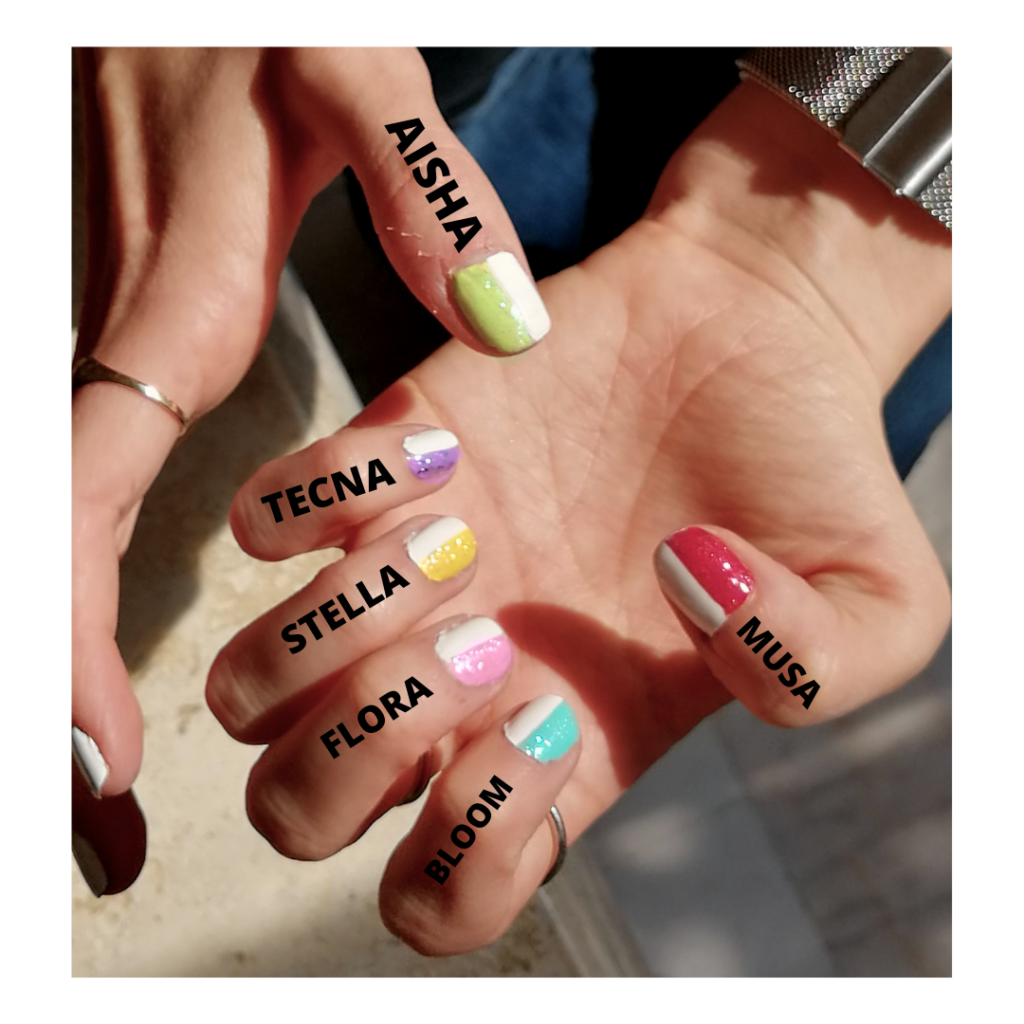 My favorite looks were, by just a little, Stella's and Tecna's outfits. They were so colorful, cute, and comfortable, but in different styles. These two are definitely added to my fave outfit rotation, just as they are.
I always try to be as honest and open with these posts as I possibly can without spilling my private life all over them. As a self-imposed rule for any of my style recreation posts, I try to keep the shopping to a minimum. I usually raid all of my family's closets, including my dad's and brother's, to make these posts work.
Fun fact: Up until this point, I had managed to not buy ANYTHING for over a year!
When I started looking through everyone's closets for this, I realized I didn't have anything orange or green that worked for this post. And I needed A LOT of green!
So, fortunately, because I have great new items in my closet, and unfortunately, because I broke my rule, I did have to buy some items for this one. I bought all the green items for this post. This includes Stella's, Flora's, and Tecna's tops, and the orange skirt for the Stella look.
This doesn't mean that you can't recreate Winx's outfits without shopping! This happened to me because as a family, apparently, we tend to not go for those two colors in particular as much as we do others.
Now that I have these items, I will absolutely keep wearing them and I think they complement my closet perfectly. I wouldn't have bought them otherwise. (With the exception of the Flora top, I think it fits my sister better so I think she'll use it way more than me.)
If you want to take inspiration from this beloved animated show, GO FOR IT! I promise, it will be fun and, in a way, it will capture some of that magic that we believed in while watching this as children.
What do you think of my Winx Club fashion guide?
Did you like the Winx Club? Which character is your favorite? Have you seen the Netflix version? Which recreation was your favorite? Do you like the looks? Would you try doing this? Let us know in the comments below!
For more fashion inspiration like this, check out our related post below from our archive –