This Power Rangers fashion guide will show you outfits inspired by the most popular Power Rangers characters.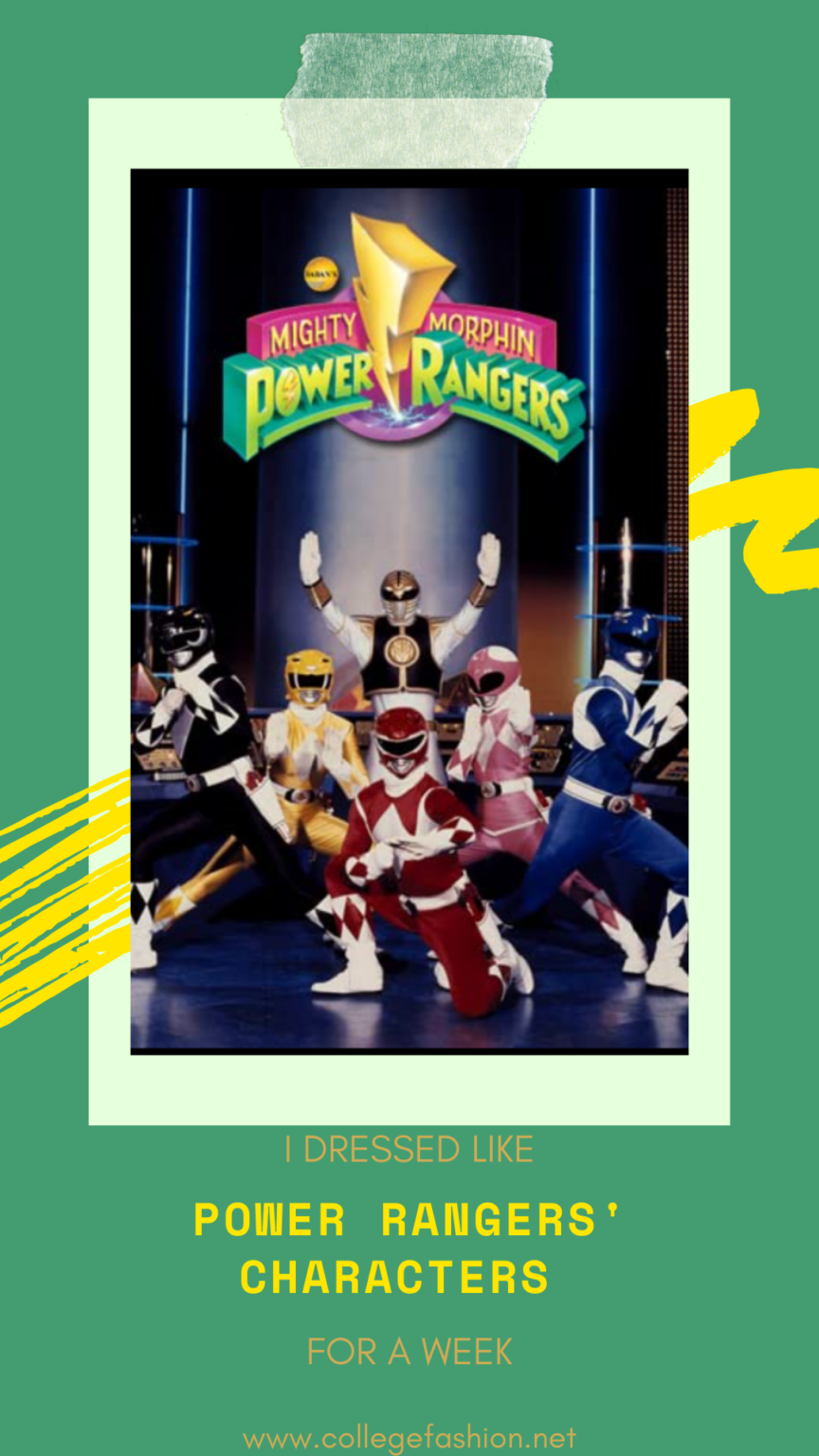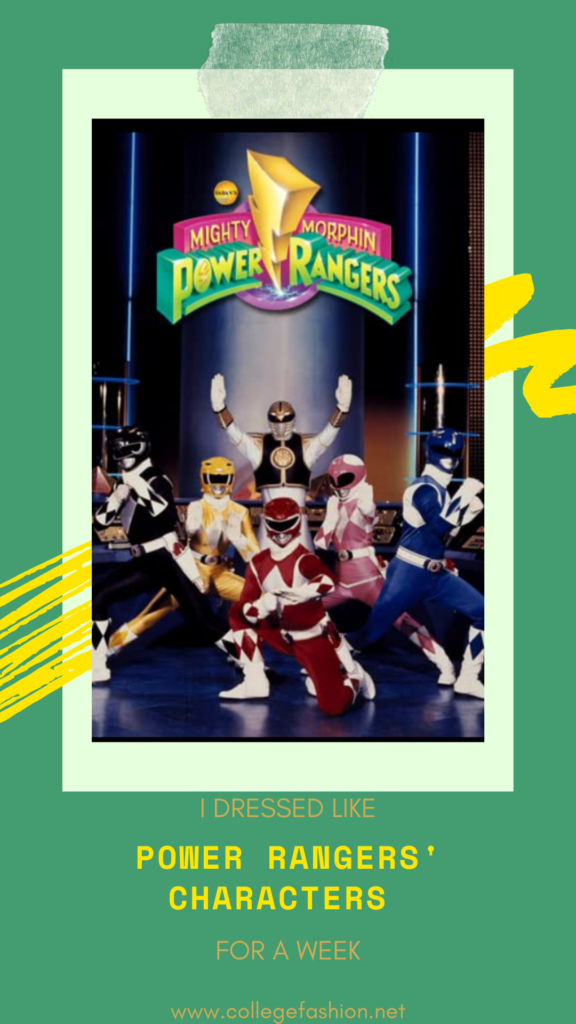 We've all looked to celebrity style for fashion inspiration at some point in our lives. But it's one thing to say "I love her outfit," and it's another to actually copy it in real life.
For this series, I'm going the extra mile and making it happen. Each week, I'm getting inspiration from a celebrity and copying five of her looks as closely as possible. Then, I'm reporting back to you: Did the outfits work in real life? Did I feel comfortable? Did people treat me differently? I'm sharing it all.
In past posts I've covered the style of these celebrities: Zendaya, Gigi Hadid, Grace Kelly, Kendall Jenner, Vanessa Hudgens, Sophie Turner, Priyanka Chopra, Millie Bobby Brown, Hilary Duff, Lily Collins, Taylor Swift Part 1 and Part 2, Selena Gomez, Alexa Chung, Queer Eye's Fab 5, Lucy Hale, Dakota Johnson, Hailey Bieber and Kaia Gerber.
I've also covered the style of certain iconic TV and movie characters: Iconic Halloween Characters Part 1 & 2, Iconic Christmas Characters Part 1 and 2, Rachel Green Part 1 and 2, Monica Geller, Little Women's Characters, Gilmore Girls' Characters Part 1 and 2, Iconic Olsen Twins' Movies, Winx Club Characters, Bridgerton Characters and W.I.T.C.H Characters.
I also did a full behind-the-scenes on this series.
This week, I'm creating a full Power Rangers fashion guide based on my favorite Power Rangers' Characters of all time.
About Power Rangers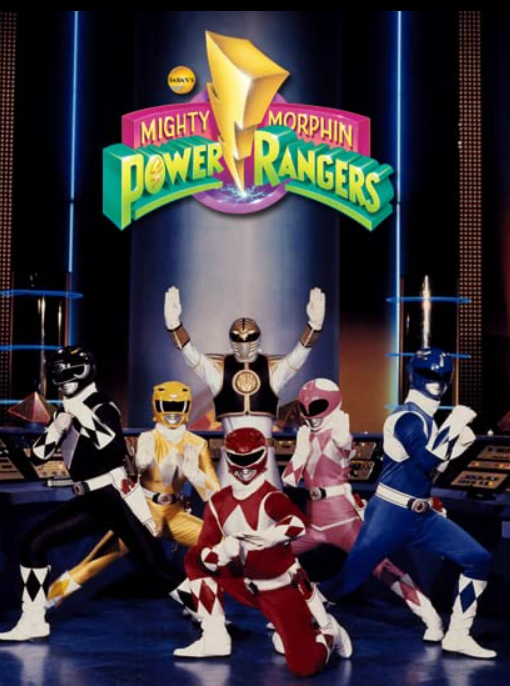 In the mid '80s, Haim Saban came across the series Super-Sentai and wanted to make a similar show for US audiences. He mixed the Japanese action sequences with footage with American actors in an American setting.
In 1993, Mighty Morphin' Power Rangers premiered and spawned one of the most beloved and iconic multi-media franchises of all time. As of 2021, Power Rangers consists of 28 TV seasons of 21 different themed series (Mighty Morphin' had three seasons and a mini-series), three theatrical films, countless tabletop and video games, comic books, and the list goes on and on.
The basic premise of the original season follows the adventures of five "teenagers with attitude", especially selected by Zordon, an alien being, to fight his eternal enemy Rita Repulsa. The team fights Rita's army of Monsters of the Week. Zordon gives each teenager a Morpher, which helps them transform into costume, and each Morpher comes with a giant dinosaur-shaped robot, called a "Zord."
The first 7 seasons featured many of the same cast members in various roles. From season 8 on, each season on ends with the retirement of the entire team. The next season begins with a new cast of characters in a different city with a different set of powers facing new villains and a storyline establishing their origin.
Disclaimer
As you can see, Power Rangers has a lot of material to handle. So, I compromised and I focused solely on the seasons and characters that I personally loved most. This might leave a few fan-favorite seasons and characters out (I'm sorry Time Force stans!), but it keeps this post in the range of the doable.
Without further due, here's how my very colorful and kind of monochromatic Power Rangers fashion week went!
Power Rangers Fashion Guide
Monday, Outfit #1 – Kimberly Ann Hart (MMPR)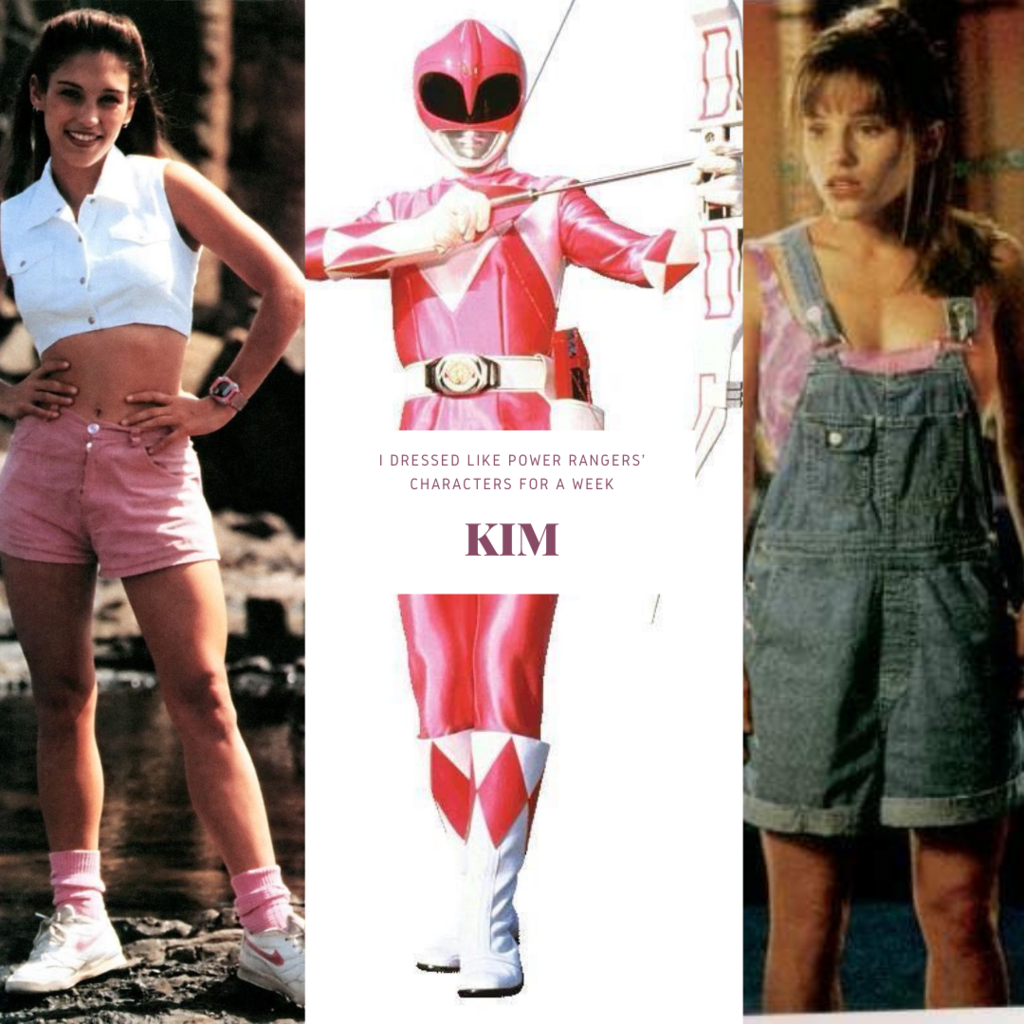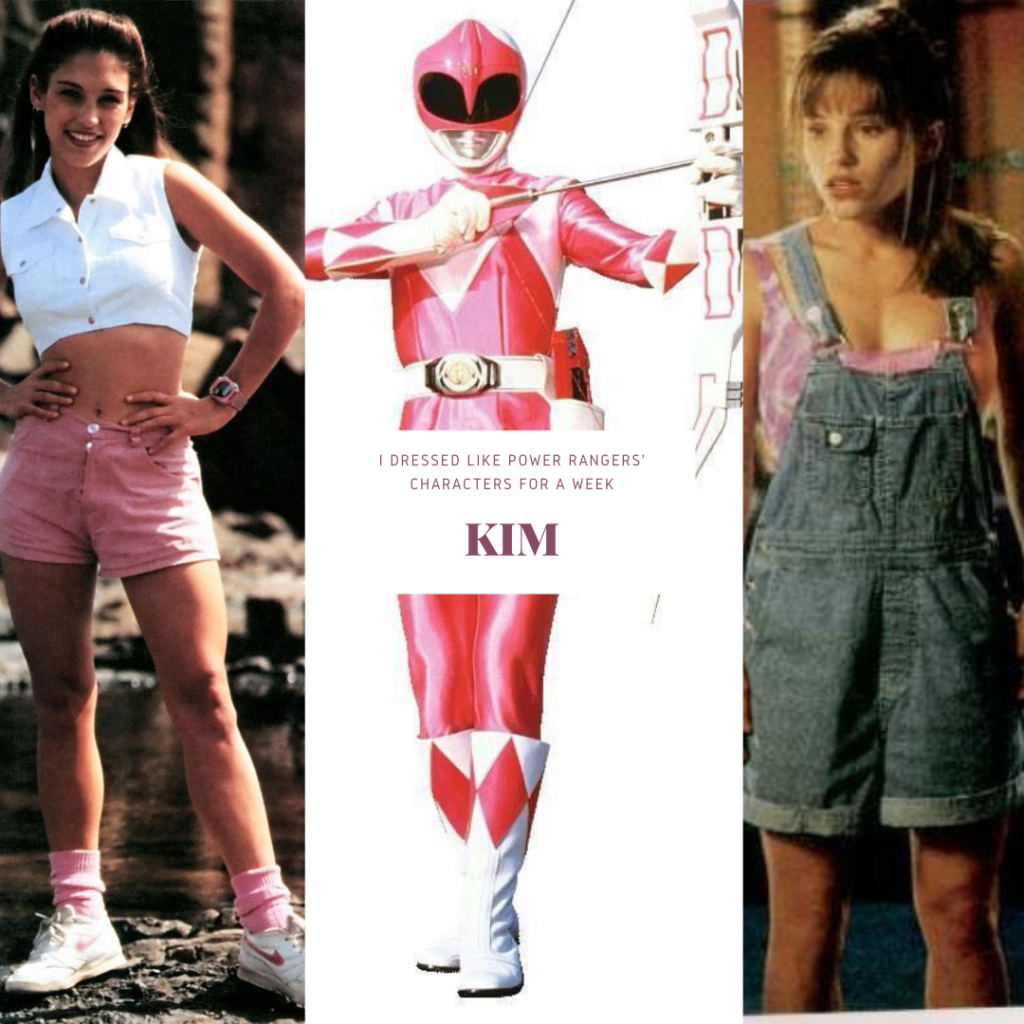 Part of the OG Mighty Morphin' team, Kim was the very first (and most iconic) Pink Ranger. She was played by Amy Jo Johnson. Kim was a gymnast and musically talented. Zordon gave her the Pink Pterodactyl Power Coin due to her being "graceful and smart."
Portrayed as a Valley Girl, Kim was the template for all Power Ranger girls after her: kind, girly, and pink. Don't let the girliness fool you, though: Kim was the Ranger that fought and destroyed more monsters single handedly than anyone else on the team.
Kimberly's Power Rangers fashion vibe was peak '90s. She wore a lot of crop tops, high waisted denim bottoms, chunky sneakers, scrunchies, short floral dresses, and skirts. Most of these items were in her signature pink color. Neutral pieces, like white and blue denim, were added to keep the outfits as grounded as possible.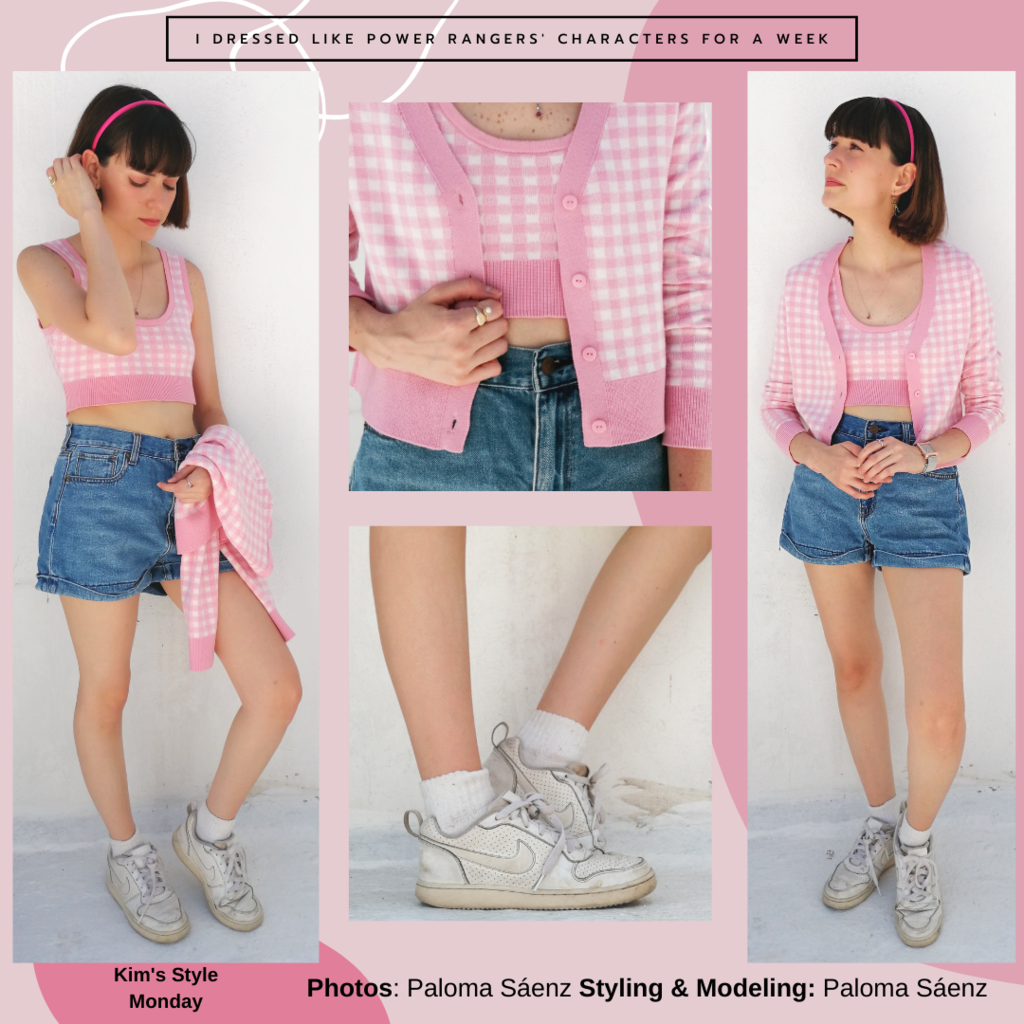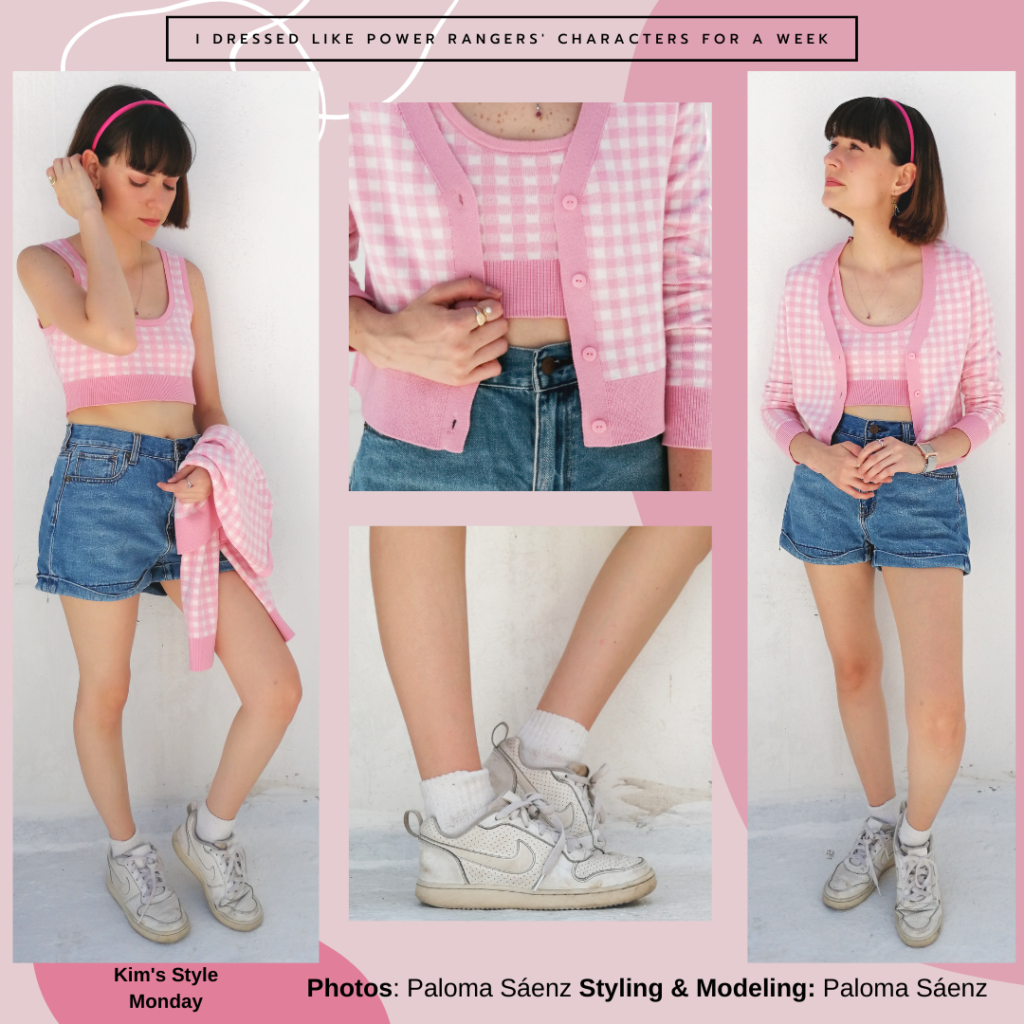 For my Kim outfit, I wanted something that was pink, comfy, and very '90s.
I paired a pink gingham crop top and sweater set with a pair of denim shorts. I decided on the shorts, since it has gotten very hot where I live and Kim wore high waisted shorts more than anything. Then, for shoes, I used a pair of white Nike sneakers with white socks to give the look a more '90s vibe. My only accessory is a pink headband, since she wears a lot of them through the series.
I loooved this look! It was fresh, comfortable, and really cute. I felt like it was very Kim, but also super me. I did wear it again, on Sunday, with a few minor changes to make it more me. It's definitely going to be in my summer outfit rotation.
Tuesday, Outfit #2 – Tori Hanson (PRNS)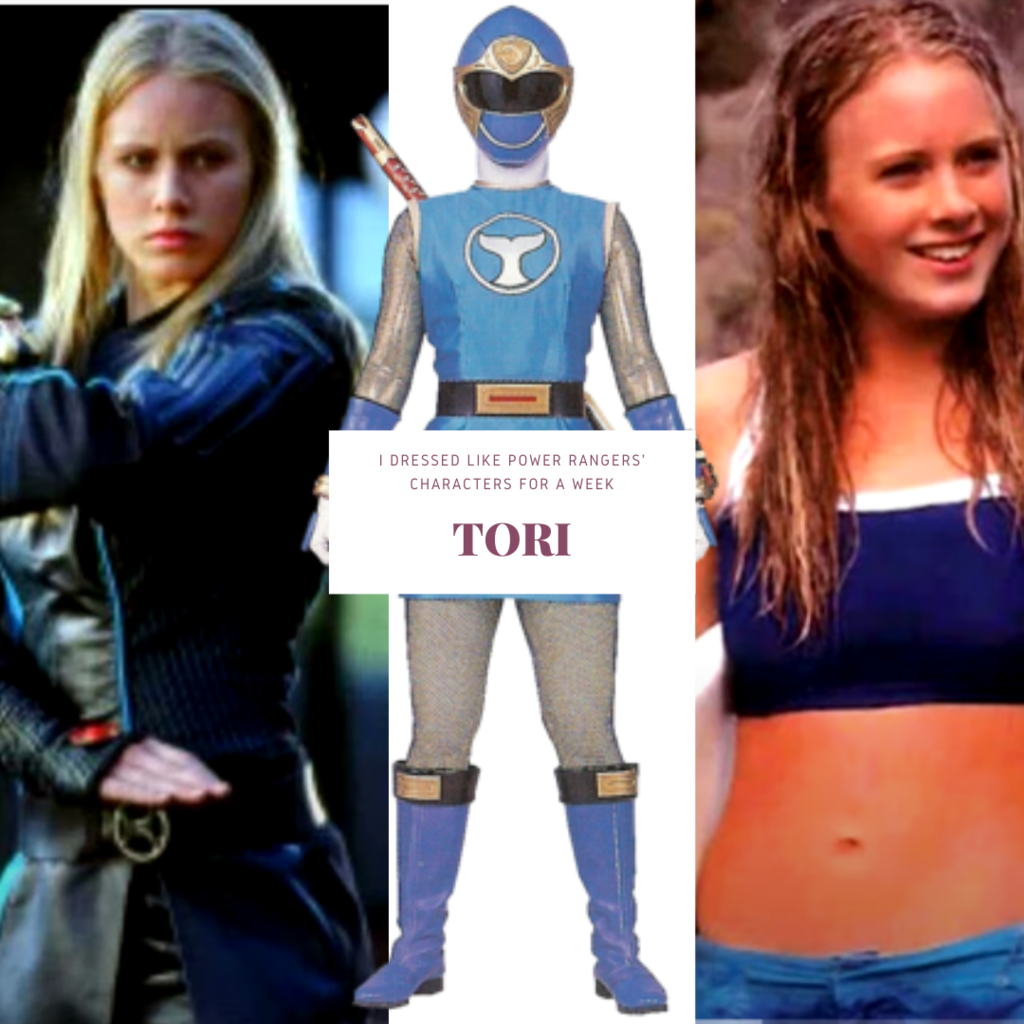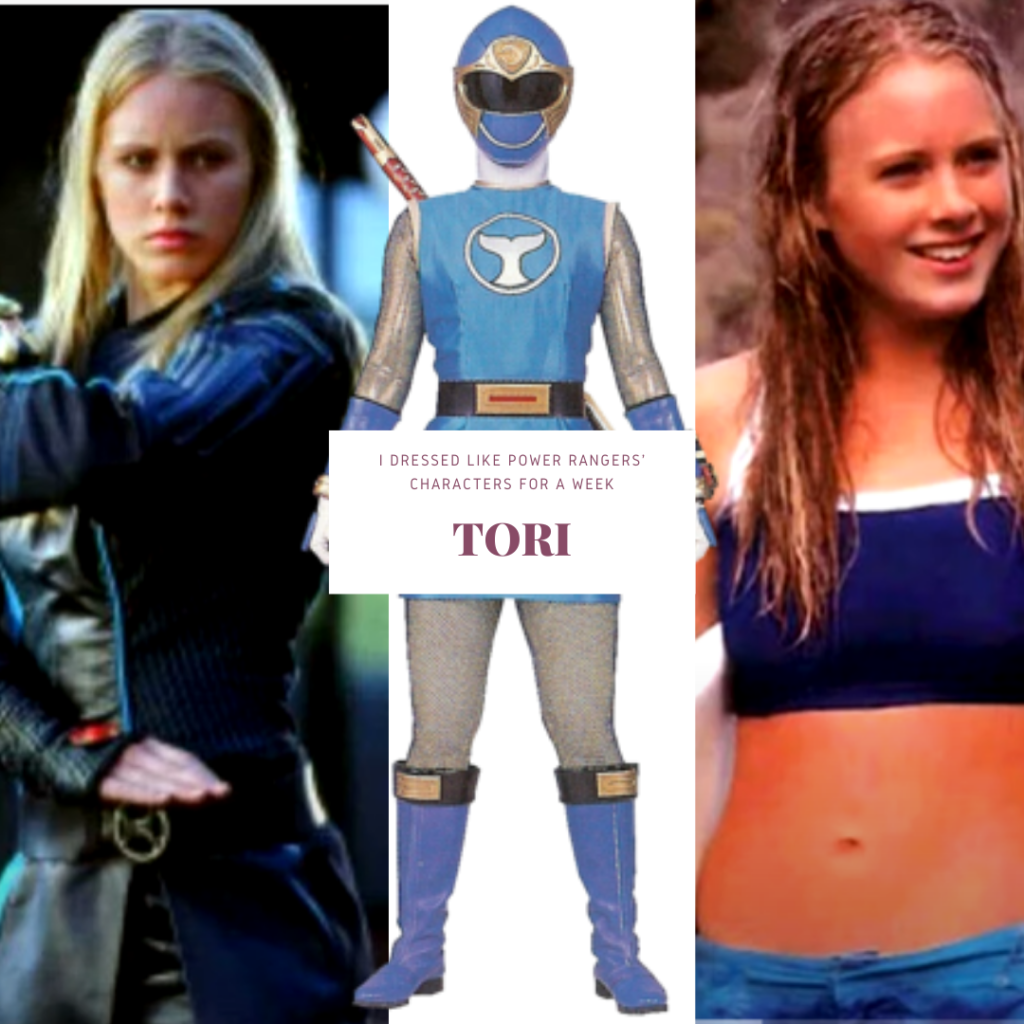 Power Rangers Ninja Storm is the 11th season of Power Rangers and it premiered in 2003. It was the second season after Disney took over and the first one after they moved production to New Zealand.
Tori Hanson, played by Kiwi actress Sally Martin, is the sole woman on the PRNS team. Tori is the Blue Wind Ranger with the power of water and a dolphin motif. She is a tomboy, but is usually the most level-headed member of the team. In this season, all the Rangers had sports-based hobbies, like skateboarding and motocross. Tori's hobby was surfing.
Fun fact: Tori is one of the most popular blue Rangers of the entire franchise.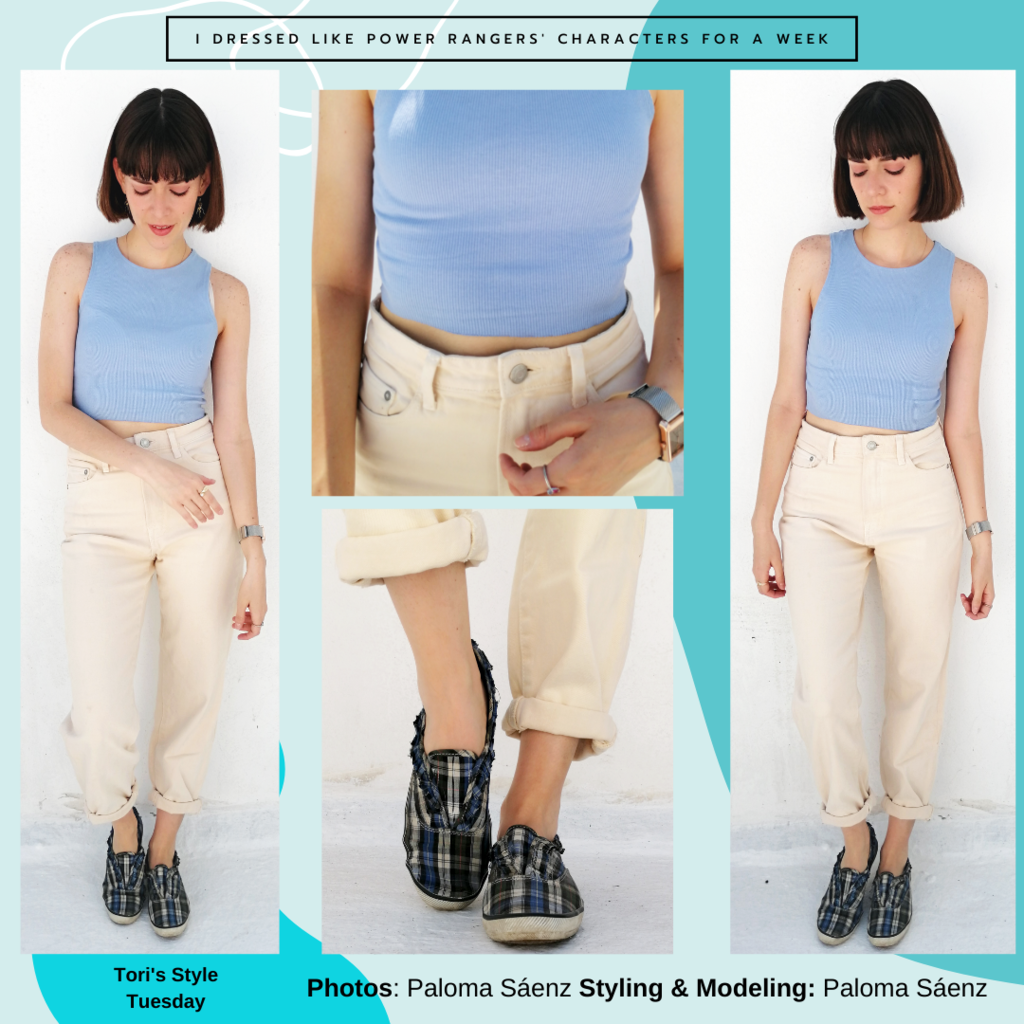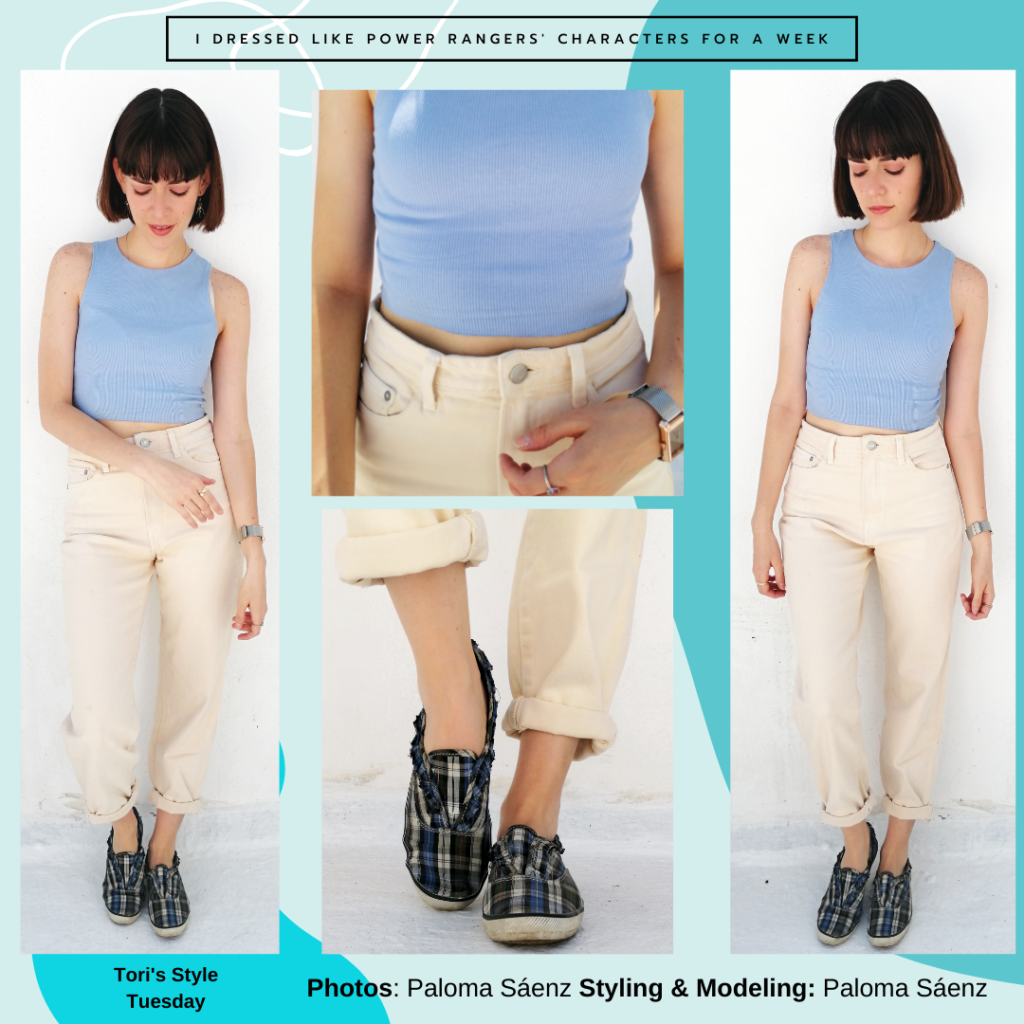 Tori wasn't supposed to be a fashionista, so her clothes weren't the trendiest out there, but her style is still very everyday Y2K.
For her look, I wore a blue halter crop top. For the bottoms, I was between wearing a pair of off-white mom jeans or a blue denim skirt. I went with the off-white jeans, since they are more Tori's vibe and she wore a lot of loose white pants (not jeans, though) during the show.
For shoes, I decided to wear a pair of blue Keds. Later in the day, I added a blue denim jacket.
I think this look was okay. It was comfortable and it was definitely Tori's style. I just think that *for me* it wasn't the most amazing outfit. I would've added a pair of off-white boots, but it was okay for a normal day, working from home.
Wednesday, Outfit #3 – Kira Ford (PRDT)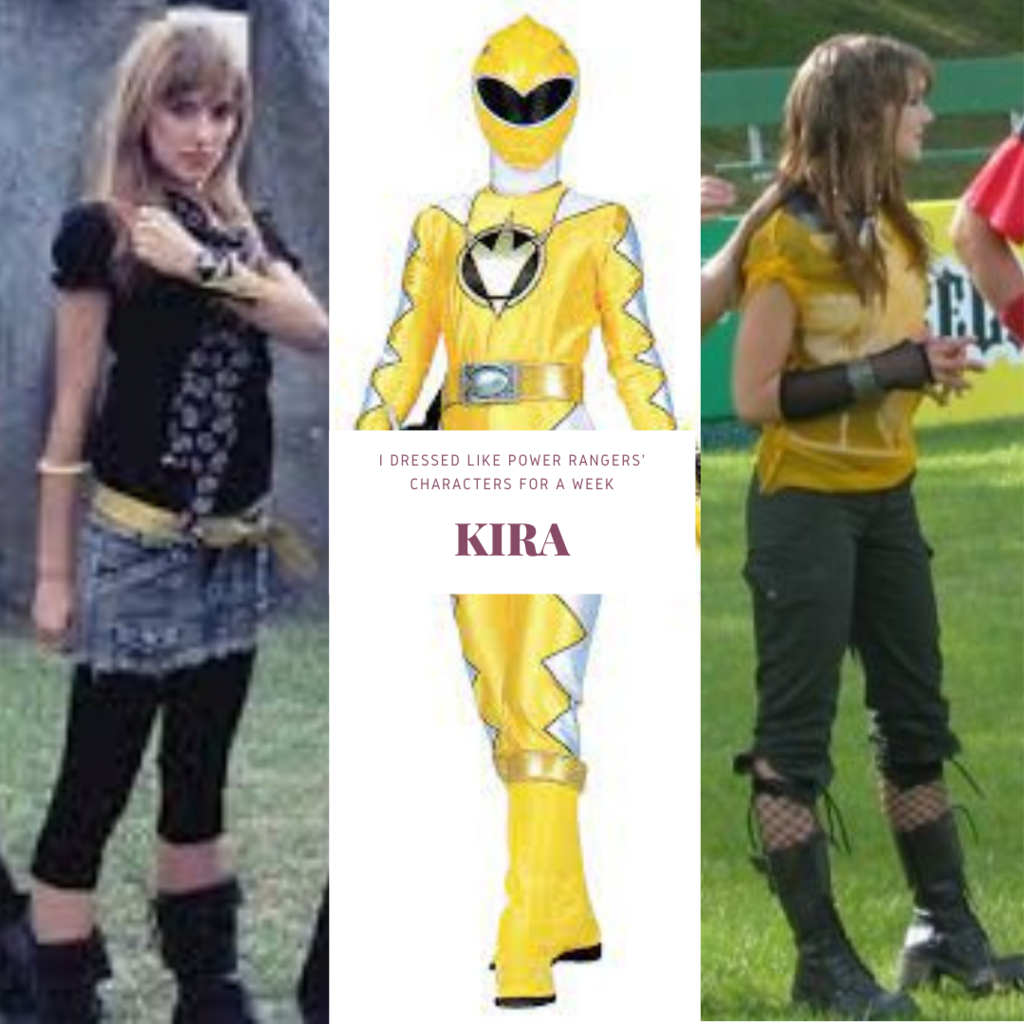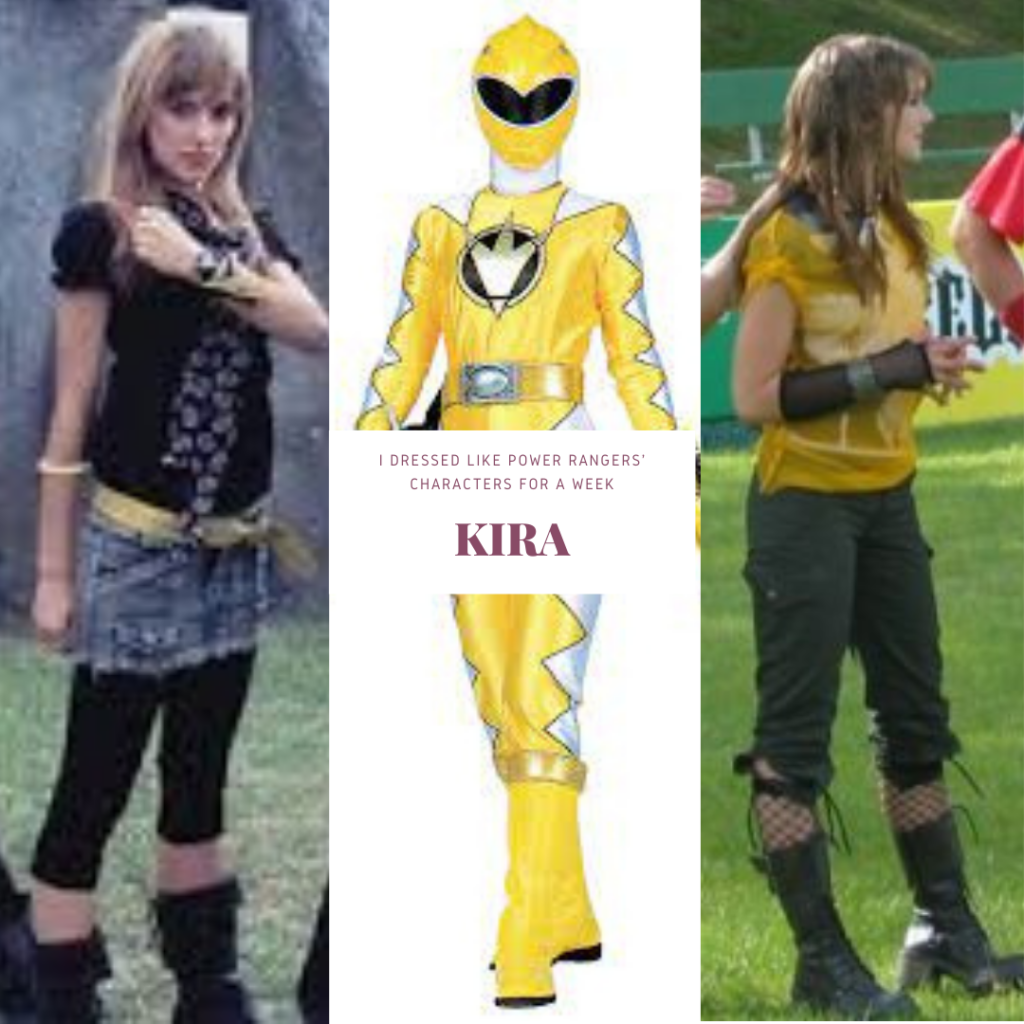 Power Rangers Dino Thunder is the 12th season of the franchise and it premiered in 2004. PRDT marked the return of the most iconic Power Ranger in history, Tommy Oliver, as a main character.
This is, by far, the most popular season of the Disney Era and one of the most beloved overall due to its fun, strong characters and amazing team dynamic between them.
Kira Ford, played by Kiwi actress Emma Lahana, is the Yellow Dino Ranger. She is the most popular character from this season, not counting legendary character Tommy Oliver, and one of the toughest female Rangers to date.
Kira is an aspiring singer and songwriter and plays the guitar. This is showcased multiple times through the series, thanks to her actress' background, and she was given four original songs.
Kira is also my absolute favorite character of the franchise.
With a no-nonsense attitude, Kira had a very punk-ish look for the Y2K era. While yellow was her signature color, it was usually worn in subdued ways and paired with tons of black and army green. Combat boots, ripped jeans, mesh tops, fishnets and a heavy focus on eyeliner were her main things.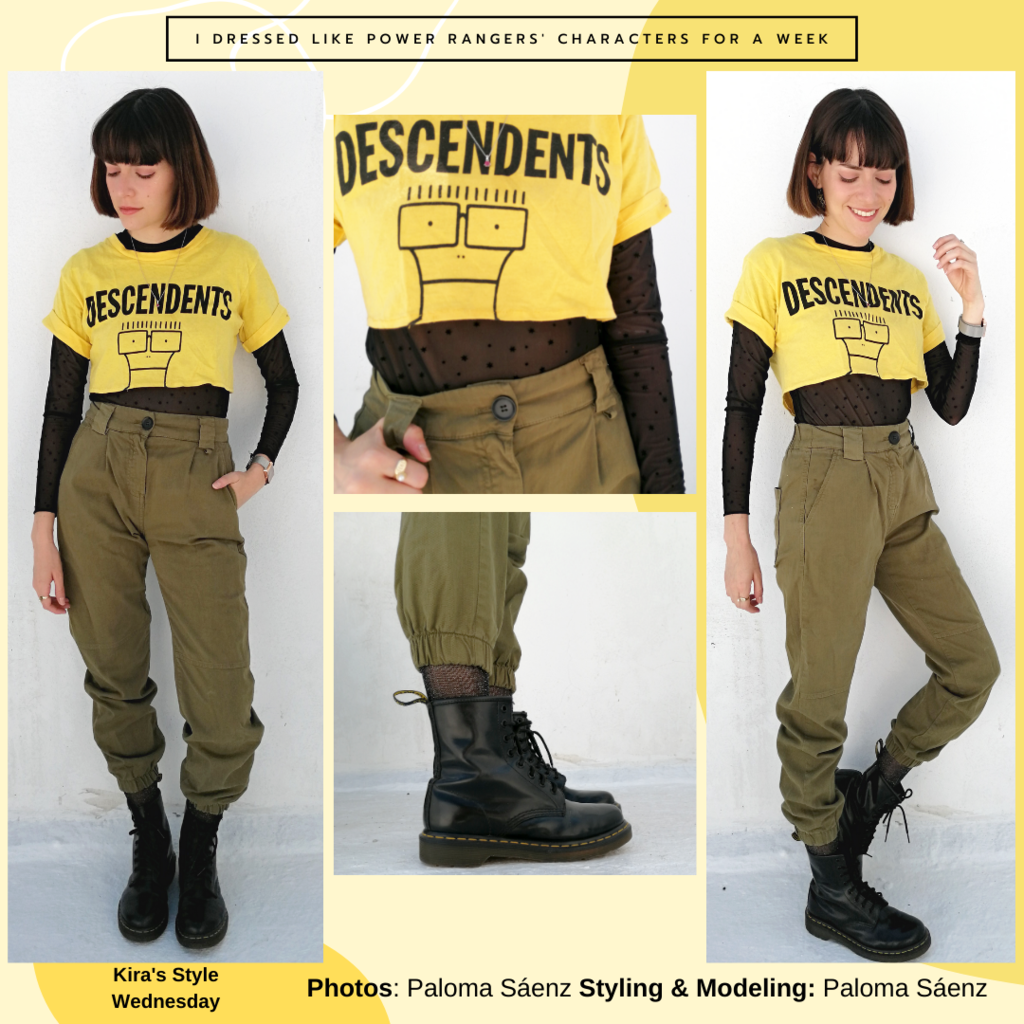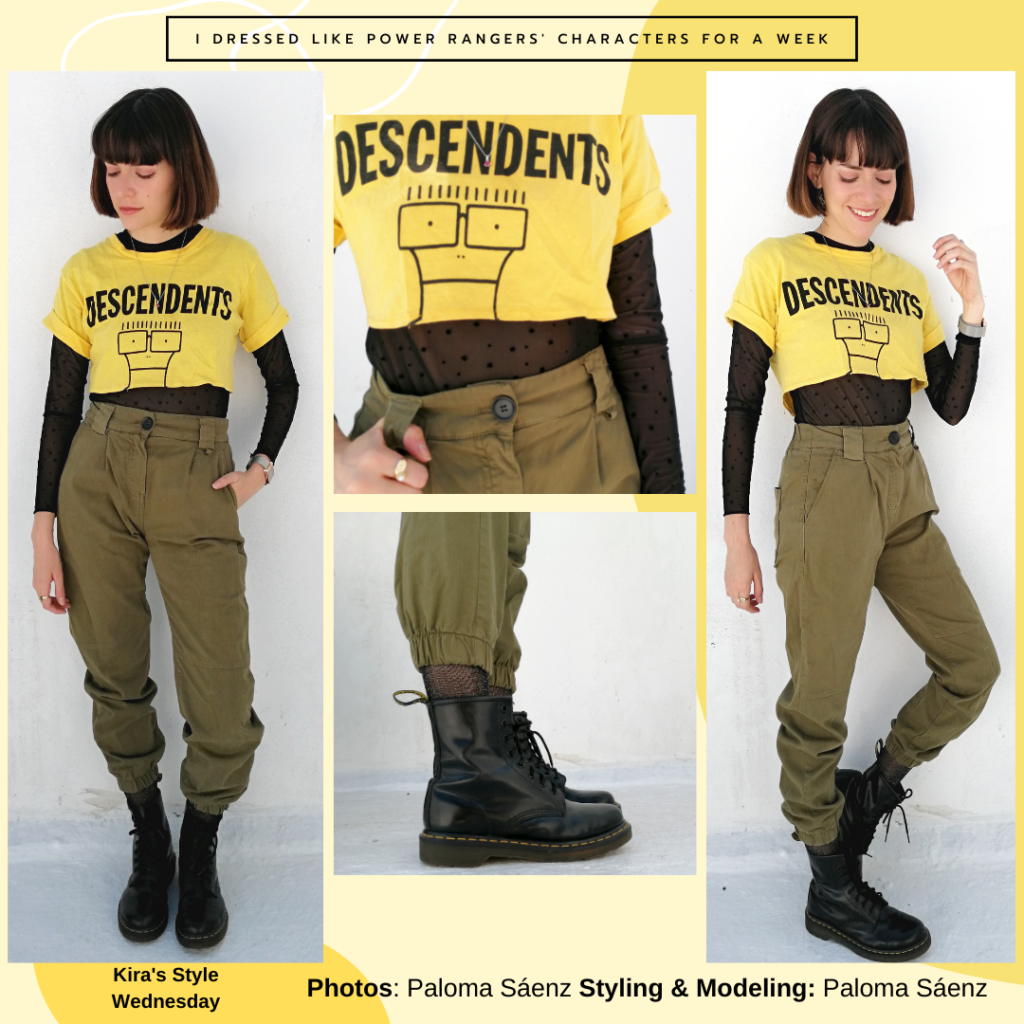 For Kira's look, I paired a yellow band tee that I cropped a while ago with a black mesh top. The bottoms are a pair of army green cargo pants. For shoes, I put on a pair of black Doc Martens. Finally, I used a pair of glittery mesh socks since I didn't have fishnets. I also went a little heavier with the black eyeliner and eyeshadow that day.
This look is definitely how I wanted to dress while watching PRDT. I felt like Avril Lavigne during her Let Go and Under My Skin eras.
I loved the outfit, but I might wear it again with a different pair of pants. Probably with black mom jeans and definitely sneakers instead of the Doc Martens for summer.
Thursday, Outfit #4 – Sydney Drew (PR S.P.D)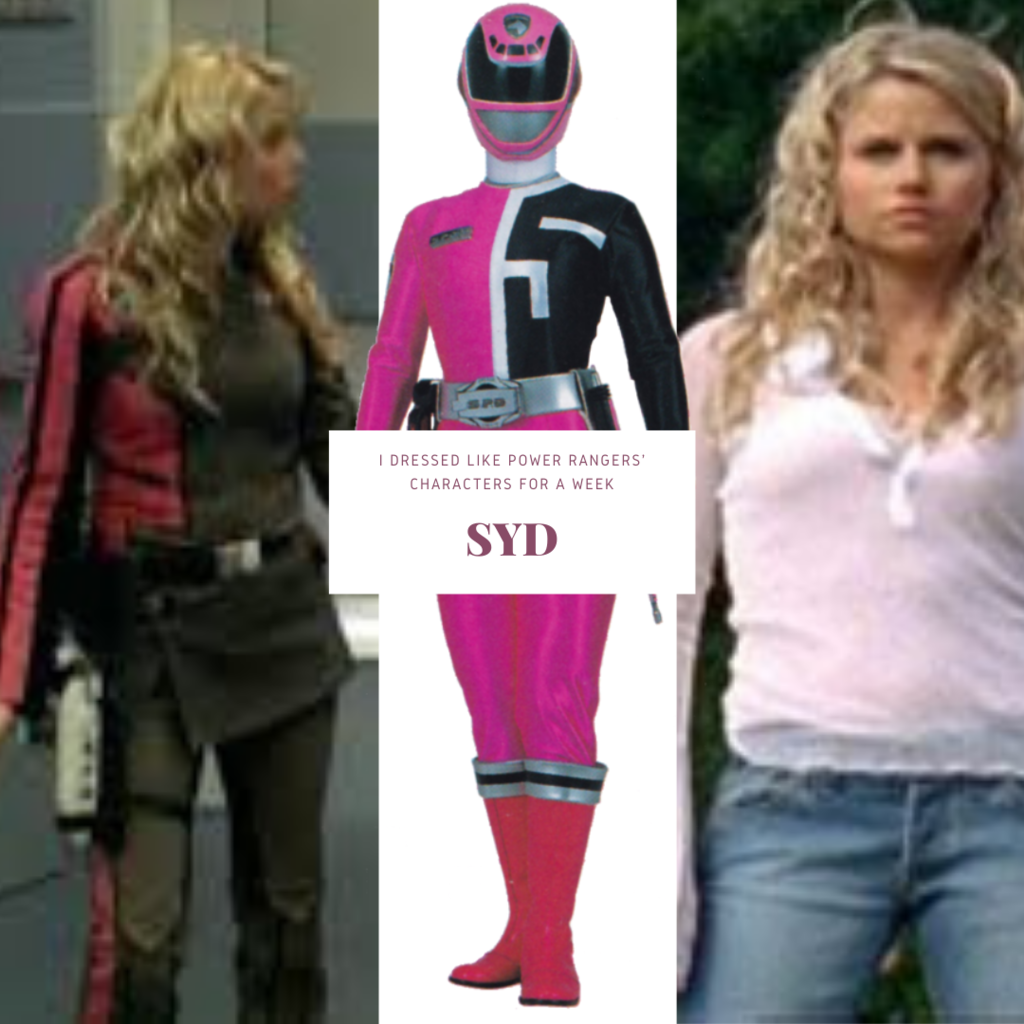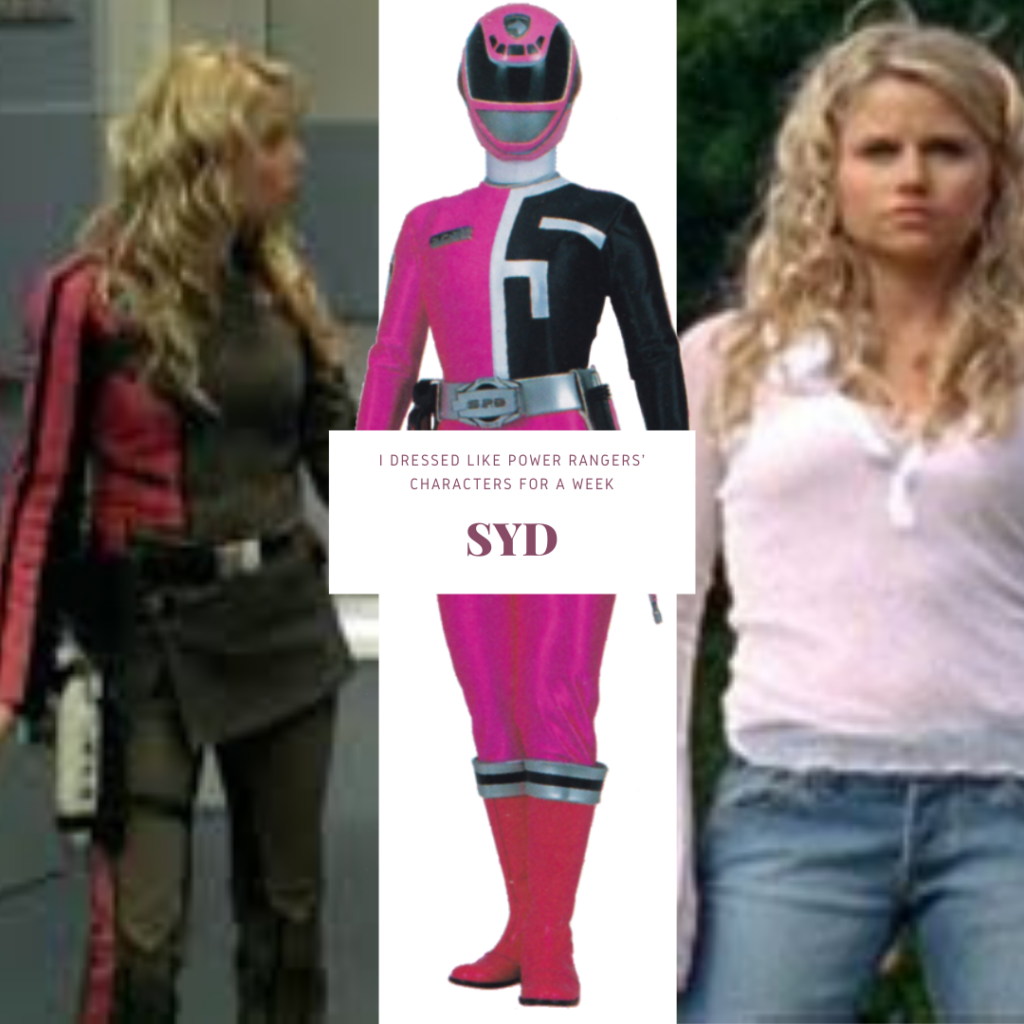 Power Rangers S.P.D is the 13th season of Power Rangers. This season premiered in 2005 and it takes place in the year 2025. The S.P.D team was one of the few that didn't bother with secret identities because being part of the team was their actual job.
Sydney Drew, played by Alycia Purrot, was the B-Squad Pink S.P.D Ranger. The colors, unlike other seasons, were meant to represent rank within the team. Incidentally, pink was Syd's favorite color.
Syd is 100% one of the girliest pink rangers. She also has the ability to turn her hand into any material she grasps, which means she's the strongest one in the team at any given time. After her time as a Ranger, she became a singer and a model. She's interested in fashion and music. Also, she's a big fan of Kira's music, who becomes famous in the future.
Syd usually wears her S.P.D uniform and has very few civilian outfits. She usually goes for pink, feminine and trendy (trendy for early Y2K) looks. In spite of her wearing a uniform, you can still see how much she takes care of herself: her nails are always on point, her hair is usually curled up and she uses glittery eyeshadow and gloss.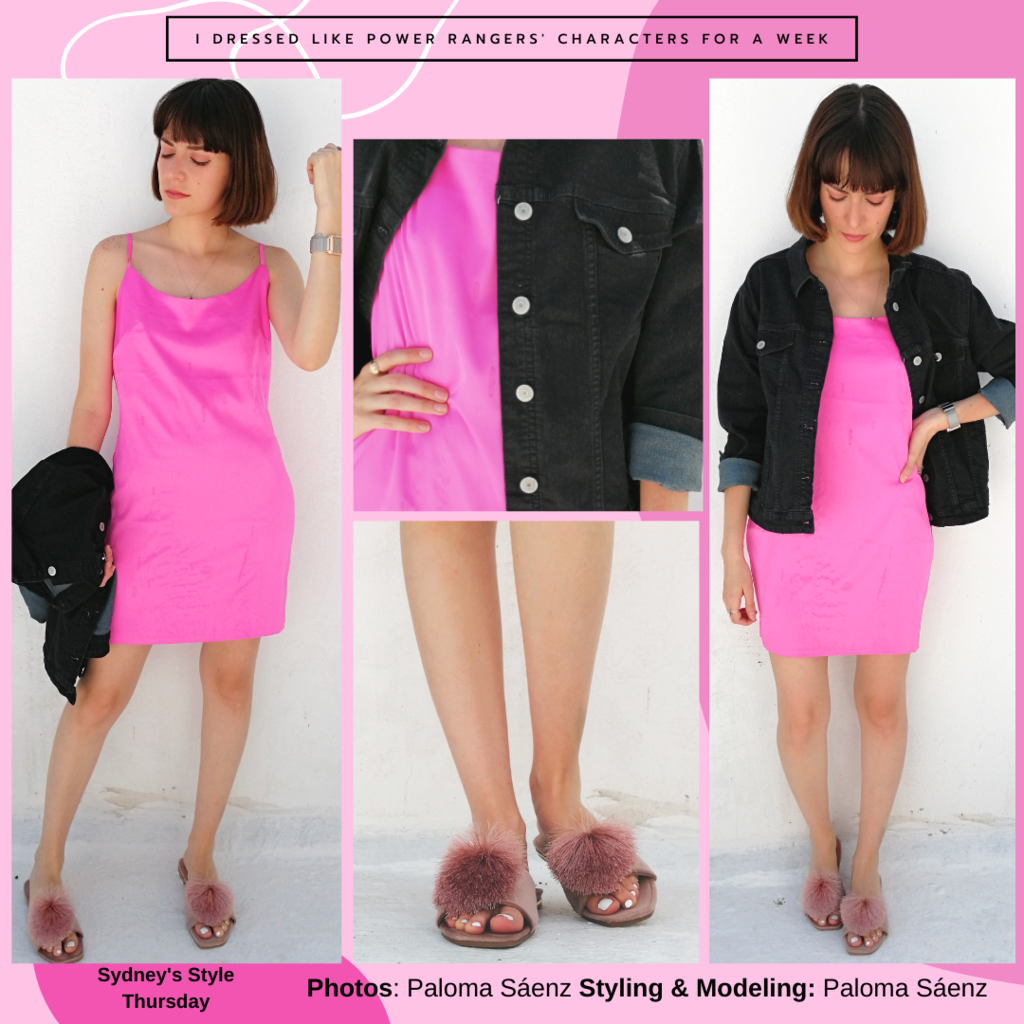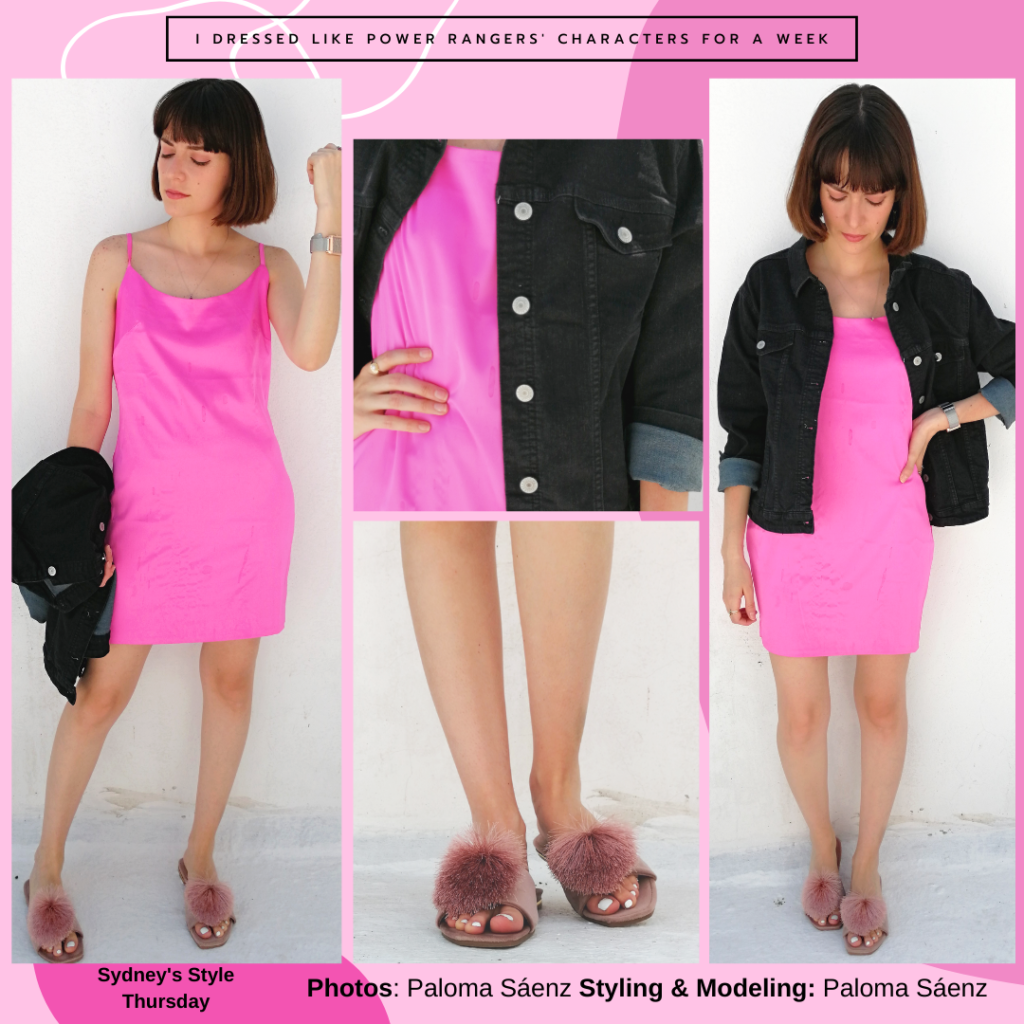 I couldn't do a Power Rangers fashion guide without Syd!
For my Syd look, I wanted to wear something ultra-feminine, so I went with a pink satin slip-dress. The dress is very Y2K, but still trendy right now. I threw on a black denim jacket, to emulate her black S.P.D uniform as well.
For shoes, I wanted something very unique and cool, like Syd, so I ended up wearing my pink suede pom pom sandals.
Okay, this look was fire! It was comfortable but incredibly cute and amazing! I feel it was sort of a crossover between Cher from Clueless and Power Rangers.
It might not look like it, but the dress was actually super comfy while I was working. The jacket I only wore later in the day when it got a bit chilly.
Friday, Outfit #5 – Tommy Oliver (MMPR, PR Zeo, PR Turbo and PRDT)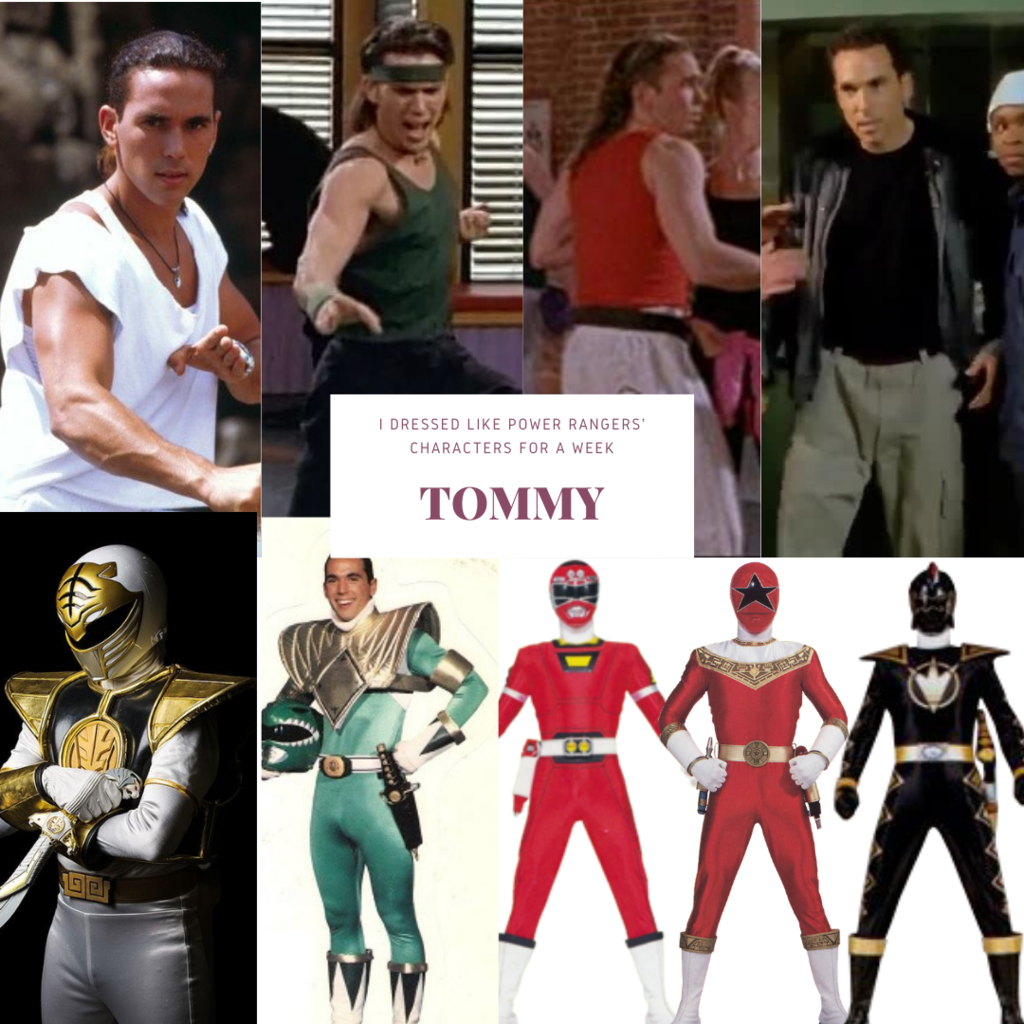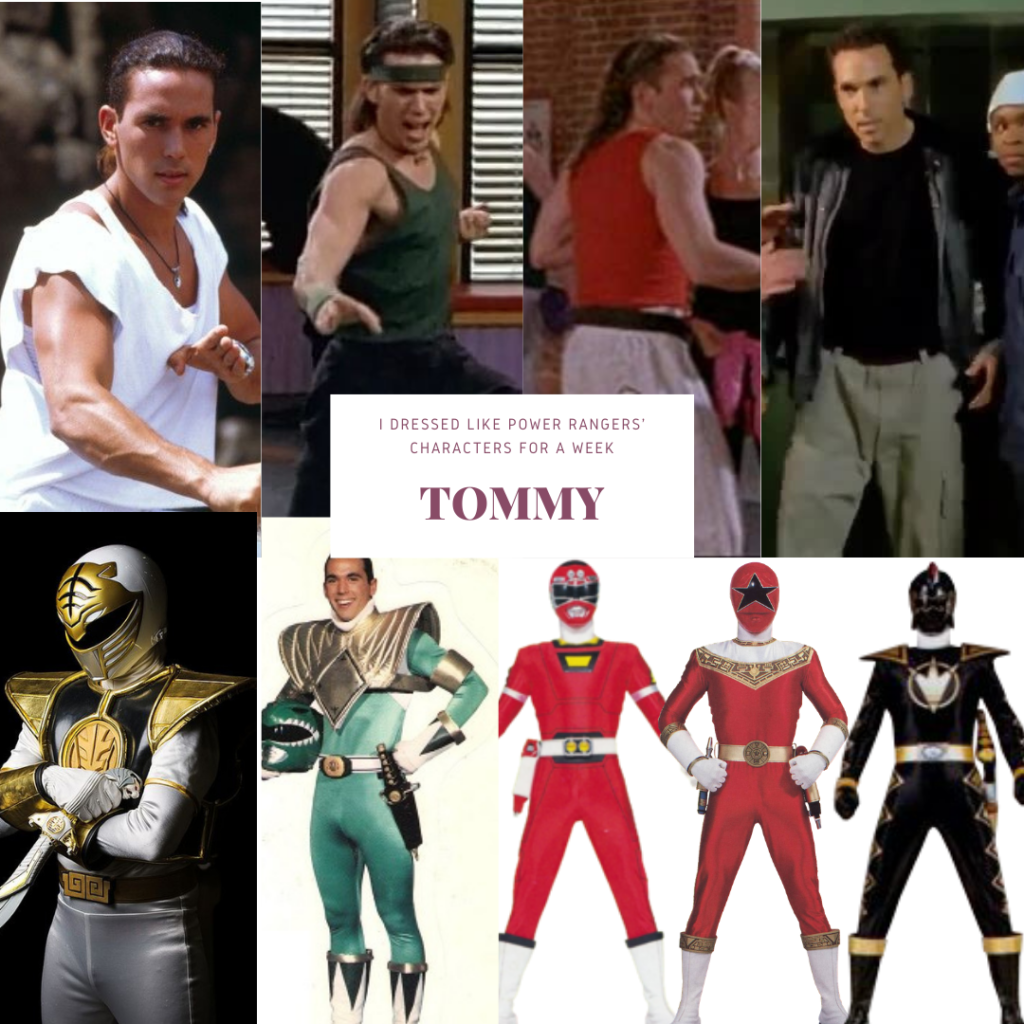 Tommy Oliver, played by Jason David Frank, was the first green Ranger, the first sixth ranger, and he's the most iconic Power Ranger in and out of the Power Rangers universe. Tommy is the longest-serving ranger in the show's history and has had the longest character arc.
Tommy has had four different colors associated with him: he started out as the Green Ranger, then he was the White Ranger. In Zeo, he became the Red Zeo Ranger and continued to be the Red Ranger in Turbo. Finally, as the mentor of the Dino Thunder Rangers, he also became the Black Dino Ranger.
Just as his Ranger identities have spanned multiple decades, his style has too. He started out with an athletic and '90s street style look (all in either green, white or red). By the time he was an adult and a science teacher for the PRDT teens, his style was mostly casual 2000's. He wore a lot of cargo pants, t-shirts and flannels, mostly in neutrals and black.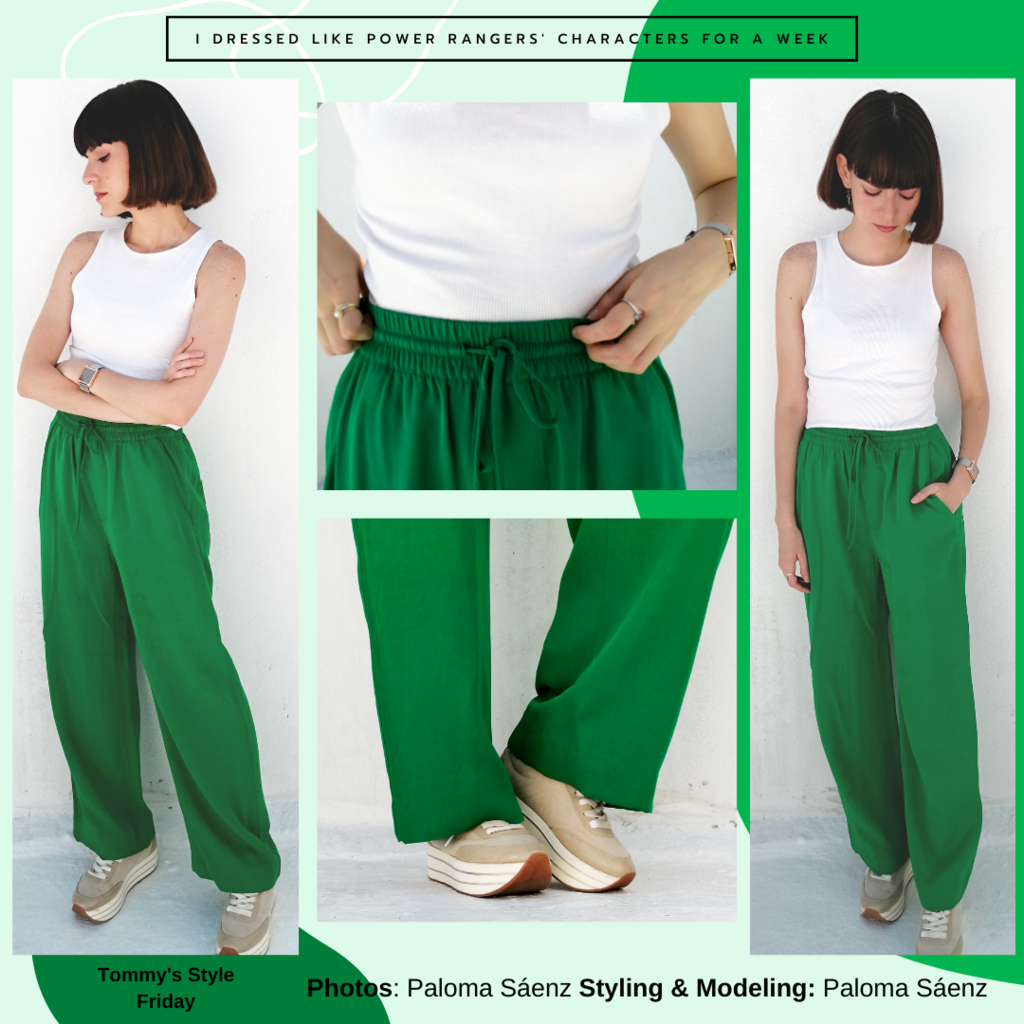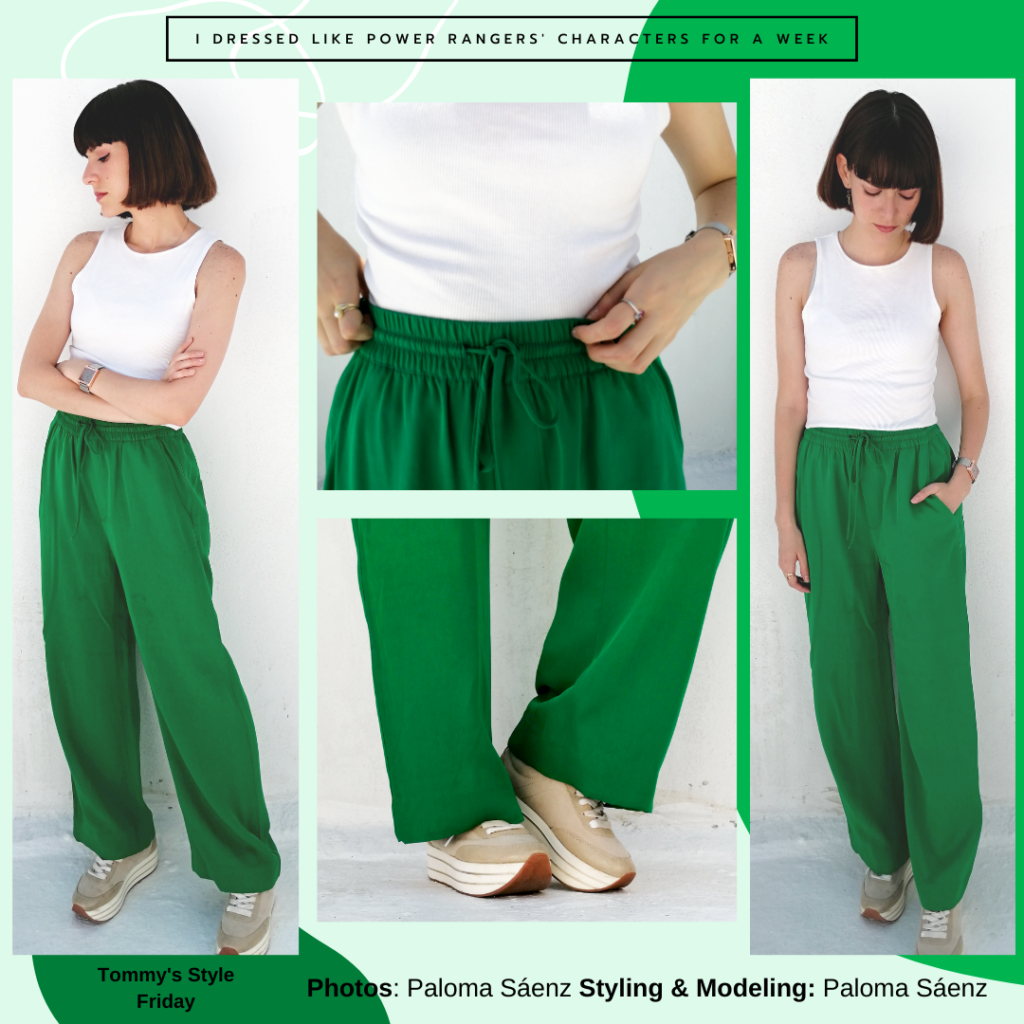 Again, no Power Rangers fashion guide would be complete without Tommy. For my Tommy look, I wanted something more on par with his two early Ranger colors: green and white. I decided on this because I knew him first as the green Ranger and this gave me more opportunity to experiment.
For his look, I paired my flowy green pants with a white crop tank top. The accent color for both the green and white eras was gold. Because of this, I added a pair of golden platform sneakers.
I adored this look! I felt super cute and strangely edgy. The fact that the pants weren't skinny, helped a lot. Since pants, especially for guys, had a loose fit during the '90s and early 2000s, they were very appropriate for a Tommy look. I felt tall and sexy in this one and adored it.  
Final Thoughts
Last week, I did a retrospective on how this series has changed my own style. It was fun to see how it has been influenced and evolved. Afterwards, I wanted to explore other influences I had while growing up that I actually tried to emulate and kind of stuck with me. The very first thing that came to mind was one of my favorite shows, Power Rangers.
This is probably aging me to no-end to our younger readers, but I honestly loved this series. I was too young for the Mighty Morphin' era, but my brother was a casual viewer, which introduced me to this show.
When I was a bit older (the actual target-audience age), I had a full-blown fan moment for Power Rangers: I watched it religiously and I wanted to dress in the color of my favorite character all the time (which was not possible, since I wore a uniform to school, I didn't have a monochromatic closet, and my favorite changed with the incarnation I was watching). It got to the point that my parents bought me the Morphers from my favorite seasons and I went out with them on. You know, just in case I needed one.
This was a fun week, because it was a show I hadn't watched in a long time and it was cool to revisit. My favorite looks were Tommy's and Syd's. While I loved Kira's outfit, there were a lot of layers involved and honestly it was way too hot for that.
Nostalgia aside, this franchise is great if you want inspiration on how to wear any color in the rainbow. Monochromatic looks, or accent colors, aren't always easy, and sometimes it's a bit hard to find new and exciting ways to wear them. With this franchise, you have endless inspiration from different decades to choose from.
What do you think of my Power Rangers fashion guide?
Did you watch Power Rangers? Which season was your favorite? Which look would you wear? Whose style do you want me cover next? Let us know in the comments below!