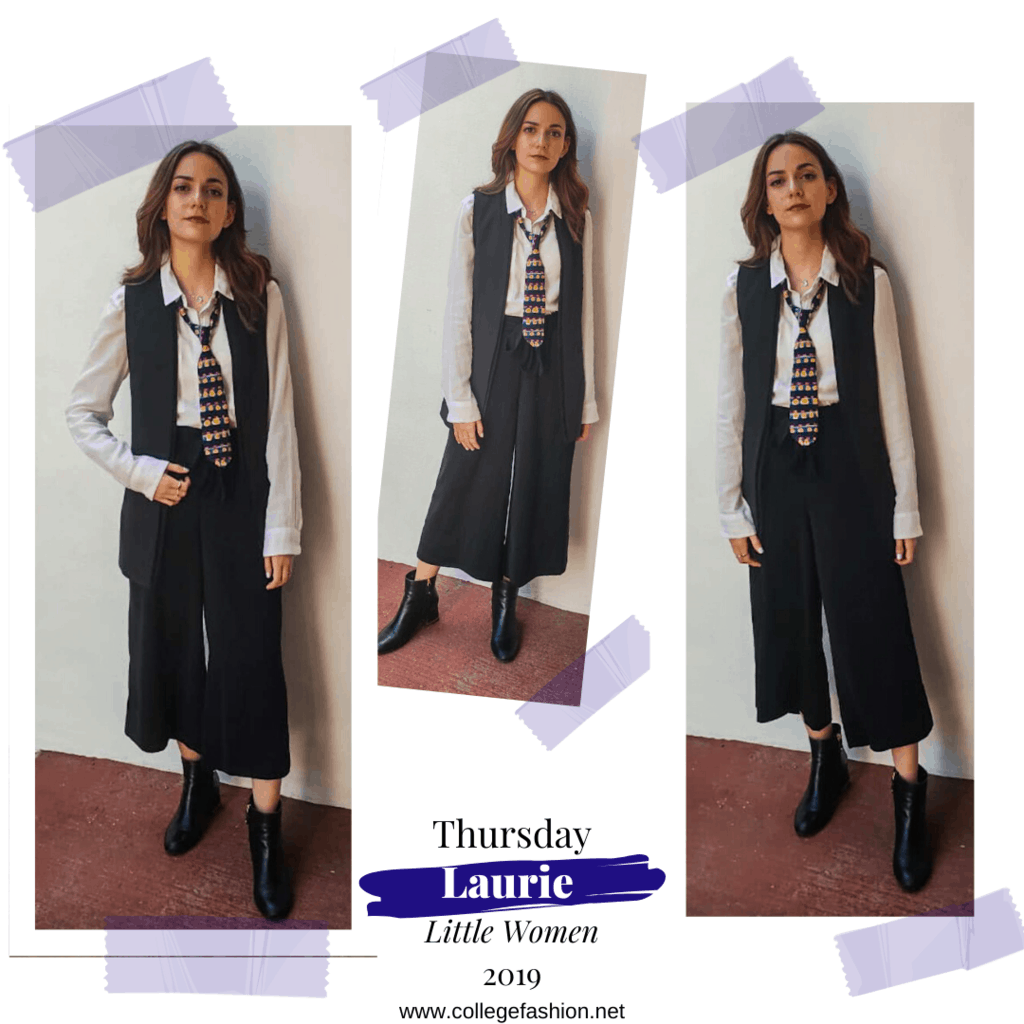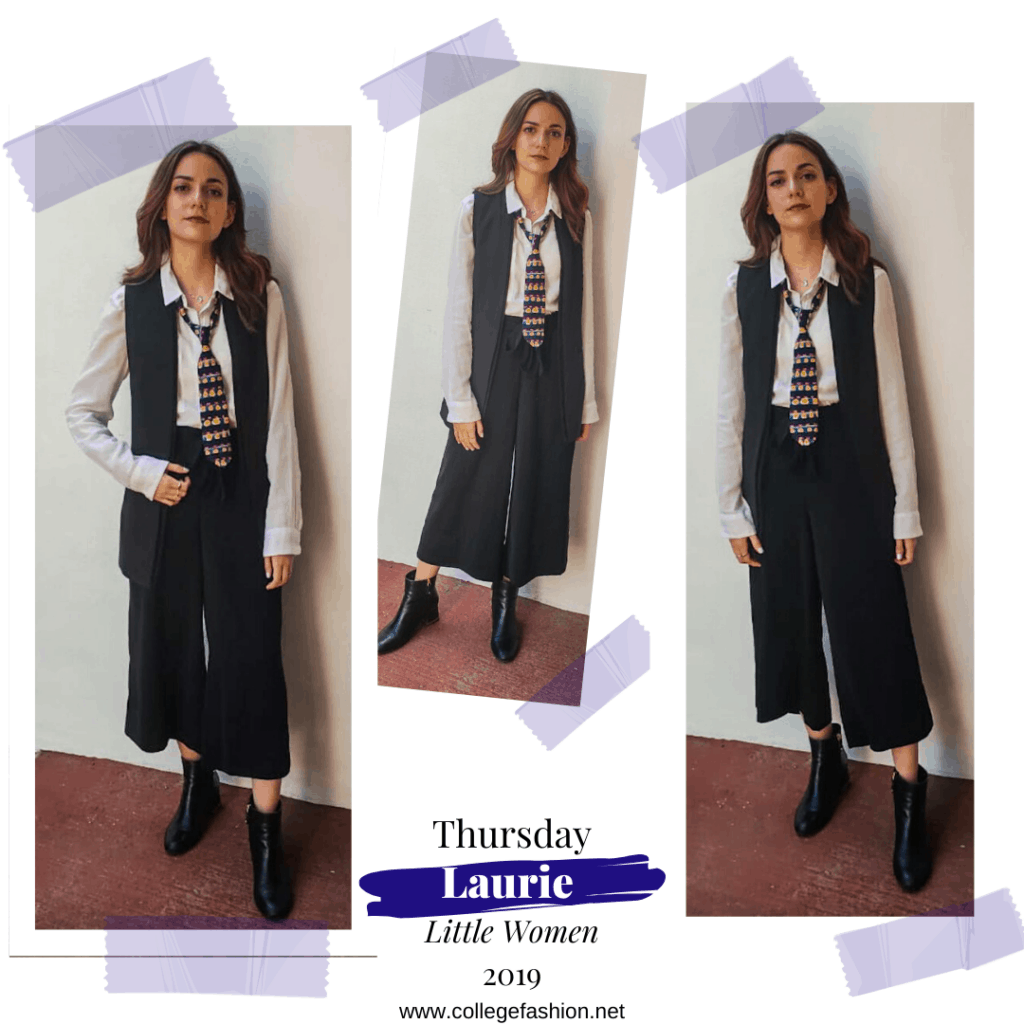 We've all looked to celebrity style for fashion inspiration at some point in our lives. But it's one thing to say "I love her outfit," and it's another to actually copy it in real life.
For this series, I'm going the extra mile and making it happen. Each week, I'm getting inspiration from a celebrity and copying five of her looks as closely as possible. Then, I'm reporting back to you: Did the outfits work in real life? Did I feel comfortable? Did people treat me differently? I'm sharing it all.
In past posts I've dressed like Zendaya, Gigi Hadid, Grace Kelly, Kendall Jenner, Vanessa Hudgens, Sophie Turner, Priyanka Chopra, Millie Bobby Brown, Hilary Duff, Lily Collins, Taylor Swift, Iconic Halloween Characters, Selena Gomez, Alexa Chung, Iconic Christmas Characters, Rachel Green Part 1 and 2, Queer Eye's Fab 5, Monica Geller.
This week, I'm creating modern takes on the costumes from Greta Gerwig's Little Women.
Little Women (2019)
By now you've probably heard all about Greta Gerwig's 2019 film adaptation of the classic novel Little Women. As we mentioned in our post on Little Women fashion, this film differentiates itself from the other adaptations (there have been eight) by taking on an anachronistic structure and a focus on the March family overall instead of just following Jo.
Since the film is a period drama, the costumes are incredible and are a major tool to distinguish each of the sisters' character and personality. It may not surprise anyone to learn that the film won an Academy Award for Best Costume Design. Jacqueline Durran, the costume designer, has worked on quite a few period dramas, like Pride and Prejudice (2005), Atonement (2007) and Anna Karenina (2012) and this was her second Oscar win.
This week, as an accompaniment to our post on Little Women fashion, I'll create a modern outfit inspired by each of the March sisters and Laurie. I will try to follow their color schemes, as described both in the book and seen in the 2019 film, as well as try to create an outfit that fits the personality and arc of each one of the characters.
Without further ado, here's how it went!
Outfit #1 – Meg March, Monday
This version of Meg March is played by our beloved Emma Watson. Considered the prettiest of the March girls (until Amy grows up), Meg is the eldest as well. She is the most responsible and level-headed of the sisters. While she does have a vain streak, she eventually grows out of it and learns to live in her reality.
In the book, her favorite color is green, reflecting her nurturing and motherly tendencies. In the film, Meg wears a bunch of different gowns and dresses, but she's usually rocking at least one green item at any given time.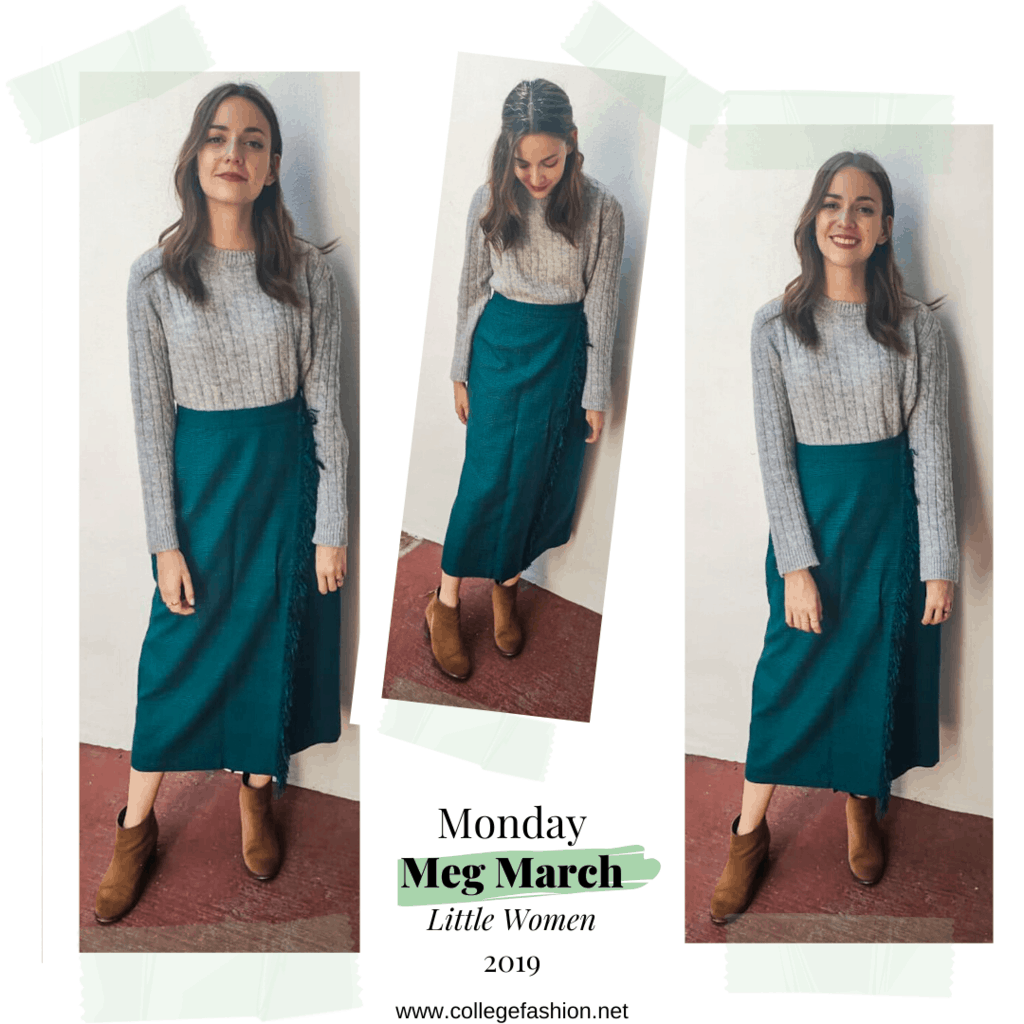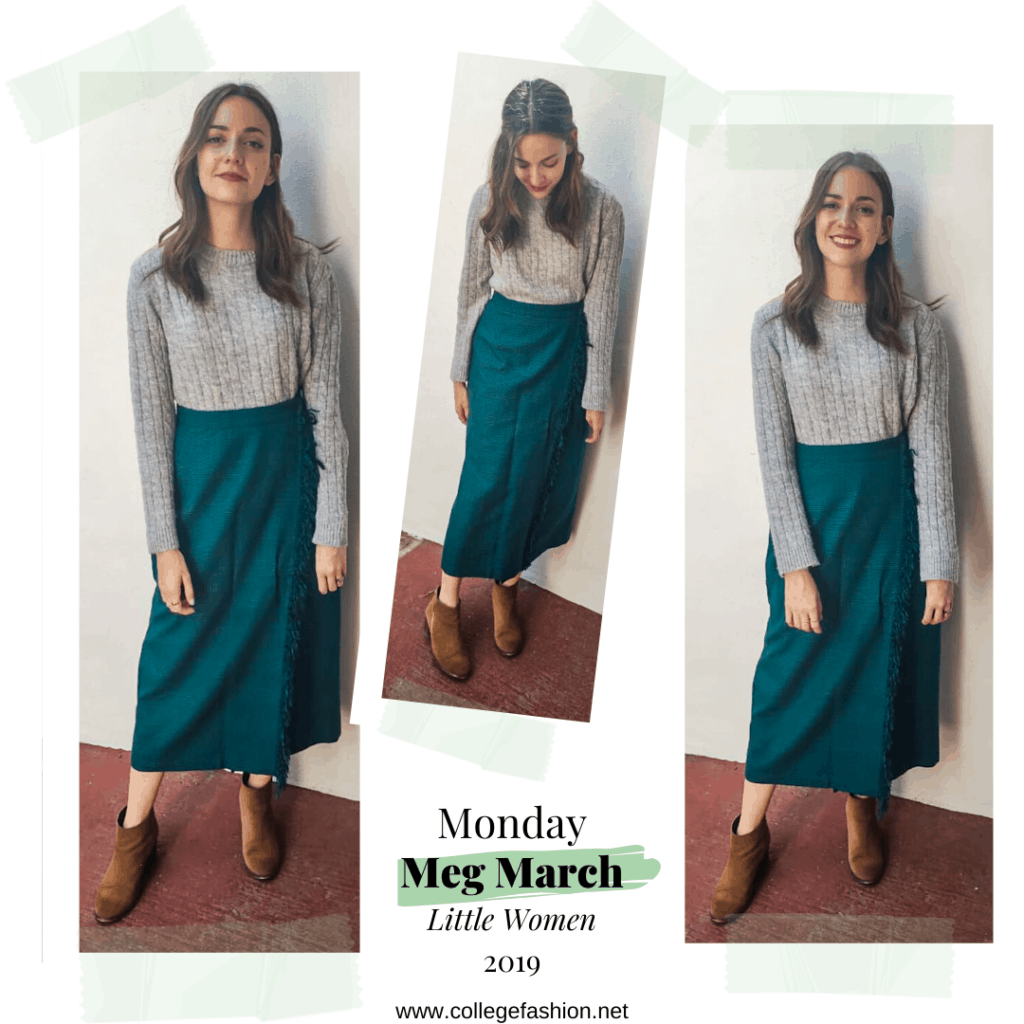 Similar items: Skirt – Brooks Brothers, Sweater – Topshop, Booties – ShopBop
To do a look based on Meg, I wore a long, green tartan skirt and a cropped grey sweater. To finish it up, I chose a pair of brown booties with a slight heel. (I borrowed the sweater and the booties from my sister.)
I really liked this outfit! It was very comfortable. A simple, yet cozy ensemble.
I'm not used to long skirts and the fabric from this skirt was heavy, so walking up stairs wasn't as easy as usual, but otherwise I had no complaints. This was a great look for a normal Monday.
Outfit #2 – Beth March, Tuesday
In Gerwig's adaptation, Beth is played by Eliza Scanlan. Sweet, selfless and painfully shy, Beth is the least flawed sister, but her shyness is something that does take a toll on her at times.
In the book, Beth's favorite color is dove grey, which is a grey with a slight hint of purple, symbolizing her peaceful nature and shyness. During the film, she is almost always wearing purple or lilac items.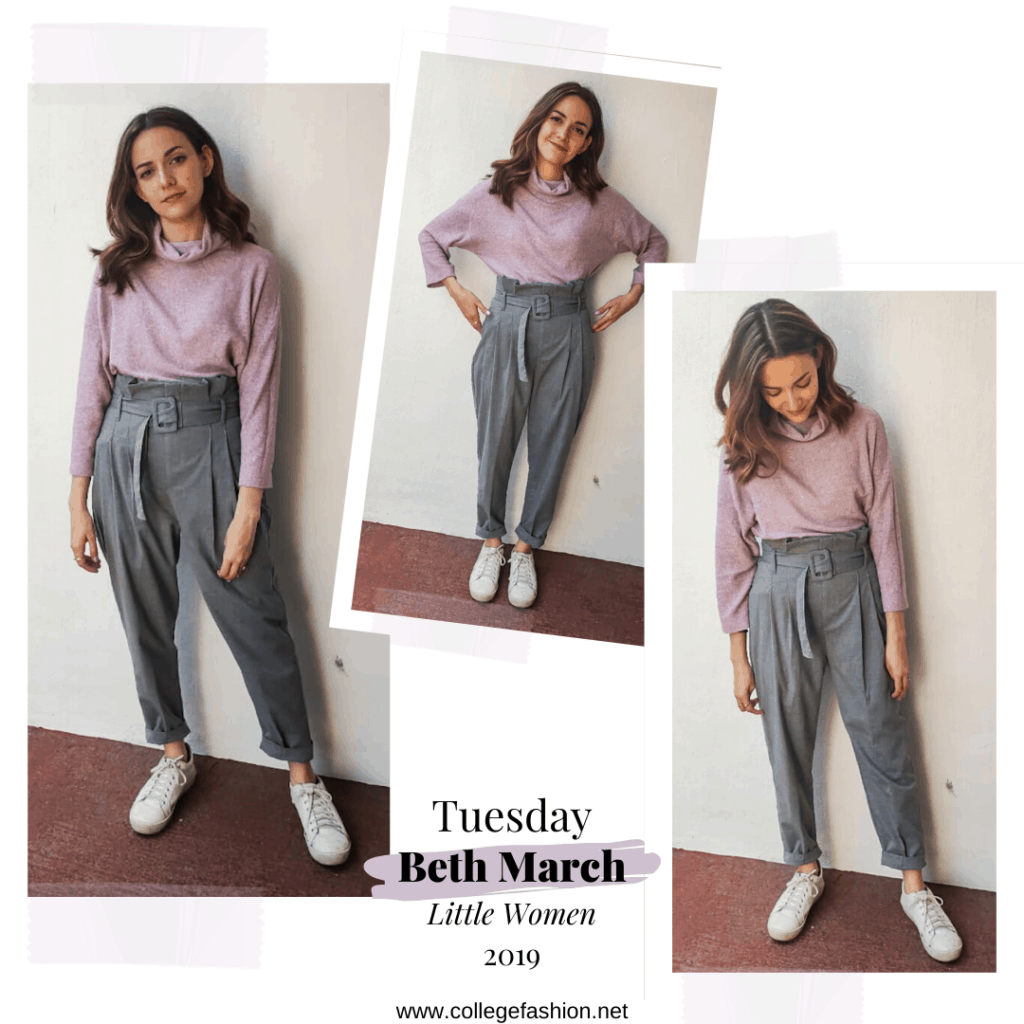 Similar items: Pants – H&M, Sweater – Anthropologie, Sneakers – Old Navy
To create a Beth outfit, I took a pair of high waisted grey trousers and a loose mock neck sweater in a muted lilac color. Both pieces were borrowed from my sister.
For shoes, I chose a pair of white sneakers, because I believe that Beth would've preferred a comfy sneaker over anything else.
This was an amazingly cute and comfortable outfit. I'm not going to lie, I struggled to figure out what to pick and what to wear for this look, but I was pleasantly surprised by how it turned out.
I loved this outfit because it was so practical. Although it was something I wouldn't normally wear, I didn't think about what I was wearing at all during the day. That's the mark of a great outfit to me!
Outfit #3 – Amy March, Wednesday
Florence Pugh plays Amy in 2019's adaptation. The youngest of the March sisters, Amy loves art, culture and the finer things in life. The most pragmatic of the four, Amy has a deep understanding of society and how she can navigate within its rules.
In the books, Amy's favorite color is blue, showing her proper lady tendencies and her more pragmatic nature. During the film, her color palette is predominantly white and blue, with a lot of patterns, textures, and interesting accessories.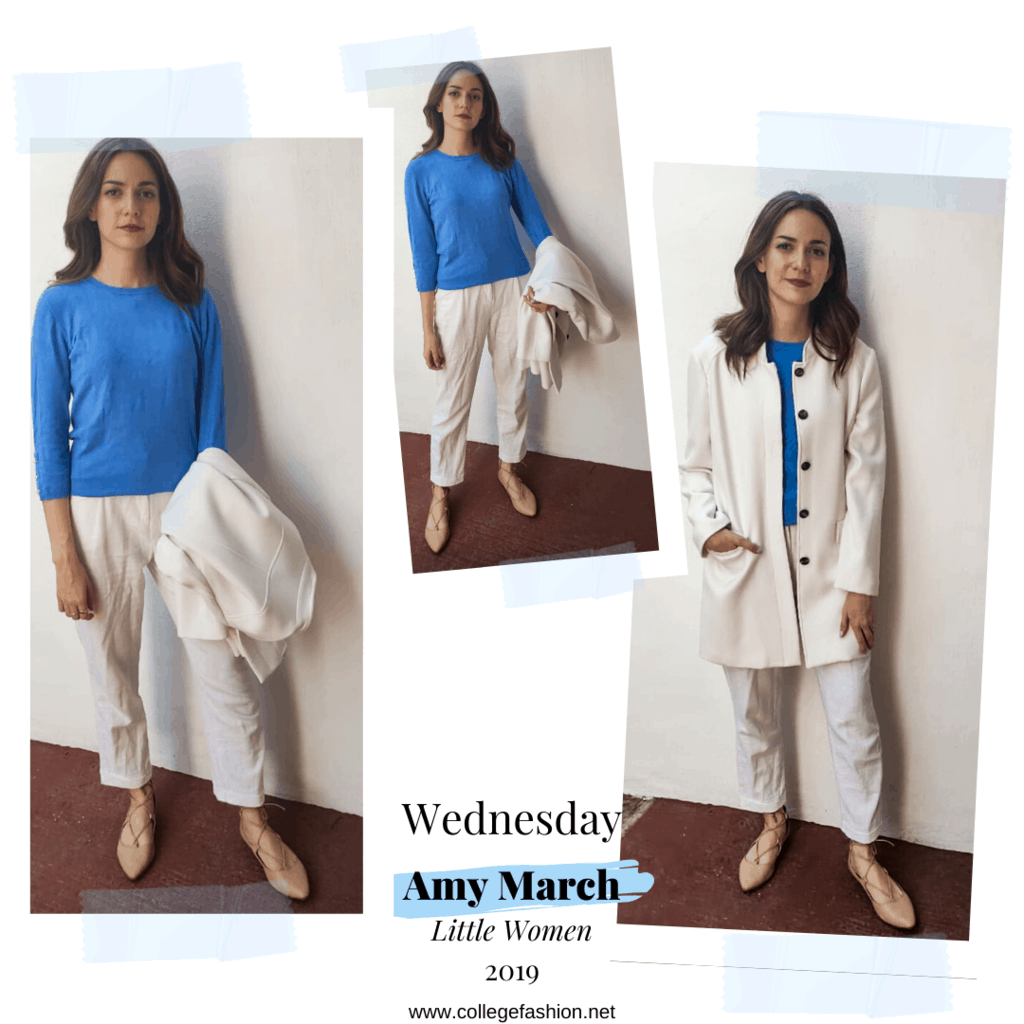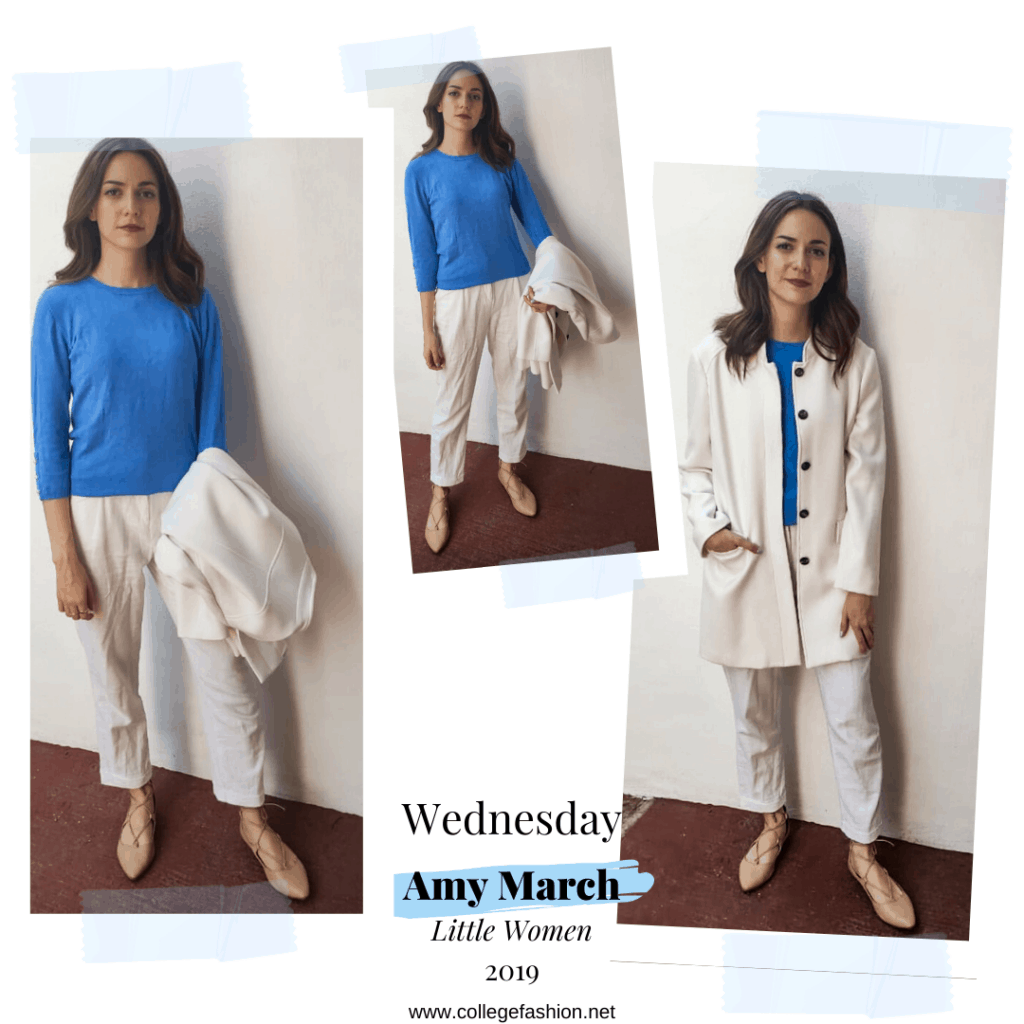 Similar items: Pants – Revolve, Sweater – Mango, Shoes – Amazon
For my version of an Amy outfit, I picked a pair of white linen pants. Then, I wore a simple blue cashmere sweater (borrowed from my sister) that has little pearl buttons on the sleeves. Since it's still a bit cold, I threw on a white coat (borrowed from my mom) just to keep myself warm.
I finished the look up with a pair of nude lace-up flats.
I felt very Amy-like through the day. Since a lot of this look was so white, I was very careful of where I sat, how I ate, and if everything was in its proper place.
The colors helped a lot with the whole "lady" vibe that I was going for, but they were also way out of my comfort zone.
Outfit #4 – Theodore "Laurie" Laurence, Thursday
Laurie is played by Timothée Chalamet in Greta Gerwig's version of Little Women.
Laurie is the neighbor and long-time friend of the March sisters, especially Jo's. Handsome, charming and good-hearted, Laurie is as part of the group as any of the girls. His special friendship with Jo drives most of their story, but he eventually marries Amy.
Like a proper 19th century gentleman, Laurie sticks mostly to neutral colors and very sharp tailored items. During the movie, he's mostly seen in black, white, and a few brown tones.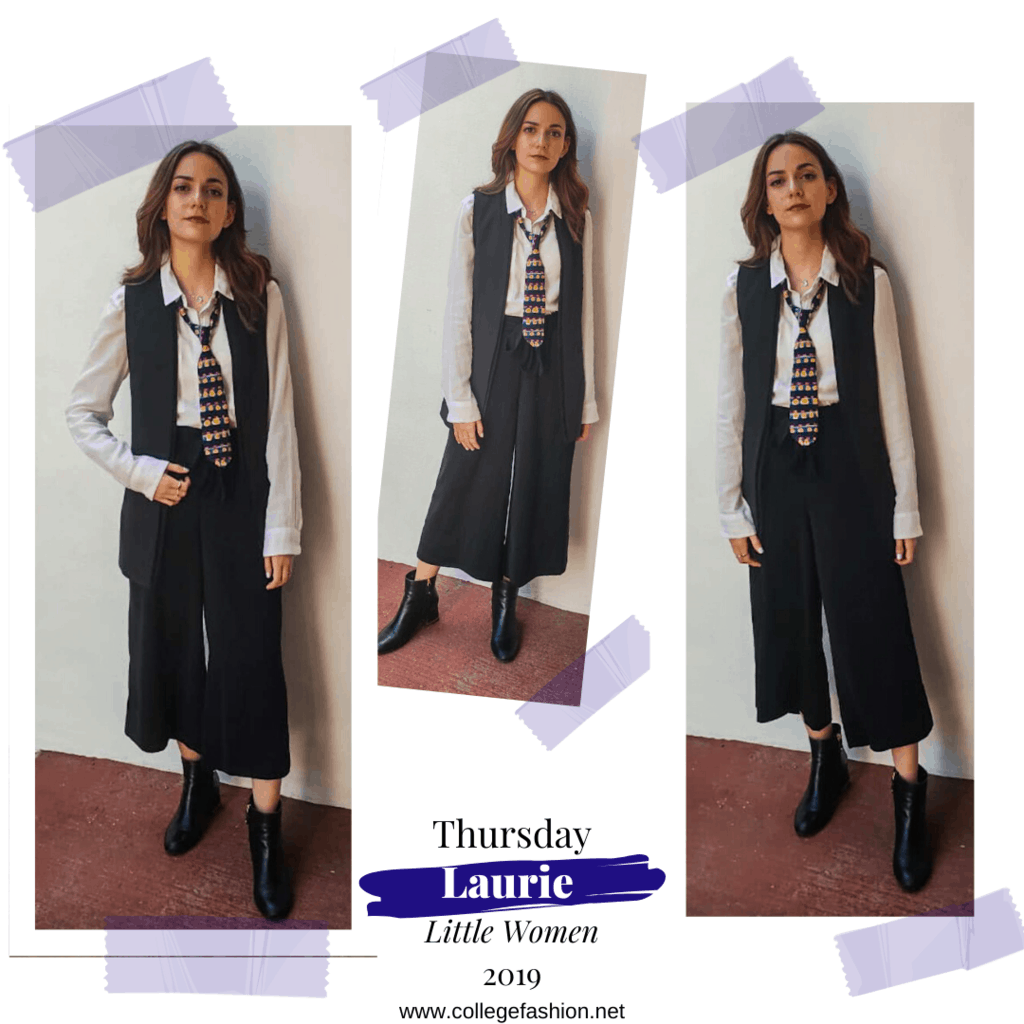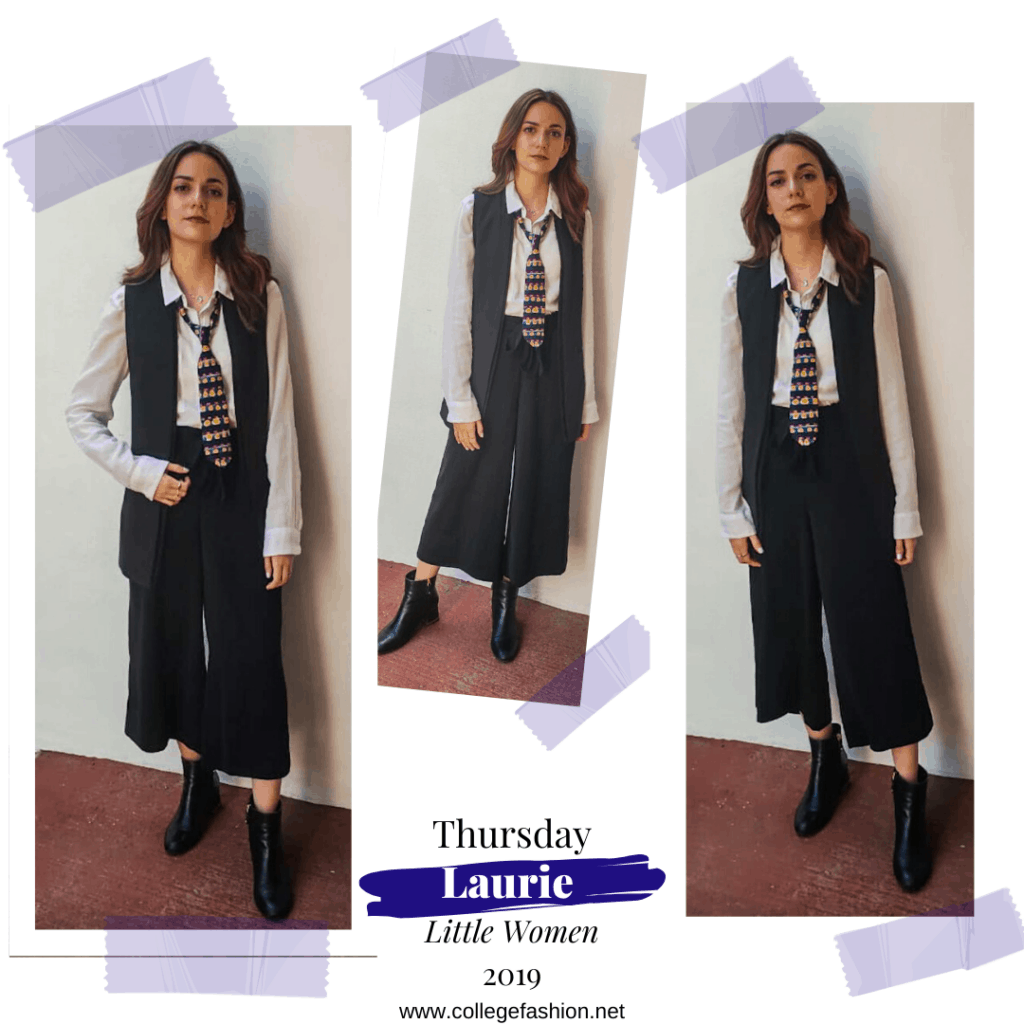 Similar items: Pants – Mango, Shirt – Amazon, Vest – Shoptiques, Tie – The Tie Bar, Booties – Tilly's, Ring – Nordstrom
To create a Laurie outfit, I paired an oversized white Oxford shirt with a pair of black culottes. To layer it up, I wore a long black vest. For shoes, I just wore a pair of black booties.
Accessorizing was key here, so I threw on a loose tie, that has navy blue and golden yellow colors, and a signet ring that I always wear.
I envisioned a Laurie look as slightly slouchy, but proper and kind of put together. I feel like I achieved that with this ensemble. And I absolutely loved wearing this! It was cool and a fun choice to wear to some job interviews that I had. I didn't expect to love this like I did, but it was such a good outfit.
Outfit #5 – Josephine "Jo" March, Friday
And finally, our de facto heroine, Jo March, is played by the talented Saoirse Ronan.
Outspoken, confident and wildly intelligent, Jo, a writer, is the second daughter of the March family. Most of the book follows her story, more so than any other character.
The most determined of the sisters, Jo's favorite color is red, signaling her temperament and passion. In the movie, she's mostly seen in darker colors, but she does have a couple of red items to match with the rest.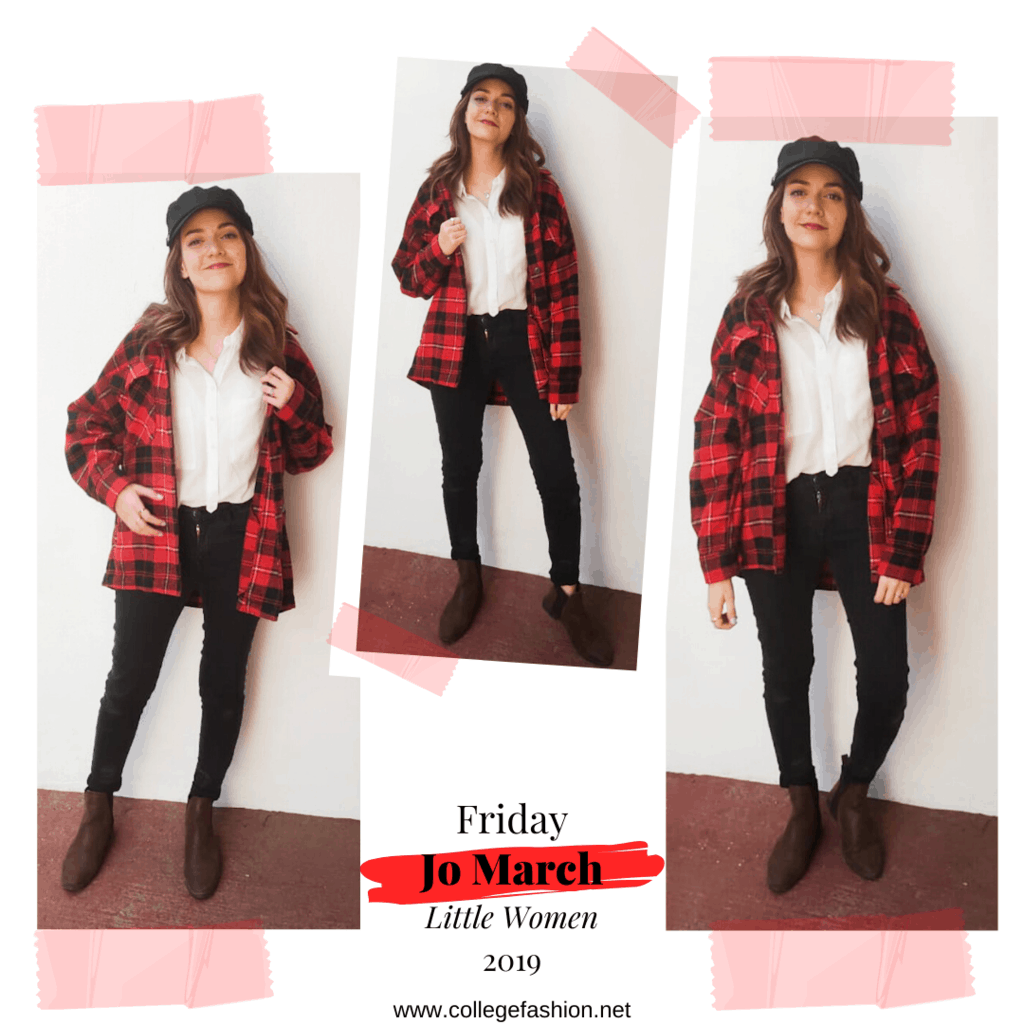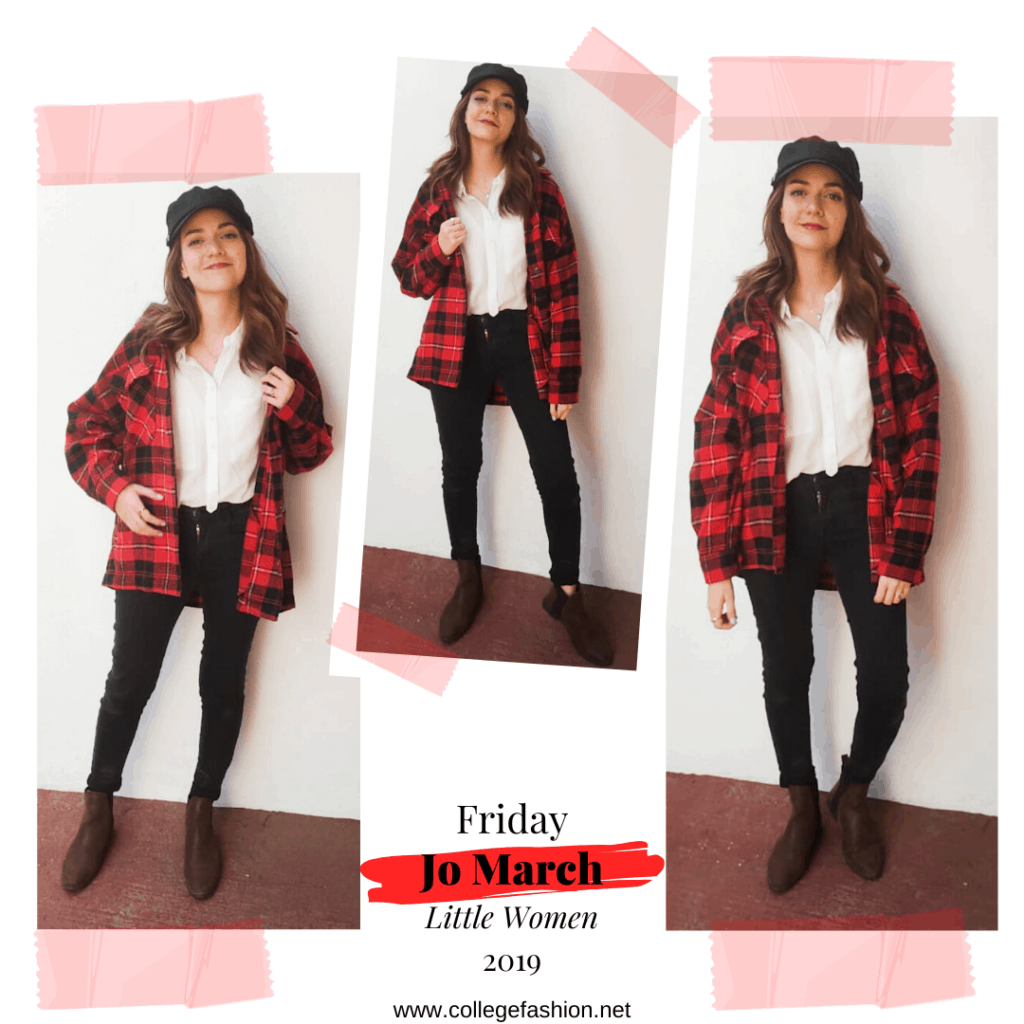 Similar items: Shirt – Amazon, Pants – Madewell, Jacket – H&M, Hat – QVC, Boots – ASOS
For my last outfit, and the one inspired by my favorite character, I did a neutral palette for the base of the look. I wore the same white Oxford shirt I wore for Laurie's outfit tucked into a pair of black jeans. On top, I rocked a red flannel jacket.
My shoes were brown Chelsea boots, and my sole accessory was a black paperboy hat.
What can I say other than I freaking loved this outfit? It was right up my alley and 100% my style.
Strangely enough, I have never worn these items together and I love that I found a new way of wearing them. I feel like I channeled Jo's spunky nature and I felt incredibly confident and in charge of my day.
Final Thoughts
It was an amazing week! Every outfit had different vibes and different levels of comfort and practicality but they were all very cute and great for each day.
While I was researching for this post, I found a couple of interviews with the costume designer and she talked about the color schemes she chose, the reasons behind each of the items and how she managed to differentiate each character. One of the key things that stood out to me was the shared wardrobe between characters to show the closeness in their relationships. This was especially so between Jo and Laurie, which is why I wore the same shirt for both of their outfits.
My two favorite outfits are Laurie's and Jo's. Both of them are very much my style, but two different versions of my personal style. I know it's very biased of me: I really loved every look, but these two knocked it out of the park for me.
If you guys want to recreate any of the looks I did, I linked similar items under each outfit. But I gotta say that you can absolutely create one of your own with different items in your closet. It is a great opportunity to get creative with your own clothes and to experiment with your style, while getting inspiration from an awesome movie.
What do you think?
Which character is your favorite? Did you like Gerwig's version of 'Little Women'? Did you like any ot the outfits? Which one will you try to recreate? Let us know in the comment's below!