For this WITCH comics fashion guide, I dressed like W.I.T.C.H characters every day for a week, with outfits inspired by all five main characters.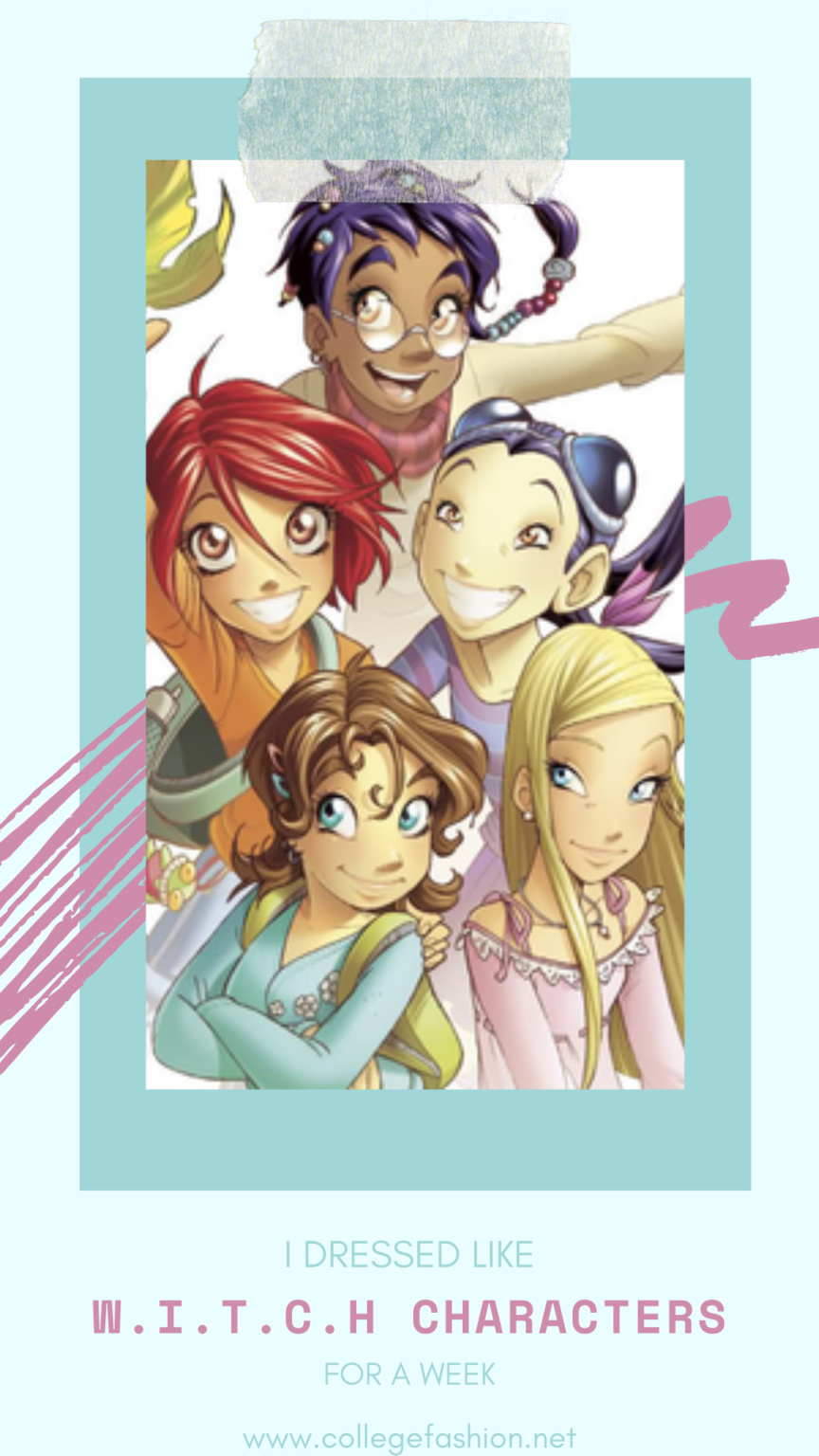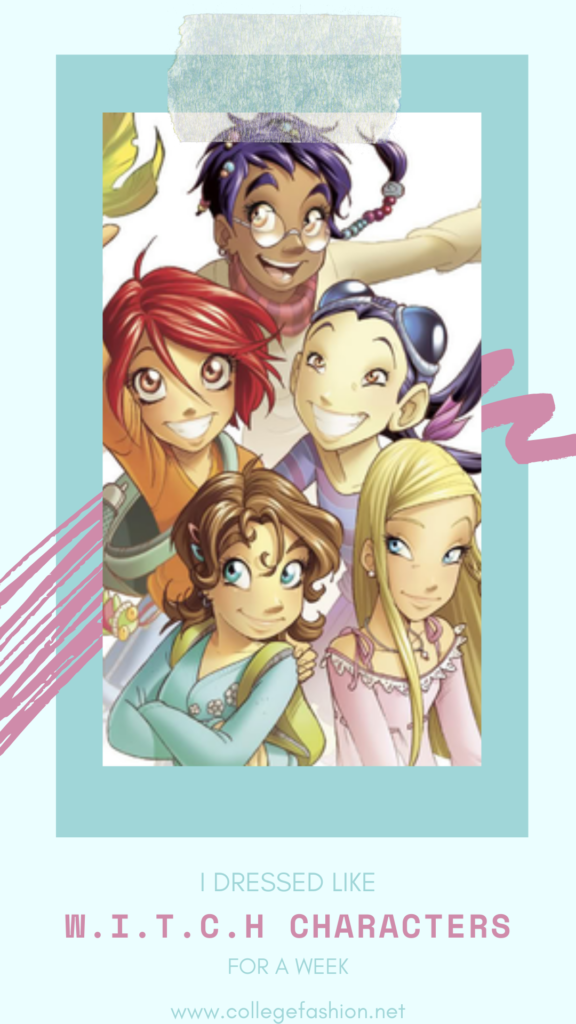 We've all looked to celebrity style for fashion inspiration at some point in our lives. But it's one thing to say "I love her outfit," and it's another to actually copy it in real life.
For this series, I'm going the extra mile and making it happen. Each week, I'm getting inspiration from a celebrity and copying five of her looks as closely as possible. Then, I'm reporting back to you: Did the outfits work in real life? Did I feel comfortable? Did people treat me differently? I'm sharing it all.
In past posts I've covered the style of these celebrities: Zendaya, Gigi Hadid, Grace Kelly, Kendall Jenner, Vanessa Hudgens, Sophie Turner, Priyanka Chopra, Millie Bobby Brown, Hilary Duff, Lily Collins, Taylor Swift, Selena Gomez, Alexa Chung, Queer Eye's Fab 5, Lucy Hale, Dakota Johnson, Hailey Bieber and Kaia Gerber.
I've also covered the style of certain iconic TV and movie characters: Iconic Halloween Characters Part 1 & 2, Iconic Christmas Characters Part 1 and 2, Rachel Green Part 1 and 2, Monica Geller, Little Women's Characters, Gilmore Girls' Characters Part 1 and 2, Iconic Olsen Twins' Movies, Winx Club Characters and Bridgerton Characters.
This week, I'm indulging myself a bit and getting inspired by the W.I.T.C.H. characters.
About W.I.T.C.H.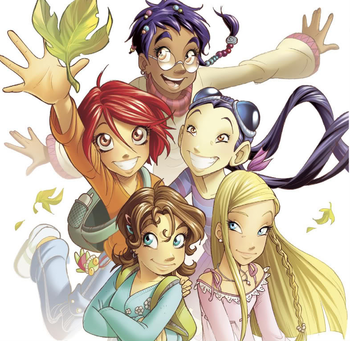 W.I.T.C.H. (stylized as W.i.t.c.h.) is an Italian comics series written by Elisabetta Gnone, Alessandro Barbucci, and Barbara Canepa. W.I.T.C.H. has been released in over 65 countries, including the United States and my own country, Mexico. The WITCH comics were adapted into an animated series that ran from 2004 to 2006.
The series follows a group of five teenage girls: Will, Irma, Cornelia, Taranee, and Hay Lin. The girls become the guardians of the classical elements: water, fire, earth, air and energy.
They act as protectors of the mythical Kandrakar, the center of the universe, from people and creatures who wish to harm it. The story follows them as they handle their new powers, their responsibilities, and their lives as teenagers.
While the series was not as popular in the United States as Winx Club was, the W.I.T.C.H. comic books were incredibly popular everywhere else in the world.
I'm not a big fan of the animated show, but I love the comics. If you want to read them again, or for the first time, they are available on Amazon. Back in 2017, Yen Press started publishing the original Italian WITCH comics with a new English translation in a series of graphic novels.
Reception
The series seems similar to Winx on the surface, but W.I.T.C.H. tends to be darker and a bit more grounded in reality. While it still has a strong emphasis on fashion, magic, romance, and friendship, these girls deal with a lot of real-life issues. The series includes themes like divorce, parental abandonment, law enforcement, adoption, family dynamics, and grief.
The series is notable for its characters in that they are all positive role-models for young girls. Unlike most series from the early 2000s, the main characters are all depicted with different body types and ethnicities.
The fashion, while still trendy, is grounded and age-appropriate. The girls are stylish without being sexualized. Even when they transform to their Guardian form, they are magically aged-up and their bodies transform into their idealized body, not someone else's.
The characters' families are very diverse and present in their lives. Even though the girls occasionally fight with their parents, especially Will and Taranee, things are always resolved with communication.
The relationships are mostly healthy. The toxic romances are treated as such and are never romanticized. The girls in these relationships (Taranee and Cornelia) leave and move on to healthy relationships instead.
Disclaimer
The outfits and inspiration for this post come ONLY from the WITCH comics. I didn't like the cartoon much, so my point of reference is the comic book series.
Also, keep in mind that the girls' closets are meant to be realistic. They don't wear color coded items, and don't have just one or two outfits. These girls have a "normal closet" with various colors, pieces, and many, many outfit combinations. Like a real girl, each one has a defined style that I can follow, though.
Now, here's the W.I.T.C.H. comics fashion guide!
Will's Style: Outfit #1, Monday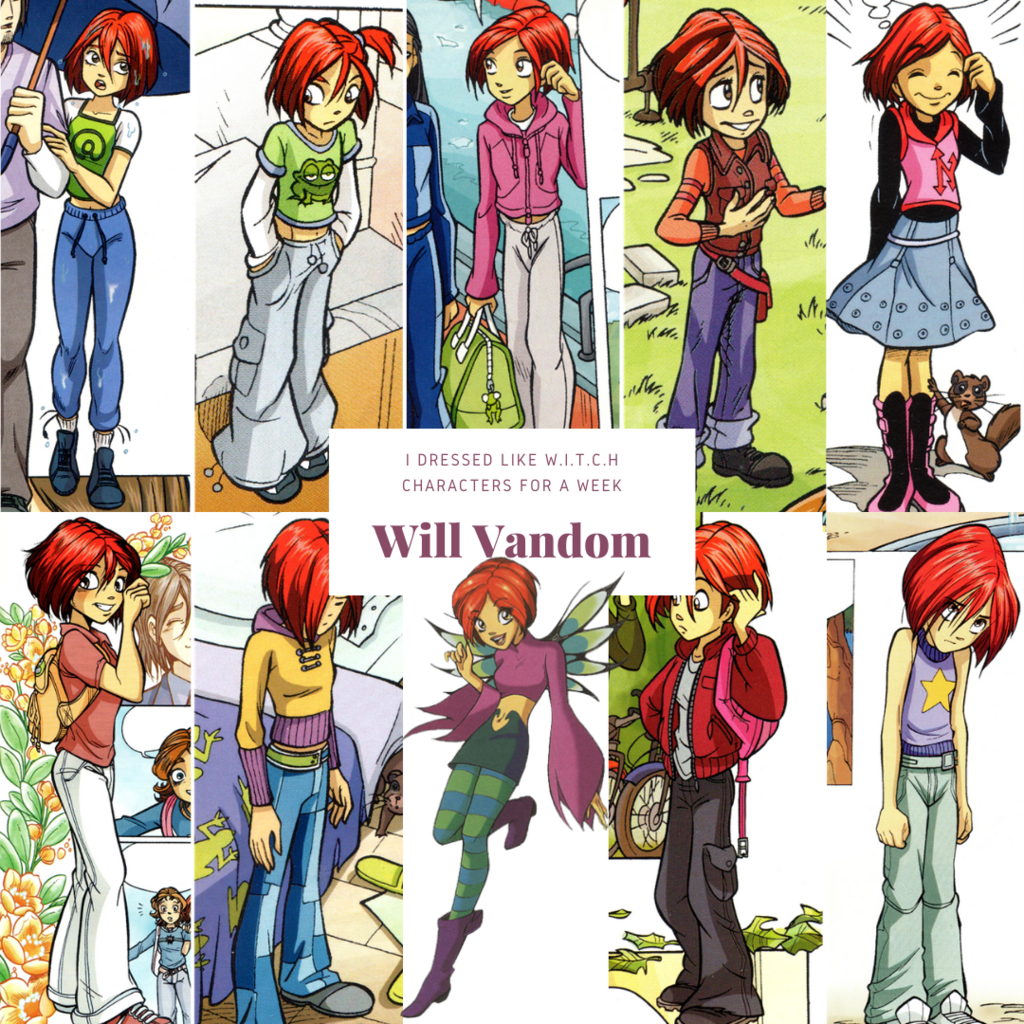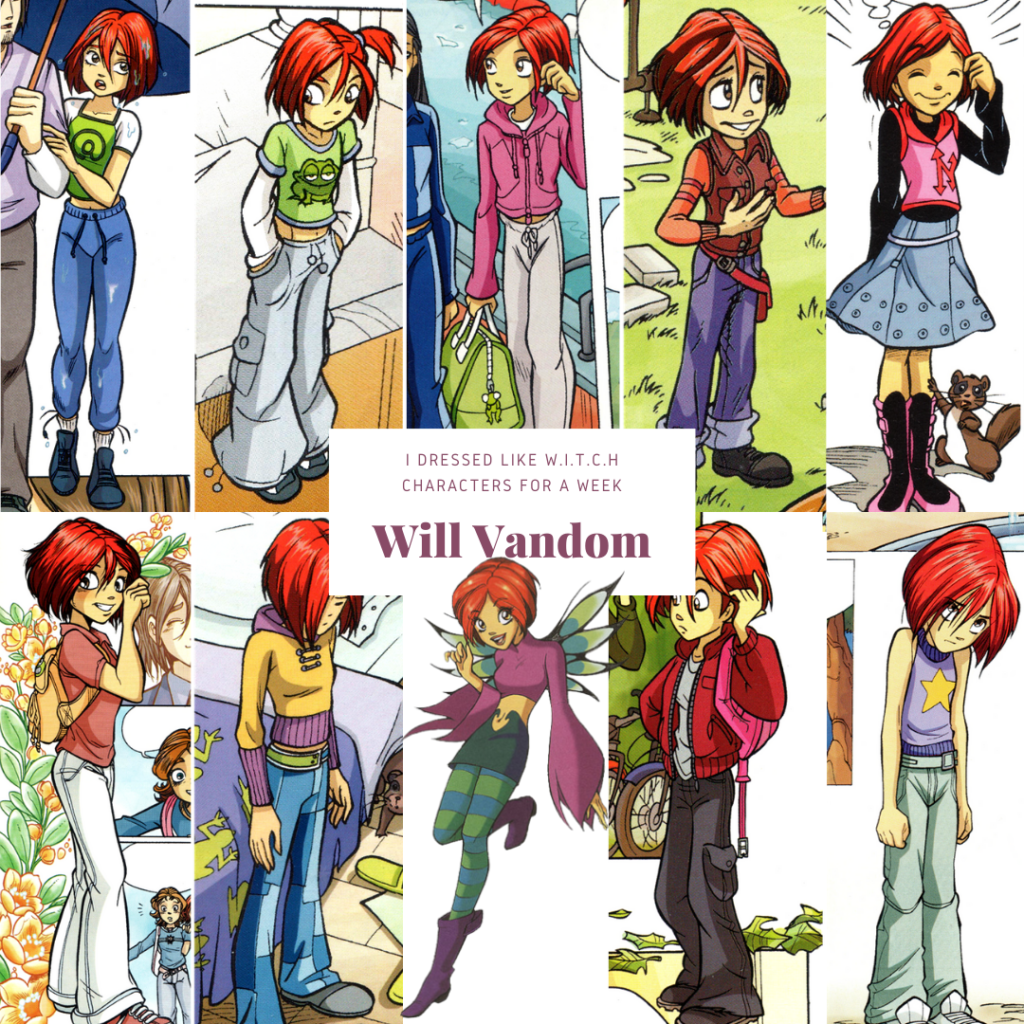 Will Vandom is the Quintessence Guardian and leader of the group. She holds the Heart of Kandrakar, which gives the other girls the power to transform into their guardian forms.
Will's "energy" power is what unites and leads the elements, balancing the others. She can be stubborn and is known to have a temper, but she is kind and sweet. Will is the second oldest member of the group.
In the WITCH comics, Will's ethnicity is ambiguous: her father is Caucasian, but her mom is not. Unlike the other girls, her love interest never changes: the love of her life is Matt Olsen.
Her style is comfortable and cute. As a competitive swimmer, she is a tomboy with a girly streak. Will dresses casually and her hair is the messiest of the group. Pink and fuchsia are strongly associated with her.
Will's Style Recreation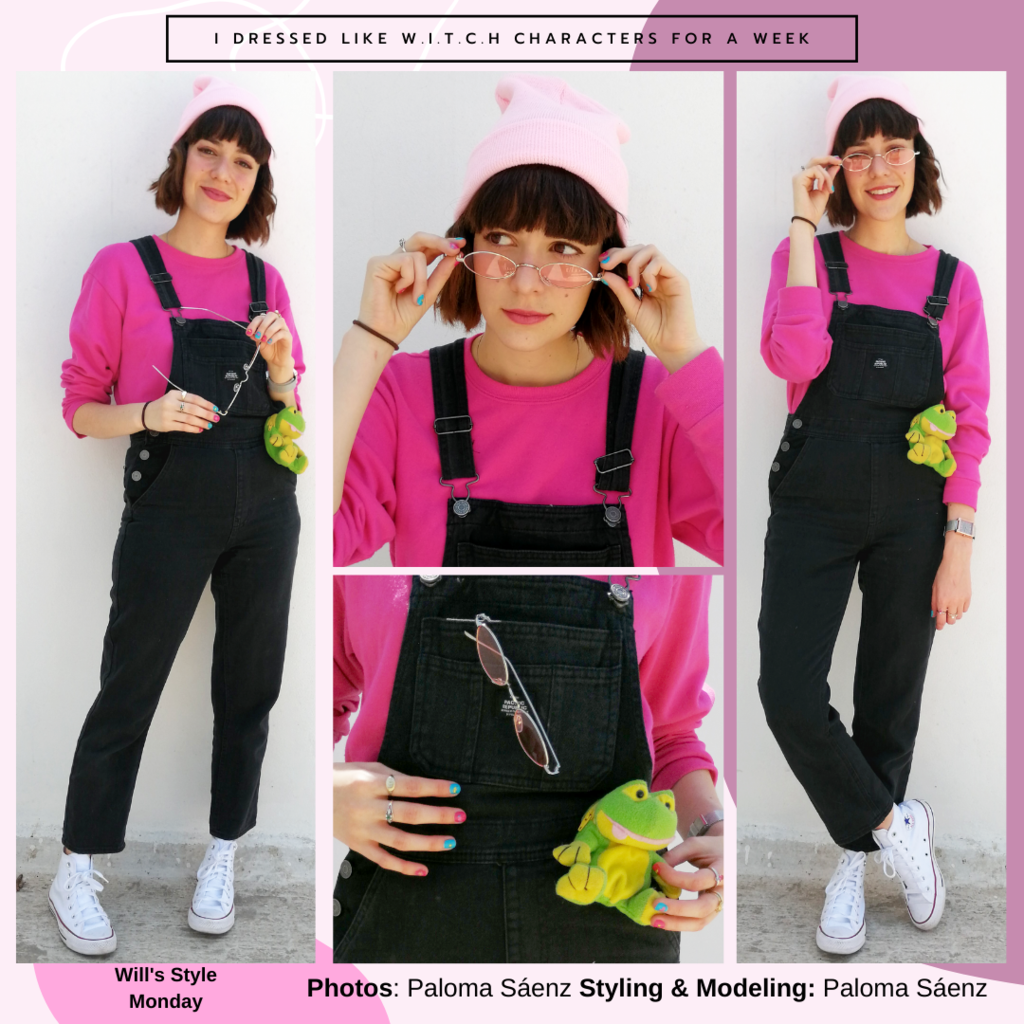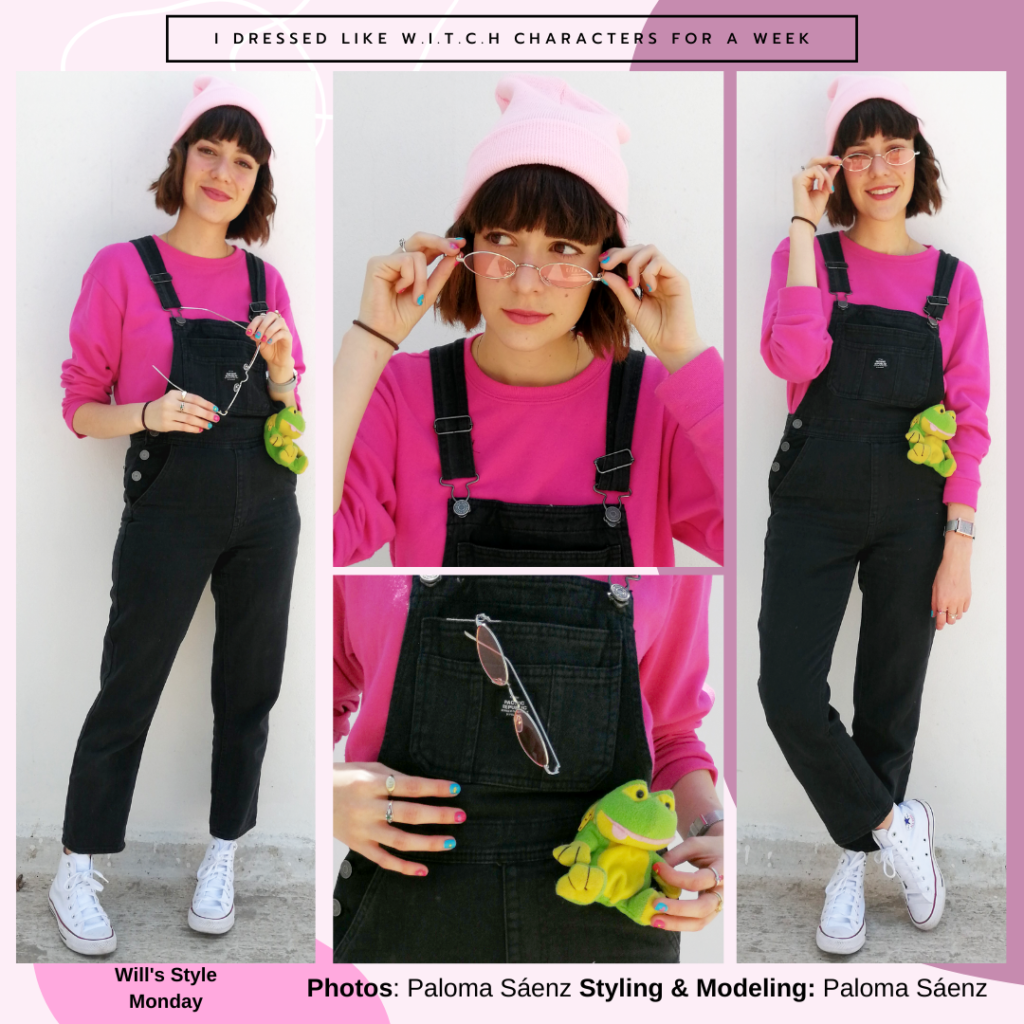 Similar items:
Will is definitely a "barely trying, still looks cool" kind of girl. Will would definitely live in jeans, t-shirts, and sweatshirts, but in a cute, colorful way.
For my Will outfit, I paired a hot pink sweatshirt and black overalls together. For the shoes, I waffled between booties or sneakers, but I ended up using a pair of high-top white Converse.
Then, I put on a pink beanie and small pink sunglasses, to add a bit more of her associated colors. I also feel the beanie and sunnies give the outfit a bit of a cool factor.
Finally, Will loves frogs so I thought it'd be cool to add a frog pouch to my look in honor of this.
I adored this look! It's so comfy and cute. At the same time, the look is as effortless as it seems.
My favorite part was the little frog pouch, I just think it adds something quirky and unique to an otherwise simple look.
But, I do have to say this might not be the best option for warmer weather. I did ended up ditching the hat mid-day because I was sweating so much and I was really hot.
Irma's Style: Outfit #2, Tuesday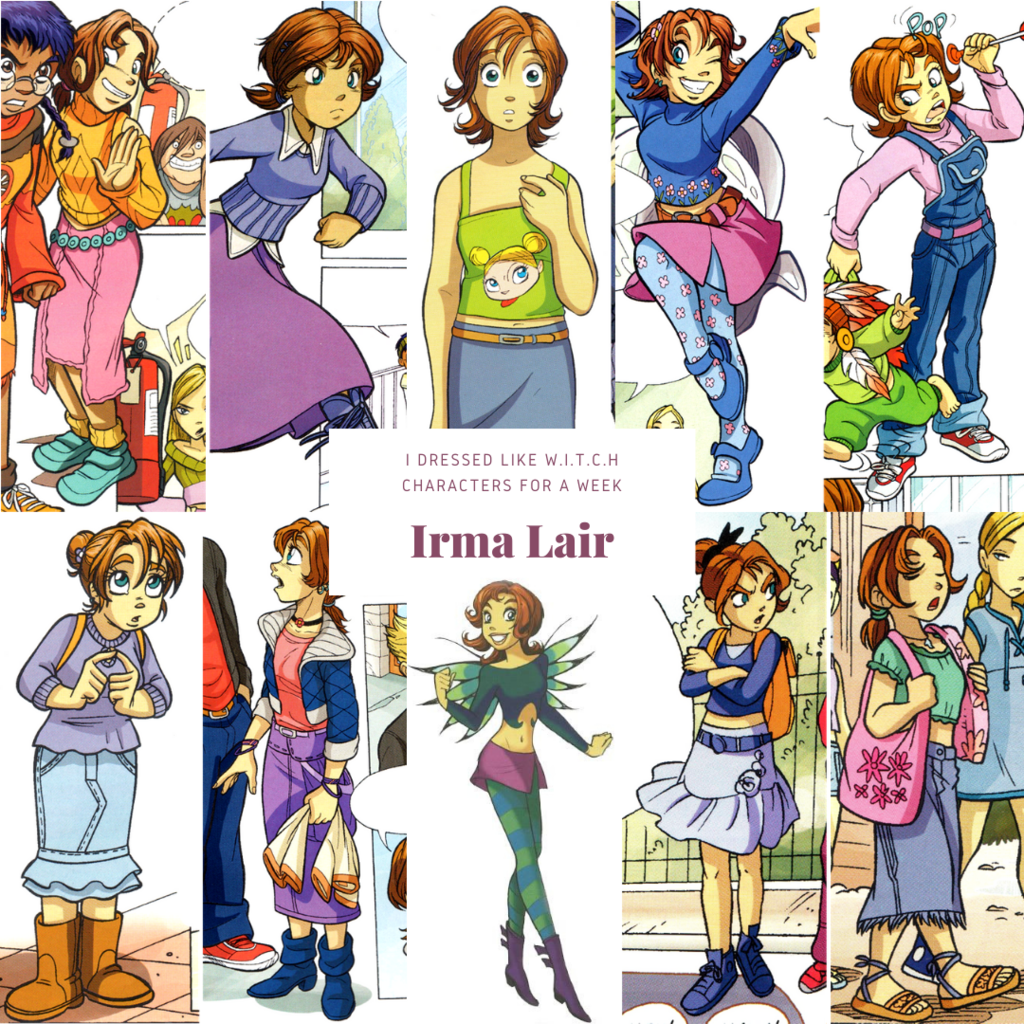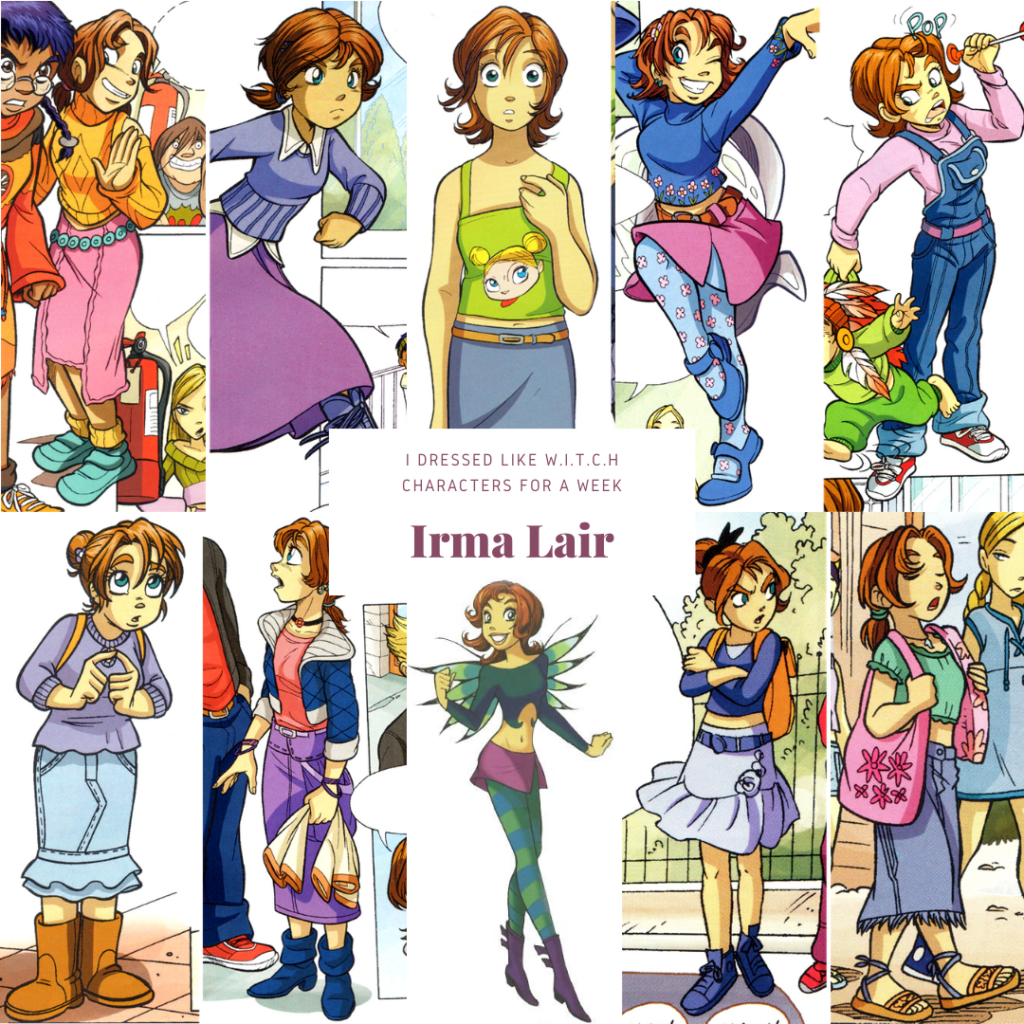 Irma Lair is the Guardian of Water. She was given the element of water because, like Irma, it can't be contained. Irma is meant to look Latina.
Irma is spunky, cheerful and is known for being the class clown. She is always cracking jokes and making snarky comments, even when they're in the middle of a battle. Irma is in the same class as Taranee and Hay Lin.
The Lair family gives the comics many opportunities to touch upon real-life issues. Irma's father is a kind policeman who has been confronted with a corrupt system. Irma's biological mother has been missing since she was a toddler and her relationship with her stepmother is a rare positive depiction of this type of mother-daughter relationship..
Fashion-wise, Irma is eclectic but feminine. After Hay Lin, she is the most adventurous with her outfits. She loves her jeans and band t-shirts, specifically from her favorite artist Karmilla. Blue and turquoise are the colors that represent Irma in general.
Irma's Style Recreation
Irma would be the edgy-but-sweet type. She'd rock florals, pastels, band tees, and combat boots. I think she'd use trendy items, but mostly Irma would go with whatever makes her comfortable.
For my Irma-style recreation, I wanted something kind of comfy, girly, and edgy rolled into one. So, I wore a black band tee with a blue midi skirt. For shoes, I went with a pair of black combat boots.
For accessories, Irma uses her hair as an excuse to pile on as many accessories as possible and to create unique hairstyles, so I wore my hair in a half ponytail and used pearl hair pins and a hair clip to keep my hair up. I also added a pair of blue round sunglasses.
This outfit was the epitome of cool! I really, really liked this one. The hair and sunglasses were my favorite elements since I never really tie my hair in any way and the sunglasses were so different and cool.
Taranee's Style: Outfit #3, Wednesday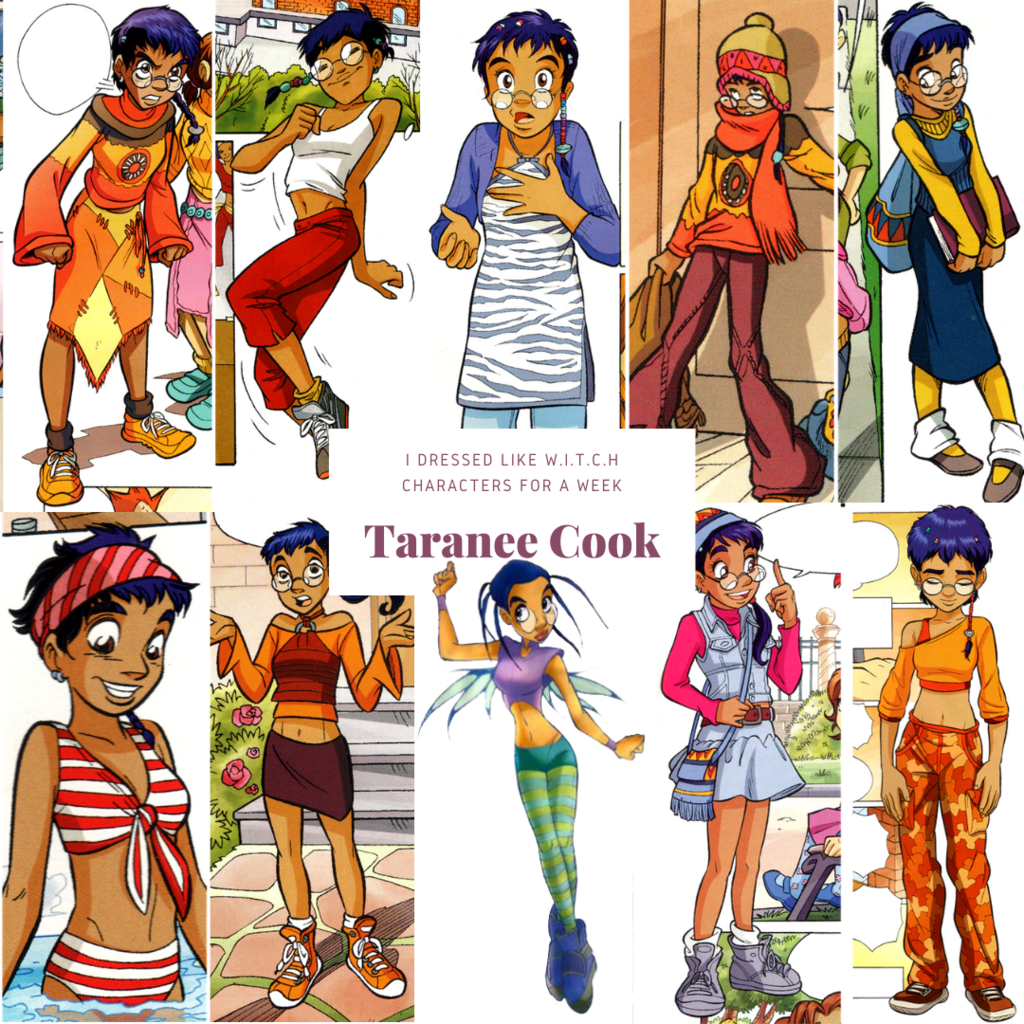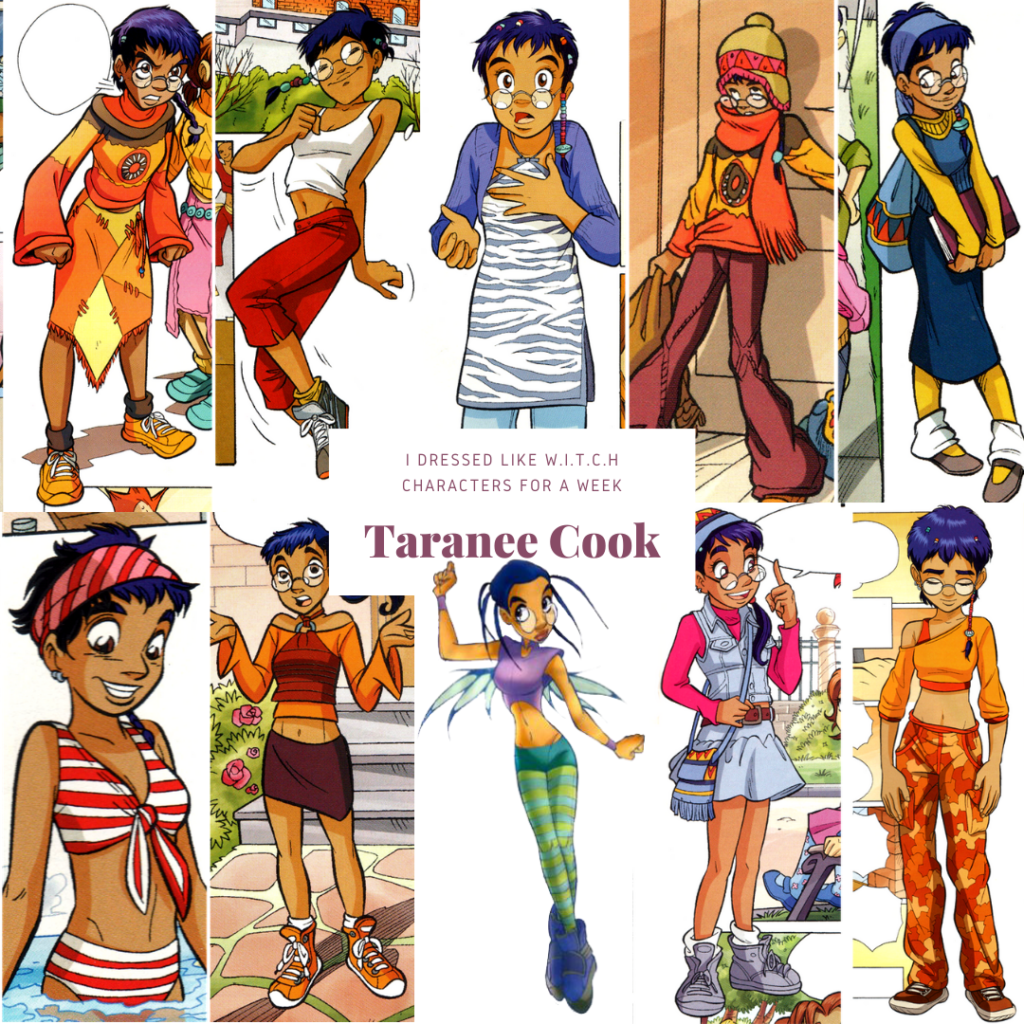 Taranee Cook is the Guardian of Fire. She got fired because she's the only one reliable enough to be trusted with it. She is also a telepath and the rest of the girls are able to communicate through her.
Taranee is shy and laid-back but can be very determined and even dangerous when the situation demands it. She is a dancer and takes photography up as a hobby.  
Taranee is African American. Her mom is a judge and deals with the backlash of people she has convicted. Taranee and her mom fight sometimes, but they still love each other deeply. Her older brother, Peter, is sweet and caring, and her dad is just as calm and laid-back as his daughter.
Her style, while not as casual as Will's, still leans into tomboy territory. In the WITCH comics, she is drawn with a more street-style inspired look. She loves patterns and items inspired by her heritage. Taranee's colors are red and orange.
Taranee's Style Recreation
Taranee's style would translate to street style and/or athleisure, at least in my mind. I think Taranee would like to mix and match patterns, in deep, rich colors. She would be the one to rock a monochromatic moment, for sure.
Taranee's outfit was the first one I decided on for this week, even though I wore it on Wednesday. I wore a burgundy denim skirt with an orange shirt as a base. The shirt has buttons in the shape of hearts, which I thought was a beautiful detail.
For my shoes, I wanted to keep them within the fire color scheme, so I used a pair of yellow high-top Converse.
Also Read: Converse vs. Vans
Finally, for accessories, I wore my reading glasses that have a red frame, a brown bag, and an orange hairband.
It's been years since I've worn this skirt and I don't know why I ever stopped wearing it. I loved the whole look, it was both feminine and comfy. It's been getting hotter were I live, so this outfit is perfect for this type of weather.
I never wear so many warm-toned colors at once and this was definitely a combo I loved.
Cornelia's Style: Outfit #4, Thursday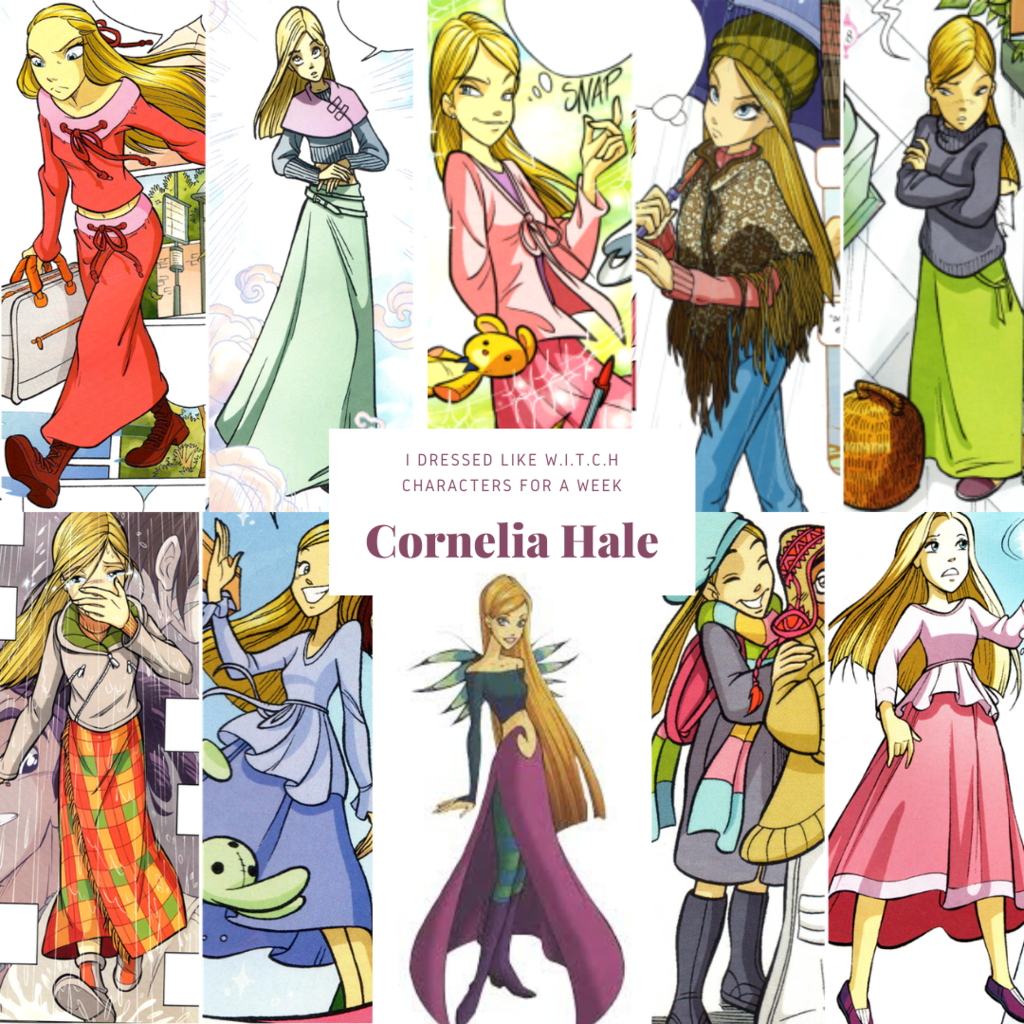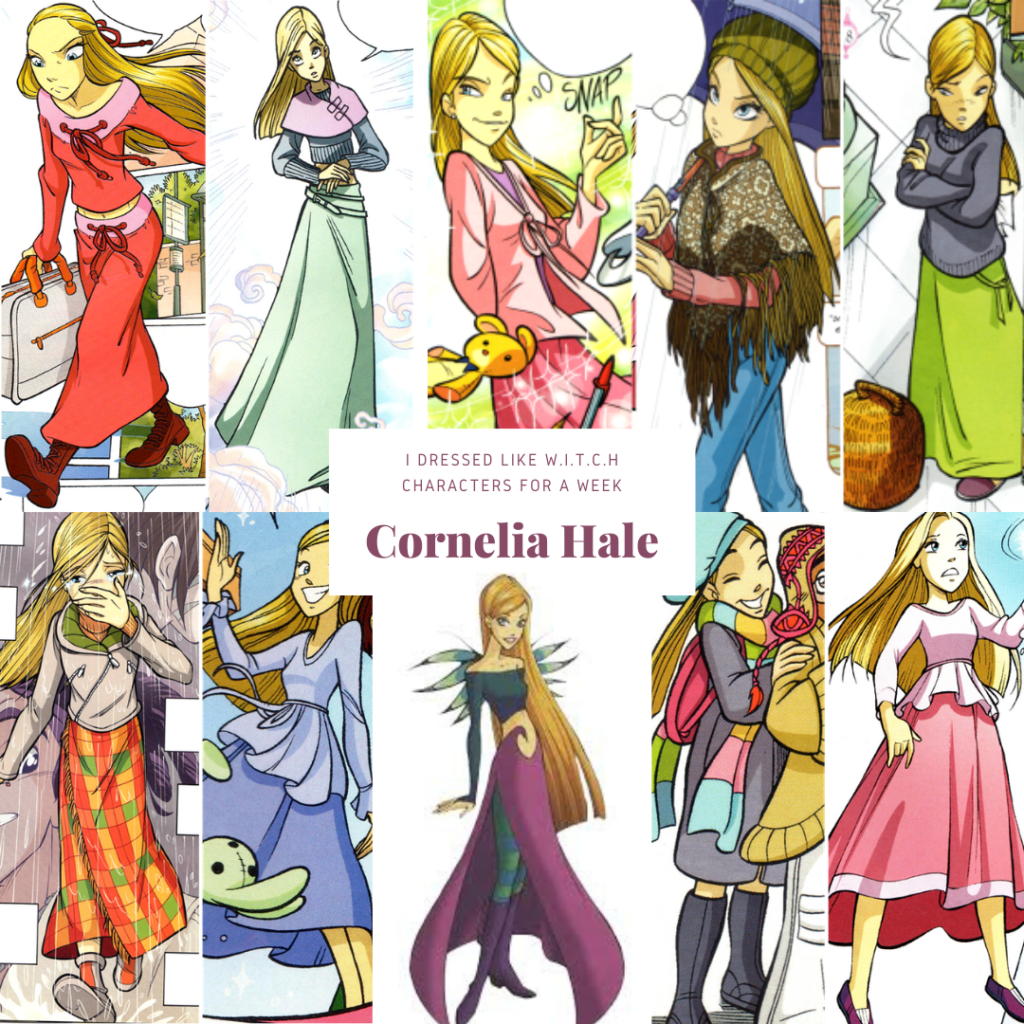 Cornelia Hale is the Guardian of Earth. She received the power of Earth because she functions on hard logic and is strong-willed. Cornelia can also heal wounds, communicate with and through nature, and has telekinetic powers.
As the oldest of the group, Cornelia is the second in command and the de facto leader if Will is not present. She is stubborn and aloof, but she is also capable of extreme acts of love and selflessness. She enjoys figure skating and classical music.
Cornelia is drawn as a Caucasian. The Hale family is wealthy. Her mom is very strict, which causes friction with Cornelia. In spite of this, her parents are shown to be loving and devoted to their daughters. Cornelia's relationship with her younger sister, Lilian, can be difficult at times, but they still have sweet moments.
Her first relationship with her literal dream boy Caleb didn't work out. Her second love interest, and the one most embraced by the fandom, is Peter Cook, Taranee's brother.
Cornelia is, by far, the most preppy and put-together of the group. She loves fashion! Cornelia's style is full of girly pieces like skirts and dresses, but she is also seen in pants of different types. Her favorite color is green and it is strongly associated with her.
Cornelia's Style Recreation
Cornelia's style would definitely be classic. She'd wear timeless pieces but incorporate some trends here and there. I think she'd stick to neutrals as a base, but use bright colors as accents.
For Cornelia's style recreation, I wanted something very girly and put together. This one was kind of easy to do. I wore a black midi dress with a daisy print on it. For shoes, I wanted something cute but unique, so I wore a pair of mauve pink sandals that have pom poms.
I liked this look. I think the dress is super cute and comfy. Don't even get me started on the shoes! I ADORE THEM!
But I do think something is missing from the look. I bought a green purse with a pretty daisy print, but it didn't arrive on time for me to wear it this week,. I wanted to mention it because it was the green element of the look and it would've matched perfectly with the print of the dress and the pink of the shoes.
Hay Lin's Style: Outfit #5, Friday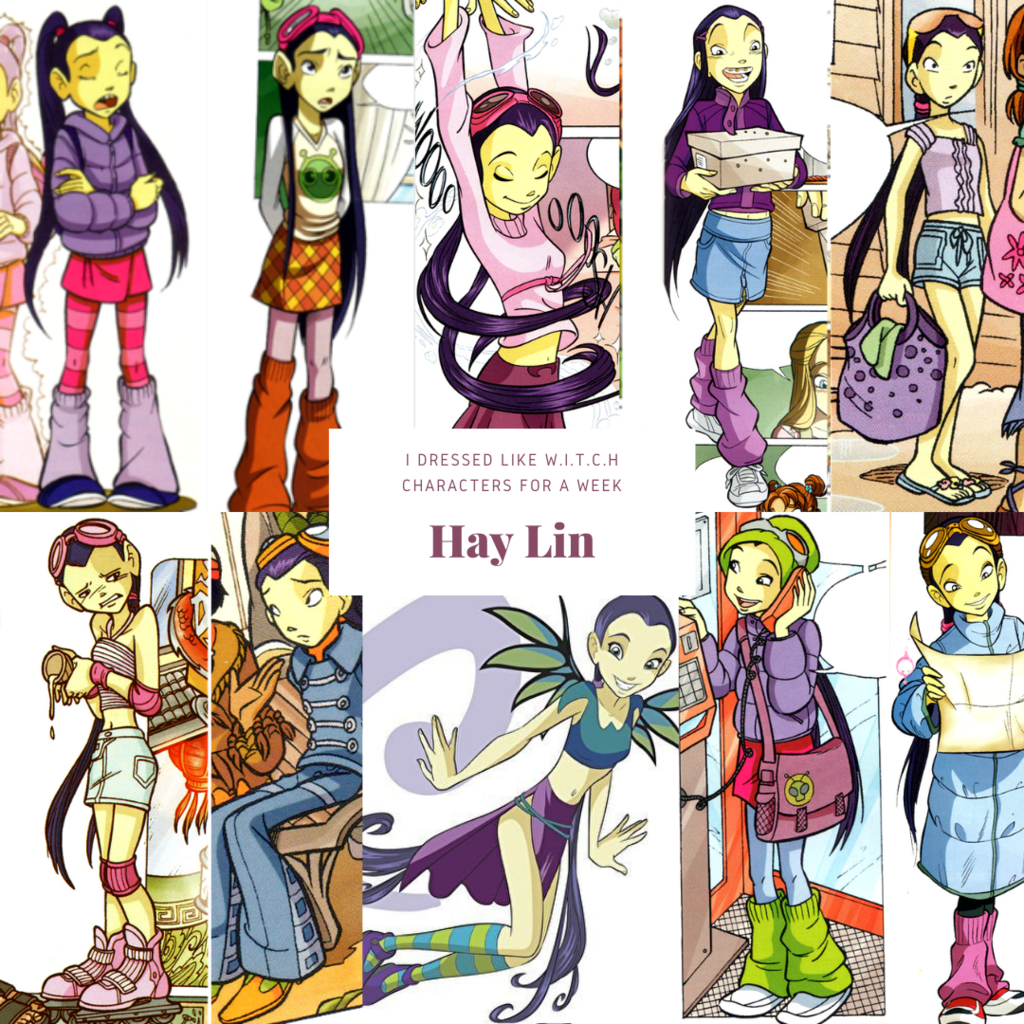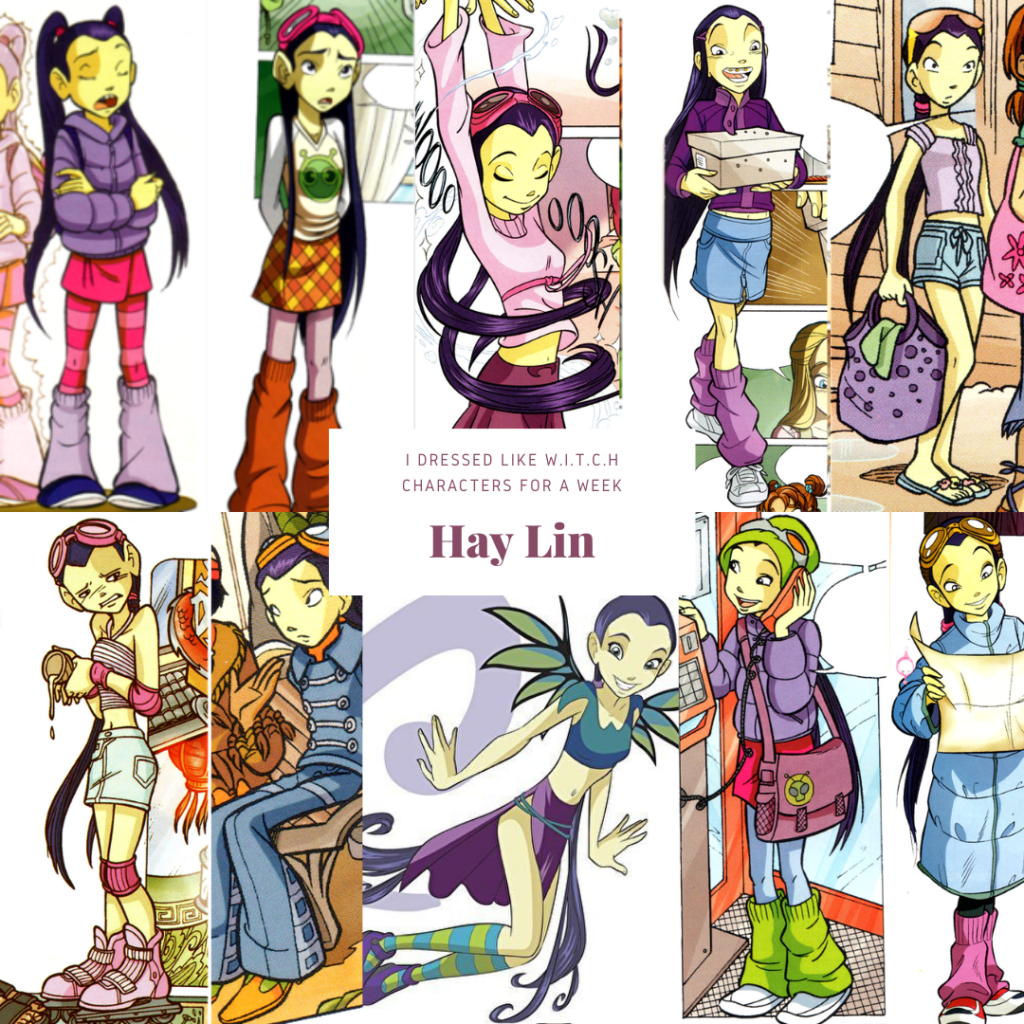 Hay Lin is the Guardian of Air. She got the element of Air because she is a dreamer and a free spirit. Her secondary powers include flight and empathic precognition. She is the youngest of the group. Hay Lin is quirky, sensitive, and creative. She is also a geek, she adores aliens and science fiction.
Hay Lin and her family are Chinese. The Lin Family owns a restaurant called The Silver Dragon. Hay Lin is the only one in the group with no siblings. She absolutely adores her family and has a very close relationship with her grandmother, Yan Lin. Yan Lin used to be the Guardian of Air in her youth and serves as the first mentor for the girls.
If there's a girl interested in fashion, it is Hay Lin. She designs her own clothes and even creates outfits and looks for her friends. Her pieces are always unique and reflect her free spirit. She leans more to the girly side, but with a quirky element. Silver and light blue are Hay Lin's colors.
Hay Lin's Style Recreation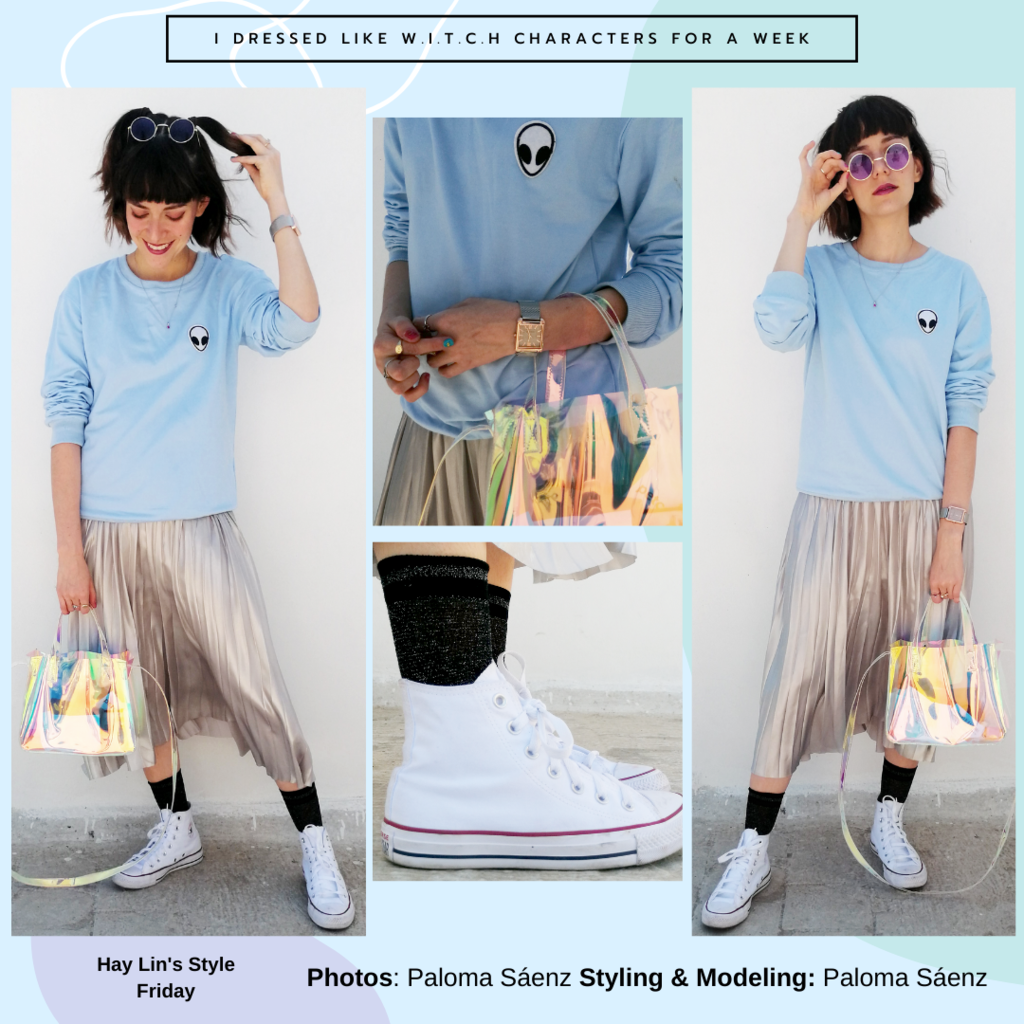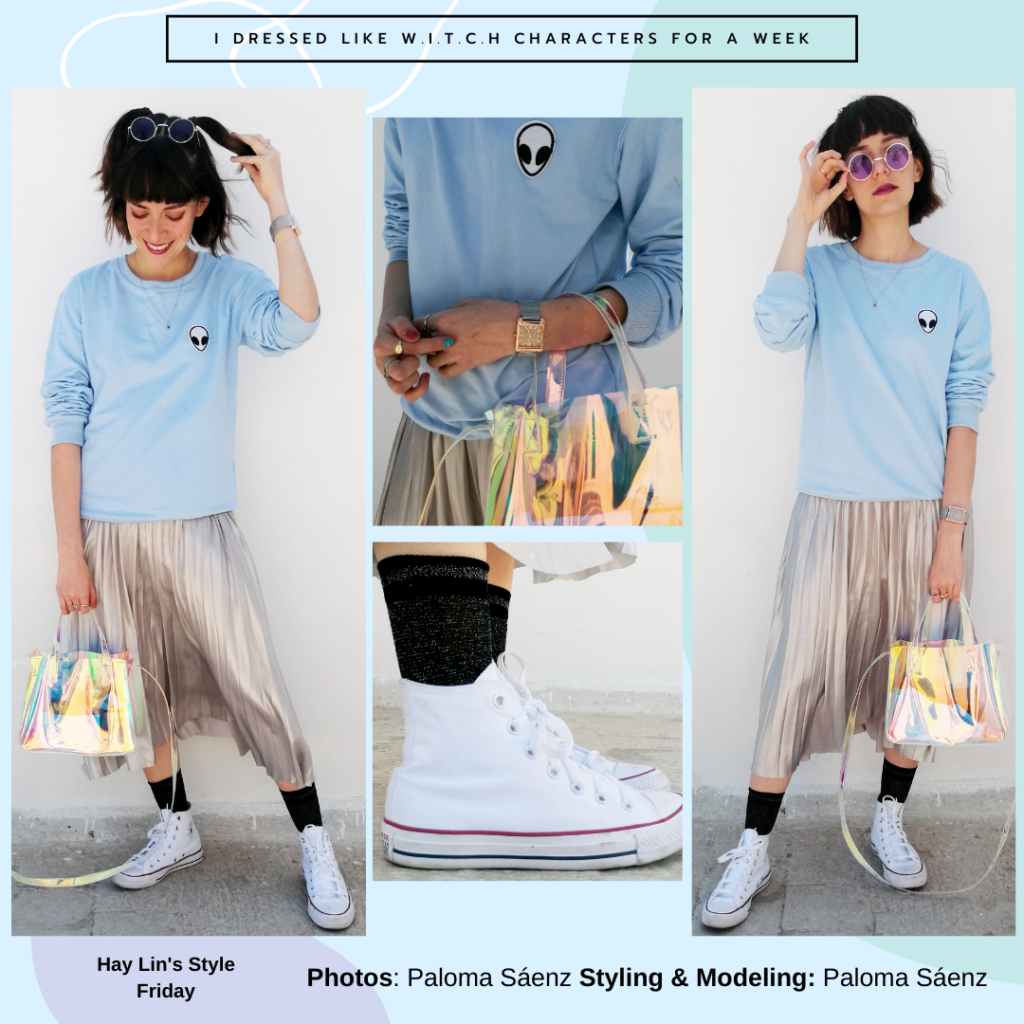 Similar Items:
Hay Lin is the wild card. I think she'd wear whatever made her comfortable, but in an original way and a mix of textures and prints.
Hay Lin's look was the hardest one to do. I paired a light blue sweatshirt with a silver pleated skirt. The sweatshirt has a little alien patch since Hay Lin ADORES anything alien or galactic-inspired.
For shoes, I had a bit of a hard time deciding, but I wore a pair of white Converse.
For my accessories, I used a pair of purple round sunglasses, inspired by Hay Lin's signature sunglasses, a holographic bag, and a pair of black shiny socks. I put my hair into pigtails because it's Hay Lin's go-to style.
This one is by far the most playful and comfy outfit of the bunch. It was perfect for a cold morning and a hot afternoon. I also loved the different textures and fabrics in the outfit.
Final Thoughts
This might be a weird post for you, but let me explain. Before I found Winx Club, W.I.T.C.H was everything.
My parents used to buy me each issue in the supermarket, in a magazine stand, and even when we were traveling. The comics came with little gifts and trinkets every release, some of which I still keep. I grew up reading them and the WITCH comics have been a huge influence in my life. (My favorite character was Hay Lin, but I think I'm more like Cornelia, personality-wise.)
When I did the Winx post and had so much fun doing it, I just had to do a post for W.I.T.C.H. There used to be a sort of "rivalry" between both properties and there was even a phrase: You are either a Winx or a W.i.t.c.h. In reality, most fans of one were usually a fan of the other to a certain degree. Now, here's a post for those of us who were a W.I.T.C.H too.
I had so much fun creating these outfits! I re-read some of the comics, especially the ones that had special sections that showed each girl's closet or had really specific fashion moments that I remembered. My favorite looks were Will's, Irma's, and Hay Lin's.
If you are in need of inspiration, that's comfy, creative, and colorful, W.I.T.C.H is definitely going to help. You just need creativity, imagination, and a little magic ;).
What do you think of my WITCH comics fashion guide?
Did you like my WITCH fashion guide? Which character's style is your favorite? Tell me in the comments down below.
More Fashion Inspiration