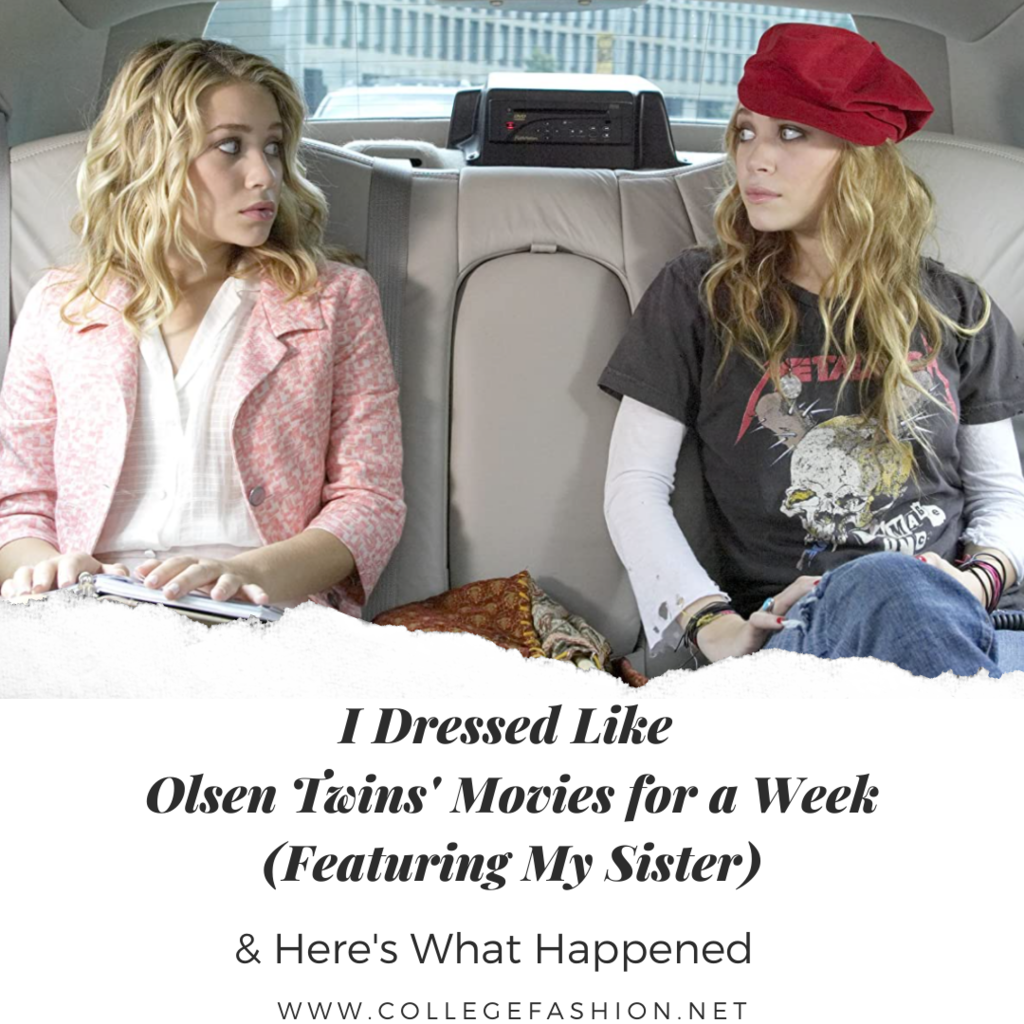 This Olsen twins fashion guide will show you how to recreate the best outfits from Mary-Kate and Ashley Olsen's iconic movies of the 2000s.
We've all looked to celebrity style for fashion inspiration at some point in our lives. But it's one thing to say "I love her outfit," and it's another to actually copy it in real life.
For this series, I'm going the extra mile and making it happen. Each week, I'm getting inspiration from a celebrity or character and copy five of their looks as closely as possible. Then, I'm reporting back to you: Did the outfits work in real life? Did I feel comfortable? Did people treat me differently? I'm sharing it all.
In past posts I've dressed like Zendaya, Gigi Hadid, Grace Kelly, Kendall Jenner, Vanessa Hudgens, Sophie Turner, Priyanka Chopra, Millie Bobby Brown, Hilary Duff, Lily Collins, Taylor Swift, Iconic Halloween Characters Part 1 & 2, Selena Gomez, Alexa Chung, Iconic Christmas Characters, Rachel Green Part 1 and 2, Queer Eye's Fab 5, Monica Geller, Little Women's Characters, Lucy Hale, Dakota Johnson and Gilmore Girls' Characters Part 1 and 2.
Since 2020 has been a difficult and confusing year, I'm throwing it back to simpler times. This week, I dressed like iconic Olsen twins movies (as did my sister, who will be featured this time!) and here's how it went.
The Olsen Twins
Before Elizabeth Olsen reigned the box office with the MCU as Scarlet Witch, and way before the Sprouse twins became the iconic Hollywood twins, there were the Olsen Twins.
Mary-Kate and Ashley Olsen, Elizabeth's older sisters, dominated TV and movies for much of our childhoods. They were the child and teen stars through the '90s and early 2000s and became fashion icons for young girls everywhere.
While they now have stopped acting and mostly keep to themselves, they are still a force in the fashion world. Their main brand is The Row, which focuses on minimalistic but elegant pieces. A secondary brand, named after their younger siblings, Elizabeth and James, focuses on vintage items and personal pieces from their closets.
Personally, the Olsen Twins, alongside Hilary Duff, were my first fashion and celebrity icons. I absolutely loved their movies, clothing lines, and books. My sister and I would watch their movies all the time and, to this day, quote some of them on daily-basis.
Disclaimer
This week, I chose five of their movies and created a look for each day based on one of those films. I also decided that it wouldn't be a true Olsen twin moment without my sister, so she helped me out this week and this way I recreated a look from each twin.
Also, in case you aren't familiar with the twins, usually Mary-Kate plays the more tomboy-ish but responsible twin, while Ashley plays the girly ingénue. There are occasions in which they switch, though.
Also, I decided to keep it chronological. I thought it would be interesting to see how fashion evolved through the years with these looks.
1. Monday – Passport to Paris (1999)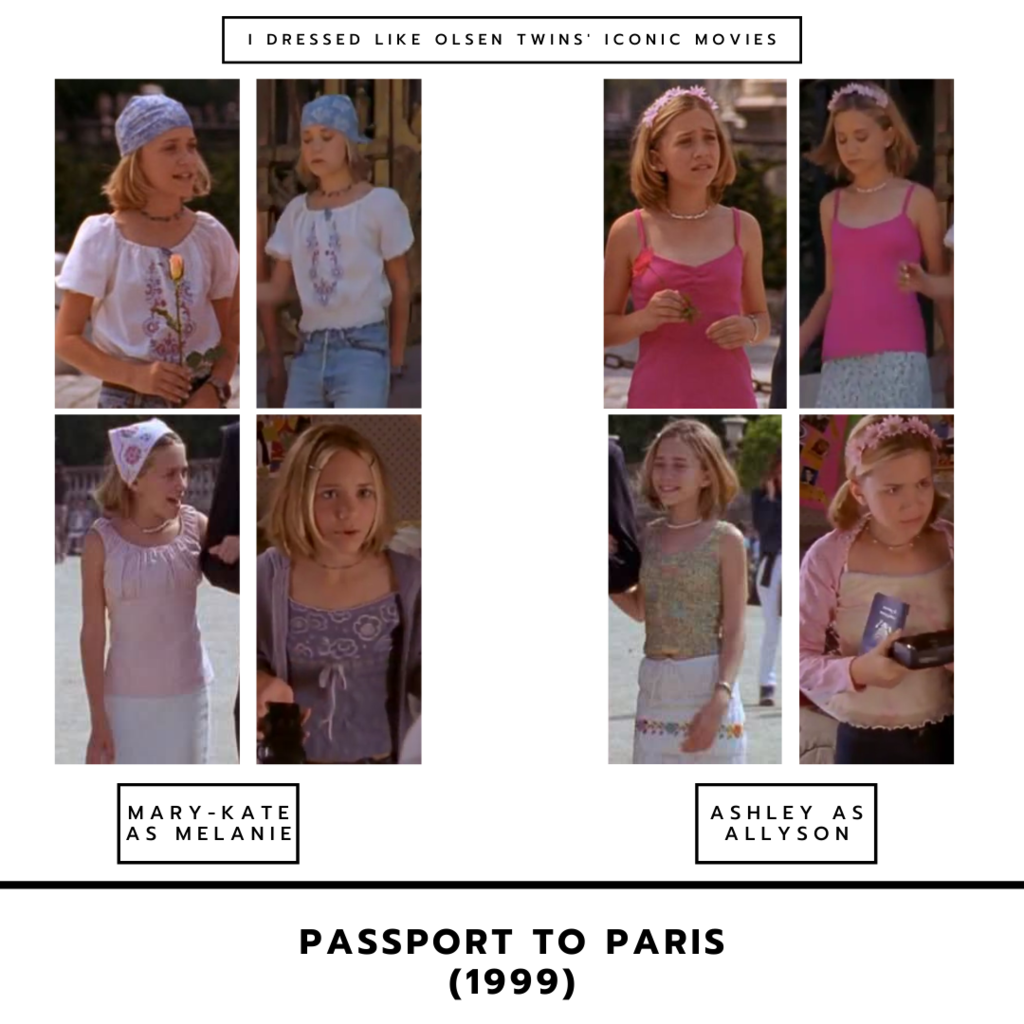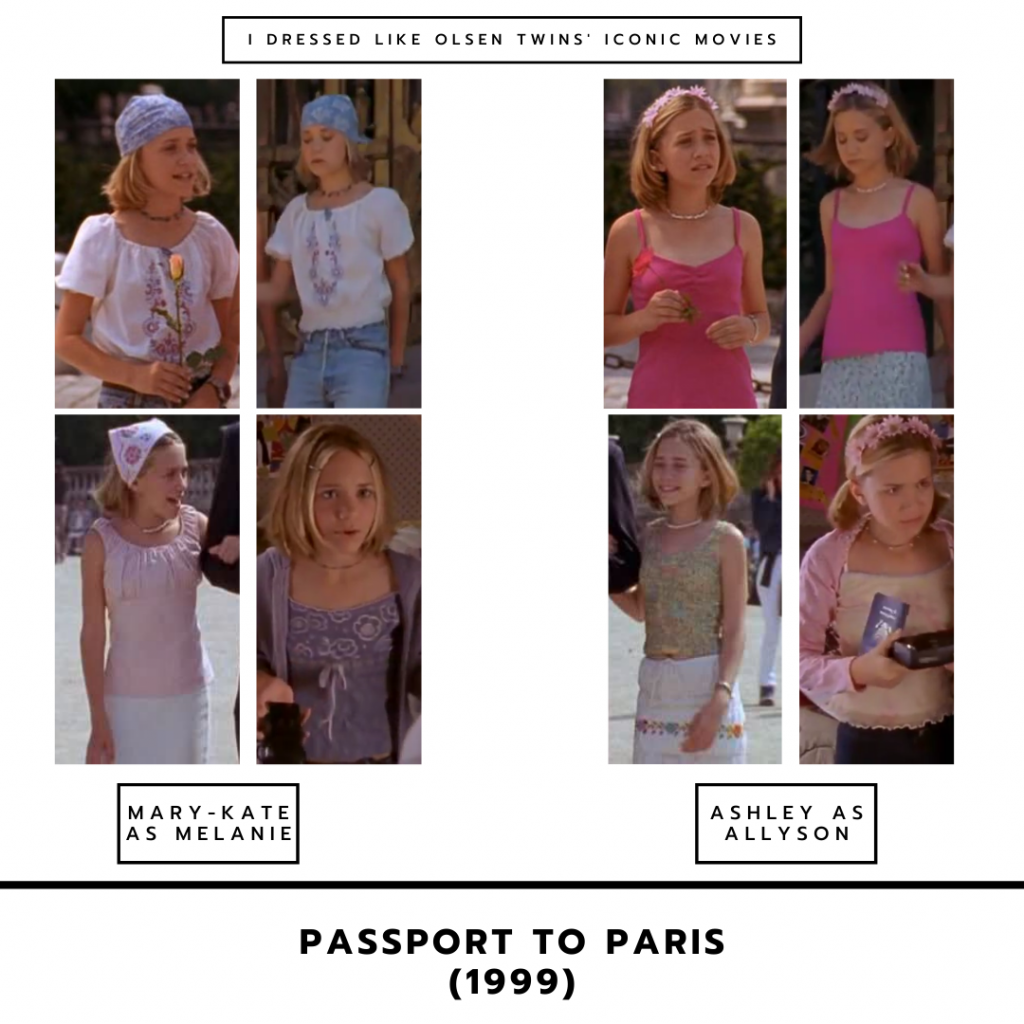 For Monday, I chose the movie Passport to Paris. In this movie, Mary-Kate and Ashley play Melanie and Allyson Porter, a pair of 13-year olds. Their parents, desperate to broaden their horizons, send them to Paris to stay with their grandfather, the US ambassador.
True to an Olsen twins movie, the girls rock similar outfits in different color schemes. Melanie's color palette revolves around blue and white with comfy or edgy accessories, while Allyson's signature color is pink, paired with floral accessories.
Passport to Paris Style Recreation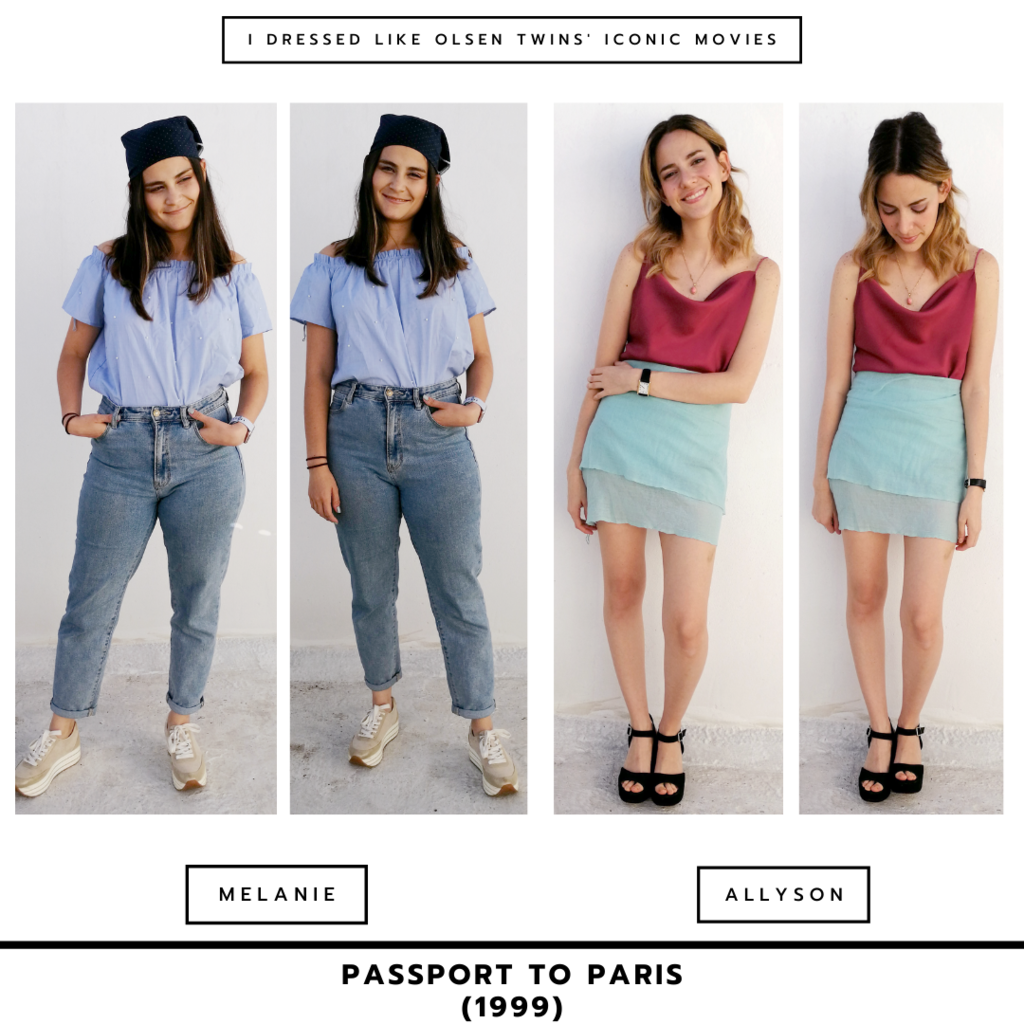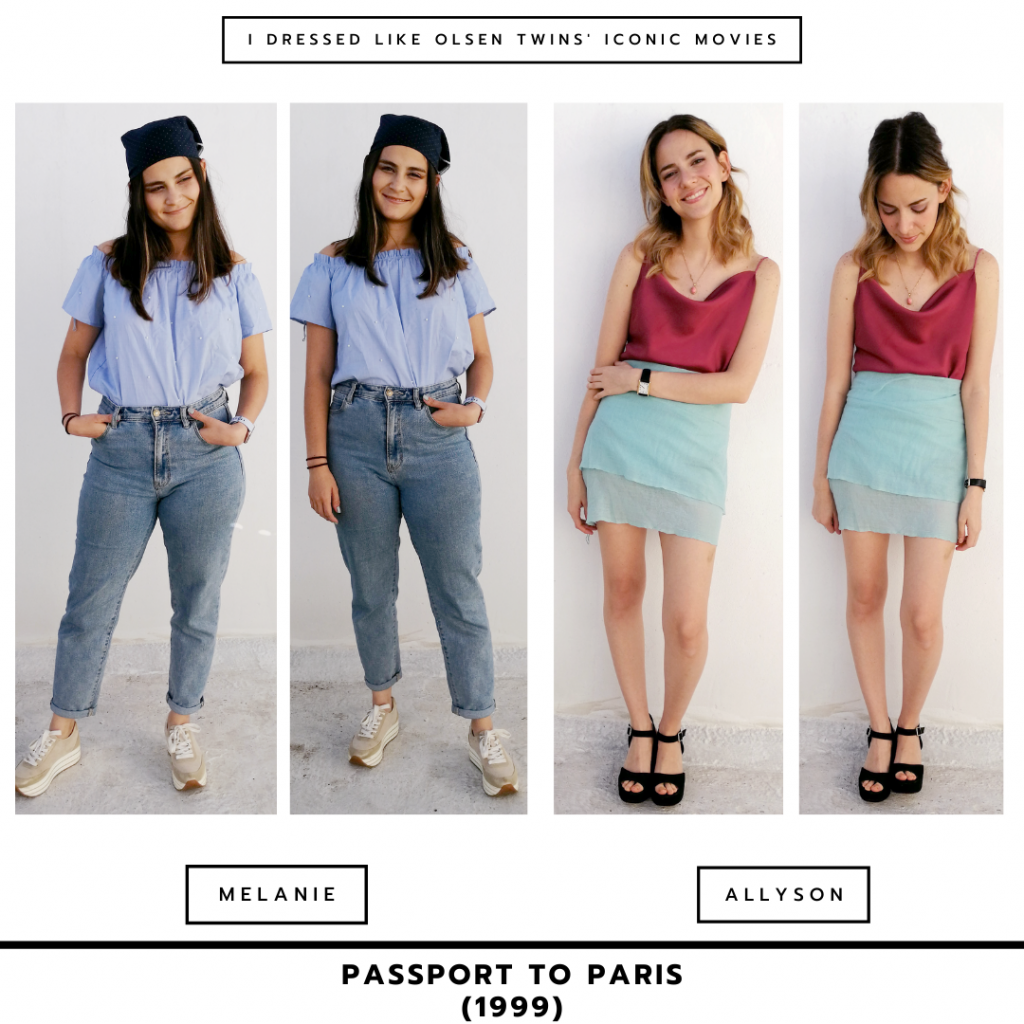 For Melanie's recreation, my sister wore a baby blue off-the-shoulder blouse with pearl details and high-waisted jeans. For shoes, she wore a pair of platform sneakers, since Melanie wears a pair through the film. Finally, she tied a navy blue bandana in her hair. This is Melanie's signature accessory in the movie.
Then, for Allyson's recreation, I wore a pink camisole and tied a light blue pashmina as a skirt. Allyson uses black platform sandals through the movie, but I didn't have a pair. Instead, I wore a pair of black platform heels that gave off a similar vibe.
We both kept our makeup to a minimum, but in true Olsen twins fashion (at least in the 2000s), we used shimmery eye-shadow and a lot of lip-gloss.
I loved how everything turned out! My sister has worn versions of her look on other occasions, so this was right up her alley. She said she would personally change her shoes, either to a pair of mules or white sneakers and probably wouldn't wear the bandana. I liked my look, but it wasn't as comfortable as I would've liked.
We both agreed that this weren't the best outfits to wear mid-November, but we'll try them again in the summer.
2. Tuesday – Winning London (2001)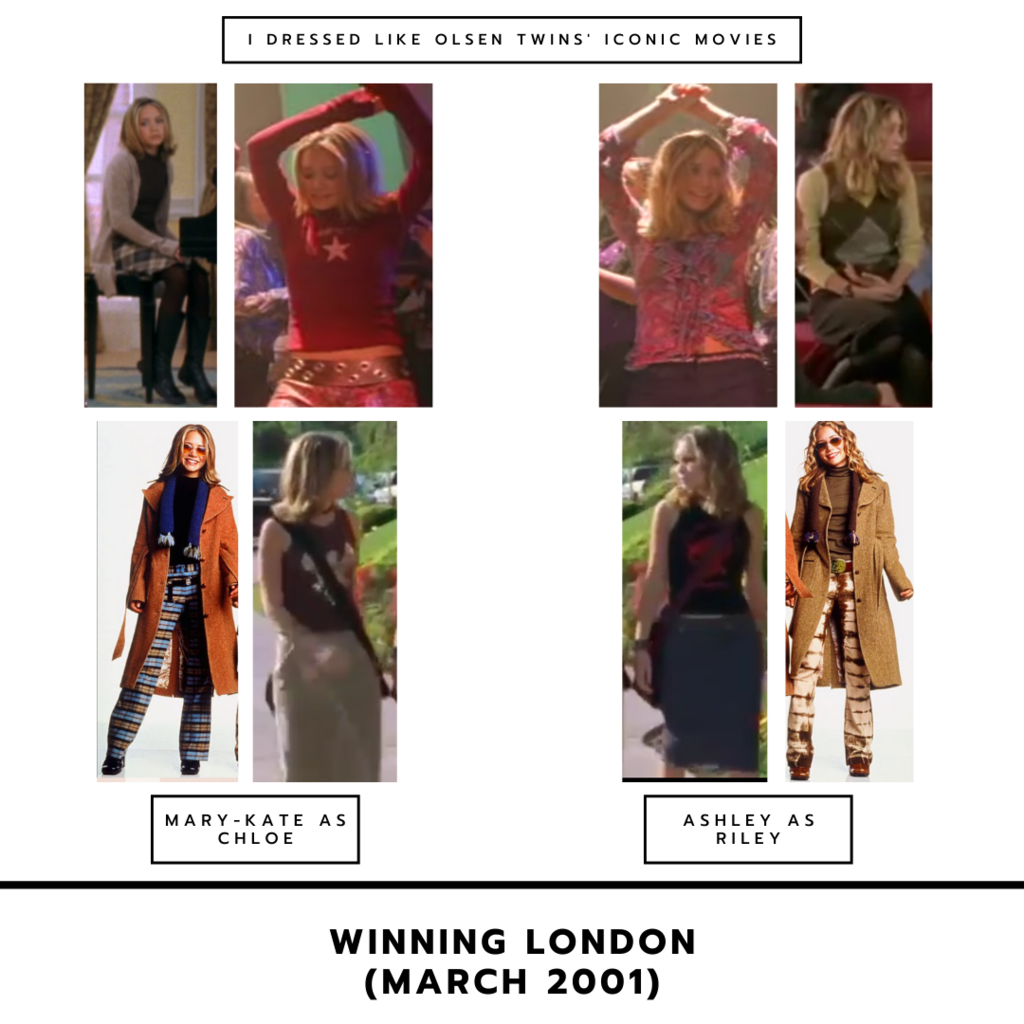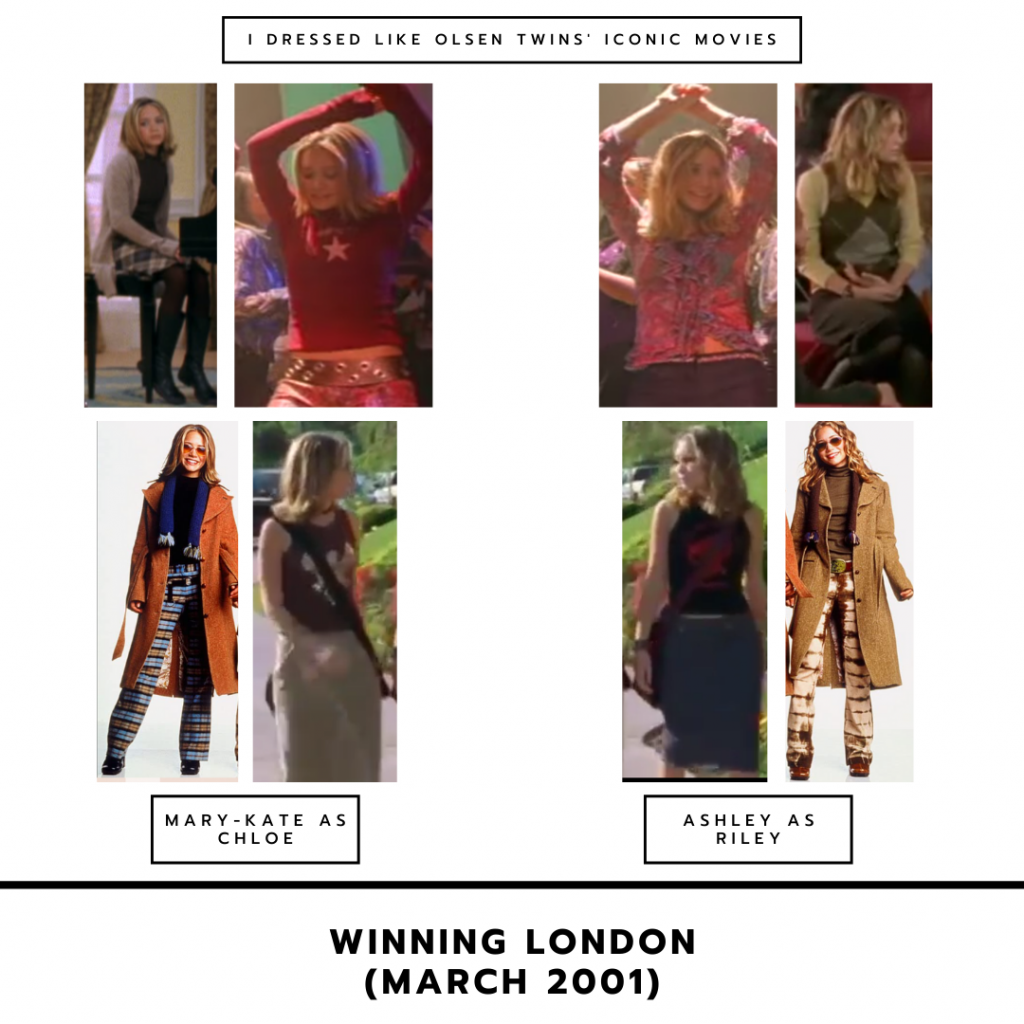 If I recall correctly, this was the first Olsen movie we ever saw. We rented it at Blockbuster and had a sleepover in the TV room. (Memories!)
In Winning London, twins Chloe and Riley Lawrence, and their team are invited to London to participate in the International Model UN competition. When US team arrives and realizes their country-of-choice has been taken by another team, they settle on England and prepare by exploring London.
Mary-Kate plays Chloe, the leader of the team and ultra-competitive sister. Ashley is Riley, the last-minute replacement in the team and free-spirited twin. The Olsen twins' fashion color schemes are complementary: browns for Chloe and greens for Riley. Their outfits are pretty similar, too. Patterns are where we see each of their personalities: Chloe wears a lot of plaid and Riley goes for bleached items.
Winning London Style Recreation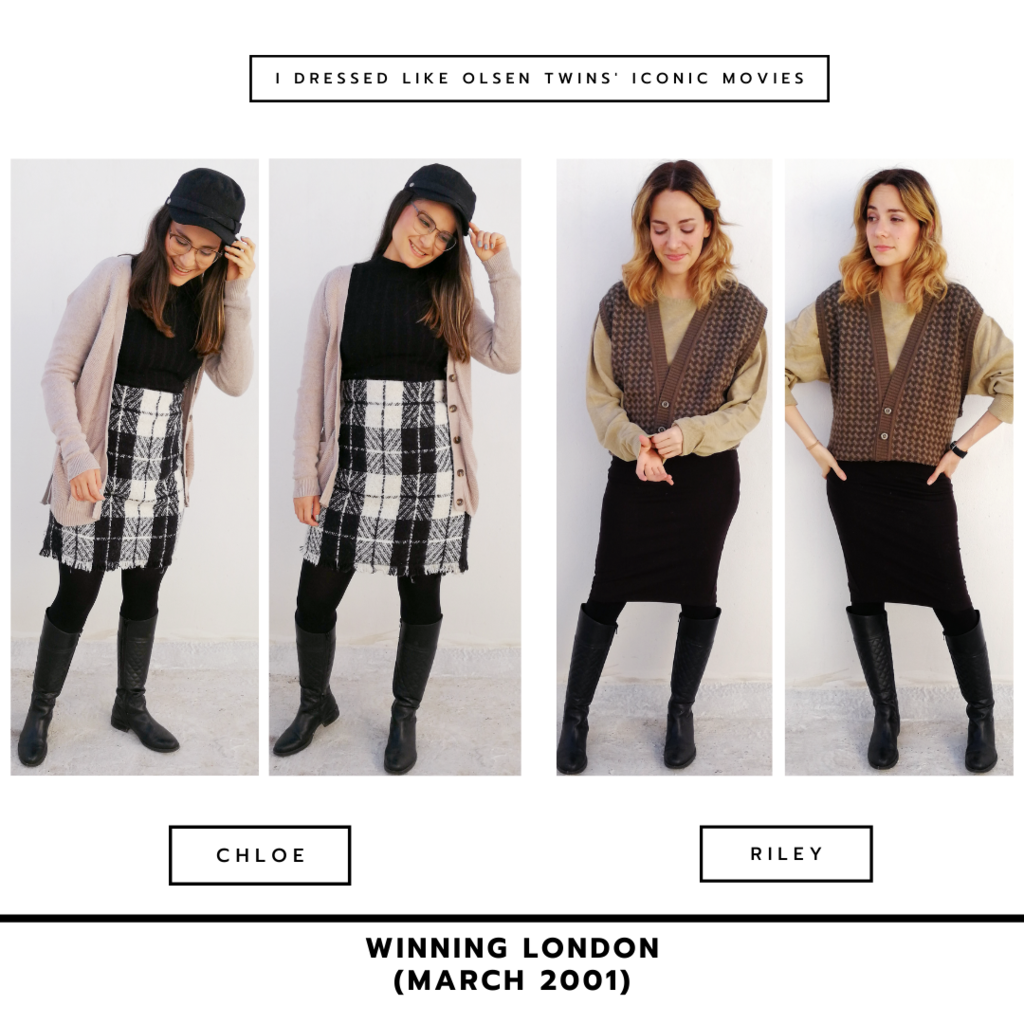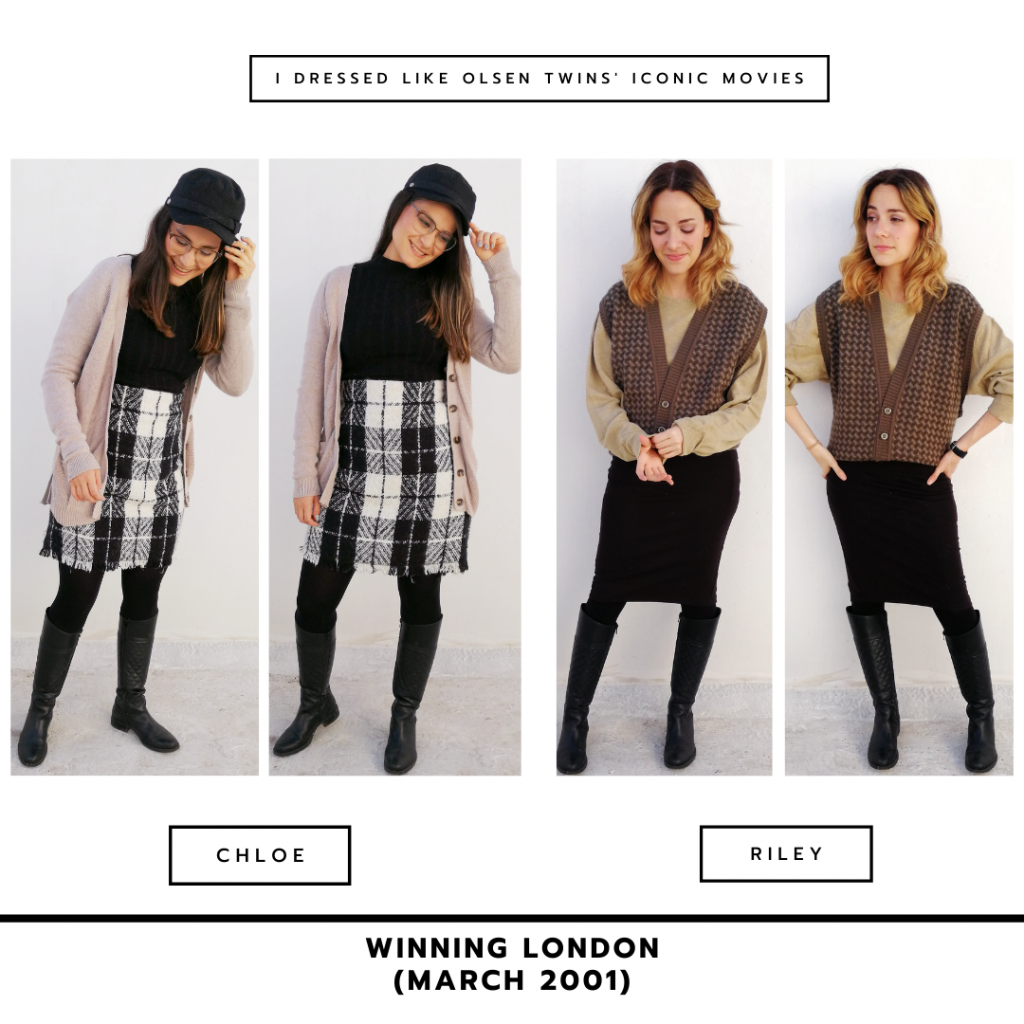 To recreate Chloe's style, my sister wore a black turtleneck shirt. Neither of us had a plaid skirt similar to Chloe's, so I made her a black and white plaid skirt out of a gigantic scarf my mom has. We added a long beige cardigan to layer it and a pair of black tights and black riding boots.
You may have noticed that the Olsens wear a lot of bucket hats through the film. Unfortunately, neither of us had any bucket hats. What we did have, however, were paper-boy hats. We've had them for years and they are actually from an old Mary-Kate and Ashley Olsen collection for teens. So, my sister ended up wearing a black paper-boy hat. (Talk about coming full circle!)
For my Riley outfit, I used a beige sweater and a black pencil skirt as a base for the look. Then, I put on an olive green and beige vest. I borrowed the sweater and the vest from my dad. (Yes, there were a lot of pins involved in order to wear this exactly like I wanted.) Finally, I used the same black tights and black riding boots that my sister wore for her Chloe look.
Since we used the same shoes and tights, I wore my Riley outfit on Thursday instead of Tuesday and vice versa.
We both ADORED our looks. They were so fun to create and also so comfortable and cozy. These outfits truly worked out for us. My sister said that after this she's going to get a skirt similar to the one we created out of the scarf. She doesn't wear hats, but through the day she got used to it. I really loved how the vest and sweater looked together, so I'll be stealing those from my dad's closet again.
3. Wednesday – Holiday in the Sun (2001)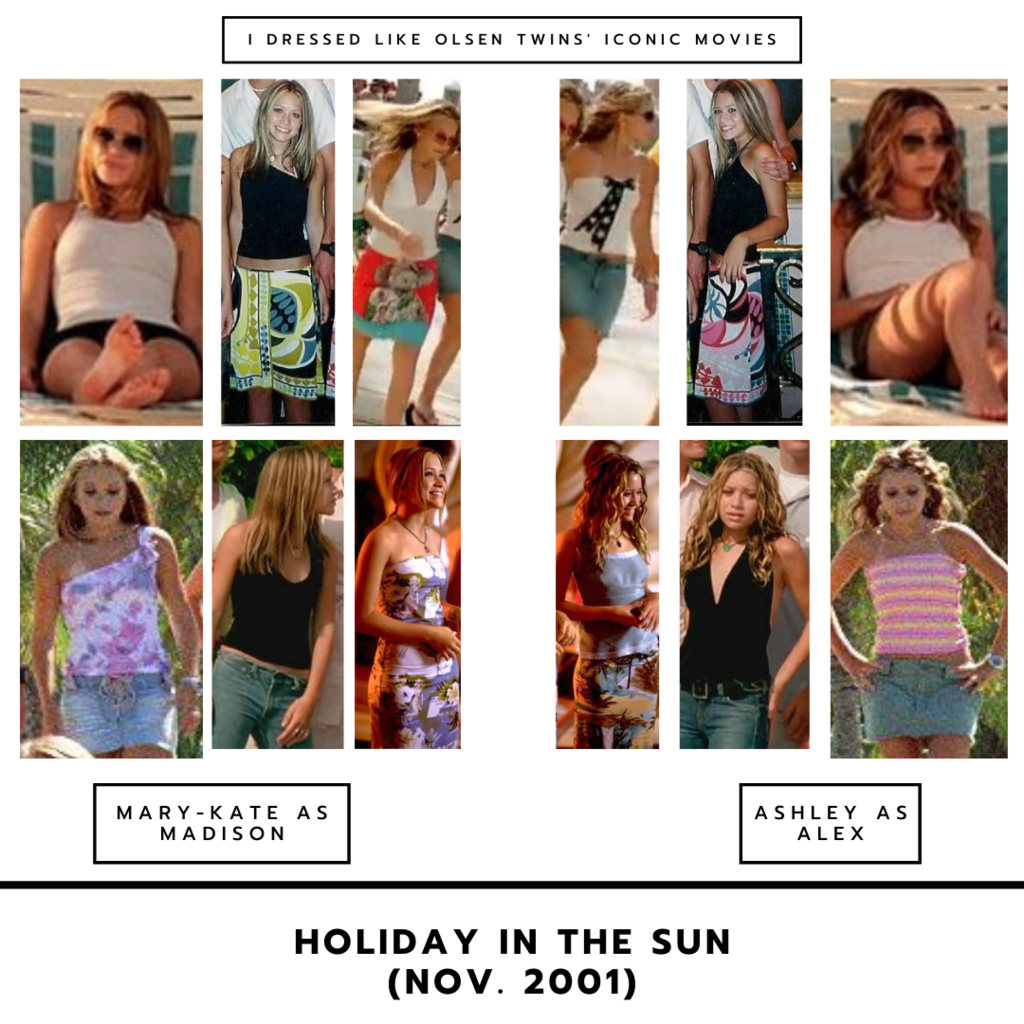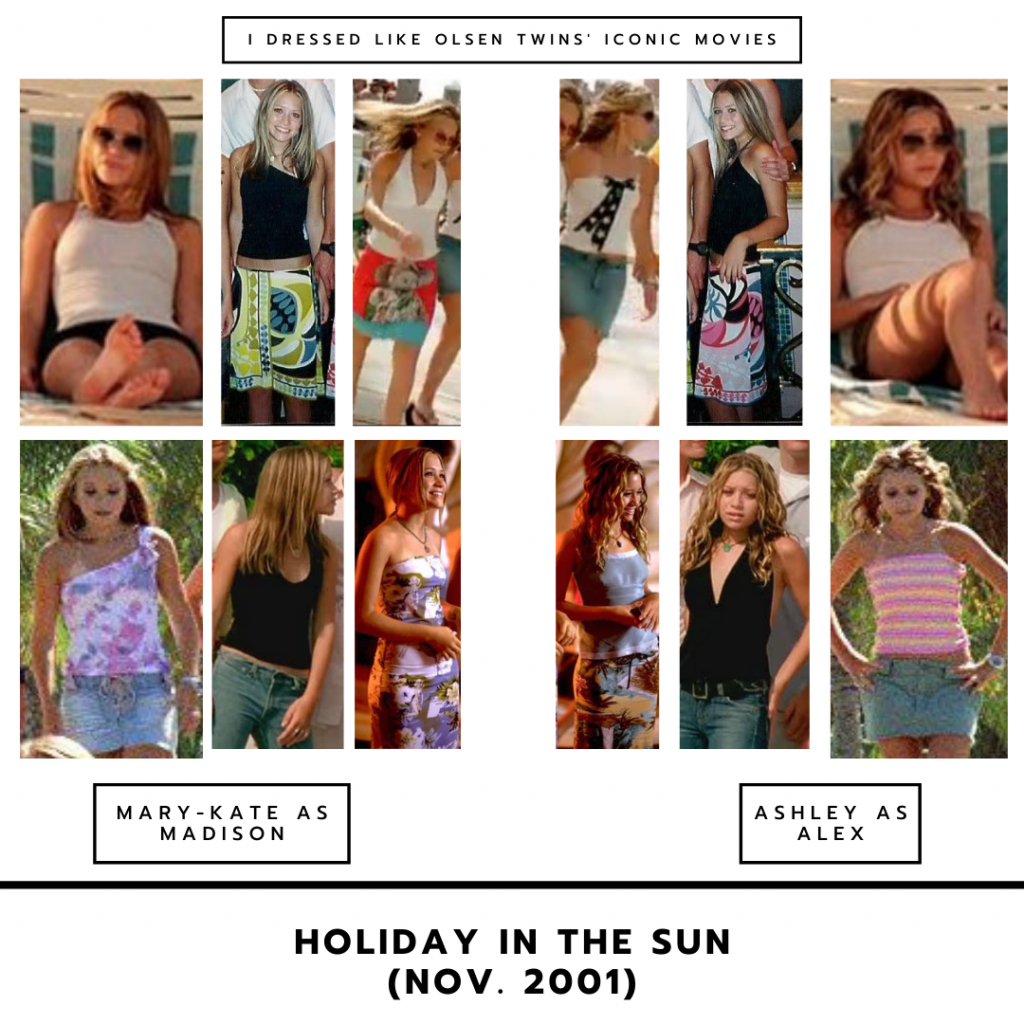 For Wednesday's inspiration I chose my favorite Olsen movie, Holiday in the Sun. It was released in 2001 and it stars Mary-Kate and Ashley as Madison and Alex Stewart.
In the film, the twins are whisked away to The Bahamas by their parents for winter break. Initially, the sisters are disappointed that they didn't get to go to Hawaii with their friends, but overcome it by enjoying their newly earned freedom in the form of their own suite, as well as the beaches of the Caribbean.
Mary-Kate plays the more responsible and put-together twin, Madison. Ashley is Alex, the more free-spirited and naïve sister. In this film, they wear practically the same outfits every time: if they wear the same skirt, the main difference might be the color (usually red for Alex, and blue for Madison) or they wear the same color scheme but change the style of their tops.
Holiday in the Sun Style Recreation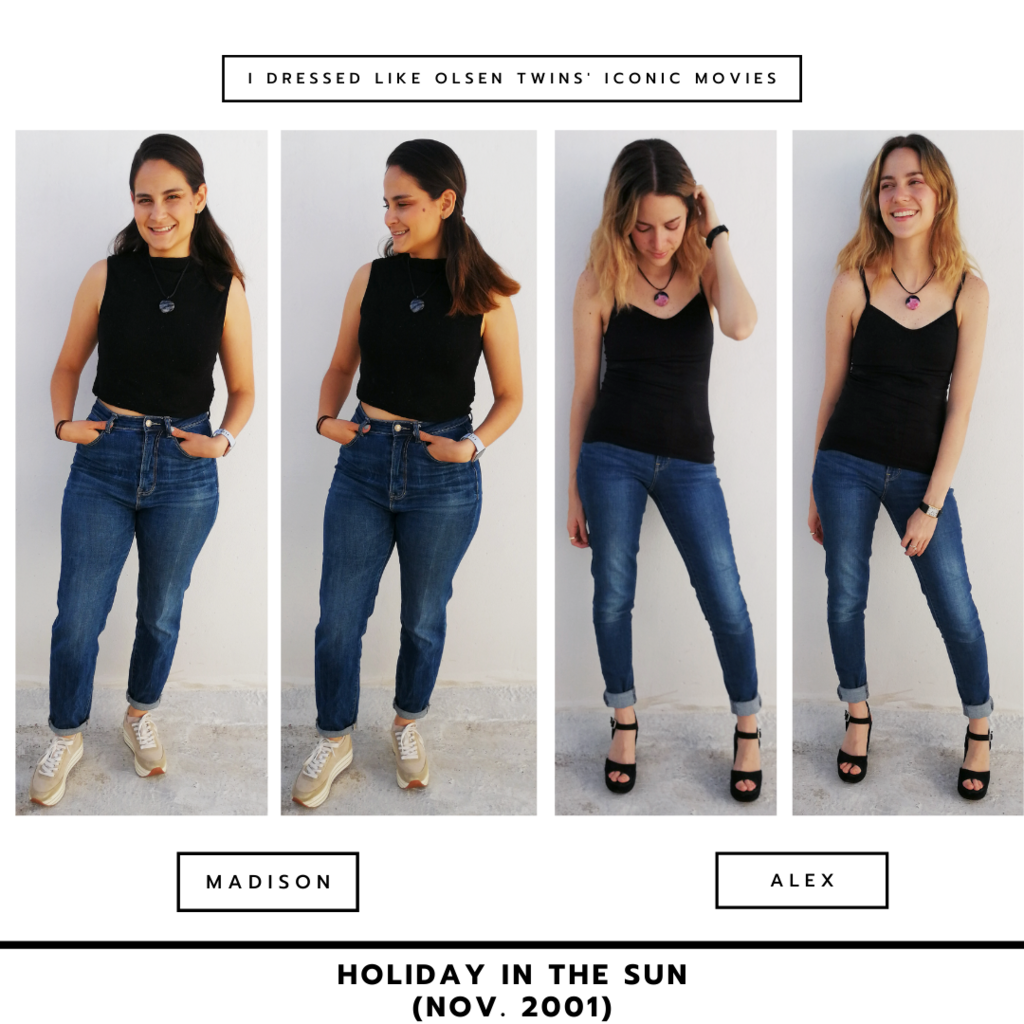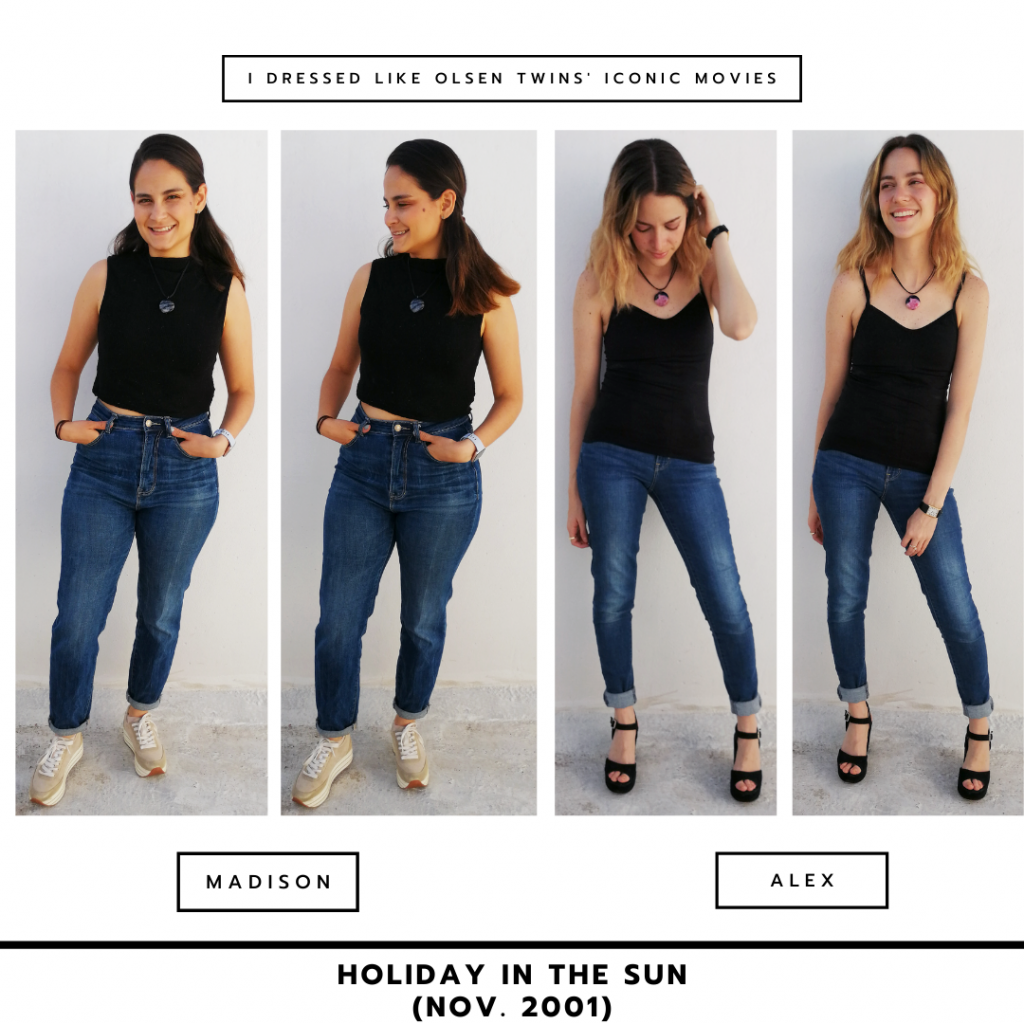 For this Olsen twins fashion recreation, I decided we should do the most twin-ish look of the week. We went for the black top and jeans combo.
My sister, as Madison, wore a black mock neck crop top and a pair of medium wash, high-rise jeans. For shoes, she used a pair of platform sneakers, similar to a pair Madison wears in the movie. She parted her hair to the left, since that's Madison's go-to look.
For my 'Alex' look, I wore a black tank top and a pair of high rise jeans, in the same wash as my sister's jeans. Instead of platform sneakers, I went for black platform heels. I also left my hair to air-dry, so it was naturally curly, and I parted it in the middle, since Alex's hair-style is curly and parted that way.
We even wore matching quartz necklaces too: my sister's has a dark-blue stone and mine has a purple and pink stone.
We really liked the outfits. They didn't work totally for the time of year though: we both added jackets later in the day and I changed my shoes for a pair of booties. Still, this Olsen twins fashion experiment was fun! It was a great, and kind of weird, sensation to be almost matching with my sister all day. We do share a lot of items, but we have very different styles, so we usually don't look like we are wearing the same outfit.
4. Thursday – When in Rome (2002)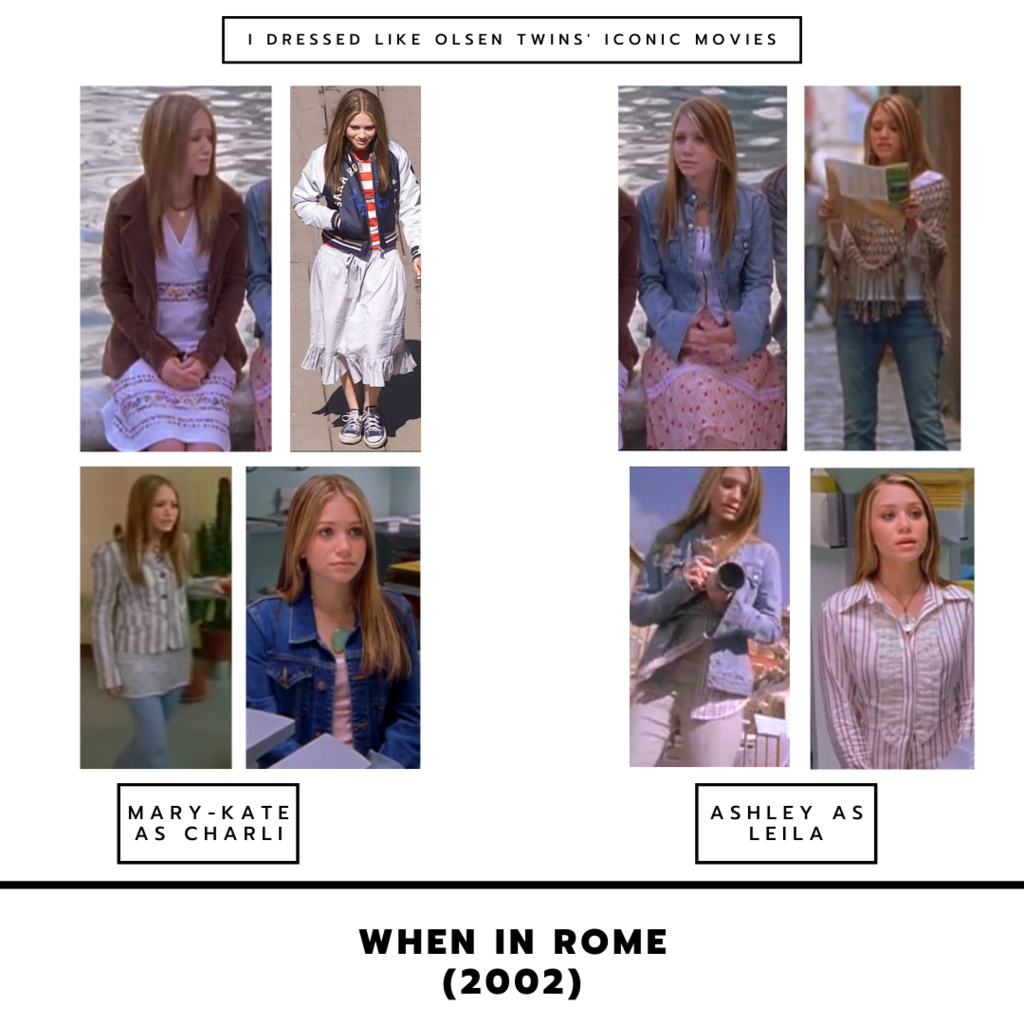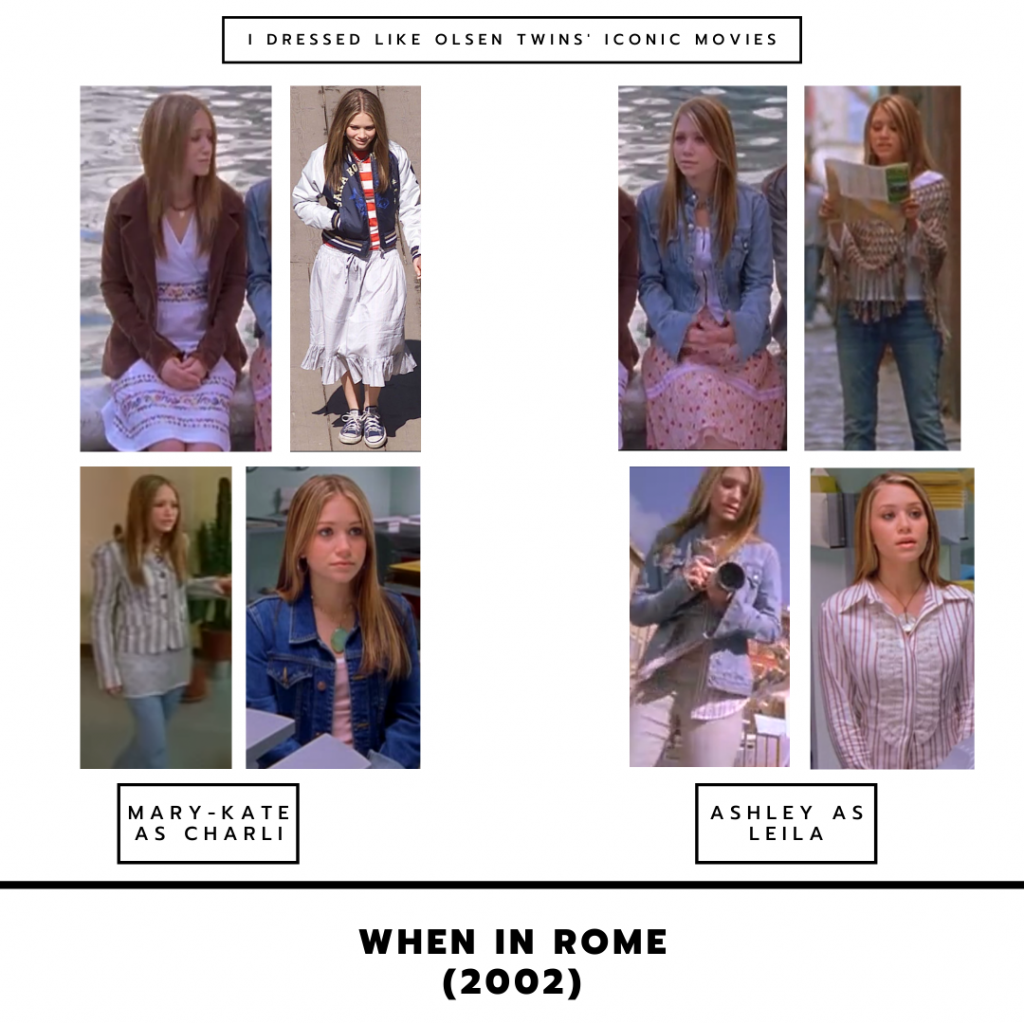 When in Rome was one of the last movies we saw from the Olsens. It wasn't our favorite and I didn't remember a lot of it until I re-watched it for this post.
In the film, twin sisters, Leila (played by Ashley) and Charli (played by Mary-Kate) go to Rome in order to participate in the Summer Intern Program at an international fashion company. As they struggle to keep up with their respective jobs, they meet new friends and a couple of enemies.
I struggled a lot to differentiate between Mary-Kate and Ashley while watching this movie. Then, I realized MK wears her hair parted down the middle and Ashley to the left. They wear extremely similar color palettes, neutrals with muted colors, and items, such as Oxford shirts, flowy dresses and structured jackets.
When in Rome Style Recreation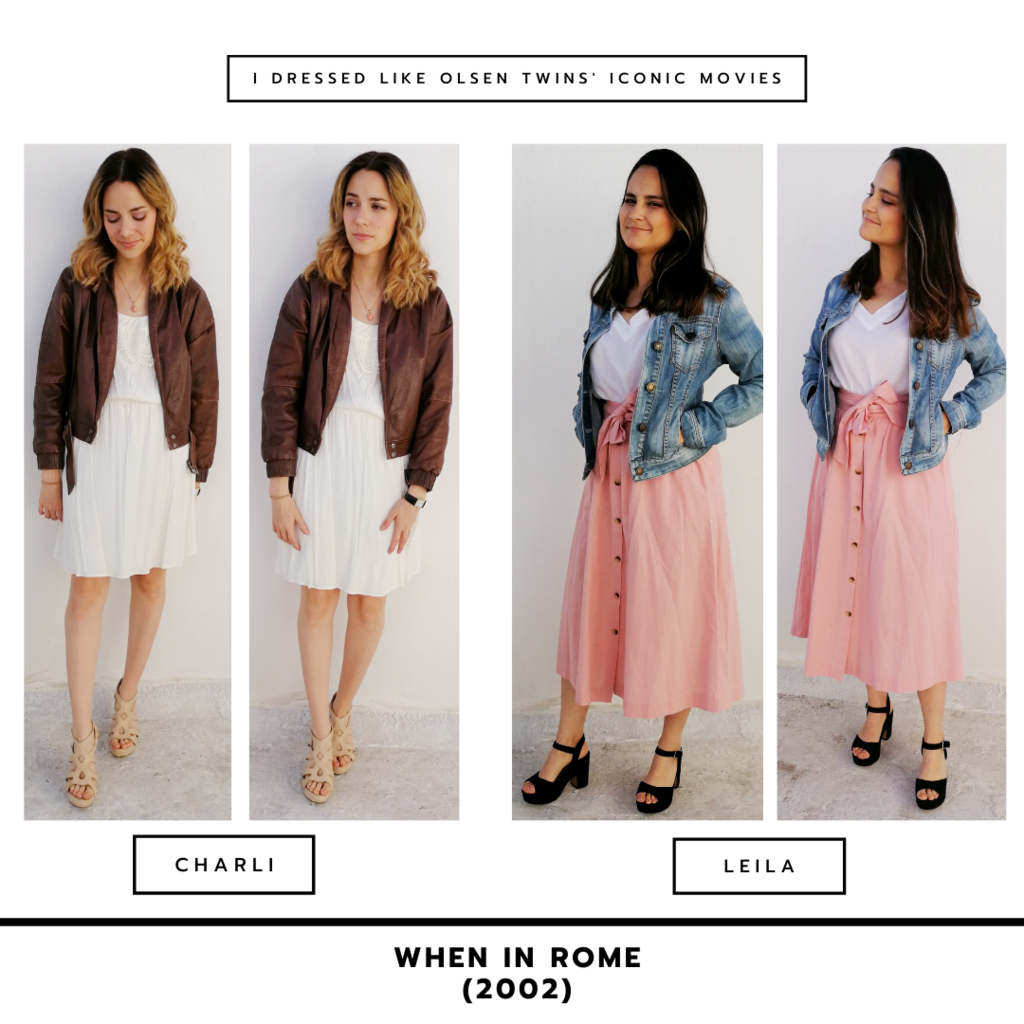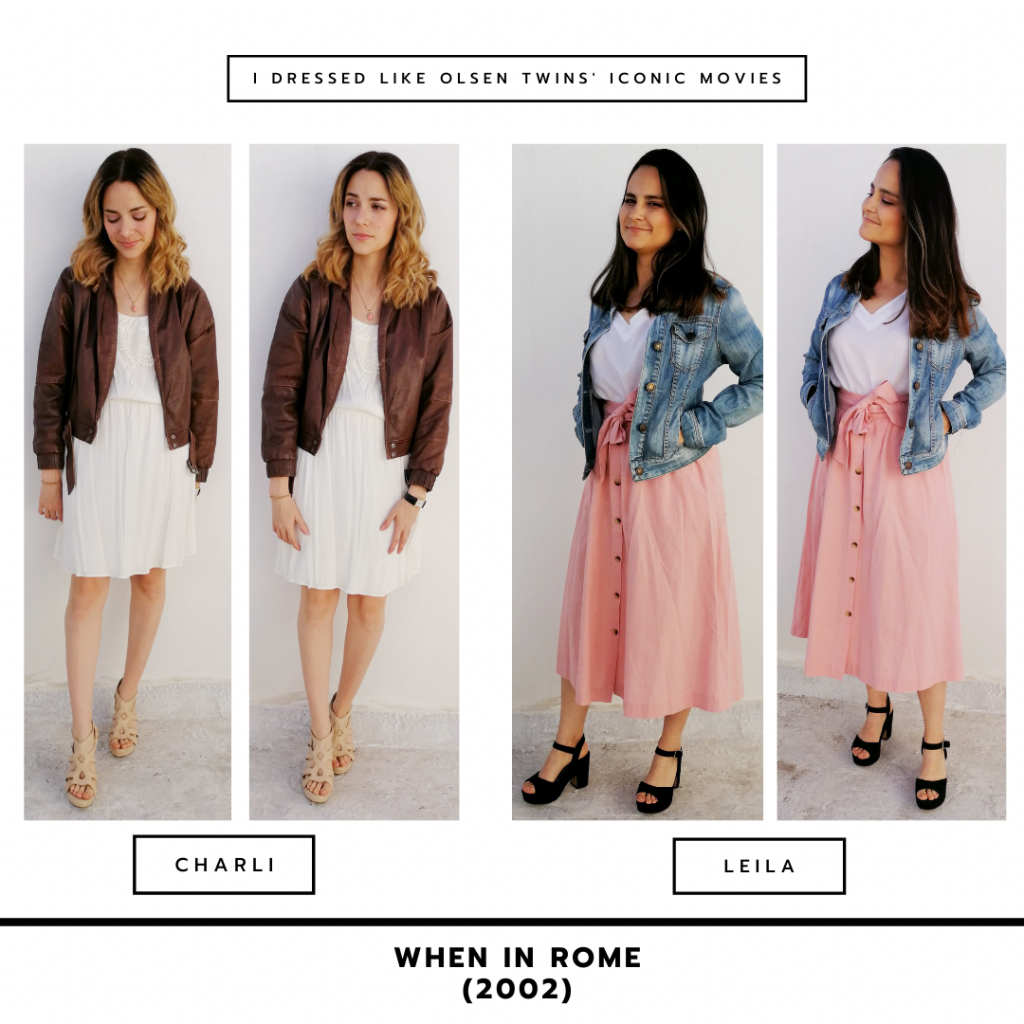 This time, my sister dressed like Ashley's character, Leila. She wore a pink midi skirt and a white shirt, and she layered the look with a denim jacket. For shoes, the sisters wear platform sandals, heeled boots and sneakers throughout the film. For this particular outfit, Leila wears sandals, so my sister used a pair of black platform heels. She also parted her hair to the side.
On this day, I took on Mary-Kate's character, Charli. I went for a simple white dress that I borrowed from my sister. In the film, Charli is wearing a corduroy blazer, but I didn't have one. Instead, I wore a brown leather jacket to keep the same color scheme. Finally, Charli wears platform sandals, so I added a pair of neutral platforms to the look.
These were great outfits! Personally, not my favorites of the week, but still great. I don't usually wear all white, especially not in a dress, so I wasn't very comfortable. My sister has worn versions of her Leila look before, with the same color scheme and items, except for the shoes, so she was happy with her outfit. Thinking back, these looks could've been more transitional with a pair of booties and tights.
5. Friday – New York Minute (2004)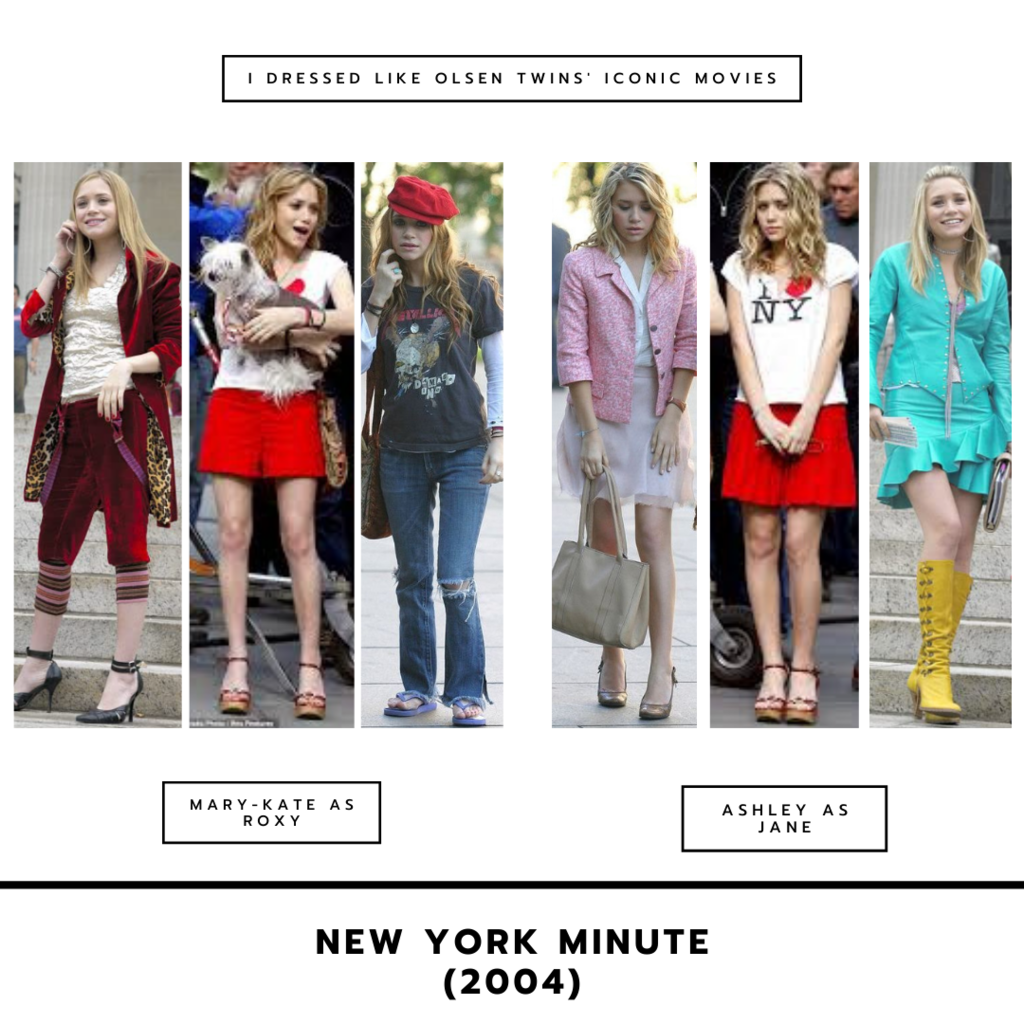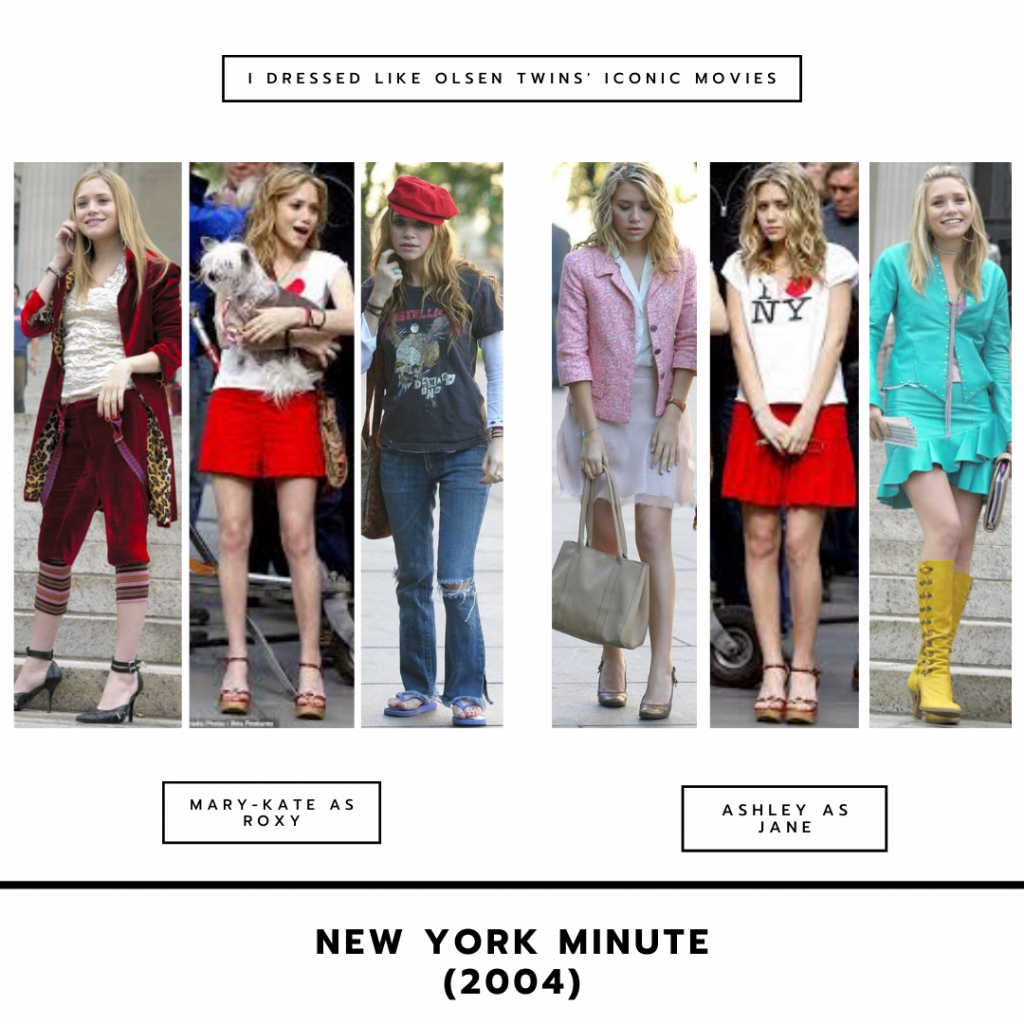 New York Minute was the last movie the Olsens did and the only one, besides It Takes Two, to be released in theaters.
The film, which premiered in 2004, follows the Ryan sisters. Jane Ryan (played by Ashley) is an over-achiever, responsible and intelligent senior. Roxy Ryan (played by Mary-Kate) is Jane's rebellious, creative and laid-back twin sister. They don't get along, at all. When Jane needs to go to New York to give a speech that will define her college future, Roxy tags along in the hopes of sneaking backstage at a Simple Plan concert.
This film is an Olsen twins fashion fan's dream. Each girl has her own style, and it's easy to know which twin is which at all times. Ashley's Jane is a preppy, feminine, and put-together character. Her color palette is comprised of pastel colors, white, and, at the end of the film, turquoise and yellow. Items-wise, she wears blazers, heels, skirts and structured bags.
Mary-Kate's Roxy is an edgy, laid-back, cool character. Her color palette is a lot darker than Jane's, comprised of black, red, burgundy and a bit of white. She uses items like ripped jeans, band T-shirts, flip flops and hats. She never wears a dress or a skirt.
New York Minute Style Recreation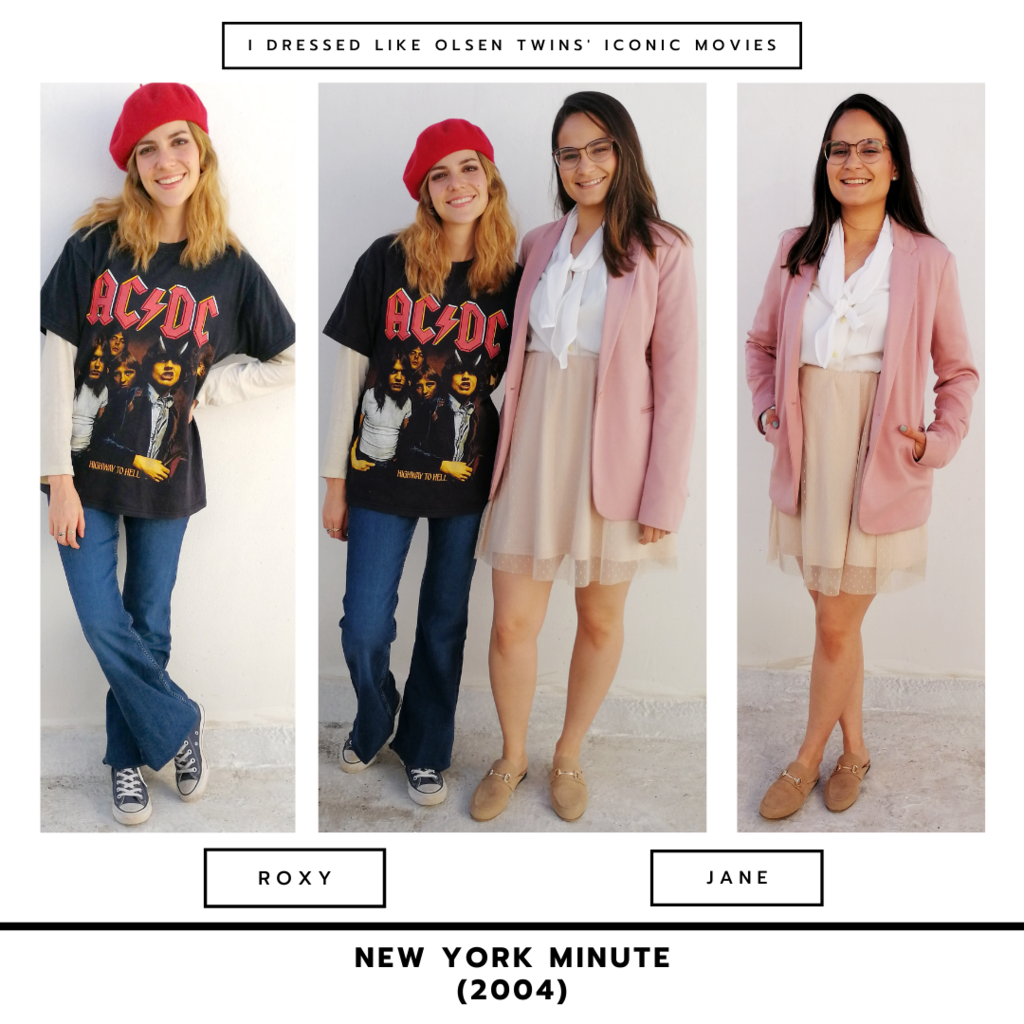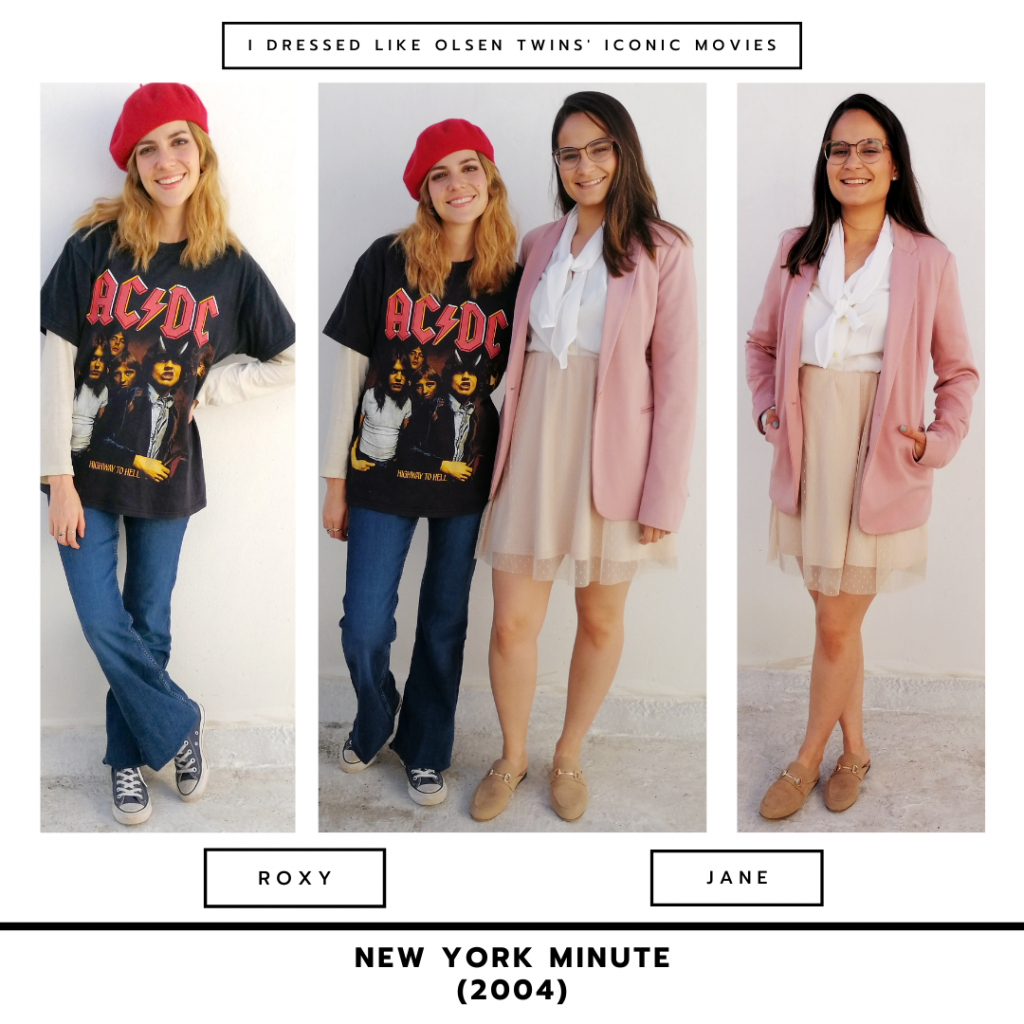 For our final look of the week, my sister recreated Jane's look and I took over Roxy's style. This one was more of a personal choice, since their styles in this movie are closer to our individual styles and fashion choices.
For my sister's Jane outfit, she wore a simple white shirt with a little knot tied in the front. For the skirt, she took a light pink midi skirt she has and folded it up so it would be a mini skirt, like Jane's. Then, she wore a mauve pink blazer and a white shirt that has a little knot on the front. Finally, for shoes, we had a bit of a debate between heels or mules. We decided on the nude mules, since Jane's heels break at the beginning of the film and my sister preferred the more comfortable option.
To recreate Roxy's look, I wore a white long-sleeved tee under a vintage black AC/DC t-shirt. For bottoms, I used a pair of medium wash flare jeans. My sole accessory was my red beret. I know Roxy wears flip flops in the film, but it was colder today than the rest of the week, so I opted for a pair of blue high top Converse. I also darkened my eye shadow for this look.
We're biased because, like I said earlier, these looks are closer to our personal styles than all the others. But these outfits were our favorites! Both of us were very comfortable and used only items from our closets to achieve them. My sister did add a pair of tights later in the day, since it got colder, and I threw on the brown leather jacket from Thursday.
Last Thoughts
It was a very fun week! Or, two weeks, since I spent the week before watching the Olsens' movies and deciding which ones I'd like to use. There's also the fact that my sister helped me out this week and it was a great way to spend more time together. We both loved the Olsen twins' movies while growing up.
My sister's favorite outfits were the Winning London black and white one and the New York Minute pink ensemble. My favorites were the Holiday in the Sun twinning looks and New York Minute's vintage-rock one. Huge thanks to my sister for being the best and helping me out!
The Olsen Twins may not be the icons they once were, but the 2000s are coming back, fashion-wise. So, why not look for inspiration with the OG fashion icons from that time? Choose a film, a red carpet or street style look from either of them and you will have plenty to work with. And if you have a sister, and can convince her to do it, getting inspired by them together is a fun activity to do.
What do you think of my Olsen twins fashion guide?
Did you like this post? Were you an Olsen fan? Have you seen these movies? Which one was your favorite? Which outfit would you wear? Let us know in the comments below!