This post will show you how to recreate iconic movie outfits for women.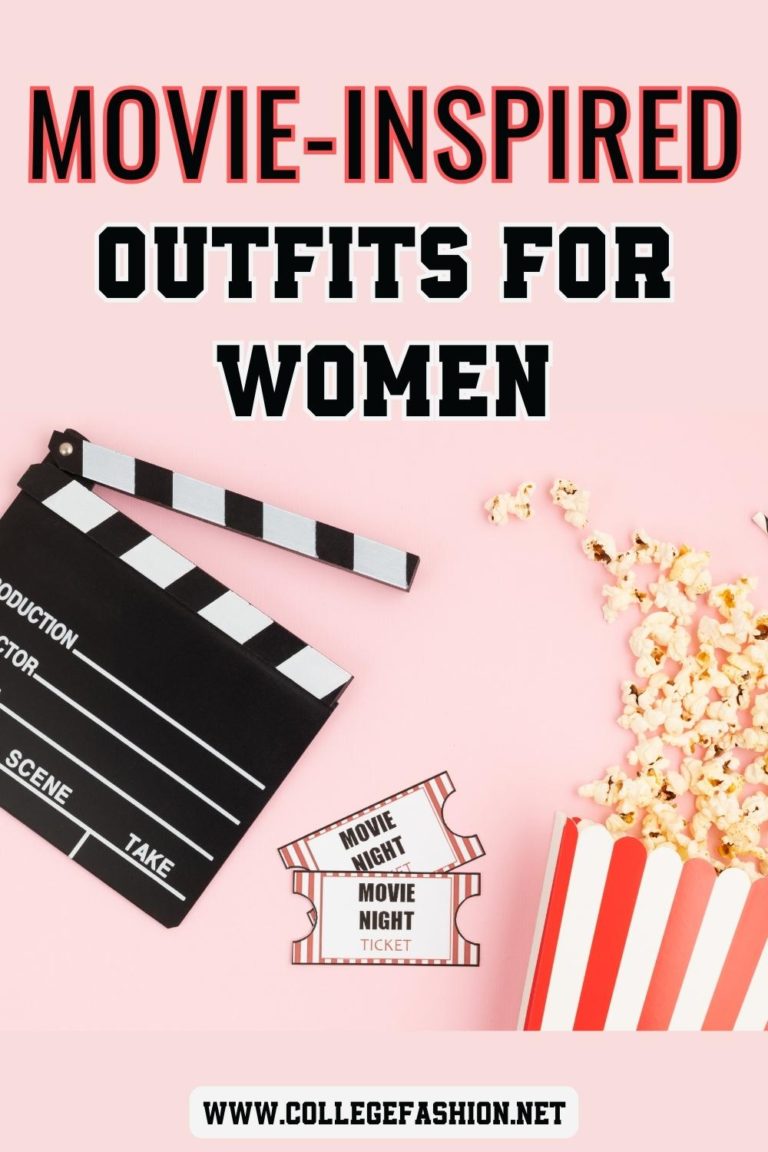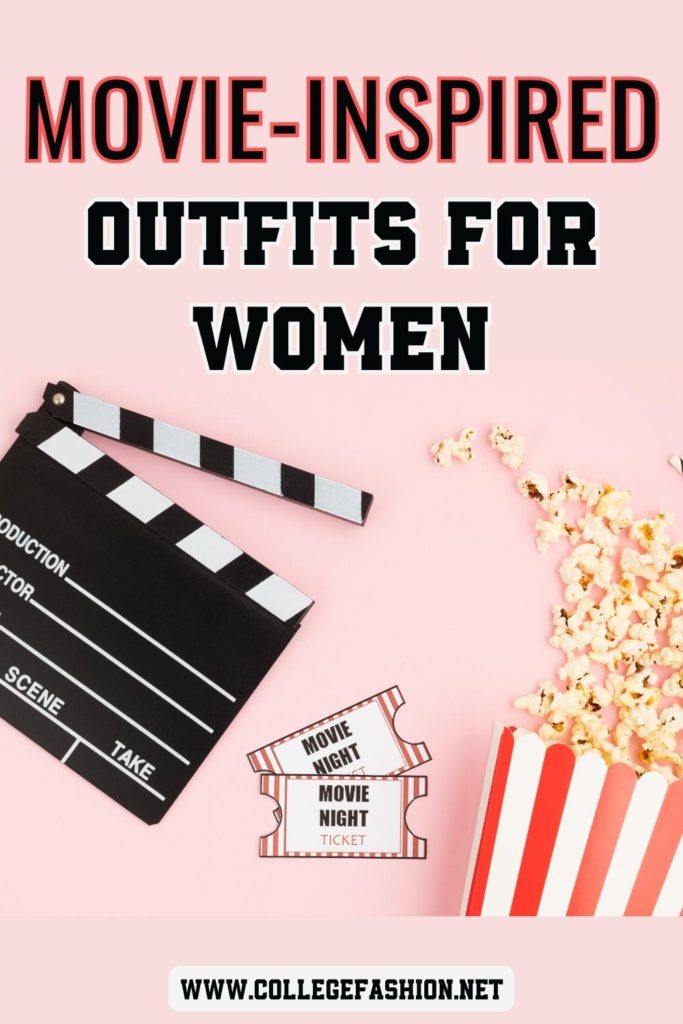 IDK about you, but when I watch movies, I'm paying just as much attention to the character's wardrobes as I am to the plot. There's often so much fashion inspiration to take from films, even if the movies have nothing to do with fashion plot-wise.
In this post, we are reviewing the fashion in some of our favorite flicks and showing you how to recreate their outfits right now. By putting a modern and trendy spin on these iconic film looks, you'll feel like a *main character* in your daily life.
So grab your popcorn, and let's get into the movie-inspired outfits!
Glamour and Individuality in Film Fashion
Some movies put fashion at the forefront, and tbh, that's just how we like it! If you want to recreate a glamorous, film-inspired look, look no further than these flicks.
The Devil Wears Prada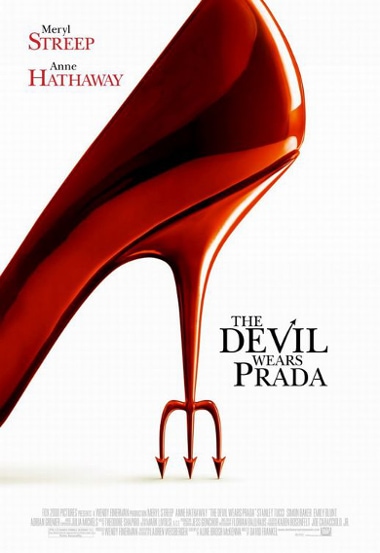 If you love fashion, chances are you have seen The Devil Wears Prada.
The film follows aspiring journalist Andrea "Andy" Sachs, a recent college graduate played by Anne Hathaway who is oblivious to the fashion world but lands a job working for Miranda Priestly (Meryl Streep), the editor-in-chief of the fictional Runway magazine. Andy is not welcomed by her more fashion-forward coworkers, but the magazine's art director, Nigel, steps in to help her better fit in among others in the world of fashion.
Throughout the movie, Andy tackles the demanding tasks given by Miranda while also developing a better understanding of fashion along the way. But as Andy becomes more immersed in the fashion world, she also begins to experience the strain her new job puts on her personal life and relationships.
The Outfit: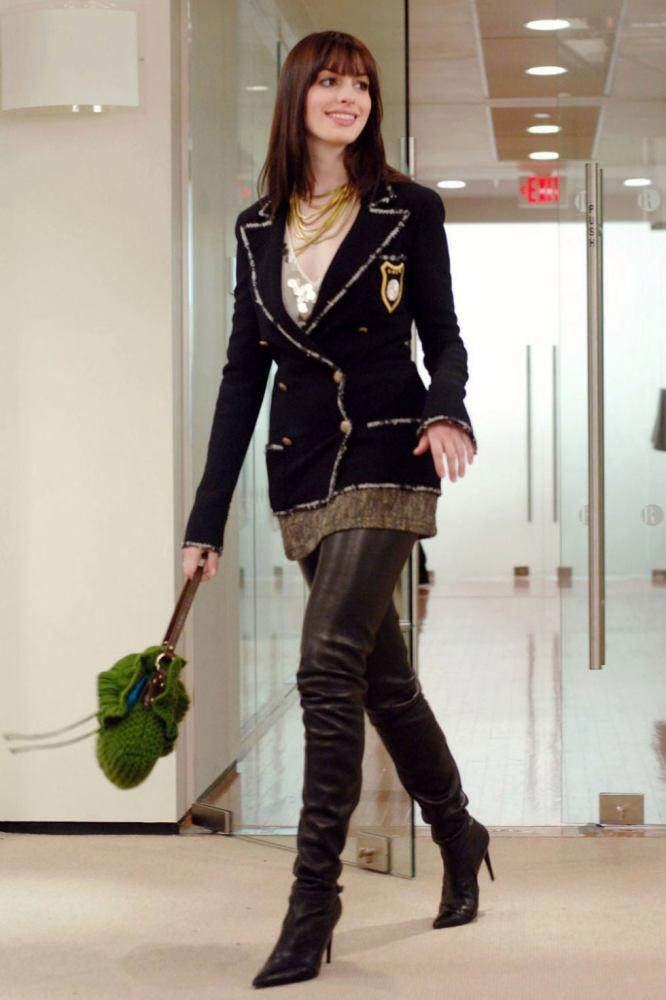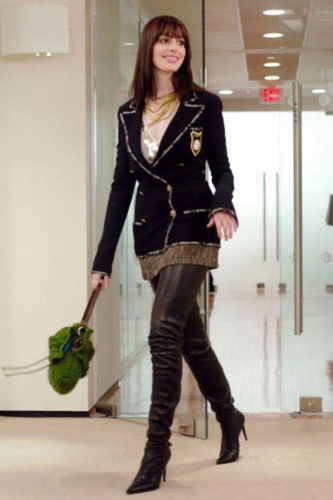 Who doesn't love a good makeover scene?! With Nigel's guidance (and enviable access to the magazine's closet filled with fabulous designer clothing), Andy shocks everyone when she turns up to work in a stylish new look.
Wearing a tipped blazer over a sequin top (or dress, not quite sure), faux leather pants, layered gold necklaces, a green crochet handbag, and pointy-toe Chanel boots, Andy has been transformed into a new stylish and sophisticated version of herself.
Get the Look:
Update Andy's iconic look with a pair of black straight-leg faux leather pants rather than her pants' skinny silhouette. When paired with an ivory sequin cowl-neck top and some black pointy-toe faux leather ankle boots, you'll feel ready to take on the town.
Though Andy wore her ensemble to the office, I'd suggest this outfit for a night out or a dressy dinner reservation since details like the sequins and faux leather give the look a nighttime feel.
Accessories are obviously crucial, but for 2023, consider opting for a more delicate layered gold necklace rather than Andy's ultra-bold one. You'll want to give the outfit a pop of color with a green handbag as Andy did, but rather than crochet, try a more structured bag for a modern vibe.
Most notable is Andy's prep school-inspired double-breasted blazer with contrasting trim and a crest detail. Get the look with this classic double-breasted tipped blazer featuring prominent gold buttons for a luxe, super-chic aesthetic.
Age of Adaline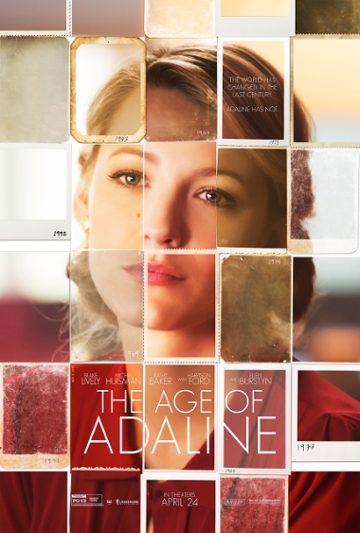 The Age of Adaline is a film that follows Blake Lively as Adaline, a woman born in 1908. In her twenties, she gets into a car accident and is then struck by lightning, which changes her life forever.
After her accident, Adaline discovers over time that she does not age. She spends years living a solitary life, changing her name and appearance every decade. The film moves between the present day and Adaline's flashbacks, where we discover her past and the love that weaves into her life in the present.
The Outfit: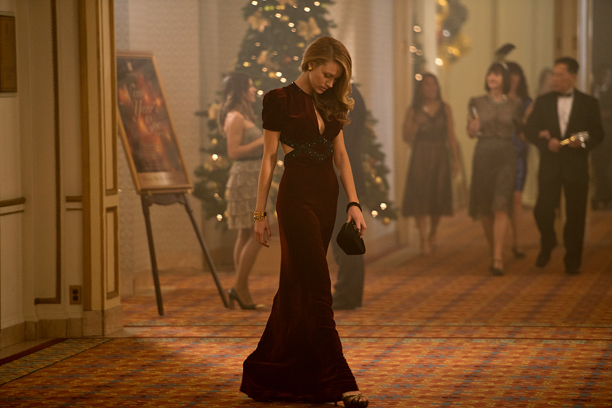 Adaline's style is timeless and classic, no matter what period she finds herself in. Her most glamorous look in the movie is a burgundy velvet evening dress with cut-outs and embellishments around the waist, which she wears for New Year's Eve celebrations in 1945 and 2014.
In the movie's present-day time period, she wears an elegant green peplum coat over the dress, along with black leather gloves, as she heads out into the cold.
Get the Look: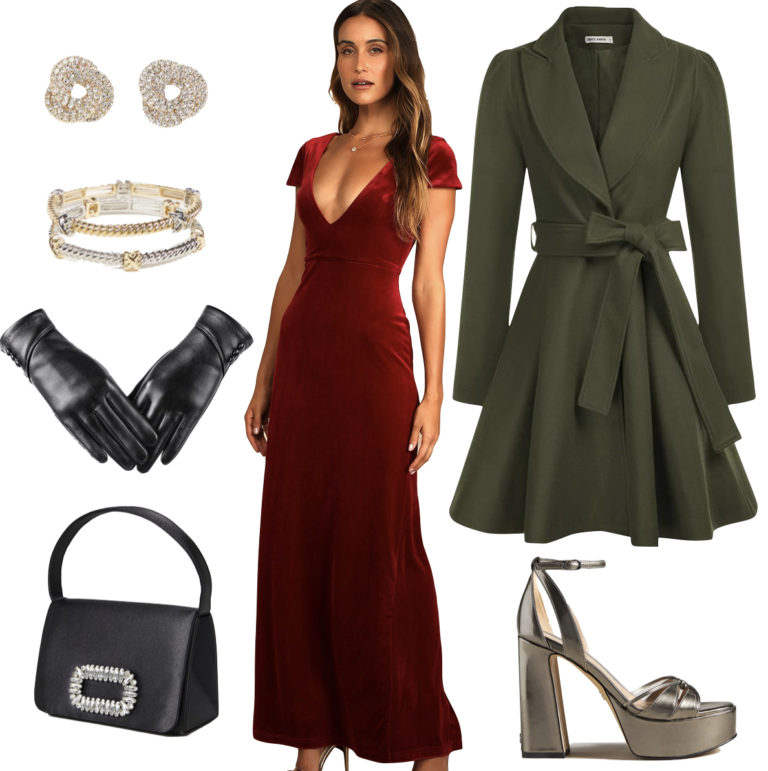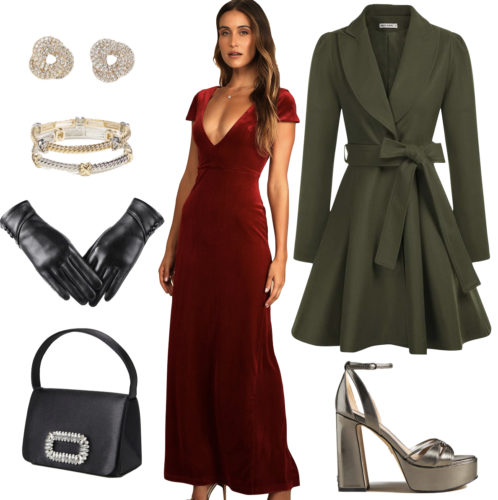 Products: Dress, Coat, Bag, Gloves, Heels, Bracelets, Earrings
Glam it up like Adaline in a long burgundy velvet evening dress, which will have you looking—and feeling—like a movie star on a red carpet.
This velvet gown features short sleeves like Adaline's dress, with a plunging V-neckline that will give you a similar look to Adaline's teardrop-shaped front cut-out. Its rich color would be especially ideal for the holiday season, which is just around the corner!
Accessorize with evening-ready pieces like some rhinestone pave knot earrings, mixed metal bracelets similar to Adaline's bangles, and a satin handbag with a fancy faux gem buckle which adds to its glam look.
If it's chilly out, bundle up in an elegant green peplum coat as Adaline did, and wear some black leather gloves for a chic touch. Long dresses call for high heels, and these metallic olive platform ankle-strap heels perfectly tie in the gold, silver, and olive green accents within the ensemble.
Comedy and Contemporary Fashion
These movies are hilarious, but their fashion is no laughing matter! Check out some of our favorite comedies and their contemporary movie-inspired outfits.
Bridesmaids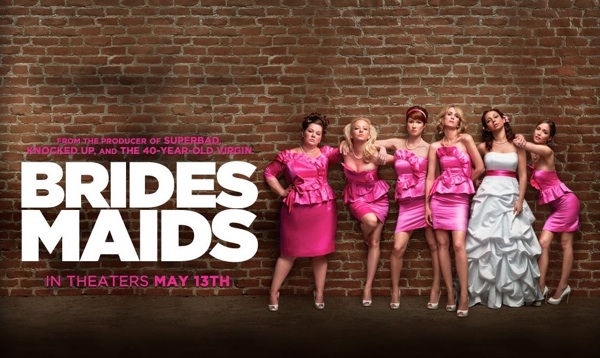 Bridesmaids chronicles the hilarious trials and tribulations of Annie (Kristen Wiig), a struggling pastry chef who has been asked to be her best friend Lillian's (Maya Rudolph) maid of honor at her wedding. Competition arises between Annie and Helen (Rose Byrne), a pretentious bridesmaid who is also a part of Lillian's wedding party.
Along with other eclectic bridesmaids who make up the group, hijinks ensue, but ultimately, everyone comes to realize the true meaning of friendship.
The Outfit: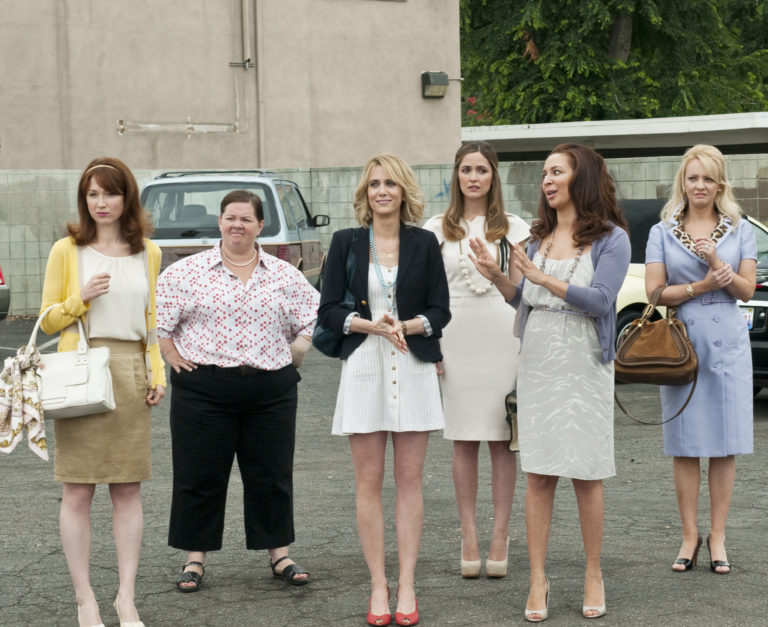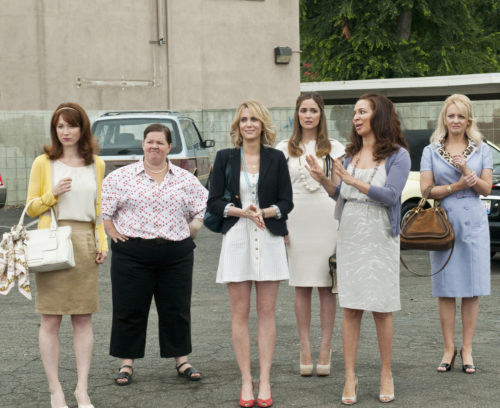 Annie's style is simple yet put-together and totally reflects the fashion at the time of the movie's release in 2011. When the group heads to a bridal shop for their dress fitting, Annie attends wearing a striped mini dress with a blazer worn on top, red pumps, and layered turquoise necklaces.
Get the Look:
Modernize Annie's ensemble by going with a blue and white striped shirt dress in a mini length. This dress features contrasting stripes and a collar, giving it a classic yet modern look. A navy blue blazer is a wardrobe essential that never goes out of style, but rather than a fitted one like Annie's, opt for a blazer with a more oversized fit.
The color of the season is undoubtedly red (especially bright cherry red), so Annie's footwear still works—minus the peep toes! Instead, try these red patent heels that look like ballet flats with a small block heel; ballet flats are another huge fashion trend this season, and these shoes hit the mark.
Bring it all together with a turquoise necklace in a shorter length with a faux pearl pendant and a city bag with a denim fabric exterior and contrasting handles that tie perfectly into the outfit's color scheme.
Girls Trip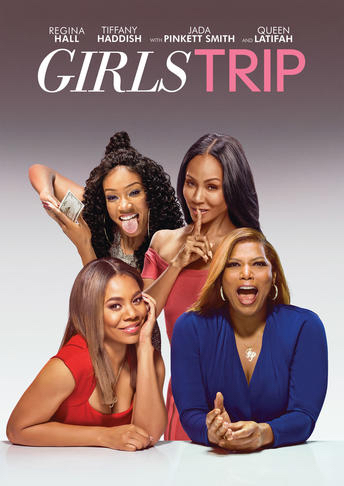 Girls Trip stars Regina Hall, Queen Latifah, Tiffany Haddish, and Jada Pinkett Smith as college BFFs who travel to New Orleans to rekindle their friendship after years apart.
Known as the "Flossy Posse" in college, the group had grown apart over the years due to different life circumstances. They then re-discover their strong bond after a wild weekend of escapades together.
The Outfit: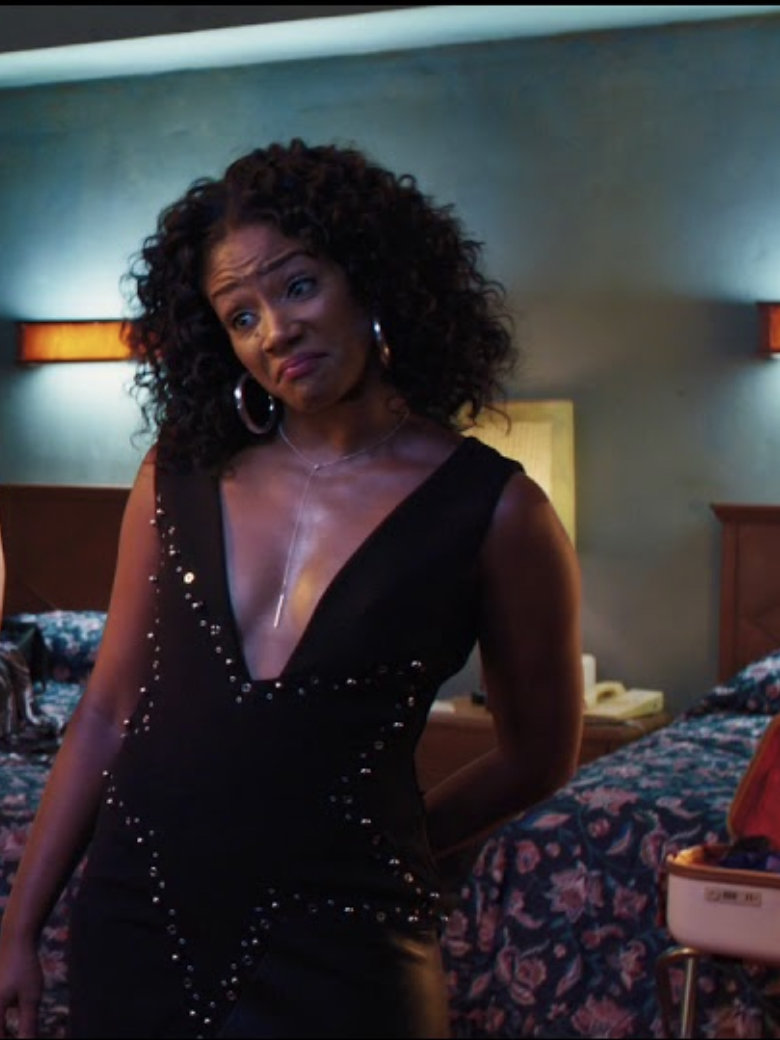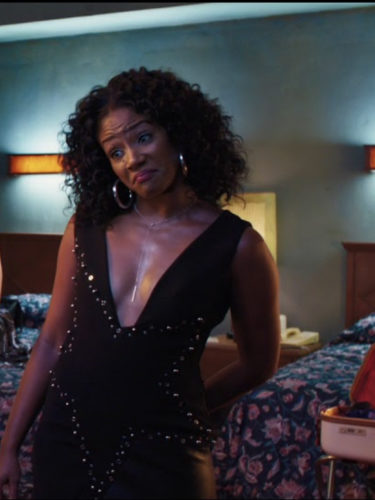 This movie was Tiffany Haddish's breakout role, earning her recognition for her outstanding (and hilarious) performance, so it's only right to focus on one of her looks as Dina.
Dina is bold, outspoken, and impulsive, and her fashion sense reflects those qualities, too. For a night out with the girls, she wears a black mini dress with a plunging neckline and silver embellishments in the shape of a star, along with silver hoop earrings, a silver lariat necklace, and heels, making a significant statement.
Get the Look:
Even in 2023, you can't go wrong with Dina's outfit for a night out with friends. An LBD is always a solid choice, especially when you jazz it up with sparkly accents.
Rhinestone fringe is a trendy detail that serves as a modern update to the embellished star design on Dina's dress. This black mini dress features silver rhinestones under the V-neck bust and along the bottom in the form of fringe (which, BTW, is fun to dance around in!). By wearing a silver lariat necklace, you'll call even more attention to the sultry neckline, like Dina.
Go all out with other black and silver pieces like a rhinestone embellished bag and pointy-toe stilettos with an embellished ankle strap and bows. These items, along with some large silver hoop earrings, take the outfit to the next level and make it club or party-ready.
Alternative and '90s Fashion
When it comes to alternative fashion, it doesn't get better than the '90s. And with '90s styles back in fashion, there's no better time to recreate this aesthetic than now.
The Craft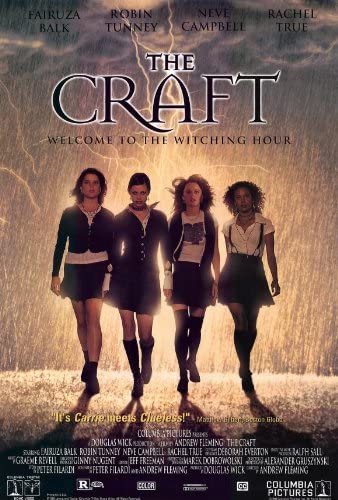 1996 film The Craft follows three teenage outcasts who convince the new girl in school, Sarah, to form a coven in order to dabble with witchcraft. Of course, they soon realize just how powerful—and dangerous—it can be, as repercussions ensue.
The outfits in The Craft are 90s grunge with a Catholic schoolgirl twist. Costume designer Deborah Everton took inspiration from what young women were wearing at the time, making sure everything was accessible to a teenage girl.
The Outfits: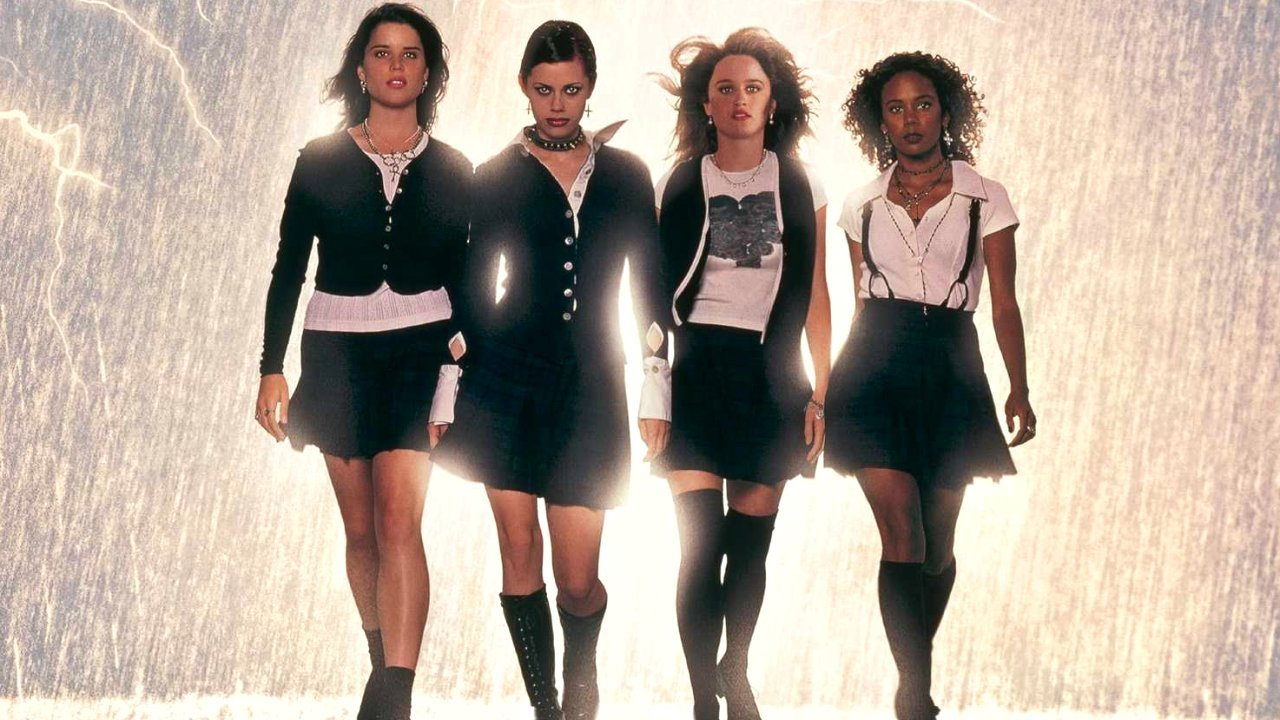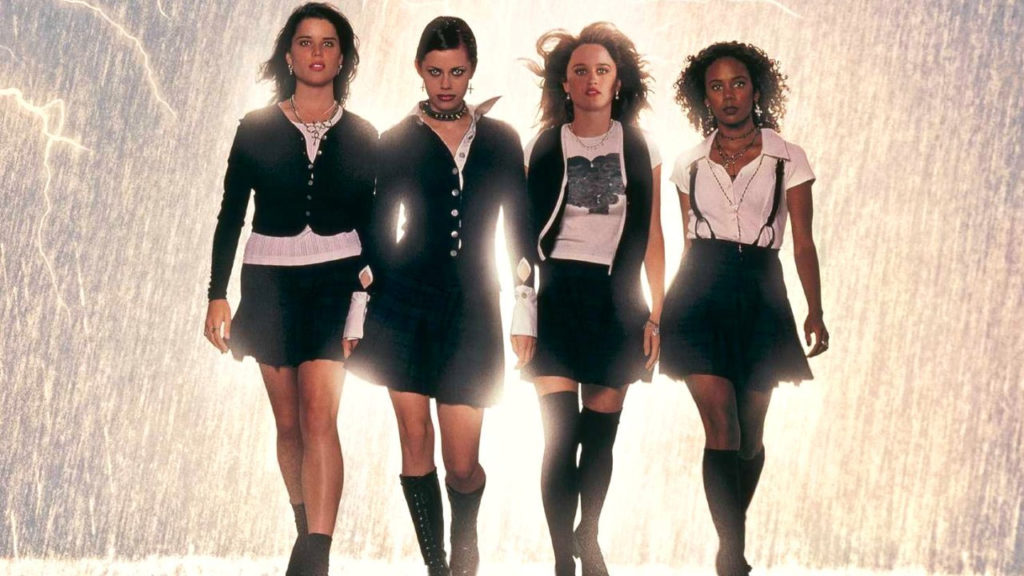 Edgy school uniforms instantly come to mind when thinking about the fashion in The Craft. The girls attended a parochial high school that required uniforms, but they could put their own individual spins on their daily required wear, which reflected their witchy interests.
Get the Look: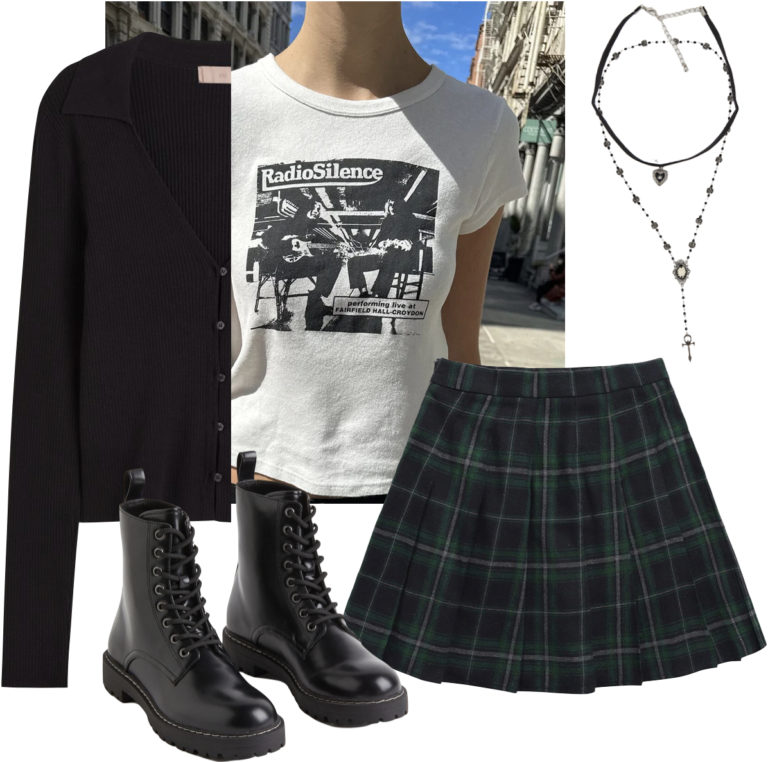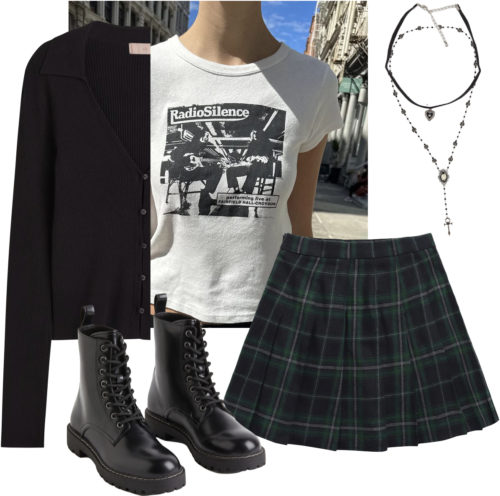 Products: T-Shirt, Cardigan, Skirt, Boots, Choker Necklace, Rosary Necklace
Luckily, pleated mini skirts are a huge trend right now, along with other '90s-inspired pieces, so this look feels on-trend for the current season—a perfect example of how cyclical fashion is, and how trends always seem to come back around!
A plaid pleated mini skirt with a dark color scheme is a must-have for this look, but you'll be able to style it many other ways throughout the season, too. Wear it with a white top, whether you opt for a classic button-down shirt or an alternative band tee for a rocker edge, and a black cardigan sweater on top.
Be sure to add in a bunch of gothic-esque jewelry, like a long rosary necklace and a black fabric choker necklace (since chokers were extremely popular in the '90s). Complete the ensemble with some badass combat boots or any chunky lace-up boots that have a grunge vibe.
Teen Style and Pop Culture Influence
These teen movies had an impact on pop culture, and they're about to have an impact on your wardrobe, too! Here are some movie-inspired outfits to show you how to make their fashion feel fresh again.
The Duff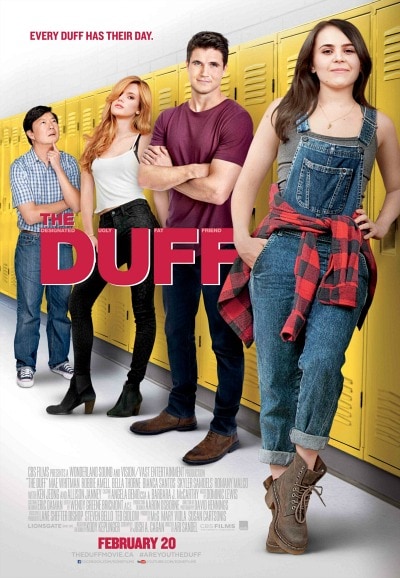 The Duff is a 2015 teen comedy starring Mae Whitman and Bella Thorne as high school arch archnemeses.
The titular "Duff" refers to the "Designated Ugly Fat Friend." In the film, the "Duff" is considered to be less popular compared to his or her friends and is therefore more accessible and used by others who want to reach the Duff's more popular friends.
After the main character Bianca learns that she is the "Duff" of her friend group, she decides to make it her mission to reinvent herself – with some help from her friend Wes, a popular jock.
The Outfit: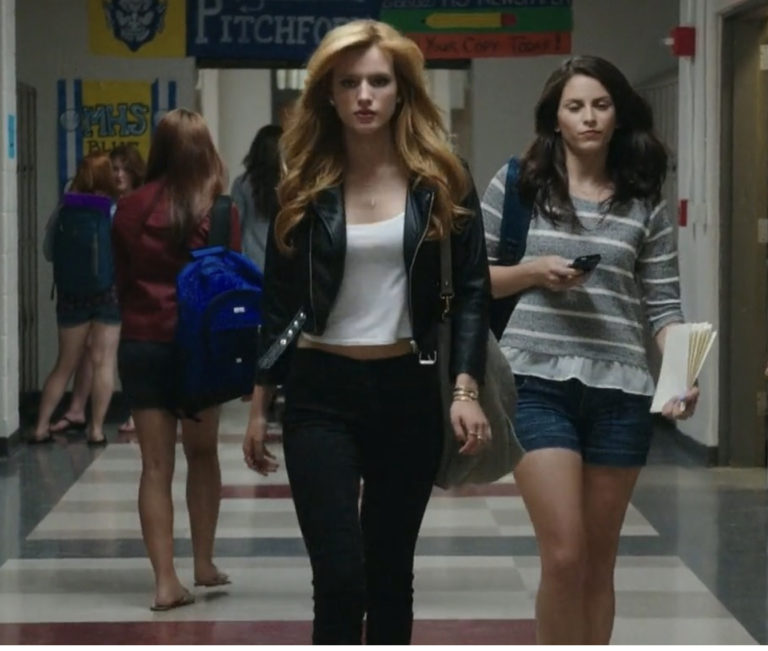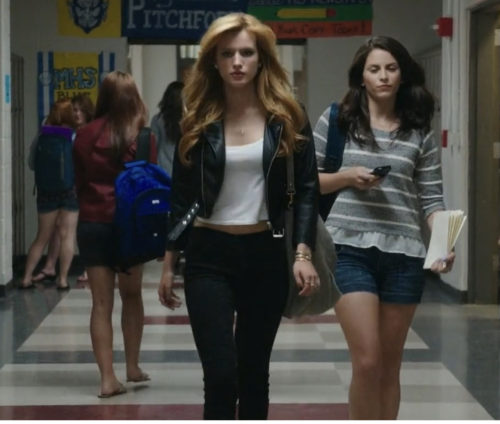 Perhaps the most timeless outfit in the movie is Madison's look featuring black skinny jeans, a simple white tank top, and a leather biker jacket. This no-fail outfit combination stands the test of time and can be worn day or night in many different scenarios.
Get the Look:
You may already have elements of Madison's outfit in your wardrobe, like a basic white tank top, which is a style essential.
Give it an edgy vibe with a black faux leather biker jacket, which is another must-have that everyone needs in their closet. Since skinny jeans aren't as popular in 2023 as they were in 2015, consider swapping them out for some black straight-leg jeans instead. You can dress them up a bit with some black square-toe ankle boots, which helps give them a more modern appearance.
Madison wore delicate jewelry in contrast with her large carryall bag; for an updated look, try a taupe-colored tote bag and some chunky silver hoop earrings instead, along with a dainty layered silver necklace.
Easy A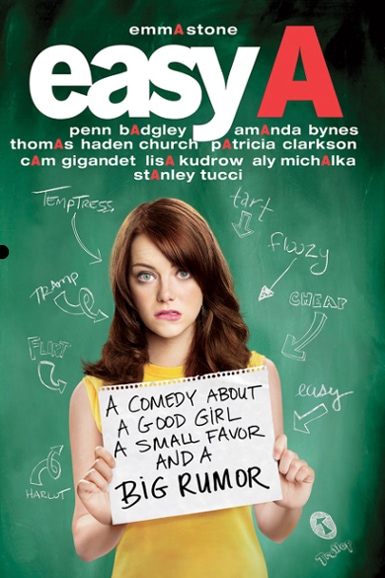 The comedy Easy A stars Emma Stone as Olive, an unnoticed girl in high school. The film begins with Olive telling a little white lie that quickly spirals out of control, and soon enough, everyone at school knows who she is. (But for all the wrong reasons!)
This movie is partially inspired by the 1850 novel The Scarlet Letter by Nathaniel Hawthorne, which is why the plot may seem familiar, but with a modern twist.
The Outfit: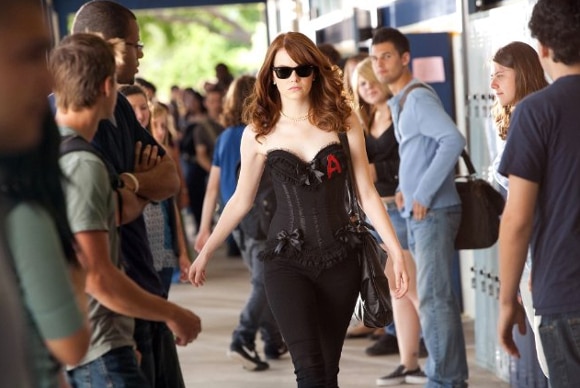 Once Olive decides to take charge of the damaging situation, she dons a Scarlet Letter-inspired red "A" over a black bustier top and black skinny jeans. This is one of the most recognizable outfits in the movie, and a similar getup works perfectly for a night out or any occasion when you want to show off your rebellious side.
Get the Look: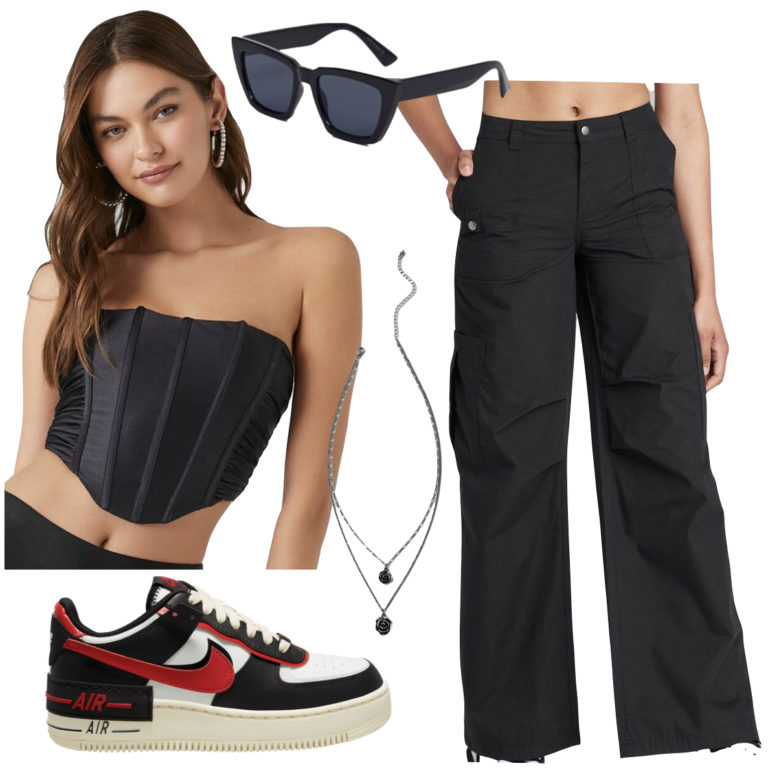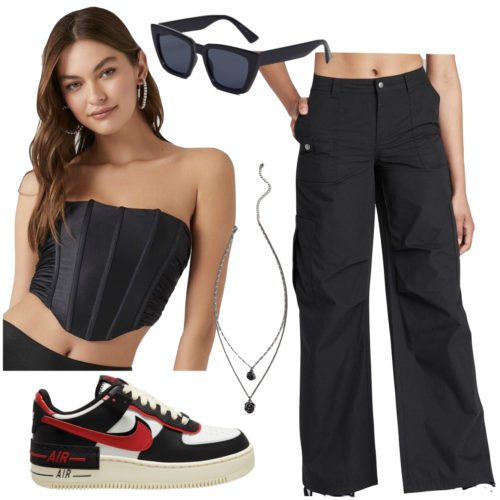 Products: Top, Sunglasses, Necklace, Pants, Sneakers
Give Olive's outfit the 2023 treatment by swapping out her black skinny jeans for some black parachute cargo pants instead. These "big pants" will balance the "little top," a.k.a. the strapless black corset top. While in the movie, Olive wore corsets to make a provocative statement, they now have become a mainstay in our wardrobes, especially for going-out outfits.
Rather than attach a scarlet letter to your chest, incorporate a pop of red with some cool, casual sneakers; these have a red and black color scheme that's perfect for this outfit. Throw on some dark, rectangular sunglasses and a cute rosette pendant necklace, and you'll be good to go!
Cinderella (2015)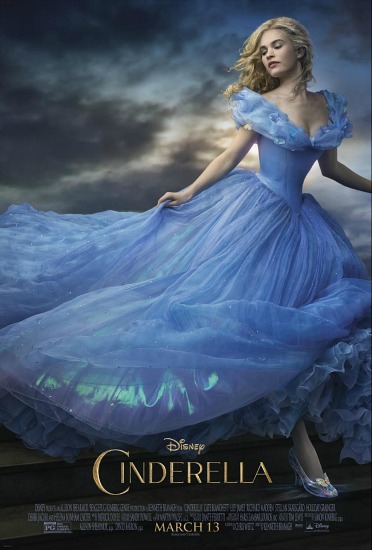 When it comes to Disney princess dresses, I'd argue that none are quite as recognizable as the blue gown worn by Cinderella.
This 2015 live-action film starring Lily James is perfect for those who grew up loving the animated classics and are interested in seeing how the fairy tale would come to life on the big screen. While the main storylines are parallel to those in the original animated Cinderella film, the movie also comes with a few minor differences.
You know the story: the film revolves around Ella, who is treated poorly by her stepmother after the death of her father. Ella's stepmother forces her to take on the duties of a servant, and her step-sisters ruin her life, including tearing the dress she was planning to wear to the king's ball. However, with some help from a fairy godmother and an encounter with the prince, Ella's life turns into one she could have only dreamed of.
The Outfit: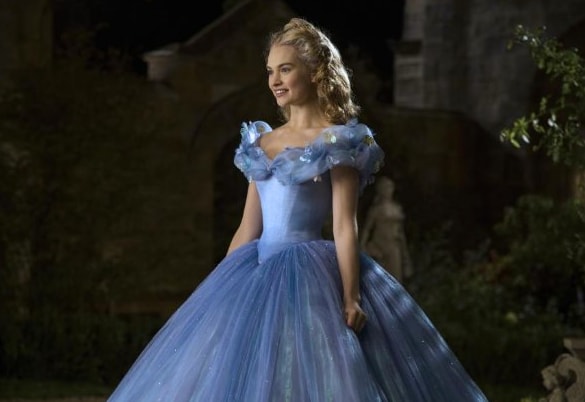 Cinderella's Fairy Godmother uses a spell to create a gorgeous gown for her to wear to the ball after her step-sisters ruin her original dress, which belonged to her beloved mother. Her new blue dress is dazzling, with a fitted bodice and tulle skirt, which she wears with her signature glass pumps.
Get the Look:
Cinderella's blue ballgown is iconic, though certainly not practical for every day, so you'll probably want to save this ensemble for a dressy occasion (even if it's not a ball being thrown by a Prince).
Have your own Cinderella moment with this light blue tulle maxi dress, with a voluminous tulle skirt and a fitted, corset-style bodice. It's an incredible take on Cinderella's dress, as it has a modern design that makes it wearable in 2023 while still maintaining that whimsical feel.
Silver compliments this shade of blue best, so opt for silver rhinestone jewelry and accessories, like some rhinestone duster earrings and a rhinestone wristlet bag, both of which are ideal for a special event.
While you can't wear glass slippers like Cinderella, you can wear these Disney-approved pumps that will give you a glass-like look. These heels from a collaboration between Aldo and Disney, aptly named the "Striketwelve" pumps, feature an inscription on the soles that says "When the clock strikes twelve," a famous line from the fairy tale. They have a translucent, glass-like construction with rhinestone embellishments for a sparkly, magical look and straps behind the heels, so they won't slip off!
Travel and Adventure Fashion
Go on a fashion adventure with these films that are filled with excitement and travel.
Maleficent and Maleficent: Mistress of Evil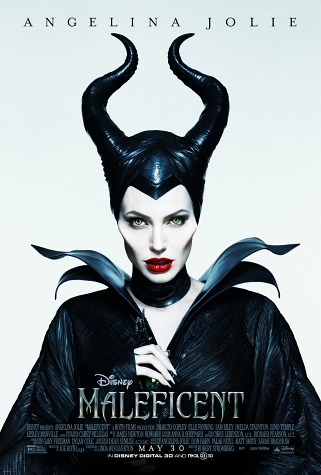 A live-action version of the Disney animated movie Sleeping Beauty, Maleficent stars Angelina Jolie in the titular role opposite Elle Fanning, who plays Princess Aurora.
While the plot was a unique rendition of a classic Disney flick, the film also provided oodles of fashion inspiration thanks to the characters' intricate costumes.
The Outfit: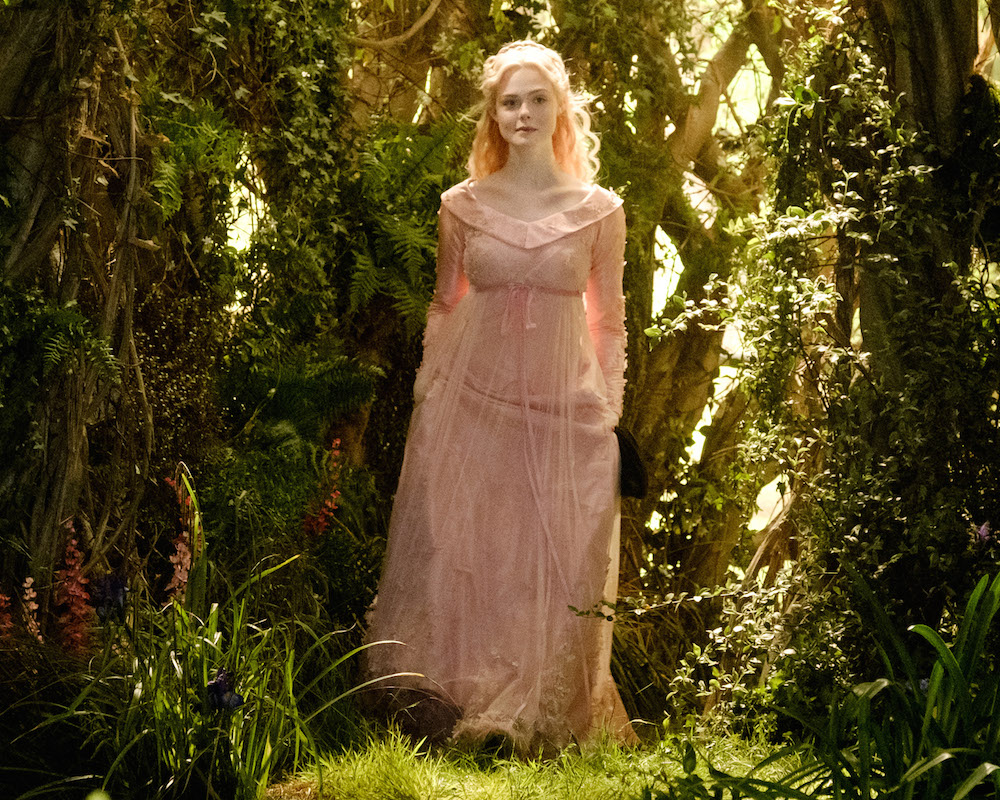 In the second film, Maleficent: Mistress of Evil, Aurora wears a long pink gown that is a real-life adaptation of Sleeping Beauty's dress in the Disney cartoon. Each Disney Princess has one look that is their most recognizable, and Sleeping Beauty's signature is definitely her long, pink dress.
Get the Look:
Since we are updating outfits and making them more wearable for life outside of the movies, why not try wearing a mini-dress instead? This pink satin off-the-shoulder mini dress is the perfect way to channel Sleeping Beauty in a modern way. It also features draping across the bust for a whimsical effect that's fit for a princess.
Play up the pink color scheme with some pink pumps with embellishments, bow details, and a trendy flared heel.
Go for girly accessories like a heart pendant necklace and an adorable mini pink handbag with a rhinestone bow for the ultimate modern-day Disney Princess look.
The Lizzie McGuire Movie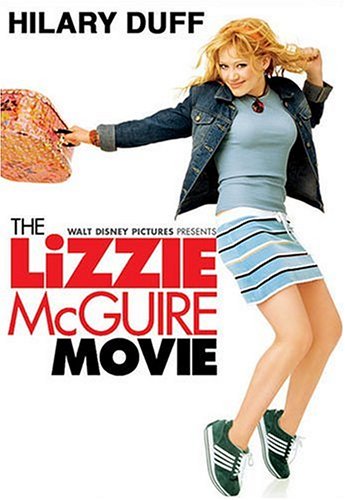 One of my go-to blasts from the past, The Lizzie McGuire Movie with teen queen Hilary Duff is a total classic. As the finale of the Disney Channel series, this iconic movie is filled with fashion, adventure, romance, music, and fun!
Lizzie heads to Rome for her class graduation trip, where she gets mistaken for a famous Italian pop star and dabbles with international fame while learning to stay true to herself, her friends, and her family.
When the movie premiered in 2003, Lizzie's wardrobe was considered the peak of fashion for teen girls across the country.
The Outfit: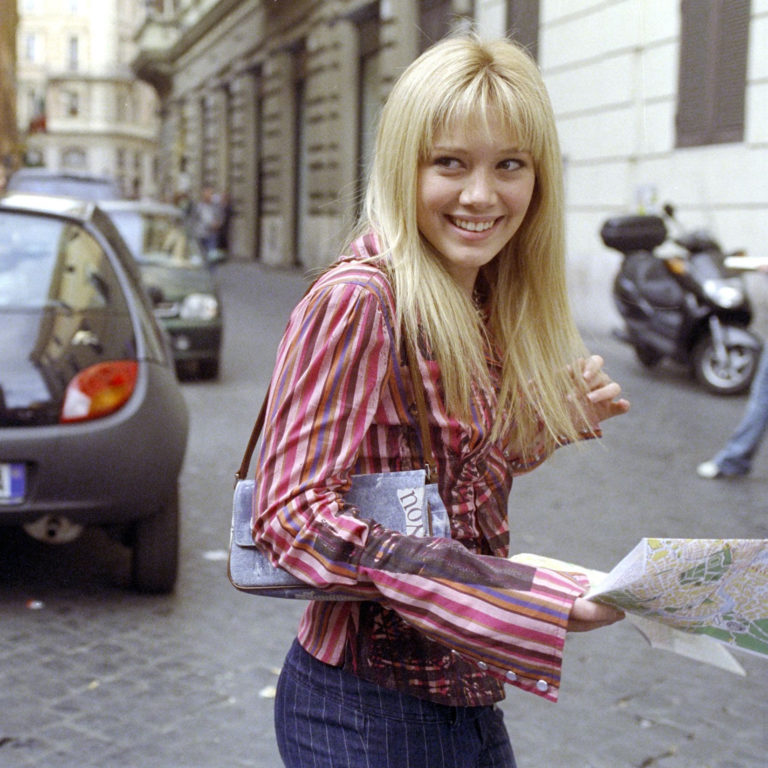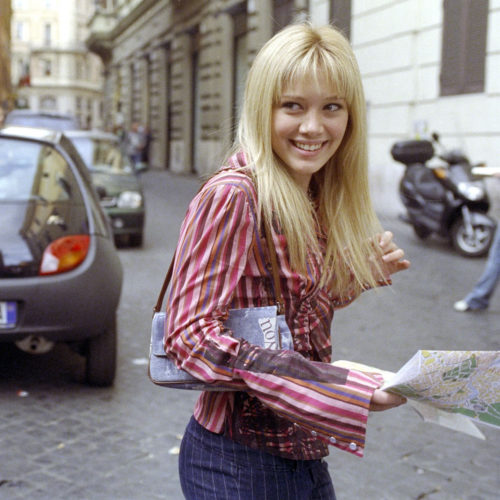 One of Lizzie's standout outfits was her mixed prints look for galavanting around Rome. She wore navy pinstriped pants with a pink and red button-down shirt featuring a wider striped print and carried a denim newspaper-print shoulder bag. She also wore a silver heart pendant necklace that looked an awful lot like Tiffany and Co.'s signature heart tag toggle necklace, which was ultra popular at the time.
Get the Look:
If you're into Y2K fashion, Lizzie's look is for you! You'll make a style statement by mixing prints and colors with her playful look.
These navy blue pinstriped pants have a flared silhouette with side slits that will contrast perfectly with a button-down shirt that has a thicker striped print in pink and white. It's an unexpected pairing that somehow works!
Chunky lug-sole loafers are a fresh footwear option for 2023, and this navy blue patent pair is a great option. Be sure to wear 2000s-inspired accessories like a denim handbag with buckle details and a silver puffed heart chain necklace, which is a modern upgrade to Hilary's classic pick.
This outfit is "What Dreams Are Made Of" (IYKYK).
What do you think of our movie-inspired outfits guide?
Would you wear these outfits? Which movie-inspired look is your favorite? Leave a comment and let us know!