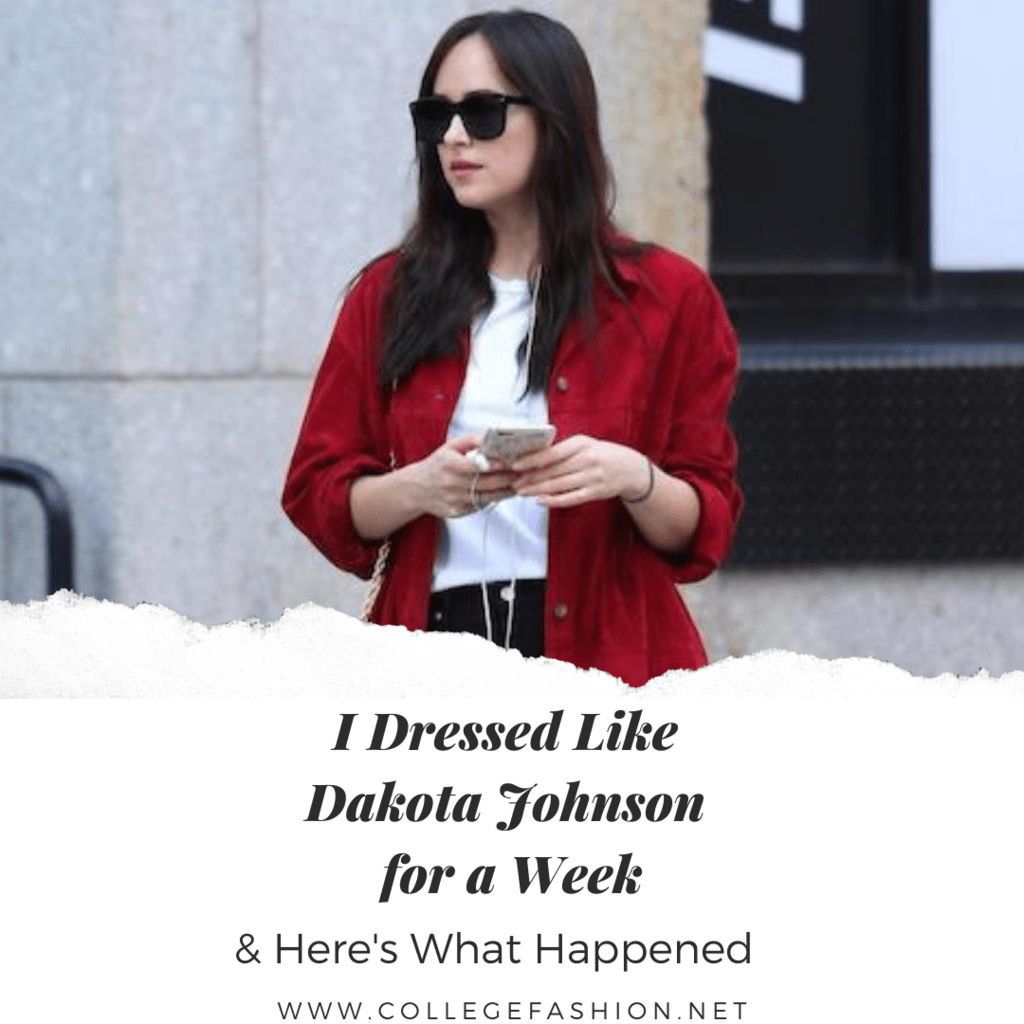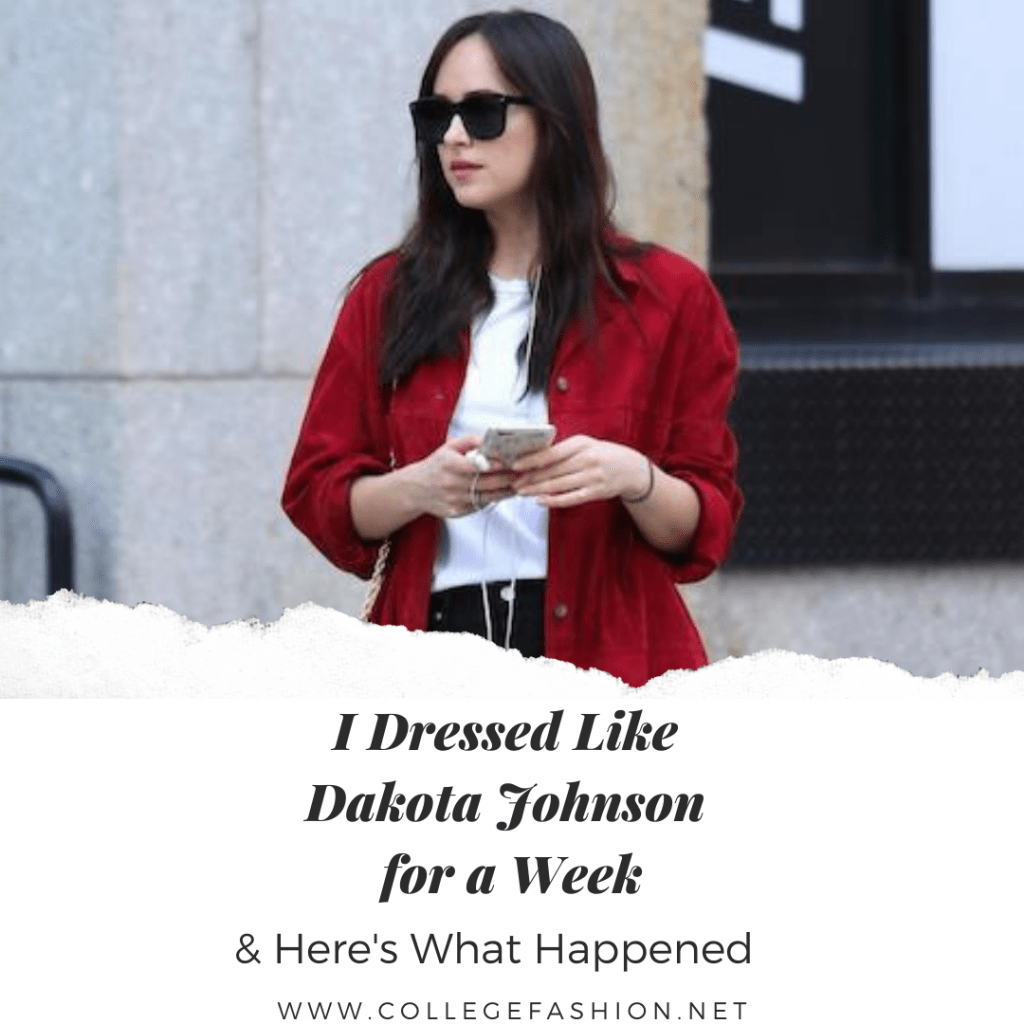 Today I'm showing you how to copy Dakota Johnson's outfits for a week — and how easy it is for you to do the same!
We've all looked to celebrity style for fashion inspiration at some point in our lives. But it's one thing to say "I love her outfit," and it's another to actually copy it in real life.
For this series, I'm going the extra mile and making it happen. Each week, I'm getting inspiration from a celebrity and copying five of her looks as closely as possible. Then, I'm reporting back to you: Did the outfits work in real life? Did I feel comfortable? Did people treat me differently? I'm sharing it all.
In past posts I've dressed like Zendaya, Gigi Hadid, Grace Kelly, Kendall Jenner, Vanessa Hudgens, Sophie Turner, Priyanka Chopra, Millie Bobby Brown, Hilary Duff, Lily Collins, Taylor Swift, Iconic Halloween Characters, Selena Gomez, Alexa Chung, Iconic Christmas Characters, Rachel Green Part 1 and 2, Queer Eye's Fab 5, Monica Geller, Little Women's Characters and Lucy Hale.
After months of hiatus on this series, I'm picking it up again by copying Dakota Johnson's outfits for a week.
Dakota Johnson's Outfits & Style Overview
Dakota's style can be described as laid-back, cool, effortless and, sometimes, eclectic. With a slight rock star-ish vibe to her, Dakota seems to favor comfort over trends.
She is mostly seen wearing neutral colors, like black, dark grey, white, and navy blue, but she also uses splashes of color here and there, especially shades of red.
After scrolling through Dakota Johnson's outfits for a bit, I realized that there are certain items she gravitates towards the most.
Dakota wears a lot of graphic tees, especially band related shirts and vintage looking ones.
She also seems to be a big fan of high waisted jeans, denim and leather jackets, and oversized sweaters and sweatshirts.
For shoes, she wears a lot of combat boots, black booties, mules and sneakers.
Finally, her signature accessory is a pair of black sunglasses, but she also reaches for statement hats, basic beanies, and layered necklaces.
Dakota Johnson's Style – Outfit #1, Monday
For Monday, I chose this simple look to ease myself back into this whole challenge.
This outfit is quintessential Dakota; she's worn many versions of this ensemble. In the pic, she's wearing a sparkly sweater, black jeans, sneakers, a backpack, and sunglasses.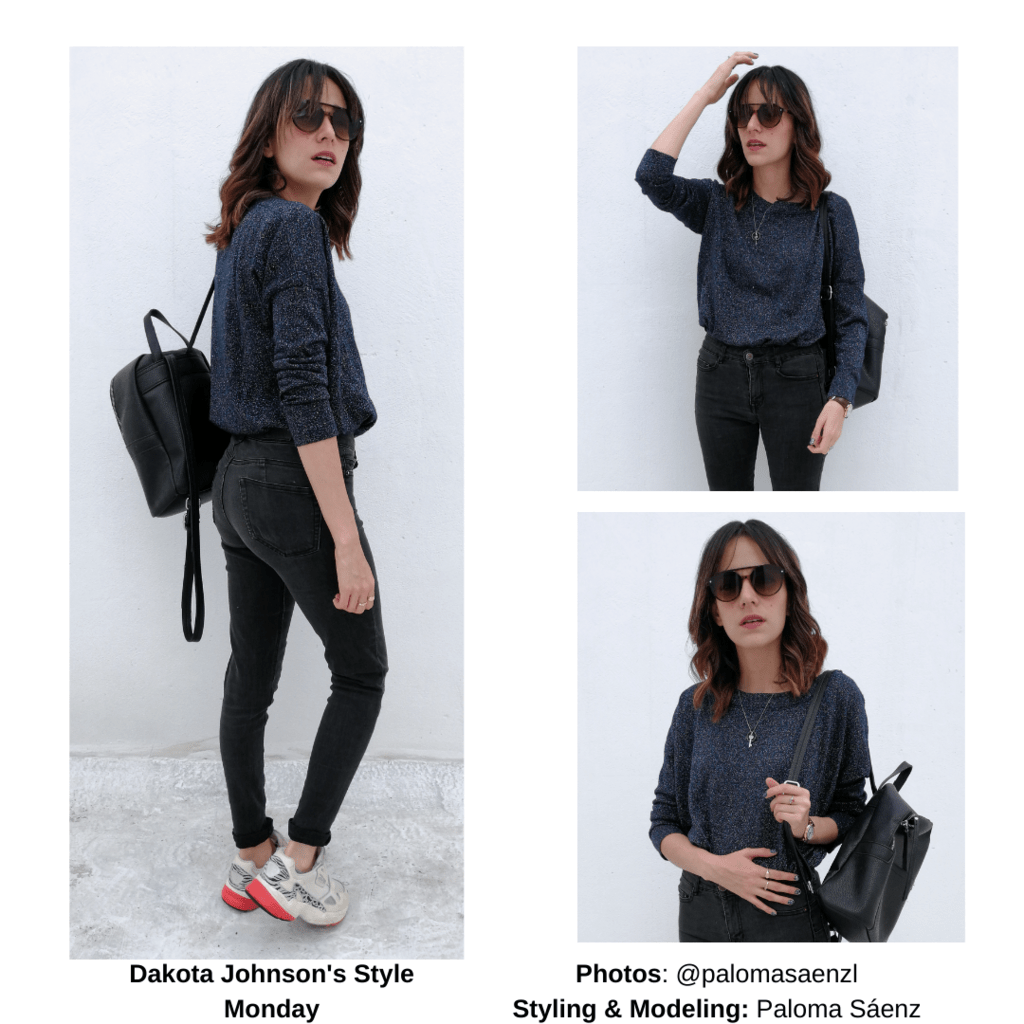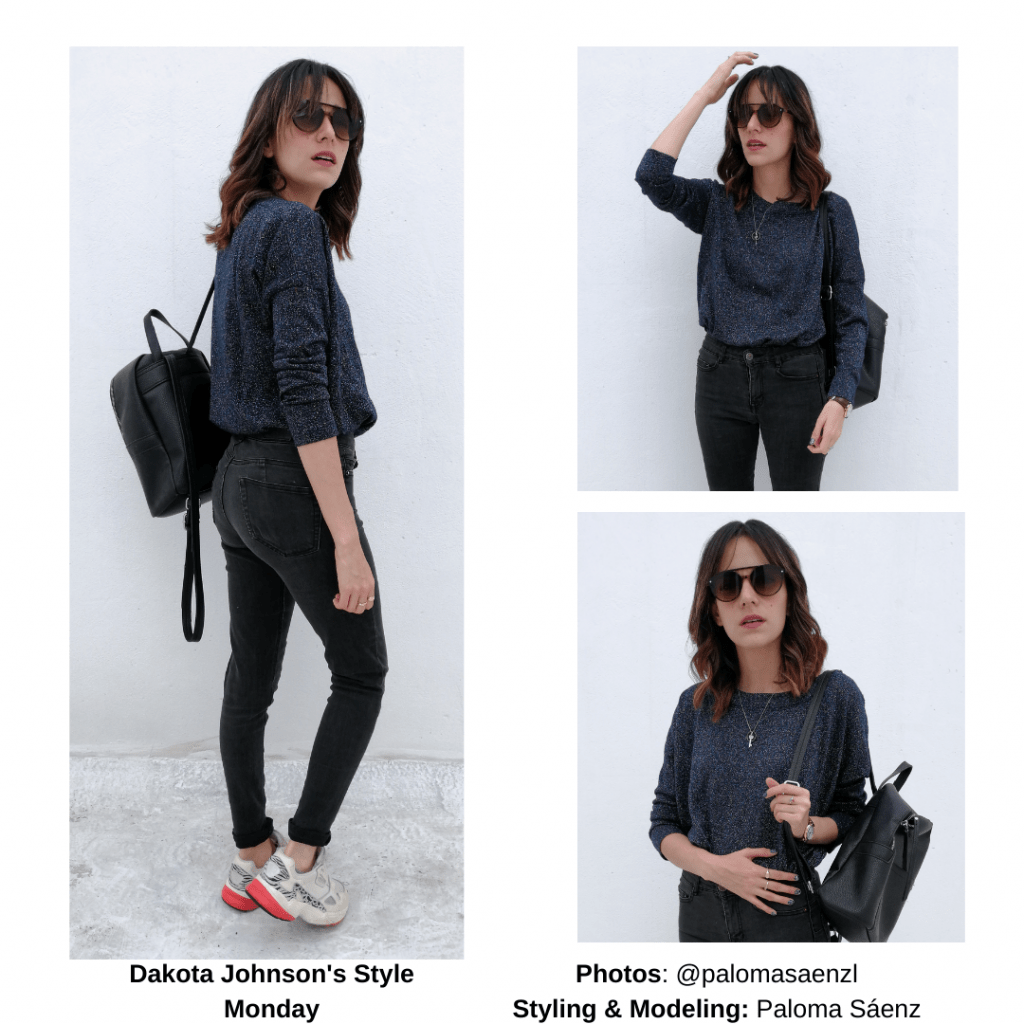 Similar items: Sweater, Jeans, Sneakers, Backpack, Sunglasses
For my recreation of the outfit, I wore a navy blue sweater with sparkly details. On the bottom, I wore a pair of black skinny jeans.
I borrowed a pair of chunky sneakers from my sister.
Finally, for accessories, I used a black backpack, because I couldn't find my grey backpack anywhere, and a pair of black sunglasses.
I really liked this look! I have worn similar outfits to this in the past, but instead of sneakers I tend to gravitate more towards black booties or combat boots. I have to say, I liked how it looked with these sneakers. The sparkles add a fun texture and dimension to an otherwise monochromatic or plain outfit.
Dakota Johnson's Style – Outfit #2, Tuesday
I chose this outfit for the second day, because I feel that it encapsulates Dakota's eclectic side more than any other look of the week. In the picture, she's wearing a patterned skirt, a striped sweater, and sneakers.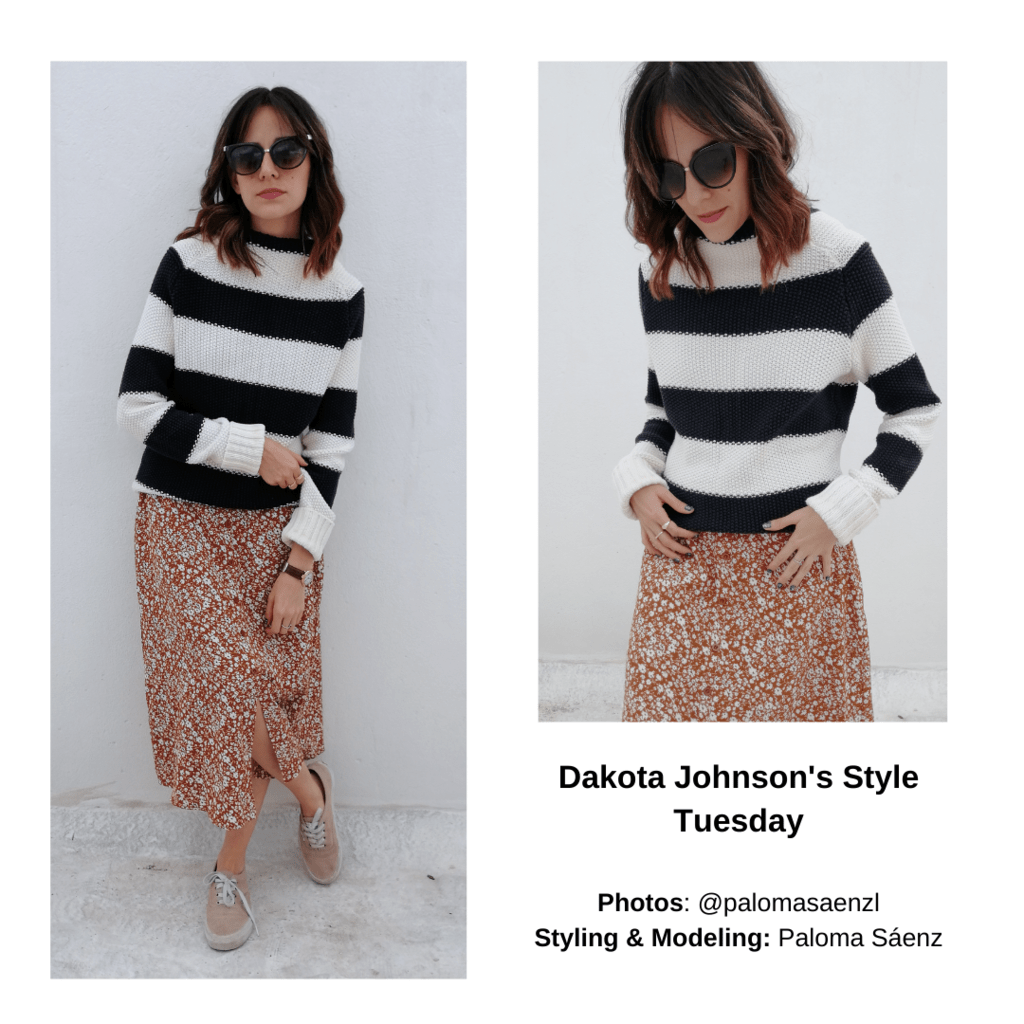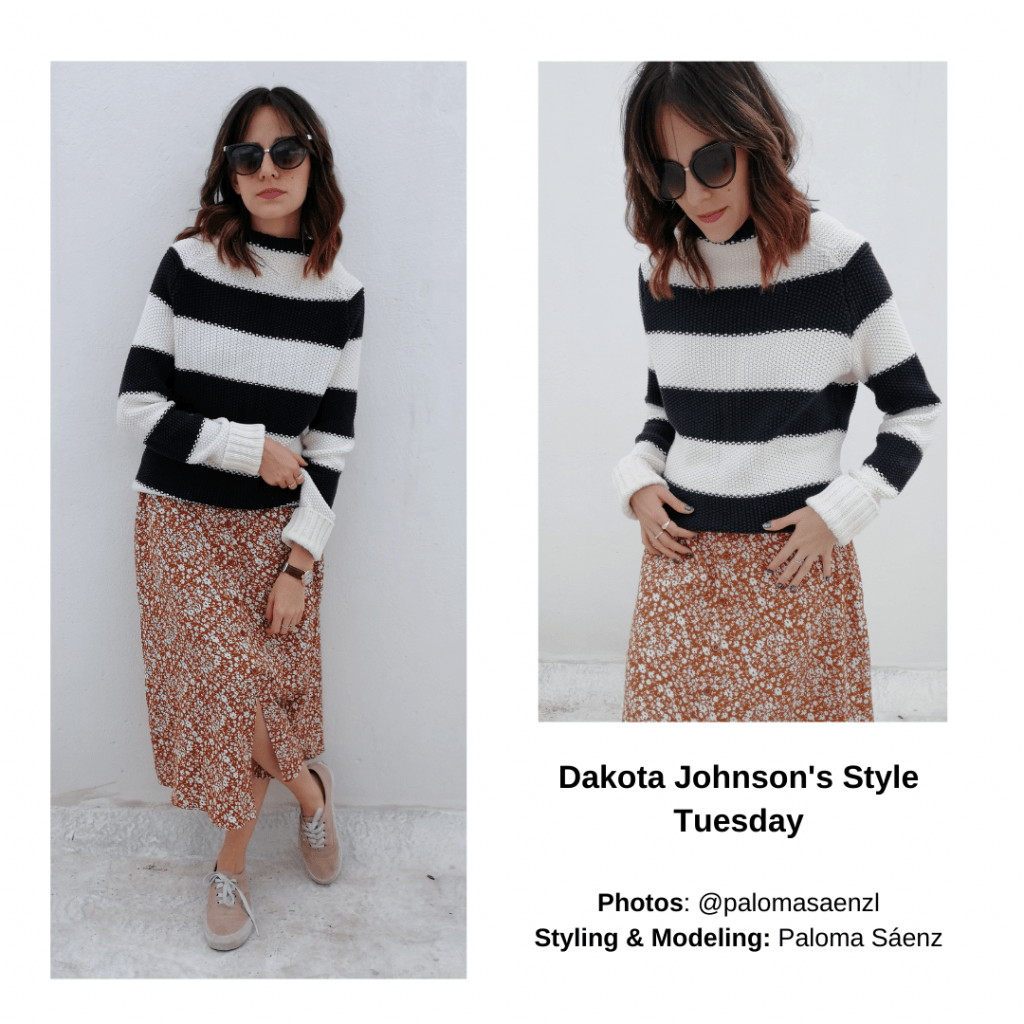 Similar items: Sunglasses, Skirt, Sweater, Sneakers
To create this look, I had to get a bit creative. I don't own a skirt similar to the one she's wearing, so I ended up wearing a patterned midi dress and just layering over top to get the look of a skirt.
To wear over the dress, I borrowed this chunky sweater with navy blue and white stripes from my mom.
For shoes, I also wore a pair of Vans, but instead of Dakota's classic checkered style, I wore a simple beige lace-up pair that I already had. My sole accessory is a pair of black sunglasses — Dakota's signature accessory.
In spite of how different this whole outfit is from my personal style, I ended up loving it. Maybe I would wear it again, or a version of this, in colder weather. I liked the clashing prints, because they make the whole look seem comfy and relaxed without losing its cool.
Dakota Johnson's Style – Outfit #3, Wednesday
On Wednesday, I chose this cool outfit. It is a version of many similar looks that Dakota has worn in the past.
Here, Dakota is wearing a plaid shirt, jeans, booties, and for accessories she's got a big purse and a pair of sunglasses.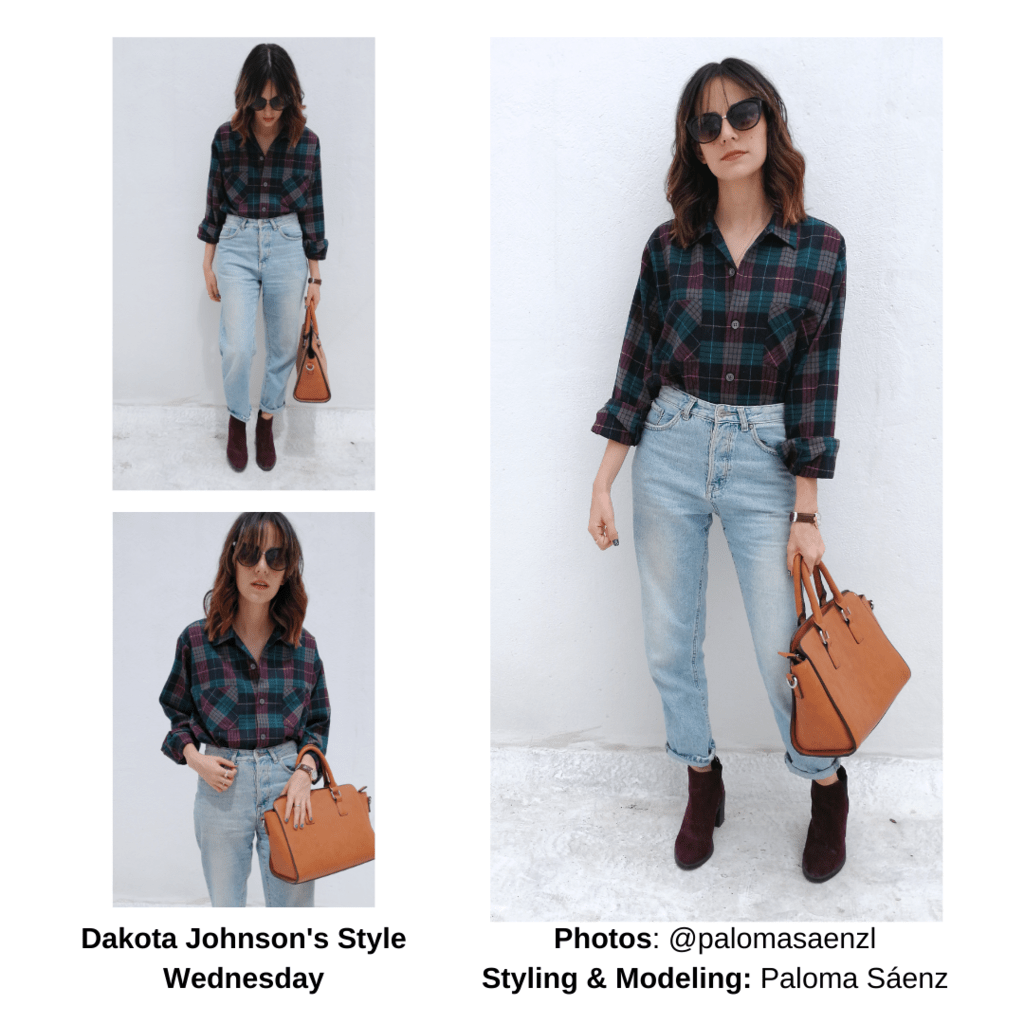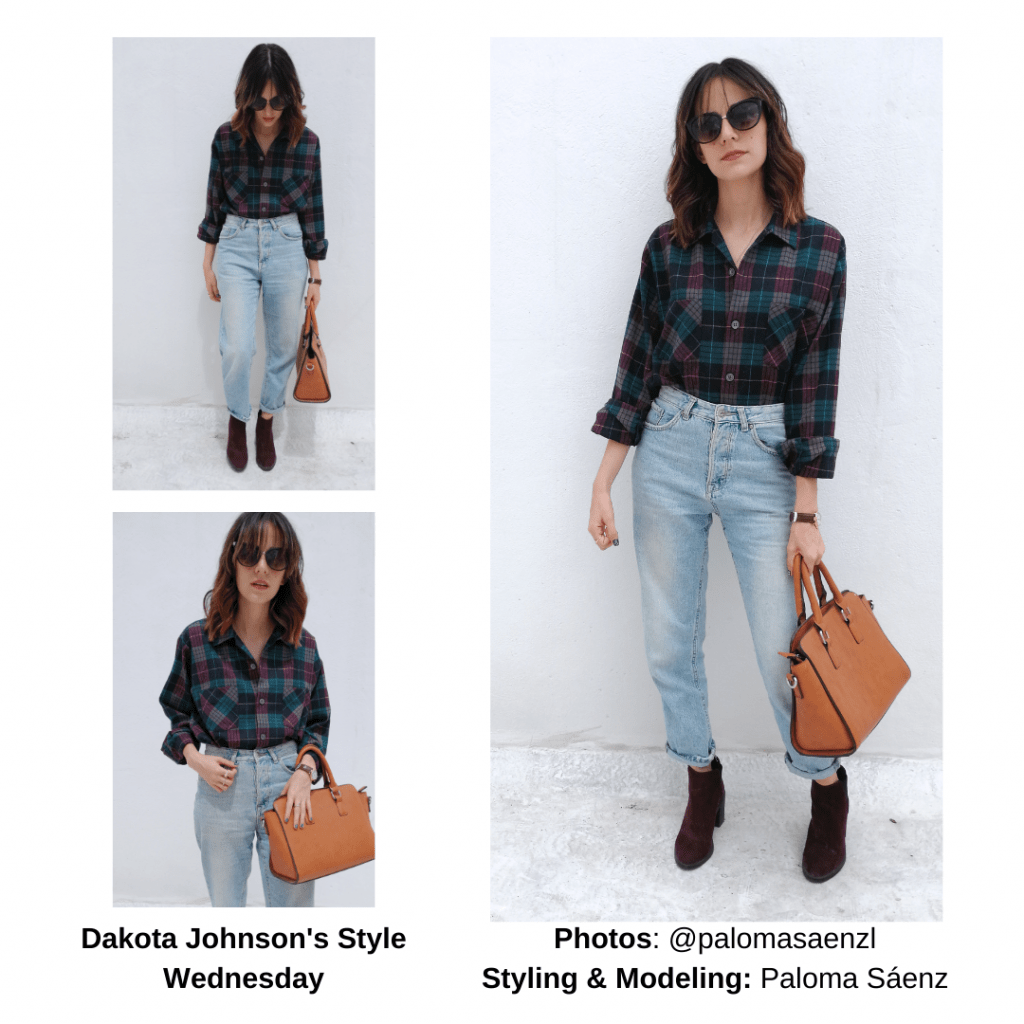 Similar items: Shirt, Jeans, Booties, Purse, Sunglasses
For my version of this look, I wore an oversized plaid shirt in dark teal and purple and paired it with high-waisted blue jeans.
My booties are a pair of burgundy suede booties that have a similar height and style to the ones Dakota is wearing in the photo.
For accessories, I grabbed a big cognac purse, since it was the right color. To top it all off, I wore, again, a pair of black sunglasses.
I loved this outfit! So much! It was the perfect balance between comfort and style, but it also had a somewhat edgy vibe that I adored. I thought I wouldn't like how the bag didn't seem to match anything else, but I really liked the warmth it added to the overall look.
Dakota Johnson's Style – Outfit #4, Thursday
For Thursday, I decided to stray away from the dark neutral outfits and I chose this one in all light neutrals.
In this pic, Dakota Johnson's outfit consists of a white t-shirt and off-white jeans. After a lot of research on Pinterest, I found a pic where you can see that she's also wearing a pair of mules with this outfit. Her accessories are sunglasses and a coin necklace.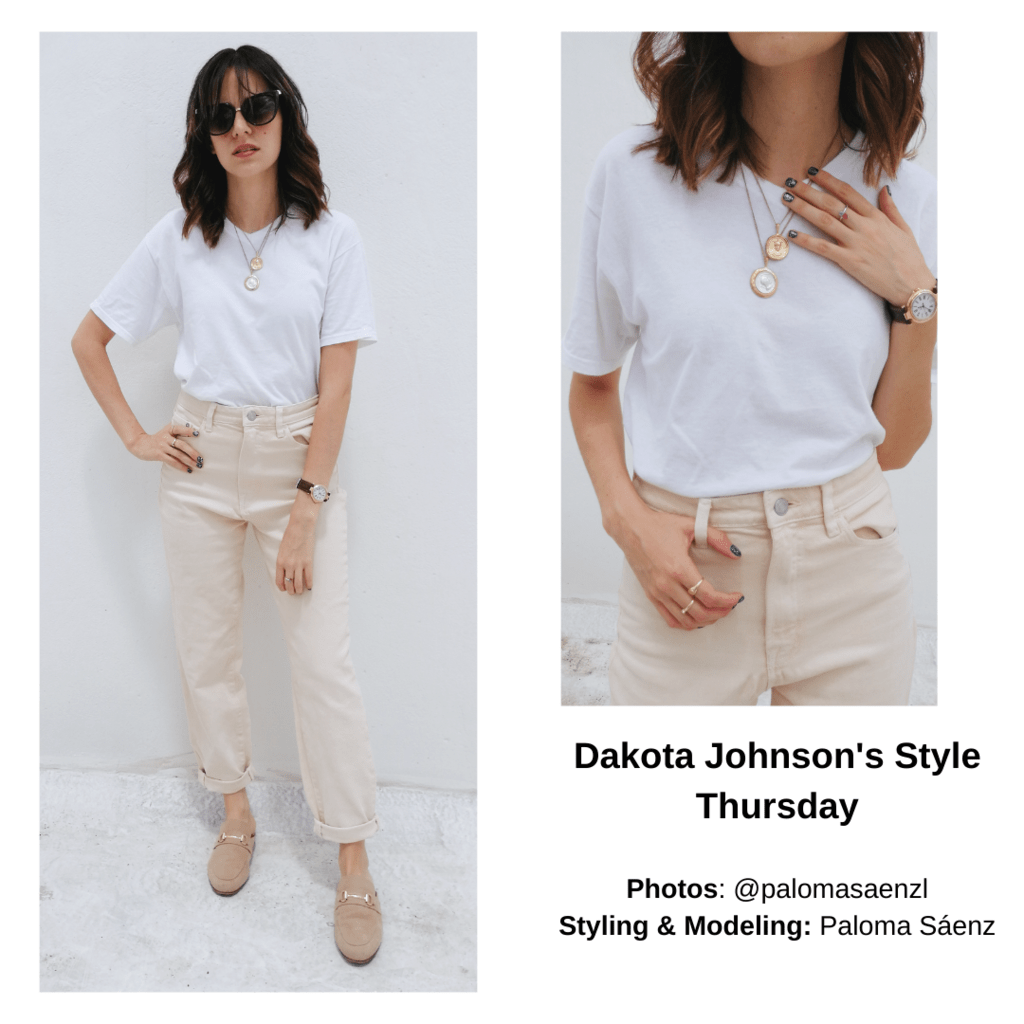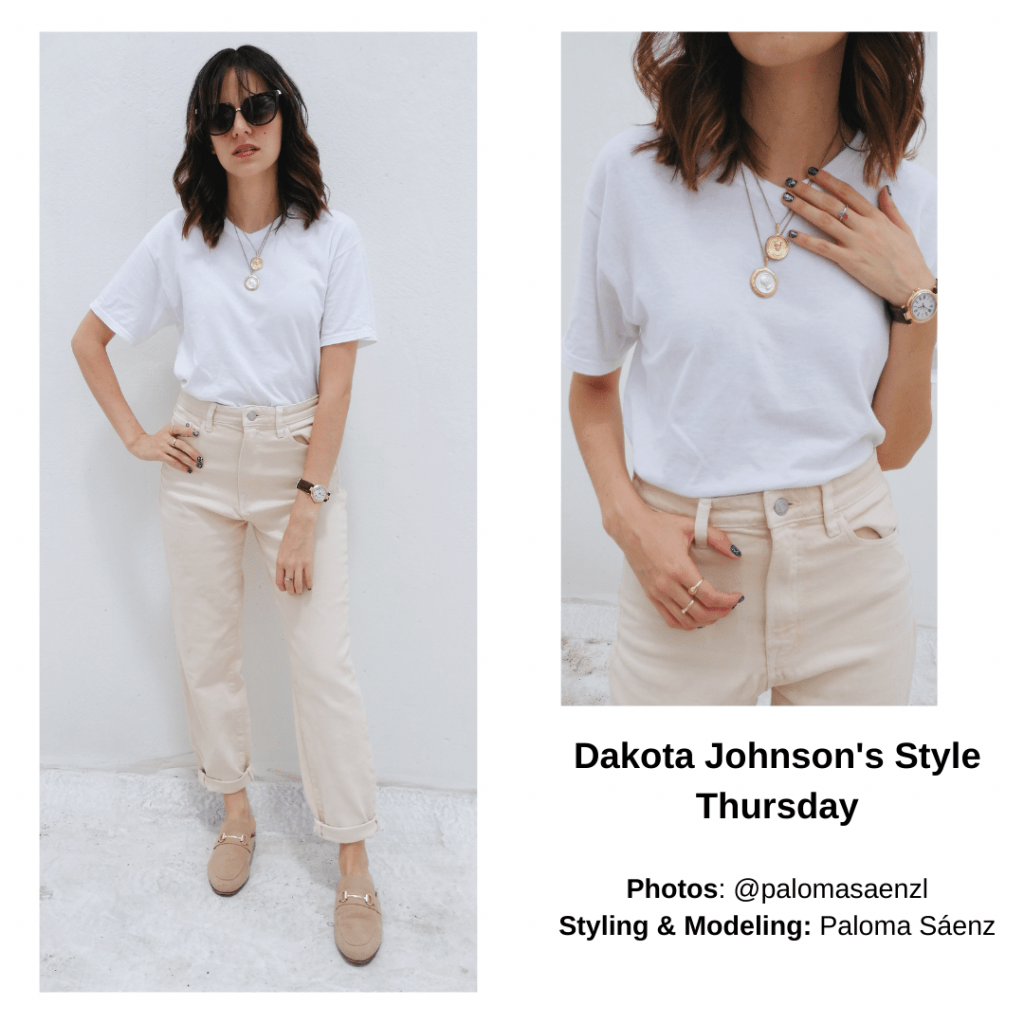 Similar items: Jeans, T-shirt, Shoes, Necklace, Sunglasses
For this look, I wore a slightly cropped white tee with a pair of high waisted off-white mom jeans.
Shoes-wise, I wore a pair of beige mules that looked similar to the ones she was wearing on the pic that I found. My accessories were a layered coin necklace and a pair of black sunglasses.
I didn't even have to finish this week to know this look was, hands down, my absolute favorite outfit of the bunch. I loved its whole monochromatic vibe, but I was obsessed with how simple and comfortable it was without losing fashion points.
Fun fact: I have already worn this outfit once again and it will definitely join the rotation of my favorite outfits.
Dakota Johnson's Style – Outfit #5, Friday
Finally, Friday arrived and for this day I chose a more put-together and office-appropriate look.
Above, Dakota's wearing a pair of grey pants, a grey blazer, a white tee, and chunky sneakers. The accessories are a pair of black sunglasses and a cognac bag.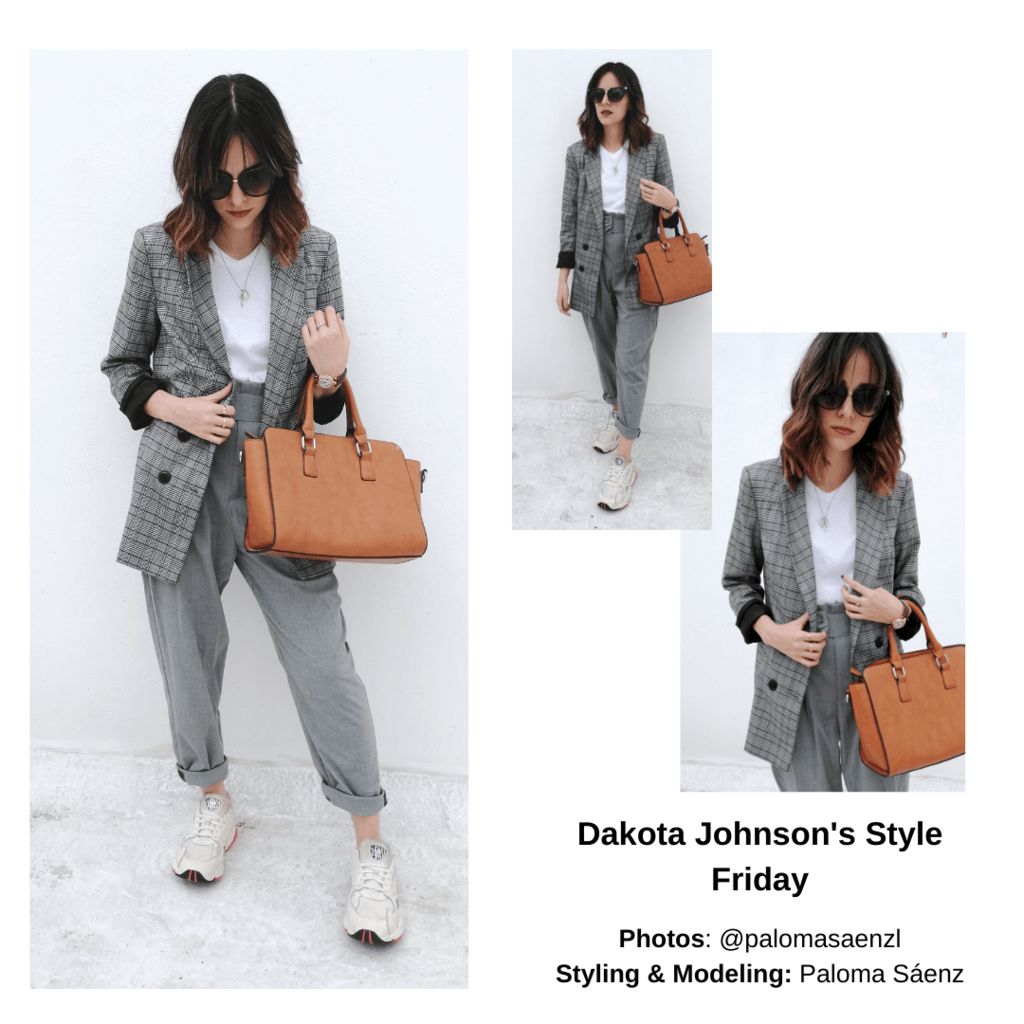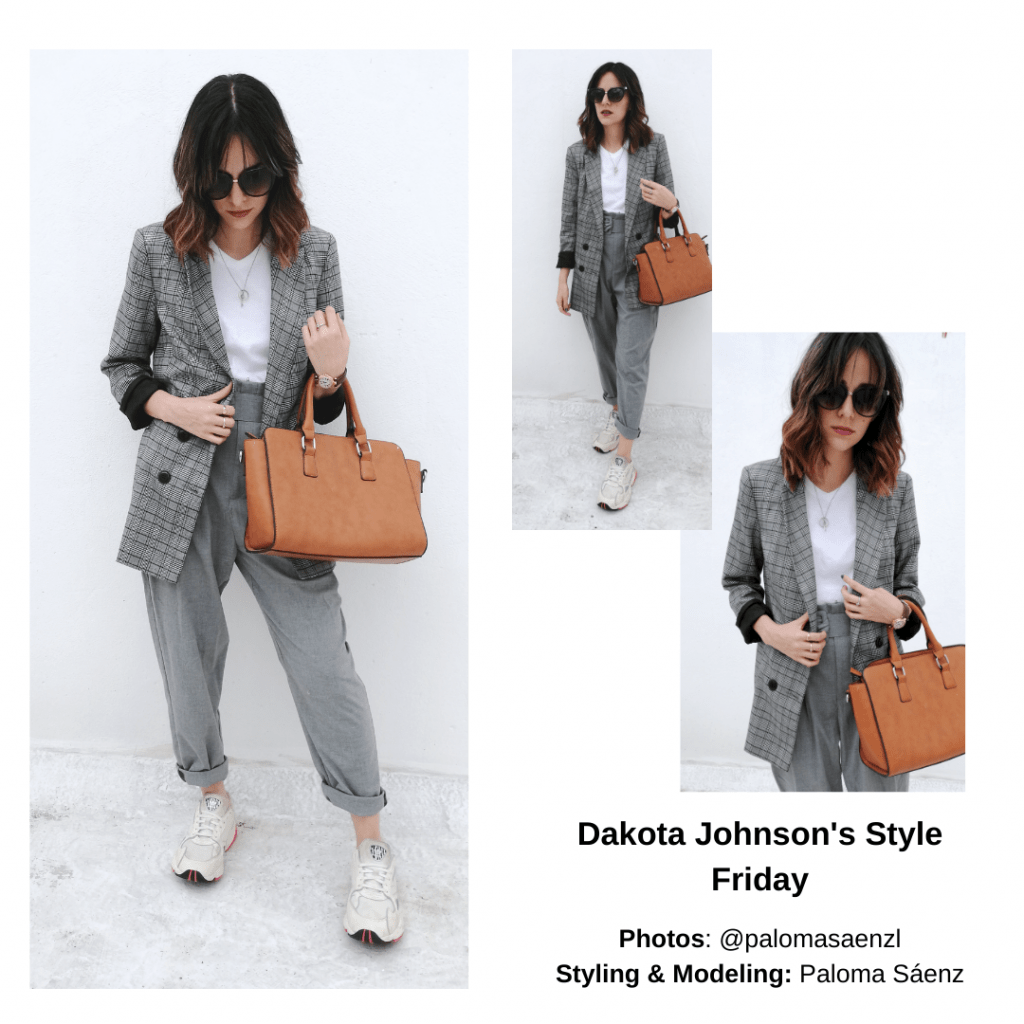 Similar items: Purse, Sunglasses, Sneakers, T-Shirt, Pants, Blazer
In order to recreate this look, I used a white t-shirt and tucked it into a pair of grey slacks that I borrowed from my sister. Then, I added a grey blazer that gives texture to the whole outfit.
For shoes, I borrowed the same chunky sneakers I wore on Monday.
To finish the outfit up, I chose the same cognac purse I used on Wednesday and, like every other day, I wore a pair of black sunglasses.
I really liked this look and it had been so long since I had worn anything remotely similar to this, as I'm no longer dressing up for the office. Nonetheless, I chose this for those of you that, in spite of the circumstances, still have to go to the office. If you need to be there, you might as well have fun with your office style.
Final Thoughts
I chose to copy Dakota Johnson's outfits because she has the sort of style that works for every sort of event with few changes: Her looks are comfortable to wear while working at home and stylish enough for outings during the week.
Like I mentioned before, I adored Thursday's monochromatic look more than anything this week, but Wednesday's look is a very close second.
Overall, Dakota's style is perfect if you're studying, working at home, or if you have to go to the office. It is also incredibly easy to recreate her outfits: I promise you already have 70% of the pieces needed; the rest can be solved with experimentation and very little shopping.
I'm not going to lie, I really liked jumping into this "I Dressed like" series again. I had figured that, since we were all stuck in our houses, this series wasn't really necessary for inspiration or to experiment with outfits just to sit around my house. Turns out, I like experimenting with my outfits and fashion is an enormous outlet for my creativity, something that I sorely missed these past few months. So I decided to pick it up again and see where it took me this time around. I hope you enjoyed reading this as much as I enjoyed creating these looks.
What do you think?
Do you like Dakota's style? Which outfit was your favorite? Which one would you wear? Whose style do you think I should cover next? Let us know in the comments below!