This week, I'm giving you a behind-the-scenes on this series, what writing it has given me, and if it has been worth it.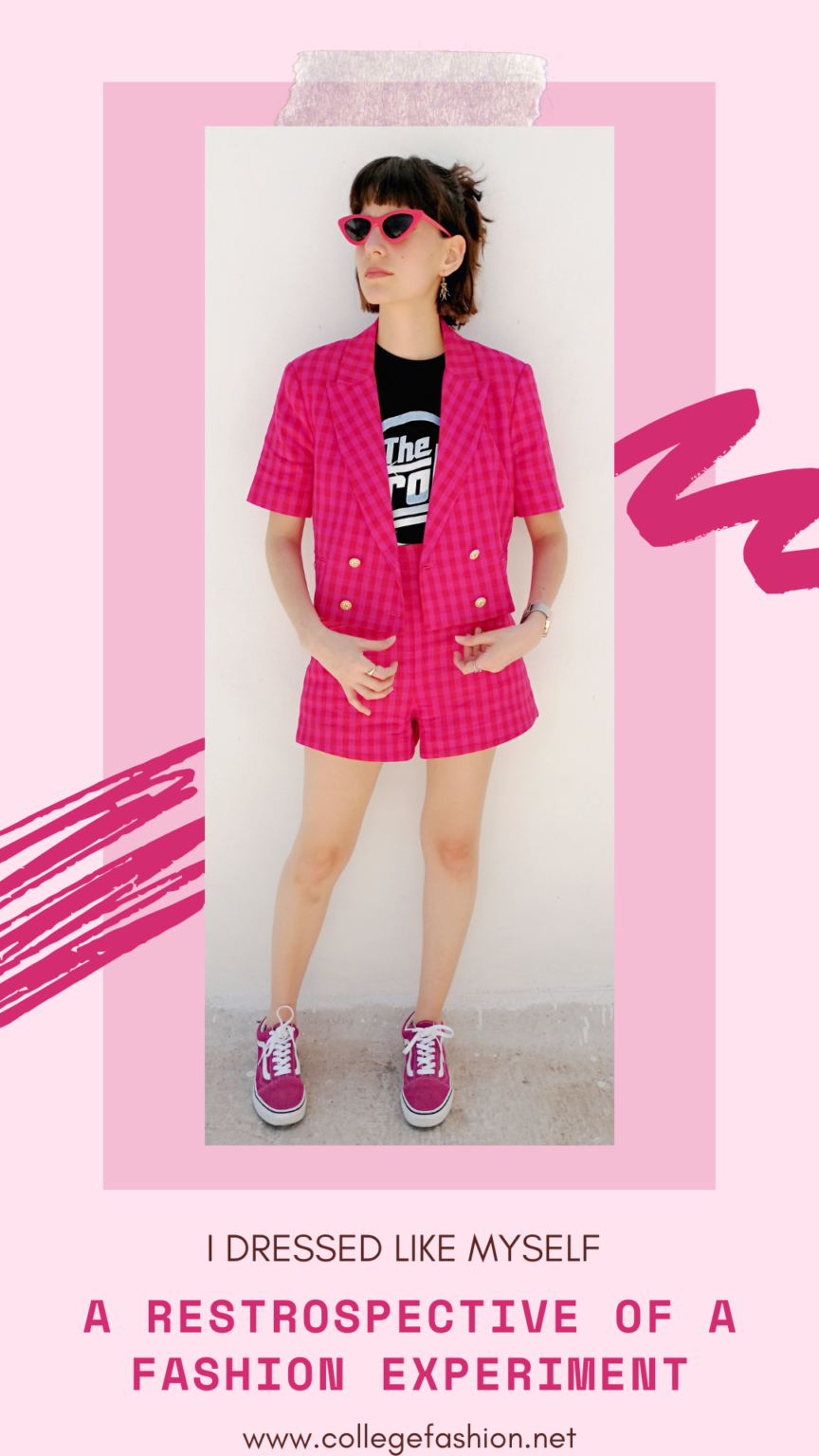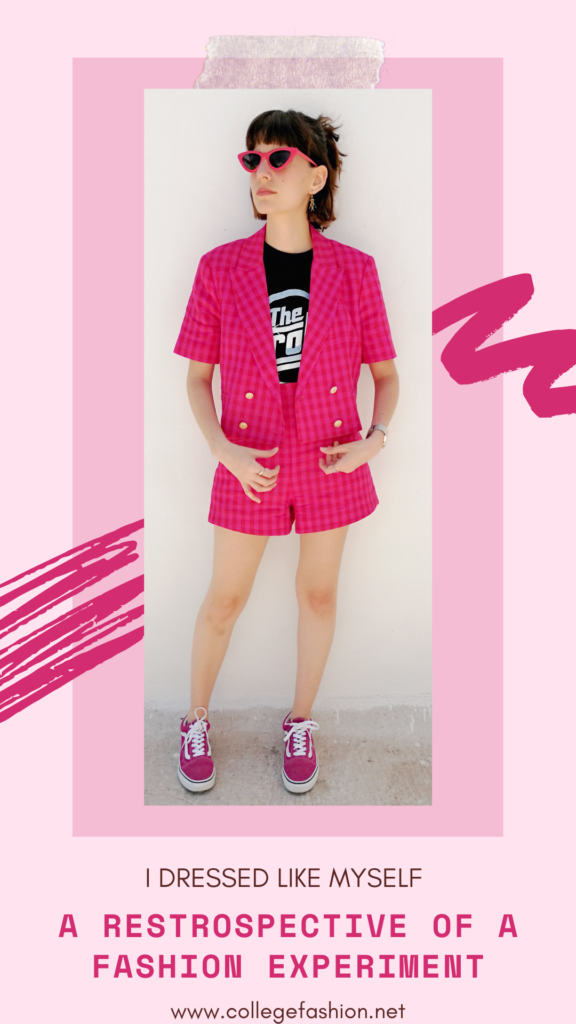 We've all looked to celebrity style for fashion inspiration at some point in our lives. But it's one thing to say "I love her outfit," and it's another to actually copy it in real life.
For this series, I'm going the extra mile and making it happen. Each week, I'm getting inspiration from a celebrity and copying five of her looks as closely as possible. Then, I'm reporting back to you: Did the outfits work in real life? Did I feel comfortable? Did people treat me differently? I'm sharing it all.
In past posts I've covered the style of these celebrities: Zendaya, Gigi Hadid, Grace Kelly, Kendall Jenner, Vanessa Hudgens, Sophie Turner, Priyanka Chopra, Millie Bobby Brown, Hilary Duff, Lily Collins, Taylor Swift Part 1 and Part 2, Selena Gomez, Alexa Chung, Queer Eye's Fab 5, Lucy Hale, Dakota Johnson, Hailey Bieber and Kaia Gerber.
I've also covered the style of certain iconic TV and movie characters: Iconic Halloween Characters Part 1 & 2, Iconic Christmas Characters Part 1 and 2, Rachel Green Part 1 and 2, Monica Geller, Little Women's Characters, Gilmore Girls' Characters Part 1 and 2, Iconic Olsen Twins' Movies, Winx Club Characters, Bridgerton Characters and W.I.T.C.H Characters.
This week, I'm looking back on my work for this series, what writing it has taught me, and if it has been worth it.
My Personal Style: Before The Series
The story of my personal style has been a long, rocky one. When I was a little girl, I was very into girly items and feminine silhouettes. I loved everything pink, heels, glitter and dresses. As I got older, especially as a teenager and in my early college days, everything changed. I did a 180 and not only stopped wearing pink, I decided I hated it.
During college, I was not in a good place. I withdrew so much socially, whenever I had a presentation at school I had panic attacks, and I lost all my confidence, especially about my writing and my image. There were times when I arrived at school and I couldn't get out of my car. It was not good, I really just wanted to disappear into the crowd and was really anxious all the time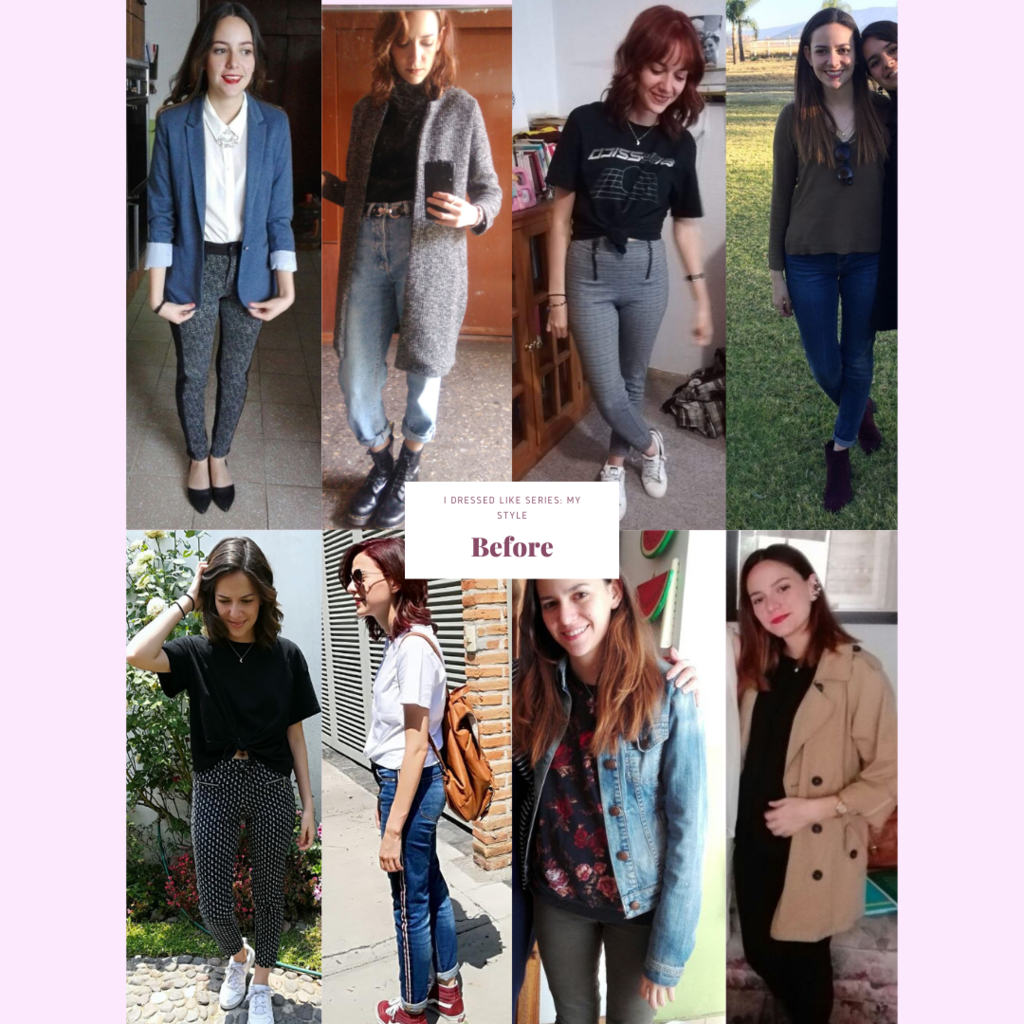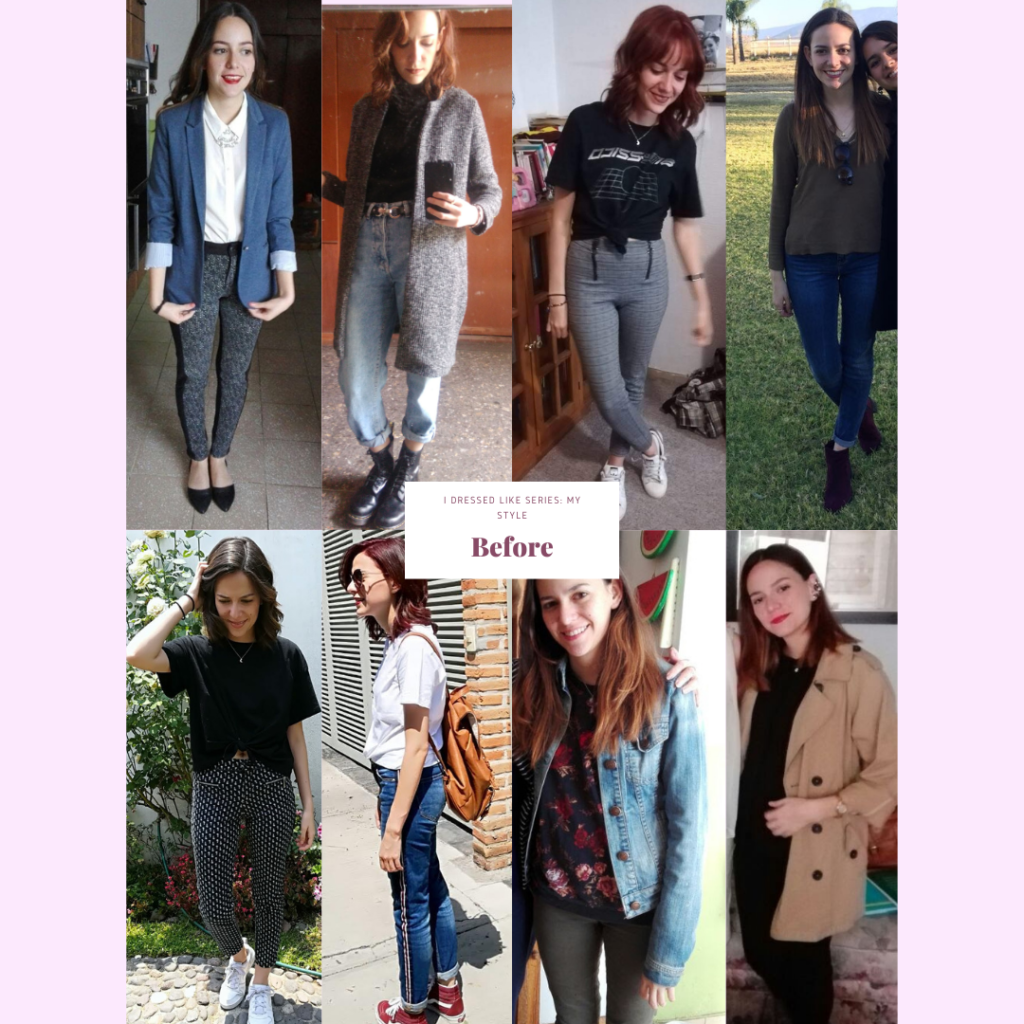 My style during that time, which is usually the time when you are defining it, can only be described as edgy but misguided. It was a way of disguising myself and my way of blending in as much as possible. I used a lot of classic silhouettes: black pencil skirts, skinny jeans, t-shirts, sweatshirts, leather jackets and Oxford shirts were my go-to pieces. I lived mostly in sneakers, but I "mixed it up" with some booties now and then.
I wore as few trendy pieces as possible, not because I didn't like them, but because I felt really self-conscious wearing them. I didn't want to look too out of place or wanted to attract too much attention to my outfit.
My accessories ranged from few to none. Most days I just wore my wrist watch and that was about it.
Bright colors, or colors in general, were a no-no. My closet consisted mostly of black, dark grey and white. If I wore a different color, it was usually in muted or dark shades, like burgundy or dark green.
I was rocking this type of style when I decided to start my "I Dressed Like" series here at CF. And then everything started to change.
How did the "I Dressed Like" series start?
How did I start doing this series? I was about to finish my "Heroic Styles" series and I was ready to move on and write about something else. Since I was on my last semesters of college, which meant fewer hours there, and I had a pretty good balance between work and school, I wanted to do something a bit more challenging and creative.
I was talking with my sister and she had the idea that I should try to create looks based on celebrities that I liked. The series evolved from that: first I thought of creating two to three looks, then I decided I would wear the looks and, finally, landed on a week of looks recreated with pieces from my own closet.
Behind-the-Scenes: How do I create these looks?
1. Choosing the subject and research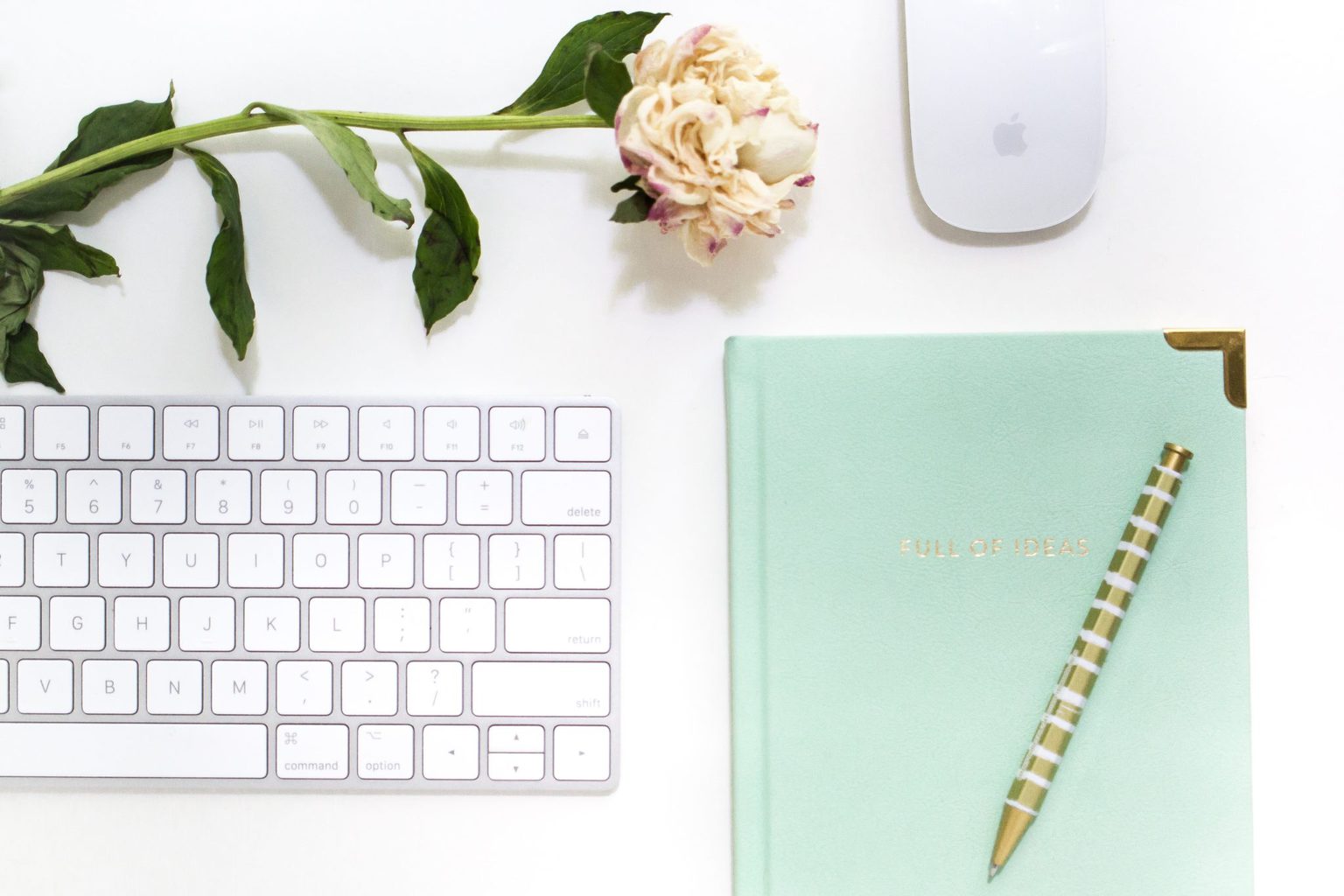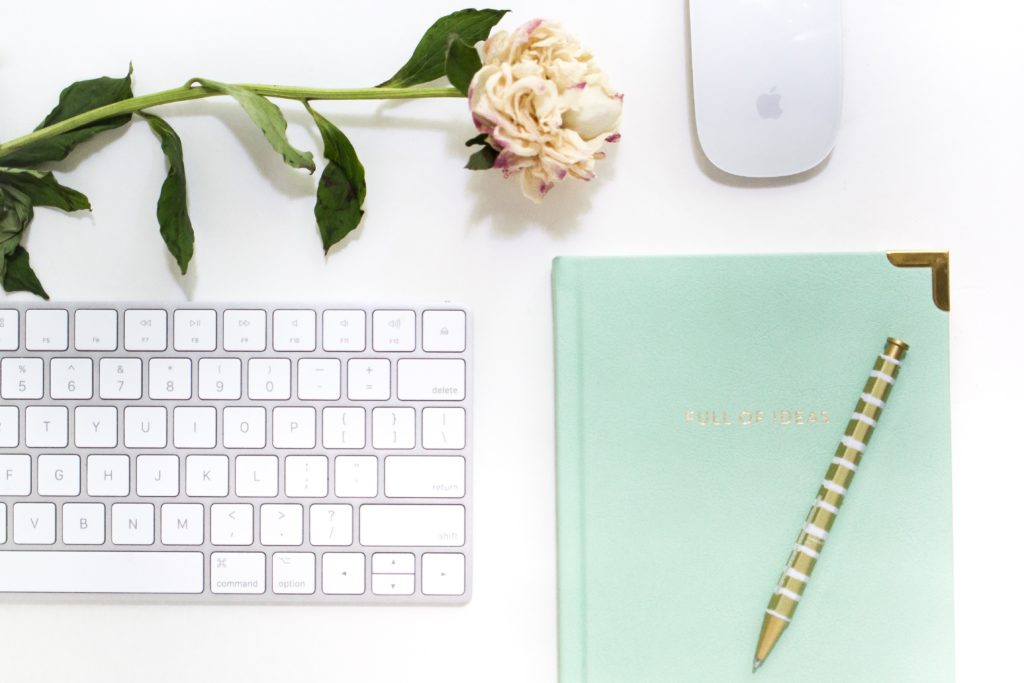 I usually pick the subject of the post weeks in advance and add it to the calendar. Before this, I have already have been eyeing certain outfits, celebrities, or have a general idea of what I want to do.
Usually, if I choose a celebrity it's a lot easier to handle and I can do it with less time in advance. This is because I can just scroll through their Instagram or google them, and see what comes up that catches my eye.
If I'm creating outfits for characters, it's more challenging. I watch, or re-watch, the movies and TV shows, or read the comics or books, at least two times before starting the post. The first one is to get a general idea of the character and their style, and the second one is to gather screenshots or descriptions and pay attention to the details of the costume and not the character or plot.
When I finish my research, I have a draft of the post already. It has the introduction, the style breakdown and a list of my potential looks and corresponding item list.
2. Getting the items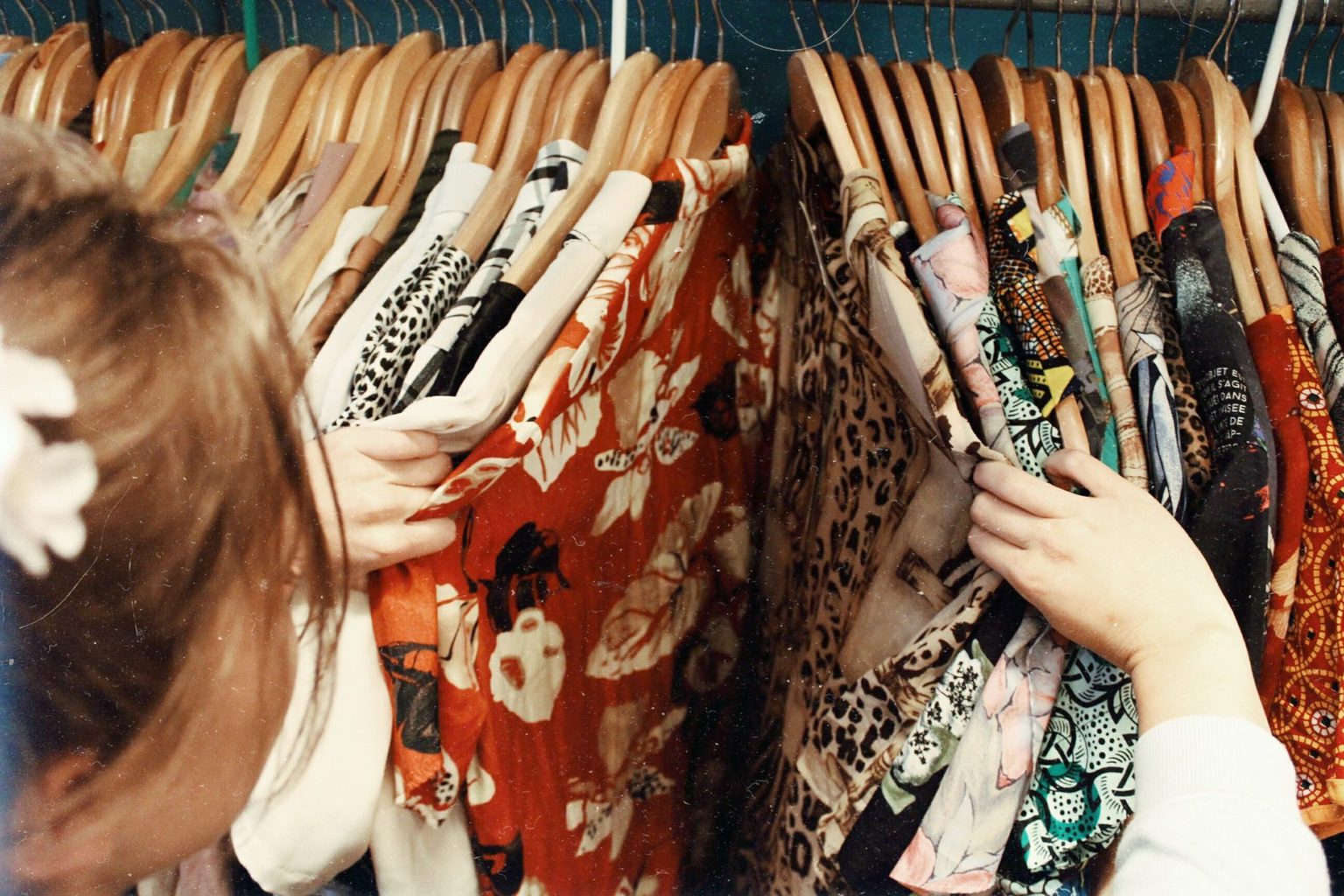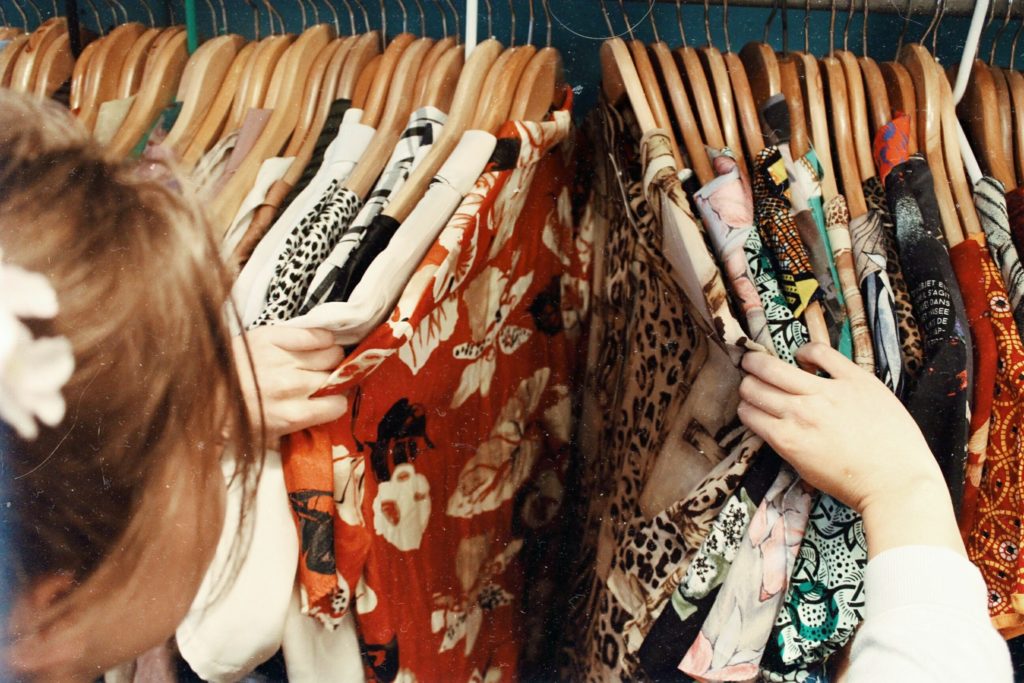 After my research, I go through my outfit options and compare to what I have available in my closet and my family's closets. (My family has been very helpful letting me borrow anything I need any given week.)
Based on that, I choose the five looks I'll be recreating and keep two extra ones saved up as backup. Most of the time, I can create the looks without buying stuff. I just modify certain things to make them look or fit how I want them to. When an item requires sewing, my mom helps me out, because I'm the worst at it. Otherwise, I just pin or tie things to adjust.
If I need to buy something, there are some self-imposed rules to follow:
I have to be 100% sure that I (or my sister) will wear it again.
Try to buy it second-hand or with a local designer, store or boutique to reduce my use of fast-fashion. Also, if it is local, it ships faster and usually arrives on time for me to wear.
It can't be super expensive if I'm buying it for the post. If I'm using something expensive, it will usually be something that I've been saving up for or that it was already in my closet that incidentally works for a post.
Before quarantine, if I had to buy something I just went to different malls and searched until I found what I needed. Now, if I see that I have to buy an item, I have to take into account how long it will take to ship and arrive. If it takes too long, I'll try to push the post a week or so, but I usually end up choosing a different outfit or just doing it without the missing item. Online shopping also takes twice as long to find the items I need.
3. Recreating the looks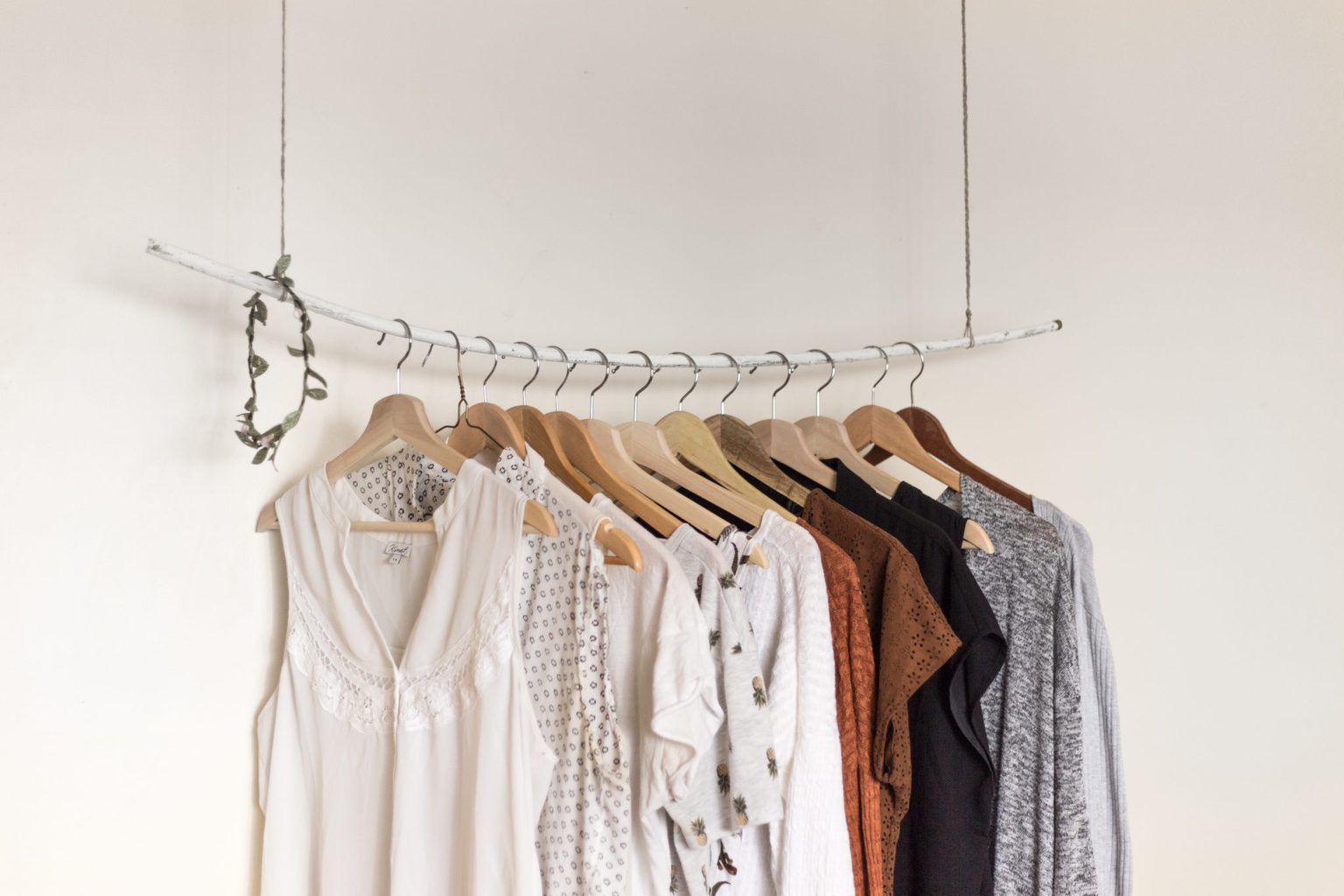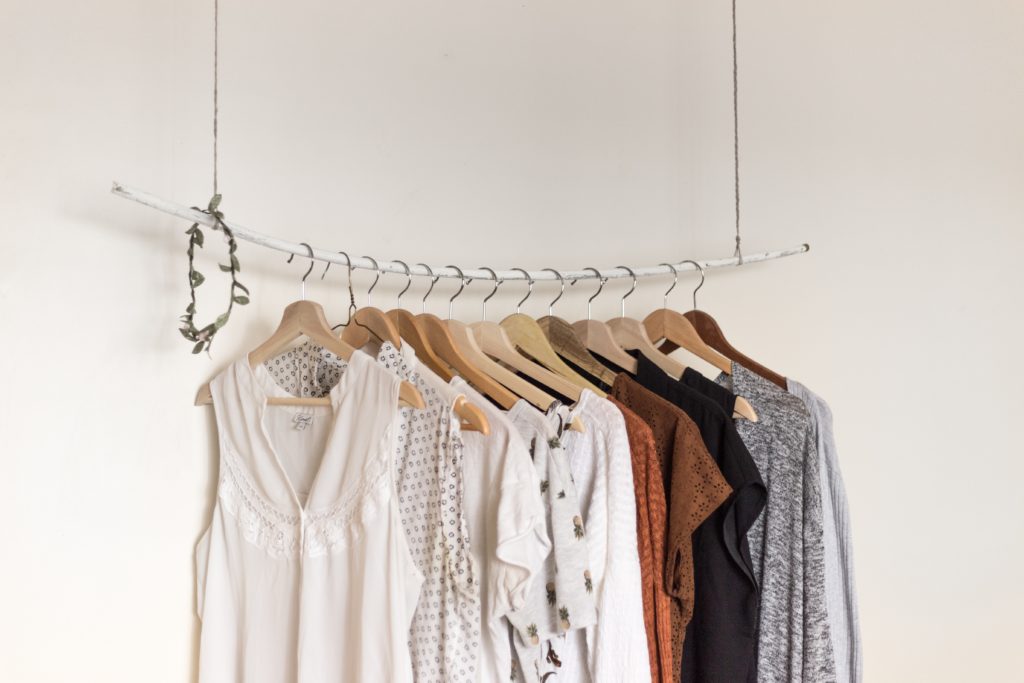 The best part is actually putting the looks together.
To do this, I lay all the outfits on my bed and take out all the shoes, accessories and sometimes makeup that I'll need for each one. I pull up the pictures for reference and check one by one if I have everything I need already. Then, I write the outfit, the items I'll use each day, and the day I'll wear it on a notepad that I have and put everything back in my closet.
Each night, before I go to bed, I check my notes and take the items out. In the morning, I put the outfit on and make the adjustments if needed.
At the end of each day, I write on the draft which outfit I wore, the items I used, and how I felt with it through the day. At the end of the week, on Saturday, I polish these sections to what you read every other week.
4. Photo Shoot Day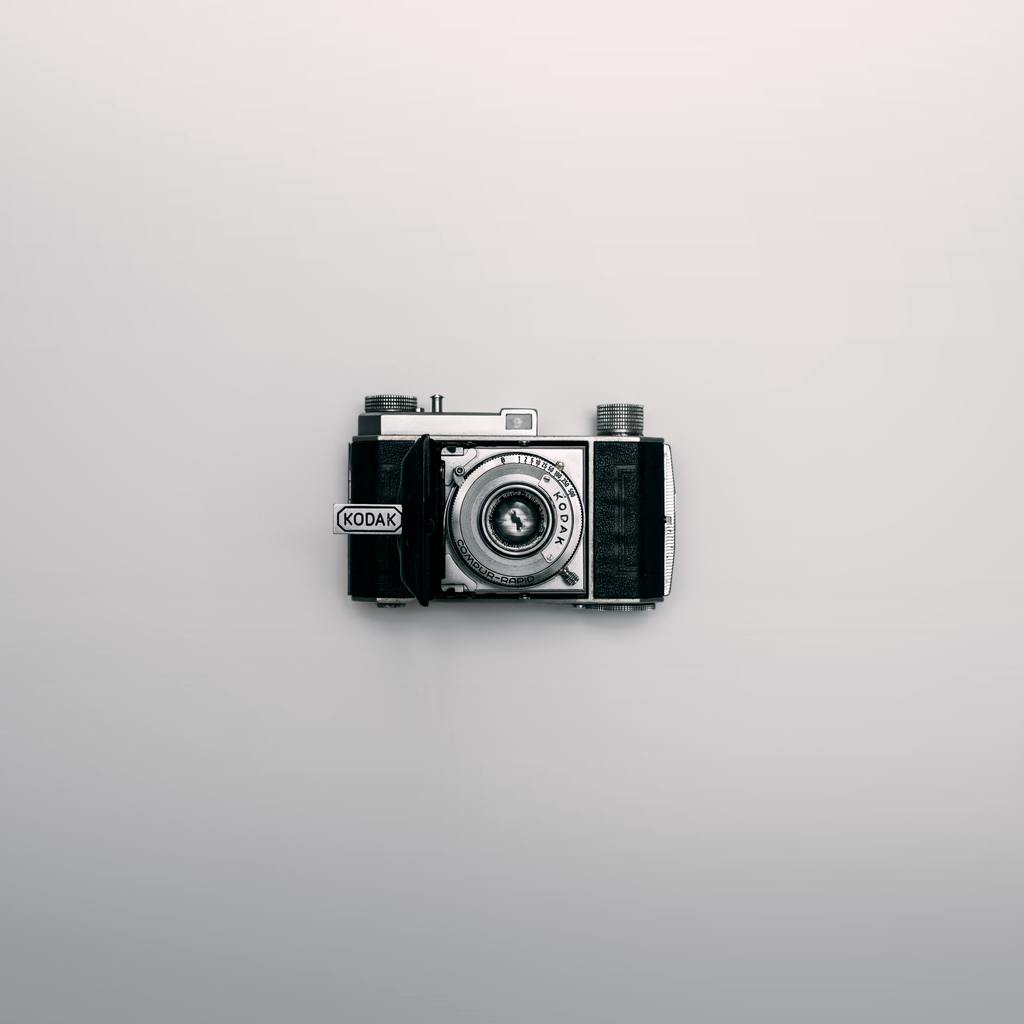 Saturday is usually the day I leave free to take all the photos, edit them and finish writing the post. I take all the items out again, lay them on my bed and recreate the outfits all over again. I take the photos on Saturday morning because it's the moment of the day when I have the best light and I can take my time to take usable and detailed pictures of the looks.
I've tried out various locations inside and outside my house to find the best place to get the pictures. I ended up on the rooftop: it has white walls and floor, which means there are no other colors in the background that mess with the outfits, and the sunlight reaches most of it through the day so I have more time to take photos.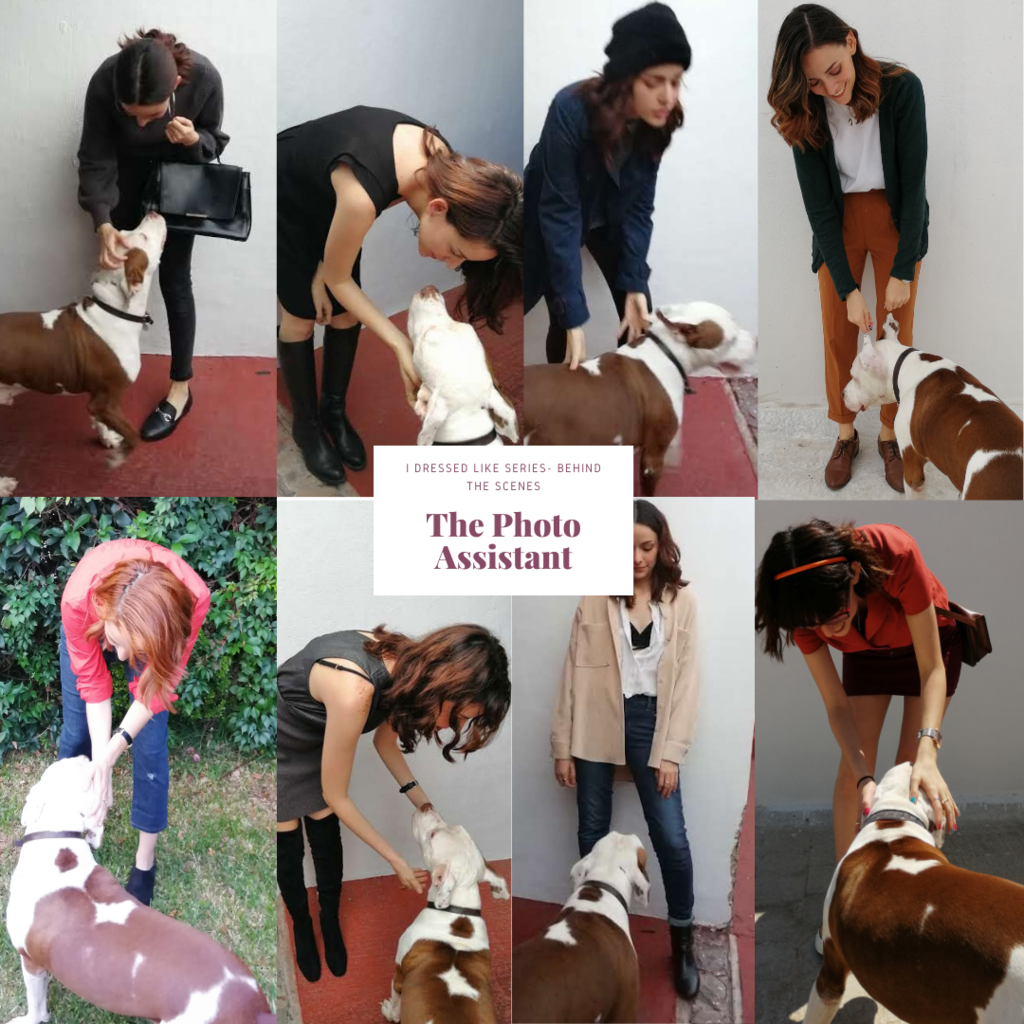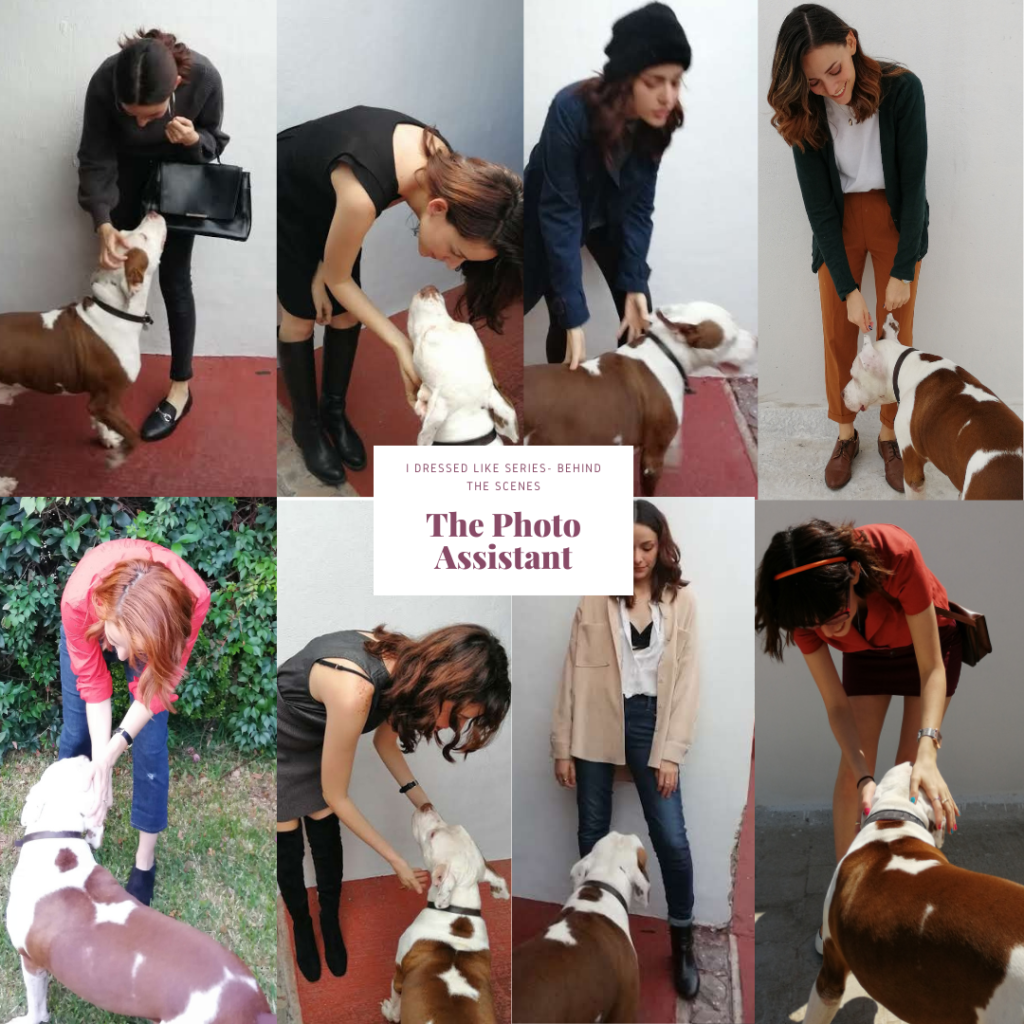 Doing all of this on one morning is really chaotic, but fun. Sometimes my sister helps me taking the photos, but I usually just use the timer on my phone. Also, my dog loves to be around when I take them and he usually makes a rogue appearance in the pictures.
After I finish taking the pictures, I take all my makeup off, change into comfier clothes and start editing. I edit the photos to make them look nicer and brighter and it helps to make the details of the looks clearer. Finally, I finish writing my conclusions and polish the final draft.
My Personal Style: After The Series
I wouldn't say that my style is 100% different from when I started. I still do love classic silhouettes and neutral colors, but I finally have the confidence to wear whatever I want without fear of judgement, especially from myself.
There are a couple of specific things that I have either discovered or recovered, thanks to this series, that have now become regular fixtures in my closet:
1. Girly Items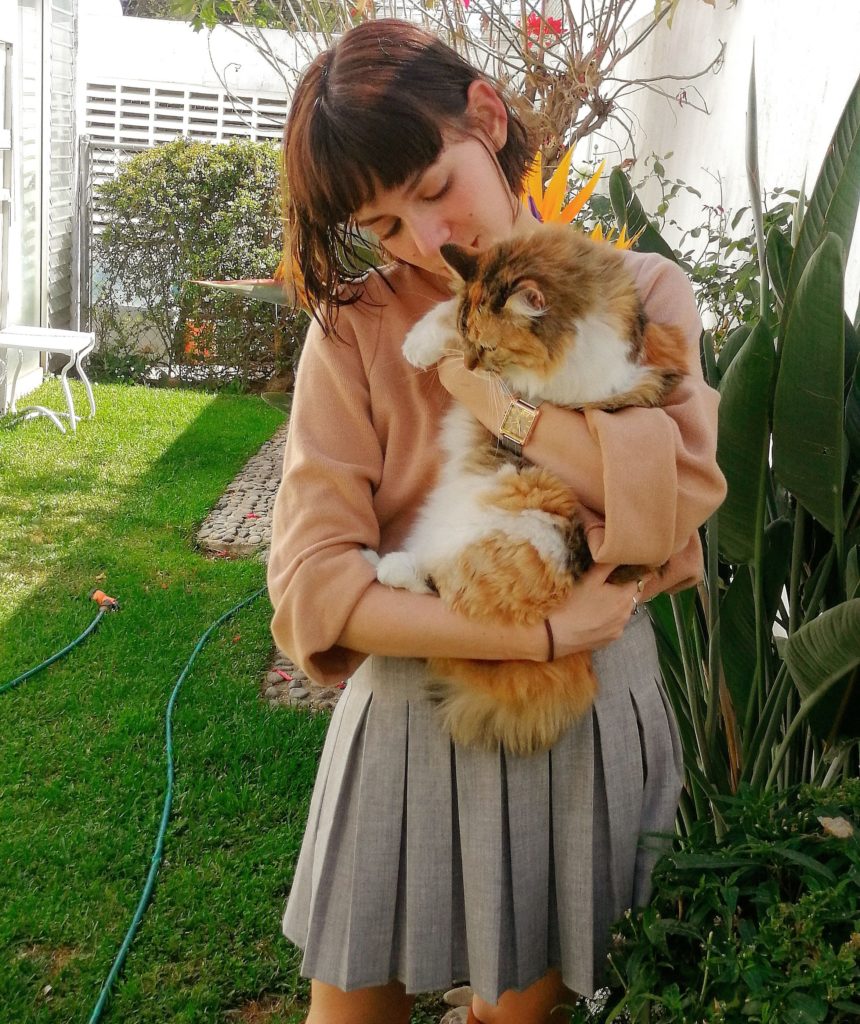 Flowy fabrics, floral patterns and romantic cuts have become a staple of my closet. I just love it when I twirl and my skirt actually moves with me.
Before this, I probably had like two skirts and one casual dress. Now, I wear them all the time.
I'm not a big fan of really short hemlines, but I do have a couple of mini-skirts, like the grey pleated mini skirt above. My favorite length is midi, because you can wear it all year round and it's super comfortable for any activity.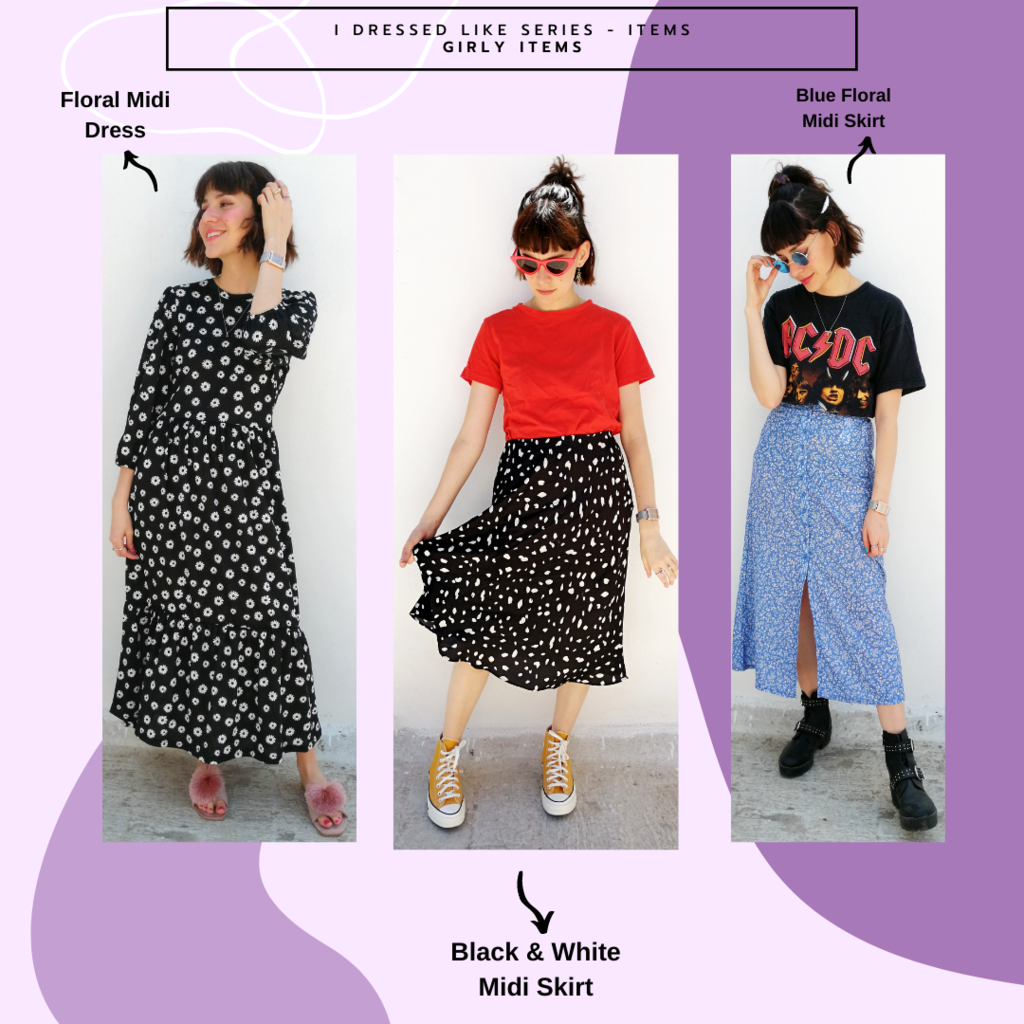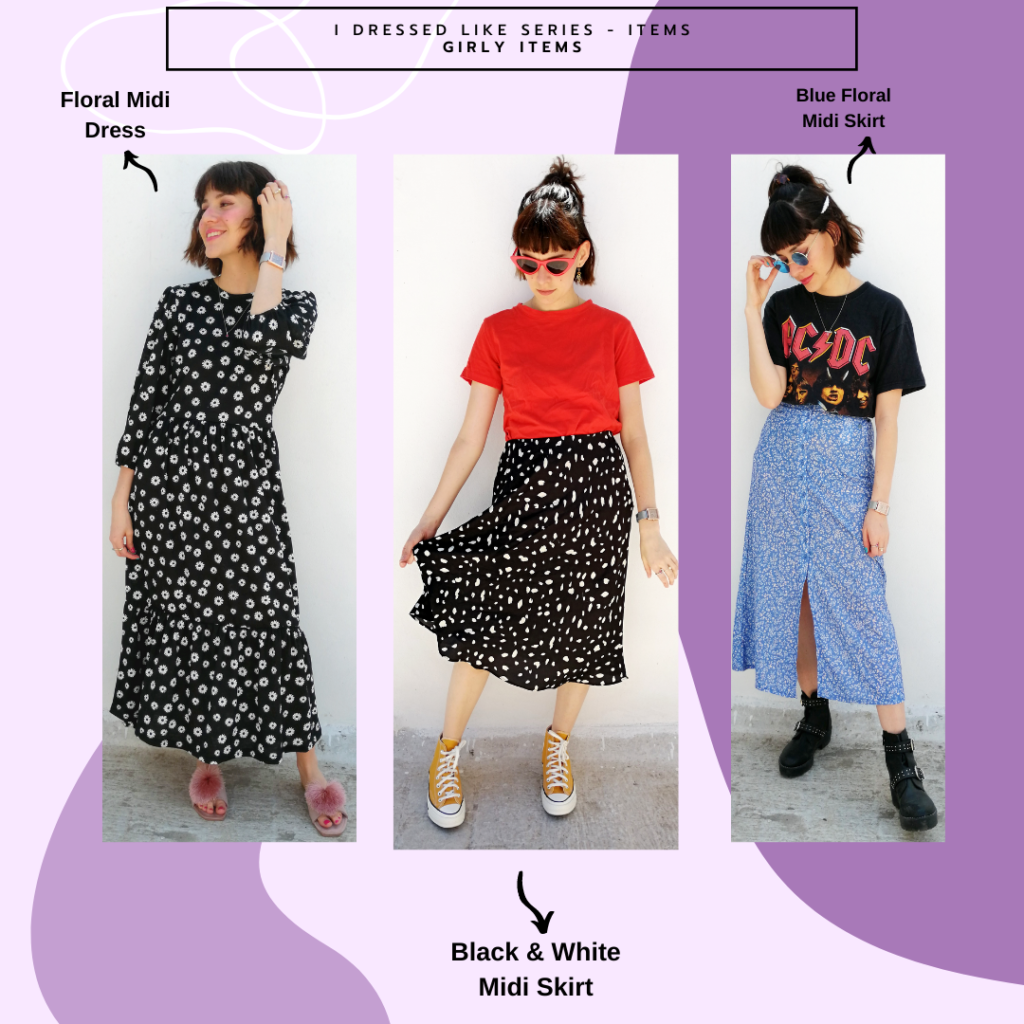 Currently, my favorite girly pieces are these ones: a blue floral midi skirt, a black and white midi skirt, and a black floral dress. They are all so comfy and cute. They go with anything and I can dress them up or down however I need.
2. Statement Jeans & Pants
I'm a jeans type of gal. Mom jeans are my go-to cut, especially in blue and black. But, I also like simple t-shirts.
So, what's a good way to upgrade your look? Statement jeans and interesting pants.
Plaid has always been a staple in my closet, so I was covered in the plaid pants department. Recently, I've acquired a couple of awesome jeans and pants that I can just wear with a simple shirt and look really cool.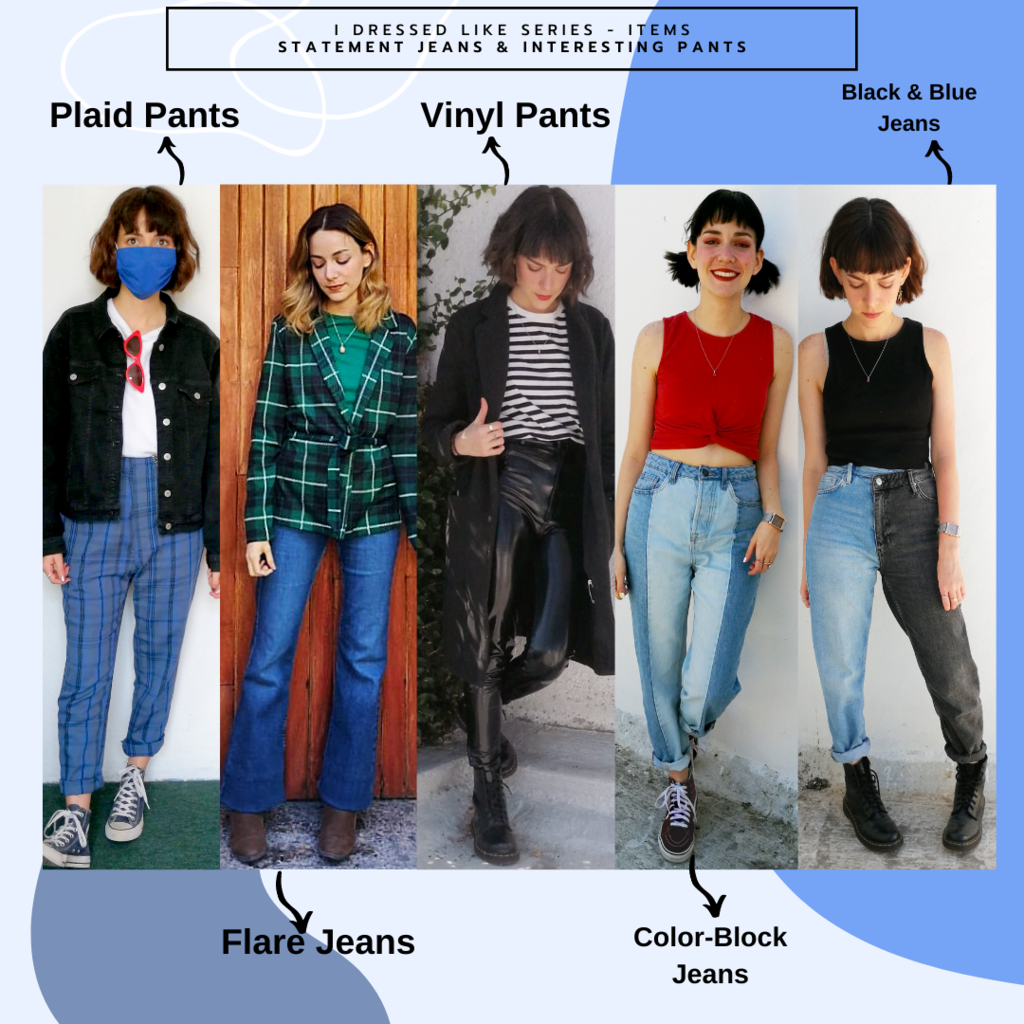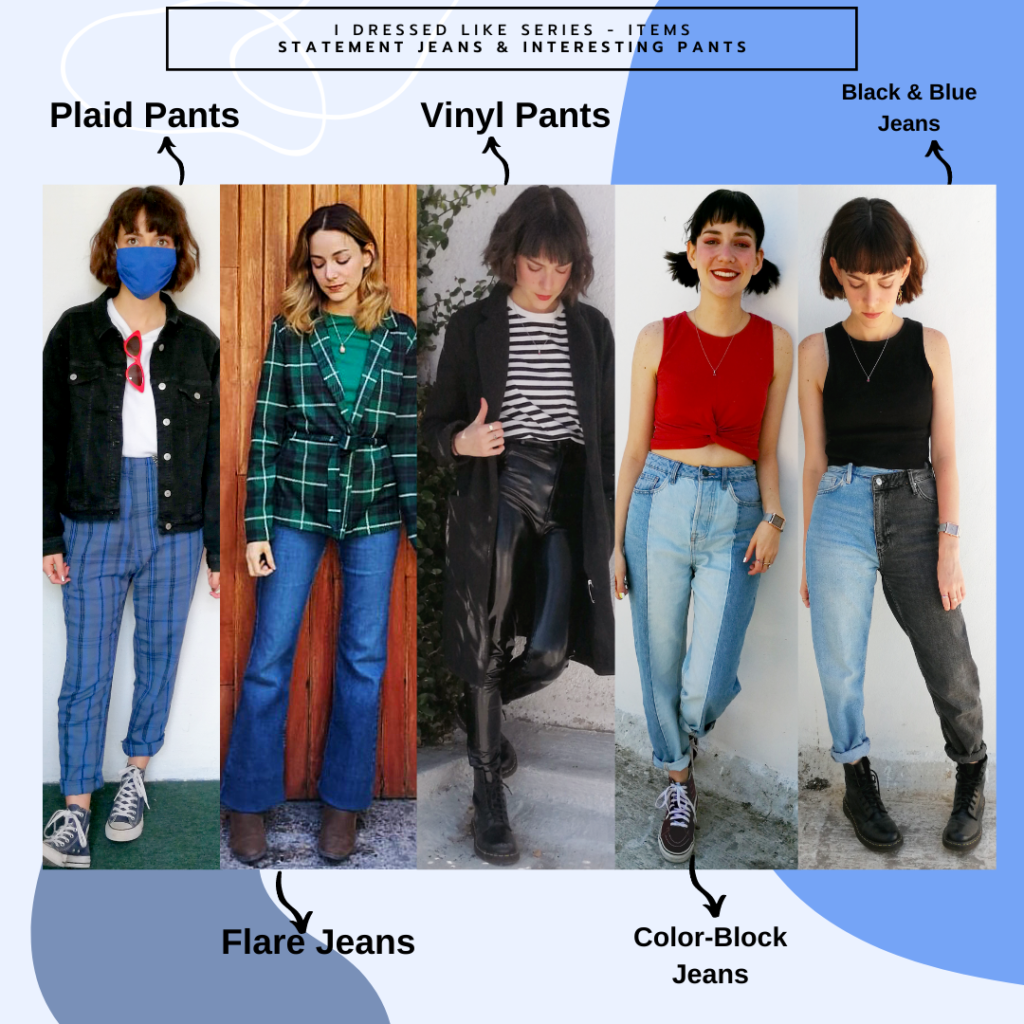 My absolute favorite pieces right now are: a pair of flare jeans, blue and black mom jeans, color-block blue jeans, blue plaid pants and a pair of vinyl pants. They all are kind of recent additions; they don't have a year in my closet.
Of all these, my number one are definitely the blue and black mom jeans. I saw a similar pair of jeans months ago, but I couldn't find them or anything similar for a long time. When I finally found them, I was sure I wanted them. Plus, I think they bring me good luck.
3. Colorful Pieces
For all the time I spent denying my love of color, it has come back with a vengeance. Anything bright, even neon, has a place in my closet.
I've spent the last few months trying to rebuild my closet with the items I've always wanted. One of my tasks was to have, at least, one item in each color of the rainbow. I think I succeeded. Periwinkle blue, lilac, red and pink are definitely my top colors, with green following very closely.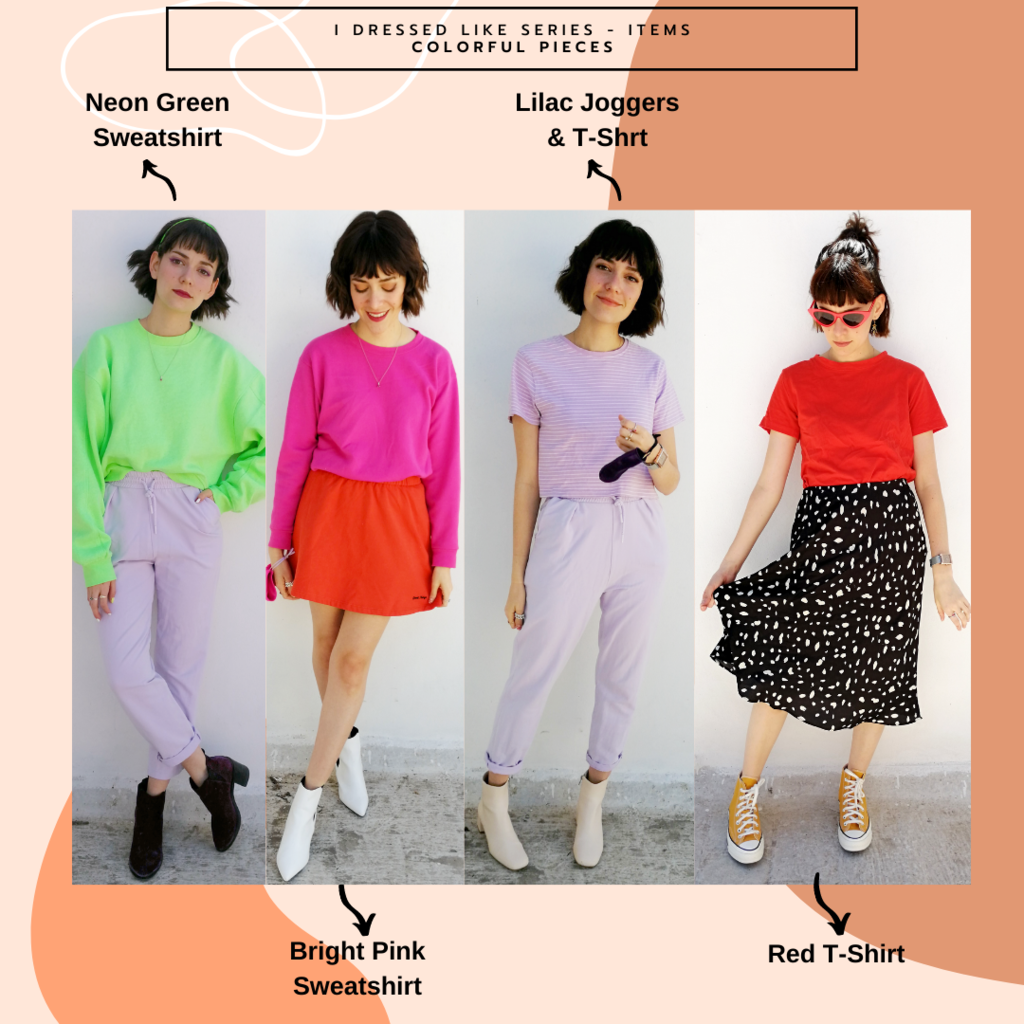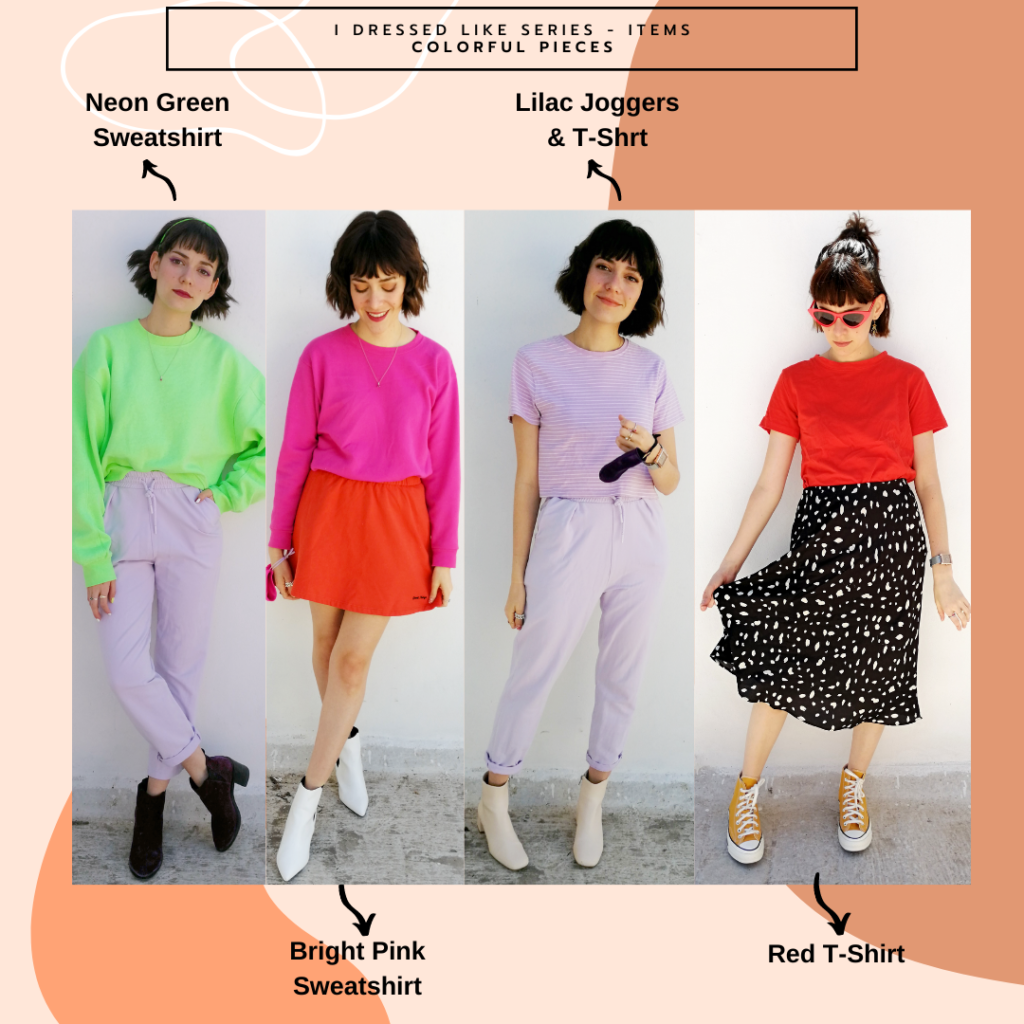 The items I reach towards the most are: the yellow sweater above, a neon green sweatshirt, lilac joggers and t-shirt, a pink sweatshirt and a red t-shirt. These ones are leaning more towards basic items, since they don't have much going on outside of the color.
I like to wear these when I feel like using something casual but a bit more fun.
4. Tailoring & Matching Sets
I've discovered that a huge fashion time-saver is to have matching sets and suits on deck. It's just something so easy and cute for days when you don't have time or energy to put an amazing outfit together.
I have sets that range from the casual to the put-together. Currently, I only have one suit, but I love it. It's one of my favorite things in the world. And I'm designing and saving up to go and have one custom made.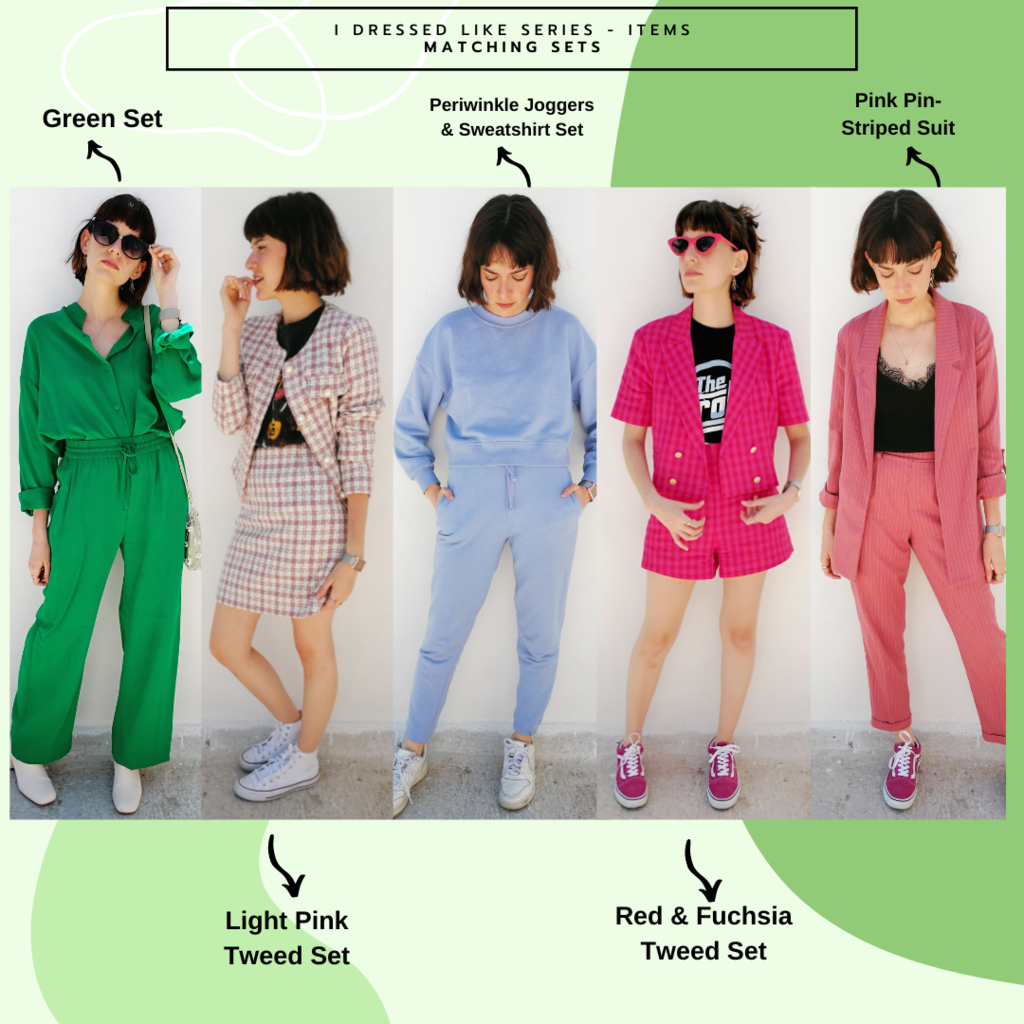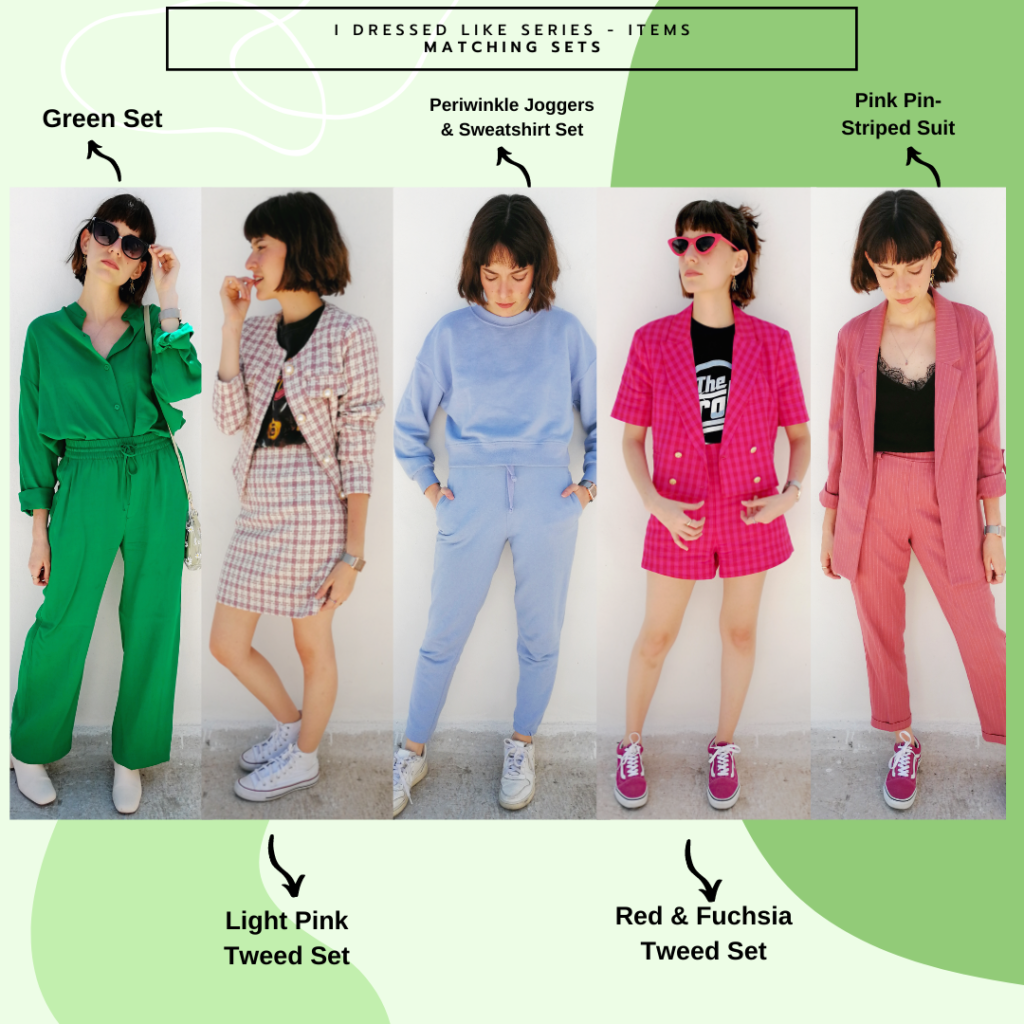 Here are my favorite sets and my beloved suit. I have a green set of flowy pants and Oxford shirt, a Chanel inspired tweed pink set, a red and fuchsia shorts and blazer set, a periwinkle blue joggers and sweatshirt set (that I also have in grey), and my pin-striped pink suit.
The joggers and sweatshirt are the ones I wear the most day-to-day, but the all the others are literally my childhood and teenage dreams come true.
5. Pink Everything
The one thing that I adore that this series has given me back? Pink. It is, without a doubt, my favorite color. I want everything in pink. It's such a happy color and it goes with everything.
I wasted so much time trying to be cool that I lost sight of what I actually love and like wearing. Pink is the staple in my closet. Especially if it comes in interesting patterns and fabrics. Don't get me started on pink glitter.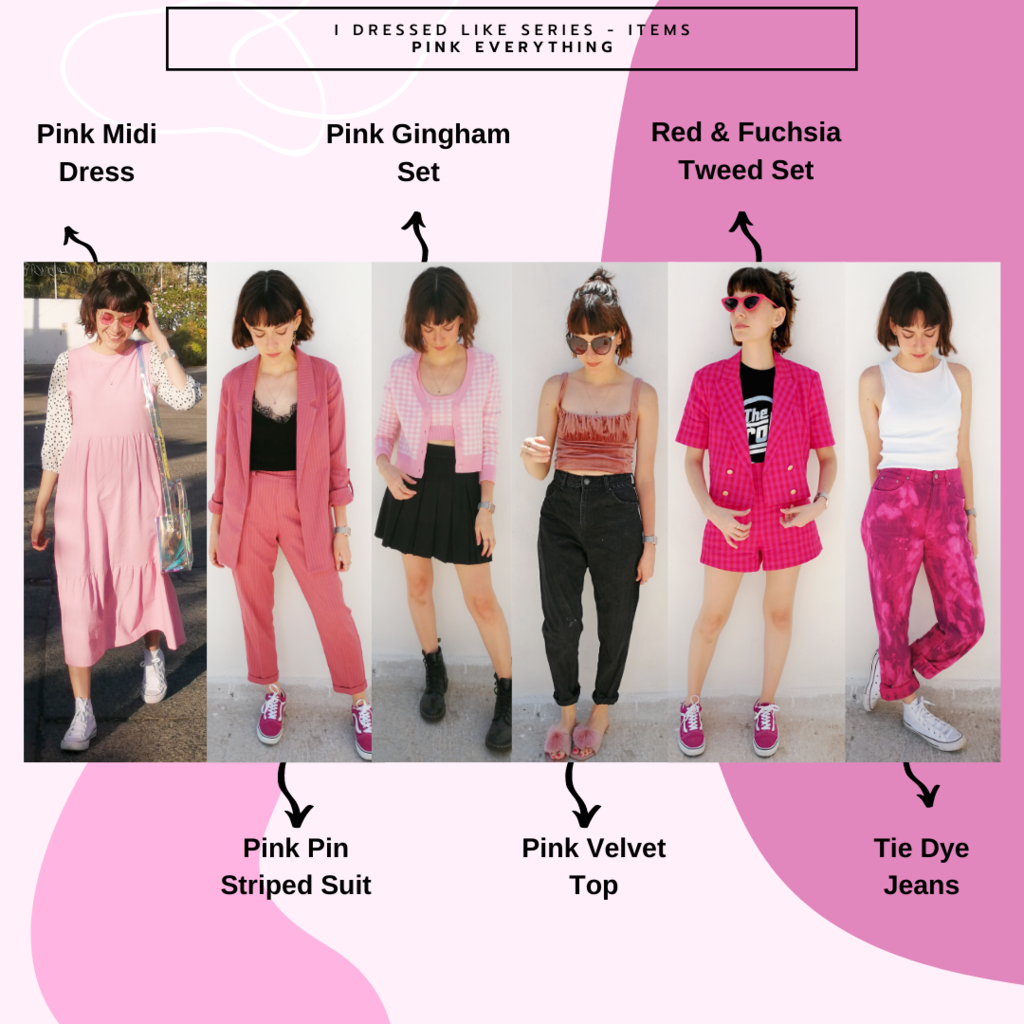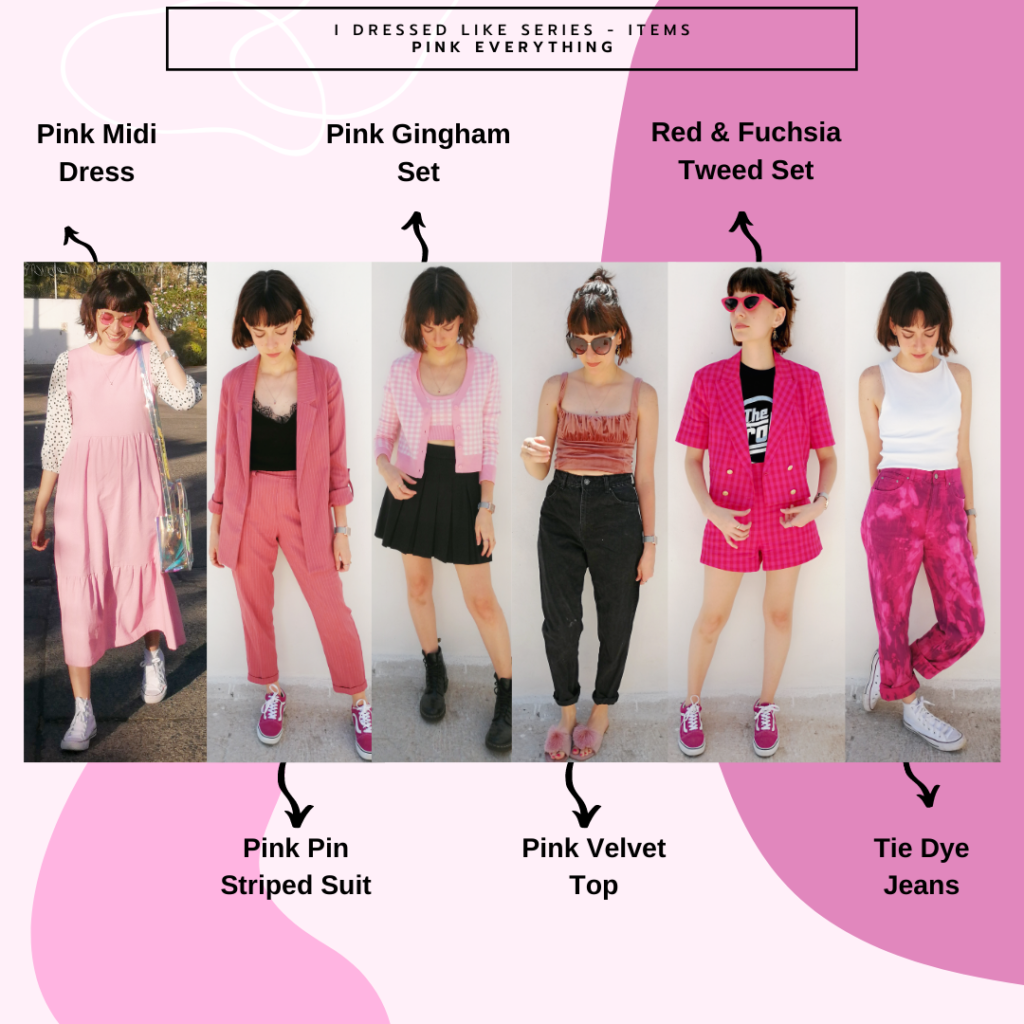 I can't rank my favorite pink items, so I just rotate them all the time. Plus, all the previous categories fit in with my pink items: I have a midi pink dress with polka dot sleeves, the aforementioned pink suit, a matching pink gingham sweater and top set, a velvet crop top, a pair of pink Vans, the red and fuchsia set and the coolest pair of pink tie dye jeans you will ever see.
Final thoughts
Seeing just how much work goes into creating these seemingly effortless and perfect outfits, especially on celebrities, made me realize how messed up it is to think that that's just "how it looks on them".
Believe me: celebrities do not just choose something off the rack, throw it on, and take a quick picture for Instagram. They get their clothes fitted, makeup professionally done, and every detail down to the accessories is perfectly thought out for a picture to look good. Even when I recreate a celebrity outfit at an achievable level, I have to go the extra mile to get that outfit to work out perfectly.
The next time you start comparing yourself with a celebrity's picture, remember that they don't look like that photo either. After starting this series, I stopped doing that gradually and it helped a lot.
To be 100% honest, I'm very critical of myself, my work, and my image, especially when I look back at my past work. I look back on some of the styling and writing in the posts I did before, and I just want to do them again. (I actually redid my Taylor Swift post in part for this reason.) My older posts just don't work for me anymore, not to the level that I now expect of myself.
That being said, I'm really proud of this series in general. Creating these posts has helped me feel so much more comfortable in my own skin and it has boosted my self-esteem. It's not just thanks to these posts that I've gotten better, I worked a lot outside of them too, but they have definitely been a huge part of this process.
But mostly, the "I dressed like" series has given me two incredibly important things back: my love for writing and my freedom.
On the writing side, my editor here at College Fashion has always given me the encouragement to write about things I'm passionate about. Nothing is too weird or obscure for me to write about: if I can create a post about it, I generally get a green-light. Which means, I get to create posts like the Halloween Characters, the Winx post or the W.I.T.C.H one. These posts are usually the ones I get to be extra creative on and I enjoy doing the most.
On the freedom side, these posts have freed me from thinking of fashion as superficial. It truly is the furthest thing from that. The way something fits you and how an outfit makes you feel, can change your day completely. I see it all the time: when my sister, whose style is way more toned down than mine, puts on an outfit that she loves and is comfortable in, her whole expression changes.
I have let go of any "fashion rule" or "fashion faux-pas" ideas that I might have ascribed to in the past. I love fashion and I love clothes. It's a part of my life that I thrive in creatively and I'm so happy to be able to share that with all of you.
Oh, and don't worry, this isn't a series finale. I'm going to keep doing these posts as long as I feel I can still keep writing them and remain passionate about them.
The TL;DR of all of this: If you guys want to experiment with your style, don't hesitate to do so. It's rewarding in so many more ways than just refreshing your look.
What Do You Think?
What have thought of this series so far? Which category is the one you like the most? Have you ever experimented with your style? Whose style do you think I should cover next? Let us know in the comments below!