Avengers: Endgame premiered yesterday worldwide. It marks the end of a story that began eleven years ago.
Last week we dedicated our post to the First Avenger, Captain America, so it seems fitting that our last Heroic Styles post is dedicated to the character that kickstarted the Marvel Cinematic Universe, Iron Man.
About Iron Man
Iron Manwas co-created by Stan Lee, Jack Kirby, Larry Lieber and Don Heck. He debuted in 1963, but his first title was published until 1968. Although Iron Man was a founding member of the Avengers, he was considered a B-List character from Marvel Comics and wasn't among the most popular heroes of the company.
Tony Stark is a genius billionaire who suffers an injury to the chest during a kidnapping. Instead of building the weapons his kidnappers wanted, he builds a robotic suit of armor to escape. After that, he starts developing his suit and giving it new technology and weapons. He initially conceals his identity as Iron Man, but he eventually decides to reveal it in a public announcement.
Iron Man in the Marvel Cinematic Universe
Tony Stark is played by Robert Downey Jr in the Marvel Cinematic Universe.
RDJ is nicknamed the Godfather of Marvel and he first made an appearance as Tony Stark in an uncredited cameo in The Incredible Hulk. He now has three solo movies: Iron Man, Iron Man 2, and Iron Man Three. He reprised his role in Avengers, Avengers: Age of Ultron, Avengers: Infinity War and Avengers:Endgame. He was also a co-protagonist in Captain America: Civil War and Spiderman: Homecoming.
It's hard to remember how risky it was for Marvel to create the first Iron Man movie. It truly was a gamble for many, many reasons.
For starters, Marvel didn't have the rights to their most famous characters (Spider Man, X-Men and Fantastic Four) back then and the company was on the verge of bankruptcy, Robert Downey Jr. was considered talented but a risky actor to hire and he would play an unpopular character. The film was directed by Jon Favreau and his last movie had been a flop, there wasn't a script and most of the dialogue was improvised.
Despite all of this, making Iron Man was the best decision Marvel ever made. Not only did the film become a huge box office success, it resurrected Robert Downey Jr.'s career and Jon Favreau's as well. It also propelled Marvel Studios and convinced them that they could build a cinematic universe using unknown or unpopular characters.
Eleven years later, there have been 21 movies, plus several TV shows and web series. Marvel Studios has the critical, financial and audience backup they lacked in 2008. Iron Man single-handedly changed the course of cinema and the comic book genre forever, with several rival studios attempting (and failing) to copy their success.
Iron Man's Style in the MCU
Tony's style can be best described as "comfortable unless otherwise required." He is usually in pants, sneakers and tank tops, especially because he's working in his lab. Then, he'll do a 180 and use a tuxedo or a three-piece suit.
It is hard to separate RDJ from Tony Stark, but it's safe to say that he inspires a lot of Tony's style, especially his accessories. Now Tony wears tinted glasses and colorful sneakers, like Robert does.
Iron Man's Style in the MCU: Outfit #1 "If we can't protect Earth (…) we'll avenge it!"
Products: Leggings – ShopBop, T-Shirt – Banana Republic, Sneakers – DSW, Sunglasses – Privé Revaux, Backpack – Adidas
Tony Stark is a huge fan of coordinating his athletic clothes. He usually wears them in muted colors and camo, like in this picture.
To emulate his comfy look, use a pair of camo leggings and a black, loose t-shirt. I decided to leave the jacket out, because summer is approaching and the weather is getting a lot warmer. To keep up the athletic vibe, use black, simple sneakers.
To accessorize, go for a small, black backpack. Use blue tinted sunglasses to emulate Tony's shades.
This is the perfect outfit when you're running late, have to catch a flight, or you have to study (maybe for an Engineering final?). It's comfortable and put together.
Iron Man's Style in the MCU: Outfit #2 "Genius, billionaire, playboy, philanthropist"
Products: Blazer Dress – NAKD, Shoes – Nordstrom, Sneakers – ShopBop, Bag – CoEdition, Necklace – Macy's
When Tony is not in his lab working on new tech or saving Earth, he's at a party, probably thrown in his honor.
This second outfit is inspired by his sharp party looks. Use a black blazer midi dress to get Tony's elegant look in a feminine, wearable way. Now, for shoes you can go two ways, depending on your personal style: black, studded loafers that emulate some of Tony's first elegant looks or black and white sneakers to get his bow tie look incorporated and his love for sneakers.
Accessorize with a black and white purse and a silver and blue necklace that emulates his arc reactor implant.
Iron Man's Style in the MCU: Outfit #3 "I am Iron Man"
Products: Romper – ASOS, Sneakers – Farfetch, Belt – REVOLVE, Cuffs – The Outnet, Heels – Marc Fisher, Necklace – Nordstrom
The Iron Man suit has changed and has been replaced multiple times through the years. For this last outfit I was inspired by one of the most popular versions, the MARK III.
Use a dark red romper as a base for your look. It's already cinched at the waist but belt it with a gold belt to elevate the outfit.
You can dress it down and casual with a pair of gold sneakers or change it up for a night out with red heels. Finally, accessorize with a variety of golden jewelry, like a layered, coin necklace and a gold cuff.
Bonus Outfit! What to Wear to Watch Endgame:
In case you're going to watch Avengers: Endgame, here's a bit of inspiration.
The thing about the movie it's that it is almost three hours long and you're going to be sitting for a long, long time. Comfort is key when you go to a watch a movie like this. What I do when I go to premieres or watch movies this long in theaters (and did yesterday) is try to use something that feels like pajamas without actually wearing them.
Here's a cute look that works: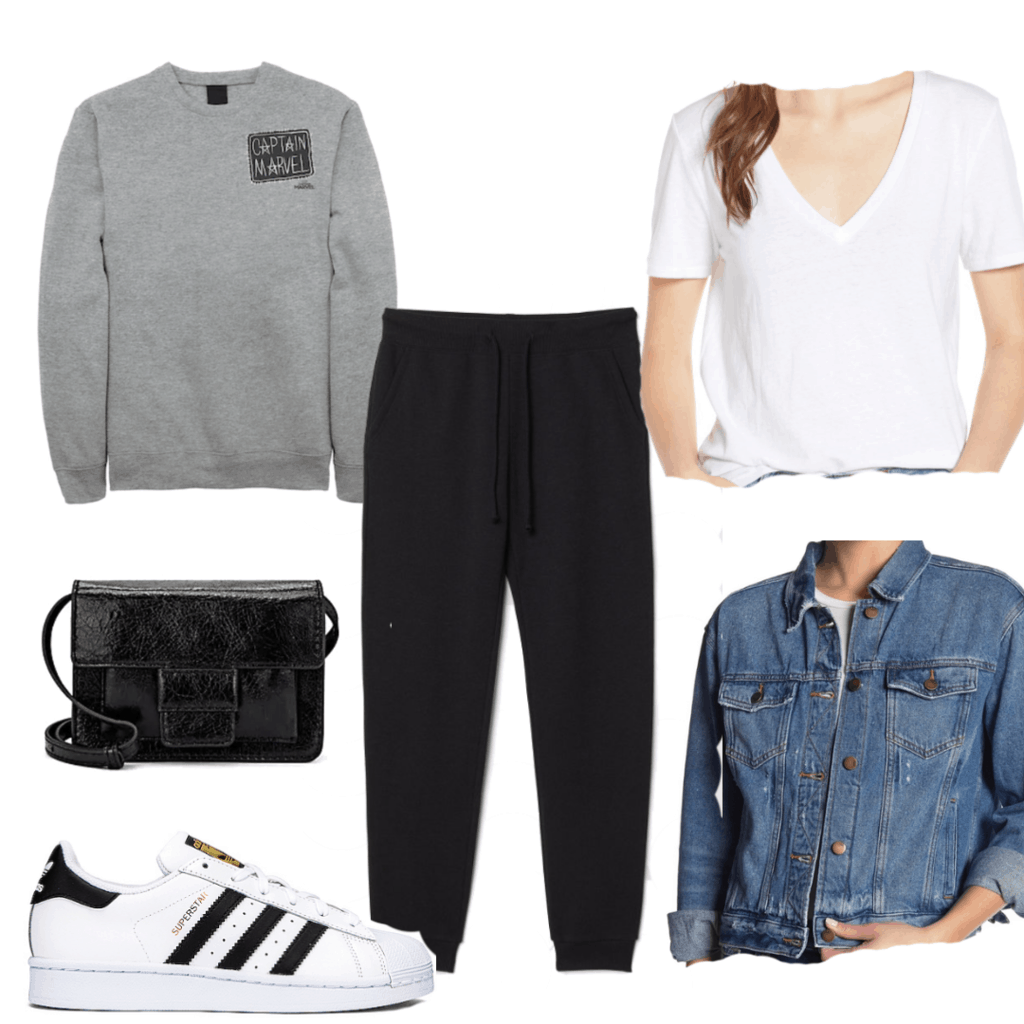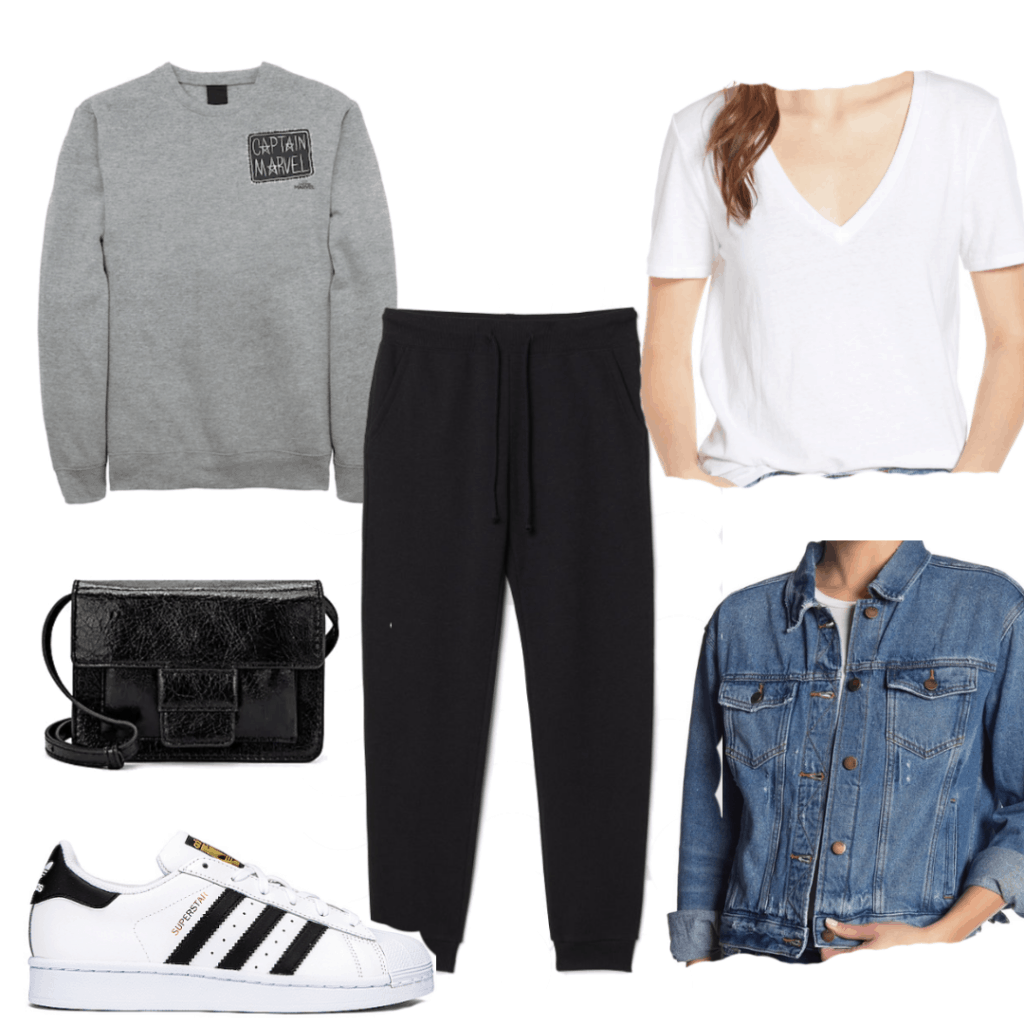 Products: Joggers – H&M, Sweatshirt – Kohl's, T-Shirt – Nordstrom, Jacket – Nordstrom Rack, Shoes – Adidas, Bag – Barney's Warehouse
Use a pair of black joggers for bottoms. Pair them with either a T-shirt with a light jacket or a sweatshirt. For shoes, I usually go for sneakers, but use the shoes you're most comfortable in. Finally, carry a small backpack or a cross body bag to carry your wallet and keys.
What do you think?
Are you going to see Avengers: Endgame? Have you already seen it? Which Iron Man outfit inspired would you wear?