The holidays have arrived and that means one very important thing… it's time to binge your favorite festive films! I've gathered up some Christmas classics and created plenty of fun, movie-inspired outfit ideas based on the best Christmas movie costumes.
If you are a film fanatic like me, keep reading to see some of my renditions of classic holiday characters.
You will not want to miss these iconic outfits come to life!
Christmas Movie Outfit 1: Home Alone – Kevin McCallister
A movie as beloved as Home Alone deserves to be the first outfit on this list.
This movie is filled with many memorable moments such as Kevin's decked out dinners, Harry's gold tooth, and the shovel guy, all of which we see Kevin experience in his little red sweater and green cargo pants.
This gorgeous red mock neck sweater is paired here with cargo pants to set the tone for this Kevin McCallister outfit.
I also made sure to include Kevin's accent yellow shirt with this adorable cropped yellow polo. To top it off, I gave this look some brown crocodile heel booties.
Holiday Movie Look 2: Love Actually – Natalie
Love Actually is a heart-wrenching roller-coaster and along its banter and crazy characters, the movie has many sweet moments. Among those moments includes a plot line involving Natalie, the Prime Minister's private assistant.
This secretary is no stranger to cute office-chic outfits, but her all-red look towards the end of the film is a real showstopper.
Putting together an outfit as cute as hers was challenging! I wanted the reds to compliment each other and I think it is safe to say I got pretty close to putting together the right look.
I found this ruched long-sleeve crop top to go with these high-rise skinny jeans. They pulled everything together nicely with this red oversized coat.
To match the gold embellishments on her shirt in the movie, I found this statement necklace that does the trick.
Christmas Movie Outfit 3: The Grinch
While this outfit may not scream Grinch, I did not think that putting together a fuzzy green bodysuit was the way to go here. We're all about wearable fashion here at CF.
To make our Grinch outfit a little more chic, I found this elegant emerald bodycon dress and paired it with dark green strappy heels and a fun, fuzzy coat.
Now you have a classy way of showing up to your Christmas party while paying homage to that iconic scene where the grinch goes undercover as Santa!
Holiday Movie Look 4: Arthur Christmas
Arthur Christmas is a fun twist on many classic films. Our protagonist, Arthur, wears an adorable outfit that I just thought would be so fun to remake.
Almost identical to the one Arthur styles in the movie, I could not believe my eyes when I found this remake of the sweater online!
I paired this sweater with jeggings and bear face slippers. If you were planning on wearing this to a holiday party, however, might I suggest switching over to some fun booties.
To finish off this style, I added some red and green tube socks. They are not extremely visible, but Arthur does wear them throughout the film and they are a delightful addition to this outfit.
Christmas Movie Outfit 5: Polar Express – Hero Boy
Even though the protagonist is wearing his pajamas the entirety of the movie, I felt there was still plenty of outfit inspiration to be garnered from this film. Rather than wearing a blue robe to your next holiday party, style this gorgeous blue wrap dress instead!
To give the look a little more of a Polar Express feel, I styled this dress with a beautiful yellow purse and these sandal heels.
This look is simple, elegant, and chic!
Holiday Movie Look 6: Elf – William "Buddy" Hobbs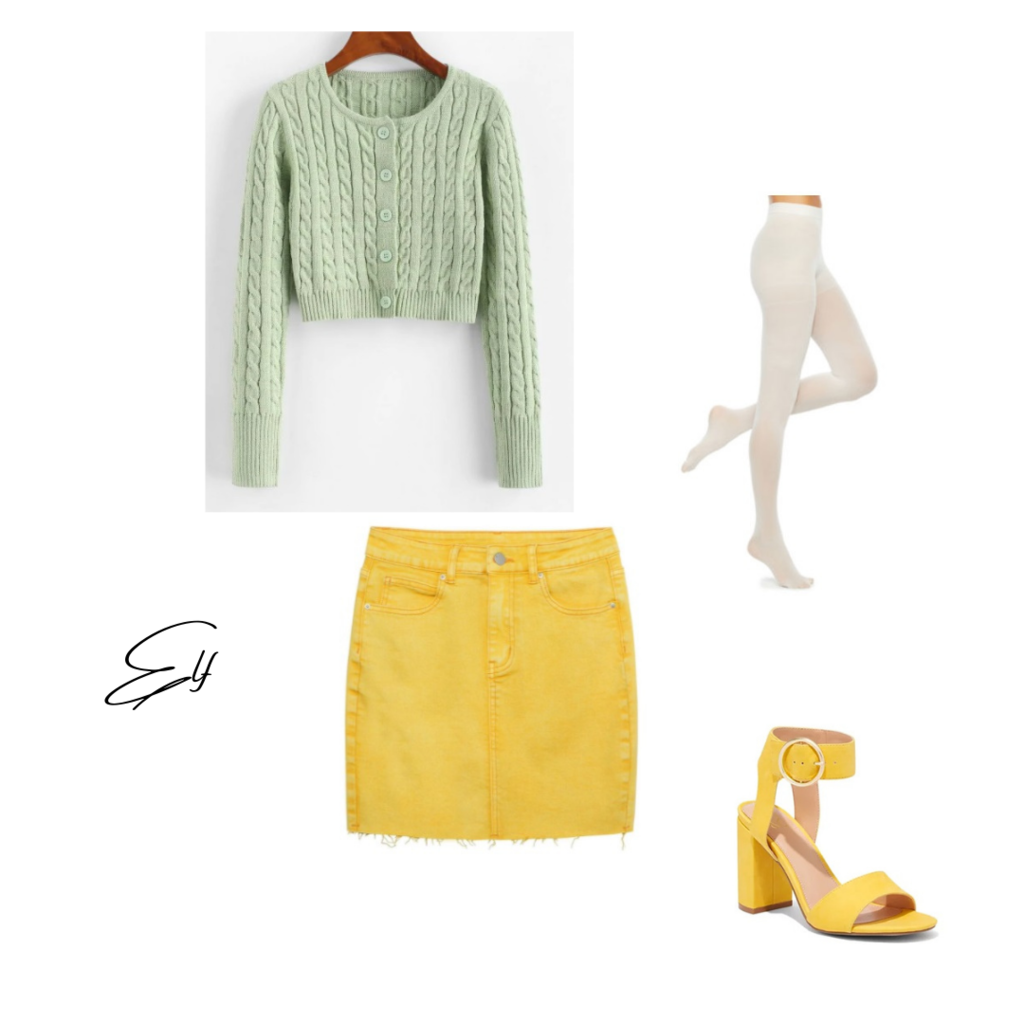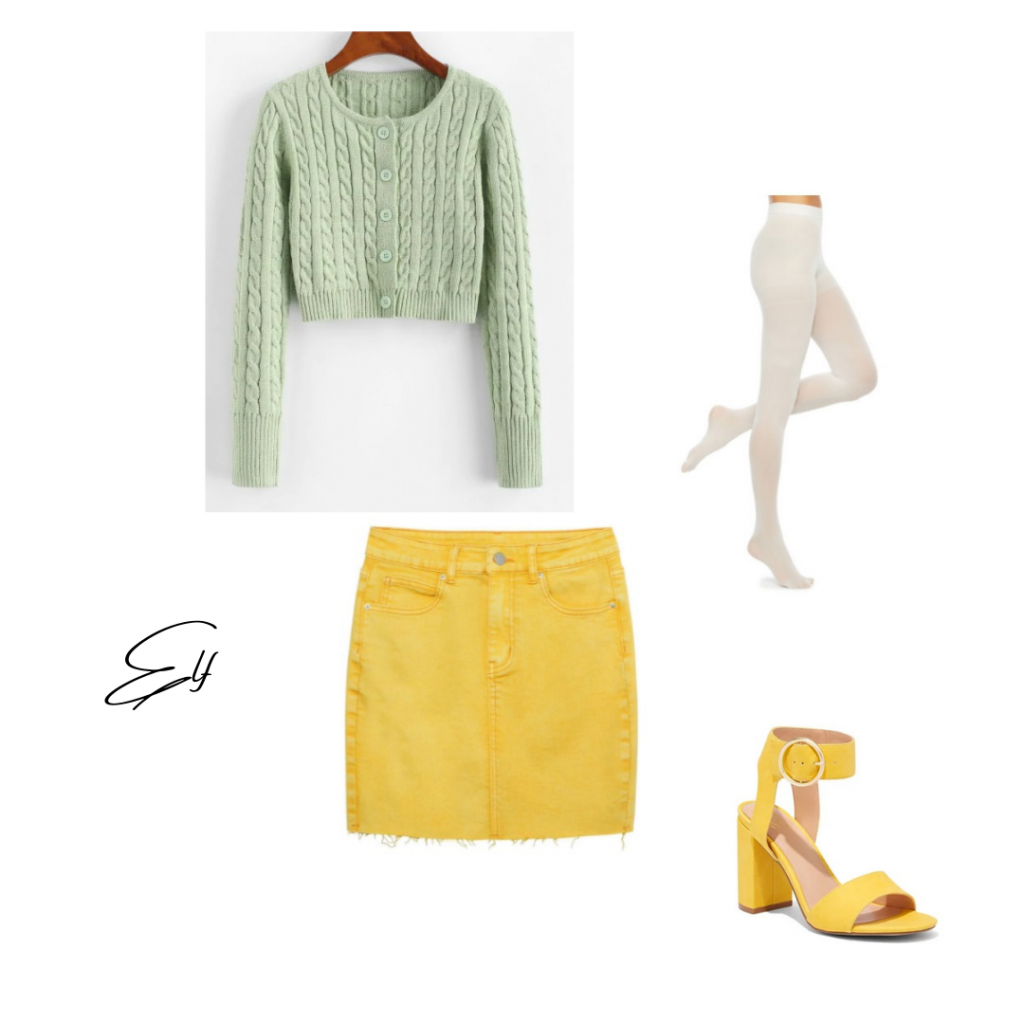 Will Ferrell turned Elf into a Christmas classic. This famous film about a man who grows up thinking he is an elf is a heartwarming story.
To bring this amusing look to life, I opted for a yellow denim skirt rather than his famous yellow pants.
Since our goal is to make this look a little more chic, I paired the skirt with a cable knit button up, some white opaque tights, and these gorgeous ankle-strap heels.
Even though you will not exactly be a in a replica of the iconic Elf costume, this look is a fun twist to the outfit you see Ferrell rocking throughout the movie.
What's your favorite film-based holiday look?
Whether it's Love Actually or Polar Express, I hope you enjoyed all of these Christmas movie-inspired outfits.
Which of these outfits is your favorite? Did I leave out your favorite holiday movie? If so, let me know in the comments below!