This Veronica Mars fashion guide will show you how to recreate Veronica's style.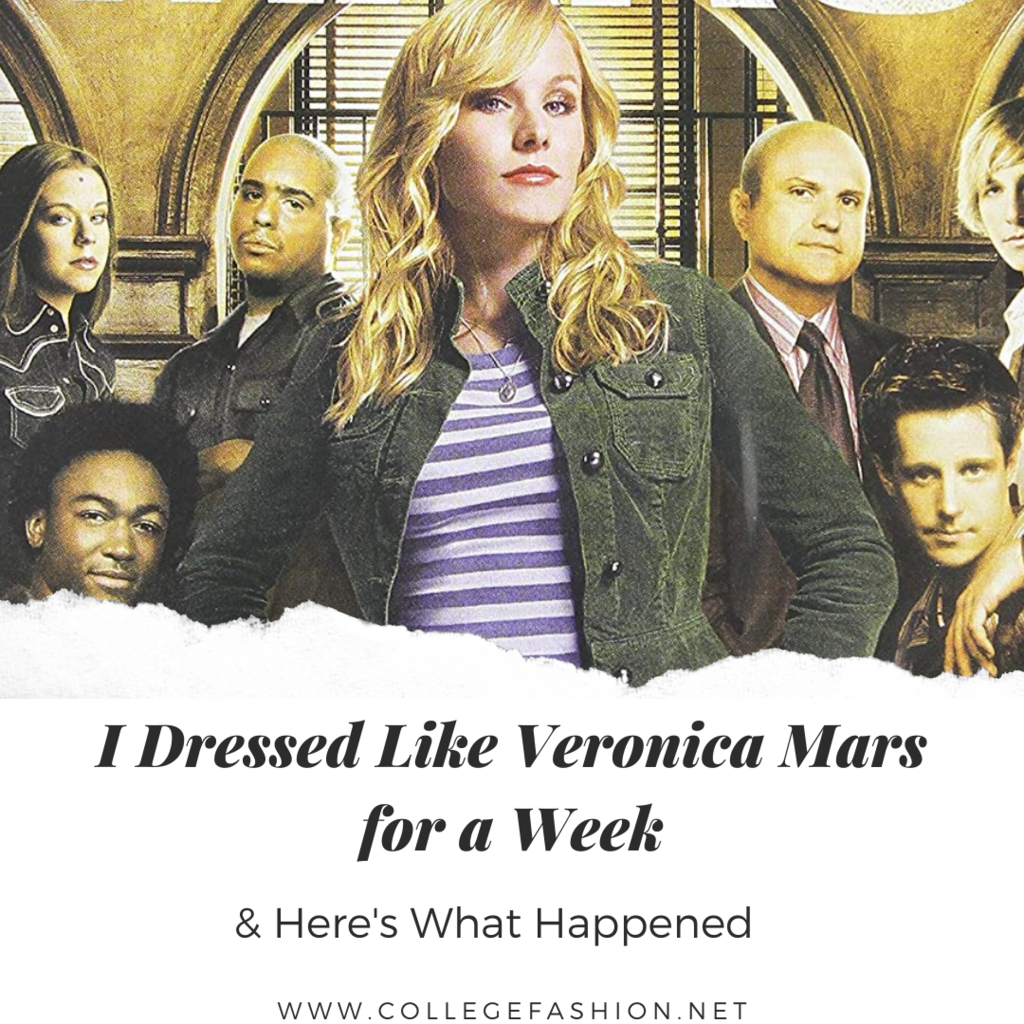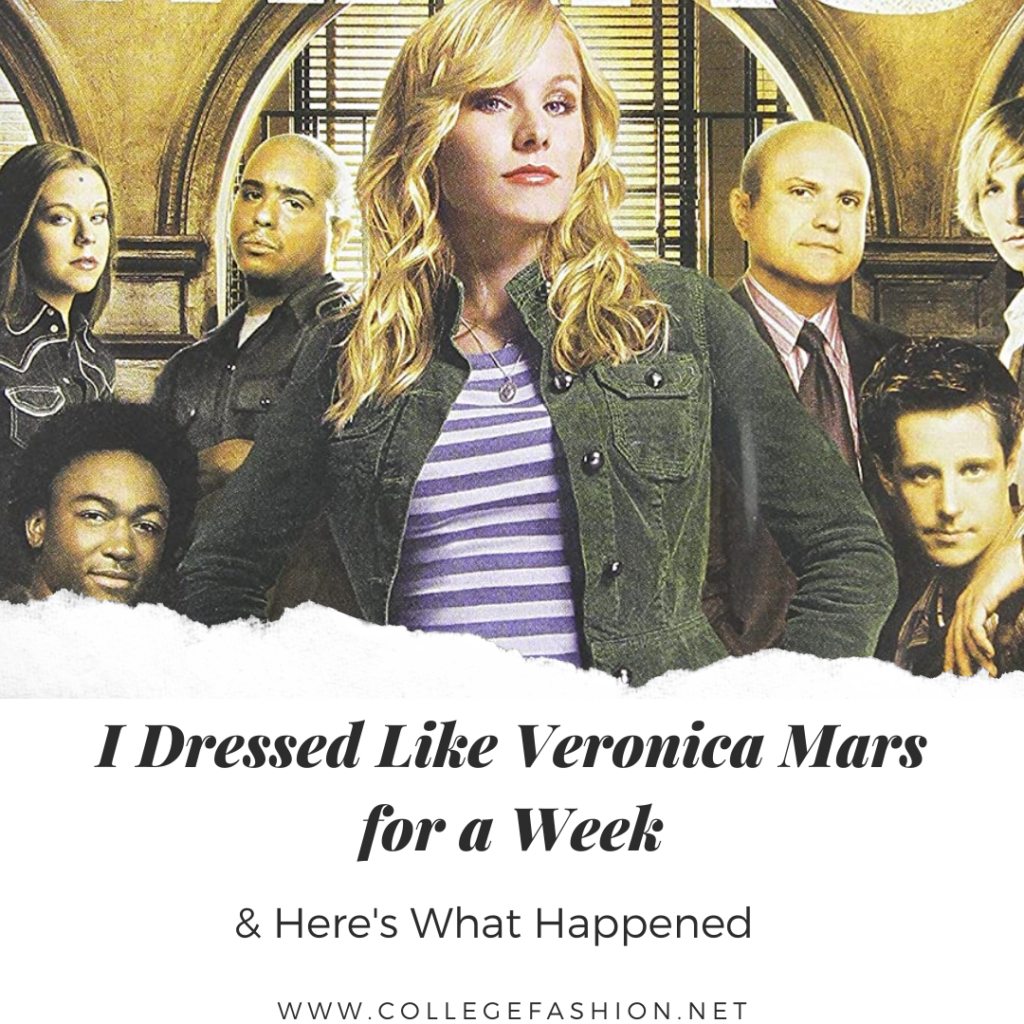 We've all looked to celebrity style for fashion inspiration at some point in our lives. But it's one thing to say "I love her outfit," and it's another to actually copy it in real life.
For this series, I'm going the extra mile and making it happen. Each week, I'm getting inspiration from a celebrity and copying five of her looks as closely as possible. Then, I'm reporting back to you: Did the outfits work in real life? Did I feel comfortable? Did people treat me differently? I'm sharing it all.
In past posts I've covered the style of these celebrities: Zendaya, Gigi Hadid, Grace Kelly, Kendall Jenner, Vanessa Hudgens, Sophie Turner, Priyanka Chopra, Millie Bobby Brown, Hilary Duff, Lily Collins, Taylor Swift Part 1 and Part 2, Selena Gomez, Alexa Chung, Queer Eye's Fab 5, Lucy Hale, Dakota Johnson, Hailey Bieber, Kaia Gerber, Nina Dobrev and Olivia Rodrigo.
I've also covered the style of certain iconic TV and movie characters: Iconic Halloween Characters Part 1 & 2, Iconic Christmas Characters Part 1 and 2, Rachel Green Part 1 and 2, Monica Geller, Little Women's Characters, Gilmore Girls' Characters Part 1 and 2, Iconic Olsen Twins' Movies, Winx Club Characters, Bridgerton Characters, W.I.T.C.H Characters, Power Rangers' Characters, Wanda Maximoff, Disney Characters, Clue Characters and Gossip Girl Characters.
I also did a full behind-the-scenes, tips on how to do your own recreations and cheap items I use to make my own.
This week, as an early birthday present for myself, I'm drawing inspiration from my favorite show of all time: Veronica Mars. Read on for my complete Veronica Mars fashion guide!
About Veronica Mars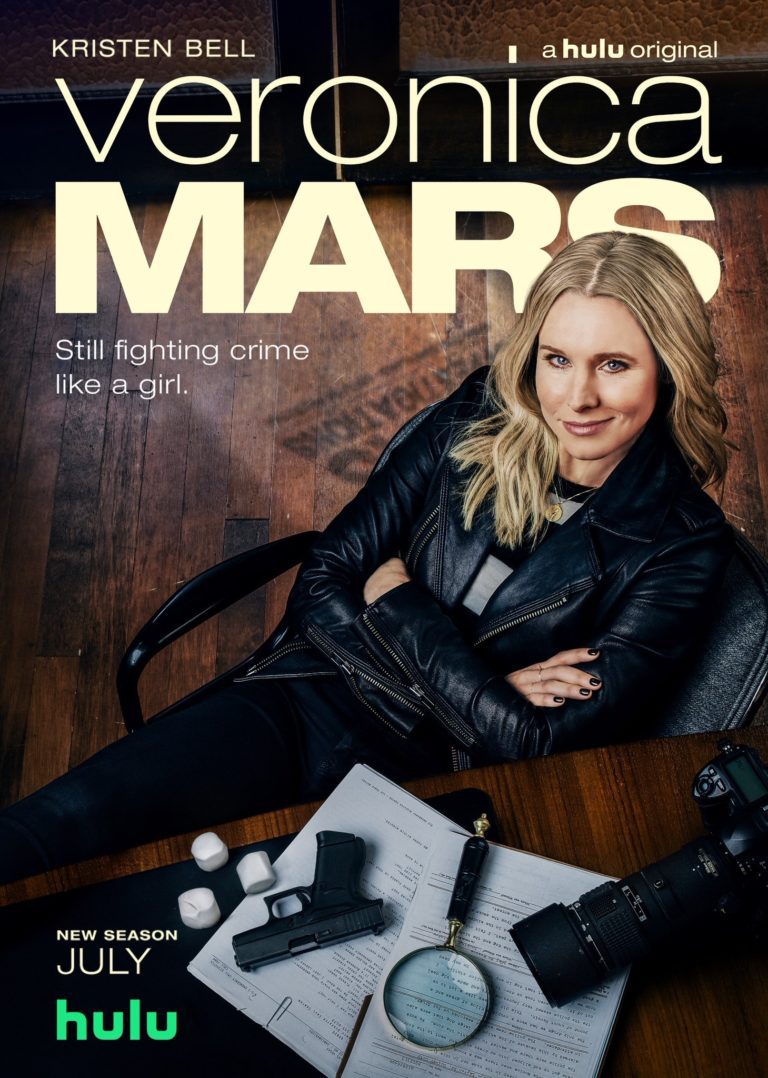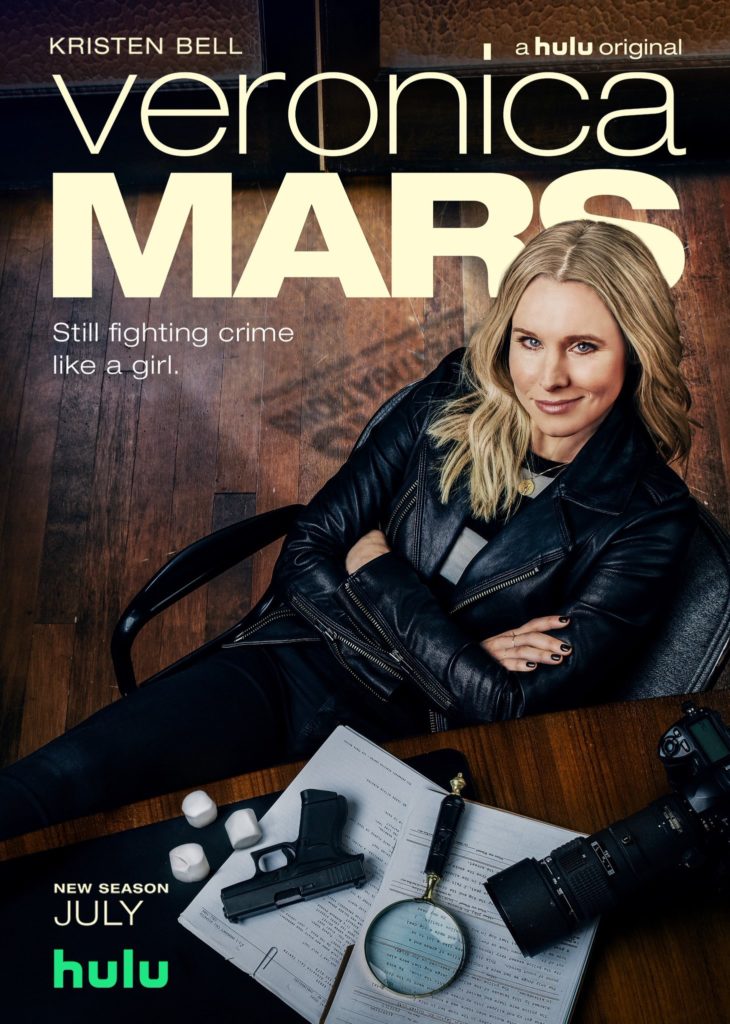 Veronica Mars was created by Rob Thomas and it premiered in 2004. It is a noir-inspired series filled with dark humor and interesting mysteries. Kristen Bell played the titular character.
The show lasted for three seasons before being canceled in 2006. While it was airing, the show garnered a small but loyal fan base. Years after its cancellation, Veronica Mars was revived through a fan-funded movie in 2014 and, even after that, Hulu picked up the show for a fourth season in 2019.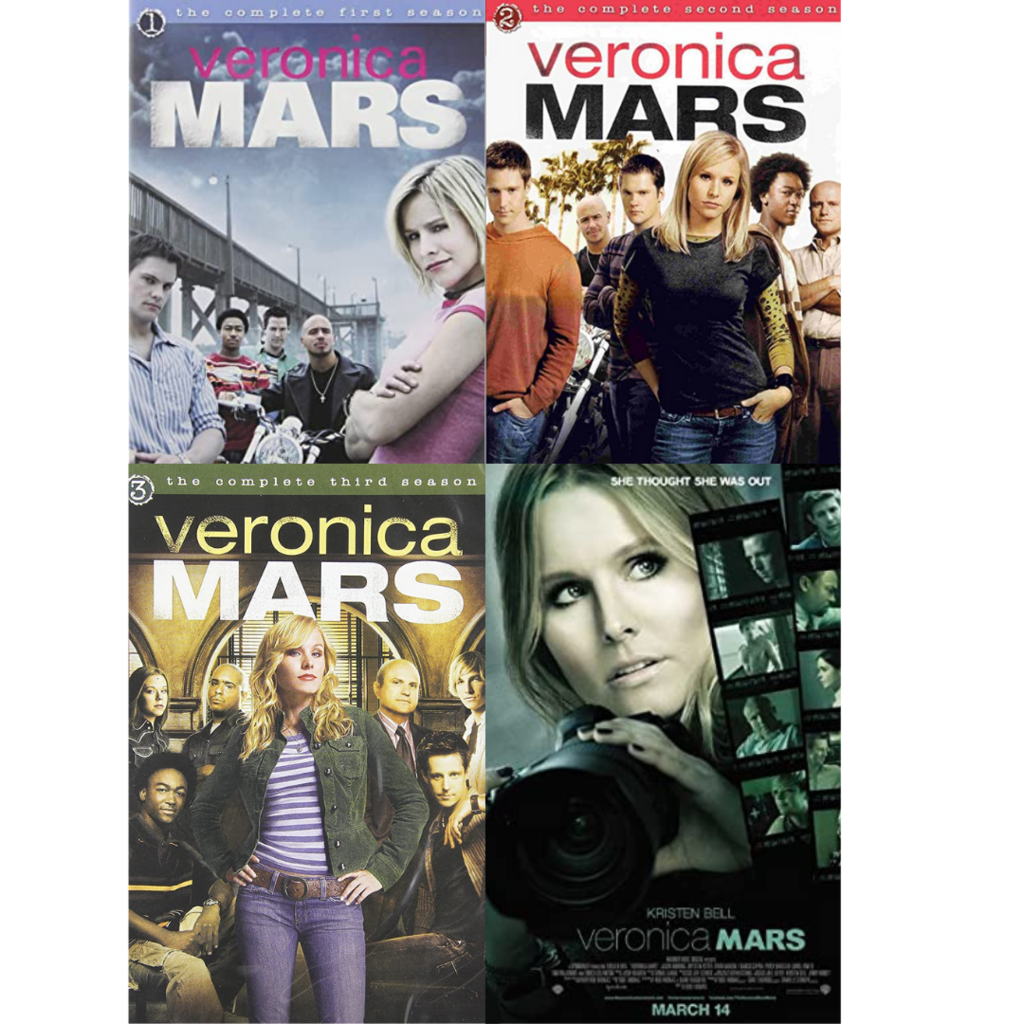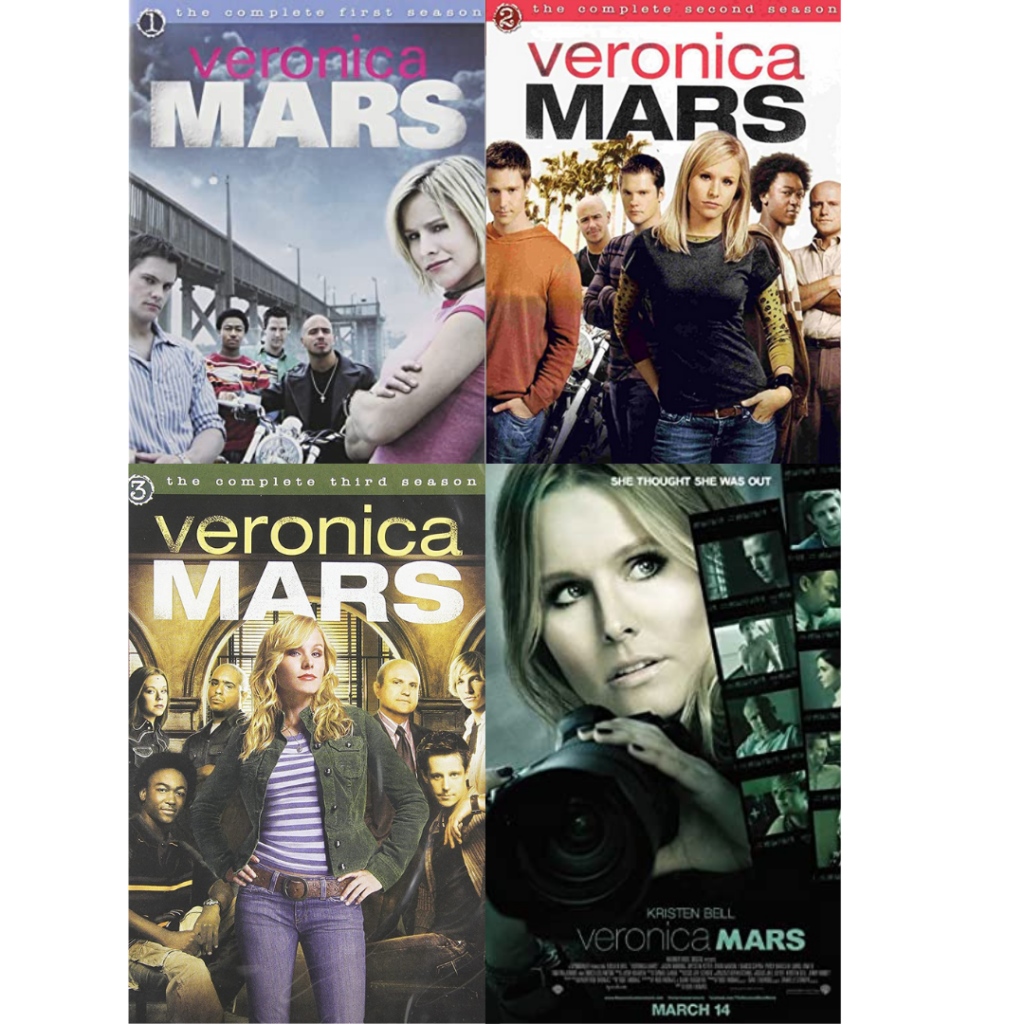 Veronica Mars is a student who progresses from high school to college (Season 1-3) while moonlighting as a private investigator under the tutelage of her detective father, Keith Mars. In each episode, Veronica solves a different stand-alone case while working to solve a more complex mystery through the season.
Veronica Mars Fashion: How to Dress Like Veronica Mars
First, a quick disclaimer:
For this post, I based each look on Veronica's style through one of the seasons. For one of the looks, I merged Veronica's style from the movie and the fourth seasons, since they are so similar.
Finally, I had special help for the fifth look, so wait for an epic ending to the post and maybe an extra look.
Veronica Mars' Style – Monday, Outfit #1 (Season 1)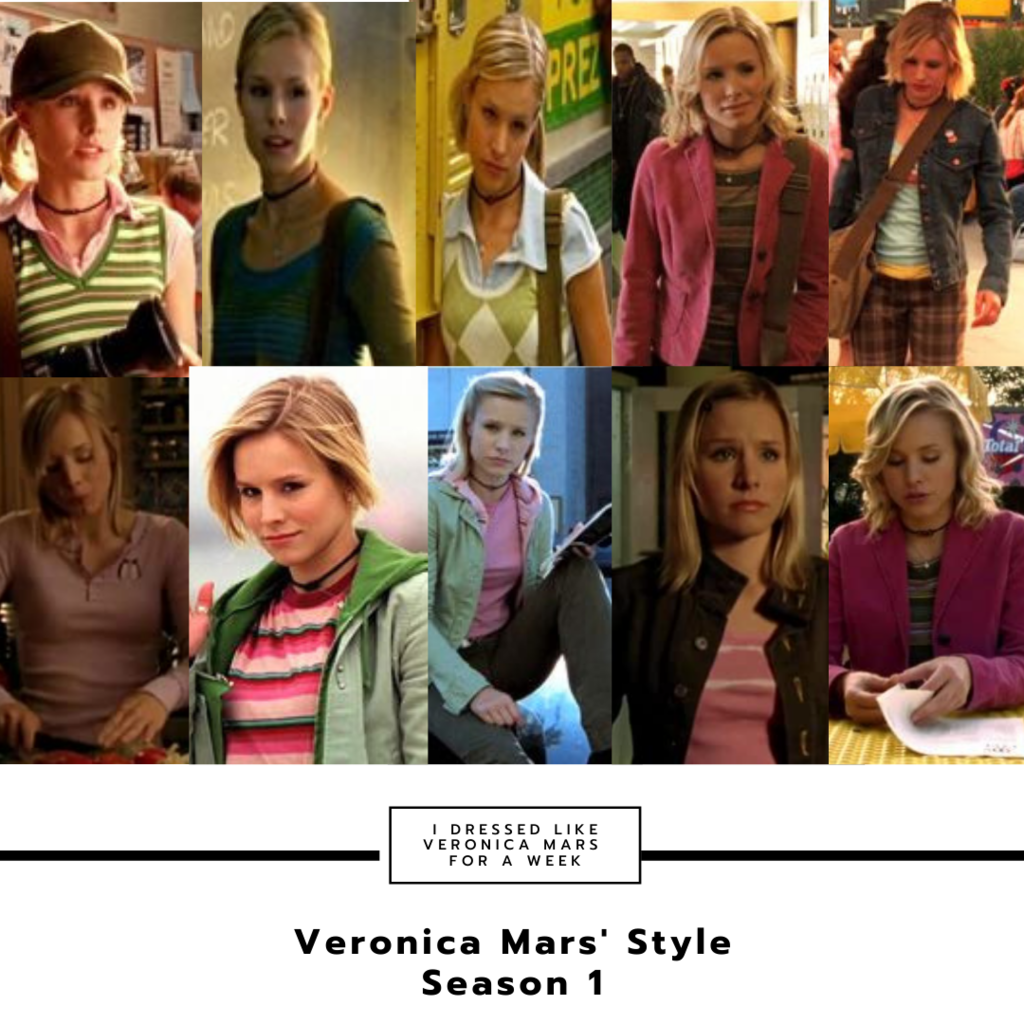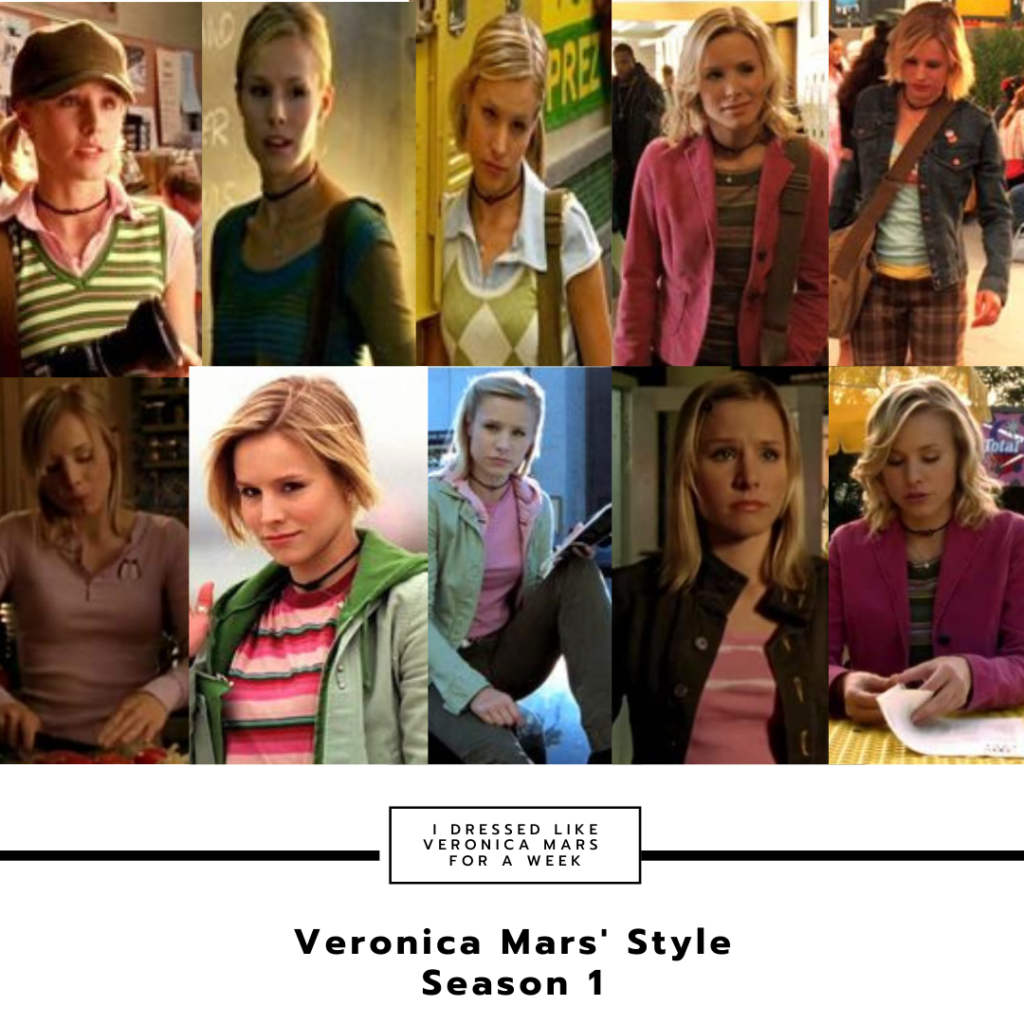 For the first day, I took inspiration from Veronica's style throughout the first season. During this time, Veronica was recovering from trauma and still grieving the loss of her best friend, her mom, and her social standing.
Her whole style is very guarded as a result: there are a lot of jackets, sweatshirts, Henley and polo shirts, and combat boots.
Veronica's color scheme through this season is mostly comprised of pink, green and brown.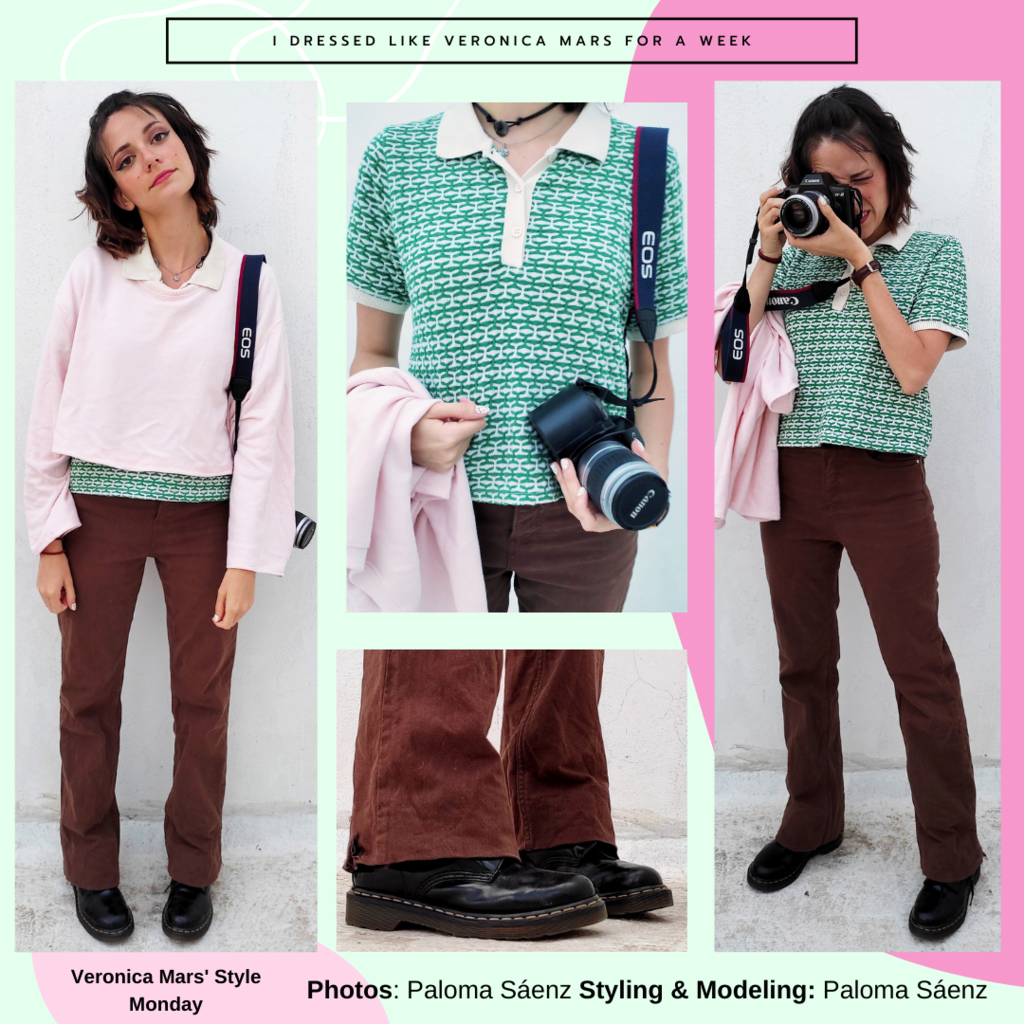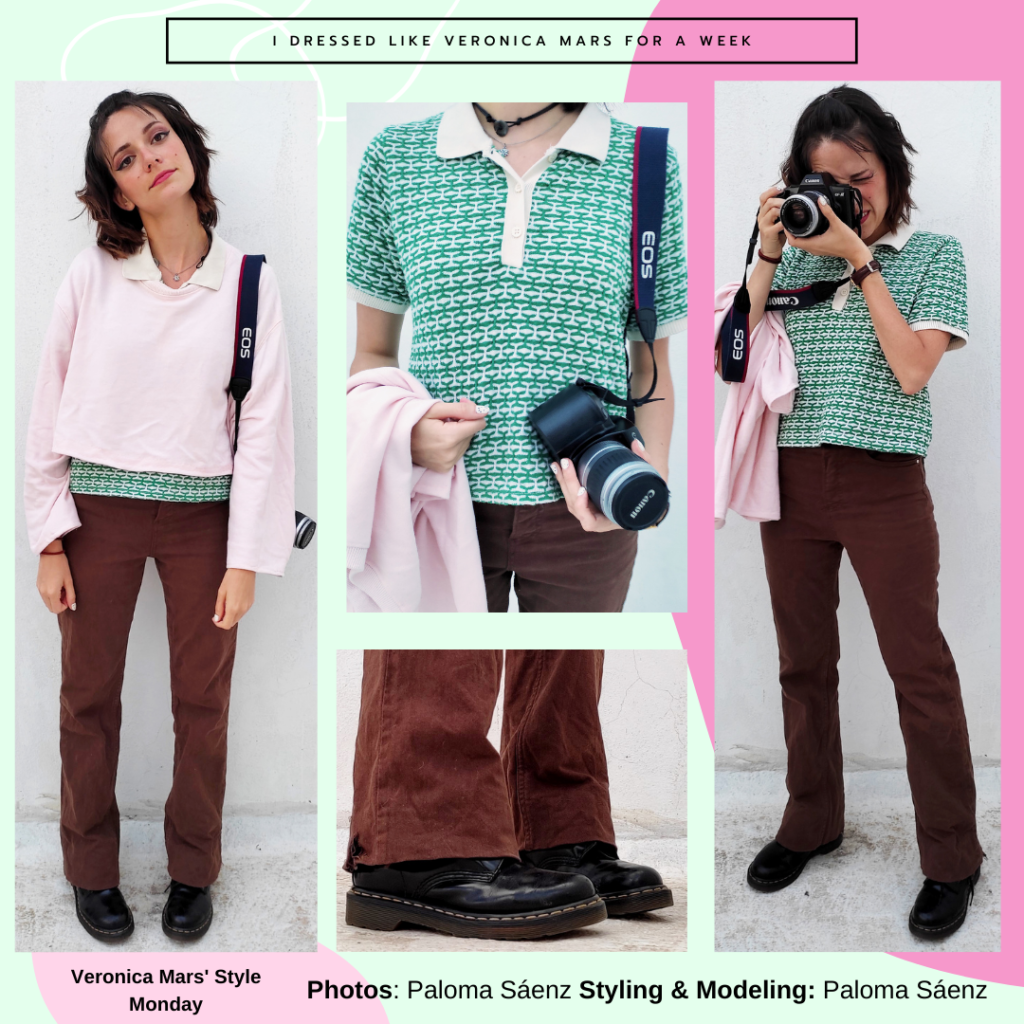 To create my first season look, I paired a green polo shirt with brown flared jeans. Ordinarily, I would've tucked in the shirt, but this is Y2K fashion and Veronica Mars: tucked-in shirts aren't really a thing.
Then, I took out a light pink sweatshirt to wear later in the day. For my shoes, I used my beloved black Doc Martens.
I curled my hair and styled my hair so my bangs wouldn't be in the way.
Finally, for accessories, I chose a black string choker and layered it with a silver necklace that has a little flower charm. Both necklaces are worn by Veronica through the first three seasons.
The first look was comfy! I didn't have much to do this day, aside from working from home, but it was a fine outfit. As someone that lived the 2000s, the mismatched feel of the outfit is pretty accurate.
If I were to wear this again, I'd probably try to make the cut of the items match better: like tucking in the shirt, wearing a tighter sweatshirt with a smaller neckline, using a different pair of boots, etc. Other than that, it was okay. I didn't love it, but it was fine.
Veronica Mars Style – Tuesday, Outfit #2 (Season 2)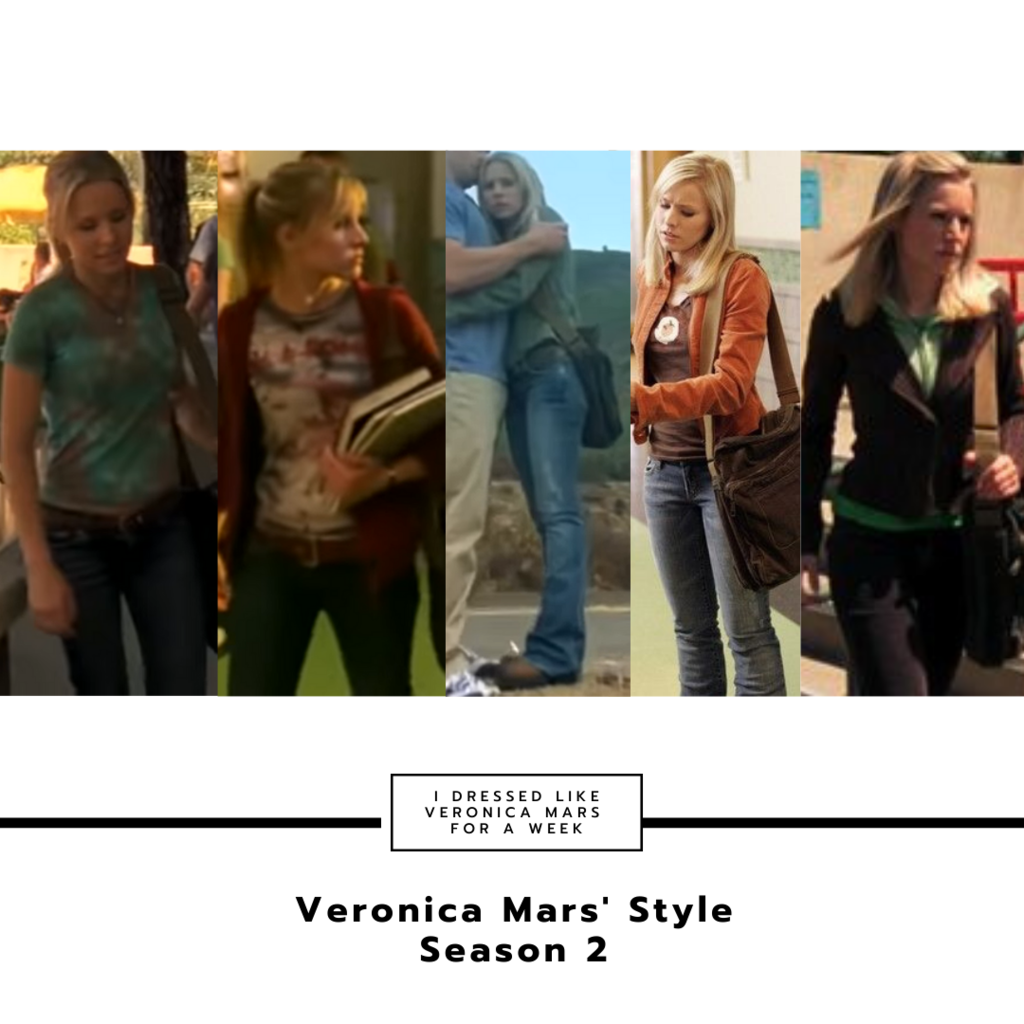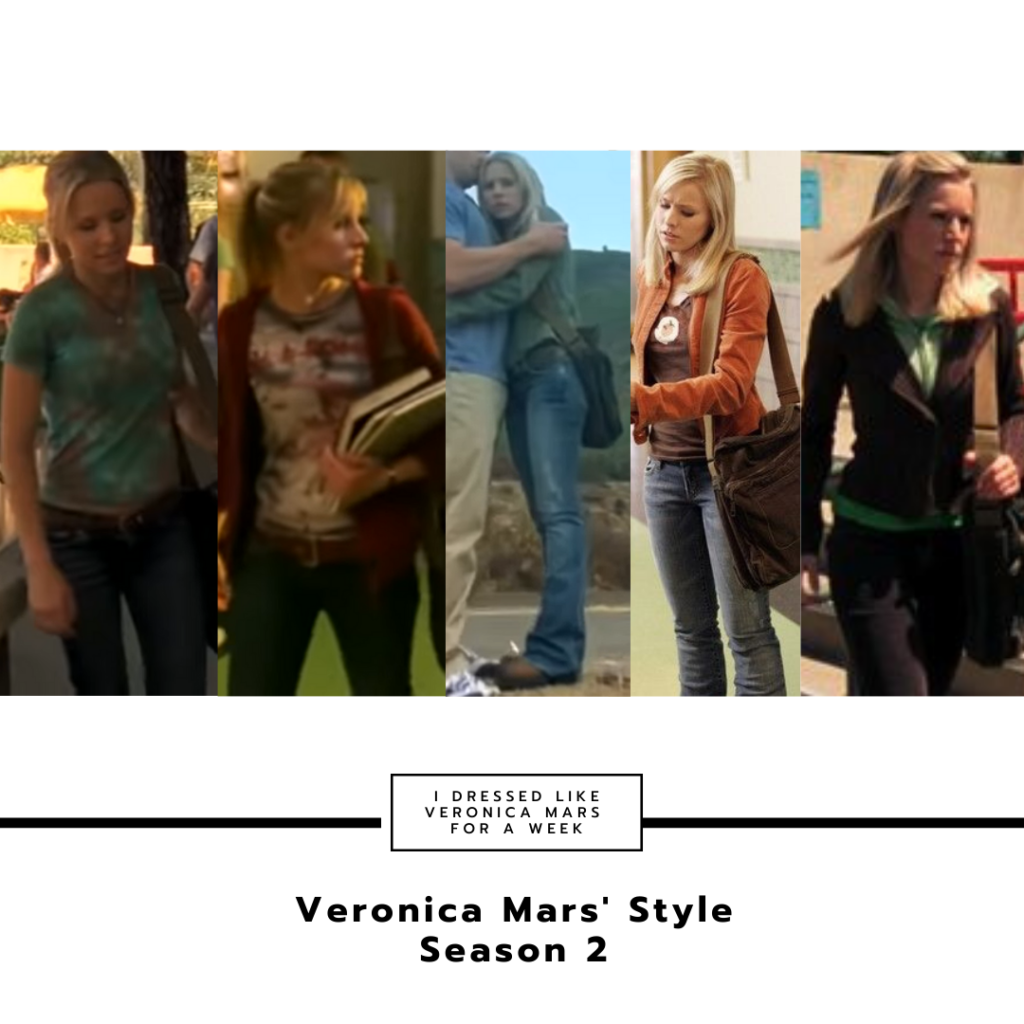 Second season Veronica is doing *a bit* better, but that doesn't mean that she stops being Veronica.
While she still wears most of the same type of items (flared jeans, t-shirt, polo shirts, jackets), her hair is longer and straight, and her color scheme is mostly brown, green, black and blue, with some pink splashed here and there.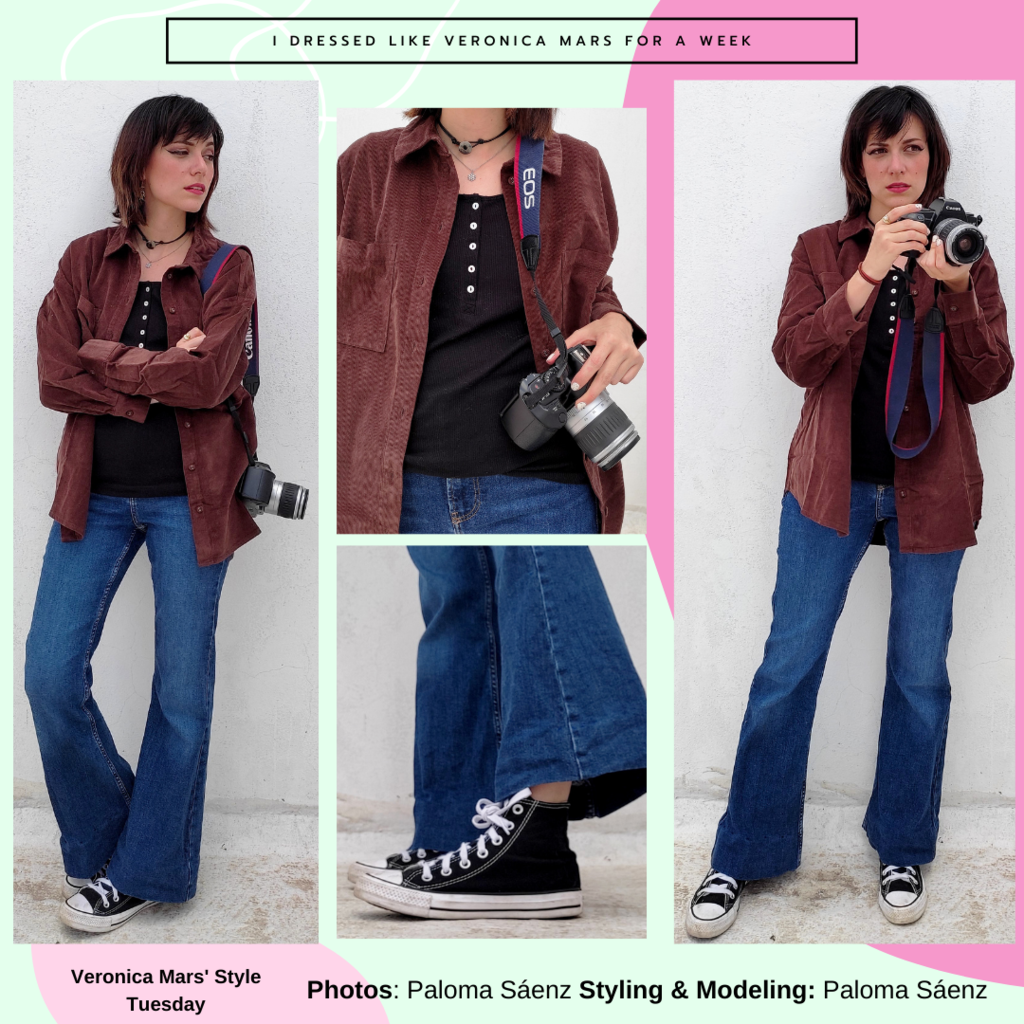 For Tuesday, I wore a pair of blue denim flared jeans and a black Henley shirt as a base for the look.
To layer the outfit, I threw on a brown corduroy shirt. I would've worn a brown jacket, but I didn't have one like that. So I bought this shirt because it fits better in my closet and it worked as a jacket for the post. It was a win-win.
Veronica wears Converse every now and then, so I added my black Converse to this look. I straightened my hair and wore the exact same necklaces I did on Monday.
Maybe it was the fit of the items, or maybe it was the color scheme, but I liked this look a lot more than Monday's. I would wear this again, as is, any day of the week.
It was kind of perfect for this Fall weather, since it's a bit chilly, but it can get too hot if I'm wearing a heavy coat or a real jacket.
There weren't many activities on Tuesday: I worked from home, ran some errands, but nothing too sociable or that required me to upgrade my look.
Veronica Mars Style – Wednesday, Outfit #3 (Season 3)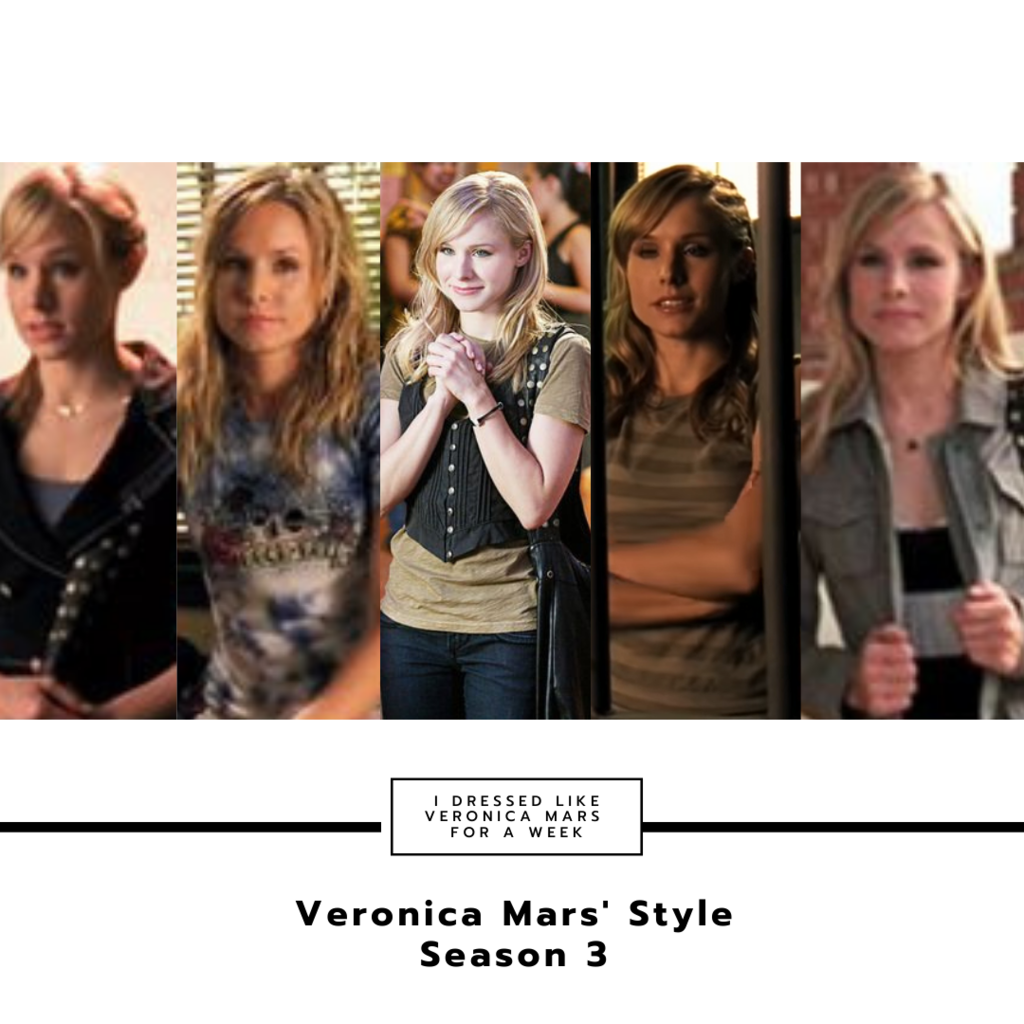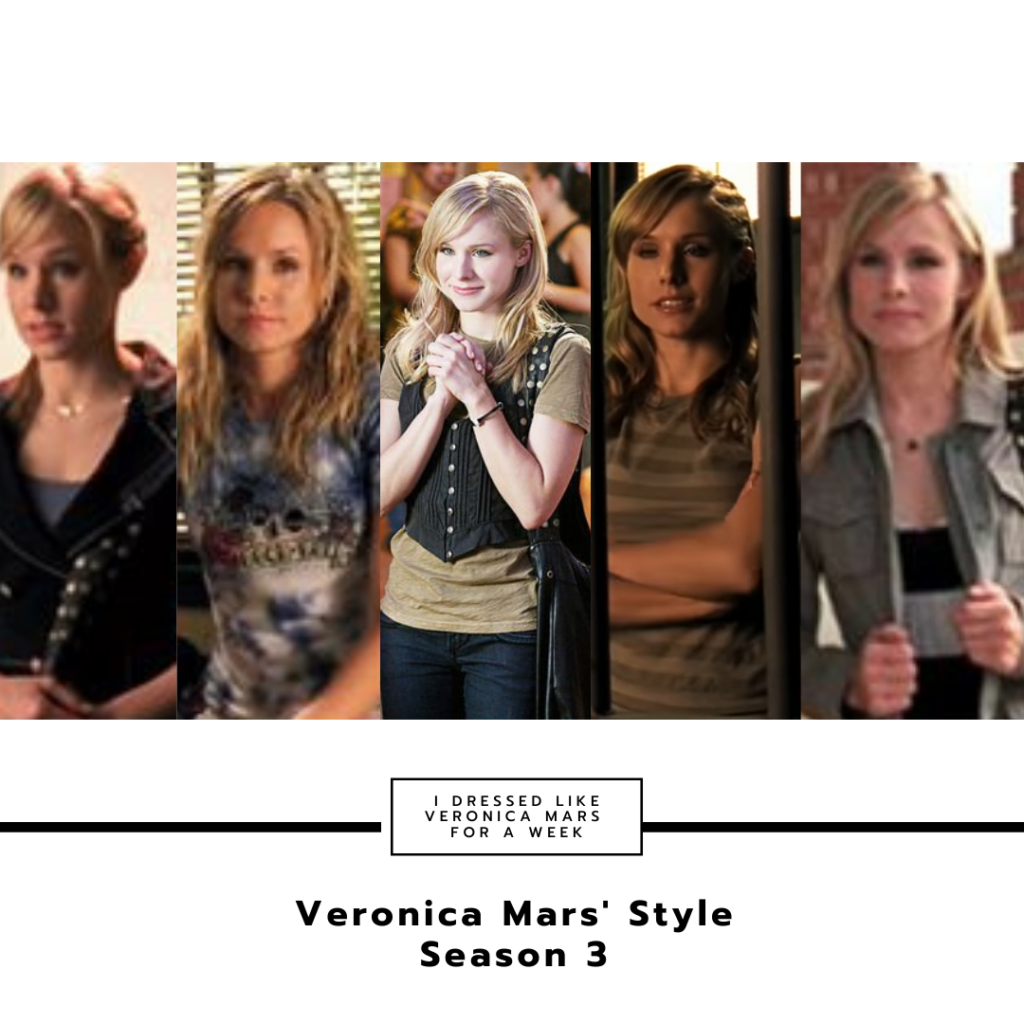 In the third season, Veronica goes to college and there is a lot of healing for her. Her style becomes a bit sexier and more edgy-feminine. Her t-shirts are tighter, her hair is almost always curled up, and her color scheme is mostly comprised of varying shades of blue, black, grey, and a bit of green.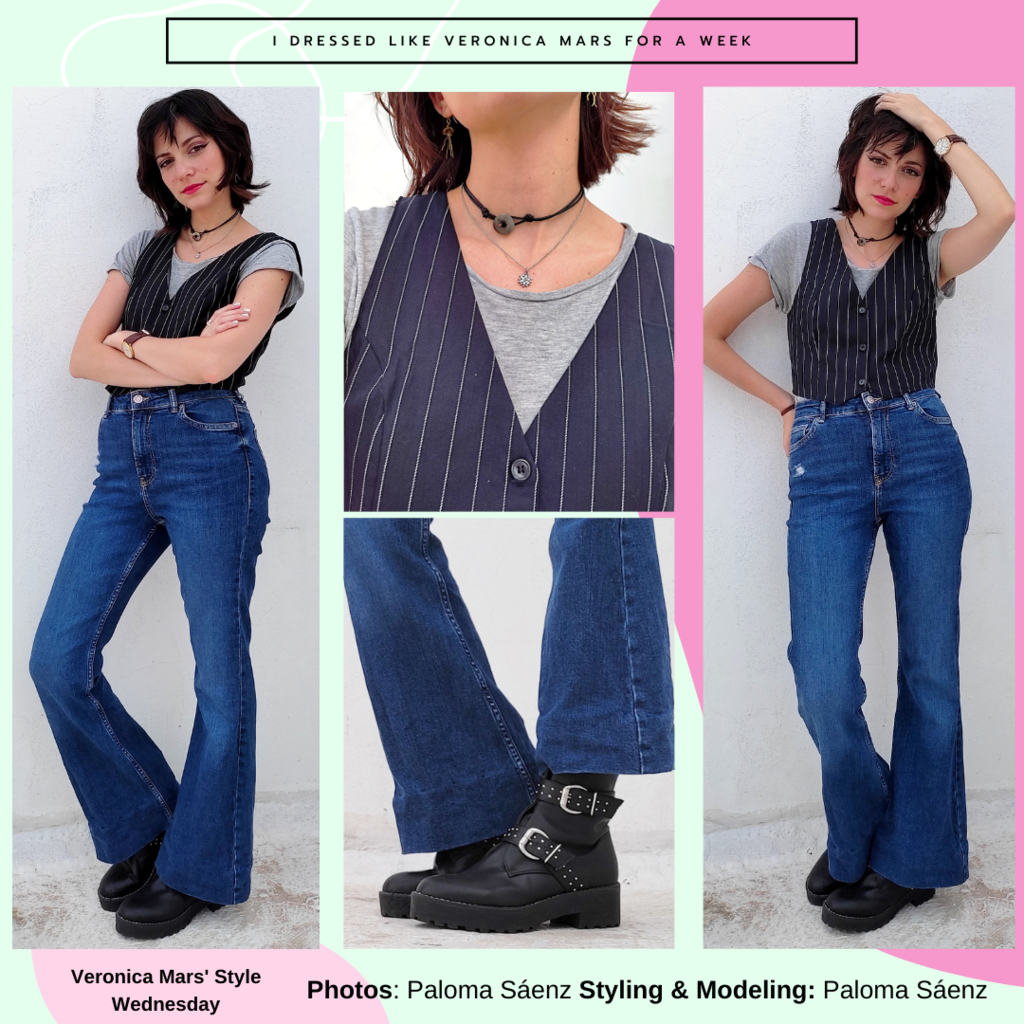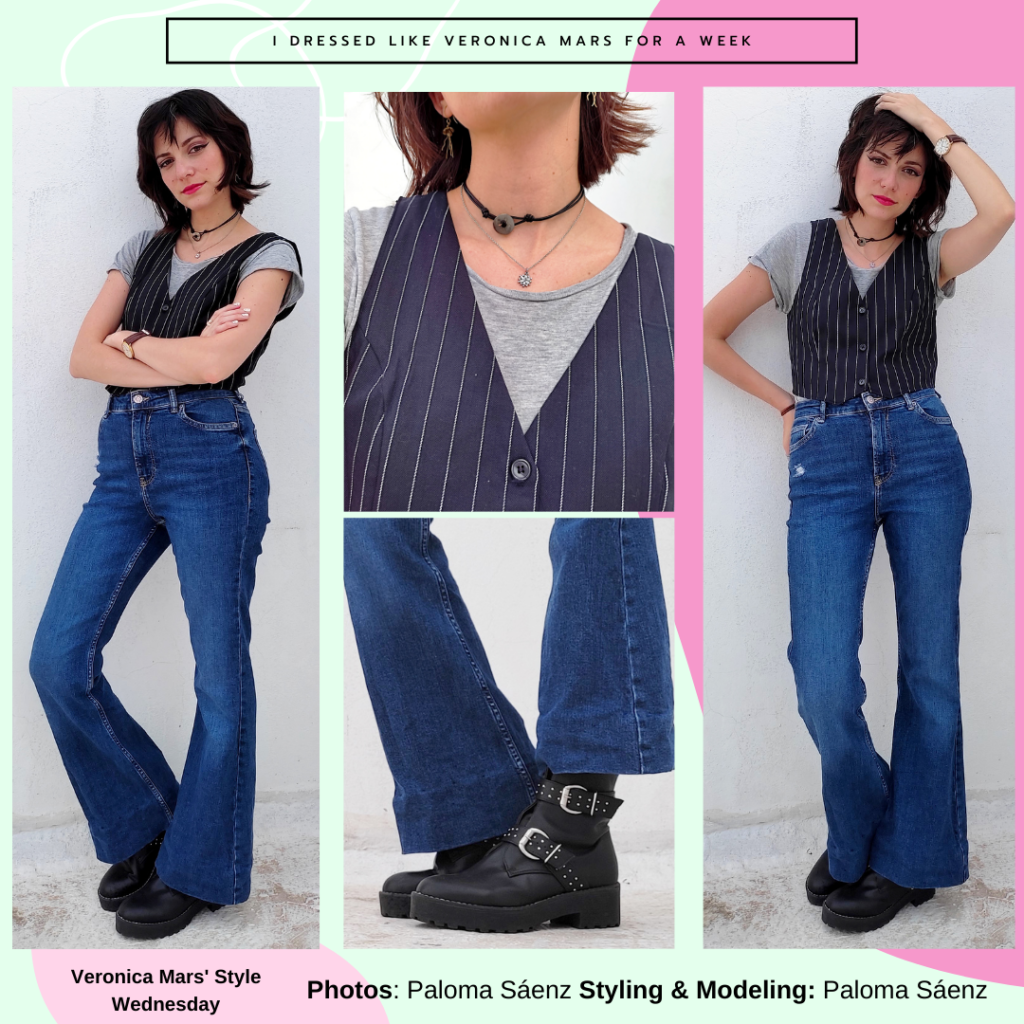 When I started planning a Veronica Mars fashion post, there was one specific look from the third season that came to my mind: Veronica in a t-shirt, tiny black vest, and flared jeans.
I had to recreate this outfit!
As a base, I grabbed a simple grey t-shirt and the blue denim flared jeans I wore on Tuesday. Her t-shirt is kind of an olive-green color, but I thought the grey covered more ground of her color scheme during the season. Then, I layered it with a black pin-stripe vest. It isn't tiny like hers, but it was the best I could find and I knew I would wear again.
Veronica's boots are black combat boots and I was just going to wear my Doc's, but I went with my other black combat boots that have silver details on them. It was kind of an homage to her black leather bag from season 3. I curled up my hair and wore the same necklaces from previous days.
I liked this look a lot more than I thought I would. And it was super nostalgic!
When I was thirteen or fourteen, I remember my mom bought me a tiny black satin vest and I felt super cool when I wore it. This outfit brought that same feeling back and I just loved remembering those types of items that stay with you forever.
This look was super cool, maybe not as comfortable as the others, but this one was my favorite at this point of the week.
Veronica Mars' Style – Thursday, Outfit #4 (Movie & Season 4)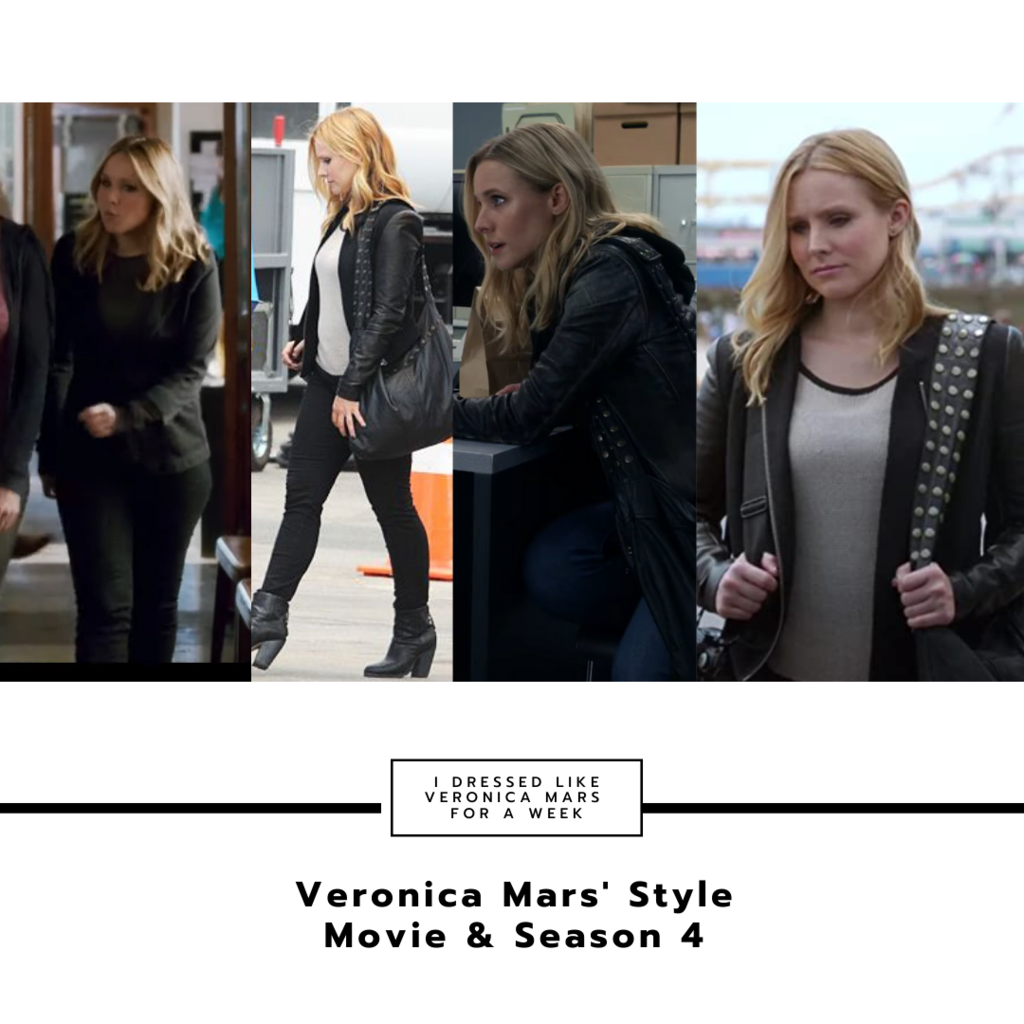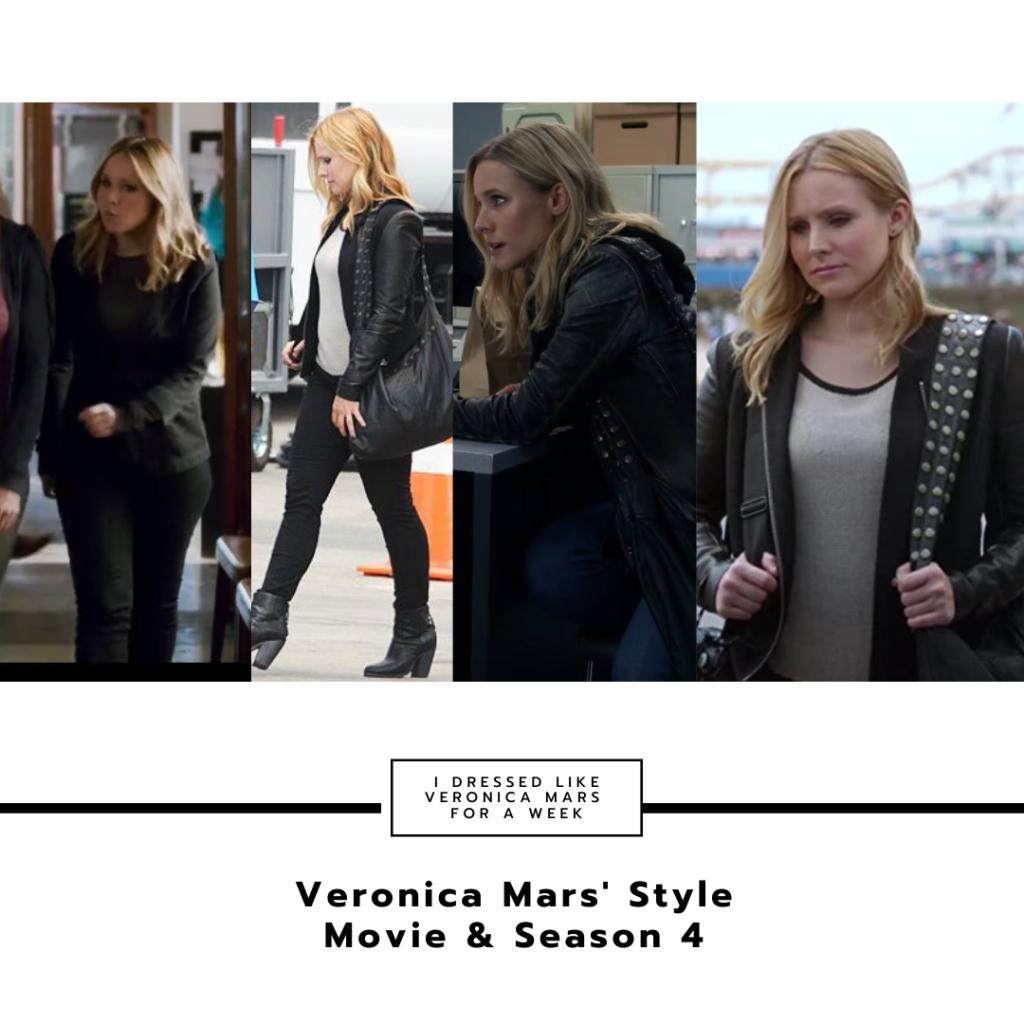 Veronica Mars' fashion sense showed the most dramatic change from the series' original run to the movie and subsequent revival season.
Almost a decade has passed, after all. Veronica is now an adult and fashion trends have drastically changed.
I decided to merge Veronica's style from the movie and season four, because they're pretty similar and she mostly wears the same type of look with different items.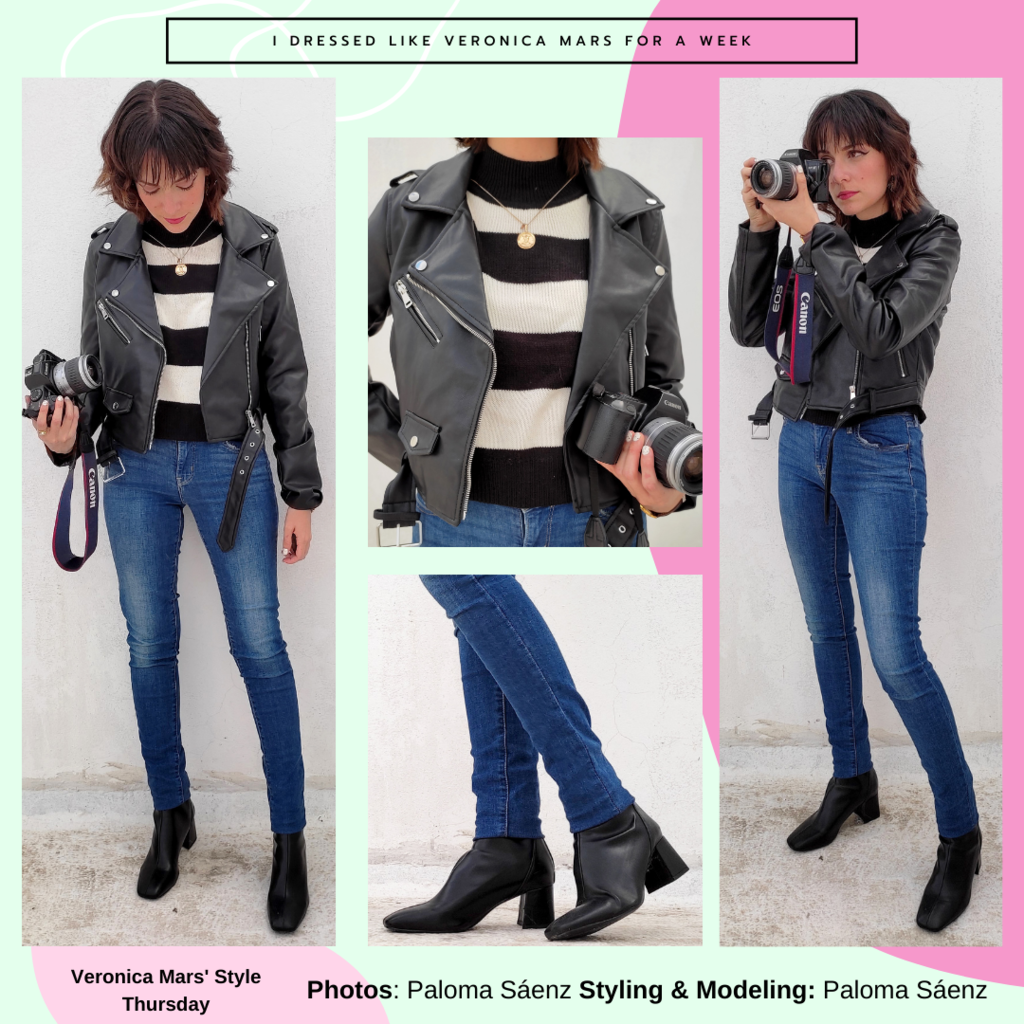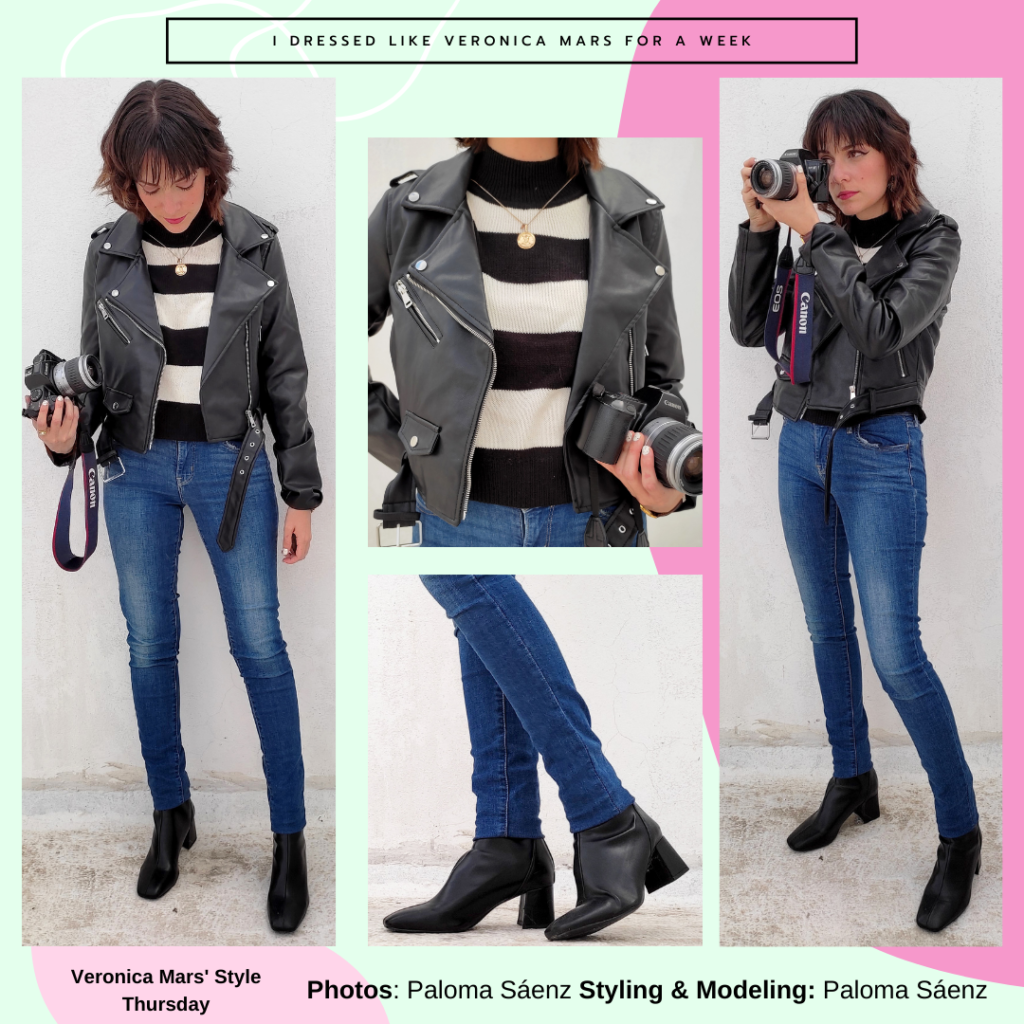 For my Thursday look, I put on a wide-striped sweater with a pair of skinny jeans. Instead of combat boots, Veronica wears heeled booties in later seasons (for reasons I don't understand), so I wore a pair of black heeled booties. As a layer, I threw on a black leather jacket.
During the movie and the fourth season, she changes her accessories, so I accessorized with a gold coin necklace that resembles her golden necklace.
I really loved this outfit. It was a bit expected, since it's the most contemporary one, even though skinny jeans aren't really my go-tos anymore. I do like to wear them, but I prefer mom jeans for my day-to-day.
I didn't wear the jacket most of the day, but I had a date that night, and the jacket was perfect for a chilly night and a movie.
Veronica Mars' Style – Friday, Outfit #5 (Veronica and Logan)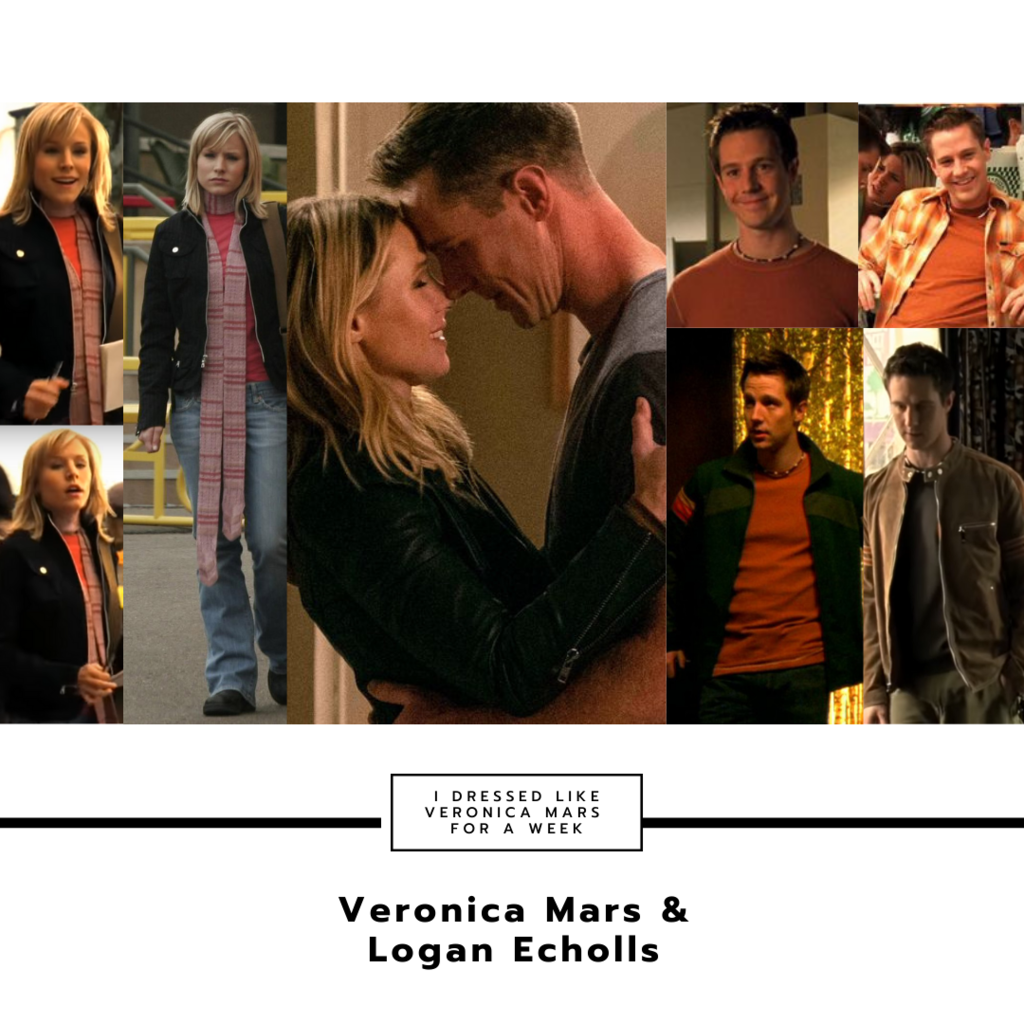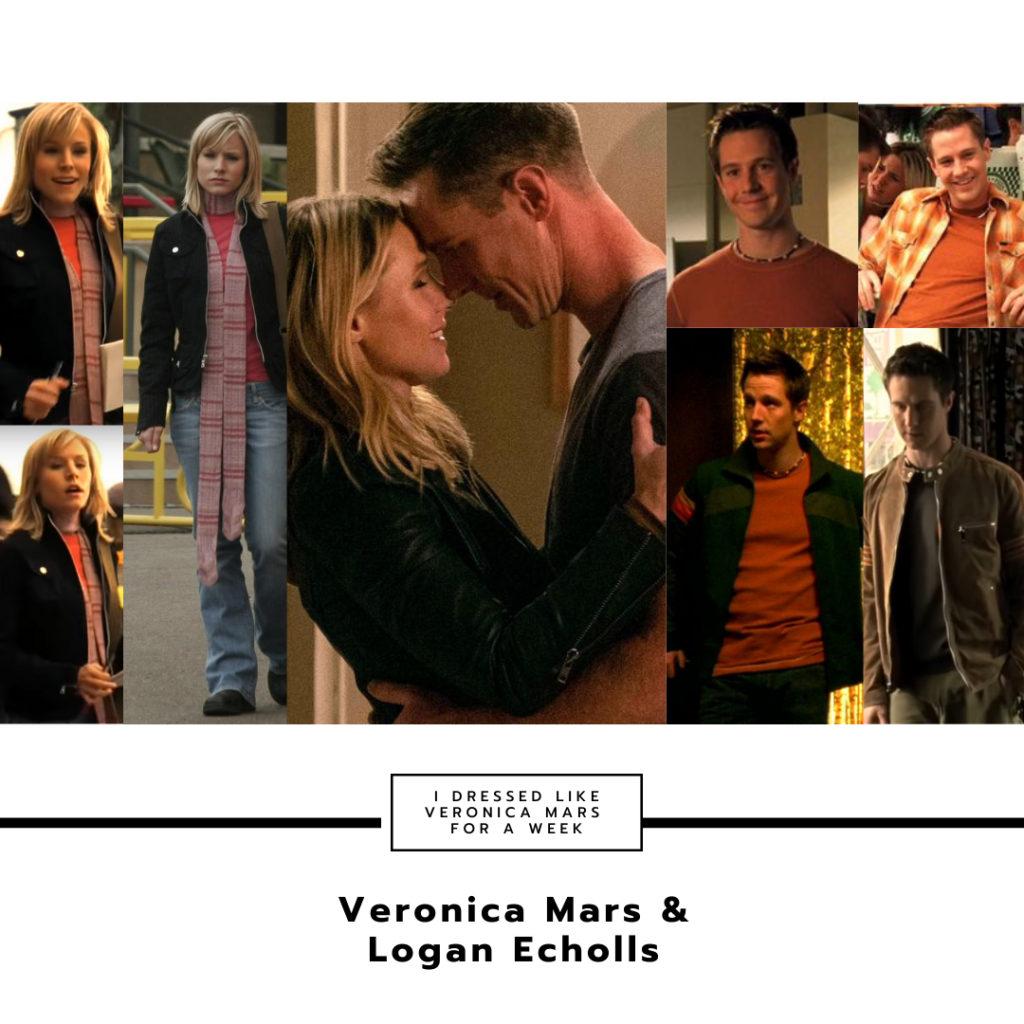 Okay, Friday was the day I was most excited about. Any Veronica Mars fan will tell you there is no review, recap or post of the show that does it justice without taking about her most important relationship (her dad, Lilly and Wallace not withstanding): her on-and-off, later stable relationship with Logan Echolls.
Logan is one of the most complex characters in the show, alongside the protagonist herself. Jason Dohring and Kristen Bell have insane chemistry and their dialogue is fantastic.
Logan's style is mostly a normal 2000s surfer dude. He wears a lot of long-sleeved shirts, flannels and interesting jackets with cargo pants and jeans. He lives in Southern California, so he has two types of shoes: sandals and, for some reason, boots.
His signature item? A pukka shell necklace.
The color scheme for Logan was born of the need to distinguish him from the other male lead, Duncan, who mostly wore blue. As a solution, Logan wears brown, black, and lots of orange.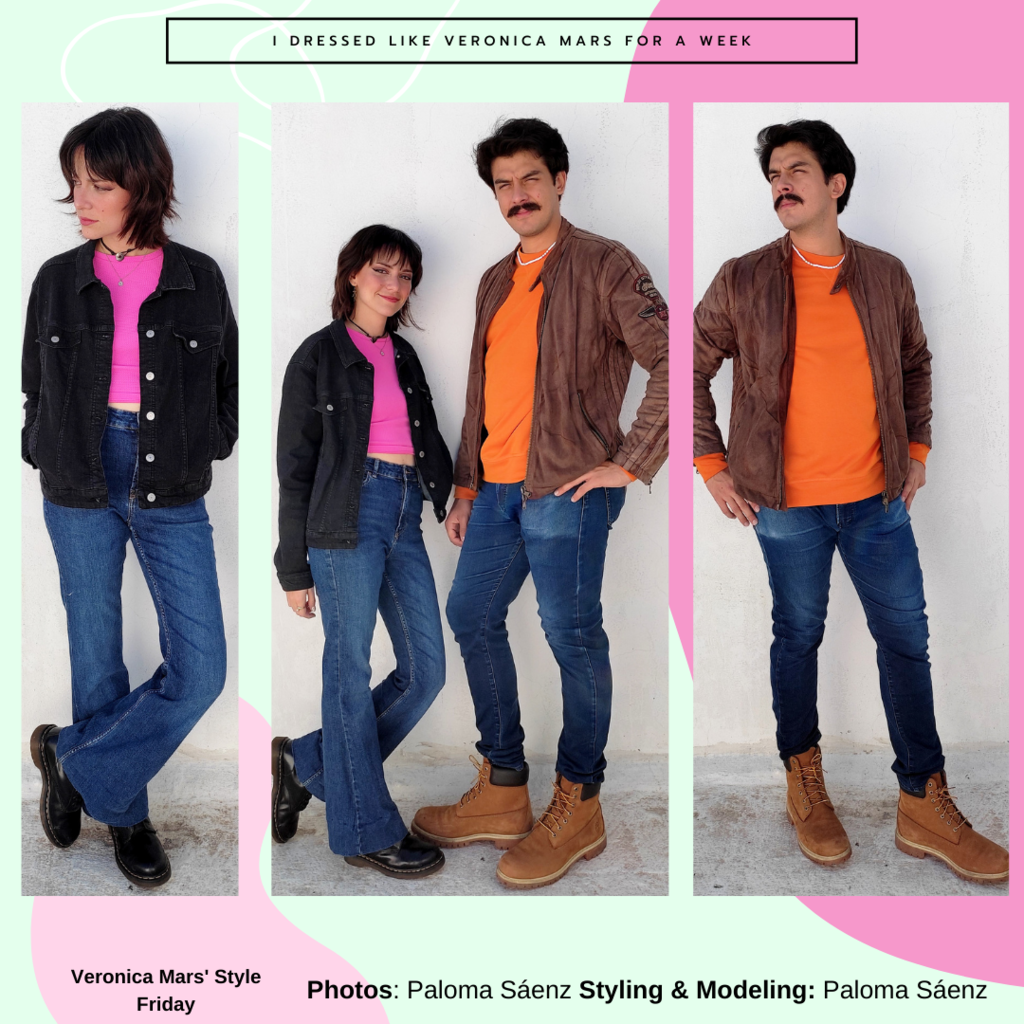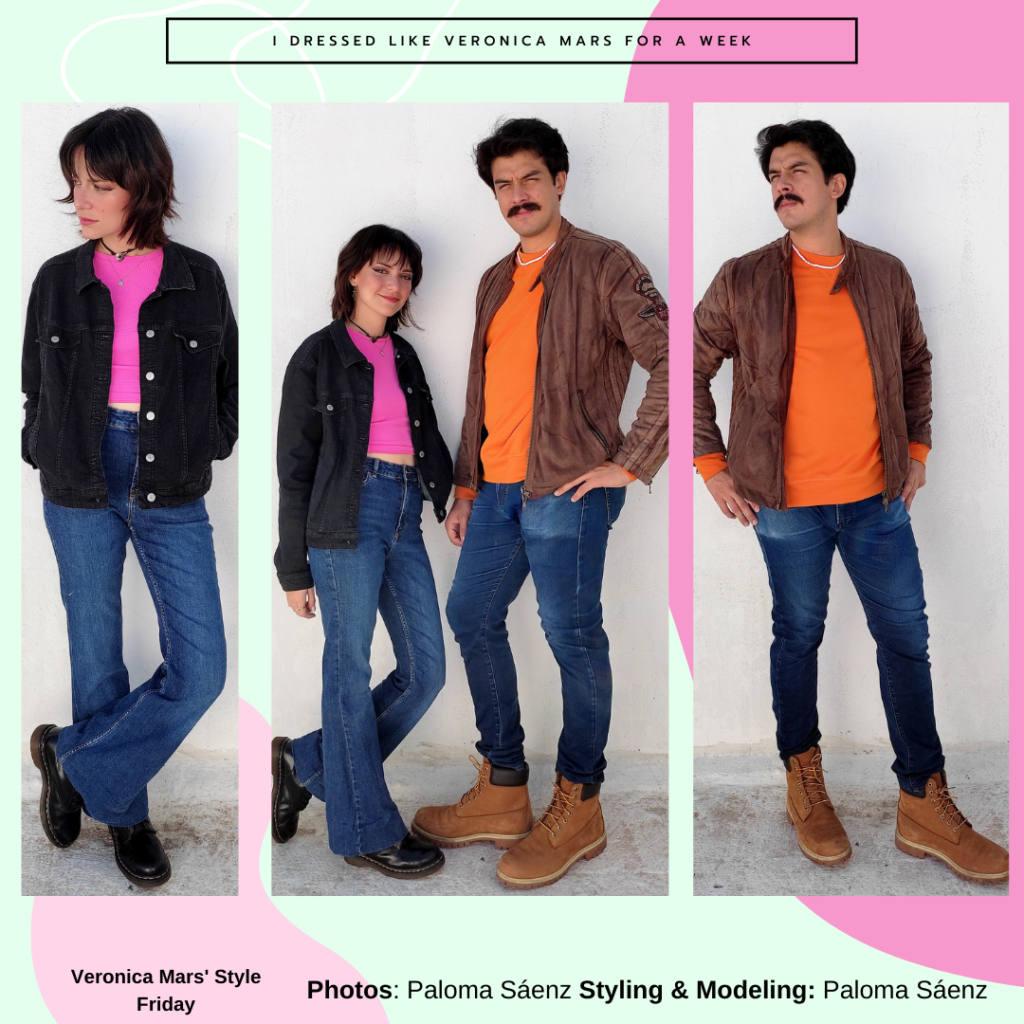 For Friday, I asked my partner to help me out for Logan's overall look and I recreated a specific season 1 look from Veronica.
For Logan's look, he wore an orange sweatshirt and a pair of blue denim jeans as a starting point. I bought the sweatshirt because he didn't have anything orange for the outfit. Then, he wore a brown suede jacket and a pair of suede boots. The finishing touch, and Logan's signature accessory, was a white pukka shell necklace. It isn't *exactly* like Logan's, but it works.
For my look, I started with a pink tank top and a pair of blue denim flared jeans. I layered with a black denim jacket. Her jacket is more like a pin-striped structured jacket, but I figured the denim jacket would work. I also used my black Doc Martens this day. For accessories, I put on the same necklaces from the first three days. Veronica is wearing a pink skinny scarf (super Y2K, to be honest) but my tank top already had a high neckline that gives off the same vibe as the scarf. I also straightened my hair to match hers.
I may be biased, but this one was my favorite of the week! We had a lot of fun planning and wearing the recreations, taking the pictures for the post and the videos for the Instagram reel.
I love the color scheme of my outfit and it was comfortable. That it has the pinkest item out of all the outfits, doesn't hurt either.
My partner's look also turned out great. All of the items came from his closet, except for the sweatshirt, so it's pretty much how he dresses normally. Maybe he would wear sneakers instead of boots, or he wouldn't use the jacket unless it was really, really cold. The necklace is definitely the one thing he wouldn't have worn at all before if it had been his choice.
Final Thoughts
When I say that this is my favorite show of all time, I'm not exaggerating. I watch it so much that I know almost every line of dialogue by heart. Veronica Mars truly is the number one show on my list. It isn't the most fashionable show ever, but I think it's one of the most relatable TV wardrobes of all time. When my partner started watching it for the first time this summer, I knew I had to make a post about it here.
Now is both the perfect fashion moment and season to write this post. Y2K fashion is super in right now, so if there were any gaps in my closet, I knew it'd be easy to fill them in, and since they wear a lot of layers in the show, fall is just the right season for some Veronica Mars fashion.
I had a lot of fun this week. My flared jeans got a lot of use this week and my partner loves that jacket, so it was a perfect opportunity to wear items we don't normally use a lot. This is also our backup Halloween costume, so it was kind of perfect in a lot of ways. My favorite looks were Friday's (both mine and his), Thursday's, and Wednesday's, in that order.
Thanks to my partner for being a trooper this week and the previous weeks of planning. He didn't really have to do this, but he was game from the start, put on the most uncomfortable pukka shell necklace and didn't turn into an "obligatory, psychotic jackass" in the process. We don't normally cover men's fashion here and this was a great opportunity to do so. Also, how cute does he look with that outfit, right?
If you are looking for new ways to wear all those Y2K trends coming back, a comfortable-but-cute look, or are just trying to find a great last-minute Halloween costume, Veronica Mars is the right place to find fashion inspiration. You have four seasons and a movie to choose from, with the bonus that it is also a great watch.
What do you think of my Veronica Mars style guide?
What do you think? Have you seen the show? Do you like it? Which look was your favorite? Which one would you wear? Do you have any special request for the next post? Let us know in the comments below!