This post will show you how to recreate Nina Dobrev's style for yourself.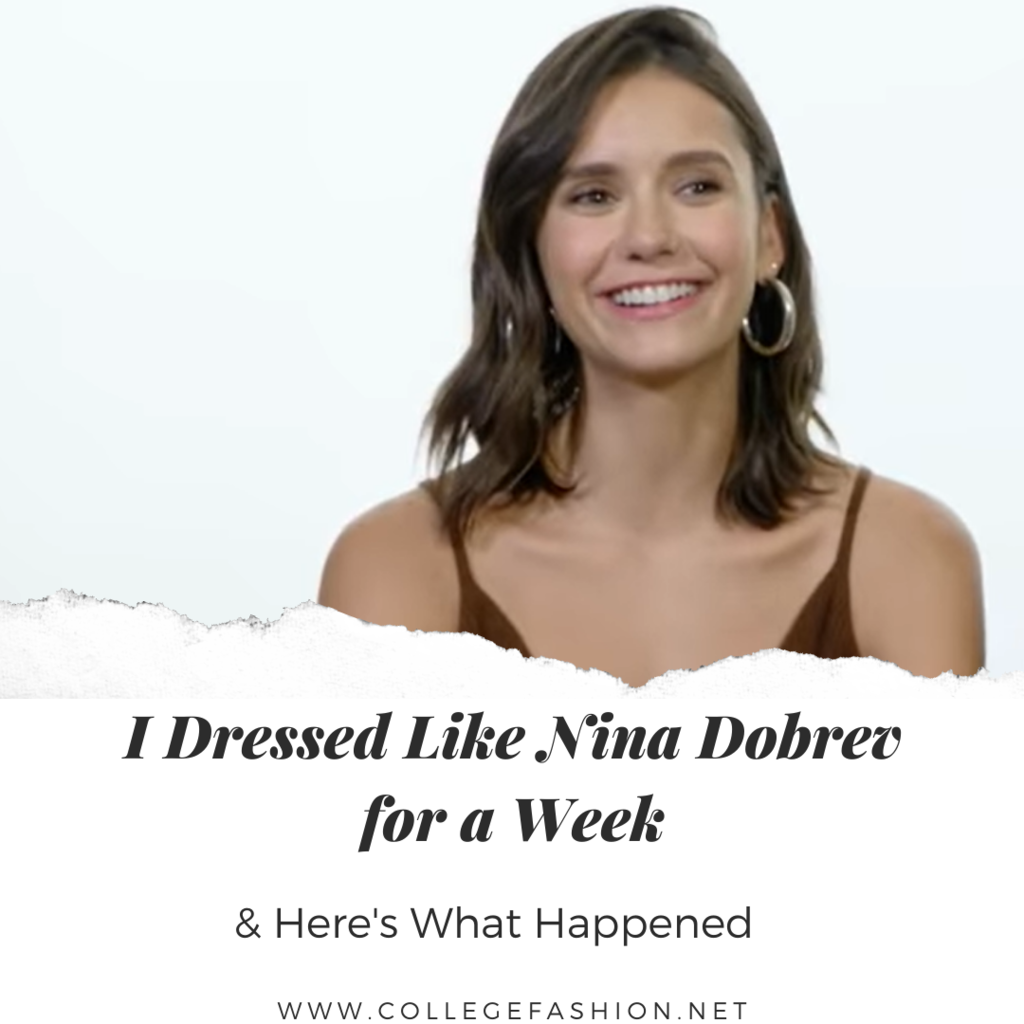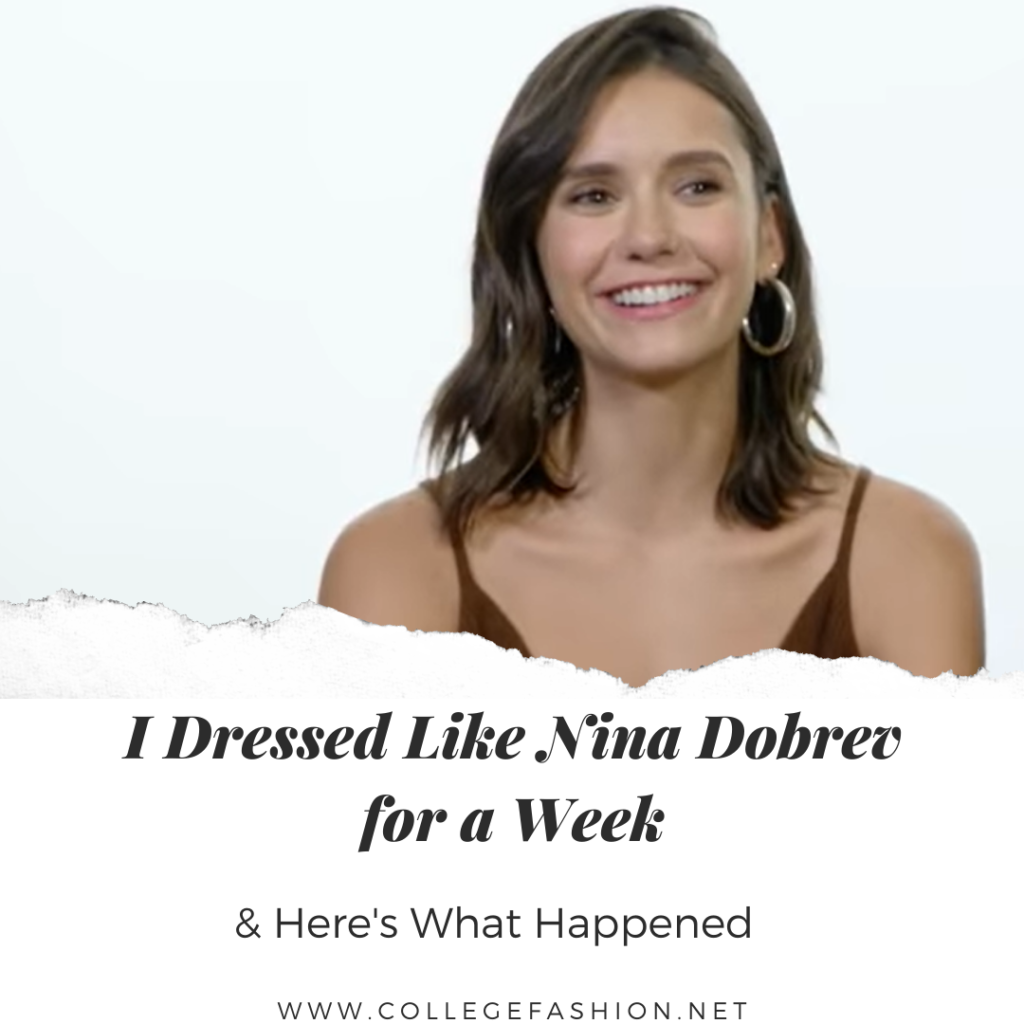 We've all looked to celebrity style for fashion inspiration at some point in our lives. But it's one thing to say "I love her outfit," and it's another to actually copy it in real life.
For this series, I'm going the extra mile and making it happen. Each week, I'm getting inspiration from a celebrity and copying five of her looks as closely as possible. Then, I'm reporting back to you: Did the outfits work in real life? Did I feel comfortable? Did people treat me differently? I'm sharing it all.
In past posts I've covered the style of these celebrities: Zendaya, Gigi Hadid, Grace Kelly, Kendall Jenner, Vanessa Hudgens, Sophie Turner, Priyanka Chopra, Millie Bobby Brown, Hilary Duff, Lily Collins, Taylor Swift Part 1 and Part 2, Selena Gomez, Alexa Chung, Queer Eye's Fab 5, Lucy Hale, Dakota Johnson, Hailey Bieber and Kaia Gerber.
I've also covered the style of certain iconic TV and movie characters: Iconic Halloween Characters Part 1 & 2, Iconic Christmas Characters Part 1 and 2, Rachel Green Part 1 and 2, Monica Geller, Little Women's Characters, Gilmore Girls' Characters Part 1 and 2, Iconic Olsen Twins' Movies, Winx Club Characters, Bridgerton Characters, W.I.T.C.H Characters, Power Rangers' Characters, Wanda Maximoff, Disney Characters, Clue Characters and Gossip Girl Characters. I also did a full behind-the-scenes, tips on how to do your own recreations and cheap items I use to make my own.
This week, I'm going back to the basics of this series and covering a celebrity's style. I dressed like our favorite TV doppelganger/vampire, Nina Dobrev.
About Nina Dobrev
Nina Dobrev is a Bulgarian-Canadian actress and model. Her role as Mia in Degrassi: The Next Generation put her on the map but, you probably know Nina for her roles of Elena Gilbert, Katherine Pierce, and other doppelgängers in The Vampire Diaries.
She has also appeared in films, including The Perks of Being a Wallflower, Final Girls, XXX: Return of Xander Cage, and Flatliners, just to name a few.
Nina Dobrev's Style
Nina is an athletic girl. She enjoys outdoorsy activities like scuba diving, rock climbing and snowboarding. Her style, outside of red carpets and events, reflects this in a very fashionable way.
Nina is almost always in comfortable items, like pants, leggings, shorts and jeans. Shoes-wise, booties and sneakers are her go-tos, but she isn't afraid of stilettos or more stylized options.
Her usual color palette is mostly neutral colors with pops of bright hues here and there.
Disclaimer
I just want to preface this post by saying that the weather in my city has been all over the place.
For this post, instead of choosing an outfit for each day and sticking to that schedule, I just chose about 8 looks, just to have backup options for any type of weather, and prepared them the weekend before. That way, I was able to choose the most appropriate look depending on how the weather was each day.
Nina Dobrev Fashion Guide
Nina's Style – Monday, Outfit #1
For the first day, I went with this all-black, summer-friendly outfit. In the linked photo, Nina is wearing black denim shorts, a black graphic tee, and white sneakers.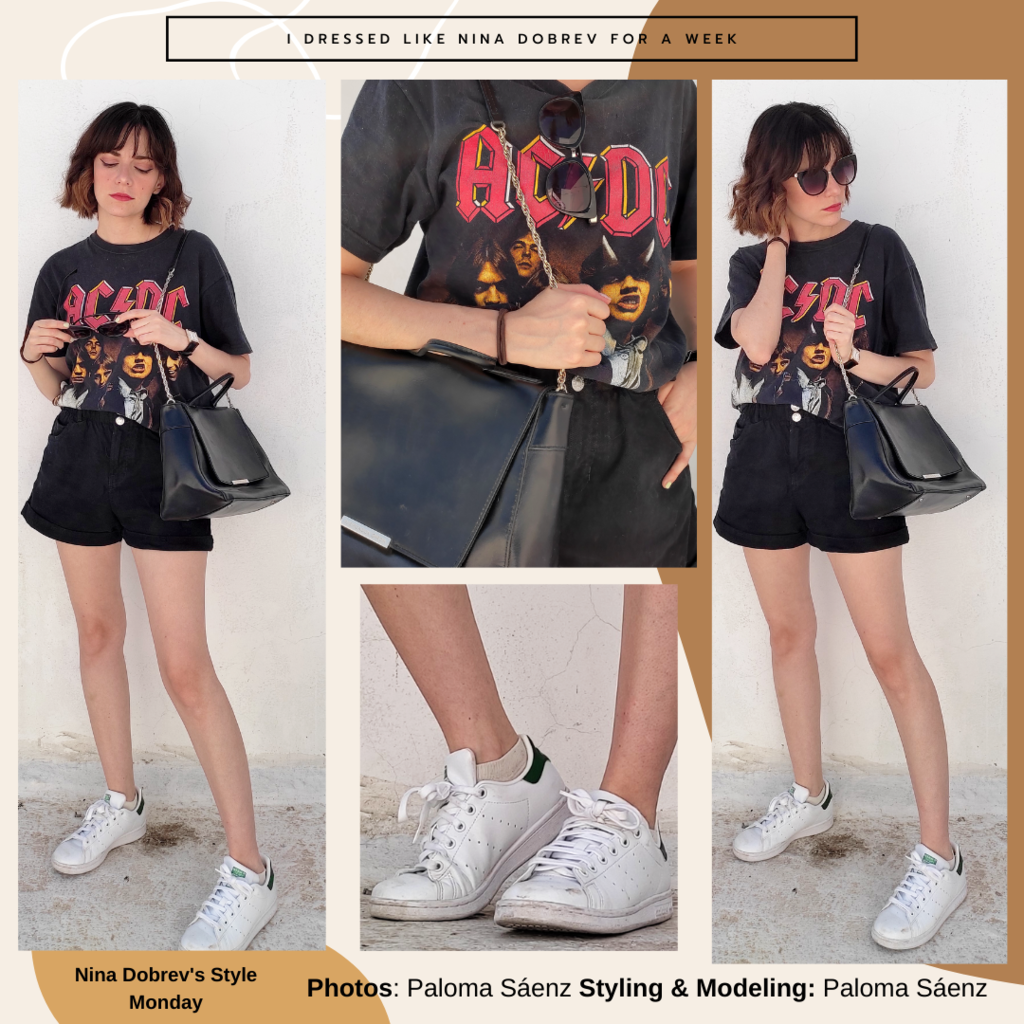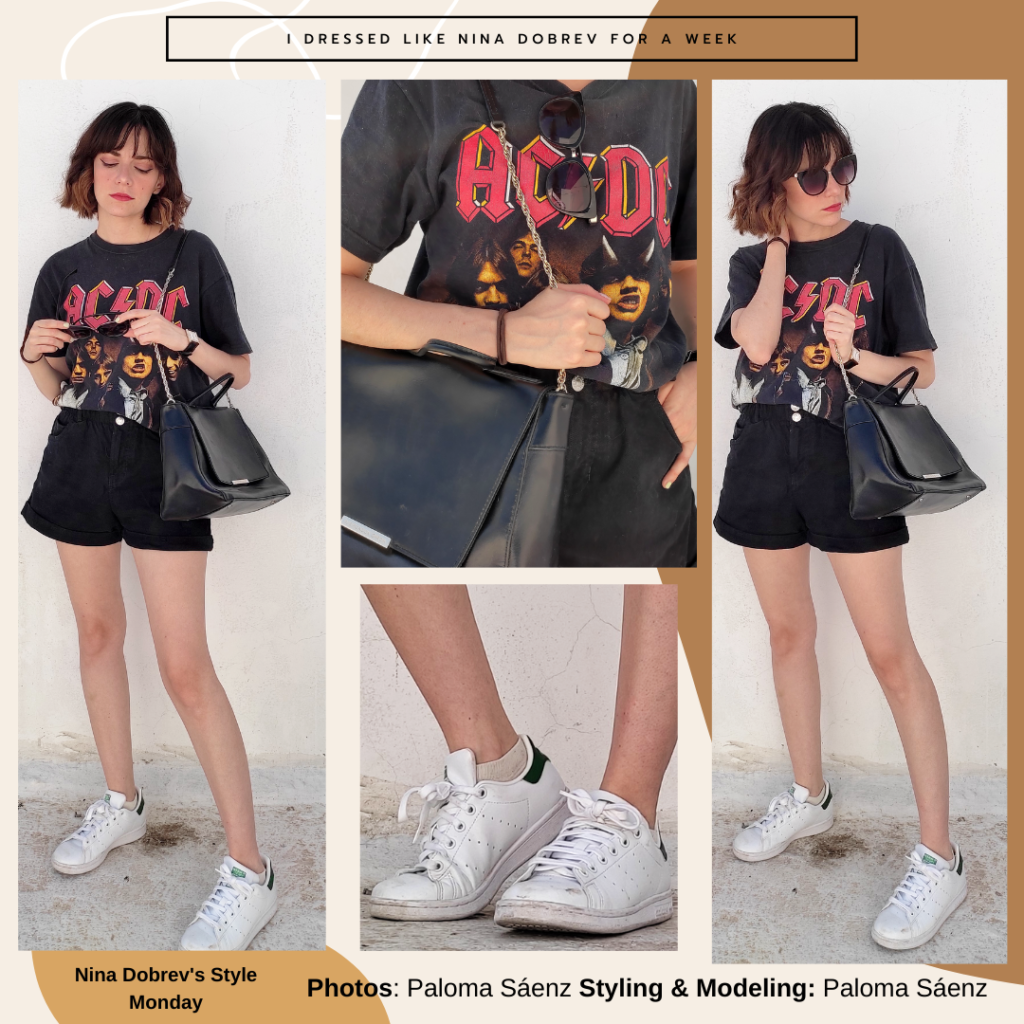 To recreate this outfit, I put on my favorite black band t-shirt and a pair of black denim shorts. The shirt is oversized, so I just did a quick French-tuck to make it look more put together. For my sneakers, I just wore a pair of classic white Stan Smith Adidas sneakers.
Finally, I added accessories. Nina is wearing a black structured Valentino bag and a pair of sunglasses. I chose a black structured bag, which is a bit bigger than Nina's, but it has a similar shape. My sunglasses are a pair of black tinted-glasses with a thin black and gold frame.
I really enjoyed this look! In general, it's kind of simple, but it was comfortable and the accessories helped to make it an *outfit* instead of giving the vibe that I threw on the first thing I found. Personally, maybe if it had been raining, I would've added a jacket, but for a hot summer day, I wouldn't change a thing about this look.
Nina's Style – Tuesday, Outfit #2
Tuesday was an extremely rainy day. I copied this hiking outfit from Nina. In the linked photo, she is wearing a pair of cargo pants, a black shirt, boots and a beanie, and sunglasses.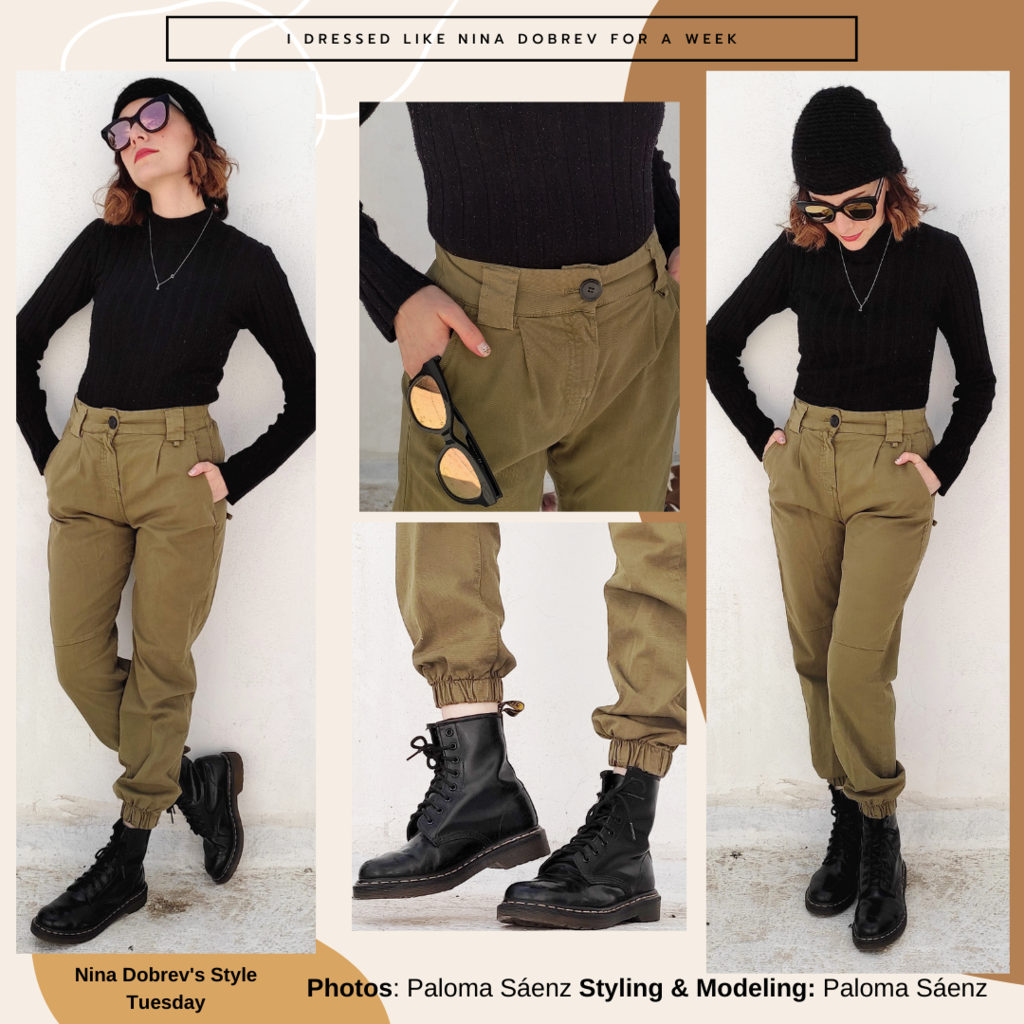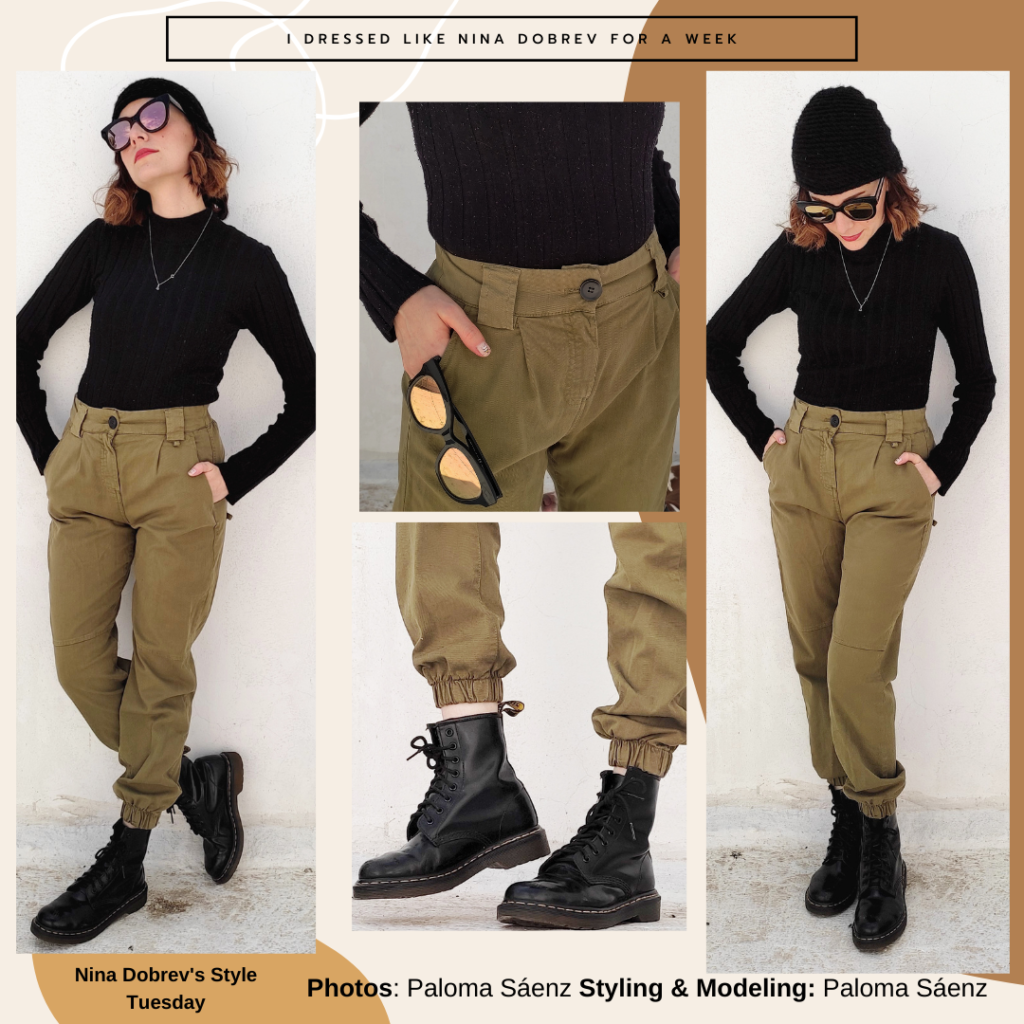 For my version of this look, I wore a ribbed black shirt that has long sleeves and a mock neck. While Nina's pants have a camouflage pattern, I just wore my favorite pair of green jogger pants. They have a similar cut and color to Nina's for that military feel.
For shoes, Nina is wearing black hiking boots, but I decided I'd make this look more city-friendly and chose black Doc Martens instead. (Disclaimer: I don't wear Doc's for hiking, and you shouldn't either. I just made the switch because I wasn't actually hiking)
Finally, I just threw my black beanie on and wore the sunglasses when I went out to run some errands.
This outfit was just okay. I didn't care that much for the simplicity of it. Functionally, it was alright. It was raining throughout the day, but the outfit got a bit too hot to wear when it wasn't raining. The boots were great for walking on the street, since it was full of puddles.
Nina's Style – Wednesday, Outfit #3
Mid-week and the weather did a 180 on me. Sunny day and clear skies — a perfect summer day. Also, it was extremely hot. Naturally, for my third Nina Dobrev style recreation, I chose this look with a red romper, sneakers, and hat.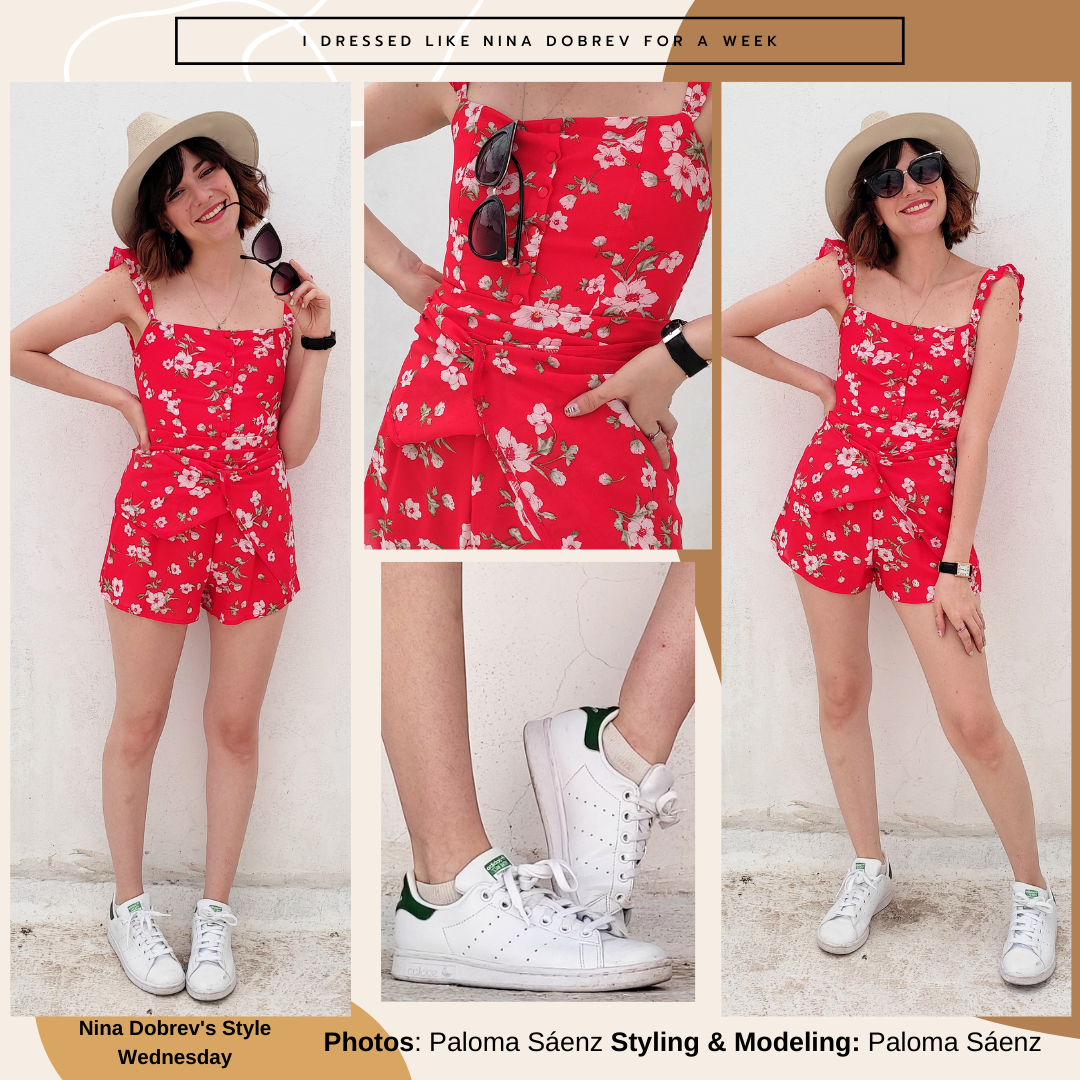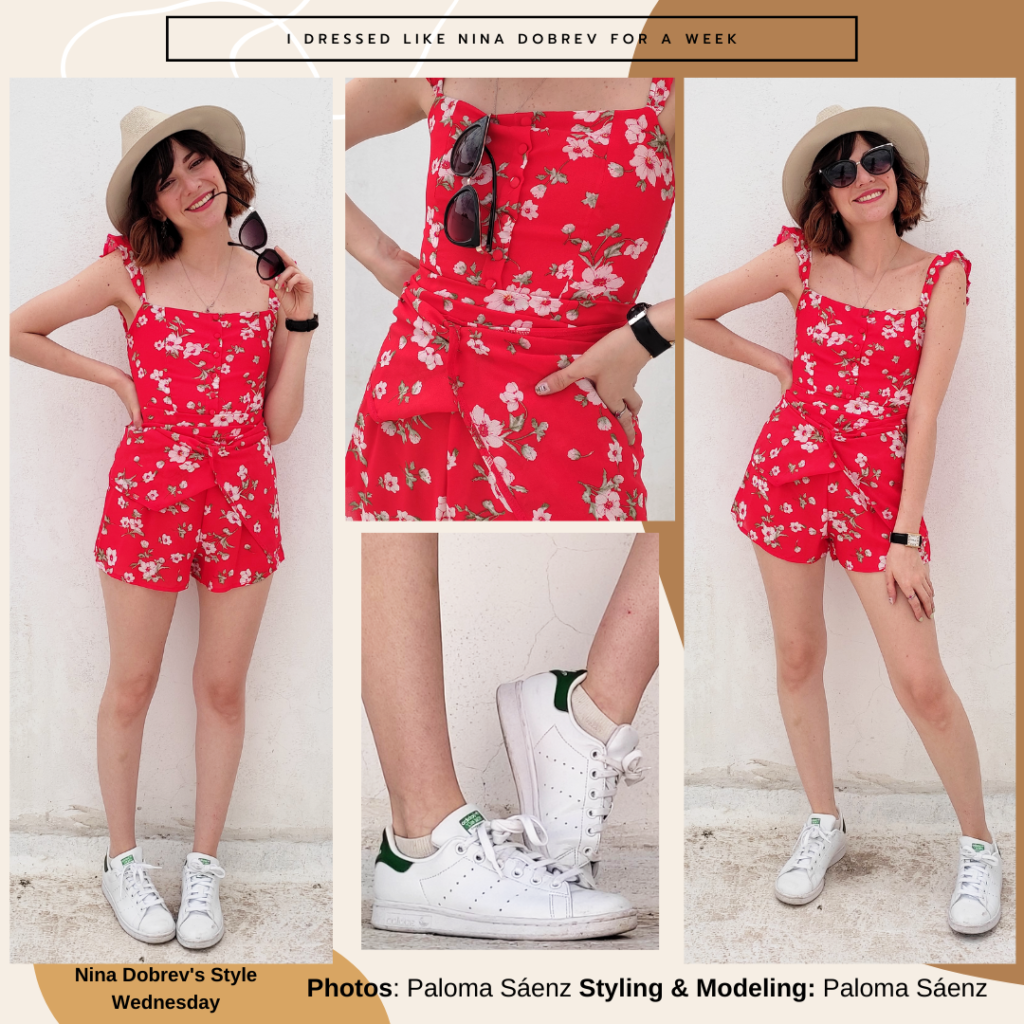 To create this outfit, I had to do a bit of DIY and work a bit of magic. I *do* have a red romper with a floral pattern, pretty similar to Nina's. But my romper has a train of fabric so it gives the illusion of being a long dress. To make the extra fabric disappear, I folded it and pinned the train with the shorts of the romper. I wrapped the leftover fabric from the front like you would a wrap-dress and pinned it on the side.
My shoes are the same white Adidas I wore on Monday. My sunglasses are also the same ones from the first day. Finally, I borrowed the off-white straw hat from my dad.
I LOVED this outfit! I think it looks *so* cute. It was also super comfortable and perfect for a hot summer day. I hadn't worn the romper in about three years, but thanks to this, I'll use it a lot for the last weeks of summer.
Nina's Style – Thursday, Outfit #4
The penultimate day of the week and it had the same clear, blue sky from the day before. My Nina look of choice was this black dress, sandals and hat combo.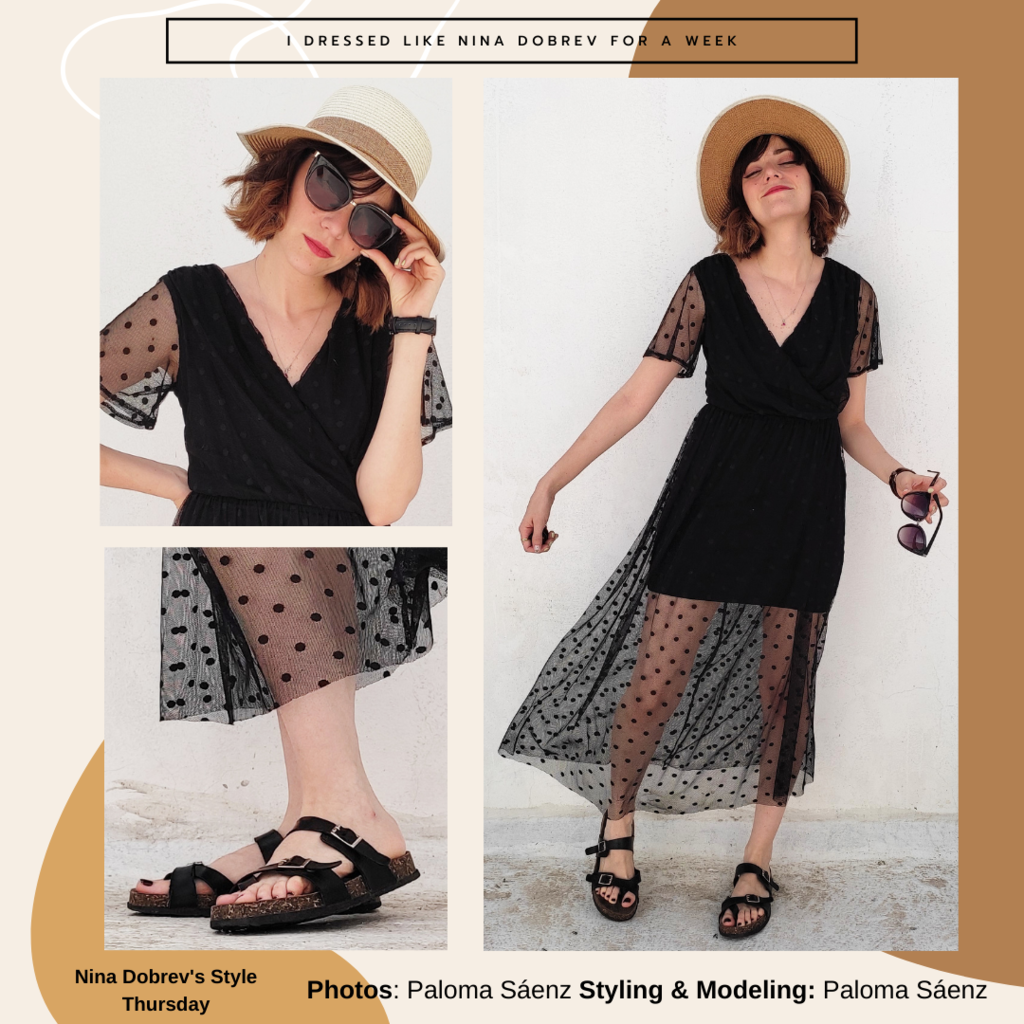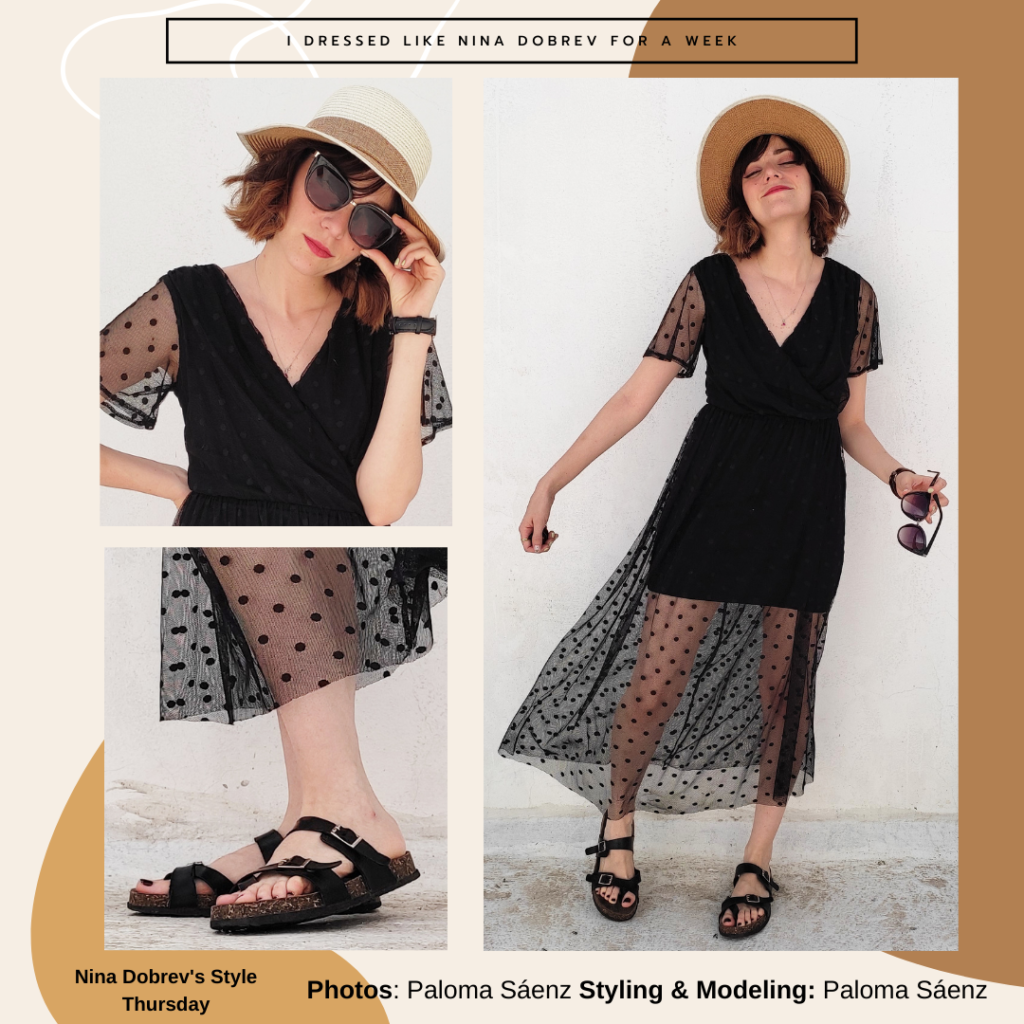 For my recreation, I compromised the fabric for the flowy cut with this dress. My dress is a black mesh dress, with a long skirt and a V-neck.
I don't have sandals of any kind, so my sister lent me her black sandals. Finally, I borrowed the wide brim off-white hat from my mom and wore the same black sunglasses from the day before.
I could've loved this one. It's really comfortable and pretty, but anyone that knows me, knows that I hate open-toed shoes. Especially sandals. Personally, I wasn't as comfortable as I could have been because the sandals threw me off and made me feel super self-conscious. On the other hand, I think my sister would find this look perfectly fine and I would too *if* it had sneakers or other closed-toe shoes.
Nina's Style – Friday, Outfit #5
Friday came and while I was getting out another hot summer look, it started pouring rain. I changed my choice of look and went with this classic outfit. In the linked photo, Nina is wearing a striped sweater, brown jacket, jeans, and white sneakers.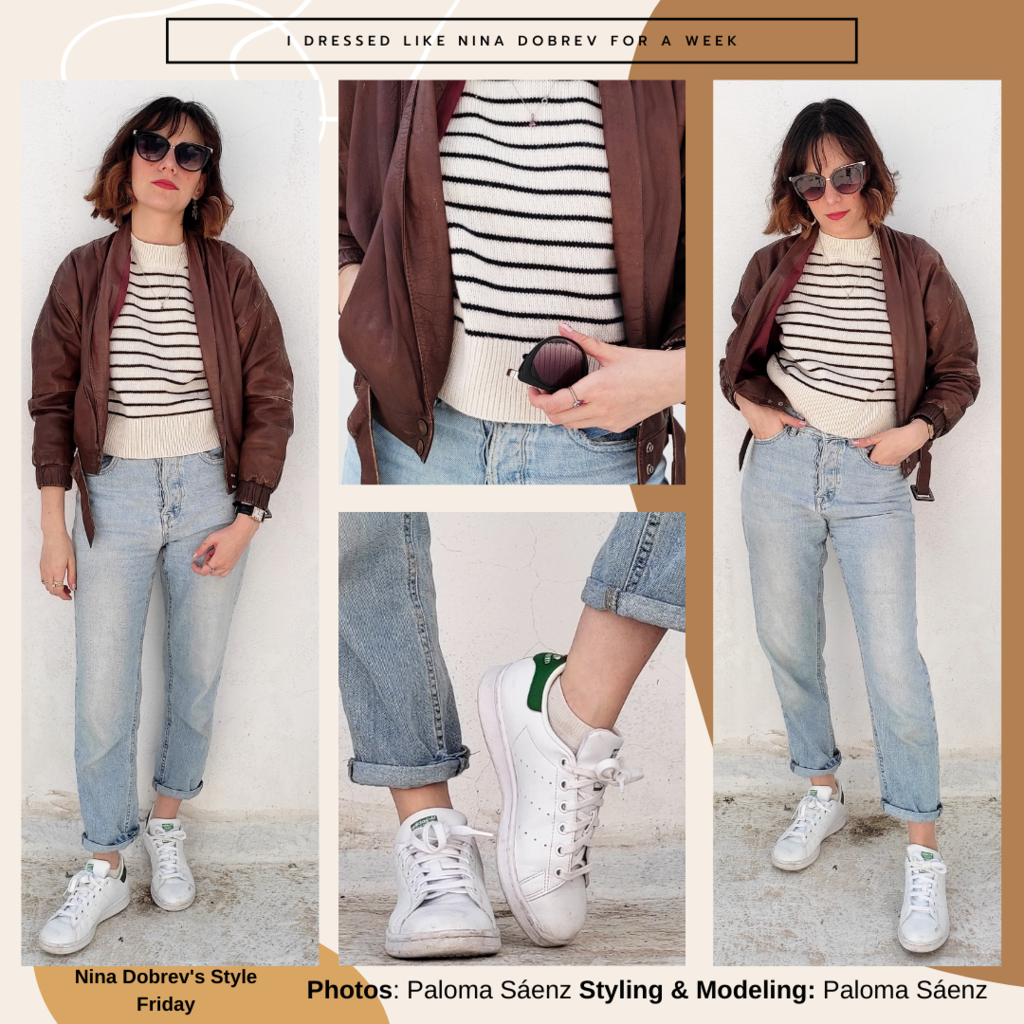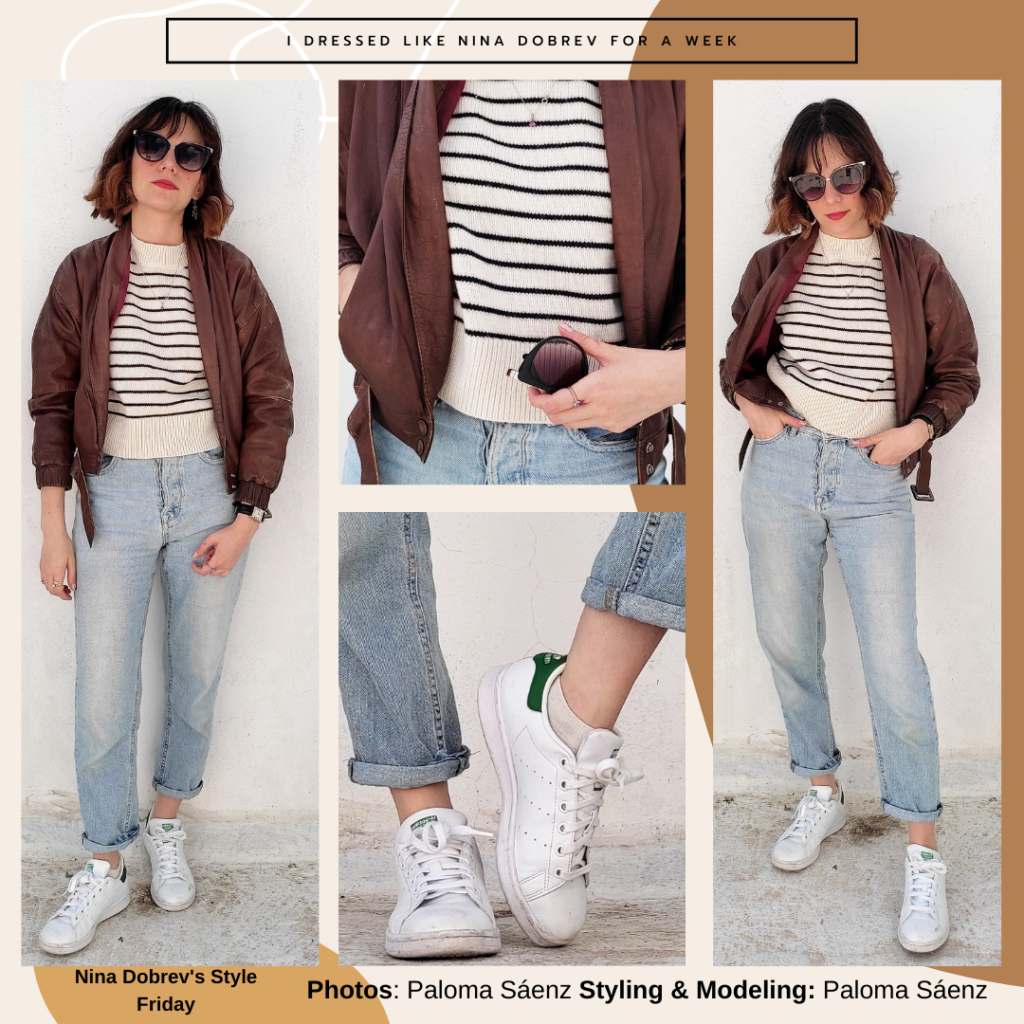 This was the easiest recreation of the week. I wore a striped knit sweater with a pair of mom jeans. I don't have a brown suede jacket like hers, but I do have a vintage brown leather jacket. The sneakers are the same white Stan Smith Adidas from the other looks.
This outfit was really cute! I had worn versions of this before, without the jacket and other type of sneakers. I felt comfortable and it was perfect for a rainy, kind of chilly day. Later in the day, I went out for dinner and I think I looked effortlessly put together.
Final Thoughts
I had fun this week. While Nina Dobrev's style is in no way experimental or over the top, it was the perfect one to emulate in a week that was already stressful and filled with different things to do.
My outfits were the least stressful thing of my week, helped me find forgotten items in my closet, and actually brought me joy when I looked at myself in the mirror.
My favorites were Wednesday's red number, Friday's cozy look, and Monday's chill-but-edgy outfit. I'll probably wear Friday's entire ensemble the most, though.
Nina's style tends to fall on the neutral, comfortable area. But, it is still cute and put together, if that's what you are looking for. She has a very attainable style, since she favors classic items and cuts. If you want to make your own Nina-style recreations, you probably have EVERYTHING you need to do so.
What Do You Think?
What do you think? Do you like Nina Dobrev's style? Which look was your favorite? Whose style do you think I should cover next? Let us know in the comments below!