This post will show you how to dress like Gossip Girl characters, with Gossip Girl outfits that are wearable in 2021.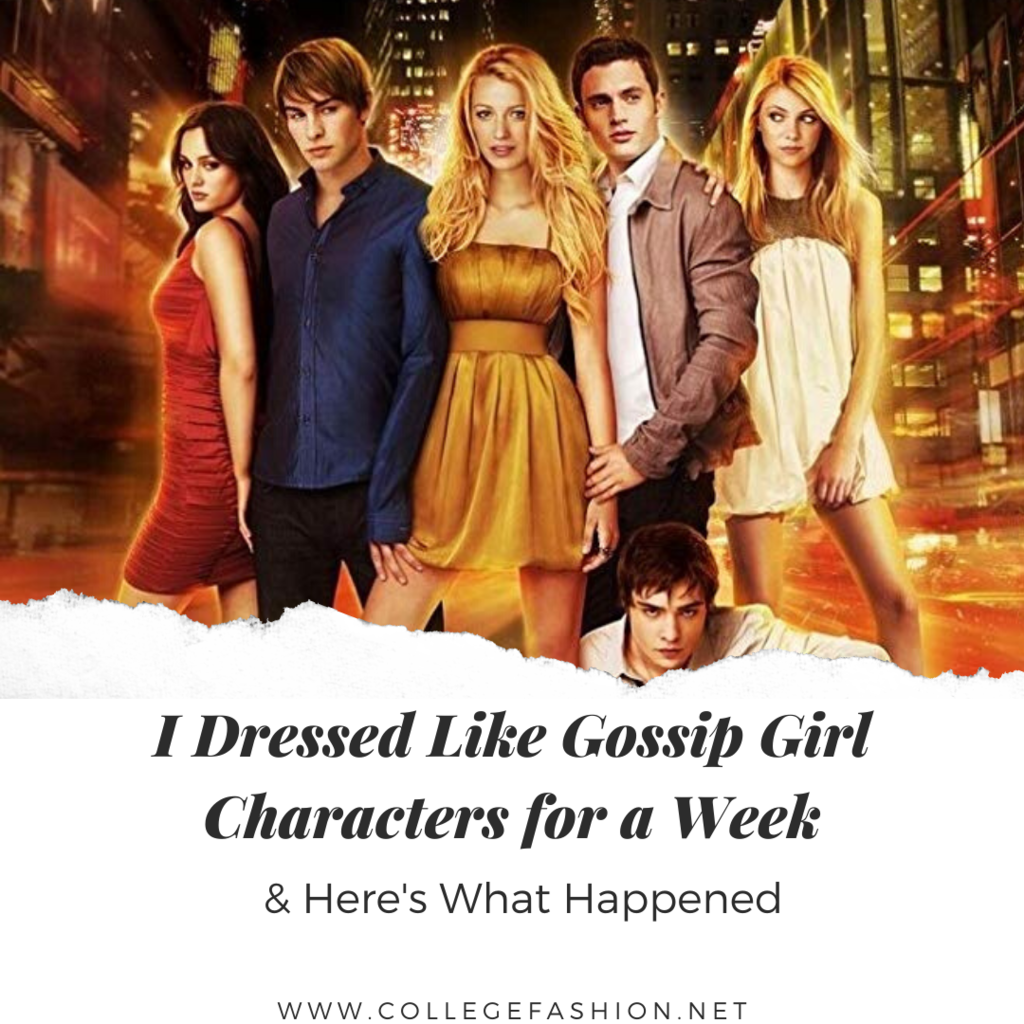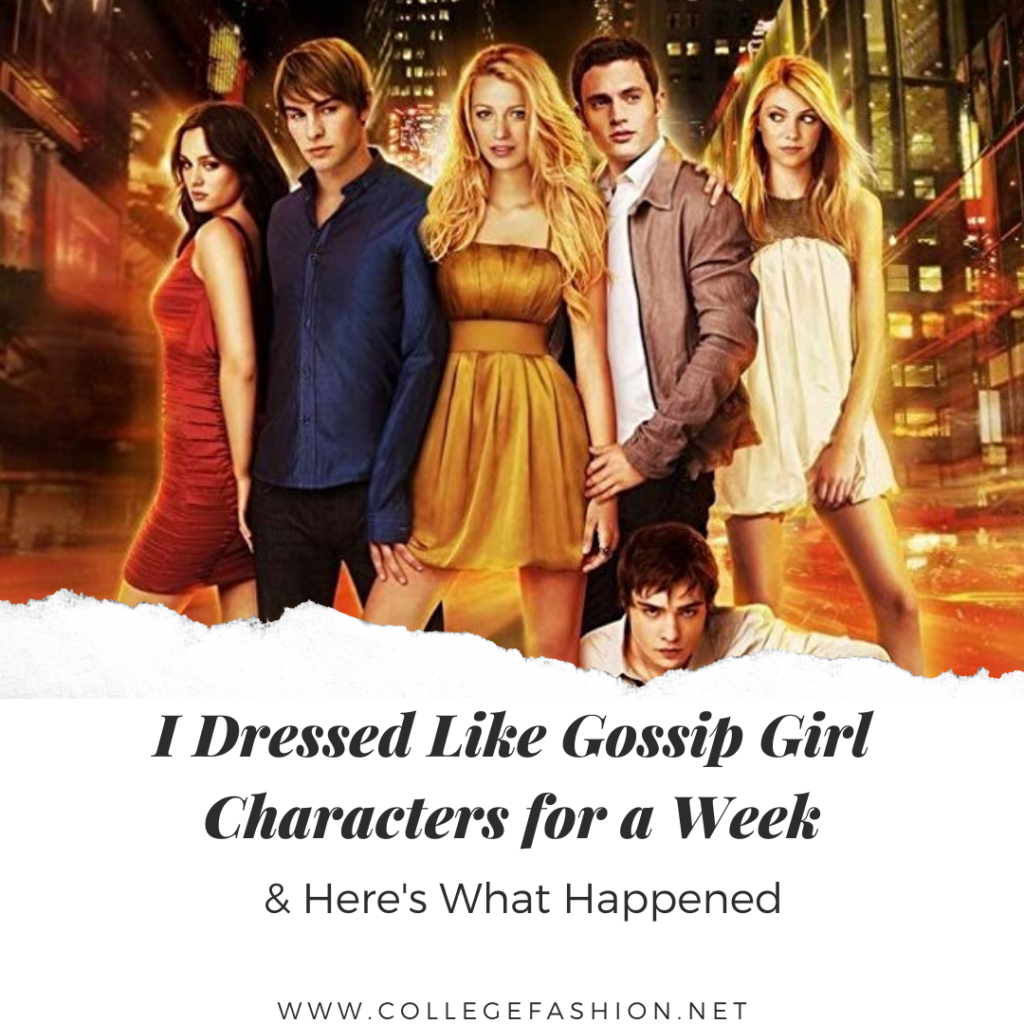 We've all looked to celebrity style for fashion inspiration at some point in our lives. But it's one thing to say "I love her outfit," and it's another to actually copy it in real life.
For this series, I'm going the extra mile and making it happen. Each week, I'm getting inspiration from a celebrity and copying five of her looks as closely as possible. Then, I'm reporting back to you: Did the outfits work in real life? Did I feel comfortable? Did people treat me differently? I'm sharing it all.
In past posts I've covered the style of these celebrities: Zendaya, Gigi Hadid, Grace Kelly, Kendall Jenner, Vanessa Hudgens, Sophie Turner, Priyanka Chopra, Millie Bobby Brown, Hilary Duff, Lily Collins, Taylor Swift Part 1 and Part 2, Selena Gomez, Alexa Chung, Queer Eye's Fab 5, Lucy Hale, Dakota Johnson, Hailey Bieber and Kaia Gerber.
I've also covered the style of certain iconic TV and movie characters: Iconic Halloween Characters Part 1 & 2, Iconic Christmas Characters Part 1 and 2, Rachel Green Part 1 and 2, Monica Geller, Little Women's Characters, Gilmore Girls' Characters Part 1 and 2, Iconic Olsen Twins' Movies, Winx Club Characters, Bridgerton Characters, W.I.T.C.H Characters, Power Rangers' Characters, Wanda Maximoff, Disney Characters and Clue Characters.
I also did a full behind-the-scenes on this series.
This week, in honor of the reboot premiering today, I'm recreating the style of Gossip Girl characters.
About Gossip Girl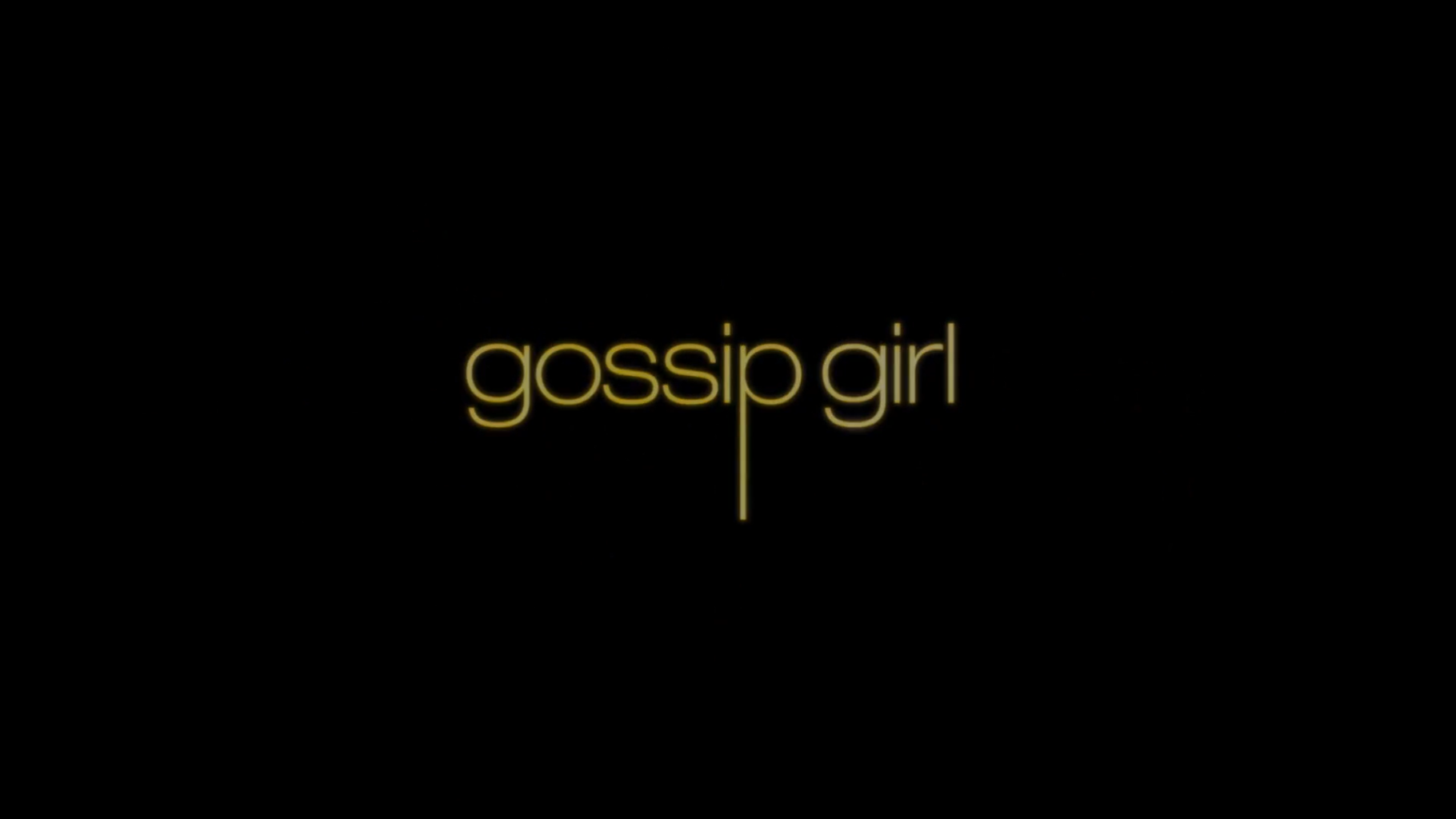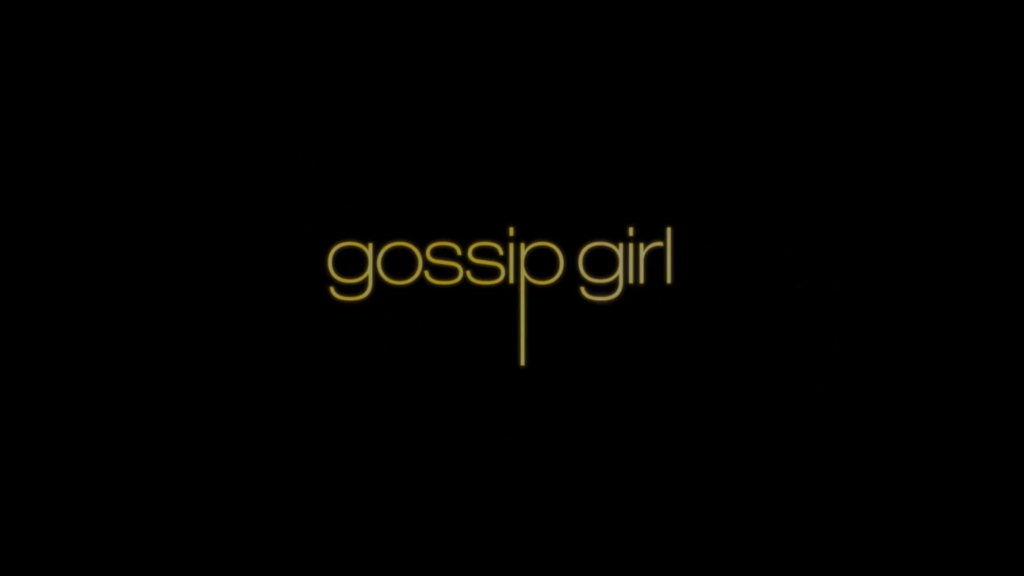 In case you aren't familiar with it, which I highly doubt, Gossip Girl aired from 2007 to 2012 on The CW.
Based on the series of novels by Cecily von Ziegesar, the show follows a group of teenagers who are members of Manhattan's elite, specifically of the Upper East Side. While they're trying to live their privileged and decadent lives, there is no secret, relationship, or activity they can hide from the infamous blogger, Gossip Girl.
Gossip Girl was a major hit and, for better or worse, it marked an entire generation. There are thousands of iconic quotes, characters and scenes people keep referencing today, ironically or not.
Fashion was one of the most important elements of the show, right behind the relationship of Chuck and Blair. Real life, high-end brands lent not only their names, but also runway pieces, accessories, and shoes to the series. Designers, critics, models, brands, and fashionable actors all made special cameos during the show.
Disclaimer
For this post, I chose five of the main characters of the show and created each Gossip Girl outfit based on their overall style.
Since the series aired more than ten years ago, and two of the characters I chose were male, the shape and cut of most items varied, but I still tried to recreate each aesthetic as closely as possible.
Without further ado, here's how this week went!
Monday, Outfit #1 – Serena van der Woodsen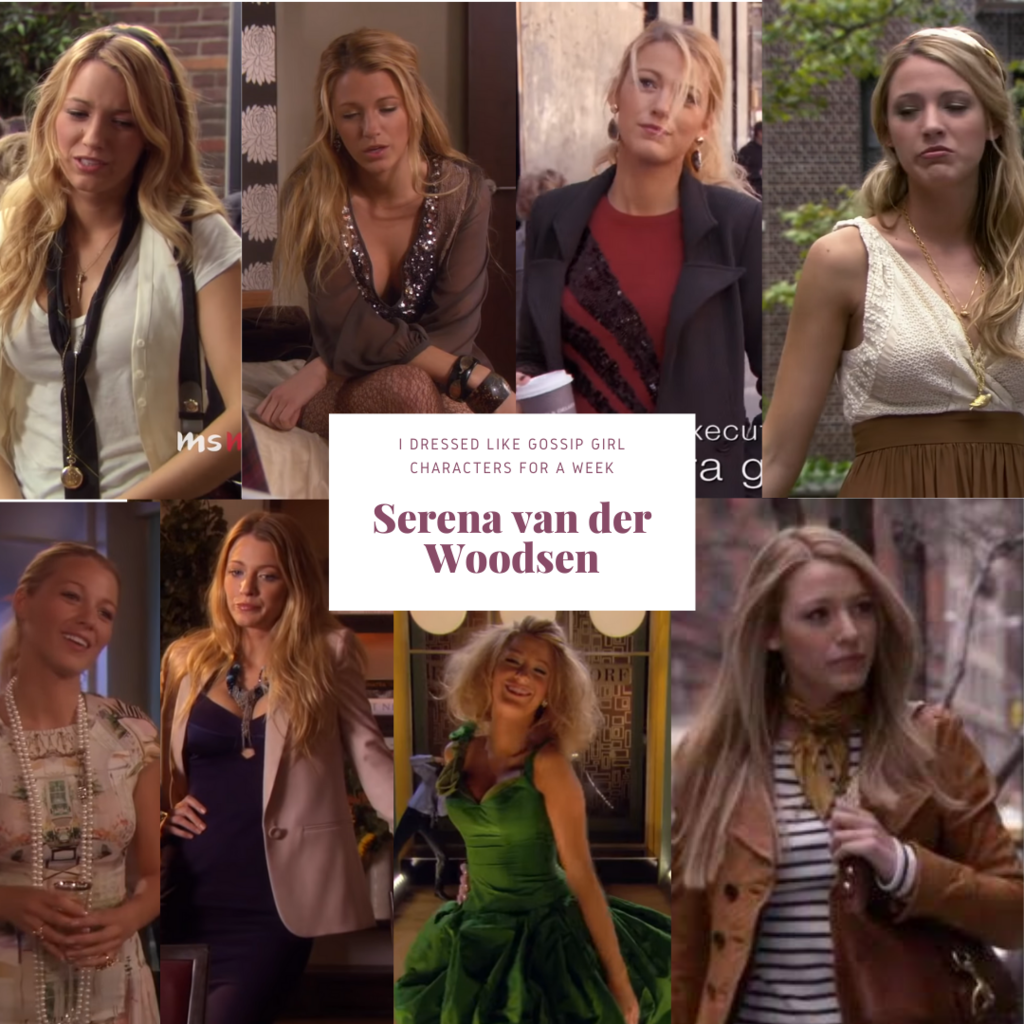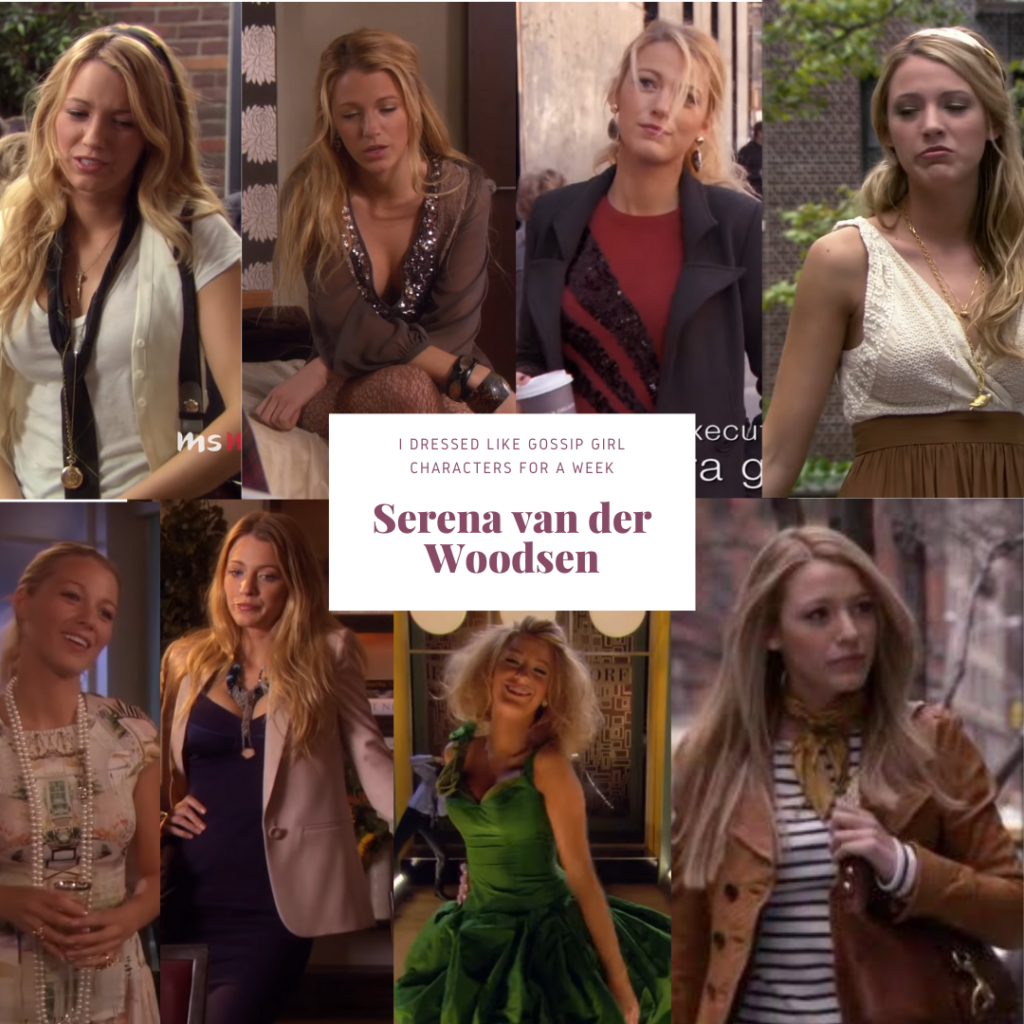 Serena is the definition of the It Girl: beautiful, popular, and wealthy. When the show first aired, Serena was the intended protagonist and Dan, her love interest, was supposed to share that title. This intention can be seen in the very first frames of the show. The first main character we meet, introduced by Gossip Girl, is Serena.
Serena's style can be best described as boho glam. She usually goes for flowy fabrics, plunging necklines, blazers, jackets, and jeans. She also seems to own everything in the world except a hair brush.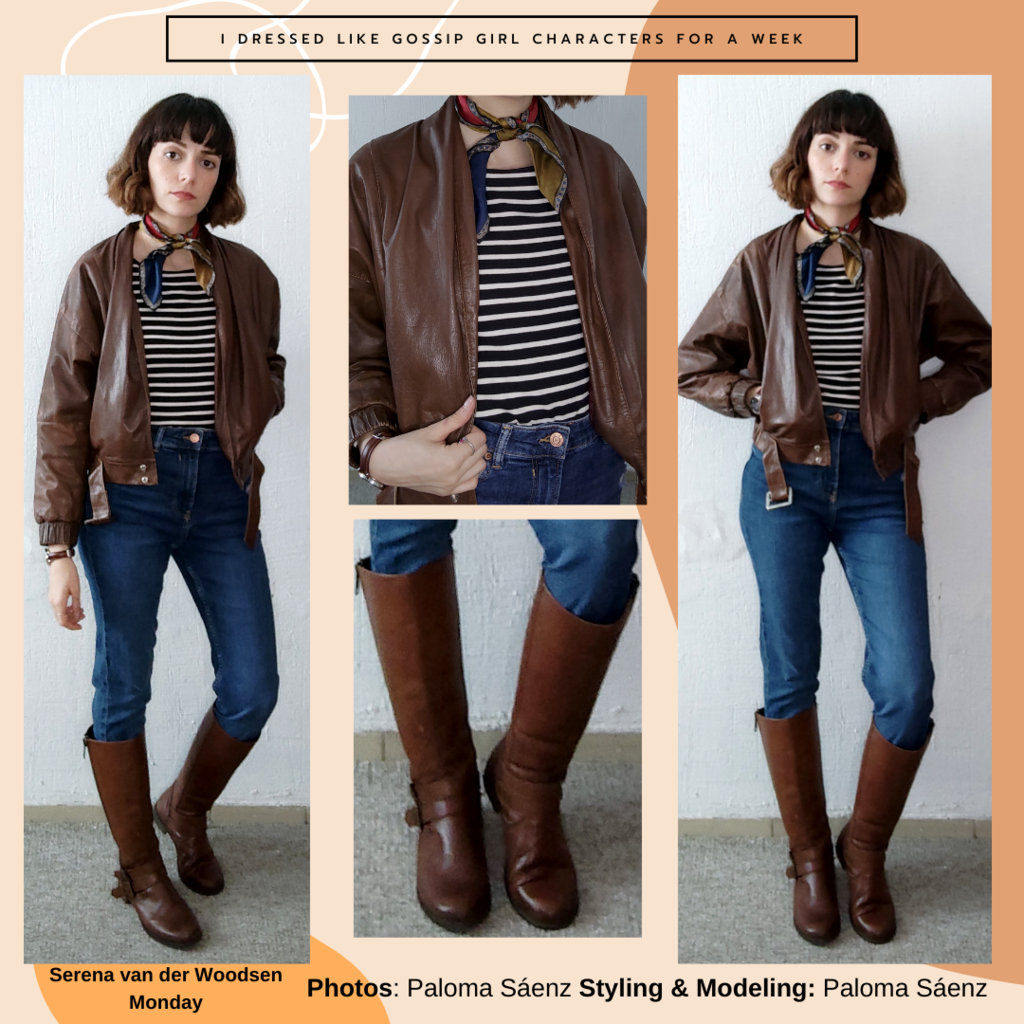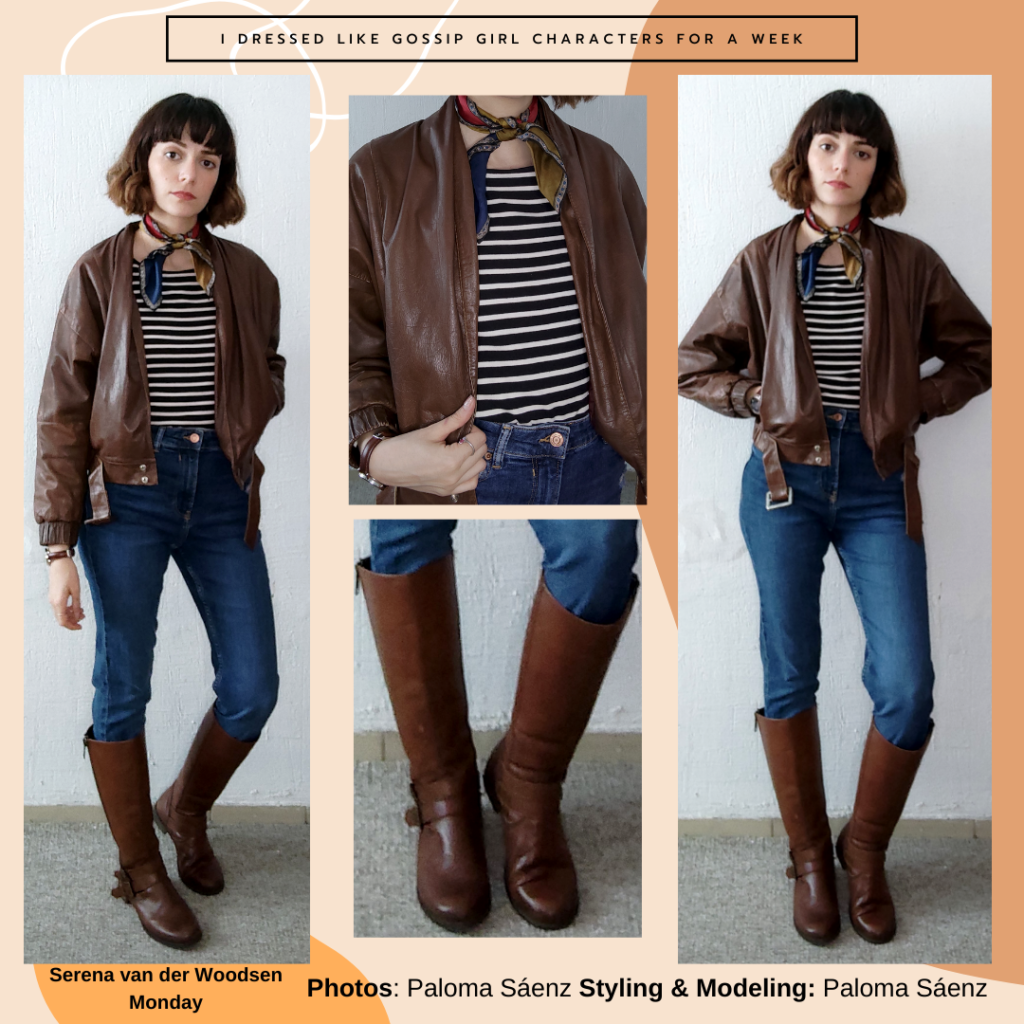 For Serena's outfit, I chose this very first look we see her in. She's wearing a striped top, jeans, a brown jacket, and boots. FYI, this is my only outfit recreation that is item-by-item and not about the character's overall style.
For my Serena van der Woodsen look, I paired a black and white striped shirt with blue jeans. I tucked the jeans into a pair of brown riding boots. I didn't have a brown blazer like hers, but I had the next best thing: a vintage brown leather jacket. Finally, I topped everything with a neck scarf that has similar colors to hers.
I really liked this look! It was both cute and comfy. At first, I thought it'd be way too covered up for summer, but this week, it rained so much. The outfit ended up being appropriate for the weather and kept me dry when I went to run some errands.
Tuesday, Outfit #2 – Nate Archibald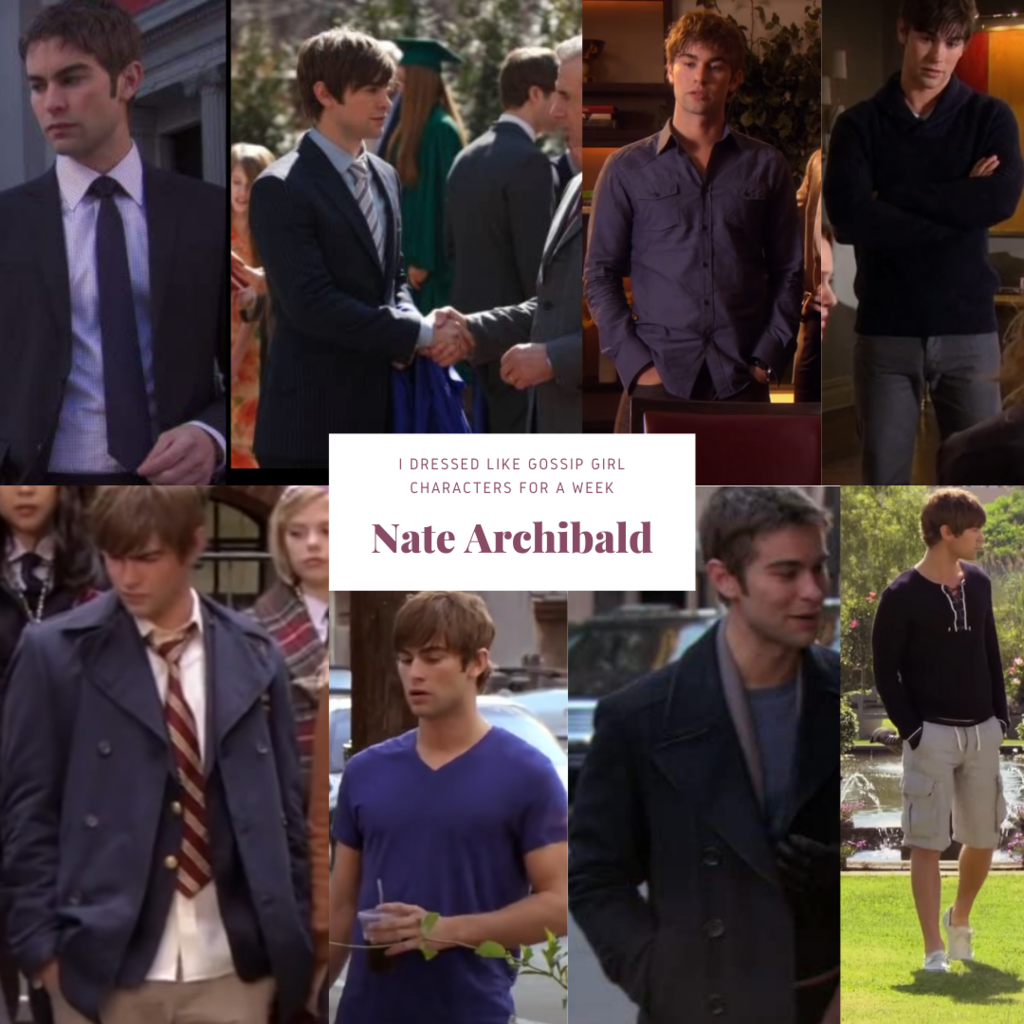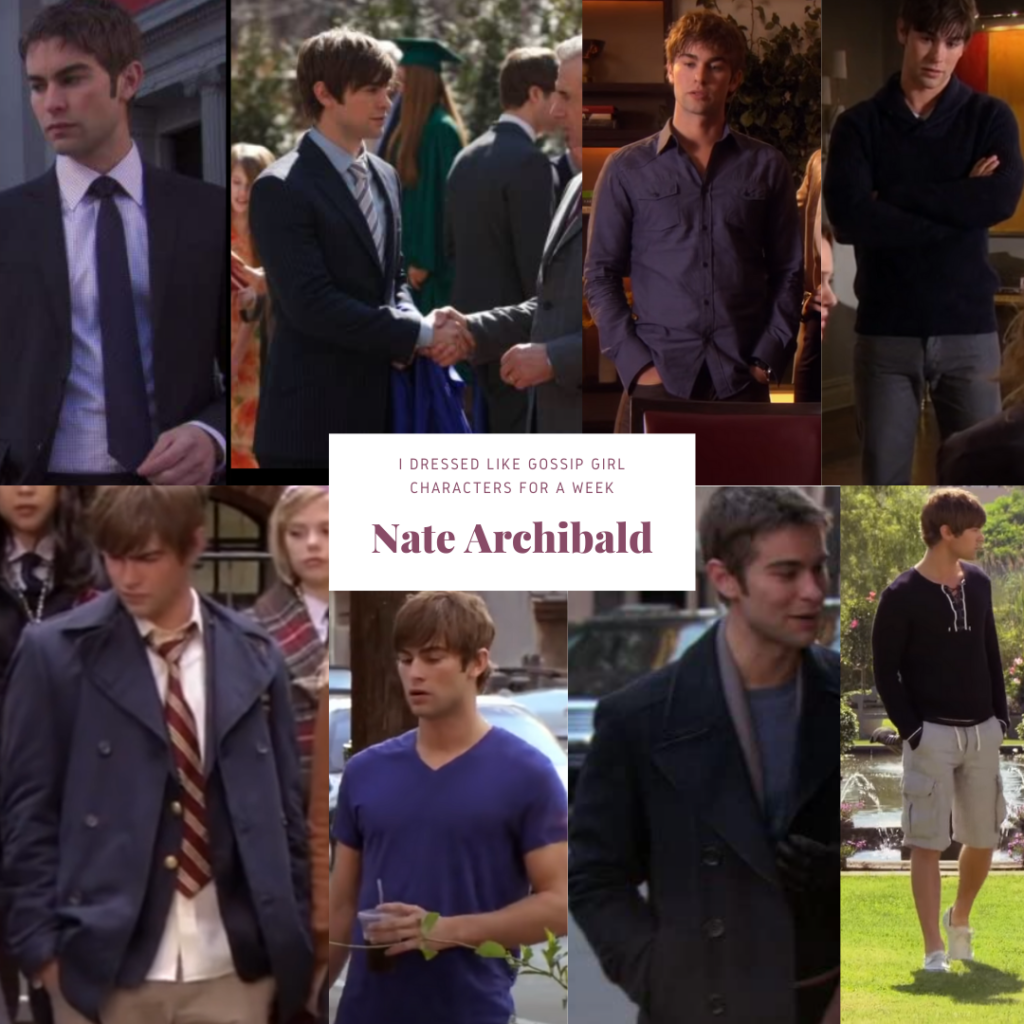 Nate Archibald is the Prince Charming of the Upper East Side. Chuck's best friend, Blair's former boyfriend and Serena's occasional love interest, Nate is the good teammate of the group.
Nate's style is 100% classic, preppy, country club boy. He is the furthest thing from experimental. Polo shirts, Oxford shirts, blazers, sport coats, clean lines and cuts, and neutral colors are Nate's staples.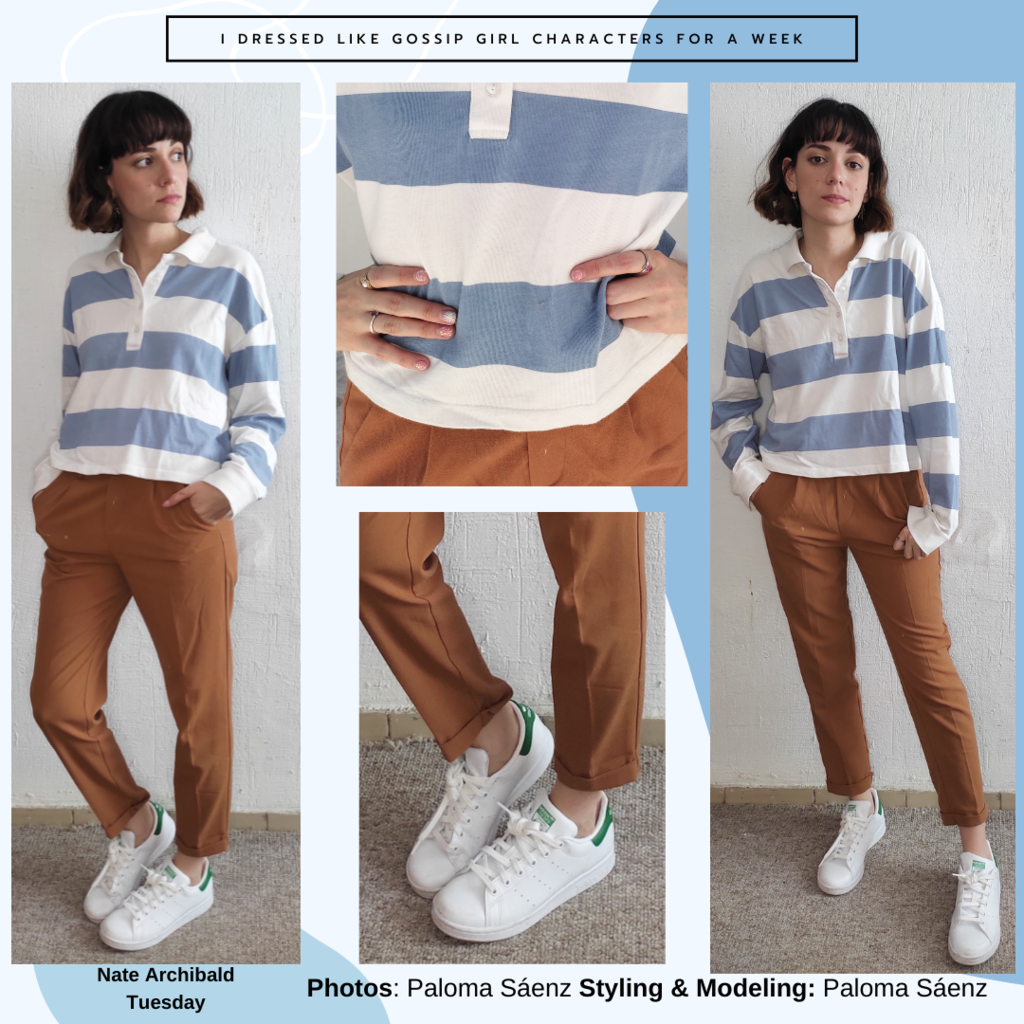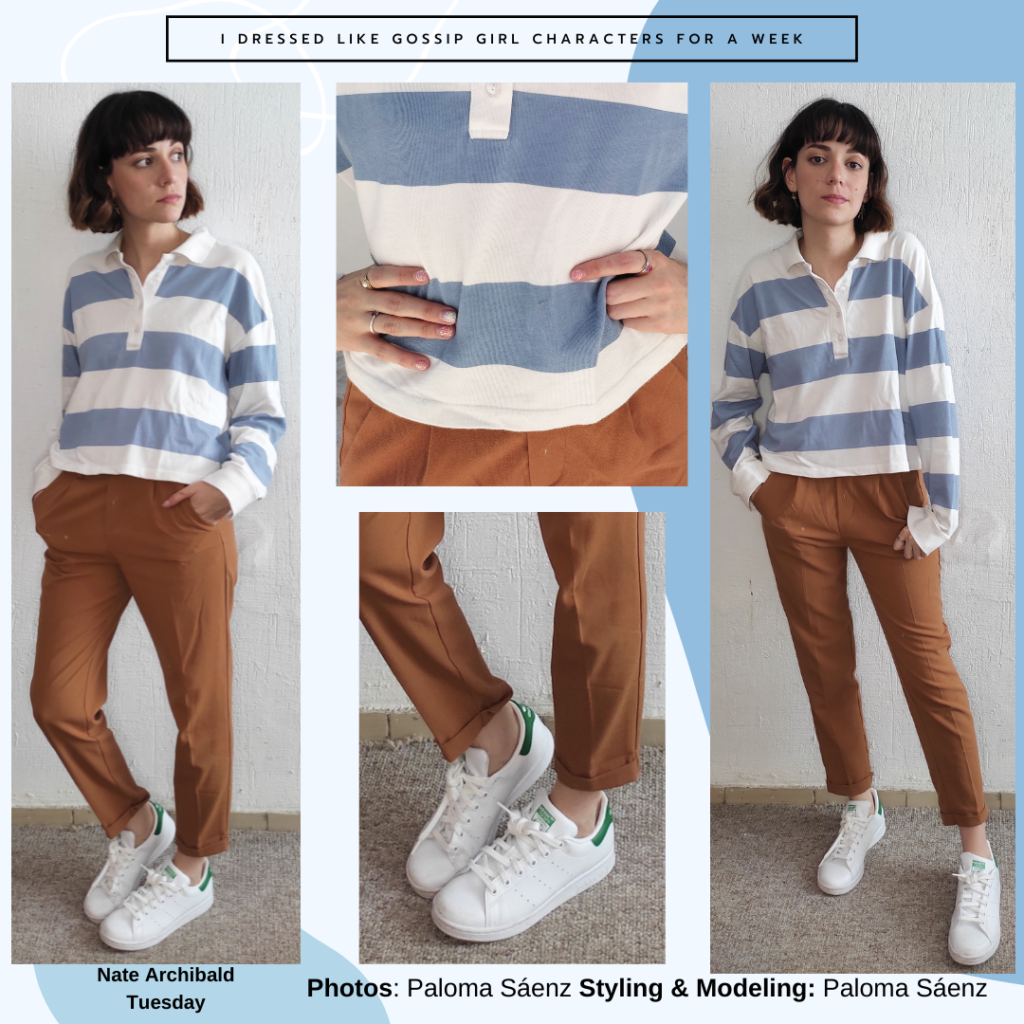 For Nate's outfit, I leaned into the whole preppy vibe. I put on a light blue and white rugby shirt with a pair of brown trousers. For shoes, I debated with myself on what to use: Oxford shoes, Chelsea boots or classic sneakers. In the end, I went with a pair of white Adidas Stan Smiths. I felt the sneakers matched Nate's chill vibe and his conventional style.
This was an okay look. It was perfectly comfy and everything matched. But, I don't think that any Nate inspired outfit will bring the "wow" factor. I would wear something like this again, but maybe with a more interesting jacket or accessory.
Wednesday, Outfit #3 – Jenny Humphrey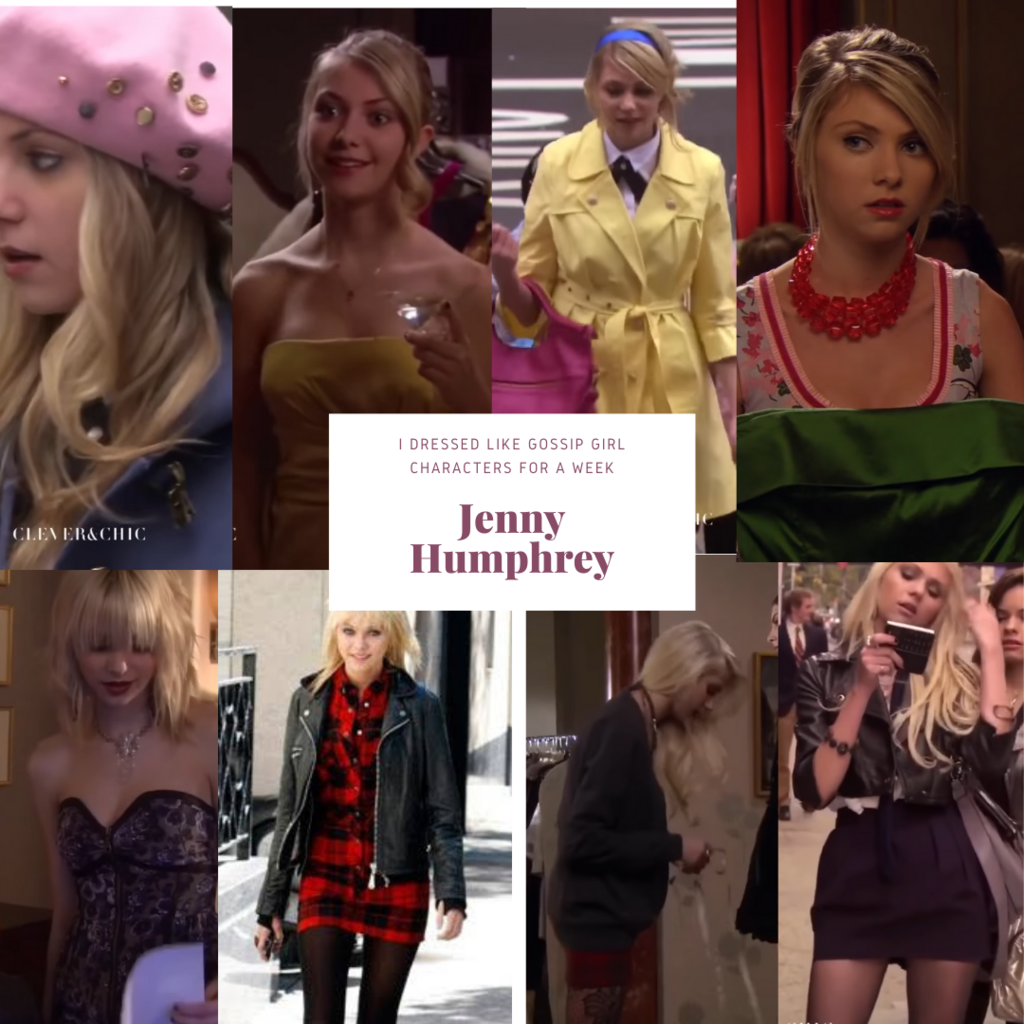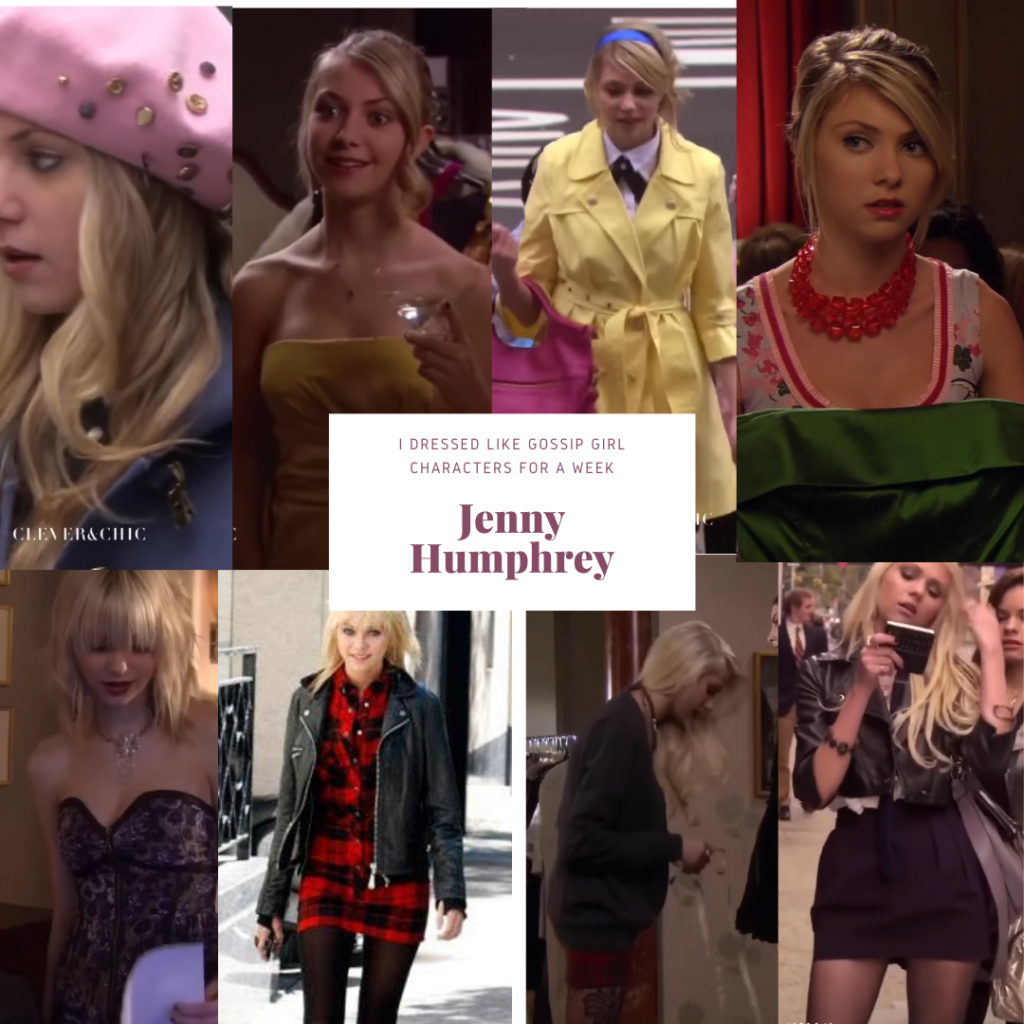 Jenny was a polarizing figure in and out of the show, to say the least.
Jenny started out as a very sweet, preppy girl who desperately wanted to be Blair. Through the seasons, she evolved into a punk-gothic princess who left Manhattan to distance herself from the Upper East Siders.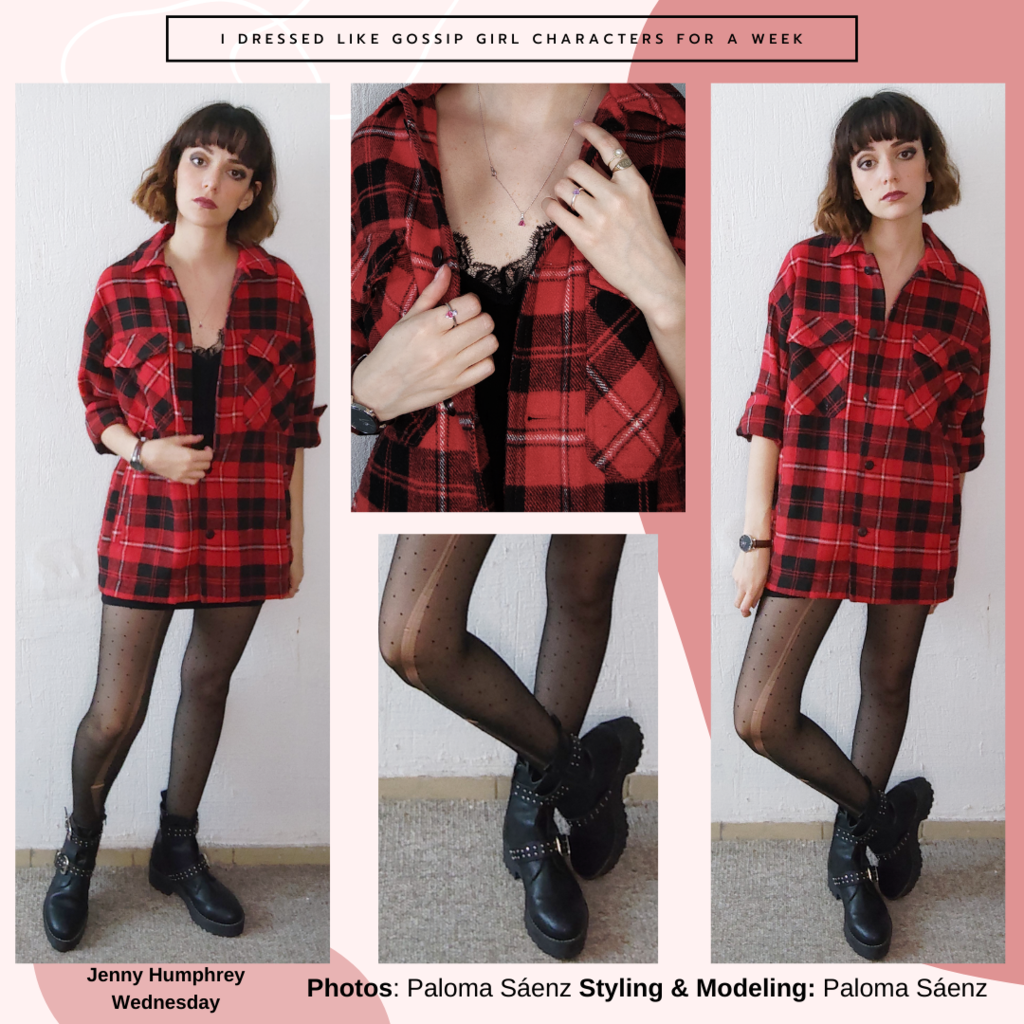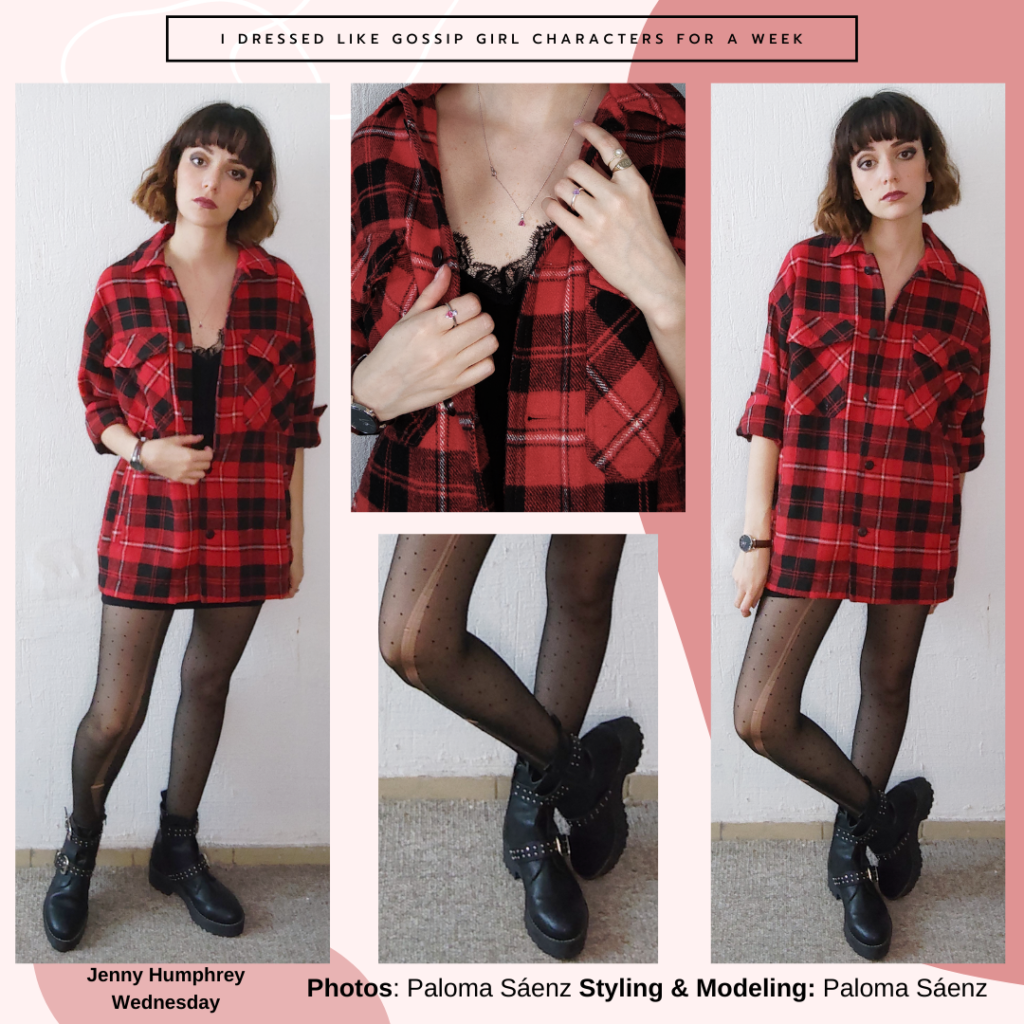 To do a proper Jenny look, I decided to copy her first dip into the punk-rock style during season 2.
For my Punk Jenny look, I wore a black lace camisole with a black mini skirt. As a layer, and the main item of the outfit, I put on an oversized red flannel shirt.
I have a pair of black tights that I ripped accidentally a couple of months ago that went perfectly with this look. For shoes, I went with a pair of black boots with buckles and silver details. To finish up the look, I used black eyeshadow and burgundy gloss.
I really, really liked this look! It might have been the least weather-friendly outfit of the week, but it made up for it in character. I felt badass and cool in this one. If I wear it again, I might wear a different skirt, but otherwise it's perfect and fits well with my personal style.
Thursday, Outfit #4 – Chuck Bass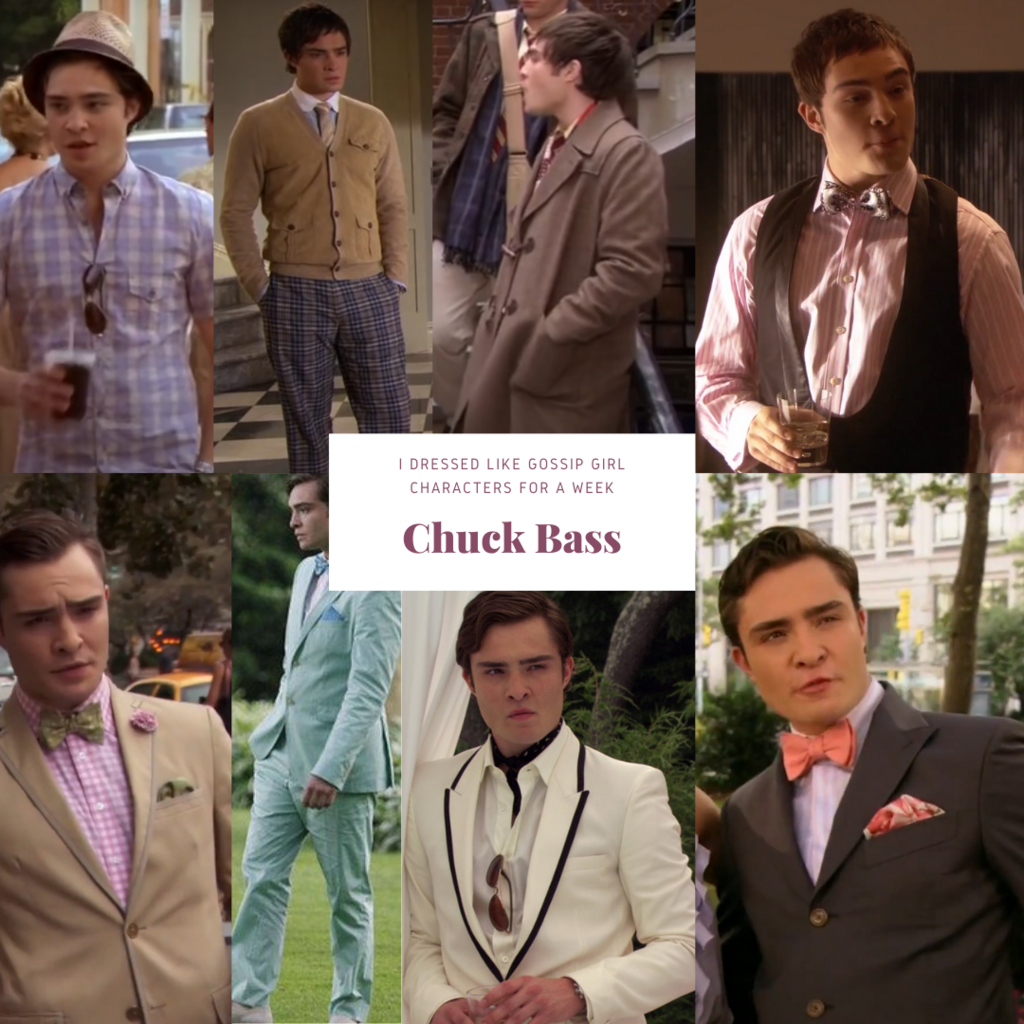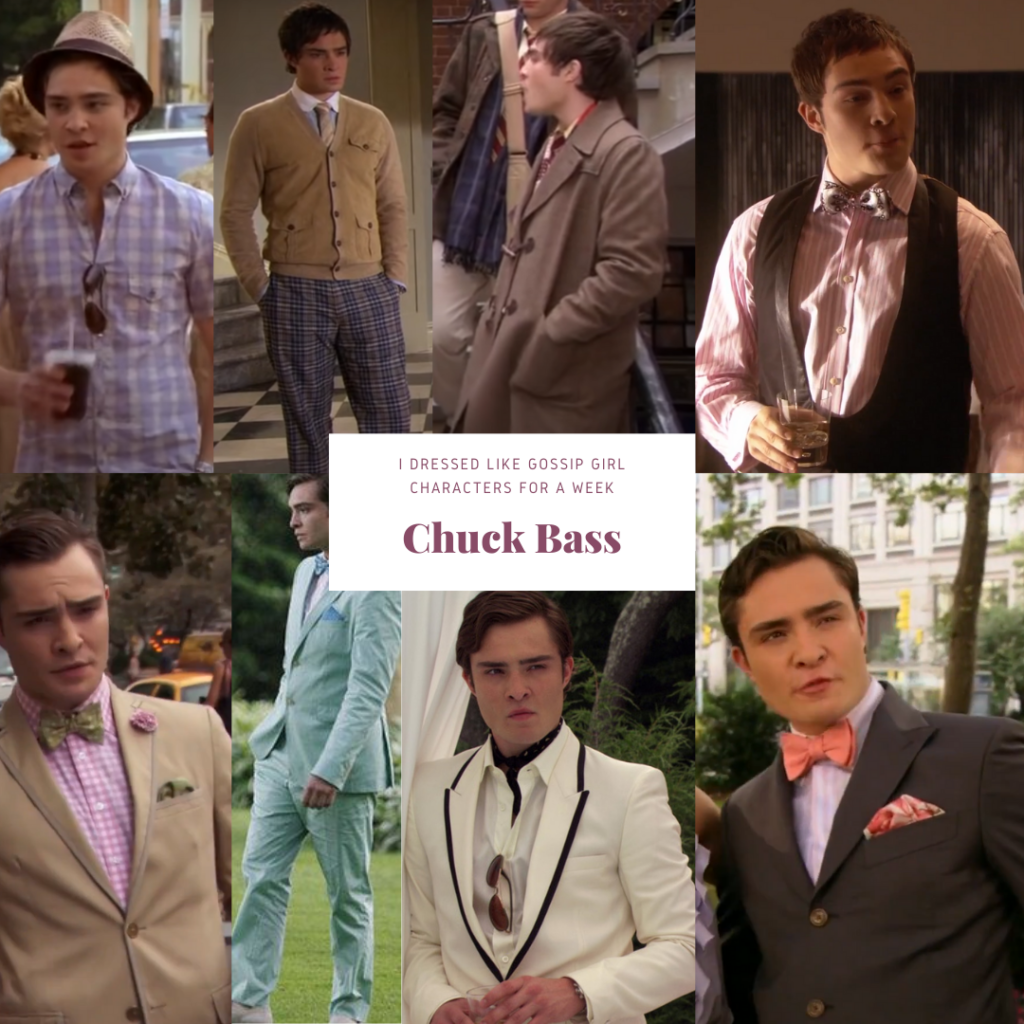 Chuck Bass is the richest character on the show and also the most ruthless. If there is someone plotting somebody's downfall, chances are it's Chuck behind everything (with or without B's help).
Though he started out as an antagonist and sidekick to Nate, Chuck pretty quickly became the most important male character on the show. He also developed into a more likable character through his relationship with Blair, his friendship with Nate, and various redemption plot lines.
As the most daring man on the show, Chuck Bass' style is, fittingly, as daring as his character. Always in a tailored suit, Chuck isn't afraid of bright colors, patterns, interesting textures and, most importantly, pink and purple.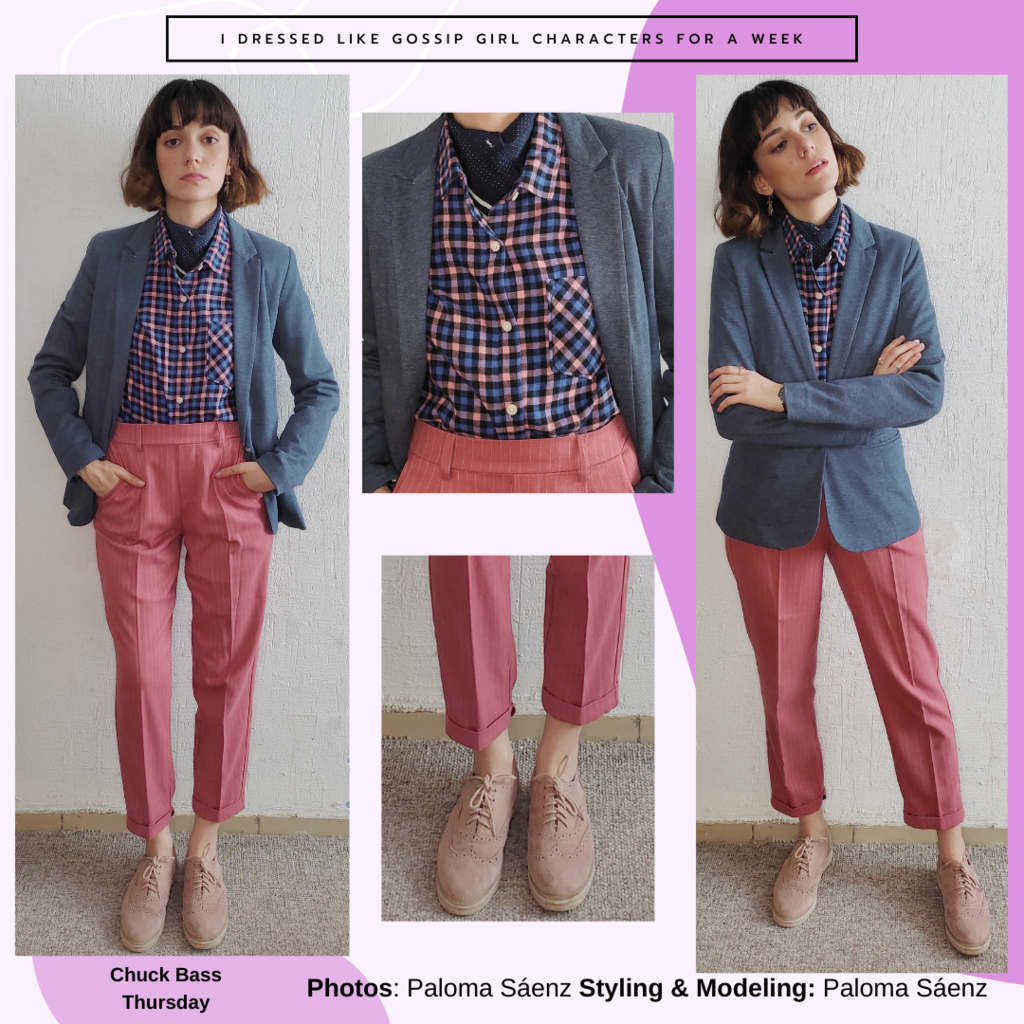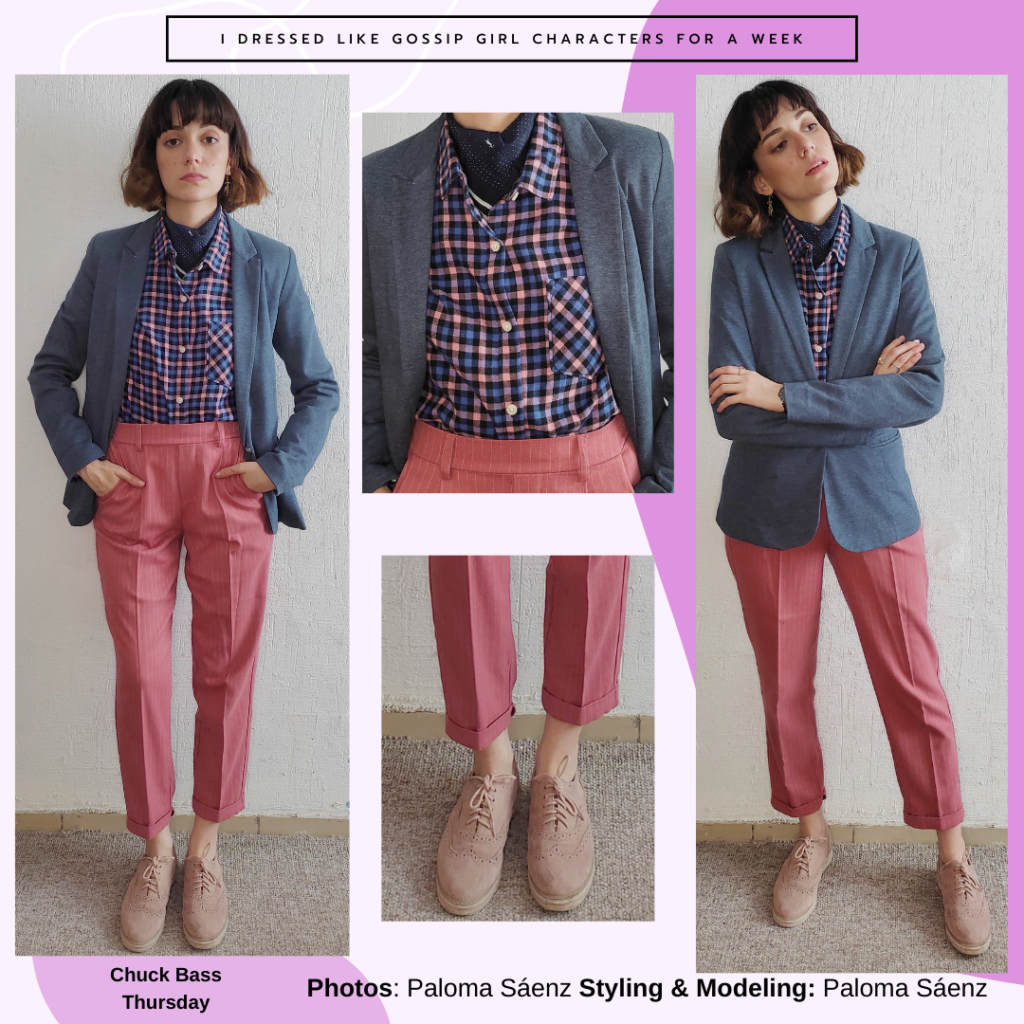 For my Chuck look, I knew I wanted something tailored and put together but still funky.
For the base of this Gossip Girl outfit, I wore a checkered pink and blue shirt with a pair of bold pink trousers. The pants do have a matching blazer, but I felt it was more Chuck to mix it up with a blue blazer instead.
For shoes, I chose a pair of pink suede Oxford shoes. For my accessories, I would've worn a pink bowtie, but I didn't have one, so I ended up using a blue ascot instead.
I loved this outfit! It wasn't as comfortable as I thought it would be, though. I bought this blazer when I was in high school and it still fits, but a bit tighter than it used to. Still, I loved the combination of colors and how it looked.
Friday, Outfit #5 – Blair Waldorf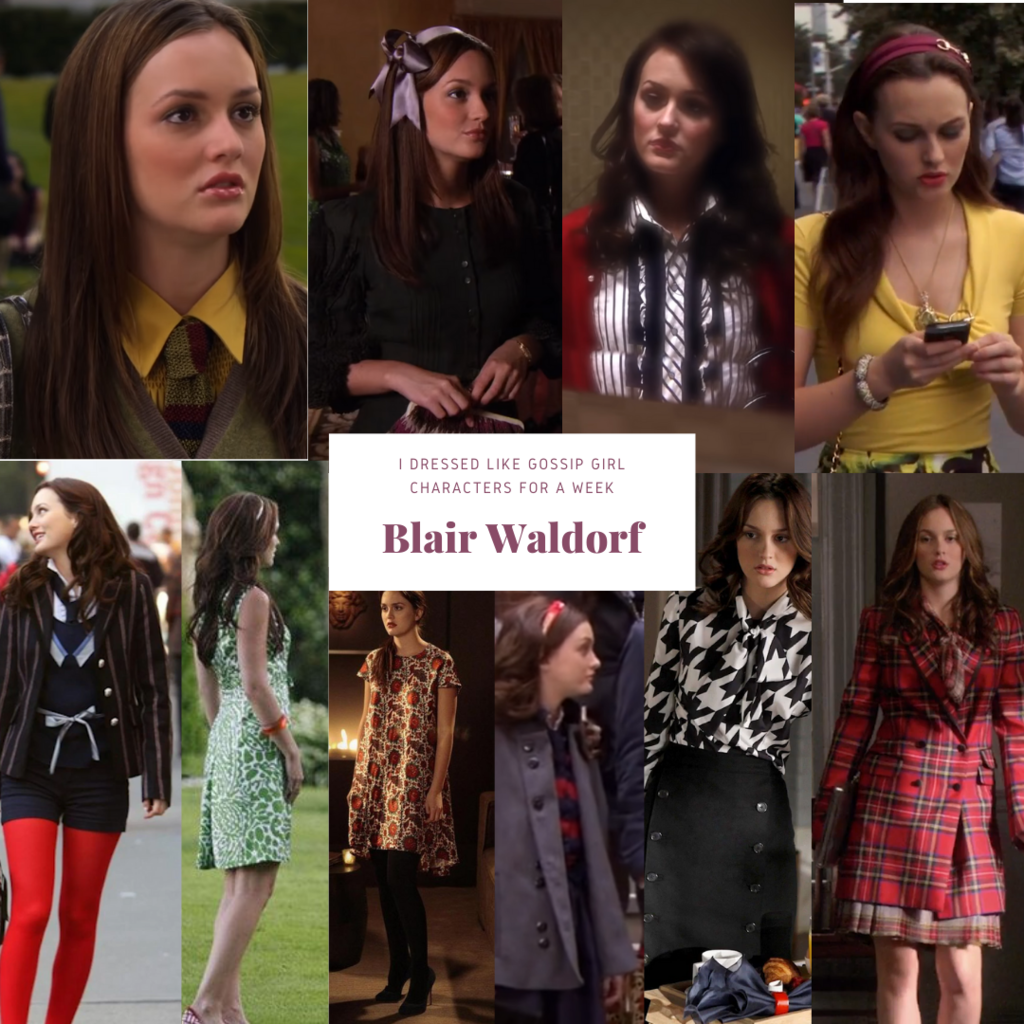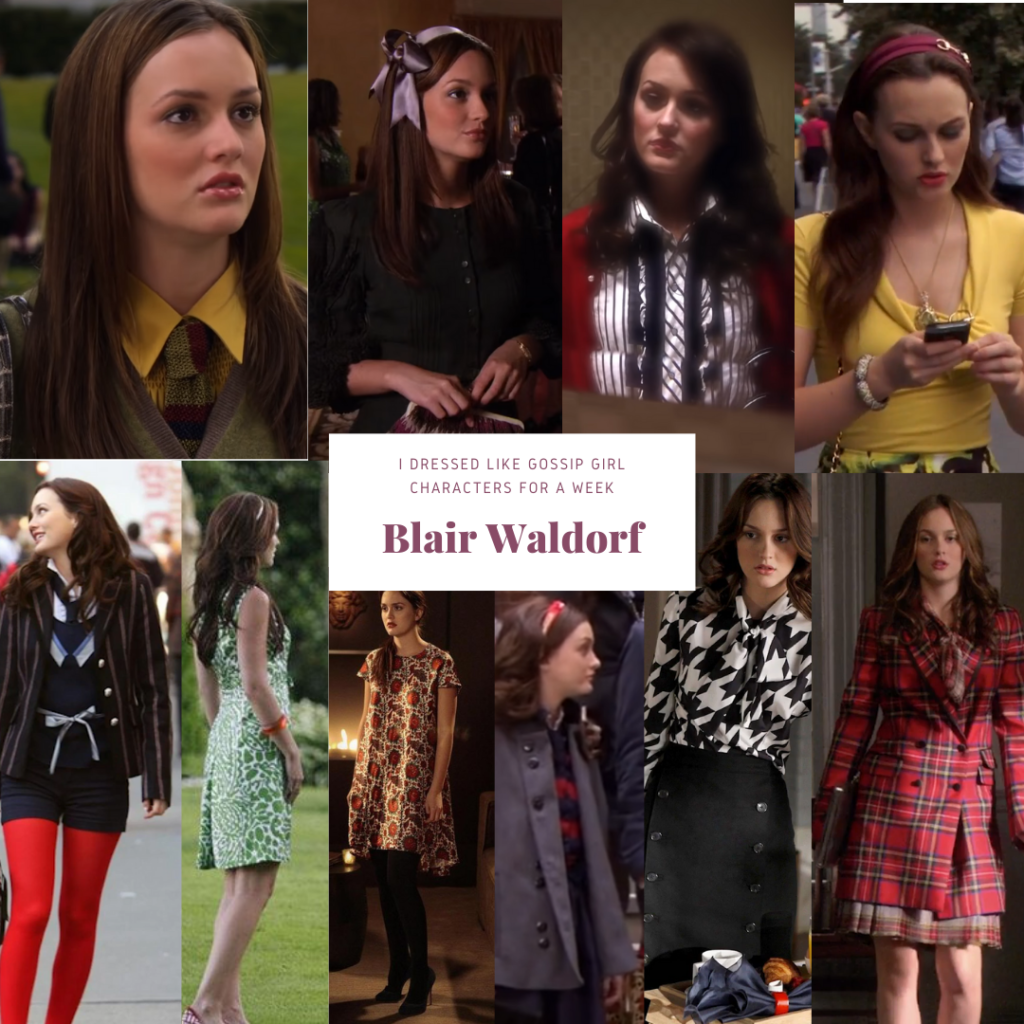 Blair Waldorf is the preppy queen of Constance Billard (and the whole Upper East Side, for that matter).
As ruthless as Chuck, Blair is still a loving friend and girlfriend. With Blair near, it was sooo easy to forget Serena was the supposed protagonist of the show. Blair's mean-yet-vulnerable character stole every scene.
Blair's unexpected chemistry and subsequent relationship with Chuck, overtook most of the main storylines halfway through season 1 and completely took over the next season.
By the series finale, the whole premise was about Blair and Chuck finally getting their happy ending. She is admired and despised equally in-universe, but is completely adored by fans. She may not be the It Girl, but she's definitely the Queen B.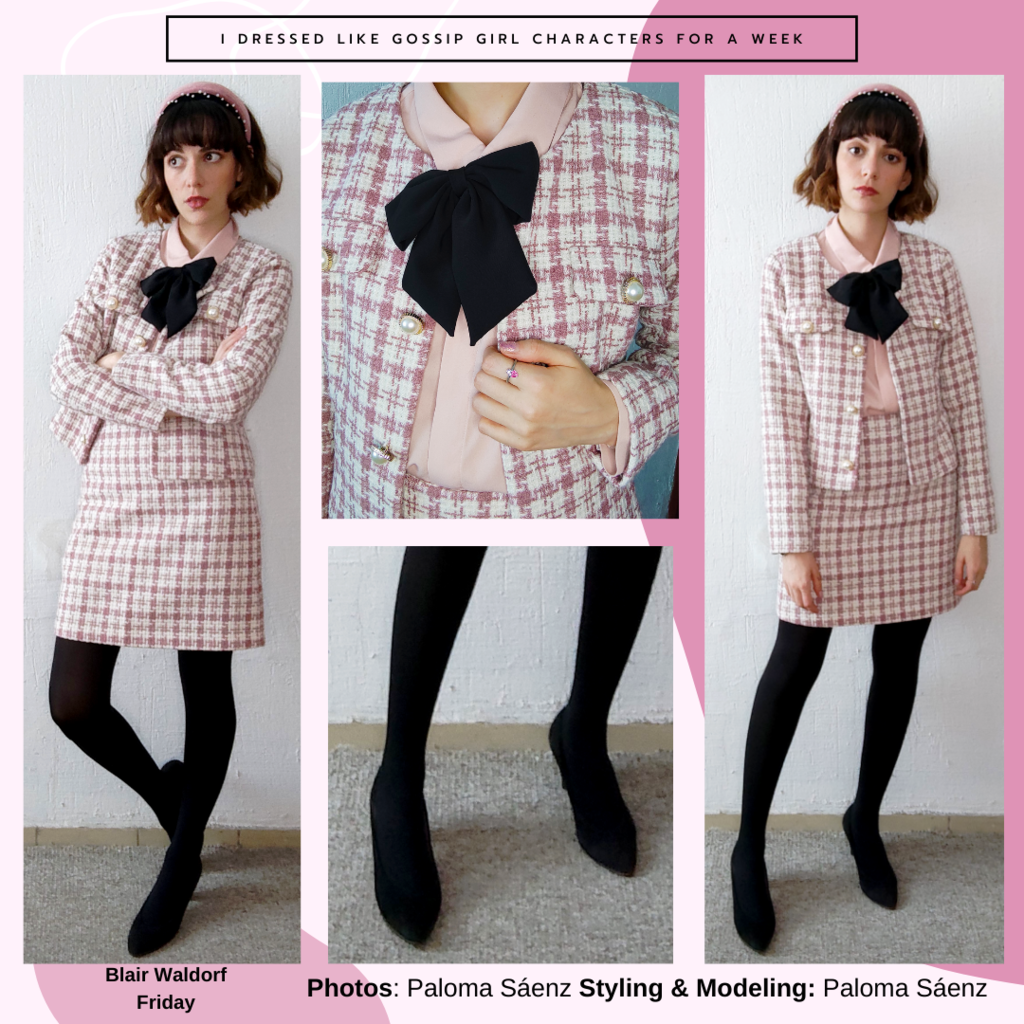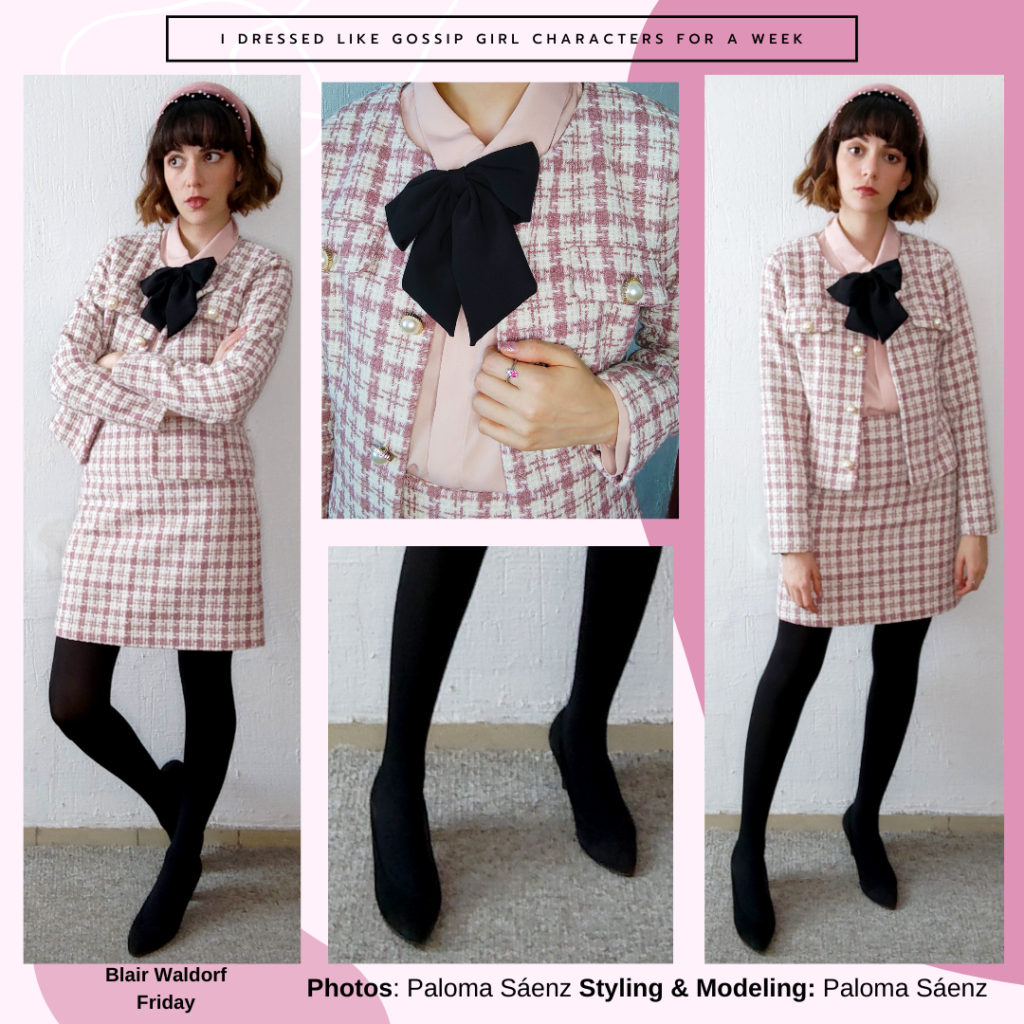 Blair's style is preppy and, like Chuck's, a bit experimental. She adores classic items. Patterns, bold and pastel colors, and interesting items are also a must for Blair.
In addition, there are two things that are the most important if you are doing a Blair Waldorf outfit: tights and headbands.
For my Blair look, I went all in with the feminine preppy aesthetic. I have a pink Chanel-inspired set of a skirt and jacket and I wore it with a mauvey pink shirt. Then, I put on a pair of black matte tights and black suede heels.
For accessories, I have this black ribbon that it's actually a hair tie, but I used pins to wear it as a black bow tie. Finally, I wore two headbands that I borrowed from one of my friends: a pink suede headband and a black one with pearls. I wore both at once to tie everything together.
I ADORED this outfit! It was put together and nothing like my personal style. I like preppy but with an added edge, but this look is 100% preppy. This one was my favorite Gossip Girl outfit of the bunch, by far. I don't usually go for heels, but since I'm doing home office and didn't go out, they weren't uncomfortable at all.
Final Thoughts
Gossip Girl was one of my favorite shows and it ended while I was still in high school. Everyone was either a Blair or a Serena, maybe a Jenny. It was cheesy, but to me it was all about the references and the fashion.
My favorite character was Blair, as you can imagine, and my favorite quote from the show is from her. This quote took my thoughts about fashion and put them into words:
"Fashion is the most powerful art there is. It's movement, design, and architecture all in one. It shows the world who we are and who we'd like to be."

–Blair Waldorf
This is something I live by. That's what fashion is to me: it is a tool, a hobby, an experiment, and a form of expression. And to dedicate a week to a show that, in spite of its shortcomings, was about the fashion and self-expression through fashion, was a great way to honor the reboot airing today.
My favorite Gossip Girl outfits, as you can guess, were Blair's, Chuck's, and Jenny's, in that order. Actually, I'm thinking of ways to make those looks my own, so I can wear something similar again. Especially with Blair's look. I just want to wear a bow tie again ASAP.
If you want to recreate any outfit or style from Gossip Girl, just go for it. It will seem different since most of the items they wear were created a decade ago and trends, cuts and styles have changed a lot, but the vibe and the overall look can be achieved in this decade.
But, be warned, there will be heels involved for most of the girls' looks!
What do you think of my Gossip Girl outfits?
Did you like Gossip Girl? Who was your favorite character? Do you think I should do a whole week dedicated to each character? Let us know in the comments below!