This post will show you how to recreate Olivia Rodrigo's style for yourself.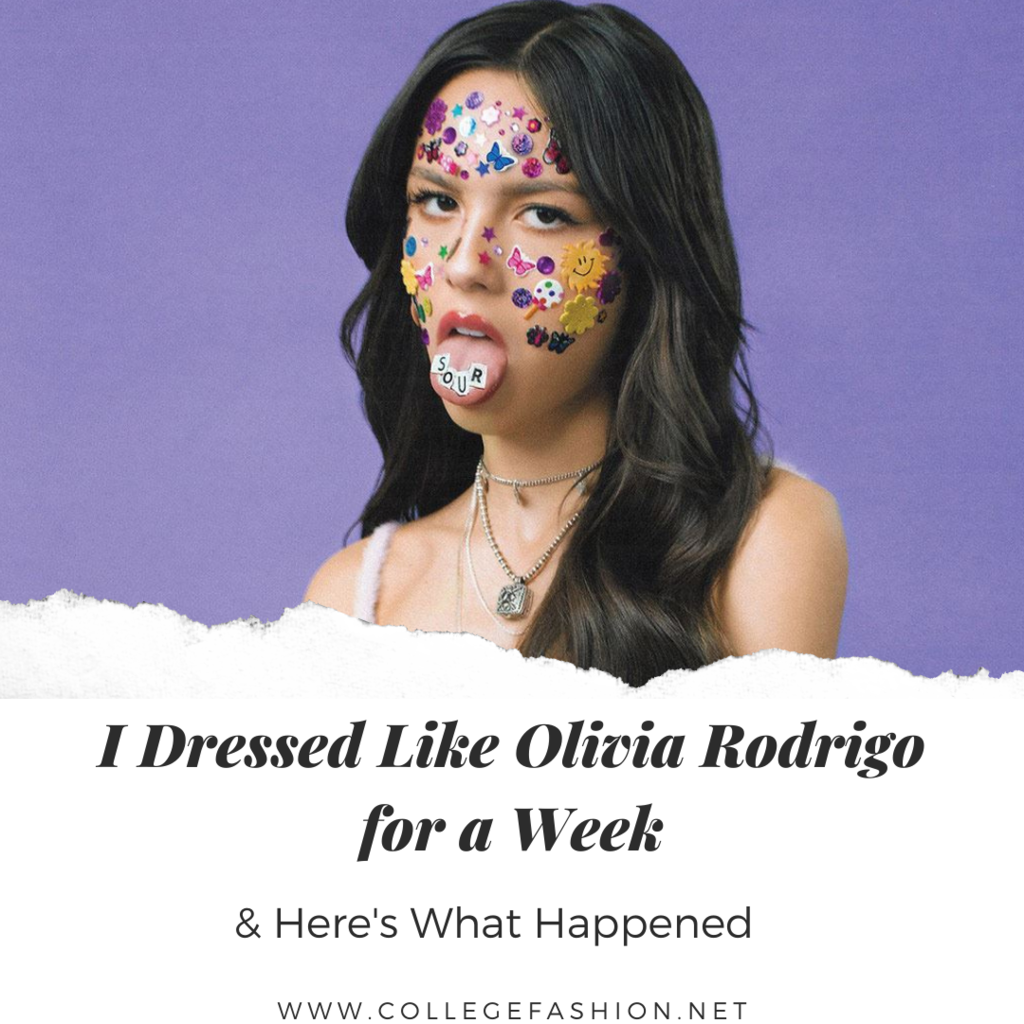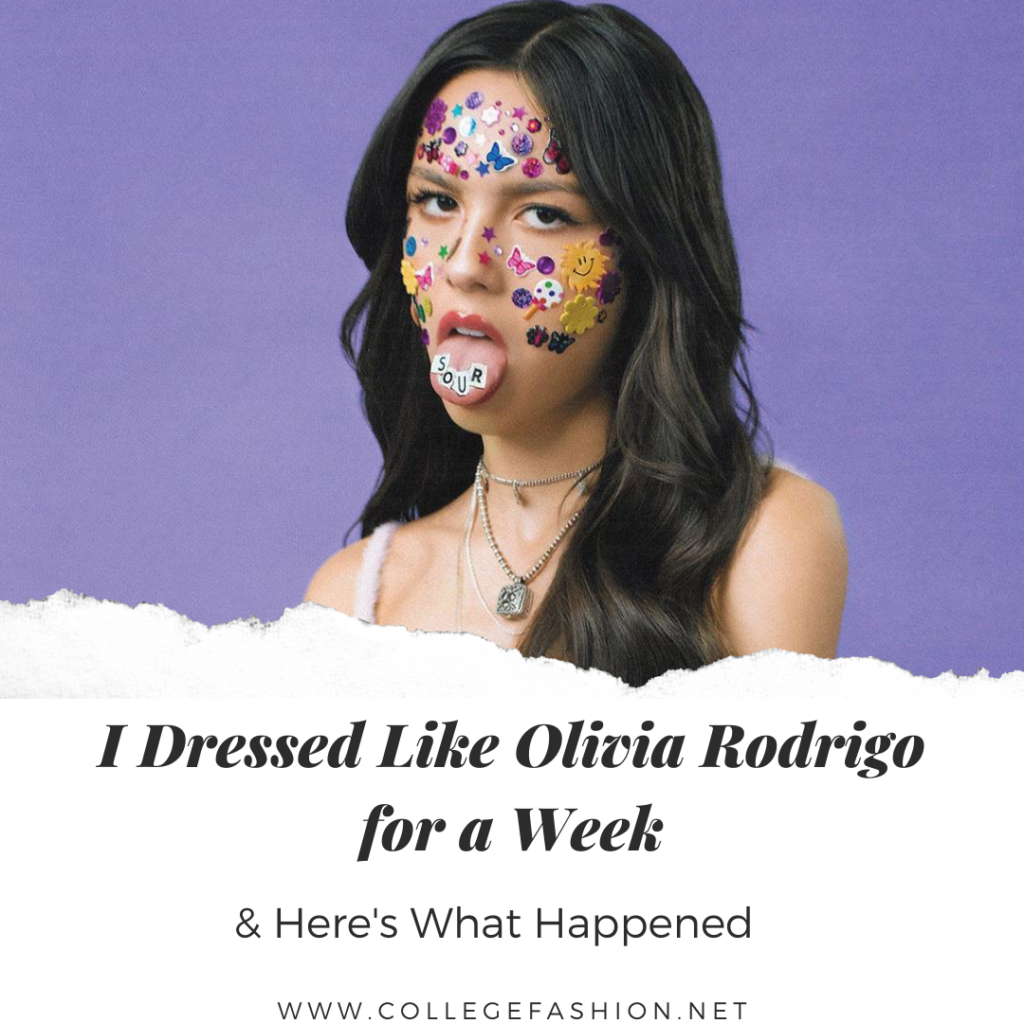 We've all looked to celebrity style for fashion inspiration at some point in our lives. But it's one thing to say "I love her outfit," and it's another to actually copy it in real life.
For this series, I'm going the extra mile and making it happen. Each week, I'm getting inspiration from a celebrity and copying five of her looks as closely as possible. Then, I'm reporting back to you: Did the outfits work in real life? Did I feel comfortable? Did people treat me differently? I'm sharing it all.
In past posts I've covered the style of these celebrities:  Sophie Turner, Priyanka Chopra, Millie Bobby Brown, Hilary Duff, Lily Collins, Taylor Swift Part 1 and Part 2,  Selena Gomez, Alexa Chung, Queer Eye's Fab 5, Lucy Hale, Dakota Johnson, Hailey Bieber, Kaia Gerber and Nina Dobrev.
I've also covered the style of certain iconic TV and movie characters: Iconic Halloween Characters Part 1 & 2, Iconic Christmas Characters Part 1 and 2, Rachel Green Part 1 and 2, Monica Geller, Little Women's Characters, Gilmore Girls' Characters Part 1 and 2, Iconic Olsen Twins' Movies, Winx Club Characters, Bridgerton Characters, W.I.T.C.H Characters, Power Rangers' Characters, Wanda Maximoff, Disney Characters, Clue Characters and Gossip Girl Characters.
I also did a full behind-the-scenes, tips on how to copy celebrity and character outfits and cheap items I use to copy celebrity and character looks.
This week, I copied one of Gen Z's newest and most fashionable icons, Olivia Rodrigo.
About Olivia Rodrigo
Olivia Rodrigo is an American singer-songwriter and actress. As an actress, she is best known for her role in the Disney series High School Musical: The Musical: The Series.
Olivia released her first single, "driver's license", in January 2021, and saying it became a huge success is an understatement. The single smashed streaming records and earned her a musical guest spot on Saturday Night Live. Her next single, "deja vu," was released in April 2021 and hit #3 on the Billboard Hot 100. Her debut album, SOUR, was released on May 21, 2021.
Olivia's debut album mixes pop, alternative pop, pop-punk, alternative rock, and bedroom pop, and it's right up my alley in an oddly nostalgic way. The lyrics highlight the emotional highs and lows of 17-year-old Olivia. My favorite songs are probably brutal, driver's license, good 4 u, and enough for you.
Olivia Rodrigo's Style
Olivia's style exemplifies Gen Z's take on Y2K fashion. Watch the video above for a look at some of her best outfits!
Olivia rocks '90s trends here and there. But mostly, she goes for the Y2K aesthetic. Flared pants and leggings, interesting and psychedelic patterns, colorful items, cropped tops, platform shoes, Vans, Converse, and bucket hats are staples in her closet.
How I Copied Olivia Rodrigo's Style in My Own Way (a Note):
I love Olivia's style but couldn't copy some of her shoes this week. Last weekend, I wore a pair of heeled booties and ended up being on my feet for a very, very long time. By the time I got home, my right knee and my hip were done with me. The next day, I could barely bend my knee. I tried wearing heeled booties the next day, but it was awful.
Olivia has been wearing gigantic platform boots and shoes that look incredible. But, with my knee like this, I had to change some of my outfit ideas to accommodate me right now and changed a pair of shoes for some that were more comfortable for me.
That being said, here's how my week went!
Olivia Rodrigo's Style – Outfit Guide
Olivia's Style – Monday, Outfit #1
For the first Olivia Rodrigo outfit, I wanted something super comfy. Especially since it was a Monday and I had a harder time waking up and pulling myself together than any other day. I chose this outfit, consisting of lilac pants, a black top, and sneakers.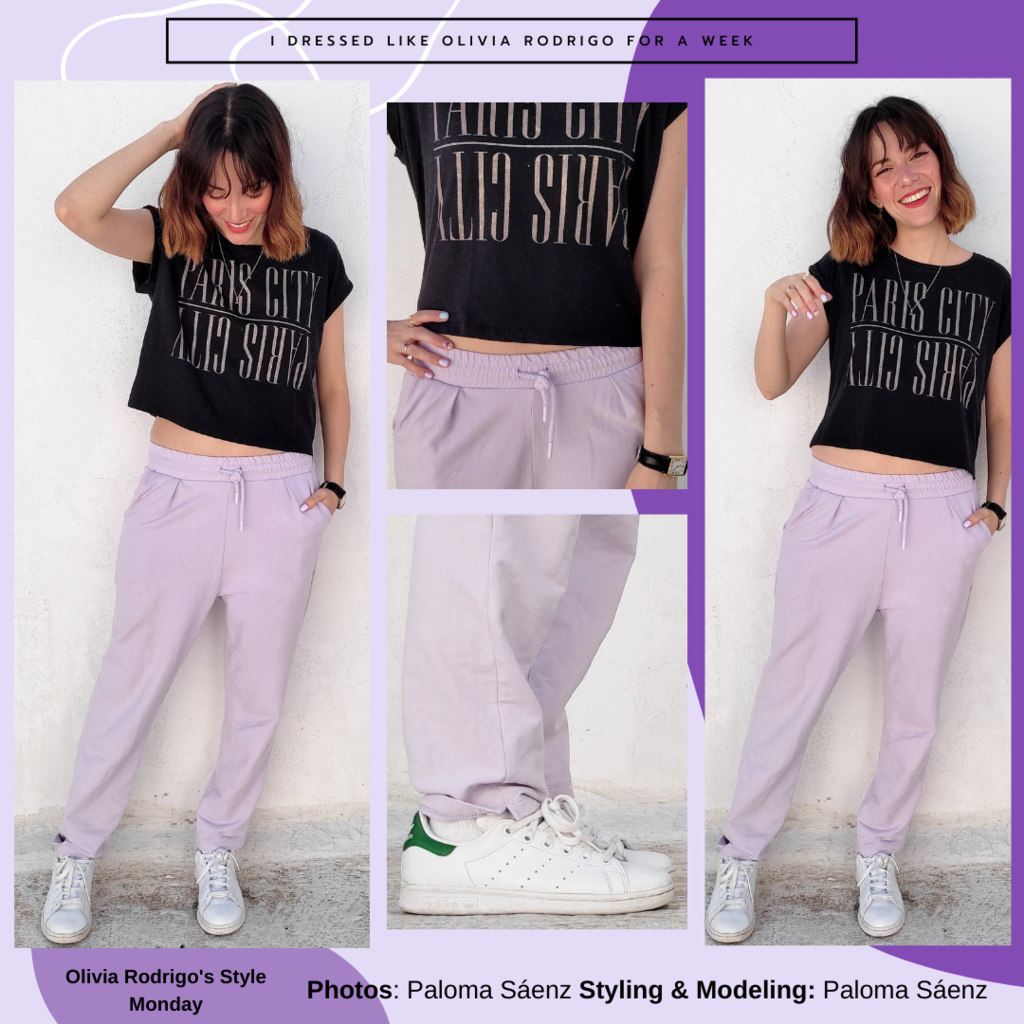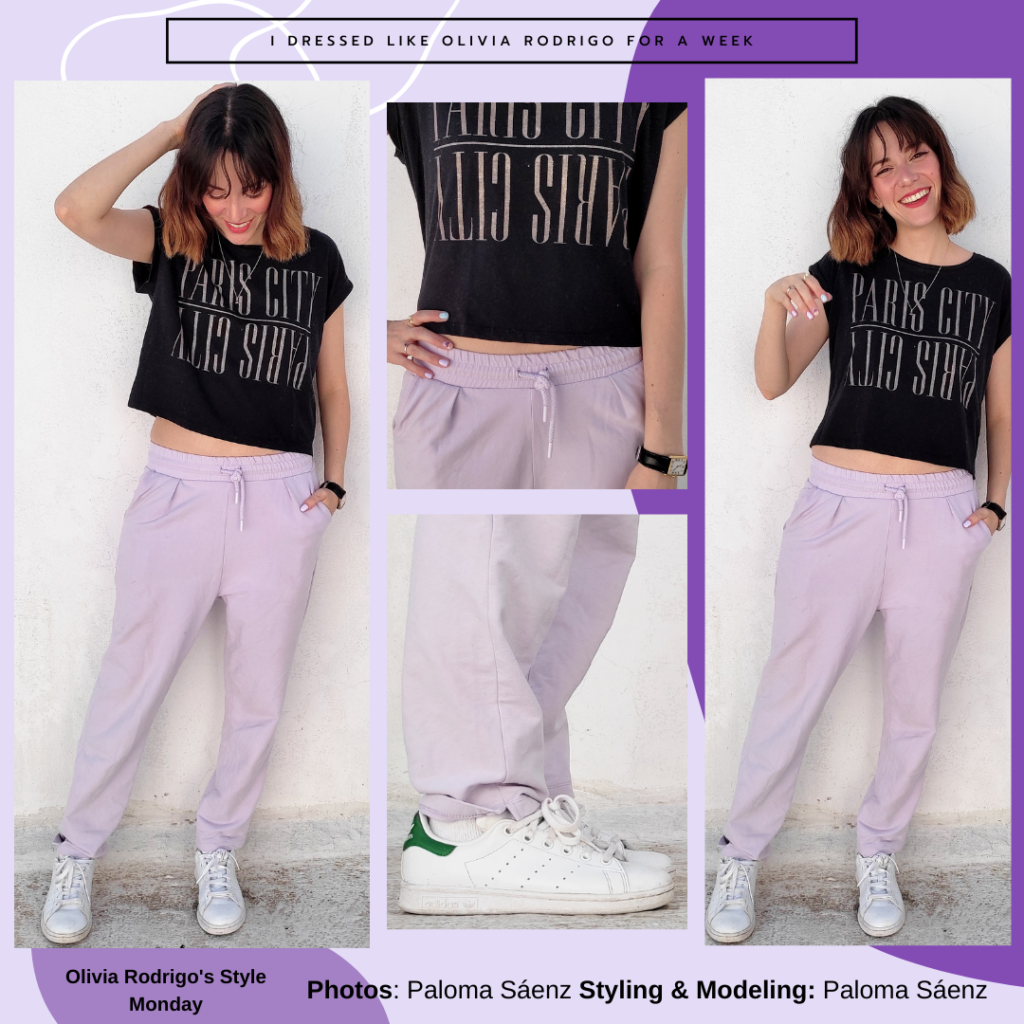 To recreate this outfit, I put on lilac joggers and paired them with a black graphic crop top. I usually wear the pants up to my waist, but this time I put them up to my hips. The graphic on the top isn't *exactly* like hers, and the colors are different, but I thought it would go perfect for this type of look.
Also read: Easy Outfit Formulas: Joggers + Cropped Tee – College Fashion
For shoes, I added a pair of white Adidas.
I accessorized with my usual rings since Olivia is wearing multiple ones in the linked photo above. Makeup-wise, I just went with a natural makeup look and nude lipstick.
I adored this look! It is perfect for a low-key, casual Monday. Since it was just a t-shirt and joggers, it was the best outfit to start the week. I will admit that I had a date later in the day and I changed since it had been raining, and both the weather and my plans demanded something a little bit more put together.
Olivia's Style – Tuesday, Outfit #2
The second day of the week is always easier than the first, and I'm always in a better mood. So, for Tuesday, I wanted something cuter and a bit more elevated.
After a lot of scrolling, I landed on this Olivia Rodrigo look. In the picture, Olivia's wearing an animal print dress, a black jacket, black booties, and a black purse.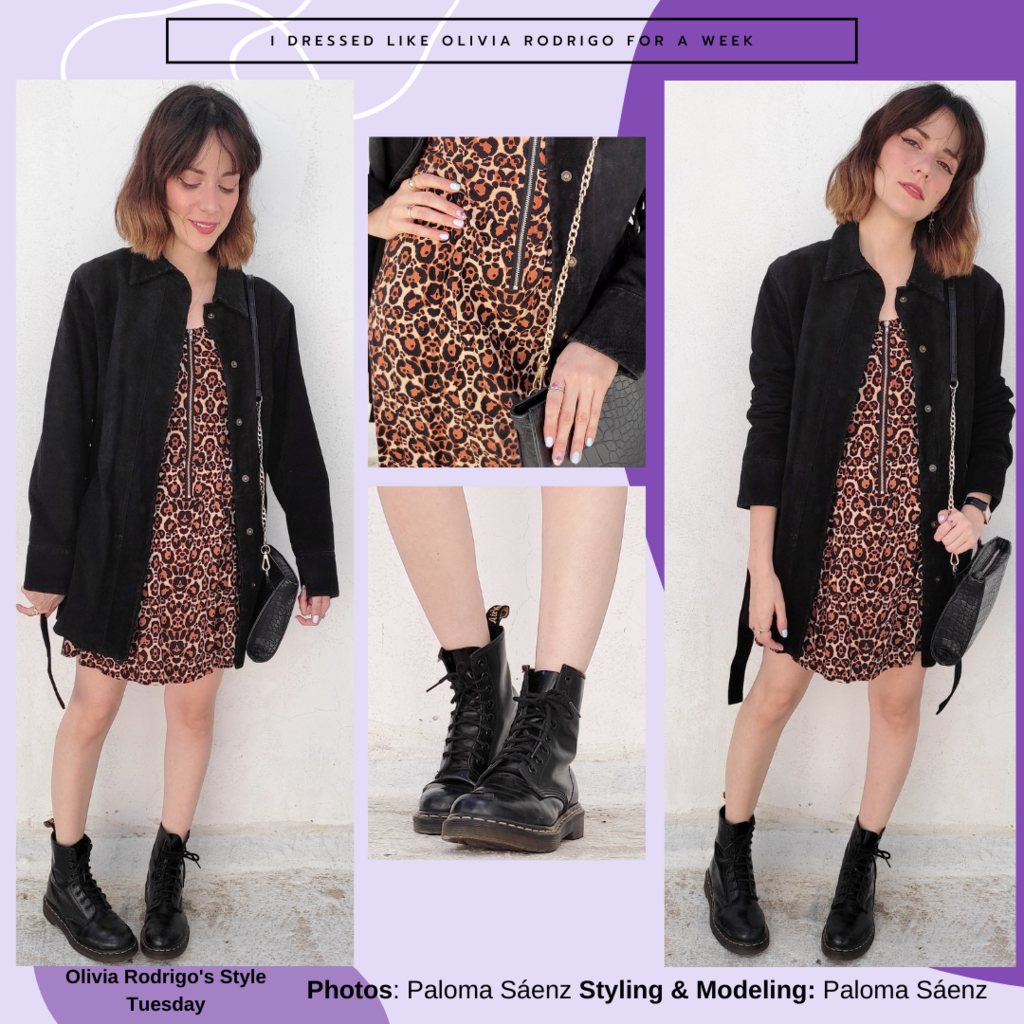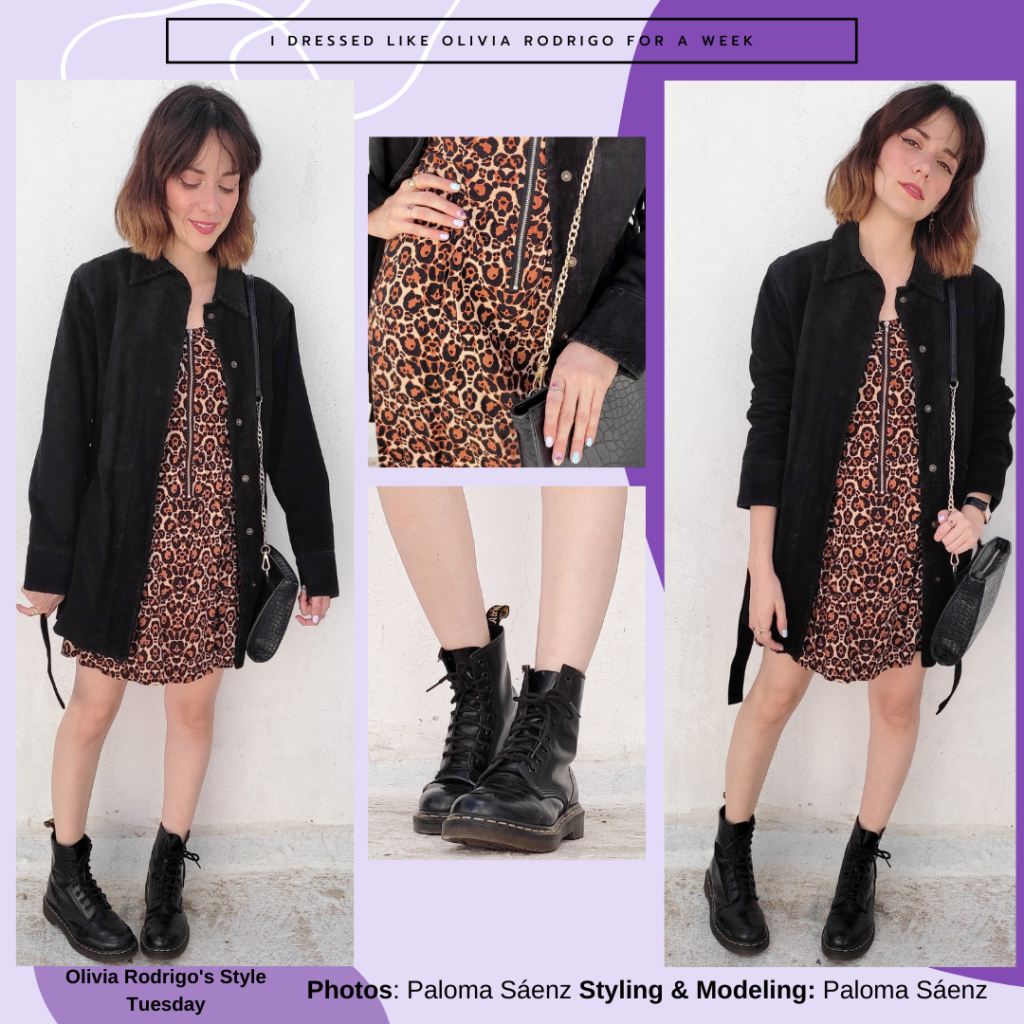 For the look, I wore a short animal print dress. I didn't have a faux-leather jacket like hers, but I do have a black suede coat that is the perfect length. Then, I put on my black Doc-Martens and accessorized it with a structured black purse. For my makeup, I just did it like the day before since Olivia is going for a casual look in the photo.
Also read: Fashion Challenge: Wear Animal Print – College Fashion
I liked this outfit so much! I think it's an *almost* perfect look for transitional weather, and it would be perfect if it included tights. No, tights weren't such a big deal since I spent most of the day working inside, but I went to the bank, and it was a bit chilly for me without an extra layer.
I'd wear this outfit again, as is, for an edgy summer look. Or, I'd add tights and a mock neck, long-sleeve top to wear it again through fall.
Olivia's Style – Wednesday, Outfit #3
Wednesday came, and it rained ALL DAY LONG. I even got up a bit late because it was so dark out all day.
For this day, I went with this fall-friendly look. Olivia's wearing a pair of black jeans, a t-shirt, an Oxford shirt, a long coat, and booties.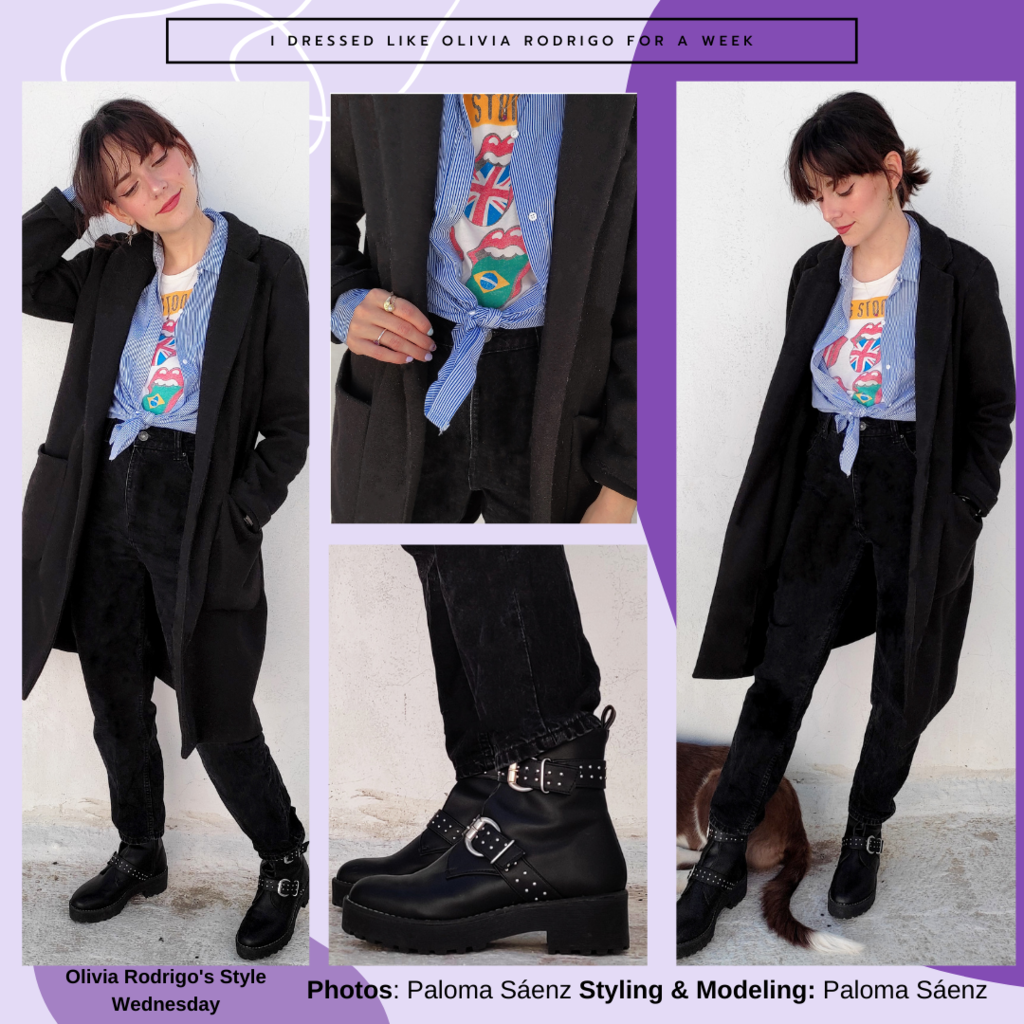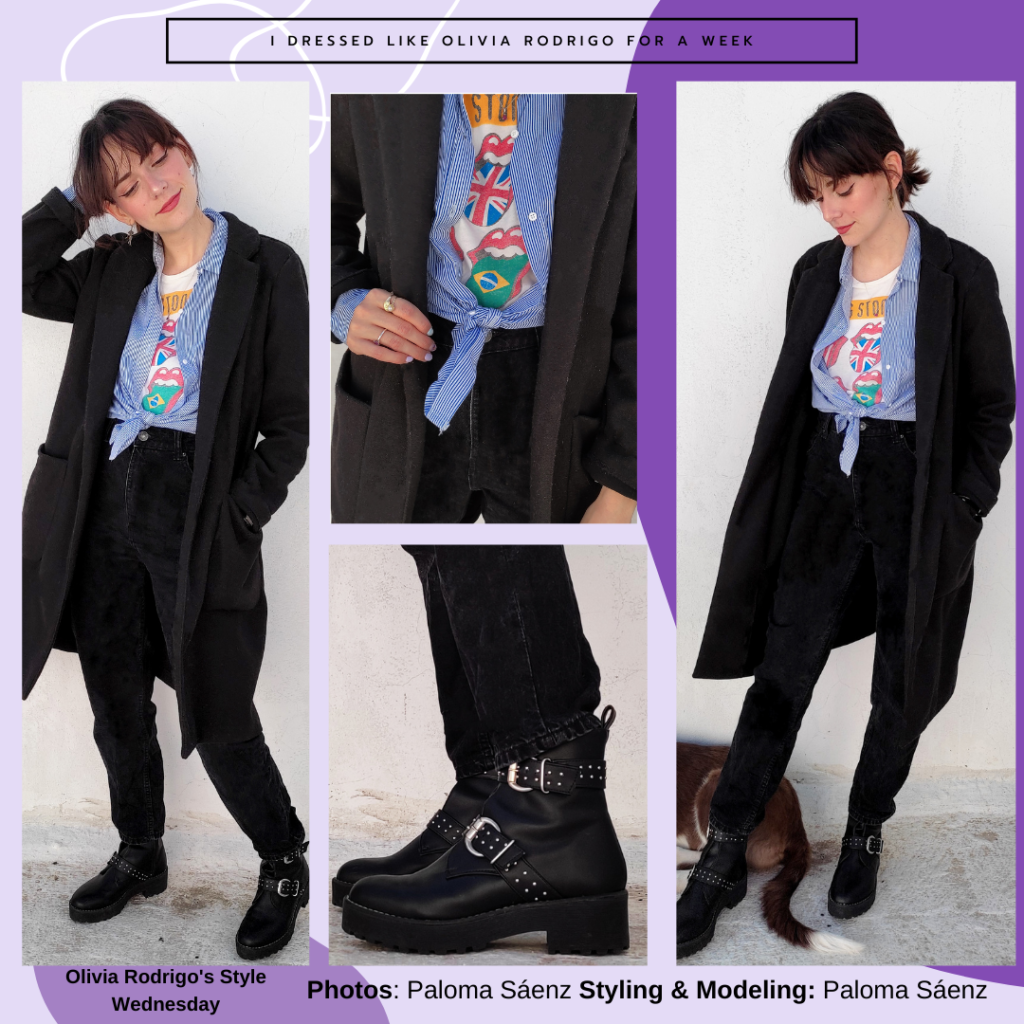 For my version of this outfit, I paired my black mom jeans with a white band tee. Then, I borrowed a blue Oxford shirt from my mom and tied it at my waist.
For shoes, I decided to go with my other black combat boots to switch it up. Finally, I did my makeup like the last couple of days, but I changed my lipstick for something a bit darker, and I put my hair up as best as I could with my current length.
For most of the day, I wore the outfit without the coat. When I went out later on to run some errands, I threw on my long black wool coat.
I liked this look a lot more than I thought I would. At first, I thought it was too similar to other celebrity fall looks I've done before. The whole "jeans + tee + long coat" combo is one of the most popular outfits for this time of year.
But with the added Oxford shirt, which I hadn't done before, it looked awesome, and I really liked how it turned out with and without the coat.
I will definitely wear a version of this look later in the fall and maybe even this winter.
Olivia's Style – Thursday, Outfit #4
The weather changed (again!), and Thursday demanded a different approach. For my next Olivia Rodrigo outfit, I chose this pretty look. In the photo, she's wearing a black midi dress and a pair of black booties.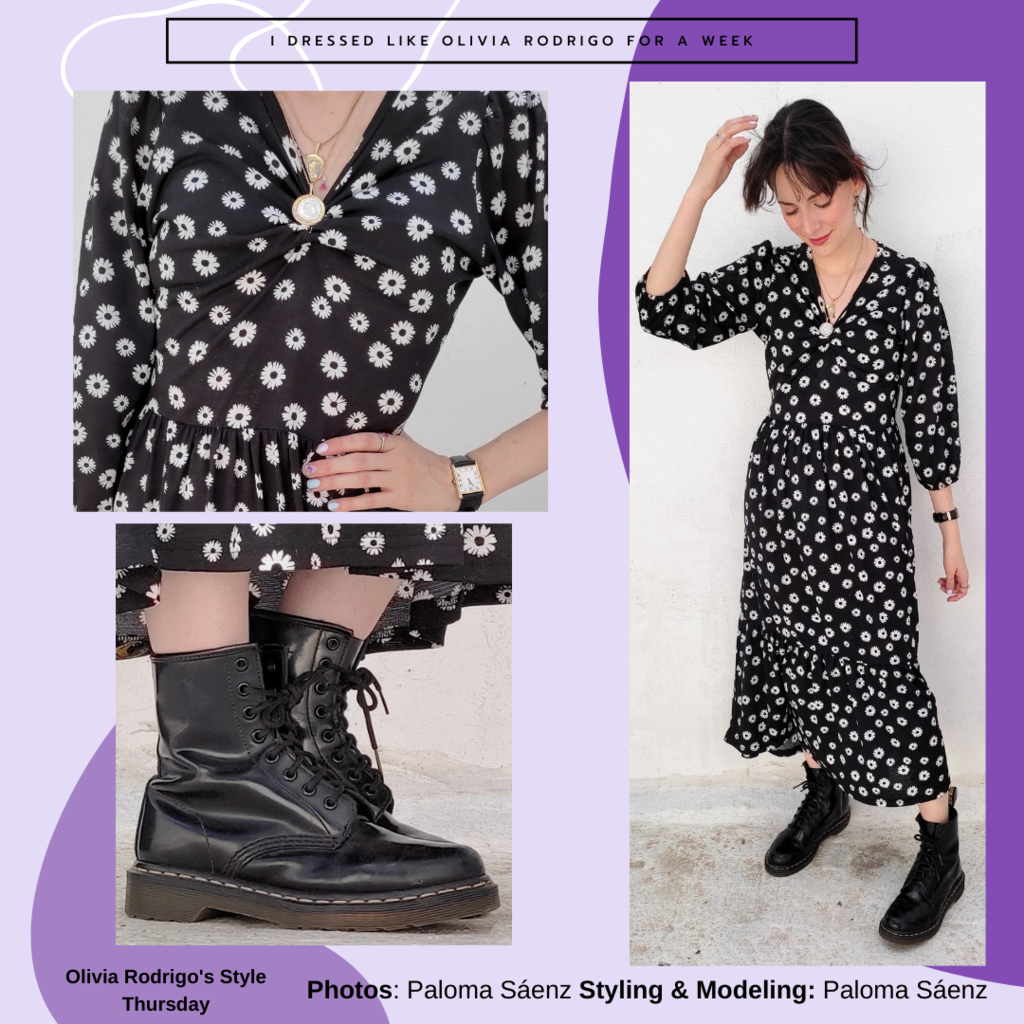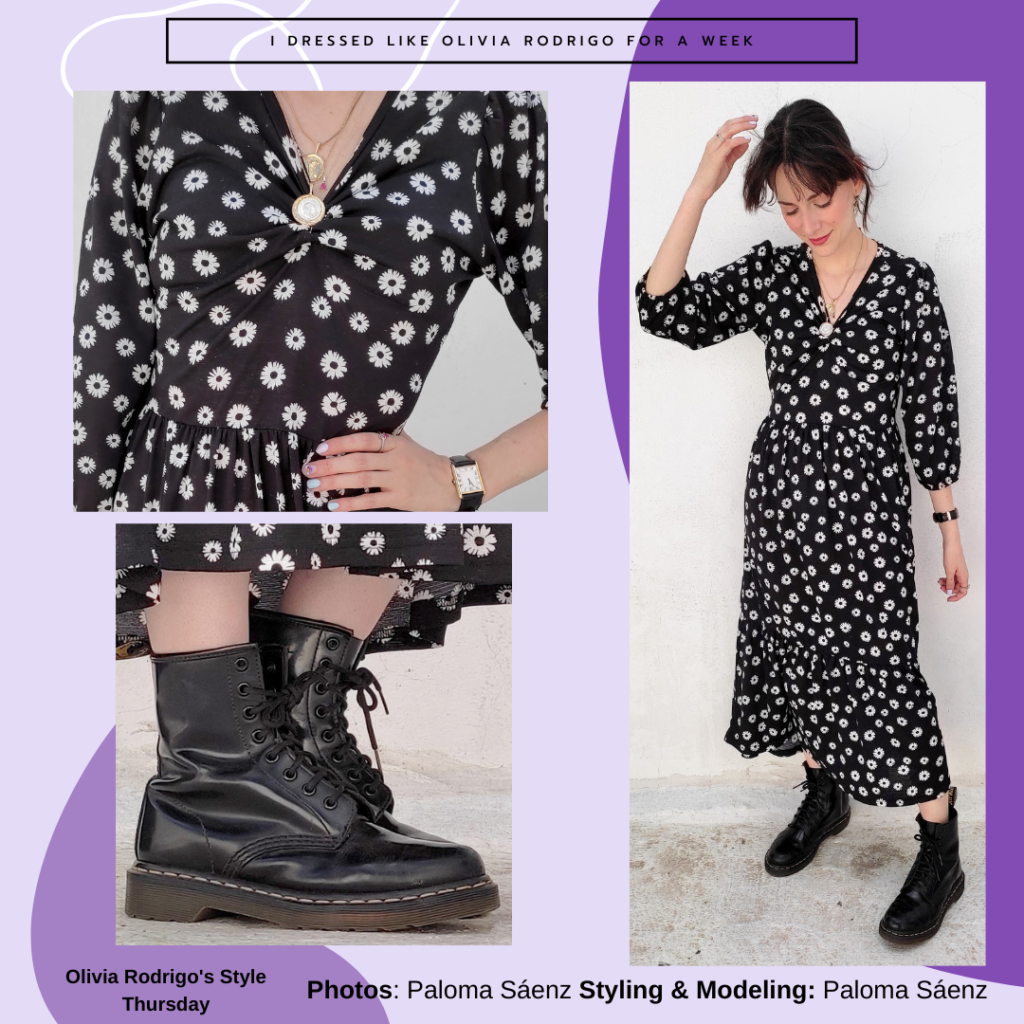 This was an easy outfit to copy since it has literally two items. I didn't have an exact dress like hers, but I have one that is pretty similar in both print and cut. My black midi dress has white flowers instead of white polka dots. Mine has a round neckline instead of the V-neck hers has, so I created the V-neck on my dress with a pin.
Also read: The Ten Best Summer Midi Dresses
Then, I put on my beloved black Doc-Martens.
For her look, Olivia is wearing a bunch of necklaces. So, I layered some gold necklaces to have the same type of accessories.
Again, like the day before, I *tried* to put my hair up as much and as neatly as possible.
I love this look! It's simple yet put together. Honestly, I love the effortless vibes of this outfit! I had to add a coat, the same one from Wednesday, later in the day. It started raining and, while my dress is long with long sleeves, the fabric is on the thinner side and it isn't as fall- or winter-friendly by itself.
Olivia's Style – Friday, Outfit #5
Finally, Friday. While I've been following the whims of the weather for my last couple of posts, Friday's look was chosen weeks ago just because I adore this type of outfit.
I had to copy Olivia's iconic outfit for her White House visit. Here, she's wearing a pink tweed set, a pair of white platform heels, and black socks.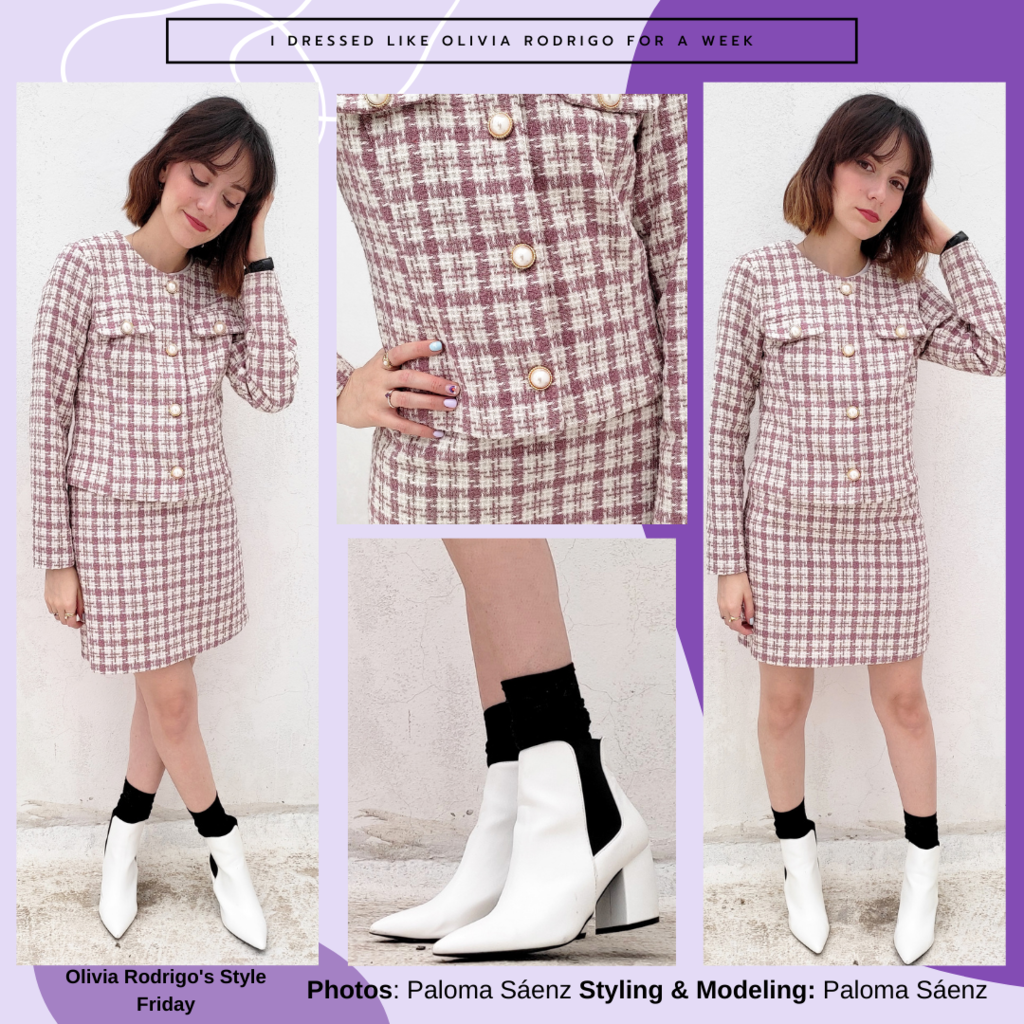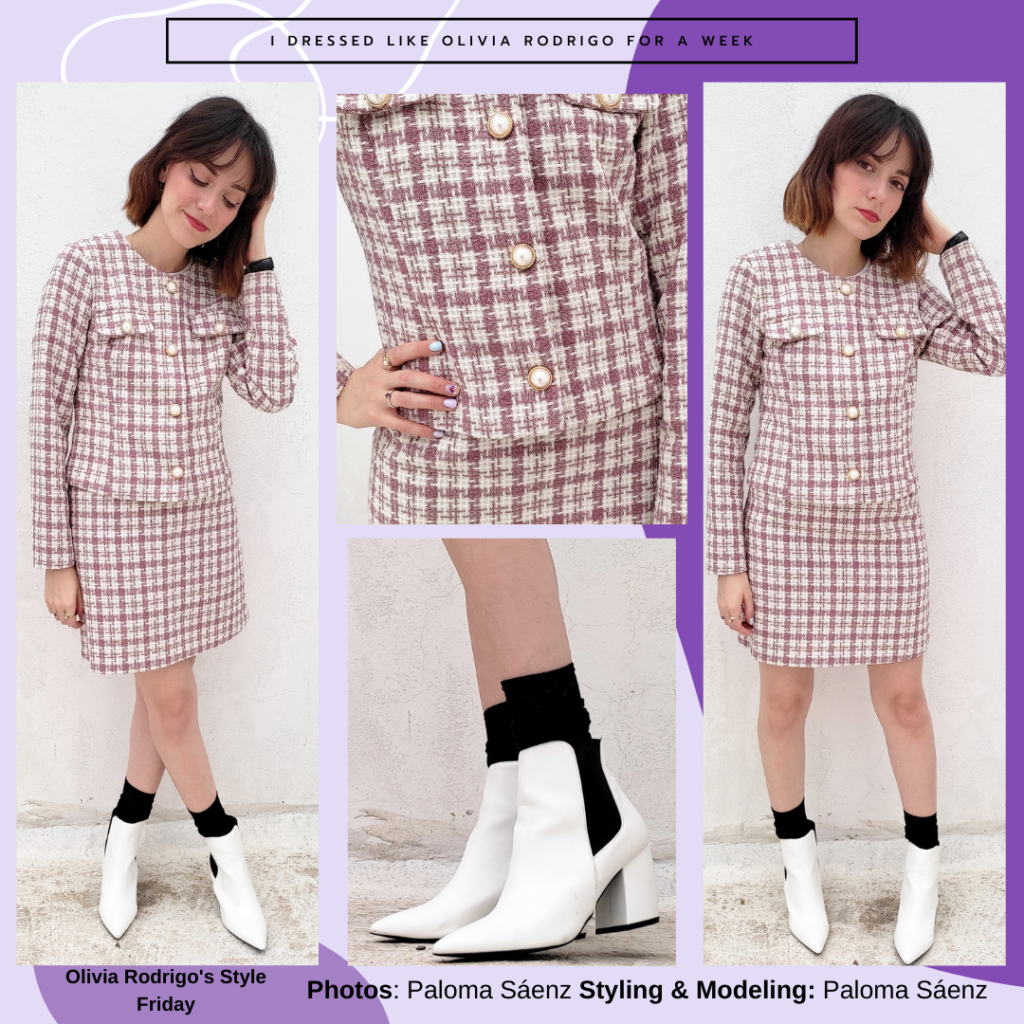 Alas, I don't own an exact dupe of Olivia's tweed set, but I do have a similar tweed set that I adore. I was excited to break it out today!
For my take on Olivia Rodrigo's White House outfit, I started off with a white crop top and my light pink tweed skirt. (Olivia doesn't seem to be wearing anything under her jacket, but I still wanted to have the option to remove it if it got too hot.) Then, I put on the light pink tweed jacket and buttoned it up.
The shoes were a bit tricky. Like I mentioned at the beginning of the post, my right knee has been less than cooperative when it comes to heels and platforms lately. So, I compromised and wore a pair of white booties that were a bit taller than my usual booties but still knee-friendly for me. They were also perfect for giving the black-sock look Olivia has, and my black socks only had to show a bit over the boot.
I am aware that Olivia changed her platforms for black loafers halfway through her visit, but the iconic look of mixing a vintage tweed set with platform heels was just too good to skip.
This outfit was everything I wanted and more! If you've been reading these posts for a long time, you know I love these types of sets. And I always love an excuse to take one of my sets out for a spin. This outfit was incredibly comfortable and cute!
My best friend's birthday dinner was that night, so it was a perfect look to wear. I might've been a bit overdressed, but I was very happy with my outfit. To be honest, I added black tights because it was raining (again!) and I carried a pair of black Converse with me just in case my knee started bothering me. It did, so I changed into my sneakers and it still looked really cute.
Olivia Rodrigo's Style: Final Thoughts
Olivia Rodrigo is a new artist for me. I didn't even know who she was until weeks after my "drivers license" exploded on Tik Tok, because I don't use the app nor have an account. It's safe to say I'm not exactly in Rodrigo's target demographic.
But I am a huge Taylor Swift fan, and so is Olivia.
Taylor has been incredibly supportive of Olivia's career, posting about the album, and sending her a gift and a handwritten letter of congratulations when "driver's license" was a hit. So that is how I first got to know about Olivia Rodrigo.
Olivia has cited Swift as one of her biggest inspirations. It is reflected in Olivia's intimate songwriting, just like Taylor's lyrics are usually inspired by events in her real life. Olivia even sampled "New Year's Day" for "1 step forward, 3 steps back.", with Taylor's and Jack Antonoff's permission and blessing.
I can't write this without acknowledging the controversy that SOUR has sparked because of interpolation, specifically with "good 4 u" and Paramore's "Misery Business". I honestly don't know enough about music or copyright law to pass judgment favoring either side, so my opinion is moot. Just wanted to let you guys know that I'm aware that she has become a polarizing figure in regard to this specific area of music production, and this post is about her status as Gen Z's fashion icon more than her music career.
This week was both fun and stylish. I got to play with cuts and items I hadn't been able to in a long time. (Goodbye, summer!) While most of the items are things I had worn or would wear again, some added elements changed the whole vibe of the outfits for me.
My favorites from this week were Friday's tweed set (obviously!), Wednesday's ready-for-fall look, and Tuesday's animal print outfit.
Olivia Rodrigo's style is incredibly easy to copy with items from your closet, except for the shoes, which you probably would have to buy. Otherwise, everything is easy to find, especially if you look in thrift stores or second-hand clothing stores.
If you want to copy someone's relatable-yet-fashionable approach to Y2K fashion, Olivia Rodrigo is the right source for you!
What do you think of Olivia Rodrigo's style?
Do you like Olivia's style? Did you enjoy her album? Whose style do you think I should cover next? Let us know in the comments below!
If you love Olivia Rodrigo's style, check out the related posts we've got going on down below! —