This post may contain affiliate links, which means we may receive a commission if you purchase through our links. Please
read our full disclosure here
.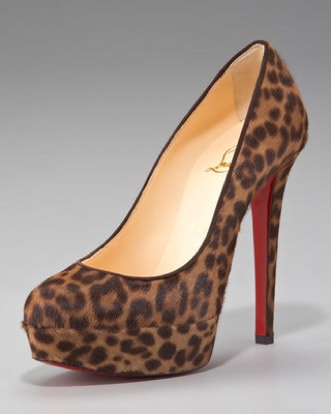 Leopard Louboutin eye candy | Photo Credit
Okay, I'll admit it — I'm the kind of girl that would wear head-to-toe leopard if it were socially acceptable. I know some people think it's kinda tacky, and I also know it's not the hottest trend right now, but I just can't get enough of animal print. It recently occurred to me, though, that the streets have been devoid of my favorite patterns for a few months — I guess animal prints aren't as popular in the spring and summer as they are in more chilly weather. Thus, this week's challenge was conceived — rock animal print, right now, in the summer.
Ready to take on the challenge, but don't know where to begin? Read on for a few hints on how to get started!
Tips and Tricks for Wearing Animal Print in Summer
Look for light fabrics. Cotton, linen, or any summery fabric will counteract the heaviness presented by the animal print.
Create an appropriate backdrop. Wearing summer-appropriate items like shorts, a lightweight skirt, espadrilles, a floppy sun hat, or a sheer top will help balance out animal print items as well.
Stick to a few colors. Wearing too many colors and patterns with animal print can create an overly busy look. Keep it simple elsewhere, and let the animal print be the focal point of your outfit.
Try an animal print swimsuit. The beach is the perfect place to rock a crazy print.
Accessorize. As always, a great way to try a new look is to experiment with accessories. Try animal print bags, belts, shoes, or hair pieces.
Be confident. With any fashion risk, it is important to feel good about the way you look and let your confidence shine through!
Outfit Inspiration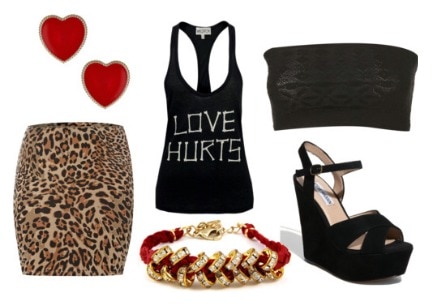 Skirt, Tank, Earrings, Bandeau, Bracelet, Wedges
For a funky summer look, pair a leopard skirt with a black graphic tank. I love pairing loose tanks with bandeau bras, but you could also wear another tank underneath instead. Finish the look with a black pair of wedges, some stud earrings, and a cute bracelet.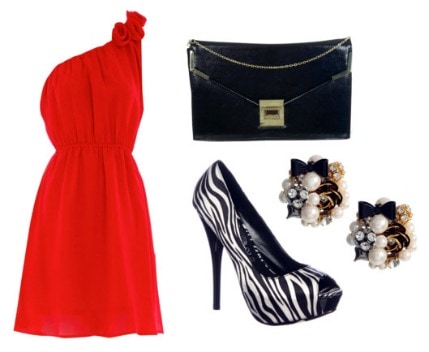 Dress, Shoes, Earrings, Clutch
For just a pop of animal print, try pairing patterned shoes with a solid-colored dress! Finish the look with simple earrings and a clutch.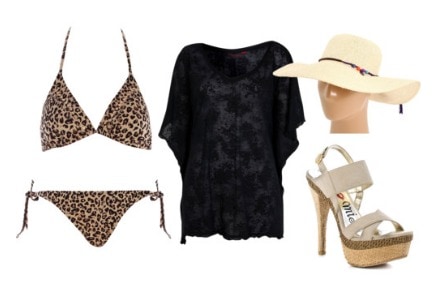 Swim Top, Swim Bottoms, Kaftan, Sun Hat, Heels
A leopard swimsuit will be chic and classy as long as you pair it with the right accessories! Try adding a black kaftan and a floppy sun hat for a cabana-perfect ensemble. Finish with a pair of sky-high heels if you want to be daring, or add gladiators for a more laid-back look.
Took the Challenge? Send Us Evidence!
Did you rock animal print this week? Take a few snapshots and send them to fashionchallenge AT collegefashion.net along with your name, school, a description of what you're wearing, the URL of your blog if you have one, and any styling tips you might like to share! We'll feature your photos here to inspire other CF readers.
We can't wait to see your glam looks!
What Do You Think?
How do you feel about animal print? Do you think it can work in the summer? What are your favorite things to pair it with? Leave us a comment and let us know your thoughts!