This post may contain affiliate links, which means we may receive a commission if you purchase through our links. Please
read our full disclosure here
.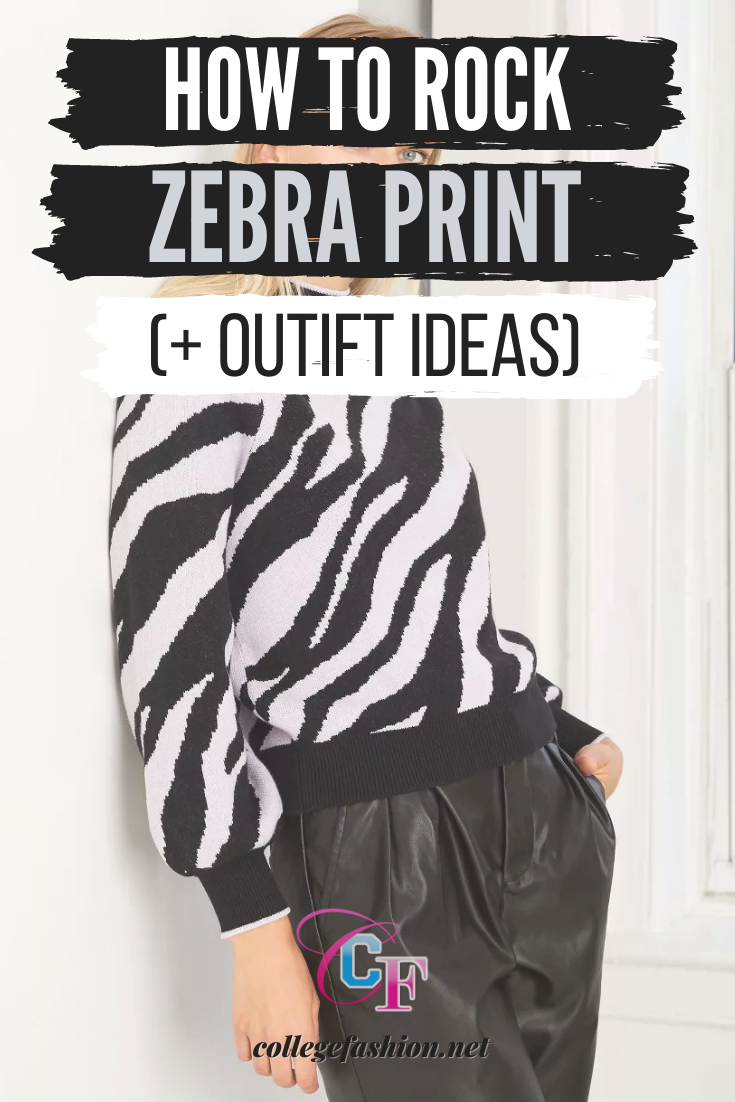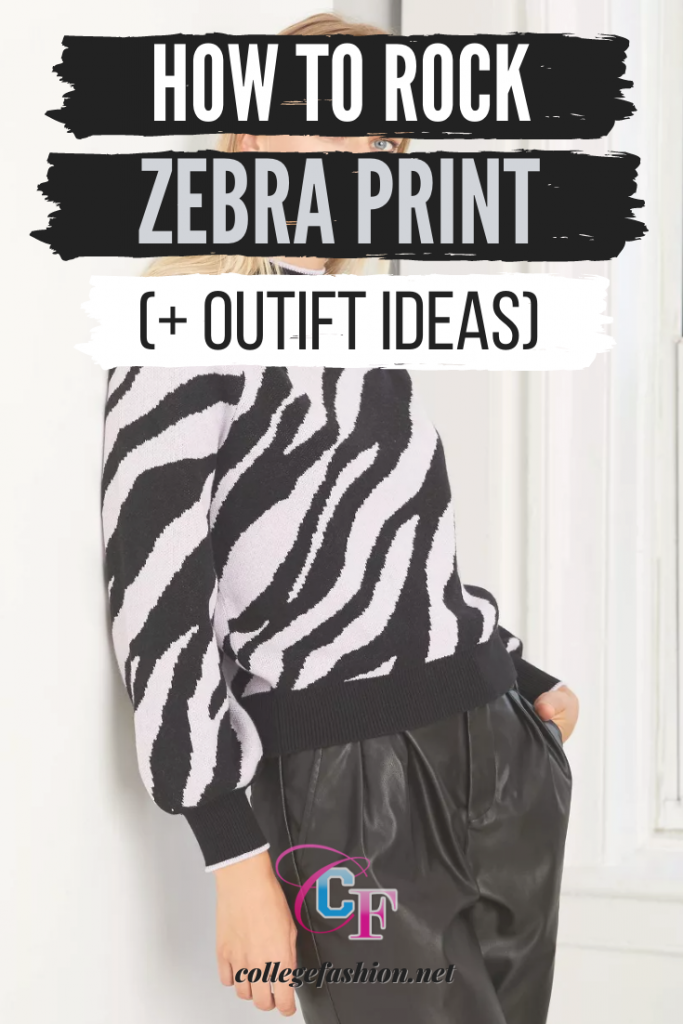 This post will show you how to wear the zebra print fashion trend like a fashion girl.
In case you didn't get the memo about animal prints (aka the resurgence in cow print and leopard print), the trend is still going strong! This time around, the print to watch this fall is the zebra print fashion trend.
Zebra print? It seems like an unlikely choice to wear, but really it's a black-and-white, versatile print that can jazz up any outfit you already have. It's a trend worth investing in since it can be paired with so many items you already have in your wardrobe.
To introduce you to the print, here are my tips on how to rock this essential in your everyday looks. I'll even send you on your way with some style and outfit inspiration for fun looks to try with zebra print pieces. Read on!
How to Wear the Zebra Print Trend
Arguably, this print is even easier to style than leopard print because it comes in a basic black-and-white that will match well with any outfit. Whether you're wearing formal or casual looks, zebra is a print that can be dressed up or down easily depending on how you style it.
If you're just getting started with a new print, we suggest trying out funky accessories like shoes, outerwear, fun socks, belts, scarves, or jewelry in a zebra pattern so you're used to wearing it without becoming too bold with your outfits.
But if you prefer to stand out, zebra print can accomplish that just as easily! By getting a statement shirt, dress, skirt, or pants, you can stay eye-catching and unique with your choice in print.
Even formal or business looks don't have to be drab. By pairing a more upbeat zebra print accessory or piece of clothing with structured, classic pieces, you can achieve a timeless and work-appropriate look. What's better than stunning your coworkers with your killer business casual style?
Whether you plan on making zebra print the accent to your look or you plan or pairing it with another patterned piece or graphic tee, there's no wrong way to do it! This print encapsulates the effortless-yet-stylish look we all hope to achieve.
Another fun way to spice up the zebra print look is by changing up the colors. Look for zebra print clothing in a bold bubble gum pink, or a muted brown for an unexpected touch.
Color is a great way to catch the eye, and by combining it with a stylish print you'll look like you put much more effort into getting dressed than you actually did!
Sleek and Monochrome
A great way to play up the presence of a print or a unique piece is to tone down the rest of the outfit, or go with a simple monochromatic look!
Here, we have a tight black turtleneck bodysuit worn with a pair of black mom jeans to elongate your legs. On top, a sophisticated black coat will keep you cozy and make you look like a mysterious city girl.
Most importantly, play up these zebra print booties! They're such a versatile shoe and a sure to be closet staple. They can work well with any color, but to really make them the center of attention we've paired them with an all black look. Finally, this silver chain loop belt brings a touch of modernity to the look and breaks up the black of the silhouette.
Eye Catching Color
Since zebra print matches so well with color, it's a great way to experiment with the color wheel and try some hues outside of the ordinary!
I'm in love with this super comfortable zebra mockneck sweater – it's a new go-to. Wear it untucked over this teal pleated midi skirt in order to capture that effortlessly chic look. Or, try French tucking it into the skirt for some fun with layers.
For footwear, comfort is key. These white sneakers bring a touch of modern athleisure into the outfit and are sure to be a welcome choice for walking around town.
Accessories in a bright neon yellow compliment the teal nicely, and are sure to draw attention to your look! These gorgeous acrylic earrings paired with this neon yellow handbag are just the touch of excitement this outfit needs.
All About Accessories
If you're venturing into the world of mixing prints, look no further! Zebra print is the place to start.
This floral shirt dress is a simple closet staple and can be worn a TON of ways. Every college girl needs a reliable shirt dress! Next, the most important part of this look is the zebra print belt worn with this dress.
Mixing animal print and florals is a great pairing, because they're not too similar and compliment each other nicely. For anyone new to mixing prints, a fun accessory is a great and safe way to start.
Take this look from the runway to campus by adding some classic black flats that will be nice to your feet and versatile in your closet. Match the shoes to a preppy velvet headband to complete the collegiate look. Finally, these funky orange earrings pick up the print of the dress and add a fun touch of color to the look.
What Do You Think of the Zebra Print Fashion Trend?
Would you wear zebra print? How do you feel about mixing prints? What's your favorite animal print trend?
Let me know in the comments!