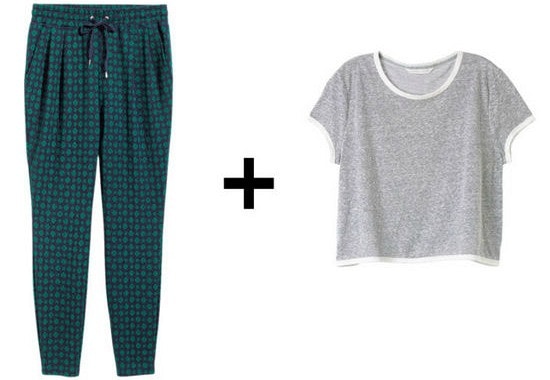 You know those days – the ones where you roll out of bed (after hitting the snooze button too many times), stumble into your closet, and have no idea what to wear? Our series Easy Outfit Formulas is here to help! Every other week, I'll feature two items (which you might own already) that can be paired into outfits for those days when you need some quick and easy inspiration.
The jogger/track pants trend is still going strong, and if you haven't yet jumped on the wagon, you are really missing out! Joggers might be the comfiest pant style since jeggings. Paired with a casual cropped tee, they're also about as close as you can get to wearing pajamas in public.
Want to try out this easy outfit formula? Here are three outfit ideas to get you started:
Look #1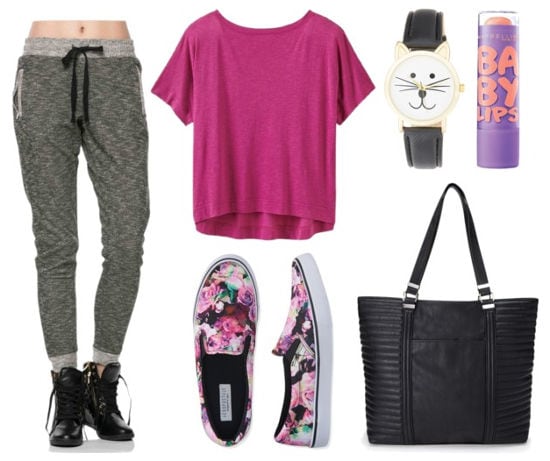 Products: Tee, Pants, Sneakers, Tote, Watch, Lip Balm
This comfy yet cute look would be ideal for something like an early morning class or running errands after hitting the gym. Start with a bright tee and a pair of gray, athletic-inspired joggers, then add a fun pair of printed slip-on sneakers. Throw your belongings in a modern black tote, and accessorize with a unique cat watch. Keep your beauty routine simple and natural with a pink lip balm.
Look #2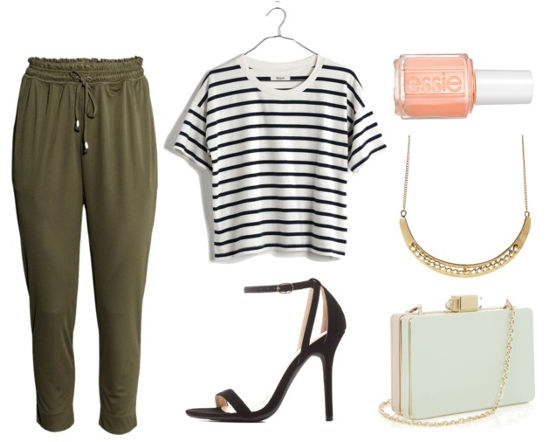 Products: Tee, Pants, Heels, Necklace, Clutch, Nail Polish
This sophisticated and spring-ready look would be perfect for a date or girls' night out. Start with a pair of silky, khaki-green joggers and a striped cropped tee, as well as a pair of black ankle strap heels to elongate the legs. Accessorize with a gold collar necklace, a white box clutch, and peachy nails.
Look #3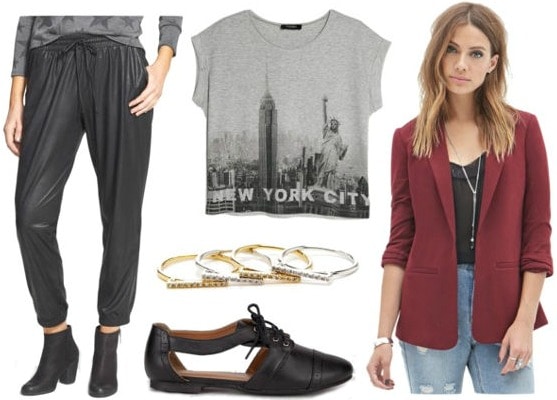 Products: Tee, Pants, Blazer, Shoes, Rings
Want an edgy and modern going out look? Try wearing imitation leather joggers and cropped graphic tee with a burgundy blazer layered on top. Cutout oxfords are a trendy yet comfortable alternative to heels, and don't forget to incorporate some metallic sparkle with sleek, stacked rings.
Share your thoughts!
Are you a fan of the joggers trend? Which look would you wear? How would you style this formula? Let us know in the comments!