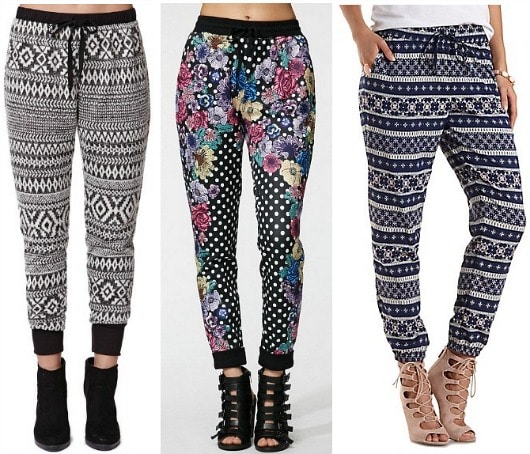 Jogger Pants: 1. Pacsun, 2. Pacsun, 3. Charlotte Russe
When the temperature drops below freezing and blizzard warnings abound, it can be tough to work up the motivation to get out of bed, let alone throw together a fabulous outfit. Most snow days, all I want to do is curl up in a pair of sweatpants, but we all know there are more stylish options to choose from. That's where jogger pants come in.
Joggers were popular last fall and are still having a moment this winter, which is a good thing for college girls trying to look cute and comfy. Jogger pants are basically sweatpants with an upgrade – they're soft like your favorite pajama pants, they have comfortable drawstring waistbands, and they can easily transition from daytime to an evening look with the right accessories.
Below, I'll show you how you can make this trend work for a day of braving the cold (and your 8 AM stats class) and a night out on the town!
Jogger Pants: Class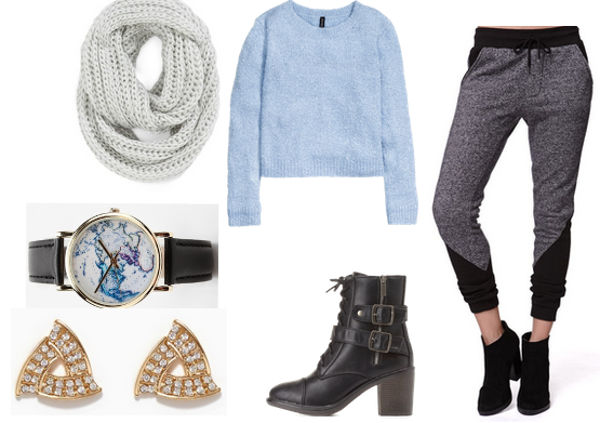 Product Info: Joggers, Boots, Sweater, Scarf, Earrings, Watch
Jogger pants come in many colors and prints, so you can easily find a pair that suits your style perfectly. Here, I chose a cozy gray pair with black paneled details near the ankle. Next, pull on a soft, colorful sweater – this light blue one is the perfect winter pastel.
Edgy boots are a great contrast next to your comfy joggers. A chunky infinity scarf will keep you cozy, while this cool map-printed watch will fuel your wanderlust even if you're snowed-in on campus. Geometric gold studs finish off this daytime look.
Jogger Pants: Night Out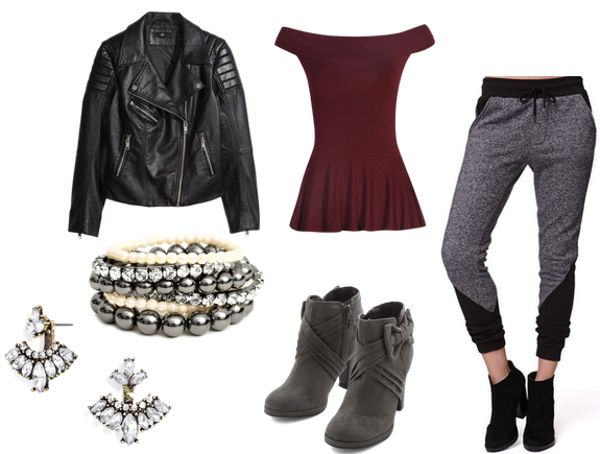 Product Info: Joggers, Top, Jacket, Booties, Bracelets, Earrings
To take your jogger pants from class to a night out, start by amping up your look with some heeled booties. I'm convinced that a leather jacket looks good with everything, so throw one on – just be sure to take it off when you get inside to show off your beautiful deep red, off-the-shoulder top.
Earrings jackets instantly make any outfit look glam, so add a pair and wear them with several mixed-metal bracelets. Now you're ready to go!
Thoughts?
Are you a fan of jogger pants? Would you wear them for a night out or keep them strictly for class and lounging? How would you style a pair? Leave me a comment with your thoughts!