This post will show you how to style jogger pants, with eight jogger pants outfit ideas for every occasion.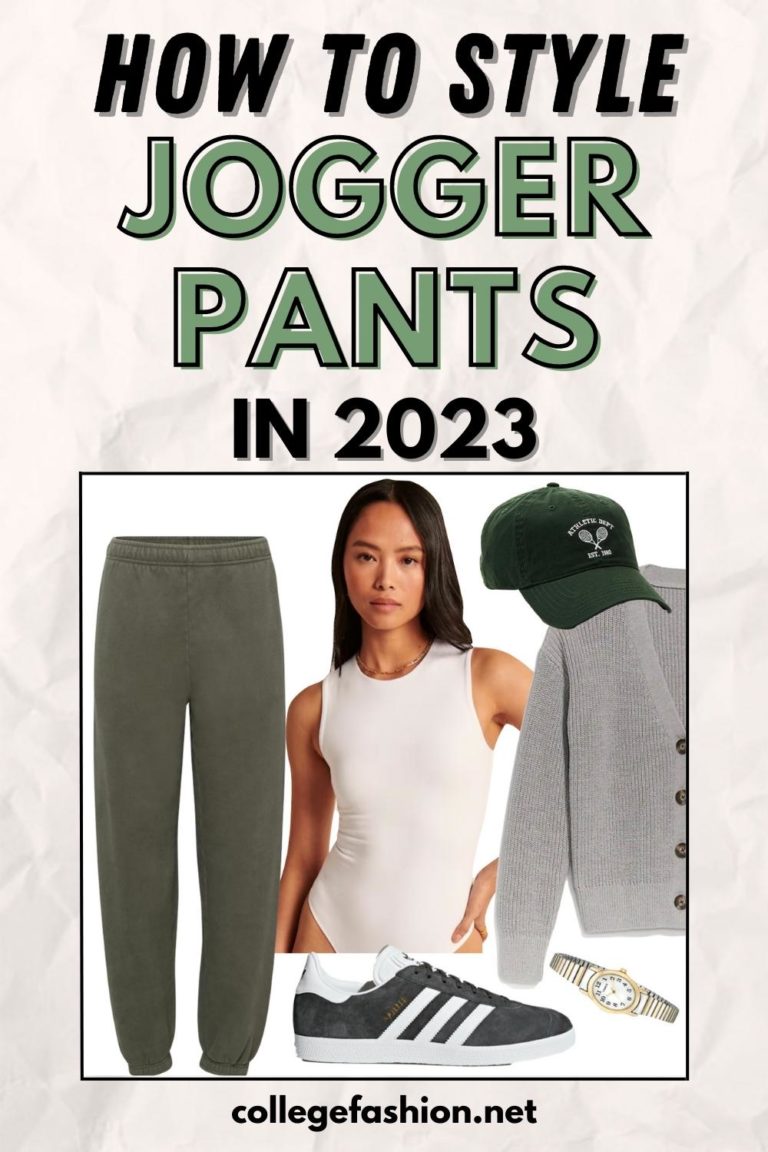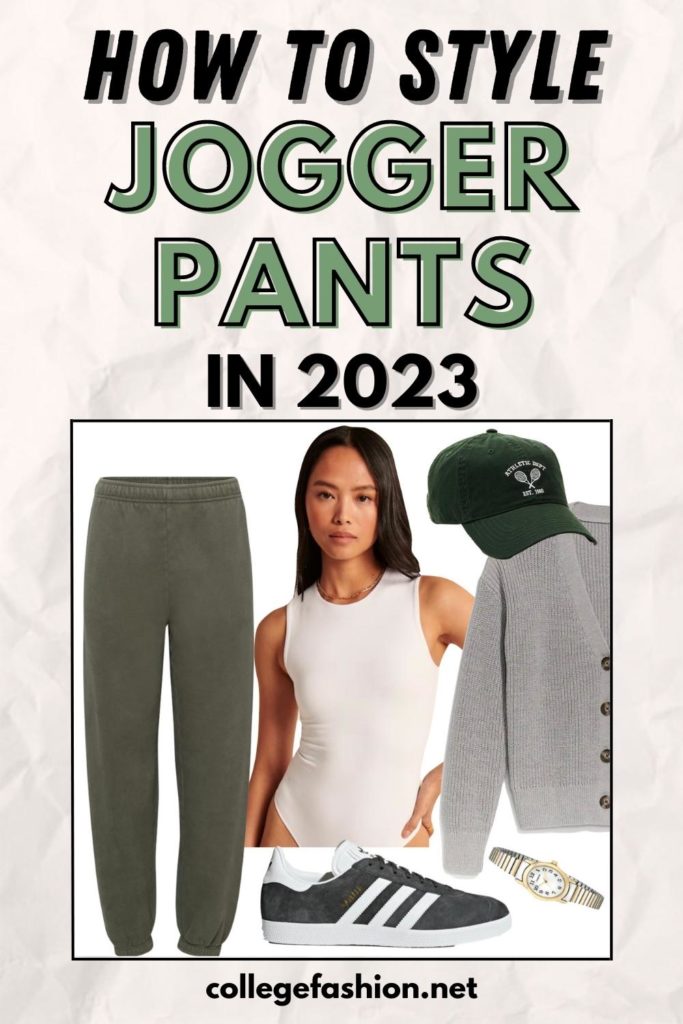 I'm obsessed with jogger pants, and you should be, too.
They are a total wardrobe staple, and if you don't already own a pair (or a dozen), you absolutely should! Joggers are an elevated version of classic sweatpants, usually with tapered legs and elasticized hems. They still maintain the comfort of traditional sweatpants, with a semi-loose fit through the upper legs and a stretchy and/or adjustable waist.
Unlike regular sweats, though, they can be dressed up just as much as they can be dressed down, making them ultra-versatile and securing their wardrobe staple status.
And because joggers have become so popular, there are so many different styles to choose from in 2023. From sweatpant joggers to cargo joggers to jean joggers, you'll be able to take your pick from countless stylish options and find the perfect pair for you.
If you're looking for new ways to style your jogger pants, I've got you covered. I've come up with 8 jogger pants outfit ideas for just about any occasion, with looks that will take you from class to the club—in comfort. Plus, read on for my top tips when it comes to styling jogger pants in 2023.
Tips for Styling Jogger Pants
When it comes to styling jogger pants, almost anything goes. You can opt for a fully oversized look by wearing loose-fitting joggers with an equally loose-fitting sweatshirt, hoodie, or oversized t-shirt, or you can go the "big pants, little top" route by styling them with a tight-fitting or cropped top. I also love the way joggers look with bodysuits; this combination feels super fresh for 2023.
Since jogger pants tend to have a casual look, your best bet is always going to be wearing them with sneakers. From athletic running sneakers to trendy lifestyle sneakers, joggers with sneakers are a match made in fashion heaven. If you want to dress your joggers up, you can also style them with heels, but it will depend on the fabric of your joggers (more on that later). And for the ultimate cozy vibe, you can always opt for fuzzy slippers and boots like Uggs, which are especially ideal during chillier months.
Now that we have the basic styling principles down, let's get to the jogger pants outfit ideas!
Jogger Pants Outfit for Class
One of the best pants options for school? Jogger pants, of course! If you're going to be sitting in classes for hours and/or walking around campus all day, there's no doubt you'll want to dress comfortably. Plus, joggers are a no-brainer that you can quickly throw on when you're running late for school and don't know what to wear (we've all been there).
That's why every college girl needs at least one pair of reliable jogger sweatpants in her wardrobe. For a modern look, try a pair of cargo jogger high-rise sweatpants, since cargo styles are especially on-trend in 2023.
There are tons of ways to wear them, but you can't go wrong with some low-top sneakers and a slim-fitting t-shirt, like this light pink ribbed crewneck that matches the neutral color scheme of the sneakers. Throw on a cute baseball hat to give the ensemble a sporty vibe (while also covering up any evidence of a bad hair day), and don't forget your backpack or school bag.
Adding in a gold chain necklace is an easy way to elevate the outfit and make you look a bit more put-together while still being effortless.
Casual Cool Jogger Pants Outfit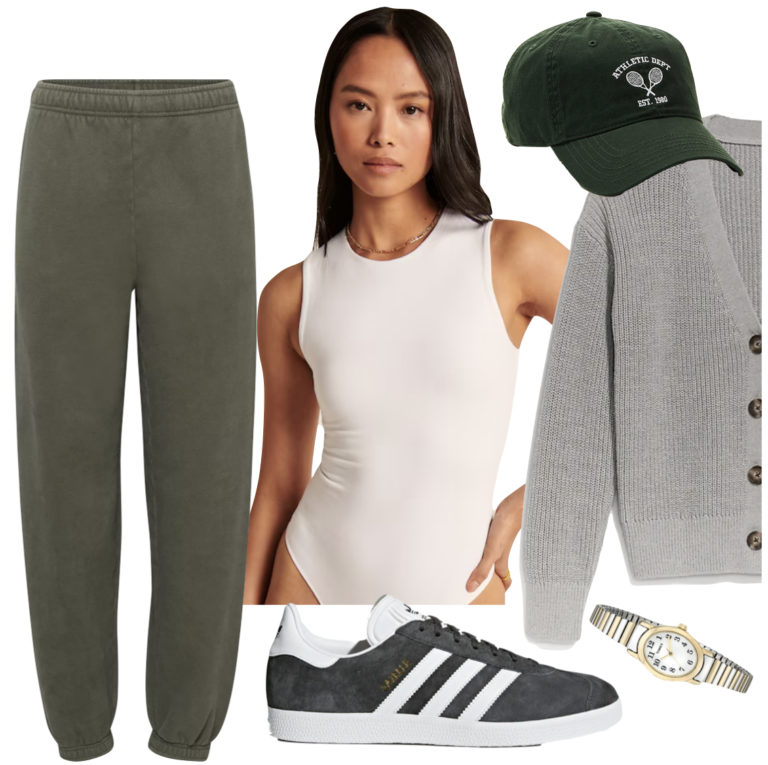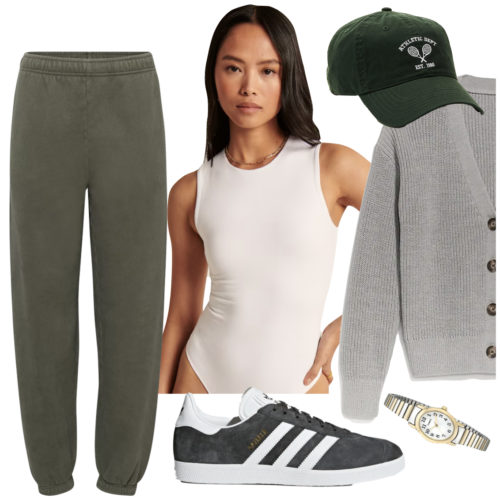 Products: Jogger Pants, Bodysuit, Cardigan Sweater, Hat, Watch, Sneakers
For the ultimate casual-cool combination, try styling your jogger sweatpants with a bodysuit. This seamless tank bodysuit is a super versatile piece that can be dressed up or down and will balance out the looser fit of the joggers with its body-hugging silhouette.
Give the outfit some "rich mom energy" by wearing a lightweight knit cardigan sweater tied around your shoulders, plus a two-tone watch that looks expensive (but is surprisingly affordable).
Complete the look with an athletic club-inspired baseball hat and some trendy sneakers, like a pair of Adidas Gazelle sneakers.
Going Out Jogger Pants Outfit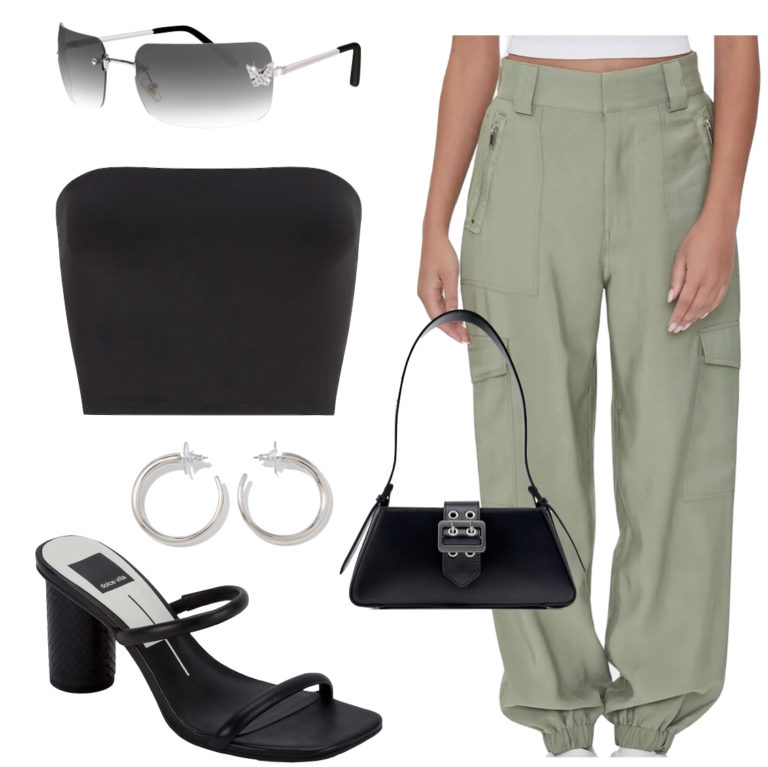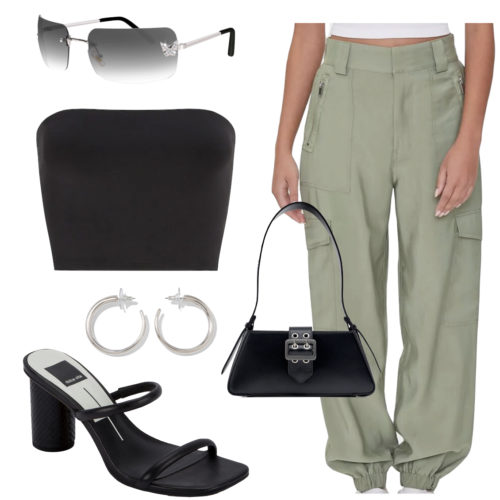 Products: Jogger Pants, Top, Sunglasses, Earrings, Bag, Heels
Yes, you can wear jogger pants out at night! And they are way more comfortable than tight-fitting jeans or faux leather pants. But for a going-out look, I'd suggest opting for joggers that are made with fabrics other than sweatpants material in order to achieve a dressier look.
For example, these olive green utility cargo jogger pants are made from a woven material, so there's no confusing them with sweatpants. They still have a loose fit and elasticized hems, though, plus trendy cargo pockets.
Style them with a cute going-out top like a cropped black tube top, some matching square-toe heels, and chunky hoop earrings. Since this outfit has a throwback vibe, accessorize with '90s-inspired accessories like a buckled shoulder bag and some rimless sunglasses.
Class to Night Out Jogger Pants Outfit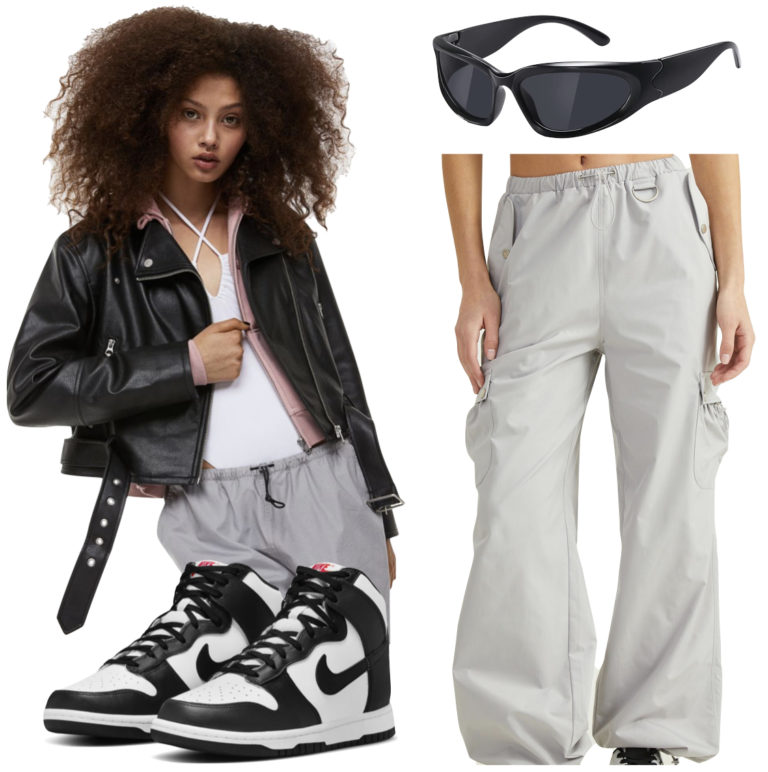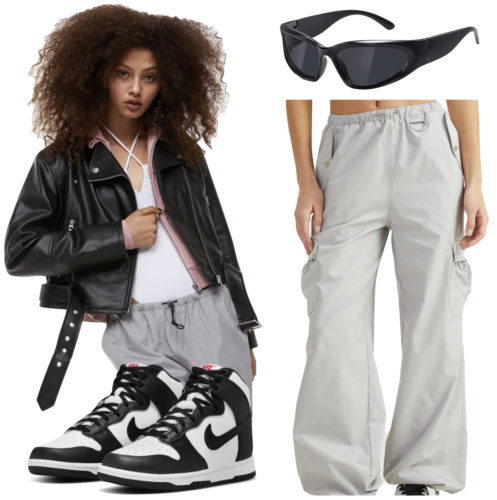 Products: Biker Jacket, Jogger Pants, Sneakers, Sunglasses
Got fun plans after class? No need to run back to your dorm or apartment to change. This outfit, featuring cargo joggers, can easily take you from class to happy hour or whatever your after-school plans may be.
These stylish joggers have an oversized balloon pants silhouette and toggle drawstrings at the waist and ankles for a customized fit.
Wear them with a cropped faux leather biker jacket and some cool kicks, like a pair of Nike Dunk High sneakers. What you wear under your biker jacket will depend on your class environment (you'll probably want to avoid an ultra-cropped top), but you can consider a bodysuit or fitted top. A pair of sporty sunglasses will add another trendy touch to this outfit.
Dressy Denim Jogger Pants Outfit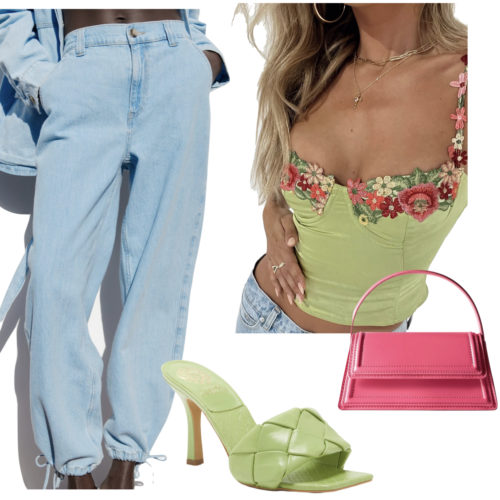 Products: Jogger Jeans, Top, Bag, Heels
Now that jogger pants have become such a style staple, there are so many cute styles to choose from—even jean joggers!
Denim jogger pants are a fun alternative to your regular jeans and look especially cute when paired with bodysuits, crop tops, and slim-fitting tops to balance out their relaxed fit.
For a cute spring outfit that you could wear out with friends or on a date, wear the high-waisted jean joggers with a feminine satin bustier top—I adore the floral embroidery details on this green one.
Play on the bustier's green and pink color scheme with some green braided strap square-toe heels and a structured mini handbag for a cohesive yet colorful look.
Laid-Back Jogger Pants Outfit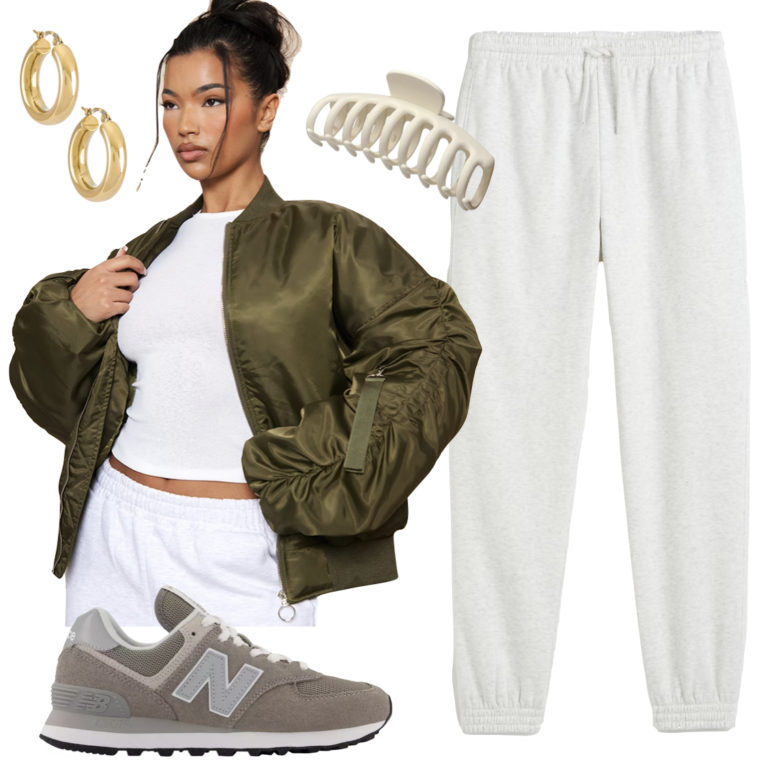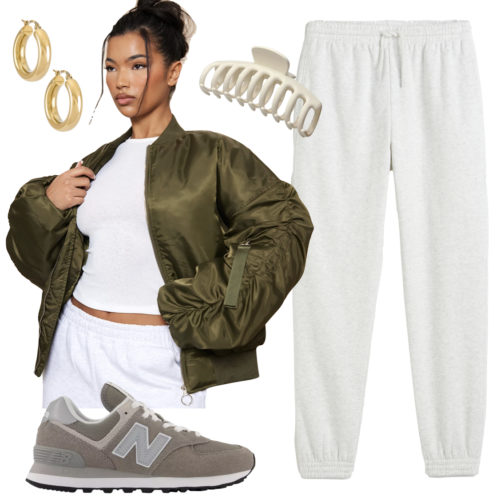 Products: Bomber Jacket, Jogger Pants, Earrings, Hair Clip, Sneakers
For laid-back days that involve classes, hanging out with friends, or running errands, wear your jogger sweatpants with a trendy bomber jacket.
This olive green bomber jacket has an oversized fit with ruched sleeves, giving it a cool look that will elevate even the most basic gray jogger sweatpants and simple top combo.
Keep the ensemble comfortable with a pair of coordinating sneakers (or Uggs if you want to be extra cozy). By adding in some dainty gold jewelry like small chunky hoops, the outfit will look even more put-together, along with a "Clean Girl" hairstyle, courtesy of your favorite jumbo claw clip.
Athleisure Jogger Pants Outfit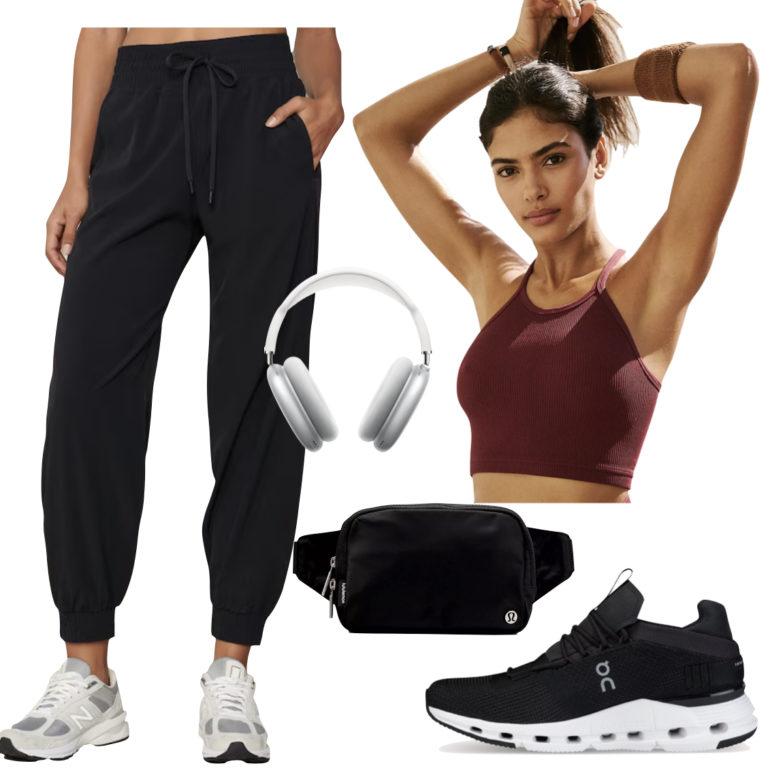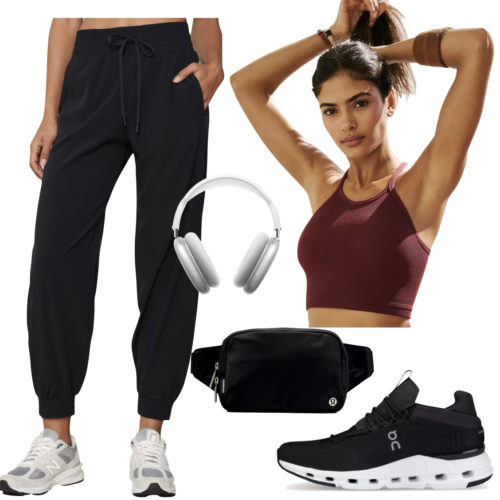 Products: Jogger Pants, Top, AirPods Max, Belt Bag, Sneakers
Upgrade your Hot Girl Walks with a pair of athletic joggers that are made from a lightweight, stretchy, and breathable material meant to work out in. Sometimes you just get a bit tired of leggings, ya know?
You can wear the athletic joggers with any of your athletic tops, including long sleeves and sports bra crop tops; I'm digging the burgundy hue of this cropped ribbed tank with a seamless, compressive design.
And of course, a Hot Girl Walk wouldn't be complete without a convenient belt bag worn crossbody-style, like Lululemon's iconic "Everywhere" bag, along with your headphones and athletic sneakers. Throw on your favorite podcast or playlist, and you'll be all set!
Denim Jogger Pants Outfit for Spring/Summer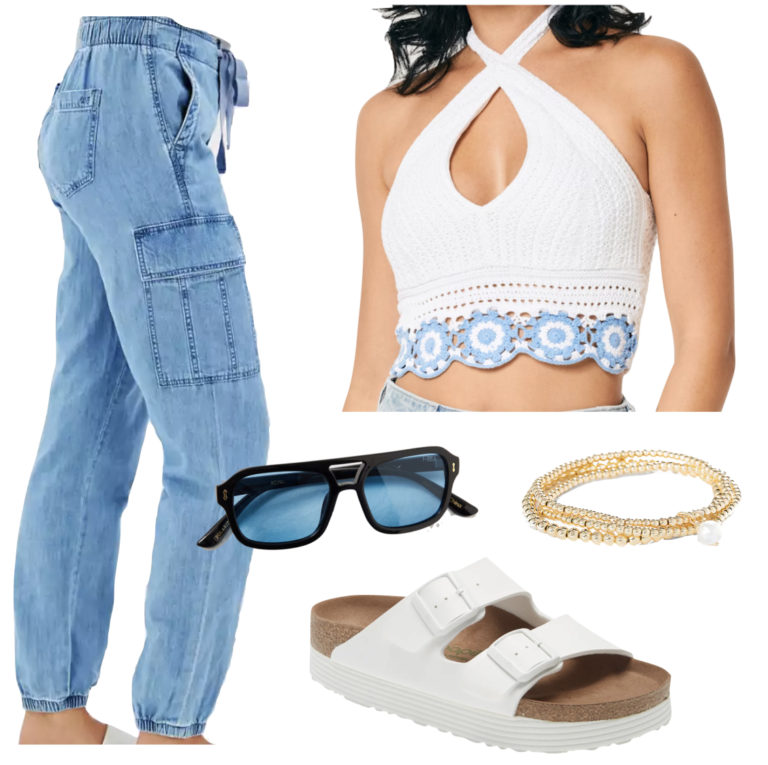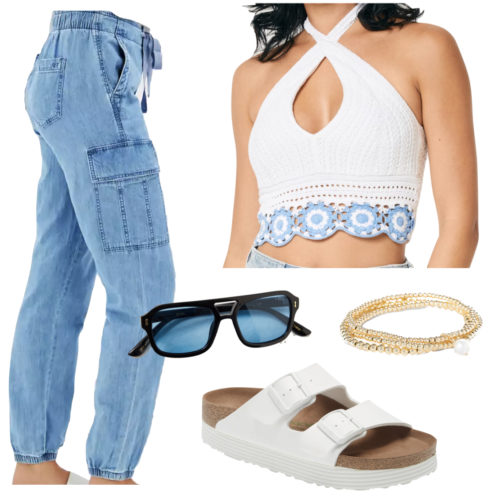 Products: Jogger Pants, Top, Sunglasses, Bracelets, Sandals
You don't have to put away your jogger pants for the spring and summer—that is, if we're talking about these denim cargo jogger pants! They are ultra-lightweight with a high-rise and drawstring waist that makes them perfect for pairing with cute crop tops as the weather warms up.
Go for a boho vibe with a cropped crochet halter top; this one features an adorable floral patterned hem, and the straps can be worn two different ways. Crochet is also a major trend this season, and has such a summery feel to it.
Accessorize with stacked bracelets like this stretchy gold and pearl bracelet set and some retro-inspired aviator sunglasses that match the outfit's blue color palette. A pair of platform slide sandals bring the ensemble together.
What do you think of our jogger pants outfit ideas?
Would you wear jogger pants? Which outfit idea is your favorite? Leave a comment and let us know!